2017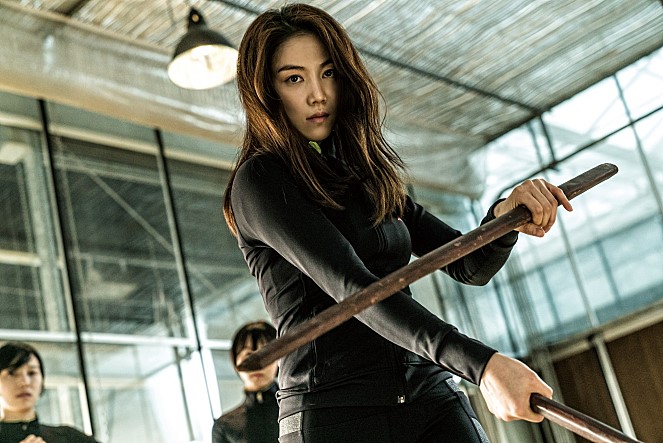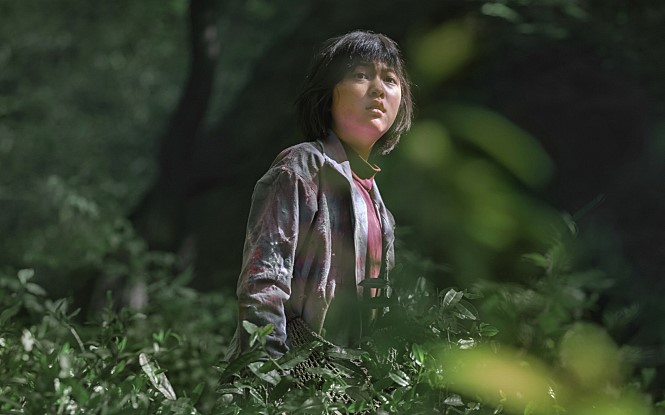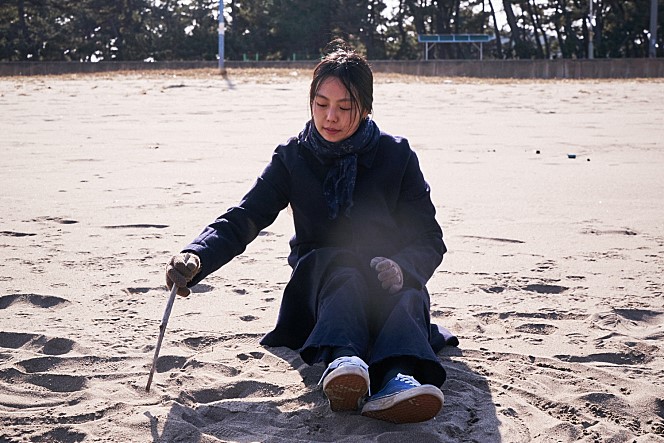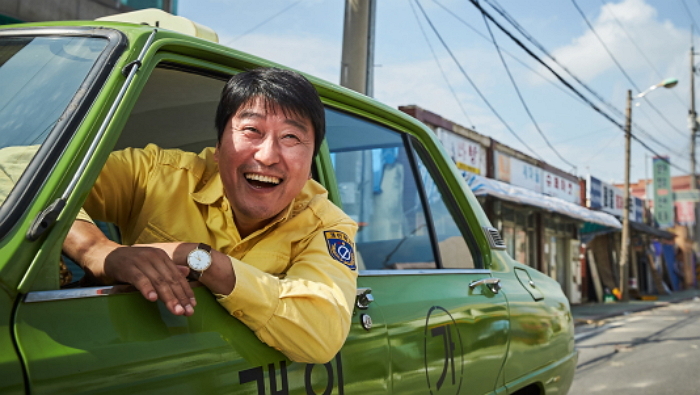 "The Villainess",  "Okja",  "On the Beach at Night Alone",  "A Taxi Driver"

   After the heights scaled in 2016, it seemed inevitable that there would be some sort of return to earth in 2017. The early part of the year has bourne this out so far, although the film industry did manage to turn out a couple of hits. Korean films have also made their presence felt on the international film festival circuit, thanks in large part to Hong Sangsoo.
At the opening of May (the time of this writing), there have been two films so far to pass the 5 million admissions mark: the well-packaged Confidential Assignment -- sort of like Rush Hour but with North and South Korean detectives -- and the ambitious star vehicle The King, about corrupt prosecutors. Nonetheless The King was widely considered a disappointment, considering the high expectations surrounding its release. By contrast the mid-budget The Prison and New Trial, both of which feature heroes who try to bring down characters who see themselves as above the law, are more widely viewed as surpassing expectations.
On the festival circuit, Hong Sangsoo is presenting no less than three new features. On the Beach at Night Alone premiered in competition in Berlin and won a Best Actress award for Kim Min-hee. Then just a few months later, both The Day After and Claire's Camera premiered in different sections at the Cannes Film Festival. This officially wipes clean the backlog of unreleased Hong Sangsoo features, though one can expect that he may shoot another one this fall. Cannes also hosts the premiere of the Netflix-financed Okja by Bong Joon-ho -- the most heavily anticipated Korean film of the year -- and two more genre films in the Midnight section: The Villainess starring Kim Ok-bin and The Merciless with Sul Kyung-gu and Im Si-wan.   (Written on May 3)
     Reviewed below:     Fabricated City (Feb 9)  --  Bluebeard (Mar 1).
The Best Selling Films of 2017 (updated on May 3)

| | Korean Films | Nationwide | Release | Revenue |
| --- | --- | --- | --- | --- |
| 1 | Confidential Assignment | 7,817,459 | Jan 18 | 63.8bn |
| 2 | The King | 5,316,015 | Jan 18 | 43.5bn |
| 3 | The Prison | 2,930,911 | Mar 23 | 23.8bn |
| 4 | Fabricated City | 2,514,943 | Feb 9 | 20.1bn |
| 5 | New Trial | 2,421,011 | Feb 15 | 19.3bn |
| 6 | Bluebeard | 1,204,602 | Mar 1 | 9.9bn |
| 7 | The Mayor | 1,136,165* | Apr 26 | 8.7bn |
| 8 | The King's Note Case | 982,557* | Apr 26 | 7.5bn |
| 9 | Daddy You, Daughter Me | 643,182 | Apr 12 | 5.0bn |
| 10 | One-Line | 434,537 | Mar 29 | 3.3bn |
| | All Films | Nationwide | Release | Revenue |
| --- | --- | --- | --- | --- |
| 1 | Confidential Assignment (Korea) | 7,817,459 | Jan 18 | 63.8bn |
| 2 | The King (Korea) | 5,316,015 | Jan 18 | 43.5bn |
| 3 | Beauty and the Beast (US) | 5,115,865 | Mar 16 | 42.0bn |
| 4 | Your Name (Japan) | 3,615,099 | Jan 4 | 29.1bn |
| 5 | The Fate of the Furious (US) | 3,369,300 | Apr 12 | 27.7bn |
| 6 | The Prison (Korea) | 2,930,911 | Mar 23 | 23.8bn |
| 7 | Fabricated City (Korea) | 2,514,943 | Feb 9 | 20.1bn |
| 8 | New Trial (Korea) | 2,421,011 | Feb 15 | 19.3bn |
| 9 | Moana (US) | 2,310,058 | Jan 12 | 18.1bn |
| 10 | Logan (US) | 2,168,836 | Mar 1 | 18.4bn |
* Still on release.  Source: Korean Film Council (www.kobis.or.kr).


Seoul population: 10.4 million
Nationwide population: 50.9 million


There's a sense of mischief in the air from the very opening scenes of Park Kwang-hyun's Fabricated City. Despite its dark visual tone and the mood of foreboding that hangs over just about every scene, there's also a playfulness at work just below the surface. But you wouldn't necessarily pick that up just from reading the synopsis.
Our protagonist Kwon Yoo (TV star Ji Chang-wook, in his film debut) is a heroic online gamer, displaying resourcefulness, leadership abilities, and a willingness to sacrifice himself for the good of his fellow players. In real life, however, he is an unemployed loser who was kicked off of the national taekwondo team for fighting with a teammate. Living with his mother, his life seems to be going nowhere, until it unexpectedly gets much worse. After receiving a phone call and following through on what seems like an ordinary request, he suddenly finds himself accused of rape and murder, with forensic evidence that seems irrefutable. Kwon Yoo is baffled, both at how he ended up being framed this way, and why anyone would bother to target an ordinary guy like him.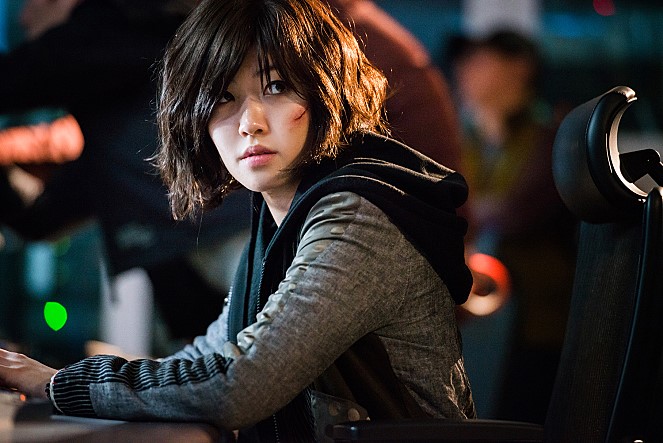 His confusion will only grow deeper as he finds himself painted as a monster in the press, then swiftly sentenced and thrown in jail with a life sentence and no parole. But the plot of Fabricated City is only just getting warmed up. With each breathless escape, plot twist and betrayal more outlandish than the last, Kwon Yoo finds himself on an adventure far more dramatic than the games he loves to play.
It should probably be emphasized from the start that in order to enjoy Fabricated City, you have to watch it in the right frame of mind. (This film has a lot of haters.) Its hyper-kinetic energy and cyber-punk attitude are probably more naturally suited to the young, but most of all, it needs to be watched with an appreciation for the tongue-in-cheek rebelliousness that lies at its heart. Like many recent Korean films, it is a story about power and social injustice, but instead of the usual heavy, despairing tone and urgent moralizing we've come to expect, Fabricated City simply lifts a big middle finger to the 1%.
Director Park Kwang-hyun has been away a long time since releasing his hugely popular debut film Welcome to Dongmakgol, which was scripted by Jang Jin and which sold over 8 million tickets. Over the next decade Park's intended follow-up, the big-budget SF action project Kwon Bob, looked ready to enter production on several occasions before falling through each time for various reasons. Fabricated City is perhaps an unexpected comeback for the director, with a very different tone than we've seen in his previous work. It has its weaknesses, including an at-times imprecise control over the film's tone. But Park retains his gift for creating interesting and funny characters, such as the genius hacker Yeo-wool who has some unusual communication issues (played by Shim Eun-kyoung, who voiced the robot in Sori: Voice from the Heart) and the central villain played with knowing irony by Oh Jeong-se (How to Use Guys With Secret Tips). It's these sort of colorful and unpredictable characters that ultimately prove to be Fabricated City's biggest strength.      (Darcy Paquet)

    Bluebeard
Seung-hoon (Jo Jin-woong, The Handmaiden) is a physician working in an up-and-coming clinic open in a newly developed Gyeonggi Province city. Quiet, bookish and somewhat neurotic, he turns out to be a recent divorcée, renting a small flat above the neighborhood butcher shop run by the openly creepy Sang-geun (Kim Dae-myung, Pandora). One day, Seung-hoon runs a colonoscopy operation by himself on the butcher shop's half-senile grandpa (Shin Goo, The Foul King), and overhears the latter unconsciously mumbling something about chopping up and discarding a human body. It then turns out that as the ice begins to melt around the Han River, a headless torso of a woman is found floating near the city. Seung-hoon becomes increasingly nervous, and begins to suspect that his erstwhile patient grandpa and Sang-geun may be a pair of Bluebeards who murdered their respective spouses and dispatched their bodies like racks of beef. He finally panics when he locates what he believes to be the severed head of the butcher's missing Filipino wife, first in the butcher shop and then in the refrigerator in his own flat (with no memory of how it got in there). The only person who seems to believe his cockamamie story is Jo Kyung-hwan (Song Young-chang, Veteran), a retired cop looking into a series of unsolved murder cases in the area.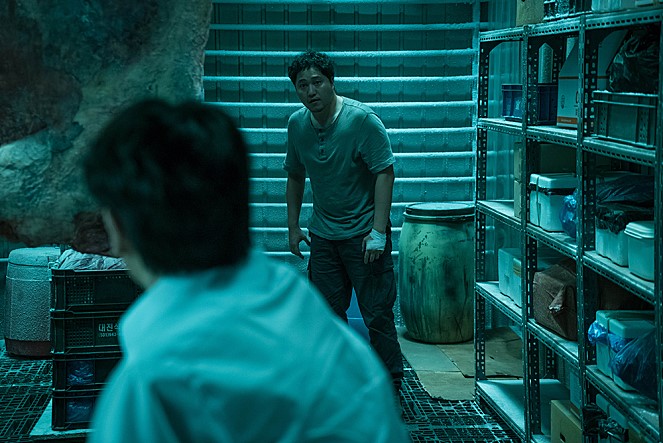 Bluebeard, the Korean title of which is "Ice Melting," a more apt metaphor for the process by which the film's weird mystery is resolved, like a block of ice that slowly melts to reveal a fetid, forbidden substance encased within it, marks the return after 14 years of director Lee Soo-yeon, whose long-form debut The Uninvited (2003) is considered one of the creepiest Korean horror films of the new millennium. Lee's personal touches are easy to spot in Bluebeard: sharp observations-- through DP Uhm Hye-jeong's (one of the few female cinematographers in the South Korea movie scene) lens and LS Jeong Hae-ji's lighting-- of the clinically modern urban environment, punctuated by gruesome and surreal visions such as the blood-soaked abattoir, slimy close-ups of the innards of human body, and a headless torso twitching as fragments of ice dissolve around it. There is also a certain pathological quality to the main characters, who explode into violence at the moment of reckoning with their long-suppressed desire or guilt; jagged flashbacks and other editorial tricks that play with the viewer's perceptions of the diegetic reality; all ably supported by a subtle, minimalist music score (Jeong Yong-jin, Hong Sang-soo's favorite composer) and superbly wrangled performances by the main cast.
Happily, Lee has lost none of her thriller-maker's acumen: Bluebeard holds its interest as an intriguing mystery, even when we recognize that there are a few major potholes in the narrative path. For The Uninvited, she has squeezed out of Jun Ji-hyun (Gianna Jun) one of the latter's best performances, and does not disappoint with either Jo Jin-woong or Kim Dae-myung. Jo can play uproarious, high camp (A Hard Day) or timid and petty-bourgeois-endearing (Hwayi: A Monster Boy), but his Seung-hoon is a much more complex portrayal, low-key yet laced with the suppressed senses of equal parts remorse and hostility. The emotionally raw scenes of Seung-hoon and his divorced wife (Yoon Se-ah, Shadows in the Palace, also excellent) attempting a reconciliation is a case in point: one usually does not get to witness such powerful scenes of acting in a flashback sequence in a mystery thriller. Kim Dae-myung is also effectively subdued as the poker-faced butcher, never quite revealing the real thoughts going on behind his beady-sleepy eyes, all the while eloquently going through the motions of being a friendly landlord.
Nonetheless, Bluebeard is marred by its needlessly meandering narrative-- the movie could have been trimmed of about 25 minutes, especially in the second half-- and the extended coda, probably meant to comment on the ubiquity of surveillance tools in a modern society, but which in the end feels like a concession to one of the conventions of the genre. One cannot blame Lee for not playing fair with the mystery fans among her viewers, except that those familiar with early '00s horror films might find her ultimate key to the puzzle something of a disappointing retread (not of her own film, to be sure), if not a total wash. One of the reasons that we feel a measure of disappointment at the later half is that Jo and director Lee have sculpted Seung-hoon's character into an intriguingly ambivalent figure, putting him on a skillful balancing act between the viewer's sympathy and disgust. Regardless of whatever fate he "deserved" morally, the film really should have ended at the point where his story was finished. On the other hand, Lee handles the tangential social issues such as prejudice against non-Korean ethnicities as well as the emotional toll a divorce takes on children with admirable degrees of sensitivity and equanimity. Despite surprisingly gruesome visuals (in a particularly bloody fantasy sequence, Seung-hoon witnesses Sang-geun and his father exsanguinating a headless corpse of a middle-aged woman hanging from a meat hook) the movie never really ends up feeling exploitative or sleazy.
Bluebeard is a welcome return to form from a New Korean Cinema director thought for many years as one of those unfortunate "Forced to Become One Hit Wonder" figures. Thankfully, while the film was not a big hit, it managed to recoup its production budget with more than 1.2 million tickets sold in the winter season of 2016-17. Here's hoping that director Lee Soo-yeon comes back with another intriguing thriller or fantasy (hopefully the long-gestating "mermaid monster" project that she has been trying to mount for years) sooner rather than later.      (Kyu Hyun  Kim)