2006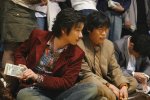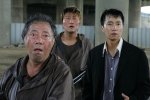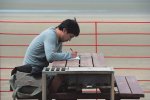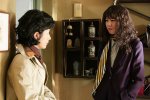 "Tazza",  "The Host",  "Woman on the Beach",  "Family Ties"
   The year 2006 was a boom year in a number of different respects. Production reached its highest level in a decade and a half, with 108 films released in theaters, and many more which were waiting for release at the end of the year. Two films broke records at the box office: King and the Clown, which was released in the closing days of 2005 (on this site it is listed on the 2005 page) and which sold 12.3 million tickets, and Bong Joon-ho's monster movie The Host, which sold just over 13 million tickets (the equivalent of over $90 million). Several other films did quite well too, including gambling film Tazza: The High Rollers and comedy 200 Pounds Beauty. Taken all together, the 2006 box office set a new record for revenues (over $1 billion) and sold the highest number of tickets since the late 1960s.
Artistically too, it was a year with several highlights. Hong Sang-soo was widely praised for his seventh film Woman on the Beach; The Host won over critical praise to go with its commercial success; and the 11th Pusan International Film Festival boasted a large number of independent films that stirred up excitement among critics. A number of films shot in a more commercial vein, such as gangster movie A Dirty Carnival, debut film Like a Virgin, drama Family Ties and even the crazy low-budget comedy My Scary Girl earned high praise as well.
Nonetheless, people in the film industry were sounding alarm bells by the end of the year. With so many films produced, and with the budgets of many films having grown out of control, a very small number of Korean films from 2006 ended up turning a profit. In contrast to the start of the year, when a huge number of films were in production, by year's end many investors had decided to hold back on funding any new films for a while, and the mood seemed to bode ill for 2007.
The other major issue for the film industry in 2006 was the controversial reduction of Korea's Screen Quota System, which obligates theater owners to screen local films for a certain number of days per year. Formerly set on a sliding scale between 106 and 146 days per year, the government bowed to pressure from the U.S. and reduced the quota to 73 days. Filmmakers responded with lengthy public protests, but were ultimately unsuccessful in trying to get the government to revoke its decision.
     Reviewed below:    The Art of Fighting (Jan 5)  --  If You Were Me 2 (Jan 13)  --  Ssunday Seoul (Feb 9)  --  Way To Go, Rose (Feb 10)  --  One Shining Day (Feb 23)  --  See You After School (Mar 16)  --  Romance (Mar 16)  --  Grain in Ear (Mar 23)  --  My Scary Girl (Apr 6)  --  The Peter Pan Formula (Apr 13)  --  Bloody Tie (Apr 26)  --  Over the Border (May 4)  --  Family Ties (May 18)  --  The City of Violence (May 25)  --  A Bloody Aria (May 31)  --  A Dirty Carnival (Jun 15)  --  Silk Shoes (Jun 22)  --  Aachi & Ssipak (Jun 28)  --  Arang (Jun 28)  --  APT (Jul 6)  --  Hanbando (Jul 14)  --  The Host (Jul 27)  --  Forbidden Floor (Jul 27)  --  Roommates (Aug 3)  --  Dasepo Naughty Girls (Aug 10)  --  To Sir With Love (Aug 3)  --  Lump of Sugar (Aug 10)  --  Cinderella (Aug 17)  --  Time (Aug 24)  --  Woman on the Beach (Aug 31)  --  Like A Virgin (Aug 31)  --  Tazza: The High Rollers (Sep 27)  --  Traces of Love (Oct 26)  --  My Friend & His Wife (n/a)  --  Cruel Winter Blues (Nov 9)  --  Host and Guest (Nov 15)  --  No Regrets (Nov 16)  --  If You Were Me 3 (Nov 23)  --  Ad Lib Night (Nov 30)  --  I'm a Cyborg, but That's OK (Dec 7)  --  The World of Silence (Dec 14)  --  200 Pounds Beauty (Dec 14).
The Best Selling Films of 2006 

| | Korean Films | Nationwide | Seoul | Release | Weeks |
| --- | --- | --- | --- | --- | --- |
| 1 | The Host | 13,019,740 | 3,571,254 | Jul 27 | 9 |
| 2 | Tazza: The High Rollers | 6,847,777 | 2,091,058 | Sep 27 | 9 |
| 3 | 200 Pound Beauty | 6,619,498* | 1,934,910* | Dec 14 | 10 |
| 4 | My Boss, My Teacher | 6,105,431 | 1,502,821 | Jan 19 | 5 |
| 5 | Hanbando | 3,880,808 | 1,077,033 | Jul 14 | 5 |
| 6 | Marrying the Mafia 3 | 3,464,516 | 779,445 | Sep 21 | 5 |
| 7 | Maundy Thursday | 3,132,320 | 980,772 | Sep 14 | 6 |
| 8 | Forbidden Quest | 2,576,022 | 868,692 | Feb 23 | 5 |
| 9 | Barefoot, Gibong | 2,347,311 | 524,357 | Apr 26 | 5 |
| 10 | My Scary Girl | 2,286,745 | 766,007 | Apr 6 | 7 |
| | All Films | Nationwide | Seoul | Release | Weeks |
| --- | --- | --- | --- | --- | --- |
| 1 | The Host (Korea) | 13,019,740 | 3,571,254 | Jul 27 | 9 |
| 2 | Tazza: The High Rollers (Korea) | 6,847,777 | 2,091,058 | Sep 27 | 9 |
| 3 | 200 Pound Beauty (Korea) | 6,619,498* | 1,934,910* | Dec 14 | 10 |
| 4 | My Boss, My Teacher (Korea) | 6,105,431 | 1,502,821 | Jan 19 | 5 |
| 5 | Mission: Impossible 3 (US) | 5,740,789 | 1,584,202 | May 3 | 7 |
| 6 | Pirates of the Caribbean 2 (US) | 4,628,903 | 1,525,853 | Jul 6 | 6 |
| 7 | Night in the Museum (US) | 4,612,831* | 1,226,404* | Dec 21 | 6 |
| 8 | Hanbando (Korea) | 3,880,808 | 1,077,033 | Jul 14 | 5 |
| 9 | Marrying the Mafia 3 (Korea) | 3,464,516 | 779,445 | Sep 21 | 5 |
| 10 | The Da Vinci Code (US) | 3,339,082 | 1,144,795 | May 18 | 6 |
* Includes tickets sold in 2007.  Source: Korean Film Council.

(Note that King and the Clown was released on December 29, so it is listed on the 2005 page)


Seoul population: 10.35 million
Nationwide population: 49.0 million

Market share:   Korean 63.8%, Imports 36.2% (nationwide)
Films released:   Korean 108, Imported 237
Total admissions:   153.4 million (=$954 million)
Number of screens:   1,880 (end of 2006)
Exchange rate (2006):   970 won/US dollar
Average ticket price:   6034 won (=US$6.22)
Exports to other countries:   US$24,514,728 (Japan: 42%)
Average budget:   4.0bn won including 1.4bn p&a spend

Byung-tae is a teenager attending a tough high school, where the other students make it their daily habit to beat him up. Sporting perpetual bruises on his face, he spends his free time reading martial arts manuals and taking fighting lessons from various adults in town, in a desperate attempt to learn how to defend himself. Nothing seems to do any good, however.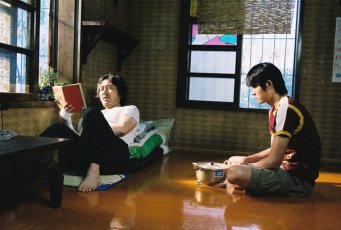 One day, at a private reading room, he comes across an eccentric old man named Pan-su who possesses an amazing skill for fighting. It's not that he is powerfully acrobatic or unnaturally strong, it's that he is a seasoned expert in down-to-earth, realistic modes of fighting. In other words, he fights dirty.
Pan-su somewhat reluctantly takes Byung-tae under his wing and starts to teach him what he has learned about fighting and about life. These include gems of wisdom such as, "Sand and spit are the most useful objects at hand during a fight." Byung-tae tries his best, but at the same time he has a hard time shaking off the fear that he has been living with all these years.
Debut director Shin Han-sol's The Art of Fighting is a different sort of action film, one that largely avoids impressive displays of physical movement, and instead focuses on the gritty, sensual aspects of fighting. Set in a grim, ugly-looking town where the people seem motivated by boredom rather than any enthusiasm for life, the film is most memorable for its black humor and the great presence shown by its two lead actors.
With vulnerability and steely determination reflected in his eyes, Jae Hee, best known from Kim Ki-duk's 3-Iron, is well-suited to the role of Byung-tae. It may seem superfluous to say this after 3-Iron, but Jae really can communicate a great deal to the viewer even when he is not speaking. Pan-su, meanwhile, is played by acting god Baek Yoon-shik, who has already shown his mastery in films like Save the Green Planet and The President's Last Bang. Here he plays this role with a mixture of world-weary passivity and sudden, electric bursts of violence. Although lacking the depth of the other roles he has played in the past few years, Pan-su possesses an attitude that is uniquely Baek Yoon-shik.
The Art of Fighting is well acted and capably put together, with a mostly predictable but engrossing narrative. Yet the film leaves you with an odd sense of emptiness. Part of this may be due to the inherent pessimism in the work, and its portrayal of a town where life is bleak and unlikely to improve. Yet on a cinematic level too, one wishes that there were just a bit more substance to the film. Ultimately Art of Fighting is worth watching, but is unlikely to rank as one of the highlights of 2006.      (Darcy Paquet)
With the critical success of its first omnibus film, South Korea's National Commission on Human Rights commissioned another series, If You Were Me 2. This time around, the directors contributing shorts on a human rights issue of their choosing were Park Kyung-hee (A Smile), Ryoo Seung-wan (Die Bad, Arahan), Jung Ji-woo (Happy End), Jang Jin (Someone Special, The Big Scene), and Kim Dong-won (Sanggye-dong Olympics, Repatriation).
Park's short "Seaside Flower" follows days in the life of Eun-hye, an elementary-school-aged girl with Down's syndrome. Through the swatches of her life we see her isolation from her peers and her single mother's (Seo Ju-hee of Flower Island) struggle to make up for the evil that kids do. Eun-hye's closest friend is an elderly woman who lives too far away to see every day. Compensating for this lack of regular camaraderie, Eun-hye has also created an imaginary friend. Eun-hye is played by a girl (Jeong Eun-hye) with actual Down's syndrome and some of her own experiences were brought into the short. In this way, "Seaside Flower" represents what might be a continuing theme in the series, allowing a character to play themselves or at least indigenously represent the community explored within the short, as Yeo Kyun-dong ventured in the first series in his short about the physically disabled which featured Kim Moon-ju, an actor with cerebral palsy.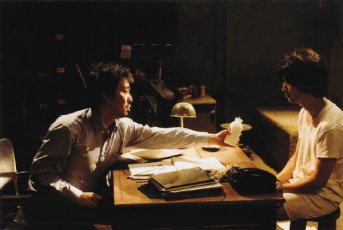 Ryoo's short "Hey Man!" is almost one complete take of a man with multiple prejudices that lead him to cast off every one of his "friends" and fellow patrons who are sharing the communal space of a late night restaurant. The packed crowd at 2005's PIFF who saw this film along with me laughed continuously at Kim Su-yeon's character (who has been in Ryoo's films Die Bad, No Blood, No Tears, and Crying Fist), a character who learns the lesson be careful who you hate, because your hate might leave you on your own. Made while he was still working on his essay on masculinity that was Crying Fist, Ryoo provides an added treat with a surprise cameo by someone from the previous series, making me wonder if this is also going to be a regular aspect of the future omnibuses. (I don't know about you, but I like the sound of the word "omnibuses.")
My favorite of the shorts was Jung Ji-woo's, "A Boy With The Knapsack", a sparingly dialogued, black and white study of the lives of North Korean (illegal) refugees in South Korea. The pacing is perfect, the images of the friends in arms racing through the city still stay with me, and there's a nice little placement of one of the symbols of capitalism that brought a bit of laughter to what is otherwise a short full of sorrow, even more sorrowful considering its partly based on a true story.
Speaking of true stories, let me jump out of the order of this omnibus and mention the last short, Kim Dong-won's documentary about Korean-Chinese immigrants, "Jongno, Winter." Immigration laws in South Korea give advantages to diasporic Koreans from North America and Europe that are not afforded those from China, Russia, or the former Soviet States (the "-Stans"). Kim's documentary interviews several Korean-Chinese, people whose illegitimate residency risks being exposed by appearing in this film, and they share with us the struggles in their lives due to the limits placed on their status in South Korea. The center of this documentary is around one particular person, Kim Won-sub, a Korean-Chinese who died in the streets of Hyehwa-dong from the cold on December 9, 2003, a day when director Kim himself was in that very neighborhood. Yes, the air-conditioning may have had something to do with it, but I think something more was responsible for the chill I felt while watching this film.
But instead of making me feel something, Jang Jin's short "Someone Grateful" (pictured) made me think something. That is, how amazing Jang is in his complexity, weaving together a story like no one else in South Korean cinema today. Jang chose to look at the discrimination of contract workers. But he couldn't stop there; he had to bring in the political tortures of South Korea's past to make his point. As Jang said during the discussion after the screening at PIFF, when portraying such historical torture scenes, he's very cognizant that someone in his crew might have experienced the simulacrum in front of them. To approach such a sensitive topic in such a satirical way takes a very steady hand, and I can think of no one else I'd want on the optic operating table than Jang. The key joke in the film revolves around a paper-and-pencil game about which I am unfamiliar, but the crowd lost it when Jang brought his creative wit to this game of the Korean everyday.
And it is that packed crowd that was just as much a part of my If You Were Me 2 experience as the shorts themselves. As Darcy has noted, one of the impressive things about PIFF is the youthfulness of the crowd. Unlike the thirtysomething and over hip crowds that flock to festivals in the United States and elsewhere I've attended (such as Austria and Italy), high school kids, college students dominate at PIFF. And the fact that they were so engaged with this omnibus human rights film throughout and after the screening, I can't help but hope that when these young South Koreans position themselves in places of power, they might remember what they've seen here and try to make things better for the real people who inspired what's on screen.      (Adam Hartzell)
Ssunday Seoul is an omnibus consisting of three short stories and hilariously bizarre opening and closing sequences, taking the stale genre of comedy momentarily away from 'funny' gangsters and feisty lovers. Bizarre is the operative word when describing the film and the characters running through it, and most of the movie takes on the atmosphere of a light-hearted Twilight Zone.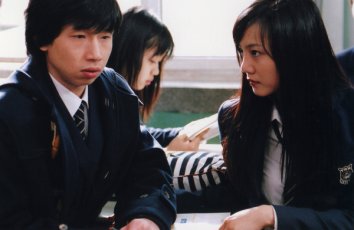 The first chapter of the omnibus is a familiar coming of age story with a twist. Mercilessly teased and bullied, Do-yeon (Bong Tae-gyu) knows that he is the low man on the totem pole at his high school where he daydreams about the drop-dead gorgeous Ji-yeon (Ko Eun-ah) who sits in front of him in class. However, the living hell he faces daily changes dramatically when he discovers himself sprouting tufts of hair in unusual places and developing fangs. When his parents inform him that he is actually from a long line of werewolves, Do-yeon greets the fact with a mixture of despair and terror. The resulting story of learning to accept oneself is an interesting metaphor for the difficulties of adolescence.
Another episode affectionately parodies the kung-fu movies of old where we find a man named Typhoon (Kim Su-hyeon) seeking to train with a mystic master of martial arts in order to take revenge on the man who killed his father. The acting in this story is exaggerated for humor, but the most entertaining aspect of this sequence is its predictability. It follows the plotline of similar movies made decades before and even pays homage to actor Hwang Jeong-ri, a Korean-born star of many Hong Kong action films of the 70s and 80s. Clever additions and numerous cameos add interest and keep the proceedings fresh.
However, what works so well in the martial arts story proves to be disastrous for the story of a serial killer (Park Seong-bin) whose car has broken down. He finds himself forced to search for a phone and winds up at a house occupied by a very unusual family. The predictability of this episode, which is actually the second chapter of the omnibus, is not played for humor. In fact, it takes itself far too seriously. Anyone who knows the conventions of the horror/thriller genres will be able to guess what is about to happen the moment the killer steps in the door. The serious and sometimes disturbing events that ensue seem mismatched with the rest of the film.
The three tales are connected by a pair of hapless comic figures who seem to have frequent accidental brushes with the supernatural but are just a little too dense to fully grasp what they have encountered.
Director Park Sung-hoon took the name for his debut film from one of Korea's most infamous tabloid newspapers which was famous throughout the nation as having some of the most sensationalized, lurid and implausible stories imaginable. (The newspaper Ssunday Seoul went out of print nearly a decade ago). Note that there is another independent Korean movie from 2003 that is titled Sunday Seoul with one 's', but it has no relation to this one. This later work was originally screened at the 2005 Pusan International Film Festival.      (Tom Giammarco)
Lost in all the hubbub surrounding Tony Rayns' Kim Ki-duk article in the Special (South) Korean Cinema Midsection of the Nov/Dec 2004 issue of Film Comment was another little article that posed a provocative argument. Our man Darcy dared to juxtapose My Sassy Girl's refashioning of old feminine brews in new bottles with Kim Eung-su's nihilistic, emotional-bludgeoning dungeon Desire. Although obviously different films, Darcy argued that (South) "Korean romances remain fascinating for both the uneasy tension they exhibit between the traditional and the modern and the sense of moral confusion" (49). Kim Eung-su's focus in this area is "the messiness of human relationships". Kim's new film Way To Go, Rose! continues exploration of such "dirty love" by further deconstructing several tropes of the romance genre. Frustrating for the reviewer, the best example of this happens at the end when Kim dismantles a ubiquitous scene in South Korean romances. Review ethics keep me from going into greater detail, but it's lovely in its cheekiness.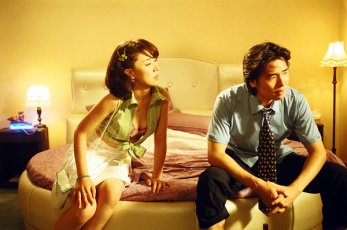 Way To Go, Rose! is separated into two parts: "Marriage" and "Divorce", but the two parts are also separated by which character primary focus is placed upon. In "Marriage" we follow Young-mi (Choi Ban-ya, who played the prostitute in L'Abri) and we learn that Nam-dae (Kim Tae-hoon, Long and Winding Road) and Young-mi have a less than an idyllic relationship, spats erupting sporadically. In an effort to rekindle what, as far as we know, wasn't there in the first place, Young-mi devises a plan for them to head out to a bar, followed by a tryst in a love motel, all the while acting as if they are dating rather than married. Young-mi even goes so far as to videotape this encoded encounter. This allows for wonderful narrative confusion about whether the actions that transpire while in the hotel are real, memories, or all a facade. Director Kim nicely utilizes color to black and white transitions as well as a discordant soundtrack to note when the narrative is shifting. The "Divorce" section of this two part play of many parts has our two divorcees meeting up to spend the day together. Focusing on Nam-dae's after-married life, we eventually venture to the apartment of Nam-dae's boss, President Oh, where a scene takes place as classically dark and humorous as the dinner party scene of Desire. And humor is definitely where Way To Go, Rose! gets going, such as Nam-dae's priceless mocking of the artifice of a play while standing on top of a cylindrical seat of an outdoor theatre, or Young-mi's joke about how outdated Nam-dae's cell phone is, or Nam-dae's verbal bout with an older woman on the subway.
Early on we witness Young-mi placing a large fishbowl-like glass container over her head. So much is revealed in this scene about where the film is headed. Young-mi is never portrayed as stupid, so we know she knows the trouble she's about to get herself into. Yet just like the jabs she takes at Nam-dae's male insecurities, she ventures on to play around the edges of the vulnerability that intimate relationships expose. The bowl over the head also relates to how each character is confined within the roles that they play as husband, lover, daughter, subordinate employee, and divorcee.
Way To Go, Rose! can be added to a list of less than great but greater than lesser films, but it is this exploration of how we act the sum of our parts in the larger societal whole that is most interesting to me. There are expectations in the roles we take on that often bring us to expect complementary roles from others. Although neither character is portrayed sympathetically -- there are no heroes here -- Young-mi is presented as the one with the greatest expectations, from her appreciation of the acting in the play that Nam-dae mocks to her mapping out the romp at the love motel. Throughout the film she nags Young-mi to 'be a man'. Of course, what she means is 'be the person I expect you to be; don't be who you are' and these expectations are confined by gendered politics about how a man 'should' be. The film's sympathy defaults initially along his side until we discover the appalling steps he will take to get his script made into a film.
Kim Eung-su works within moments of Hongian discomfort, yet his characters are louder and more histrionic than Hong's somber, muted souls. I don't need another Hong so I don't wish to impose Hong standards on Kim. Kim has his own thing going and I hope the South Korean film industry affords him an opportunity to continue to explore his quirky take on relationships. Through the most intimate of our relationships, the one we negotiate with our romantic partners, Way To Go, Rose! reminds us how fragile these relationships are when we don't step back and watch ourselves on camera and see where the wrestling might lead to pain rather than pleasure. Kim smears our faces in the worst of our actions to the best of our selves for us to contemplate during our bus ride home or while watching the bus we missed ride away.      (Adam Hartzell)
Partially financed by the Committee for the Promotion of Cultural Enterprises Commemorating the 60th Year of Liberation, this indie omnibus production puts together three novella-length short films. Even though One Shining Day is ostensibly made to celebrate Korea's liberation from the Japanese colonial rule, the actual film pays little attention to the memory of colonial experience (which makes only a brief appearance as an unresolved mystery in one of the episodes). Indeed, inculcation of anti-Japanese patriotism is as far from its mind as one can imagine. Instead, the filmmakers approach the subject of Japan-Korean relationship with an attitude closely approximating the one held by many contemporary Korean youths: equanimity bordering on indifference, devoid of urgent emotional response, positive or negative, to things or people Japanese, often observable in their elder generations. For them Japan is just another foreign country, only slightly more familiar due to geographical proximity and cultural diffusion.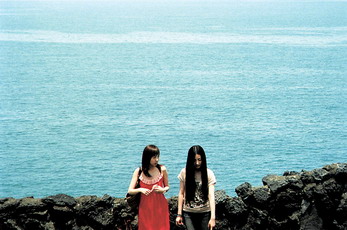 This is pretty much the sense we get from Kim Jong-kwan's (responsible for an award-winning short film How to Use a Polaroid Camera) "Good-bye," an intimate and compassionate study of a teenage boy Jong-hwan (Kim Dong-young), who is attempting raise money to visit his mother, supposedly a migrant worker in Japan. Jong-hwan's stock in trade is hustling used laptops in the street, displaying a lot of moxie but also boyish recklessness dealing with much older "clientele." But the short is overall a rather glum meditation on the boy's loneliness. Besides, there is no compelling reason why his mother had to leave for Japan. Her destination might as well have been Brazil or Canada. On the other hand, Kim, who played the Lee Beom-soo character's teenage self in The City of Violence, shows a lot of promise as an actor.
Scenarist Min Dong-hyun (The Art of Fighting)'s "Beautiful Strangers" employs a hoary gimmick-two strangers inadvertently stranded in a confined space together-- to tell the story of a befuddled tour-guide magazine writer Ishida (Shiota Sadaharu, MPD Psycho) stuck in the after-hours Incheon Airport, with the equally bewildered bookstore clerk Goni (Lee So-yeon, Git) as his only companion. Naturally, they don't know a word of each other's language. The short is a sheer feel-good fantasy and works only because its two protagonists are charming and cute: otherwise their complete unwillingness or inability to work out any useful means of communication might strike us as positively doltish. It could have used either more aggressively fantasy-oriented ingredients or more toned-down, Hur Jin-ho-like relational dynamics: as it stands, the short is amusing but not memorable.
Kim Sung-ho (Into the Mirror)'s "Treasure Island," unlike the other two shots, illustrates Korea from the viewpoint of a young Japanese girl. Mie (Mori Yukie) visits Jeju Island with her best friend Eiko (Seo Young-hwa) in tow, to locate a "secret treasure box" left by her dead grandfather somewhere in the island. Along the way they encounter colorful Korean natives, both hostile and friendly. Director Kim depicts Jeju Island as an eminently recognizable but strangely enchanting place, wherein the memories of the long forgotten past as well as potentially disturbing questions about the real identities of the loved ones may turn up, yet also capable of unleashing a little bit of homespun magic. When the dorky owner (played with aplomb by the singer Han Vad) of the scooter "borrowed" by the girls begins to serenade them in drag, the whole sequence turns out to be oddly moving, despite its surface ridiculousness. Both Mori and Seo, a real-life third-generation Korean-Japanese, deliver excellent, naturalistic performances.
The omnibus is a well-meaning, nicely put-together showcase of typical low-budget, indie-film sensibilities. Its low-octane, soft-in-the-heart approach and lack of cinematic razzle-dazzle will likely disappoint some viewers. Nonetheless, One Shining Day deserves a place in the history of postwar Korean cinema as a thought-provoking snapshot of a stage in the evolution of mutual perceptions by Japanese and Koreans.      (Kyu Hyun  Kim)
Serial loser Namgung Dal (Namgung is his family name -- unlike most Korean surnames, this one is two syllables long) is a walking disaster. Everything he touches goes wrong, even after enrolling in extensive therapy. Setting off to attend his new high school one morning, all signs point to the likelihood that he will once again be branded as a helpless loser by his fellow students. Sure enough, hardly an hour passes before he insults the toughest kid in the school and is summoned to appear on the roof after classes for a fistfight.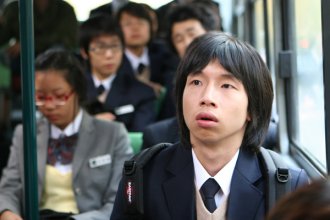 Reading this brief synopsis, viewers might not expect very much from See You After School. However after a slow start, director/screenwriter Lee Seok-hoon's debut film picks up momentum and develops into one of the season's most enjoyable comedies. Much of this can be credited to the decision to cast actor Bong Tae-gyu in the lead role. After injecting similar life into romantic comedy When Romance Meets Desire (2005), Bong is emerging as a successor to Song Kang-ho and Ryoo Seung-beom, who proved they can be top-notch actors in both comedy and drama. Charismatic and funny, he is 80% of the reason to watch this film.
In the course of charting the ups and downs of Dal's first day at school, director Lee provides clever dialogue and tongue-in-cheek reversals that keep the action moving along at a steady tempo. At the same time, he creates some empathy for some rather odd students at the school who just don't fit in. At times, the film feels like an homage to Jo Geun-shik's Conduct Zero (2002), not only in its cartoonish, exaggerated staging of fistfights in flashback, but also in the way it swerves towards a more serious tone at the end. Although not as accomplished as Conduct Zero, in its strongest sequences See You After School re-creates some of the same energy.
There have been some accusations in the Korean media that this film plagiarizes the 1980s Hollywood teen comedy Three O'Clock High, which shares the same basic setup. Nonetheless, many of the plot details differ (the director claims not even to have known about the latter film), and this does seem to be a genuine case of unintentional duplication. After all, the concept of a weak student being challenged to a fight after school is not that original or hard to dream up.
Although far more entertaining than other recent comedies like My Boss, My Teacher or Almost Love, this film opened weakly at the box office and failed to attract large numbers of viewers (even though word of mouth was fairly positive). The comedy genre in Korea is at a weird crossroads in 2006. Audiences seem to be craving a good laugh, but few films have managed to replicate the creative energy that existed back in 1999-2002. Despite being well-executed and funny, See You After School probably falls into the same category -- it is charming, but very familiar.      (Darcy Paquet)
Hyung-jin (Jo Jae-hyun, Hanbando, Mokpo the Gangster's Paradise) crashes a gangster's funeral and beats the stuffing out of the mourners in slow motion. Ethically uncompromising, Hyung-jin is marked as a persona non grata at his police department. Really serious trouble brews when he falls in love with a politico's trophy wife Yoon-hee (Kim Ji-soo, That Charming Girl). He dreams of emigrating to Argentina with her, where she can fulfill her childhood dream of being a tango dancer (I didn't make this up). Yoon-hee's husband, enraged by the illicit affair, schemes to permanently incarcerate her in a psychiatric ward and annihilate Hyung-jin by means of a forced drug overdose. And he's got many underlings, even among the police, to do his bidding.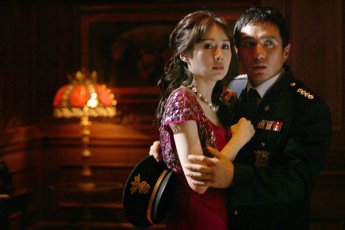 Tear-jerking melodrama or sinpa (originally meaning the "new style" theater, a term imported from Japan during the colonial period) is arguably not only the most significant cinematic genre in Korean cinema today, but also Korea's unique contribution to the global media culture. Disparaged as vulgar and tasteless only a few decades ago, like so many popular Korean artforms, melodrama has stoutly weathered insults and derisions, to claim the position of a commercial and artistic force to be reckoned with.
In recent years the melodramatic form in Korean cinema has begun to evolve in a range of interesting directions, picked up by talented filmmakers with a lot more in their minds than simply compelling the (female) audience to reach for Kleenex tissues. If Park Jin-pyo's You Are My Sunshine stands as one example of how to successfully update or reconstruct the tear-jerker for the 21st century, at the extreme opposite end lies Moon Seung-wook's Romance, the kind of jaw-dropping train wreck that only a talented director could have made. If Kryszytof Kieslowski was asked to make a hybrid of Endless Love and Die Hard, could it have resembled Romance? No, actually that movie would be a whole lot more entertaining. Or if Ingmar Bergman and Sven Nykvyst decided to make a Steven Segal movie as a joke... only then they forgot that it was a joke... and began to take Segal's input seriously as the valuable suggestions of a creative mind... Anyway, you get the picture. It's that bad.
First question that bubbled up to my mind, while I was gazing at the screen in a state of amazed stupor, was why the four (count' em, four!) screenwriters, including director Moon, did not choose to make the protagonists two ordinary people, like a banker and a housewife. Why this mock-Hollywood "honest cop" nonsense? Why blow up a get-me-out-of-this-unhappy-marriage female fantasy scenario into an action extravaganza with shrapnel and body parts flying everywhere? It's a miscalculation of monstrous proportions, if indeed it was a miscalculation: this intrusion of Hollywood action flick bull is so ludicrous that it almost appears to be an allegory of some kind. Is Moon trying to comment on how this overwrought violence, the endless display of gunfire, explosions, beatings, face-slaps and foul language, has supplanted romantic yearning in so-called melodramas, i.e. urban violence as a substitute for sex appeal? Otherwise how do you explain the pupil-dilating "teaching your girl how to target shoot as instant psycho-therapy" scene between Hyung-jin and Yoon-hee? This is the kind of stuff Jerry Bruckheimer would be too embarrassed to put in his blockbuster.
Hyung-jin's character is so cranked up that he appears to be permanently on speed, except for a few quite moments he shares with Yoon-hee. It is entirely due to Jo Jae-hyun's acting ability that we at least remain convinced that Hyung-jin genuinely cares about her. In almost every other respect he is a carbon copy of one of those psychotic "tough guys" in bad Hollywood movies who probably urinates undiluted testosterone. Kim Ji-soo, who publicly complained about the lack of depth in her role, is at least allowed a few moments of dignity in which her severe, porcelain face registers trauma and despair. For the rest of the film, Yoon-hee might as well be a varnished paper cut-out. Adding insult to injury, she is stuck with some of the most atrocious lines I have ever encountered in a Korean movie, melodrama or not: "My father was a carpenter. He was a rough man, but he was sensitive inside... like you, Hyung-jin." Oh Lord.
Supporting players don't fare any better. Yoon Je-mun's (so powerful in A Dirty Carnival) snickering, weasel-like secondary villain is a colossal waste of his talent. Poor Jang Hyun-seong (Nabi, Spider Forest, Git) sinks into a bowl of second banana pudding. Lee Jung-hwan's live-wire primary villain seems to think he is Juan Peron and his wife Evita. At least that goes in sync with the film's mortifying reference to tango and its cringe-inducing use of the dance tunes as background music.
The only redeemable feature of this fiasco is its unique visual look. Moon, DP Kwon Hyuk-joon (Ardor, Marathon), lighting director Lee Jae-hyuk, production designer Hwang In-joon (Antarctic Diary, Tube) and art director Jeong Hyun-cheol (Bungee Jumping of Their Own) collaborate to create a stunningly stylized chromascape dominated by two colors, dark blue-indigo and gold-orange, a sort of Vermeer-meets-classic film noir look that's unlike anything ever seen in a Korean movie. It is undeniably gorgeous, occasionally even breathtaking. A tableau of Yoon-hee walking across a rain-drenched empty lot in one scene, for instance, that you could swear was filmed at a Middle European plaza, perhaps previously featured in The Third Man or some such post-Second World War masterpiece, turns out to be the Seobu Police station, one of the drabbest locations in Seoul! Alas, all this fine-arts sophistication is for naught, overwhelmed by ridiculous dialogue, unpleasant violence and overripe performance.
Romance proves, like countless Korean horror films of the summer season, how difficult it is to reformulate tired-but-true cinematic cliches. It requires far greater mastery of cinematic conventions than is usually supposed. To put it bluntly, it is easier to make an imitation-Hong Sang-soo "art movie" than to make a tear-jerking melodrama that has something new to say beyond pushing Pavlovian buttons, a point that Korean critics and producers need to appreciate. One can only hope that Moon Seung-wook will be able to put this no doubt frustrating experience behind him and get things right next time.      (Kyu Hyun  Kim)
Two things have stayed with me regarding Zhang Lu's Chinese-Korean co-production Grain in Ear. First, there is how everyone appears to move listlessly through the film, as if walking through a viscuous liquid, or as if carrying a heavy burden, such as Soon-hee's (Ji Liu Lian) excruciatingly slow pedalling of her kim-chee cart across the screen. And second, there is the prevalence of frames within frames, the centering of a doorway within the film frame where we watch what happens on screen and infer what happens beyond the border of the doorway. For those unfamiliar with film theory terms, what happens within the frame is called "diegetic" while that which happens outside the frame is "non-diegetic." What is lovely about Zhang's mise-en-scene is that this frame within the frame sets up a kind of non-diegetic diegetic space that allows for a powerful connection with the events happening both inside and outside our view. And of all the films I saw at the 10th PIFF in 2005, none was more sutured in my brain when leaving South Korea as this one, making me quite happy to hear that it ended up winning the New Currents Award.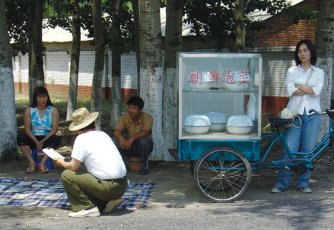 Soon-hee is a Korean-Chinese living in China struggling to raise her young son (Bo Jin) on her own. Soon-hee sells kim-chee-ed vegetables illegally, so she positions herself for customers at different remote locations throughout the town to avoid being caught by the police. Soon-hee lives in a tiny subdivided house, the other divide being rented by four young, Chinese, female prostitutes with whom her son will occasionally play when not marching along with his friends in town looking to creatively engage with their desolate surroundings. Reluctant to engage with her neighbors, Soon-hee is approached by different individuals, particularly by men who come with their own agendas.
In its wonderfully slow pace, Zhang demonstrates vividly how stereotypes approach us. How others views about us are imposed upon us and how difficult it can be to excise ourselves from these assumptions. And most frightening is how we are sometimes forced to become these stereotypes. The kim-chee-ed vegetables she sells on the shores of abandoned roads are each man's entryway into Soon-hee's life. Then, through the poor, (il)logical leaps that create stereotypes, they assume things about her that aren't true yet they use their privileged positions to re-position Soon-hee to meet their stereotypes of her. Tragedy upon tragedy occurs in Grain In Ear, but there are moments of tiny positive poignancy that do still emerge. There is the time she buys a kite for her child. And even though the female police officer sees her solely as her ethnicity, (she's only seen Korean-Chinese on TV, never having met one before), and approaches Soon-hee as someone exotic, the moments when Soon-hee teaches her Korean traditional dance and they playfully mess around with each other as fast friends later in the sauna, each are respites for Soon-hee from the impending gloom that overwhelms the film.
Zhang's use of kim-chee as Soon-hee's connection to everyone involved, including herself, is well laid out and adds nicely to a tradition of how food is used in film explored in detail in Reel Food: Essays on Food and Film edited by Anne L. Bower. And his slow, lumbering style is not just for show, for it is syntonic with the environment and lives of the characters on screen. Equally congruent is Zhang's stationary camera, because even though the characters are moving, albeit slowly, they still appear to remain in the same place, further underscored by the kim-chee cart peddling and dancers parading in one direction early on in the film and then later in the opposite direction. We can add to this the non-diegetic diegetic space of the doorways and windows, for both are entry and exit ways, underscoring the feelings of inevitability that trap Soon-hee. And the overall pace of all inactive actions of the majority of the film provide a stark contrast to the speed with which Soon-hee moves at the end of the film. All this amounts to a powerful film about the Sisyphean uphill climb of flat, false assumptions about who we are and can be and what we're capable of when all hope is lost.      (Adam Hartzell)
If film can accurately be described as a marriage between art and industry, then there is always bound to be conflict. In countries where the industry side of the equation is weak, a national cinema runs the risk of shrinking or being overwhelmed by Hollywood imports. In rarer cases such as Korea where you have a strong industry, worries rise that commercial pressures will straightjacket filmmakers' creativity. This fear is widespread in Korea these days, partly because industrial developments are rushing ahead at such incredible speed.
The best way to counteract this is to support diversity -- not just in topics, genres, filmmakers' backgrounds, etc., but also in the way that films are made. If all Korean movies are financed, produced and shot in the same way, then they are all bound to turn out rather similar. In today's industry, the Korean Film Council is probably trying hardest to support alternative modes of filmmaking, but it faces an uphill battle.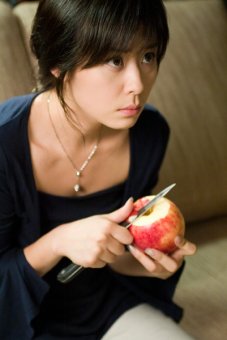 Nonetheless, the success of the HD-shot comedy My Scary Girl may warrant a spark of optimism. A co-operative effort between leading production company Sidus FNH and broadcaster MBC, the film was conceived as sort of an experiment. Its comparatively low budget of $800,000 meant that neither side was risking a lot of money, so not much pressure was placed on writer/director Son Jae-gon (whose first feature, The Man Who Saw Too Much, was never released in theaters). TV stations like MBC have not been much involved in the film industry to date, but the start of broadcasting in HD format has created a new demand for these type of films. Son picked two well-known but not particularly in demand actors, Park Yong-woo and Choi Gang-hee, and quietly set about shooting his film.
Park (Ditto, Blood Rain) plays a well-educated, 30-year old man named Dae-woo who has never in his life worked up the courage to date a woman. One day an attractive art graduate with big eyes moves into the apartment below his, and with the forceful encouragement of one of his friends, he asks her to dinner. Soon, he is blind with love, and the two are spending all their free time making out. Yet as he learns more about his new girlfriend, he starts to suspect that she is hiding something. His puzzlement develops into anxiety, and eventually into outright alarm...
The film's soft and fluffy setup outlined above is ultimately overwritten by darker and more interesting plot developments -- like a romantic comedy left out on the counter that starts to turn black. Park plays his role, as he is meant to, like a cheerful and stupid puppy who can't see what he's got coming. In contrast, Choi Gang-hee, whose only major film role before this was in the original Whispering Corridors (1998), plays her elusive character with precision control and cool grace, even when she's the butt of the jokes.
The crowd I watched this with was screaming in delight at the film's humor, though so much of it is verbal-based that I wonder if it will translate. But for me the most exciting aspect of this film was what it lacked. Contrasted to something like My Sassy Girl (which the international marketers of this film seem to be referencing -- the original title means "Sweet, Bloodthirsty Sweetheart"), My Scary Girl pitches the sappy ending right out the window. The film never labors to provide melodramatic justification for our heroine's behavior, due to a troubled childhood or whatever. It doesn't transform her into a soft, passive kitten at the story's end. Korean romances and comedies tend to be loaded with emotional and narrative baggage, but there is none of that here at all. As a viewer it's tremendously refreshing. It makes me wonder if this film's agnostic attitude would have survived if it were set up as a mainstream, normal-budgeted production.
And how did it do at the box office? Three weeks at #1, easily fending off competition from Ice Age 2, and over $16 million worth of tickets sold. This from a film that was expected to earn back maybe half of its little budget. Hopefully this will encourage Korean producers to keep trying new things.      (Darcy Paquet)
There are many ways to receive a film, and when blogging for GreenCine at the 10th PIFF in 2005, I decided to be resistant to the narrative when reporting on my screening of Cho Chang-ho's The Peter Pan Formula. I presented a contrarian view to the Freudian text that the film presents. But for this review, I'll let that be and present the film closer to what it is rather than a text with which to debate. Premiering as part of the New Currents Award series, it didn't win but seemed to generate some buzz at the festival. And this may be because of how psychoanalysis and film seem to stroll hand in hand. (My favorite film book title ever is a testament to this - the Slavoj Zizek edited Everything You Always Wanted to Know about Lacan (But Were Afraid to Ask Hitchcock). The book intimidates me too much to ever sit down at a coffeehouse to begin reading it. Although I'm sure having it in my hands would beef up my coffeehouse cred.)
Han-soo (On Ju-wan - Flying Boys, The Aggressives) is a 17-year old student in his final year of high school whose already vulnerable world has fully fallen apart. His mother attempts suicide but is caught soon enough that she remains in a coma. In her suicide note is the address of his estranged father. Initially, Han-soo holds off from locating his father. Instead, he decides to sever himself off from all connections to the world. He quits school and the swimming team where he is the most promising swimmer, resolving to take care of his mother full time. His teammates, coach, and teachers at school try their best to get him to reconsider but he is headstrong in isolating himself.
But Han-soo is also ambivalent about this trip to an existential island. Sharing the room with his mother is the comatose mother of college-aged Mi-jin (Ok Ji-young - again playing an orphaned young woman as she did in Take Care of My Cat). Insecure about approaching her, he ends up stalking her and stealing her stockings after discovering that she is prostituting herself to pay for the hospital bills. These stockings will later provide cover for Han-soo's own methods of paying off his mother's debts. Another woman who reaches out to him is his somewhat despondent, married next-door neighbor (Kim Ho-jung - Nabi, Springtime) who is a little too willing to comfort Han-soo in his time of certain needs.
Besides what Freud fans will find reinforcing about this film (Han-soo's need to "return to the womb", the sexuality issues that arise for Han-soo when bathing his mother, and various other fetishes), the film has some compelling scenes, particularly when Han-soo reveals a secret to Mi-jin and earlier scenes involving his coach and teammates. The scenes with his coach and peers are most compelling for me since the scenes present two common, and similar, tropes in South Korean cinema - freely dispersed capital punishment by male teachers and equally freely dispersed pummeling by peers. Cho (who also wrote the screenplay) provides a new perspective on this common occurrence in that he shows the coach punishing Han-soo and his teammates and the teammates punishing Han-soo, but then quickly shows them switching to alternate tactics when such methods prove futile. And these alternative tactics are, in one instance, the complete opposite of beating up Han-soo, resorting to prostrating themselves before him begging that he return. They truly care about Han-soo and want him to reconsider his alienating choices, placing the earlier punches as one aspect of a complicated interplay between peers.
For all that is understandable about Han-soo's need for isolation, The Peter Pan Formula also demonstrates how we can exacerbate that isolation into alienation. Han-soo rejects the outreach of his friends and the father surrogacy offered by his coach. Mi-jin seems to be the most likely candidate for an understanding ear, but his high school innocence makes approaching her more difficult. And he mis-uses the sincere offers of help from his next-door neighbor.
The latter two are where the fetishes presented come into play. Isolation can often bring about perversion. And I mean that in a more divergent definition of the word than is commonly used. The dictionary defines "perversion" as a sexual practice or act considered abnormal or deviant. But what we find abnormal or deviant is subjective and hence why I initially was resistant to The Peter Pan Formula's perpetuation of certain acts as always "abnormal". I look at an act as perverted if it is a sexual act of disconnect rather than connection. In this way, I refuse that label for sexual acts or attractions commonly perceived as perverted that actually bring partners together and reserve it for those that separate partners to the point of the objectification of one or more members of the union. (So if being into stockings makes you even more receptive, to yourself and your partner(s), then you go put those stockings to whatever creative use you have in store!) In The Peter Pan Formula, Han-soo's thing for Mi-jin's stockings are a means of separating from her and thus clearly fetishistic and not an extension of sex play, and his desire for his next-door neighbor is a need to "return to the womb" and not simply recognizing how damn hot some older women can be. In Cho's filmic formula here, Han-soo engages in clearly perverted actions and they definitely exacerbate his isolation.
And the more and more we isolate ourselves within our modern societies, societies that by the very acts of modernizing can impose involuntary isolation upon us to begin with, the more things become harder for us to survive the trials life brings us. Cho shows us there are beacons of hope all around us, including the hope within ourselves, if we'd only bother to receive their signals that it's ok to let our guards down and be the vulnerable human beings that we are.      (Adam Hartzell)
Despite a relaxation of censorship standards since the late 1990s which helped Korean filmmakers such as Jang Sun-woo (Lies) and Park Jin-pyo (Too Young to Die) push the envelope in terms of the explicitness of sexuality depicted onscreen, Korean cinema had for years stayed away from quite a few "taboo" topics. Two among them were the negative experiences of military draftees (there is no such thing as sexual abuse among men in the Korean military, of course) and the widespread use of drugs (only Americans do drugs, of course). I've in fact vilified Korean filmmakers on more than one occasion for not having the guts to take on these issues. Well, I am as happy as Winnie the Pooh with a pot of honey to eat my own words, as we now have The Unforgiven tackling the military controversy, and Bloody Tie, one of the most harrowing crime thrillers to come out in Korea for some time, for the drug problem.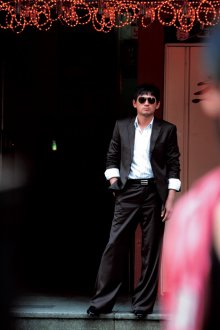 The drug of choice for Korean addicts is Philophon (called hiroppong or ppong in the street argot), basically a Japanese version of crystal meth or methampethamine solids. Meth was used by various governments (Japanese, Nazis, American) during the Second World War to boost production and keep troops alert: today it is recognized as one of the most widely used and socially destructive addictive substances in the world, next to alcohol, caffeine and nicotine (What, did you expect cannabis to make the list?).
Bloody Tie begins with an actual news montage chronicling the explosive rise of meth use in the Busan area following the 1997 IMF crisis. The film then introduces two protagonists: Sang-do (Ryoo Seung-beom from Crying Fist), a cocky, street-savvy small-time dealer with a tragic family history involving his dopehead uncle (the veteran Kim Hee-ra), and Lieutenant Do (Hwang Jeong-min, You Are My Sunshine, Bittersweet Life), a corrupt cop obsessed with bagging his arch-nemesis Jang Cheol (theatrical actor Lee Do-gyung), a big-shot crime lord ensconced in China. Sang-do and the Lieutenant hate each other with virulence yet have built a complex symbiotic relationship over the years, compared to one between a crocodile and an Egyptian plover in Yoon Deok-won's intelligent but perhaps overly literate screenplay.
Bloody Tie has a four-Chinese-character Korean title, "A Life-or-Death Decision," that alludes to Hong Kong urban action films of the 1980s. In substance, however, the film is shorn of the H.K.-brand macho romanticism packaged in aesthetically pleasing slow-mo visuals. Rather, it is fast, dirty and mean like an angry hedgehog rolling itself into a ball of pointed quills, ready to pounce at your face. I was reminded of William Friedkin's equally nasty To Live and Die in L.A. minus its fashion-magazine slickness. Director Choi Ho, who previously helmed the interesting Who Are You? starring Lee Na-young, displays an impressive level of storytelling skills and an excellent ear for character interaction. Several obviously cliched setups attain, under his careful direction, a sense of dramatic authenticity, such as Sang-do's don't-tell-me-why-I-am-doing-this effort to detox an upper-class addict Ji-young (the TV drama actress Choo Ja-hyun), which develops into a highly convincing, non-sentimental relationship between the two.
At the center of this hardball film noir are two of the best actors working in Korean cinema today, Hwang Jeong-min and Ryoo Seung-beom. Hwang is brilliant as usual. His trademark steam-engine puffing ("Ssssheee...") is no longer oddly endearing here as was in A Bittersweet Life, but revealed as a sound made by a viper spitting venom at his prey before swallowing her whole. Unfortunately for me, the character played by Hwang remains a weak link in Bloody Tie. If Director Choi, as the publicity materials imply, intended to make this character reminiscent of the scary-as-hell sociopaths in Graveyard of Honor and other yakuza films of Fukasaku Kinji, I must say he did not quite pull it off. This is where perhaps the director's arthouse sensibility, aspiring toward a dry-eyed expose of the lethal absurdity of a human creature, and his (or the producer's?) attraction to Hong Kong-style romanticism collided with and ended up canceling one another. To put it in another way, Lieutenant Do is an evil bastard from whom I could not detect any shred of "moral ambiguity" or "complexity of character." Indeed, I am a bit worried that his final dialogue, spoken while striking an iconic pose of a Cool Cop and most probably meant to be ironical, will be embraced by many viewers as an uncomplicated statement of Dirty Harry-ism.
Hwang delivers a showstopper as Lieutenant Do but the movie really belongs to Ryoo Seung-beom's Sang-do. I am fast running out of superlatives to praise Ryoo, undoubtedly the most naturally talented Korean actor of his generation, no contest. Following at the heels of his stunning turn in Crying Fist, Ryoo, without ever resorting to cute mannerisms or exaggerated theatrics, makes us root for Sang-do, a craven little thug full of hot air, who is just smart enough to be one step ahead of his competitors but not smart enough to see that he is nothing more than a rat in a pinwheel in terms of the Big Picture. The only possible fault I could find in his interpretation of Sang-do is that his Busan accent is not always convincing, probably a non-issue for most readers of this review. (For the record, my mother's family is from Busan)
Bloody Tie is a dark, vicious and surprisingly poignant film noir, which maintains its integrity despite wholly unnecessary (and ultimately detrimental) capitulation on its maker's part to the lineage of '80s Hong Kong cinema. Do not expect something beautiful and slick: this baby's got a bite.      (Kyu Hyun  Kim)
Kim Seon-ho (Cha Seung-won, My Teacher Mr. Kim, Blood Rain), a horn player, is leading a happy middle-class life, along with his elderly but active parents and the married sister's family. He enjoys an occasional stroll on the neighborhood riverbank and a dish of cold buckwheat noodles. Recently Seon-ho has fallen head over heels for the beautiful museum guide Young-hwa (Jo Yi-jin, The Aggressives), a girl as "fresh and clean as a swig of dongchimi (cold radish kimchi juice made without red pepper)." When his father (Song Jae-ho) takes up a correspondence with his presumed-to-be-dead grandfather, however, things begin to unravel. You see, Seon-ho is a North Korean. And the grandfather, whom the family thought was an honored Communist hero, has been living in South Korea all these years. Threatened with exposure, Seon-ho's family decides to risk their lives and seek asylum south of the border.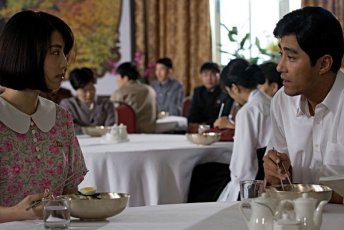 How far South Korean movies about the North-South division have evolved since The Spy (1997) and Shiri (1999) may be seen in the fact that the story of Over the Border, with only a few details changed, would make sense in almost any national context where illegal immigration and acculturation are serious social issues. Mexicans in the United States or Moroccans in France would certainly resonate with the Kim family's experience, their befuddlement, desperation and courage in their efforts to create new identities in a familiar yet strange land, and their sorrow resulting from the inevitable choices they make in order to survive. Considering the reality that more than one thousand "escapees" have settled down in South Korea, some of whom can even make phone calls to North Korea via satellite relay, it is perhaps not surprising that Southerners increasingly look upon the Northerners amidst them as just another group of immigrants.
The greatest strength of TV producer An Pan-seok's debut film is its almost anthropological approach to the everyday lives of North Koreans and Northerner exiles in South Korea. The painstaking recreation of communal restaurants and concert halls with their opulent but hollow-looking interior design, and an apartment house with its warm-colored but borderline cheesy wallpapers are stunning in their verisimilitude and naturalism: equally impressive are the detailed descriptions of housing facilities and relocation programs for Northerner exiles. Cha Seung-won, eschewing the comic images familiar from his earlier pictures, is so convincing in portraying Seon-ho's naive, trusting nature that I basically forgot throughout the movie that, if he were to mingle with North Koreans in real life, Cha would stick out like Gandalf among a bunch of Hobbits. Jo Yi-jin is indeed fresh and clean in her role: for me, like a gush of wind from the mountain top, carrying a fragrance of young pine needles. As a counter-point to Jo's youth and wide-eyed vivaciousness, the veteran actress Shim Hye-jin (Out to the World, Acacia) delivers an excellent supporting performance as a mature, tough owner of fried chicken restaurant who befriends Seon-ho.
Unfortunately, Over the Border is altogether too gentle for its own good. Director An, while displaying a sure hand in credibly staging the North Korean scenes and bringing out unforced naturalism from the actor's performances, does not succeed in generating enough dramatic horsepower to make us emotionally invested in the characters. Over the Border's tragic romance is almost entirely carried forward by the film's ridiculously attractive stars: directorial help is not quite forthcoming, especially in the second half. Particularly groan-inducing is the clumsy montage connecting Seon-ho and Young-hwa's trips to the Northern and Southern amusement parks.
While I cannot profess a passionate liking for this well-intentioned but occasionally dull film, I am glad that Over the Border has been made. I especially recommend it to Americans whose image of North Korea has been dominated by unflattering shots of its bramble-haired, portly Leader from American "news" broadcasts. This openly cliched tragic romance, completely bereft of clever plot twists and agonizing reflections by the characters on their national identities, frees itself from the ideological baggage that has burdened other Korean films dealing with the division, by doing the right thing -- rendering its ears to the stories of the thousand-plus Northerners already living in South Korea. And that is no mean achievement.      (Kyu Hyun  Kim)
Whenever a great film is made by a pair of co-directors, it is tempting to wonder who among the two is the truly talented one. Was the real genius behind Smoke Wayne Wang or Paul Auster? Some may have wondered the same thing about Memento Mori, the cult horror film from 1999 that is well remembered for its nuanced and haunting portrait of a girls' high school. Yet we may have to get used to the idea that Min Kyu-dong, who went on to direct All For Love in 2005, and Kim Tae-yong are both, indeed, quite talented.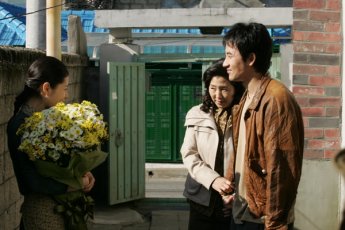 Kim's Family Ties is an ensemble story told in three seemingly unconnected segments. (Skip this paragraph if you'd prefer not to know anything about the plot) Acting legend Moon So-ri takes the lead in the first, playing a woman who is visited by her long-lost, delinquent brother (Eom Tae-woong) who had vanished years earlier. He announces that he has gotten married, introduces Mu-shin (Goh Doo-shim), a woman who is considerably older than he is, and then casually moves in. Part two is tightly focused on a character played by Gong Hyo-jin (Conduct Zero, Memento Mori), a quick-tempered young woman named Sun-kyung who finds out that her mother (Kim Hye-ok) is seriously ill. Sun-kyung has been on bad terms with her mother, particularly because the latter is having an affair with a married man, and has a young son. Part three is about a young couple having problems in their relationship, and features Bong Tae-gyu (See You After School) and Jeong Yu-mi (Blossom Again).
Given the names in this cast, it may come as no surprise to hear that the acting is top-drawer. Moon So-ri, Gong Hyo-jin, and Bong Tae-gyu are each more than capable of carrying their respective segments, and the supporting roles are well-cast. Gong's performance in particular is worth watching five or six times just to revel in its energy and to catch all of its details. As a bonus, Ryoo Seung-beom makes a brief appearance playing her ex-boyfriend (a nice bit of irony, since in real life too, Ryoo is Gong's ex-boyfriend).
The original Korean title "Birth of a Family" gives some clues as to the thematic point of the film. It is family relationships that provide the work with its narrative scaffolding, yet these family units are not stable. Indeed, we witness the birth of at least two families onscreen. In this way, the families come across as quite unconventional (separate from the fact that all these people tend to act a bit crazy).
It's particularly interesting to consider the genesis of these families. Rather than being based on blood relations, they are often born out of a random or irresponsible act by other person. Yet it is made clear that the family is no less valuable because of it. This is not a controversial concept in many parts of the world, but it attracts notice in Korea because many cultural traditions are at least nominally founded on blood ties. Korea has moved far beyond its cultural traditions in many ways, but enough remains that this film carries a somewhat progressive sheen. (Consider, for example, the popular TV drama "Autumn Love Story," in which two newborn baby girls are accidentally switched in the hospital, and then fifteen years later when the families discover what happened, are switched back)
Sometimes it seems that Western film critics look down on Asian films that take family issues seriously, compared to (for example) the hip, ironic portrayals of family breakdown seen in many U.S. independent films. When Im Sang-soo's A Good Lawyer's Wife premiered at Venice in 2003, the reaction of many critics seemed to be that their own society had "been there, done that" -- that the film had nothing new to say to them. But I wonder if this isn't just a closing of minds to issues that are still pretty vital to people in any society.
Family Ties is unlikely to travel far on the festival circuit, given that the director is not well known and it doesn't fit the mould of a European-style art film. But aside from a few weak points (the music, for example, or a tendency to push too hard in certain scenes) this is likely to be one of the most interesting films that Korea produces in 2006. Korean critics have embraced it, but I suspect that in the West it will remain an underappreciated achievement.      (Darcy Paquet)
A Seoulite cop Tae-su (Korea's most famous action choreographer/stunt artist Jeong Du-hong) receives the shocking news that his childhood friend Wang-jae (Ryoo Seung-wan regular An Kil-gang), a retired wiseguy, has been stabbed to death by a handful of punks. Tae-su goes back to his hometown Onsung to attend Wang-jae's funeral. He immediately smells a rat. The town is under the thumb of their old buddy Pil-ho (Lee Beom-soo, Oh! Brothers, Singles, Mr. Gam's Victory), now a big shot gangster and involved in a citywide real estate development scheme. Tae-su reluctantly teams up with the short-tempered Seok-hwan (Ryoo Seung-wan) to avenge Wang-jae's death.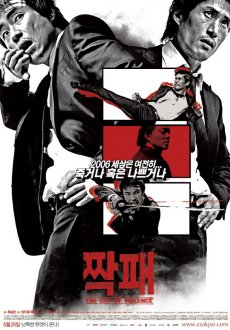 Clocking in at 92 minutes, The City of Violence is so compact and lean that it will probably perturb more than a few Korean cinema fans expecting convoluted surprise endings and long melodramatic passages. Unlike his previous work Crying Fist, which packed quite a emotional wallop, Ryoo Seung-wan's newest is a self-consciously generic update of the "action films" of 1960s-70s Korea. It superficially reminds you of his searing debut Die Bad, in its purposefully grainy Super-16mm cinematography, archetypal characterizations, off-color humor and acerbic, witty dialogue. Yet, City of Violence is as much a Jeong Du-hong project as a Ryoo Seung-wan one (Jeong's stunt/martial arts specialty outfit Seoul Action School has co-produced the movie with Weyunaegang Productions, headed by Ryoo's wife Gang Hye-jung). Jeong's preference for high-kicking, up-close, bloody and sweaty action aesthetics is very much in evidence.
For his part, director Ryoo re-conceives the film noir conventions he first tackled in No Blood No Tears in grittier and starker terms. Intriguingly, The City is the least elaborate in describing the emotional violence and oppressive atmosphere and the least cheeky in mixing humor and drama since Die Bad. Ryoo's command of visual language is as dazzling and assured as ever. A simple expository scene like Tae-su having a frustrated phone conversation with his frazzled colleague pivots on an eye-popping split-screen technique: a tumbling automobile in the film's climactic "auto accident" sequence seemingly smashes into the camera a la the wrecked train in Lawrence of Arabia. And you know, Quentin Tarantino is a cool guy and a great filmmaker but don't bring him up anymore already. I mean, how lazy can "Western" critics of Asian movies get? If anything in The City reminds you of Kill Bill, that's because Ryoo Seung-wan has fully absorbed into his stylistics the East Asian films that Tarantino was "inspired by" in making his revenge flick.
In terms of the characters, Ryoo casts himself in a somewhat ironic second-banana role, yielding the spotlight to Jeong Du-hong, who makes a reasonably stern if somewhat boring hero (Seokhwan is to Tae-su what Clint Eastwood is to Lee Van Cleef in Sergio Leone spaghetti Westerns). His desire to make a straightforward '70s style action film can also be gleaned from the fact that its key villain Pil-ho is given all the great dialogue and is in fact the most dramatically substantial character. As the curly-haired, wide-eyed, slightly ridiculous Pil-ho, whose monumental sense of inadequacy actually propels the film's narrative, Lee Beom-soo gives a flamboyant but entertaining performance. His demise recalls Gabriele Ferzetti's close encounter with a dirty puddle near the conclusion of Once Upon a Time in the West.
It is almost a given, however, that The City's reputation overseas will chiefly rely on its action scenes. The film's extended climax, featuring four beautiful, white-clad bodyguards beating the bejeesus out of our scrappy heroes and an audacious, Beat Takeshi-meets-Sam Peckinpah sequence in which they have to pass through a gauntlet comprised of about two dozen very sharp sashimi knives, is a marvel all right. But in terms of sheer kinetic energy and chutzpah it is outdone by the mid-point chase sequence, in which Tae-su and Seok-hwan are pursued by seemingly a hundred or more teenage thugs, brandishing weapons ranging from baseball bats to hockey pucks and even employing capoeira-meets-breakdance moves. Indeed, the sequence, delirious and exhilarating, resembles a major dance number in a musical rather than a martial arts slugfest, which is all for the better as far as I am concerned.
During the press screening, Ryoo stated that he pretty much said everything he wanted to say about the action film genre in The City. This smashingly talented young director will no doubt continue in the future to combine fidelity to genre conventions and experimental spirit in his own unique ways, even outside the "action" film genre: after watching The City, I won't be too surprised if his next film turns out to be a contemporary musical.      (Kyu Hyun  Kim)
A Bloody Aria's original Korean title is pretty much untranslatable into English. Guta yubalja literally means "one who induces physical assault." It's military slang, attached to rookies or incompetents who "deserve" to be beaten up by their "seniors" and boot camp sergeants. Shot in grimy HD video with just a handful of cast members, Bloody Aria is guaranteed to deeply divide non-Korean viewers into two opposing camps, as much as it has for the domestic audience and critics. Some will no doubt revile it as a premier example of Korean cinema's gloating indulgence in nauseating depictions of physical violence and horrible treatment of women (although not too many "Western" critics seem to mind when Koreans or Japanese do this in their movies -- oh I know, feminists live only in the U.S., like "top" baseball players): ugly characters doing ugly things to each other, with not a shred of wisdom to be found at the end. Others might champion it as one of the more honest cinematic statements about the vicious cycle of violence, an unflinching snapshot of degraded human souls hobbling toward, not redemption, but the Nietzschean abyss in which they see shiny-black reflections of their own bloodshot, insanely grinning faces.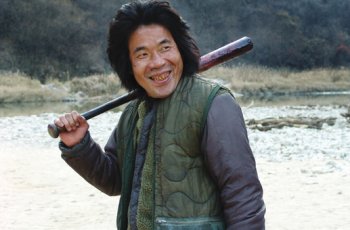 My reaction falls somewhere in between. To be sure, Bloody Aria is a riveting, nail-biting experience while you are watching it. We can readily see that the movie is far more of a personal project for director Won Shin-yeon than his debut The Wig, directing from his own screenplay that generated considerable insider buzz. Like John Boorman did with Deliverance, the quintessential urbanites-meet-the-murderous-country- yokels thriller (these two works also share the uncomfortable undertones of sexual threat among their predominantly male cast members, exploding into a devastating male rape scene in the former and congealing into a key plot revelation in the latter), Won has the good sense to anchor the bizarre plot in the terrific performances given by its ensemble cast. Unlike Deliverance, however, the focus of Bloody Aria is on the "local crazies." Even though the smarmy, sexpot professor of vocal music (brilliantly played by Lee Byung-joon) and his harassed student In-jung (Cha Ye-ryeon, the feline beauty from Voice, largely wasted in a thankless "screaming girl" role) initially appear to be audience substitutes, they are soon relegated to the background. They are merely catalysts for the real drama to be acted out among the locals. Even though Oh Dal-soo (who seems to be replacing Gi Joo-bong as the ubiquitous face in Korean cinema) as an addle-brained bird hunter and Kim Si-hoo (the adorable cake-maker in Lady Vengeance) as a human punching bag provide able supports, it is really Lee Moon-shik and Han Suk-kyu who keep our eyes glued to the proceedings.
Lee Moon-shik, the perennial heavy who usually specializes in portraying cowardly lechers, is given his best role since the out-of-luck soldier in Once Upon a Time in the Battlefield as Bong-yun, ringleader of the local biker gang. Lee uses his oily smile that narrows his eyes into reptilian slits as a mask that hides Bong-yun's inner turmoil. We sense that, even when this thug is prattling on like an idiot while chewing mouthfuls of uncooked pork and raw garlic, he is capable of doing something seriously dangerous or unpredictable. We never know just what -- unimaginable cruelty, a blast of rapid-fire action, or even a gesture of kindness -- and this keeps us at edge. When his character arc begins to intersect with Han Suk-kyu's cop, sparks (not to mention gobs of blood) begin to fly in earnest. Han, an actor whom I admire but find difficult to like, is perfectly cast as Moon-jae, an outwardly reasonable cop who gradually peels away layers upon layers of his personality as a snake would do with its skin, revealing something truly hideous inside. His dentist's smile in the end becomes the single most frightening image in the movie. Watching Bloody Aria, I keep imagining him cast in a super-villain role: it would be like seeing Woody Allen playing Hannibal Lecter. And why not?
Now, some negative points. While Won's debut Wig was slick and professional-looking despite its laughable story resolution, Aria feels like an expanded version of a student thesis film that's a little too much in love with its own cleverness. In particular, the screenplay, for me, did not live up to its reputation. A handgun makes an appearance only at the requisite deus ex machina moment, not when it would have been most logical for a character to use it: the really clumsy subplot involving a sack of rat poison and other attempts at irony fall completely flat. Bloody Aria, like many Korean films loved by certain critics, is ultimately a rather formulaic film, overly concerned with the mechanics of plotting and symbolic representation: you can readily whip up an academic essay, based on this film, on the systematic perpetuation of violence in Korean society as driven by capitalist consumption (nicely "signified" by the professor's white Mercedes!) and oppressive social institutions (Police! Military!). I think truly great films, bloody violent or not, tend to resist this type of pat analysis.
Finally, despite director Won's good intentions, which are clearly communicated, the relentless beatings and degradations visited on the characters are sure to benumb and lose a sizable number of viewers. At the end of Deliverance, Ed, played by Jon Voight, has a scary nightmare, seemingly reaching out from the depth of his subconscious, to remind him of his harrowing ordeal, and the film closes on his anxiety-ridden, sweaty face. It is not certain whether Ed has learned any lesson from his experience, but Boorman here clearly illustrates the impact it had on Ed's soul. At the end of Bloody Aria, we feel that the characters have learned nothing, and the world remains just as rotten as before. This "critical perspective" on the Korean society is in danger of becoming a cliche itself, like the pompous and pretentious "unhappy" endings that permeate the European thrillers of 1970s: too much of this, I might find myself pining for a kind of mindlessly liberal, Hollywood-style heroism in a Korean movie.      (Kyu Hyun  Kim)
Byung-doo, lanky and adorable (played by TV drama star Jo In-seong from Hearts in Bali) is a 29-year-old career criminal, working for the middle-rank enforcer Sang-chul (Yoon Je-mun, the annoying communications expert in Antarctic Journal). Burdened with a terminally ill mother and taking care of younger siblings, Byung-doo is feeling financial pressure as a substitute patriarch. When the big boss President Hwang (Cheon Ho-jin, The Big Swindle, Crying Fist) is cornered by a corrupt prosecutor, Byung-doo volunteers for a whack job and wins the big man's trust. However, his real trouble begins when friend Min-ho (Namgung Min), an aspiring movie director, asks him to be a "consultant" for the latter's debut film, a gangster epic not unlike Dirty Carnival.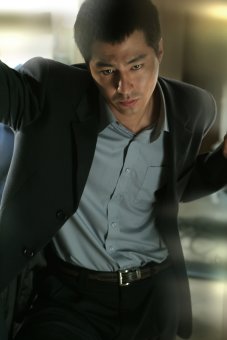 Poet Yu Ha's highly anticipated follow-up to the critically and financially successful Once Upon a Time in High School, Dirty Carnival's Korean title references Martin Scorsese's Mean Streets, and there are similarities to the latter's Gangs of New York and Goodfellas. But Scorsesian expressionism and irony are not what Yu Ha is after. Instead we get a straightforward rendition of the oft-told narrative of the rise and fall of an underdog criminal, almost Chandler-esque in its quasi-romantic, melancholic appraisal of this rotten world we live in. As was the case with High School, Yu's assured direction and literate screenplay are at their best when they calmly illuminate the spider-web of back-stabbing deviousness and hypocrisy that enmeshes Byung-doo ever more tightly, until his life juices are sucked out, leaving an empty husk. Thugs in this film are truly thugs: they are not the goofy cretins with extravagant tattoos populating My Boss My Teacher and its ilk, but loan sharks who skulk around naked in your living room until you pay up, enforcers for real estate dealers who smash your grandmother's soybean paste jars into pieces, and the disembodied voice in the cell phone threatening rape and murder for your teenage daughter. President Hwang, who quips "real gangsters don't use knives, they use calculators" and never once raises his hand or voice against his underlings, sits on the top of the food chain sustained by this pestering, fungoid evil known as "loyalty" (euiri) in Korean society (It is wonderful to see Cheon Ho-jin returning to the type of classy villain role first shown in the underrated Double Agent).
Yu Ha also deserves credit for keeping the film's violence resolutely unglamorous. Dirty Carnival's fight scenes are too ugly and painful to be called "action" scenes. They can only be aptly described as eruptions of violence, as each baseball bat swing lands with a bone-cracking crunch and each sashimi knife stab is felt by the viewer with an involuntary cringe. You are impressed as hell at Yu's directorial prowess, but only afterwards: while you are watching these scenes, you want them to be over.
The movie-within-a-movie subplot could have been a mess, but is handled surprisingly well. Unlike the dime-store novelist in the Eastwood-directed Unforgiven and other similar characters who make fortunes by turning other people's misery into marketable myths, Min-ho, an obvious identification figure for Yu Ha himself, pays a steep price for not realizing his complicity in perpetuating the vicious cycle of violence and hypocrisy in real life. No tasteful "ambiguity" that sneakily rehabilitates the filmmaker's "art" here. At times this section appears to be a barely veiled commentary on the symbiotic relationship going on in real time between Korean filmmakers and career criminals, especially the rather ugly aftermath of Friend's financial success.
Jo In-seong, who occasionally looks like an overgrown junior-high school kid with his crew-cut plate and doe eyes, was a risky casting choice for the title role, but he pulls it off. While not a brilliant actor (yet), Jo is believably awkward and conflicted in key emotional scenes, especially working opposite terrific supporting players Yoon Je-mun and Cheon Ho-jin. Ironically, it is his romance with the childhood sweetheart Hyun-joo (Lee Bo-young), terrain that Jo and Yu Ha should be familiar with, that feels lifeless and cliched (Jo Young-wook's saccharine score over these sequences make them feel much worse than they are).
A Dirty Carnival illustrates what a gutsy and sensible filmmaker Yu Ha is, firmly reining in the film's narrative drive and not seduced by stylistic razzle-dazzle. At the same time, I find his semi-autobiographical films always stopping short of completely winning me over: there is something achingly lyrical and sad threatening to burst out of his tightly controlled stories of sensitive, "nice" boys corrupted and/or destroyed by the evil world, but it never happened in High School and it does not happen here either. Nonetheless, thanks to Carnival, my expectations are hoisted way up for his next film, said to be the final installment of the "street violence" trilogy. Perhaps in it the older protagonist will finally learn how to either fight back against the system, or renounce violence and stop living as the peculiarly noxious species known as the macho Korean male.      (Kyu Hyun  Kim)
According to Kyung Hyun Kim in his groundbreaking work The Remasculinization of Korean Cinema, Out to the World's "frank depiction of sexuality and profanity previously unpermitted on screen opens a space for the crude representation of anti-heroes that defy and criticize social norms" (66). Having partly initiated what has brought me to South Korean cinema, it's been disappointing that director and actor Yeo Kyun-dong has been absent in most discussions of South Korean cinema. It appears that Yeo may himself feel frustrated by this because he did say during a discussion after the screening of his film at 2005's PIFF that there are some bits of autobiography in his recent film Silk Shoes. Our protagonist is a struggling director and Yeo's absence from the press's roll call of the directors wowing the festival circuit alludes to the fact that Yeo is probably struggling as well. Yeo is also a respected actor. One needs only to see his performance in Jang Sun-woo's To You From Me as the impotent friend of the sexually potent but writerly-blocked lead character to see how powerful Yeo's acting can be with the right venue. More recently, you might recall him as one of the swapping partners in Love Bakery, but he hasn't appeared in the recent big grossing films nor the arthouse dandies, so he isn't noted as he should be in that roll call either. And, sadly, although I greatly enjoyed Silk Shoes, I feel it won't just go unnoticed, but when noticed will be mis-associated with Wolfgang Becker's successful German film Good Bye, Lenin!. So let's nip that in the bud first.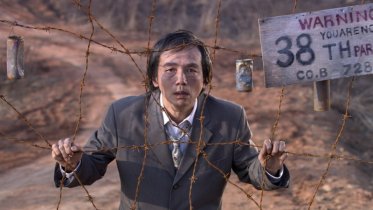 Well before Good Bye, Lenin! said hello to international success, Jo Myeong-nam had won a KOFIC (Korean Film Council) screenplay competition in 1997 for what would eventually be entitled A Bold Family, a film he would also direct. That film was released in 2005 and, from what I've been told, is apparently, similar to Becker's film. However, due to its time of origin and the unlikelihood that Becker and Jo kick it together, Jo's script should not be seen as a copycat but as an example of parallel evolution. Both Germany and Korea have been divided. (Do I need to state the obvious that Germany isn't now and Korea still is? OK, I just did.) So it makes complete sense that the creatives in each country might come up with such a scenario as having to fake the memories of their estranged twin nation to appease the minds of an elder. As for Yeo's film, that arose from mutual conversations he had with Jo back in 1997 and in no way was inspired or copied from Becker's film. Becker does not own this theme of divided memories anymore than Yeo or Jo do. That said, let me summarize the plot.
Man-soo (Choi Duk-moon - YMCA Baseball Team, Antarctic Journal) is a struggling film director whose last film failed at the box office. Some soft-spoken gangsters use this as an opportunity to force Man-soo into using his director skills to create a faux-North Korea with a haphazard collection of actors. The gangsters will fund this endeavor because the gang boss wishes to provide this facade for his dementia-stricken father. The film begins with a nice use of text, (a common enough presence in South Korean cinema to warrant its own dissertation), that would ruin the joke if I said any more about it. Along with providing film industry insider commentary within the film, the gangsters' misunderstandings about the film funding process begin the underlying theme of misunderstandings of memory and history that are present throughout the film. Man-soo is mistaken for the gang boss by the gang boss's grandfather when they meet and Man-soo begins to take on this identity for the grandfather, a grandfather who alludes to all the "grandfathers" and "grandmothers" who have memories of the northern homes of their youth that they will never be able to reinforce and question by returning to the North before their deaths. Scenes are enacted and re-enacted based on ambiguous and questionable recollections of the historical past and questionable conceptualizations of the hermit country to the north, all while trying to avoid the intrusion of the realities of the present from disrupting what is believed to be grandfather's wish. The importance of place and space to our memory is wonderfully portrayed throughout the film.
Outside of the general themes of history, memory, place, and devotion to our elders, there are excellently orchestrated scenes. Most memorable for me is a fight scene between Man-soo and the lead gangster (Min Joung-gi) who maneuvered himself onto the set as an actor. Man-soo and the gangster come in and out of the frame of a snowy field advancing and retrenching in response to the other's advance. Choi and Yeo, speaking after the screening of this film at PIFF, both mentioned how trying this scene was. Outside of the harrowing conditions of the cold weather, Min found running in the snow extremely difficult. Plus, they needed to complete the scene in one take since covering up their footprints for a second take would be quite an endeavor. So they trudged on through this one take, working with the obstacles the environment posed, and ended up executing a memorable scene. Perhaps this scene is the most autobiographical of all for Yeo's directorial work, or for anyone wanting to work outside the mainstream constraints that squeeze the more sublime and challenging artistry out of one's vision.      (Adam Hartzell)
Shit is the future; the future is shit. (And if you haven't realized it yet, reviewing this film requires more of this shit-talking.)
That sentence can be taken towards various interpretations because the word "shit" has developed contradictory meanings. It can note shoddy construction ("Aachi and Ssipak is shit!"); whereas, the simple placement of a definite article shifts the meaning 180 degrees to mean something exemplary ("Aachi and Ssipak is the shit!"). To some, such a contradiction in meaning might signify that the word means nothing. But language signifies meaning through its use, and it is the words surrounding words, and the inflection with which they are spoken, that more often designates their meaning. Just like shit can be in its essence, the meaning of the word "shit" is loose. "Shit" finds its form from its linguistic use. And in the future world of the film Aachi and Ssipak, shit is not only mined for its linguistic use, but for its use as a valuable material resource.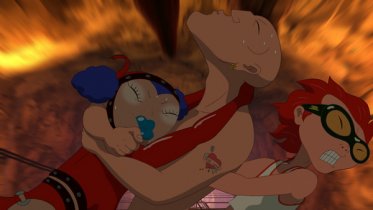 In this animated sci-fi world, shit is the premiere energy resource and the government seeks to control the bowel movements of the populace. (And the media is awash with constipation cures.) In order to keep track of who's shitting for big brother, every newborn has an ID ring shoved up his or her anus before release from hospital. An infrastructure of outhouses enables the government to capture everyone's bowel movements. Their ID rings confirm each bowel movement, and after pulling on the flush cord of the outhouse, the citizen crapper is allotted one juicybar for their contribution.
In order to satisfy the world's need for more and more shit, the juicybars are made purposely addictive. So addictive that an underground illegal economy has emerged to supply those who can't get enough of this juicybar shit. Here enters our titular characters. Aachi (voiced perfectly by Ryu Seong-bum) is the runt of the brains of the juicybar-running outfit he's concocted with Ssipak (voiced by Im Chang-jung), the heavy of the two-man troupe, but not always heavy enough to handle competitors such as the "Diaper Gang", the blue, mutant, constantly-constipated, baby-ish spawn of relations between two juicybar addicts. Aachi and Ssipak are a small-time racket of big time dreams. And they find their dreams attainable when they meet "Beautiful" (voiced by Hyeon Yeong who also happens to be the voice of Koreanfilm.org's own Tom Giammarco's car navigation system). Beautiful's anus has been violated by the Diaper Gang's accomplice, Jimmy the Freak, with an intentionally malfunctioning ID ring that enables Beautiful to receive a shitload of juicybar blue gold whenever she has a movement. The trio soon becomes much sought after by more competitive groups than I can summarize here. But basically, there are a lot of subplots and the presentation of each isn't too disjointed to be distracting.
The crowd I watched this with at the San Francisco Indie Film Fest's 4th Annual "Another Hole in the Head" festival enthusiastically cheered the obscene levels of gratuitous violence that animation permits one to display. (What animation allows concerning violence is best illuminated when we consider the levels of violence "The Itchy and Scratchy Show" is capable of wielding when compared to that which we find portrayed in the wider cartoon of The Simpsons in which the cat and mouse are contained.) Sure, there might be people present about whom we might be concerned, but I'd wager the majority in attendance cheering on Director Jo Beom-jin were innocuously appreciative of the creativity of it all, not for their desire for such violence to occur in the real. As Catherine Yu argues in her contribution to the wonderful South Park and Philosophy: You Know I Learned Something Today, there is a nuance missing from Ronald de Sousa's argument that to appreciate phthonic humor (humor that endorses malice directed towards another object) one must endorse the attitudes and assumptions that make the humor possible. And that nuance is that humans are capable of imagination, and imagining a malicious act is very different from approving of it. "Imagining doesn't have to do with what a person actually believes, thinks, wants, endorses, or even secretly wishes" (p.. 28, emphasis Yu's). In fact, the often heard exclamation while laughing at South Park episodes and screenings of films like Aachi & Ssipak is something like 'Dude, that is soooo wrong!' which underscore Yu's argument that the watcher does not endorse the phthonic humor on display. This does not mean that certain portrayals here aren't problematic, and my fellow audience's silence during Beautiful's anal violation by Jimmy The Freak demonstrates that some imaginings are indeed not appreciated, but we cannot assume the reasons for laughter without further delving into what is behind the minds of those laughing (and those not laughing).
Aachi and Ssipak works because it has taken a taboo and run with it spectacularly. Aachi and Ssipak have fun with the mess we make in the world without an environmental critique of the mess we're making of the world. It's a dystopic future with no redemption except that of having fun with what remains are left.      (Adam Hartzell)
My dear Monsieur Paquet! It's me, the Joan Rivers of Korean film criticism, Yuhn Myikuk again! Congratulations on being appointed as one of the judges for Puchon Fantastic Film Festival. I tell you what, just give the award to Mat the Cat. An Estonian film starring a feline wizard, I mean come on, what could possibly beat that? Oh you are only allowed to judge short films, huh. Now when did I hear that excuse before?
Anyway, down to the business. With the monsoon season rolling over in July, you know dang well that you cannot avoid encountering two things in Korea. One is drunken Korean men throwing up in subway stations past eleven o'clock (Why do Koreans call throwing up in public "oba-eet?" When I overeat, I don't throw up, I get fat): the other is, of course, clueless, pedestrian, or (if we are lucky) just plain dopey horror films.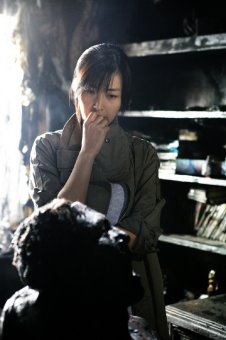 So do I have to talk in earnest about Arang? Sigh. I tell you what, in order to avoid wasting valuable storage space for your webpage, I will try to anticipate some questions the readers might have about this particular motion picture, and answer them as pointedly as possible. I promise, no snide remarks about Matrix or Slavoj Zizek this time around.
R (Reader, that means you folks out there): What does the title mean? YMK: There's some legend about a girl who was raped and killed and her ghost... never mind. It's a name, or maybe a pronoun. Ah-Girl. You know, like the protagonist in Lu Xun's novel, The Story of Ah Q.
R: I don't get it. YMK: Well don't ask me, Boy George.
R: What distinguishes it from any other run-of-the-mill Japanese or Korean horror film? YMK: Nothing. Um, okay, that's not quite true. This movie is even more boring in its middle section than your run-of-the-mill Japanese or Korean horror film. Some police procedurals and death-by-haunted-website sequences are so excruciatingly drawn out and repetitive, I thought I was going to hallucinate. None of the major death sequences are even remotely scary. If you find any of them scary, I honestly have to ask you, are you sure you are an Earthling? Or perhaps you suffer from a rare neurological symptom in which an extreme lack of originality in a work of art causes chemical imbalance in your brain, producing fear and anxiety. Well lucky you. Reads like a good gimmick for a new Dario Argento film.
To give credit where it is due, writer-director An Sang-hoon worked hard to plant some moderately non-stupid clues along the way for a semi-interesting twist, but of course, my hope of actually watching a movie where all the supernatural boogaboos turn out to be tricks was dashed by the end. I plead to the ghosts of Liberace and Zsa Zsa Gabor, give me a good old-fashioned Miss Marple mystery over long-haired, bloodshot-eyed Sadako clones and her dumb-&-dumber entourage any time. Please!
R: Arang's marketing seems to center on actress Song Yun-ah, who was previously seen in another horror film Face. YMK: Can you believe me when I say she is even less effective here than in Face? Song is a pretty, hardworking actress and obviously has given her all in Arang. Sadly, I must say her character has got to be the least convincing female cop I have ever seen portrayed in cinema. She behaves like a jittery, weepy teenager dumped by a boyfriend when she is supposed to reveal deep emotional scars, and is generally so insipid that I couldn't believe anyone would assign her to issue parking tickets, let alone catch dangerous criminals. Even though I haven't seen it, I am sure Song is million times better in Lost in Love. Public announcement time: Kim Ok-bin (Dasepo Naughty Girls) does not star in this movie. She is prominently featured in the trailer but her screen time is much shorter than that given to Blofeld's Persian cat in a James Bond film.
U: Any saving grace? YMK: You know Professor Kim is Catholic, I am not sure whether I am, but I have to admit that some intriguing quasi-Catholic imagery was glimpsed, especially towards the end: a vision of a Madonna buried in a mound of salt, things like that, nothing to do with the movie's stated objective but sort of fascinating. And Lee Dong-wook as Song's cop partner wasn't half bad (and cute), even though I thought the actor who played his younger self in flashback was better (and cuter, too).
Well I hope this gives our esteemed readers a few pointers about Arang. At this point, Professor Kim is wishing that this summer's horror film crop turns out to be at least a moderate improvement over the 2004 fiasco. Fat chance, like his tummy, but who knows? Me, I would rather wait for another Tale of Two Sisters from Jeong Jae-eun, Kim Seong-ho or other proven talents, even if that means I have to wait another year or two.
I guess that's it for this time around... Ciao, Monsieur Paquet, Happy Judging and Milling Around Among Film Festival Crowds!
See you again soon,
Yours Truly, Yuhn Myikuk.
Sejin (Ko So-young, Double Agent) moves into a high-rise apartment. She befriends a lonely and morose disabled girl Yu-yeon (newcomer Jang Hee-jin), who seems to be cared for by the neighborhood volunteers. One day, she notices something funny: the apartment units facing her balcony simultaneously turn off their lights, exactly on 9:56 pm. Soon the ketchup bottles begin to fly, as Sejin discovers that each spontaneous blackout results in a suspicious death. A hard-boiled cop (Kang Seong-jin, Attack the Gas Station), who naturally does not believe in anything supernatural, investigates. A pouty teenager sullenly spits out plot exposition. A Sadako clone with back problems makes several appearances. And so on.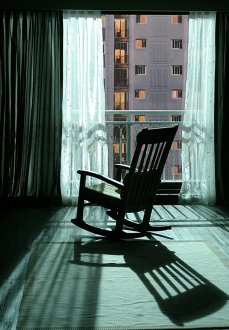 Thanks to film critic Djuna, I was able to check out comic artist Gangfull's (this is apparently how his nom de plume is spelled in English, although in Korean it reads "Kang Pool") original. The comic is a loosely structured thriller in which the ghost plays only a supporting role. A good deal of its strange charm comes from its surprisingly realistic and oddly endearing characters and the resolutely democratic multiple perspectives from which the narrative is told: the ghost, the detective, the haunted hero, the agoraphobic lady and every other character all get to tell their sides of the story (There are no villains in the piece, which should give you a clue as to its real nature). This is actually a not-bad material for an unconventional horror film, heavy on atmospherics and interesting characters and light on bump-in-the-night terror: it would have been intriguing to see what non-genre directors like Jeong Jae-eun or Im Sun-rye could have done with it. Alas, adapting it to screen is Ahn Byung-ki (Nightmare, Phone, Bunshinsaba), which is sort of like asking Iron Maiden to record cover versions of Pat Metheny.
APT is not as stark-raving loony as Ahn's previous Bunshinsaba, but that is not necessarily a good thing for someone like me, who happens to appreciate whacky numbers like Emillio Miraglia's Red Queen Kills Seven Times. Ahn keeps banging on the saucepan and kettle to at least keep the audience awake, and a few scenes borrowed from Gangfull's original (such as a character's white dress being dyed into scarlet by her blood) do generate some poetic beauty and frisson. Mostly, though, he bulldozes over subtle characterizations in the comic and reintroduces dull cliches done to death in other horror films. Kang Seong-jin's cop and Ko So-young's Sejin fall victim to Ahn's sledgehammer-and-nail-gun approach to characterization and storytelling. The cop might as well be a wind-up toy clack-clacking "tough-guy" dialogue at regular intervals. And Ahn really does disservice to Ko So-young by turning her into a Ha Ji-won clone, right down to her hairstyle and tomboy outfit. While Song Yuna was weepy and annoying in Arang, Ko in APT is rigid and inexpressive. The only person who registers in the acting department is the fresh-faced Jang Hee-jin, partly because she is allowed to outscream everybody. Fueki Yuko also cameos in a totally pointless role that will leave many viewers scratching their heads.
Finally, there is the plagiarism issue. I can accept Ahn Byung-ki ripping off scenes wholesale from the acknowledged masterpieces (such as the tracking shot of Ko So-young's jogging routine "referencing" Jodie Foster in Silence of the Lambs). But why did he have to faithfully re-create the Ju-on-Sadako ghost, complete with that teeth-rattling "k-k-k-k" noise, in his film? What did he do, pay for the copyright use of the k-k-k-k Juon-Sadako ghost in Korea? Folks, the Sadako ghosts are not scary anymore: they are annoying. It is truly a sign of creative bankruptcy when Korean filmmakers have to import ghosts from not only Ring but Ju-on. Come on, you have five thousand years of culture and history behind you. Can't you come up with one type of ghost that's original? Or at least one that does not look like Sadako badly in need of a chiropractic treatment.      (Kyu Hyun  Kim)

    Hanbando
Hanbando, Cinema Service head Kang Woo-suk's return to the directorial chair following the mega-hit Silmido (2002) and Another Public Enemy (2005), had a huge summer blockbuster opening, commanding more than 550 screens in the opening week. While it was by no means a commercial disaster, the film's final tally of box office tickets sold was around 3,880,000 tickets nationwide, falling short of the film's break-even point of approximately 4.5 million tickets and trampled flat by the monster-tadpole-from-Han-River movie The Host. There is hardly any doubt that Hanbando is the worst Korean film of 2006, and possibly the worst Korean film to deal with a historical subject made in the last ten years (Yes, it's worse than Heaven's Soldiers!). What makes Hanbando such a bloated turkey is actually a question many times more interesting than the movie itself.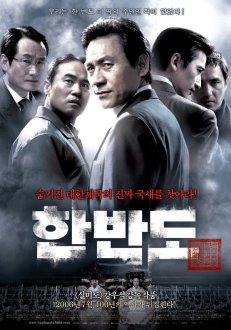 For the latest vehicle for his sanctimonious "left-wing" sermonizing, Kang developed an entirely preposterous plot that makes Oliver Stone's most paranoid, Viet Nam-obsessed ranting sound completely rational. Hanbando is based on a bizarre premise that the Japanese government would claim to North and South Korea that the rights to the newly constructed (fictional) Seoul-Sineuiju Railway belong to Japan, thanks to a hundred-year old contract signed by Kojong, the last Yi monarch. When the President (Ahn Sung-ki) balks, Japan threatens military invasion. The President enlists a "rogue historian" Choi Min-jae (Jo Jae-hyun) to locate Kojong's true Imperial Seal (apparently Kojong had a fake Seal made to sign all documents pertaining to Japan-Korean relations, which, according to the movie's utterly bonkers logic, voids the terms of the 1905 Protectorate Treaty that eventually led to the annexation of Korea). Eventually this situation evolves into a replication of Kojong's dilemma as the President faces a potential international conflict as well as opposition from his Prime Minister (Moon Seong-geun), characterized as a "realist (?)" and playing a Devil's advocate position against the firmly nationalist President.
First and foremost, Hanbando is almost shockingly inept. The performances are some of the worst that have ever graced Korean cinema in recent years. Everyone recites their ponderous, declarative dialogue in a dour, mummified style reminiscent of the TV historical dramas of the '70s. None among its star cast survives this humiliation unscathed. Ahn Sung-ki looks and acts like a Moai stone statue from Rapa Nui. Cha In-pyo's "acting" while he is reading a "secret document" from Kojong's era must be seen to be believed. Moon Seong-geun seems to be struggling mightily not to throw his script book on the nearest wall. Jo Jae-hyun sputters, scowls, gets drunk, and sputters some more throughout this ordeal of a movie. (I feel especially bad for him: first Romance, and now this!)
Except for a few shots of CGI special effects and impressively spacious sets, technical aspects of the movie run the gamut from the expensive but ho-hum to the actively cheesy. DP Choe Young-taek, previously responsible for the warm and compassionate colors of My Mother the Mermaid, struggles to break free from the rigid confines of Kang's mise en scene, basically a string of scenes of actors talking to each other ad nauseum. Production designers, spearheaded by Jo Seong-won (Bunshinsaba) and Yi Tae-won (APT), seem equally hemmed in, unable to bring creative touches to drab settings like the Blue House interior. Han Jae-gwon's music score, which frequently drowns out the actors, instructs you what to feel note by note.
In addition, there are a gaggle of scenes in this film that provoke unintentional hilarity, in precisely the manner in which past Hollywood disasters such as Heaven's Gate or Ishtar have done. For instance, the assassination of Empress Myeongseong (Kang Su-yeon) by Japanese agents, no doubt intended to make Korean nationalist blood a-boil, is tragic in an entirely different sense than Kang presumably intended: the tourist attraction re-enactment of the change of guards for the Kyungbok Palace is many times more realistic and emotionally valid. What about the "final confrontation" between the President and Prime Minister? It reminds one of a kid petulantly exiting the room after his father's refusal to buy him a new cell phone (and capped by one of the most hilariously inappropriate stop-motion shots in the history of Korean cinema). And did I mention, too, endless footage of the Korean navy sending choppers back and forth and state-of-the-art fighter planes whooshing through the sky, all very reminiscent of "Daehan News," the propaganda reels that used to run prior to official screenings in the '70s and '80s?
Ultimately the responsibility for all this mess should be squarely put on the shoulders of Kang Woo-suk. I have been one of the few who have never been sold on Kang's talent as a director (I even found his popular Public Enemy a dreary, morally confused Dirty Harry retread), but he's never been known to make such an excruciatingly boring movie. What gives? The only explanation I have is that this ill-fated project is an outcome of one thing that blinds so many people in positions of power, including George W. Bush: hubris. In 2006, Kang had finally reached the point in his life (Having been elected #1 in the "Top 50 Powerful" list chosen by Cine 21 magazine for nine times in a row until 2005) where he felt confident that he could thinly disguise a (pointedly ridiculous) sermon about modern Korean history as an all-star summer blockbuster and that Korean viewers would still flock to the theaters like lemmings. Well, he was wrong. And thank Grandpa Tangun for that.
Finally, in my opinion the film's flame-breathing anti-Japanese "message" is not what's worst about Hanbando. I think a Korean filmmaker can legitimately criticize the right-wing turn in Japanese politics and tie it to the undealt-with legacy of Japanese imperialism of a half-century ago, and still make a thoughtful, persuasive, even entertaining film. Hanbando surely proves that Kang Woo-suk is not that person, but he is entitled to his views, and that's that. What ultimately sinks this boat is not its anti-Japanese chauvinism per se but its utter, complete and thorough indifference to any quality we associate with good cinema. (I won't even go into the film's historical mindset that directly connects the fall of the Joseon monarchy to the film's fictional "crisis" faced by the ROK, and pretends that the vast span of Korean history between 1895 and 1990 simply "did not happen" -- except to note that it is profoundly wackoid even by the usual "nationalist" standard. When will self-identified "nationalists" realize that they are the ones who denigrate and trivialize the struggles and achievements of ordinary Koreans by relentlessly focusing on "foreign forces" as the dominant agents of Korean history?)
Lugubrious, hypocritically holier-than-thou, slow-moving as a snail in a cold rainy morning, Hanbando is the kind of total misfire that pleases almost no one and annoys practically everyone, an instant historical curio.      (Kyu Hyun  Kim)
It's hard to write about Bong Joon-ho's The Host (the original Korean title is "Creature") without inserting puns on the word "monster." The temptation arises not only because of the subject matter, but because everything about the film -- its scale, its budget, its record-breaking performance at the box office, its overseas potential -- is huge within the context of the local film industry. It is a monster movie -- about a truck-sized mutant that crawls out of the Han River and unleashes terror upon the citizens of Seoul -- and yet, it is not one. Part of The Host's appeal is that its core concerns are somewhat slippery, and hard to pinpoint.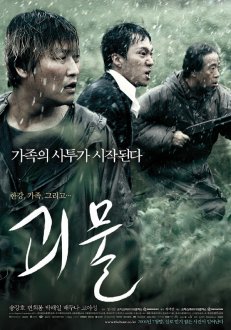 You could just as well call The Host a family movie. Hee-bong (Byun Hee-bong) is the owner of a small food stand in the Han River Citizen's Park, selling squid, candy and beer to people who have come out to enjoy the sun. Gang-du (Song Kang-ho) is one of his three children, a man who seems a bit slow mentally and whose one motivating strength is a devotion to his schoolage daughter Hyun-seo (Ko Ah-sung). Rounding out the family is Nam-joo (Bae Doona), an amateur competitive archer and her brother Nam-il (Park Hae-il), a former student radical who at present is drunk and unemployed. There are no mothers in the family -- Hee-bong's wife having passed on and Gang-du's having run away. It's a dysfunctional group, held together only by the crisis that faces them, and yet the family dynamics will feel familiar to many viewers.
It is when the creature snatches the young Hyun-seo that the family becomes aligned against this unknown biological threat. However, in what is perhaps a telling reflection of our times, the family ends up spending more time battling health professionals, military personnel, and other manifestations of the government than the beast itself. The Host mixes more than a few political barbs into its genre cocktail: a bit of SARS here, a bit of Iraq there. Yet it's with a black sense of playfulness and absurdity that these satirical quips are delivered to the audience, suggesting that the film's chief concerns lie elsewhere.
The monster itself is not a force of pre-meditated evil, bent on destroying civilization. (In this sense it is more Katrina than 9/11) Like any other natural disaster, this clever, ugly, lethal, clumsy, and at times ridiculous monster does what it does simply because it is part of its nature. It eats humans because it is hungry, and because it enjoys it. So in some ways it's hard to see The Host as a contest between good and evil. From a moral viewpoint (but not an emotional one) the film resembles wildlife videos of lions taking down gazelles.
Yet in the course of the showdown with the beast, there's a very human sense of loneliness that seeps into the film. Part of it comes from the realization that, in a crisis, one's country may be of no help -- or indeed, may turn against you. A disaster that rips through the fabric of society may reveal that the laws, conventions and beliefs that keep us civilized lie only on the surface. Perhaps the other source of the film's sadness is reflected in a startling line delivered by Byun Hee-bong at the story's mid-point: "Have you ever smelled it? The stomach of a parent who's lost a child... Once it goes rotten, the smell can travel for miles..." The family unit at the center of The Host faces the prospect of losing a girl who is dearer to them than anything else, and this too pushes them up against the cruel, arbitrary forces that shape our lives.
For me, The Host will not displace Memories of Murder as my favorite Korean film of this decade. Every scene of the latter work is golden, and the more you watch it, the more it resonates as a haunting, brilliantly-shaped composition. The Host is more of a spectacle film, a sensual burst of inspiration that picks us up and carries us along on a harrowing ride (this must be seen in the theater if at all possible). It is perhaps unfair to expect Bong to come up aces two films in a row; but it is surprising is that he came so close to doing just that.      (Darcy Paquet)
Forbidden Floor, the second film in a series of low-budget horror movies released and broadcast on TV nearly simultaneously in a diversified-marketing strategy, makes clever use of the fact that many buildings in South Korea have no fourth floor, since the Chinese characters for "death" and "four" are homophones in Korean pronunciation. Min-young, an interior designer in her thirties (Kim Seo-hyung, the teacher in Voice) moves into a cheap office-tel with her young daughter Joo-hee (Kim Yoo-jung, the kidnapped girl in Lady Vengeance). Min-young, stressed from work and single-motherhood, finds to her consternation that Joo-hee insists that there is a fourth floor in the building. And the room just below their apartment is apparently occupied by a single mother and a child as well...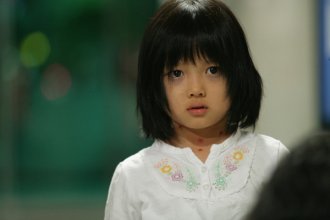 Even though the Sadako-with-a-back-problem ghost makes yet another appearance in it (sigh), Forbidden Floor is not the tedious, lugubrious bore it could have been. Granted, there is absolutely nothing inventive about the movie's narrative design or characterization. Based on Yu Il-han's short story, it borrows liberally from Dark Water and is suspiciously similar to Ahn Byung-ki's APT (Ahn served as a producer) as well. Yet, the director Kwon Il-soon's intelligent handling of the story and sincere performances by the leads somehow overcome the weak material without having to rely on stupid plot twists. Kim Seo-hyung is quite convincing as a working mother who thankfully does not dive headfirst into hysteria or paranoid tics as soon as things go bump in the night. No one gives her a patronizing, aren't-you-the-overly-sensitive-one smile when she pleads to the neighbors of strange happenings.
Another plus is that this is one of those rare horror films wherein the ghost is actually smart enough to go after the people responsible for her death, instead of just arbitrarily popping up anywhere, seemingly trying to kill anyone who looks at her askance. There is no dumb "oh no, she isn't exorcised after all" coda either. (When Brian De Palma first popularized this very-last-minute-shockeroo shtick in Carrie, he had good sense to keep it inside one character's nightmare) The explanation for why the ghost is haunting the non-existent floor also makes a whole lot more sense than usual, establishing a nice connection with the construction boom of '70s and '80s, during which numerous human rights abuses and instances of massive-scale "social engineering" took place, a record subsequently whitewashed by the celebrants of Korea's "miraculous" economic development (A telling reference to "Wow [Wa-woo]" Apartment shows where the film's political sympathies lie). As far as blaming societal evils for the origins of supernatural shenanigans, this idea is much more sensible than taking single mothers to task for "neglecting" their children (and endangering the future of the nation by not producing truckloads of children, presumably).
On the negative side, Forbidden Floor suffers from serious budgetary constraints and a general lack of visual imagination. Asian horror fans looking for some outrageous, gymnastic scare tactics will be sorely disappointed by the film's low-octane (timid?) approach. Yet, for a low-budget, HD-lensed quickie, essentially a made-for-TV movie, the film manages to retain its dignity, and is in many ways superior to Ahn's higher-profile APT as well as recent Japanese horror blips with more elaborate gimmicks up their skirts, such as Siren and Otoshimono. It certainly makes one expect better things from its debutant director in the future.      (Kyu Hyun  Kim)
A group of high school girls are herded into a classroom and given a curt introductory message by a severe-looking taskmaster. They are ordered to change into uniforms -- baggy, desexualized sweatshirts and pants -- and everything in their possession is confiscated (even their mobile phones) and put into boxes marked with their names. They are then marched down the hall and steered into concrete rooms with bunk beds and desks where, in groups of four, they will live for the next ten months.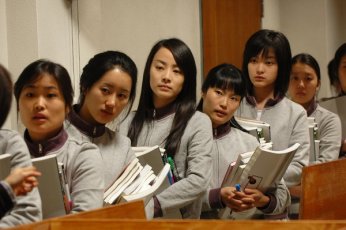 Is this jail? Not quite -- it's a study academy for students who have flunked the annual university entrance exams. Quite literally locked in, the students will spend the coming months devoting all of their time, save for meals and calisthenics, to studying for next year's test. Their parents will pay dearly for this service, in the hopes that it will put their children into a top-ranked university and secure for them a life of privilege.
It's perhaps not surprising that Korea's insanely competitive educational system should spawn institutions of this kind. My wife's brother attended one years ago, though his parents pulled him out halfway through after realizing what a psychological toll was involved. Our young heroines too (virtually no men in this movie) struggle with the stifling atmosphere of the place, particularly the rebellious, sharp-tongued Yoo-jin, who from day one seems destined to clash with the authoritarian staff.
Roommates (its Korean title is "D-Day") is a horror film with no need of ghosts, though it tosses a couple in for good measure. As the days pass and the girls spend their time walking back and forth between the classroom, the cafeteria and the study hall, tensions begin to rise. Yoo-jin lashes out in rebellious acts of defiance, and is dealt with harshly. Another student keeps popping pills. Continually worsening grades causes one student to start to panic. Meanwhile, some of the girls start to have strange, horrible visions: images of the halls and classrooms filled with burned, twisted bodies...
Director Kim Eun-kyung won critical praise for her short films Blink, Music Box and Fragile before signing up with CJ Entertainment to make this, her debut. Like Forbidden Floor, reviewed above, it is one of four low-budget films in the "Suddenly One Day" series, shot as a package in HD format and targeted at TV viewers as much as theatrical audiences. With only $600,000 and no famous stars, Kim decided to structure Roommates around drama rather than gore or technique. The film's emotional kick emerges from its claustrophobic setting, and the young actresses are good enough to keep us interested in the story as it unfolds. Pleasingly enough, however, the film also makes sense from a logical and dramatic point of view -- something not to be taken for granted in most Korean horror films.
Perhaps due to its modest production values and limited release, Roommates seems to have come and gone without most viewers ever learning of its existence. It may lack the excitement and visual style needed to give it broad mainstream appeal, but of all the horror films to debut this summer, this one is the most consistent in its vision, and for me the most memorable. This year, the awkward-looking girls in sweat pants proved far more interesting than sexy interior designers or long-haired ghostly maidens draped in white.      (Darcy Paquet)
In early 2005, a dark, controversial internet comic called Dasepo Girls appeared and won over a large following among young Koreans. Set in a high school named Musseulmo (literally, "Useless High School"), the comic portrayed a place where the students were sex addicts, where the teachers were perverts, and where virtually nothing was forbidden. With a diverse cast of characters filling the large number of episodes (76 to date), Dasepo Girls followed multiple storylines and created a rich, twisted, narrative world.
Film companies were quick to notice the comic's success, and by the end of 2005 director E J-yong, well-known for Untold Scandal (2003) and An Affair (1998), announced that he would adapt it into a movie. The initial reaction from fans was one of anticipation but also disbelief: how could such scandalous material be re-worked for a mainstream audience? Even aside from the comic's strong sexual content, Dasepo Girls was a wide-ranging collection of disjointed stories that would be hard to unify into a coherent whole.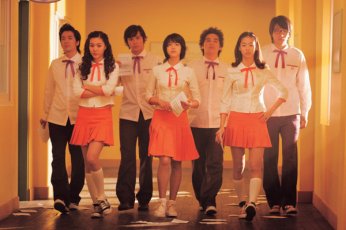 Nonetheless, E J-yong seemed the perfect choice for such a project, given his demonstrated flair for scandalous topics and his new-generation attitude towards moral issues. A young cast was quickly assembled, headed by actress Kim Ok-bin (from the 2005 horror film Voice). Meanwhile, production company Ahnsworld also commissioned a series of 40 short films based on the comic (which, though uneven, are worth tracking down in their own right).
Commercially the film, titled Dasepo Naughty Girls in English, tripped out of the gate. Viewers familiar with the comic were clearly expecting something far more racy -- to be honest, the film is a bit of a tease (it ended up being given only a mild 15+ rating). It also opened just as monster movie The Host was on its way to becoming the best-selling Korean film in history. Dasepo ultimately grossed $3.8 million, which for Korean films of average budget is considered a disappointing performance.
Dasepo Naughty Girls may not have been what teenage fans were expecting, but Director E has nonetheless given us a highly original and satisfying film, assuming you go in with the right expectations. Basically, he has taken the original comic's spirit of transgression and transformed it into a film that defies the mainstream in other, quieter ways. If Korean society often portrays itself as being homogenous, Dasepo Naughty Girls explodes that notion in favor of diversity. Hierarchical social structures, too familiar in real-life Korea, crumble within the world of the film. Social outcasts may still exist at Musseulmo High, but interestingly enough it's the "normal" students who are more often made to feel uncomfortable and unsure of themselves.
The film also treats narrative in the same relaxed way it engages moral issues. Largely episodic in nature, it will linger on one character's concerns and actions for a certain period of time before dropping it and moving on to another character. Although most screen time is spent on Kim Ok-bin's "girl who carries poverty on her back", attention is also paid to other characters who have little or no relation to her. Even in the latter part of the film, there are few signs of the plot coalescing into a decisive conclusion; instead, the film takes its time exploring the corners of its world and the characters that inhabit it. The director even throws in a few catchy song-and-dance numbers.
Ultimately Dasepo becomes an odd and fascinating sort of utopian vision of modern Korea, though not the utopia that most Koreans would imagine for themselves. The film's candy-colored palette and playful horsing around may suggest that the director is simply having fun, but a closer look reveals that he has a clear social agenda -- one that may well be worth examining seriously.      (Darcy Paquet)
Six twenty-something characters are invited for a party by their elementary school classmate Mi-ja (Seo Young-hee, the neurotic landlady from Jealousy is My Middle Name), who has been caring for her former teacher Ms. Park (Oh Mi-hee, recently seen in All for Love), now infirm and wheelchair-bound. The guests turn out to be a motley crew of losers and basket cases, however. Worse, each of them bears a serious grudge against Ms. Park. Sun-hee (Lee Ji-hyun, Yeo Gyun-dong's La Belle), traumatized by the teacher's public taunting of her baby fat, has become addicted to plastic surgery and suffers from bulimia. Park Hyo-jun (A Dirty Carnival) ruined his leg while being punished by Ms. Park and had to fold his childhood dream of becoming an ace baseball player. Se-ho (Yeo Hyun-soo, Holiday) and Eun-young (Yoo Seor-ah), now a couple, are still struggling against the memories of insults and put-downs regarding their poverty. Even Myung-ho (Lee Dong-gyu, "Leo" from Kim Eung-soo's Desire), an obvious teacher's pet, is trying to medicate away the nightmares involving Ms. Park's creepy "affection." And wouldn't you know it, she used to keep her horribly deformed child in the basement, whose current whereabouts are unknown. Soon, someone wearing the kid's paper-cut rabbit mask starts to make salami and head cheese slices out of the characters.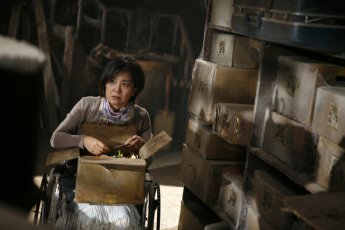 To Sir with Love is an unapologetically gory throwback to the '80s slasher formula before the nudge-nudge wink-wink teeny-bopper aesthetics (if you can call it that) of Scream and its ilk totally destroyed its potential to scare anyone. The South Korean horror field had made its share of embarrassing forays into the post-Scream teen slasher genre (Harpy, anyone?) in the late 1990s, only to be thoroughly colonized by the endlessly, nauseatingly self-replicating Sadako clones (otherwise known as the "long-haired eyeless ghost"). This movie is basically old wine in an old bag: a marriage of the brutally (often obtusely) efficient Friday the Thirteenth-style structure and one of contemporary Korea's enduring cultural obsessions -- the virulent love-hate relationships that Koreans have with their schools and schoolteachers.
Yet, to their credit, debut director Yim Dae-woong, scribe Park Se-yeol and the production crew spice up this material with extravagantly bloody touches (reminiscent of the '80s Argento approach as seen in Opera and Trauma) and some juicily nasty setups. The screenplay is calculated to touch the nerve endings of its young viewers, who would love to get back at their authoritarian, favoritist, greedy and (occasionally) abusive teachers. It doles out to them moments of delicious frisson, whenever Ms. Park finds herself at the mercy of the vengeful adults who were once her helpless charges. The young cast members try hard and are mostly good. Standouts are Park Hyo-jun, usually typecast as a "fat junior gangster" but here doing a nice turn as a hang-dog yelper, seething with the resentment he is too chicken to acknowledge in public, and Lee Ji-hyun, who has the gumption to do almost all of her scenes wearing sunglasses.
Unfortunately, To Sir with Love chooses to take the route of a certain Kim Kap-soo vehicle and does an about-face in the climax. This plot twist, to be fair, is not as hilariously out-of-the-blue as the one in The Wig or as thuddingly obvious as in Face, Cello, etc. ad nauseum, but putting the puzzle together into a coherent picture appears to have been beyond the ken for director Yim and writer Park. There are way too many pieces left around that don't fit. One character's trauma, for instance, simply evaporates into thin air, since the surprise leaves no possibility that it could have been experienced by another character (and yet obviously that is the only way the narrative turn makes sense). And what happened to that deformed kid who looks like Jason Voorhees's half-brother? The worst thing about this twist, however, is not that it makes no sense, but that it greatly weakens the film's core transgressive appeal -- it turns the taboo-breaking carnage orchestrated by the filmmakers, gleefully stomping on the oh-so-incredibly-hypocritical Korean piety toward "sacredness of education," into a tearful plea for a misunderstood child. (For a tip on how to sensibly end a "body-count" slasher film, check out Mario Bava's Twitch of the Dead Nerve, probably the best example of this much-maligned sub-genre)
To Sir with Love is not a bad piece of work. It's actually one of the top contenders for the best Korean horror film of the summer 2006 (as fallow as the season is) but it could have been so much better, had its makers disposed of its "clever" plot maneuverings and let the audience go back home with what they came for -- savoring for at least two hours the guilt-free fantasy of getting back at the Evil Teachers and the awful Korean school system that bred them.      (Kyu Hyun  Kim)
Esteemed producer Tcha Sung-jai, as Moon Seok writes in the 2007 Cannes Edition of Korean Film Observatory, "has aesthetically contributed to debuting the directors who now represent the Korean film industry ?such as Kim Sung-su, Im Sang-soo, Bong Joon-ho, Hur Jin-ho, and Jang Joon-hwan ?and accomplished the large capitalization of the Korean film industry." And although Lump of Sugar director Lee Hwan-kyung is not up to par yet with his predecessors, Tcha's participation further solidifies his importance to South Korean cinema in that with Lump of Sugar he helped secure financing for a vehicle in which a young actress as exemplary as Lim Soo-jeong can further hone her craft. And it is Lim who is very much responsible for my tempered appreciation of this little coming-of-age drama.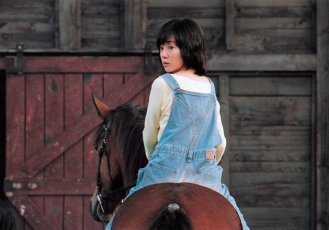 In Lump of Sugar, Lim plays Si-eun, a young girl who lives alone with her father on his farm along with his stable-hand, a friend from his obligatory military service. Si-eun's mother dies when Si-eun is very young. Visiting her mother's grave she collapses and is carried home by her mother's favorite horse, General. This brings the stable-hand to comment that General was sent to rescue Si-eun by her mother from beyond the grave. General will be shown caring for little Si-eun in more scenes, solidifying this emotional and cosmic connection. When General dies while birthing a foal to be named Thunder, Si-eun feels indebted to her new 'brother'. While all this character loyalty is being developed, we are also provided glimpses of Si-eun's interest in becoming a jockey. Her father, who still fears that Si-eun will fall off a horse to her death like her mother, attempts to stifle this pursuit by selling Thunder. Instead of encouraging Si-eun to pursue a college education through this passive-aggressive action, Si-eun instead is encouraged to ride away in pursuit of her dream.
I have yet to stumble across a survey by a scholar verifying (or contradicting) my impression regarding films centered on the trials of young women. But my recollections of such films leave me feeling that the majority of them demand a male love interest for the young lady lead. In this way, her actions are not her own but based on what is required for the male object of her affection to acknowledge her desire and validate her womanly existence. The saving grace is that some of these films have the young women realize they were mistaken in assessing what they desired. Still, the genre seems to require the male love interest.
This brings me to the other major reason I find Lump of Sugar film momentarily endearing - Si-eun's trials have nothing whatsoever to do with pursuing a boyfriend. It has everything to do with realizing her agency, specifically jockeying for her position within this male enclave while retaining her ethical tenets of fair play and mutual respect. Fellow jockey Cheol is misunderstood as a love interest by Si-eun's roommate, but Cheol is clearly a rival (therefore her equal) in the vein of any other male sports genre film. Yes, the set-ups of Si-eun and Thunder reuniting after a long absence present them looking longingly at each other as if torn straight out of a romantic comedy, so it can be argued that the genre demands of a male love interest have been displaced onto a horse. (And this is an area where many could make fun of the film, since these classic Hollywood "meet cutes" are overdone and regurgitated often.) But this love interest is that of the type of love felt between family members, including the family pet, not of the erotic kind. I may not relate to the feelings some have for their animal companions, but I don't doubt that love is felt between them, and felt intensely, especially amongst young people, who are the primary target of a film like Lump of Sugar. (The film almost broke even in its attempt to reach that audience.)
We know from genre conventions that Thunder will return and that certain sports genre tropes will intrude. Even nationalism, a common motif in sports genre films, rears its horse's rear end since much is made of the fact that Thunder's ability is doubted since he is a Korean-bred horse. The occasional cliched feel of these requisite moments, particularly the meet-cutes, keep this film from being a great film. But the fact that the genre-demanded male love interest is jettisoned and Si-eun's character exhibits several shining moments of nicely flowing, feminist agency ?the most powerful being her intrusion into the privileged male space of the locker room to confront a colleague whose (lack of) sporting ethics put another colleague in danger ?make this a film that expands the genre enough to placate both those who insist on genre demands and those who insist on something original. Although I can't say the film is a stellar piece of work, I resolve to let the film be what it is, a decent film within the young adult, coming-of-age genre.      (Adam Hartzell)
Seventeen-year-old Hyun-soo (Sin Se-gyoung) lives with her mother Yoon-hee, a skilled plastic surgeon (Do Ji-won, Flying Boys). Yoon-hee counts among her clients Hyun-soo's classmates. They begin to die in strange circumstances, after hearing a phantom voice whispering to them "I will make you prettier? Hyun-soo, meanwhile, discovers some awful secrets about herself in the dungeon beneath her office (Don't all plastic surgeons keep dungeons under their offices, with restraining chains fettered to the walls? Of course they do. What a silly question to ask).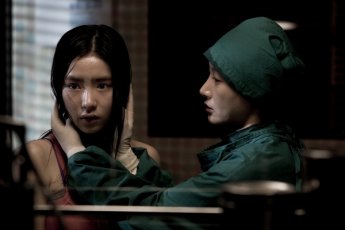 Cinderella attracted a moderate level of press interest for being the horror genre debut of director Bong Man-dae (Sweet Sex and Love), a specialist in soft-core erotica. Well, Radley Metzger he's not, but he deserves some credit for adding a refreshing layer of naturalism to the scenes involving Hyun-soo, her mother and her friends. Contrary to our expectation, Bong does not linger on the eroticism of his young cast in a drooling, trench-coat-crowd-pleasing way. He keeps their appearance healthily attractive, with a surprising measure of sympathy displayed for the plight of the young girls suffering from lack of confidence and crisis of identity. On the other hand, Bong shows little understanding of the rhythm and pace of a thriller genre, failing to generate requisite tension and suspense for the key set pieces. It does not help him that some of them are alarmingly ill-conceived, such as the sequence where Hyun-soo's classmates carve up each other's face with sculpting knives and chisels, which reads horrific in letters but is downright laughable on screen.
There is no getting around the fact that Cinderella is pretty bad: uninventive, turgid and definitely not scary. With a juicy subject matter like young girls scrambling to have their faces cut n' pasted to look "beautiful" on their hands, Bong and screenwriter Son Kwang-soo (Bloody Beach) choose to wallow in the Motherhood Is Sacred cow-manure moralizing, shamelessly ripping off Dark Water in the movie's monumentally unexciting climax. I am going to echo Djuna's sentiment in this regard: Korean filmmakers, if you are embarrassed about making a horror film, then don't make one. Did some jopok gangsters break your knuckles for refusing to take on a horror film project or something? And if you have to make one, please, puh-lee-z, let's not use any Japanese film made within last ten years as a "reference material," right? Watch some Italian or Spanish horror films and rip them off (as the makers of the superior To Sir With Love apparently did) for a change, why don't you?
Cinderella is not the worst Korean horror film ever made (I don't think it is even the worst Korean film of this year) but watching it is a pretty depressing experience as a fan of the genre. I must say that by the mid-point my thoughts have wondered toward Remodeled Beauty (1975) and how much more fun it would have been to be watching that movie (or its straightforward remake) instead of this slack-jawed turkey.      (Kyu Hyun  Kim)
Kim Ki-duk's 13th film Time opens with video footage of a women undergoing plastic surgery. The images are predictably gruesome, displaying the violence that lies behind a re-shaped face. We might expect such an opening to lead on to a story about society's obsession with beauty, peopled by narcissistic heroes eager to do whatever it takes to be pretty, but in fact this is a work with less predictable trajectories. Kim Ki-duk has been known to occasionally drive home an obvious point -- The Coast Guard perhaps being the best example -- but in Time his film remains balanced enough to undermine easy conclusions.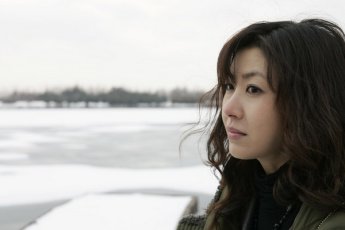 Hot young actor Ha Jeong-woo (The Unforgiven) plays Jiwoo, a man who is basically content in his long-term relationship with his girlfriend Sehie, but who feels somewhat restless. Sehie (played by Park Ji-yeon) senses this restlessness on his part, and notices when his eyes shift towards other women. This unease starts to eat away at her, and soon she erupts in storms of jealousy. One day, she decides to disappear from his life, and she finds herself at a plastic surgery clinic. "I'm not sure I can make you more beautiful," says the surgeon. "I don't need to be more beautiful," she says. "Just make me unrecognizable."
Meanwhile, Jiwoo is shocked at her disappearance, and months pass without a word from her. He eventually starts to approach other women, but something or someone seems to be following him, preventing him from getting close to anyone. Then one day, a woman appears (played by Sung Hyun-ah of Woman is the Future of Man) who attracts him immediately, and who at the same time feels oddly familiar. She says her name is "Saehie."
Time is unusual in Kim's filmography in that its heroes are not marginalized characters who exist on the outskirts of society. Jiwoo and Sehie/Saehie lead middle class lives, pursue art as a hobby and (quite rare for Kim's films) don't get tangled up with the police. Nonetheless, the force of their emotions lead to frequent public outbursts, and they are often the object of onlookers' stares -- in this sense, perhaps, they are outsiders.
For the viewer as well, the emotions of the characters -- and that of the film itself -- are sometimes expressed in such extreme ways that we, too, feel alienated, or simply turned off. At the film's press screening in Seoul, nasty titters often broke out among the seated critics -- many of whom have a long, contentious relationship with Kim's work. Kim eventually pushes the symbols and narrative patterns of his work so hard that the underlying structure starts to crack. Characters' actions violate psychological norms, and the film's coincidences flaunt plausibility. The hand behind the film seems to be taking over.
You might say that Kim simply lost control of the film. Yet he has been doing this for so long and with such consistency that perhaps we should just accept this as an aspect of his filmic style. In the lesser works among his filmography, even a leap of faith on the part of the viewer isn't enough to hold everything together. Nonetheless Time, despite its sometimes cringe-inducing deficiencies, exhibits a weird sort of attraction. When Sehie sends Jiwoo a letter saying that she will return, and then appears with a photo of her old face strapped around her head as a mask, it looks absolutely ridiculous. And yet it's oddly compelling in some ways, too.
I can say for Time that it is well-acted and always engaging, if awkward and uneven at times. I also found it refreshing to watch a film from Kim that was neither outrageously misogynist nor out to make a deep philosophical point. The ending doesn't quite work, but strangely I find myself left with good memories of watching this film. Am I going soft on Kim Ki-duk, or was I just in a good mood that day?      (Darcy Paquet)
Lately I've realized that I've been forgetting to emphasize an important aspect of Hong Sangsoo's films. Amongst all the serious philosophical issues that arise within Hong's oeuvre, there is the not so serious side of Hong. What I mean is Hong's films are freakin' hilarious! I was reminded of this resoundingly while watching Woman on the Beach for the second time when the film director character Kim Joong-rae (Kim Seung-woo) scribbles on a piece of paper what Kim Moon-sook (Ko Hyeon-jeong) initially proclaims "amazing" but later will identify as a "bullshit philosophy". This scene of bizarre geometries had me recalling Imelda Marcos' delusional drawings in the documentary Imelda (dir. Ramona S. Diaz). Joong-rae's messy metaphysics are absolutely outrageous in their ridiculousness, and Moon-sook's initial reaction of admiration is the icing on the proverbial cake that Joong-rae is having and eating too. Although those of us not fully conversant in Korean will miss a great deal of humor in Hong's dialogues, there are always scenes like this one where one does not need to know the intricacies of the language to catch the reflexivity of the humor.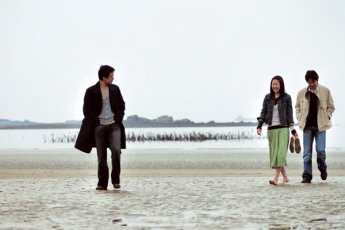 Part of Hong's comedic skill is in his build-up, his character development. We gradually learn that a character's questionable actions and words are insincere in their professed sincerity. Joong-rae's maneuverings to snag Moon-sook's affections come off as much about alpha-male trumping Chang-wook as about Moon-sook's beauty. And when we witness the go-away distance that Joong-rae exhibits following his come-here conquest, we can reflect on Joong-rae's confessions of love as just so much bullshit about perpetrating the role of a lover than anything really about love. Hong's carnal moments are uncharged with passion because we see how these characters really behave in the lead up to those moments. Hong has us doubting every confession. Like his characters, we have nothing to hold on to. These structured dilemmas have us de-romanticizing every truism about love and authenticity.
The film begins with Joong-rae conniving his set designer friend Won Chang-wook (Kim Tae-woo, his second appearance in a Hong venture, the first being Woman Is the Future of Man) to come along with him as he travels to South Korea's west coast for the environs he feels he needs to finish a script he's writing. Chang-wook asks if he can bring the woman he naively calls his girlfriend, Moon-sook, a music composer who is also a big fan of Joong-rae. A prototypical Hongian triad emerges. Yet another triad will emerge when Choi Seon-hee (Song Seon-mi) enters the formation to complete a triad with two women as endpoints, an atypical Hongian triad. (Yes, Hong's debut, The Day a Pig Fell Into the Well, had two women pursuing the same man, but they never confronted one another directly as they do here.)
And this emergence of a womanly-weighted triad underscores an interesting progression in Hong's films. Ever since Turning Gate,, with the exception of the hiccup that is Woman Is the Future of Man, (a hiccup, mind you, only regarding this progression I'm noting here, since I still get almost as much out of that film as a whole as I do Hong's others), Hong's women characters have been getting "stronger" in that they are more active agents in their travels through the peninsula they survey. Despite claims by some organizations in South Korea that Hong's films such as Woman Is the Future of Man were misogynistic, I always knew there was feminist depth to Hong's portrayals. The misogyny portrayed on screen was never approved or exploited but part of the dis-ease of all his films which present the monsters we can become in our decisive, and indecisive, moments. I knew there was much more to Hong's women characters than what can be inferred by initial reactions and Women on the Beach validates this claim of mine.
Hong further demonstrates with Woman on the Beach that he can present women characters as momentarily meek and strong, as sporadically impotent and powerful, just like his men. The women presented here are equals to their men where it concerns their pathetic natures. With all the repetition of Hongian themes present in this psychological sandbox, it is as refreshing as the sea breeze that constantly brushes against these characters to see the women finally take common ground in their fully flawed selves.      (Adam Hartzell)
Oh Dong-gu is a short and pudgy high school boy from a poor working class family. He is in some ways an ordinary, soft-spoken kid, except that his one dream in life is to receive a sex change operation and become a woman. He takes on various jobs to earn money to pay for the operation, however he is often forced to spend it to compensate the victims of his father's drunken outbursts. Dong-gu doesn't tell his father about his dream. A former boxer, forced to quit because of an injury, his father is not the sort of person to understand the feelings of a young transgender boy.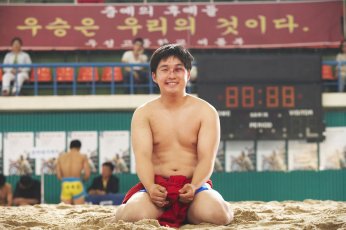 One day Dong-gu learns about a 5 million won prize for the winner of a high school ssireum tournament (ssireum is a traditional form of wrestling native to Korea). Although he had never taken an interest in the sport before, the promise of prize money is enough to convince him to sign up. However the school club turns out to be anything but a well run organization. The coach seems more interested in sleeping then in instructing the students, and the students themselves seem to lack any sort of talent whatsoever.
Directors Lee Hae-young and Lee Hae-jun first made a name for themselves in the Korean film industry for their creative and well crafted screenplays, including Kim Jee-woon's 30 minute short film Coming Out (2000), high school comedy Conduct Zero (2003) and Ryoo Seung-wan's Arahan (2004). From looking at their names, Koreans might assume that the two men are brothers, however they are not related. With their highly praised debut film Like a Virgin, they quickly became recognized as important filmmakers to watch in the future. As it happens, both men went on to develop separate high profile sophomore features in the years 2008-2009.
In some ways, Like a Virgin feels like many other coming of age sports movies, where likable but eccentric young protagonists struggle to succeed at an unusual sport. However the detailed characterizations and intricate humor of this film help to bolster its originality. Especially notable, perhaps, is the performance of the young actor Ryu Deok-hwan. His portrayal of Dong-gu's quiet determination to follow his own feelings even when the whole world seems to be against him ranks as an undisputed bright spot in recent Korean cinema.      (Darcy Paquet)
Professional gambler Goni (means "swan" in vernacular Korean, played by Cho Seung-woo, Chunhyang, Marathon), partnered with fast-talking Gwang-ryul (veteran character actor Yoo Hae-jin, King and the Clown, Musa), cleans up at an illegal hwatoo game and runs off with bags of money from a gangster. We then move several years back in time, and see how Goni became a card-shark under the tutelage of "Commissioner" Pyung (the incomparable Baek Yoon-shik). Initially only looking for a way to recoup his sister's money he wasted on the table, Goni is gradually drawn into the world of illegal gambling, especially when the sultry Madame Jeong (Kim Hye-soo, Red Shoes, YMCA Baseball Team) sets her eyes on him.
Tazza, written and directed by Choi Dong-hoon, is, like his feature film debut Big Swindle, a fast-paced crime thriller, buttressed by a fantastic cast and a complex but never confusing plot. It is one of those Korean films beloved by domestic viewers (it sold more than 6.8 million tickets, making it the second most commercially successful movie of 2006, after The Host) but never properly appreciated by non-Korean critics, not least because it delivers like gangbusters on the score of cinematic entertainment, spiced just right for the local taste. A Kim Ki-duk Angstfest this is not.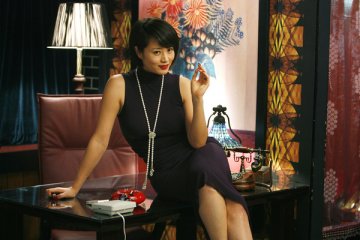 First of all, let me reassure you that being completely ignorant of the rules of the Korean hwatoo (originating from the Japanese hanafuda, small plastic cards with gaudily colorful designs of flowers and plants) games such as "Go-Stop" and "Seodda" is in no way detrimental to full enjoyment of this movie. It's not like you have to know Texas hold'em poker to be gripped by Casino Royale, either. (Well... maybe except for the last card trick Goni pulls off on his arch-nemesis Agwee [an excellent psycho-sleazeball portrayal by Kim Yoon-seok]. That one needed some check-back with an "expert.")
A more interesting issue is to what degree the prior exposure to Heo Young-man's comic book, from which this movie is adapted, could shape your response to the latter. Truthfully, some of the more loyal fans of the original would find the adaptation disappointingly truncated and scaled-down. I certainly miss its '60s setting, the decade seemingly as ancient as the Paleolithic Age for some Korean youngsters, but not without its own glamour for the historically-minded. Other fans of the comic may feel that the characters, especially Goni and Gwang-ryul, are not given enough room to grow. Nevertheless, Tazza benefits enormously from its source, especially in porting over the latter's painstakingly detailed descriptions of milieu of the gambling dens and behavior of the players and preys.
As for the cast, Cho Seung-woo, not my favorite actor, is adequate for the protagonist and Yoo Hae-jin successfully brings pathos and sympathy out of an essentially comic relief character. And of course Baek Yoon-shik is on hand to present us with another virtuoso performance, this time infusing his old shyster with an almost Taoist sense of mock serenity (a hint of self-delusion is there, as well). Yet, if Big Swindle was mainly a Baek Yoon-shik show, Tazza belongs to Kim Hye-soo as the candy-lipped femme fatale. Like Uhm Jeong-hwa, Kim is a confident actress, comfortable with her star status (and her body) and feeling no need to suck up to the camera because she already knows it loves her. Throwing predatory little-girl smiles at her potential victims, Madame Jeong plays everyone for a sucker and derives almost childlike delight from ensnaring dumb macho men in her web of deceit. I believe it is largely due to Kim Hye-soo's presence that the climactic confrontation among main characters has an unexpected emotional resonance: I wonder if even Heo Young-man could have captured in his drawings the look of panic, guilt and strategic calculation frenzy-spinning into a whirligig inside Madame Jeong's brain as illustrated by Kim in this sequence.
Director Choi as usual displays a sure hand in keeping all elements of production under control. His cinematic techniques are fairly elaborate but never overstay their welcome. DP Choi Young-hwan (No Blood No Tears, Blood Rain) and production designer Yang Hong-sam (Lover's Concerto, Ryung) ably assist the director. Wah-wah guitar-like "stingers" and other '60s &'70s urban action score cliches have been deliberately inserted in the soundtrack for amusing effects.
Although Tazza does not quite reach the heights, or depths, of noir masterpieces like The Grifters (despite a shot clearly meant to evoke it), there is no contesting that it is a superb piece of entertainment. (For the record, it is far more serious and thoughtful than Big Swindle, the latter being more of a puzzle piece than a character-driven drama) With movies like Tazza available for their theatergoing expedition, Korean viewers have little reason to turn to Tom Cruise in designer glasses blowing things up.
P.S.: Tazza, like Jang Jin's films, suffers from culturally vague subtitles. The version I have seen does a good job in rendering the structure and rules of the card games intelligible, but totally misses out on jokes, snide asides and historical references. For me and my wife, the movie's most drop-dead hilarious line was Madame Jeong's petulant complaint, "I'm an Ehwa Women's College graduate! I cannot stay in jail!" It was not even translated in the English subtitles (granted, it would not necessarily tickle a non-Korean viewer's funnybone, but still...). Whoever has bought North American rights to Tazza should really consider re-doing the subs, to restore at least some of the pungency and wit of the Korean dialogue.      (Kyu Hyun  Kim)
The opening film of the 11th Pusan International Film Festival in 2006, Traces of Love, is a difficult film to talk about Spoiler-Free. You just have to expose the first surprise to make any sense and even the advertising blurbs know this and do just that. But knowing this surprise doesn't ruin the film because this is a melodrama and certain things are 'known' to happen within the genre. It's the getting there that's more than half the fun.
So for those of you who are greatly Spoiler averse, I'm going to need to ask you to leave after the next two sentences. I advise you to not even read the plot summary provided online because, like I said, the surprise has to be given away. All that can be said is that if you enjoyed Kim Dae-seung's debut Bungee Jumping of Their Own, you will enjoy this film even more.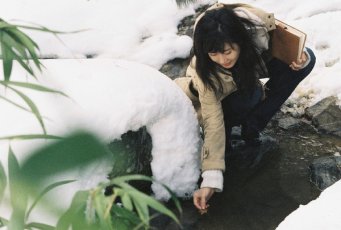 The reason I can make the claim above is because Kim, as if on the return trip of a bungee cord of his own, retraces his steps along a love border that cannot be crossed. Hyun-woo (Yoo Ji-tae) is a young prosecutor who has just proposed to his love Min-joo (Kim Ji-soo - This Charming Girl). Still insecure in his position at work, Hyun-woo must delay a date with Min-joo, strongly urging her to meet him in the coffeehouse of a department store after work. The narrative then takes a pacing that prepares the audience for something terrible to happen, which does indeed happen. While in the underground cafe, moments after the camera zooms in on a notebook to confirm it will have gun-on-the-wall significance later within the narrative, the department store collapses just as Hyun-woo begins to cross the street. If you have flashbacks to the Sampoong Department Store collapse that killed 501 South Koreans in 1995, such is the intent of this allusion. Still, the image is horrifying regardless of one's memory sense.
We jump in time (some might find the melding of time frames annoying in the film but I really took a liking to this tried and true technique here) and see Hyun-woo a changed man. Once a stumbling lawyer who couldn't take control of his clients and charges, Hyun-woo emerges as cold and calculating after the tragedy. A political court case involving the mayor is steered away from his control but he still gets the blame from the victims. Seeing him pelted with eggs on TV, Hyun-woo's could've been father-in-law sees that it is time to present the present Min-joo intended Hyun-woo to receive. The gun is fired in the form of that notebook mentioned earlier, drawn in which is a map to the hike she planned to take Hyun-woo on during their Honeymoon. Hyun-woo proceeds to follow this map in hopes that it will act as a form of therapy, as a sort of labyrinth towards healing from the loss of his beloved from which he still obviously suffers.
Of course, he's going to meet someone there, and keep meeting her, because this is a melodrama. And this genre requirement comes in the person of Se-jin (Uhm Ji-won). We know this means she has a connection to the department store collapse that killed his fiance. And if you don't know this, the sound that director Kim brings in when Se-jin feels claustrophobic well underscores this character's motivation. Turns out she's taking the very same path to work through the personal pain she carries.
Many commentators on South Korean film have credited this common theme of the 'un-crossable love border' to the politically un-crossable border of the DMZ, so it is obvious why such narratives as this will resonate with the older generations of South Koreans who experienced the war and the separation first hand. As part of their cultural script, younger generations will feel this in their own way as well. However, such an idea of unattainable love is also universal. Who hasn't felt the impotence of not being able to complete a confession of love let alone maintain a romantic relationship dear to them? (And if you are one of those 'lucky' ones, there is something us 'unlucky' folks learn from such unattainable loves that causes me to question how 'lucky' you actually are if you have been able to avoid this pain in your life. There's a valuable lesson learned from the unattainable loves that I'm not sure, knowing what I know now, is a class I'd want to skip.) What Traces of Love demonstrates is the power of letting go of that incomplete relationship with another in order to receive someone new who understands a similar, how be it different, loss. Whereas Bungee Jumping of Their Own could be propagandized as evidence supporting the one soul mate for life myth, Traces of Love does less so while still holding onto the belief that fate brings lovers together. And it is this belief in fateful love that partly explains why melodramas are held so dearly to our chests.     (Adam Hartzell)
Of all my fears, Shin Dong-il has touched on my worst with the second feature he has written and directed, My Friend & His Wife, which world-premiered at PIFF's 11th edition. Telling you what I fear most would cause me to reveal the all too important and too horrifying plot twist of this film, so let me just clarify that My Friend & His Wife is not a horror film. It's way scarier than that. Shin presents a moral dilemma most of us, thankfully, will never have to face. But for those who do, I don't know how they could possibly survive. But that is exactly what Shin explores in this film, how to survive extreme moral tragedy, pondering if forgiveness is indeed ever possible considering the nature of certain humanly-wrought calamities.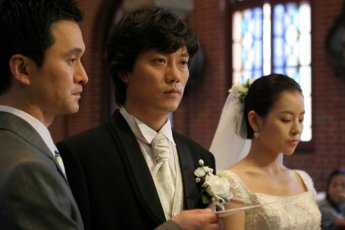 Jae-moon (Park Hee-soon) and Ye-joon (Jang Hyun-sung) are friends since their days of obligatory military service. Even though their trajectories have diverged, Jae-moon is a cook of limited aspirations while Ye-joon is a stockbroker of heightened anticipations, their friendship has maintained a deep and tender level of understanding. Jae-moon is even willing to halt a moment of sexual intimacy with his wife Ji-sook (Hong So-hee) - a wonderfully, cinematically daring and sexy scene of cunnilingus during what appears to be his wife's final trimester of pregnancy - to come to Ye-joon's aid in his time of drunken plea. Jae-moon's meticulous attentiveness to Ye-joon understandably brings his wife to question whom Jae-moon loves more. The answer will come when that which Adam fears rears its psychologically devastating face.
Shin is revisiting the responsibility of relationships in My Friend & His Wife; however, less in relation to the wider social world than he did in his debut film Host & Guest, my favorite film from the 10th anniversary of PIFF in 2005. Here Shin is limiting his scope to the three points of this triangle. Although I found the film to drag initially, once the turning point arose, I found myself returning to the beginning with respect for its gradual pace with which to develop the relationships between the characters. And although there are moments that are more surreal than Shin appears to intend, such as during the moment when the characters are obviously dealing with a prop rather than something livingly lifeless, the demanding attention of the bigger picture allowed me to ignore where Shin's technical knowledge and skill failed him.
I'm going to continue to walk the line of talking about the turning point without revealing the turning point. I think I can manage to speak cryptically enough while also elucidating the wider areas where this film resonates beyond its celluloid borders. Strangely enough, if what accidentally turns had been willed by the character who wielded it, it would have been less excruciating to watch on a moral level. Were the evil intended, we as audience members could very easily distance ourselves from the character in whose hands the evil happens. But by having it happen unintentionally, Shin breaks the fourth wall and forces us to identify with all involved in this morally horrifying incident. Frighteningly, such an incident could conceivably happen to anyone. The character's ignorance causes what some might falsely label as carelessness. Most of us have some knowledge in the very area of service miss-taken. And at the last minute we know that what he ends up doing is the wrong thing to do, that he is 'responsible' for what transpires. But, considering his reasonable ignorance in this particular area of care, it's concievable that he in fact didn't know the dangerous scenerio he created. We want to blame him, but for those of us who will allow the fourth wall to remain open understand that circumstances deflect some of that blame. In this moment of crisis, the choices made between accountability and unaccountability, between loyalty and disloyalty, will affect the rest of their lives.
Although this is not a film that affects me as powerfully as Host & Guest did, the cautious conjunction of these three players still shows that Shin is a welcome new face on the South Korean scene. He asks his questions of his characters and audiences in the context of "Korean society", but his themes have universal applications as well. And considering that he has stated one of his next films will juxtapose a daughter who kills her mother with a son who slaughters his parents, we can expect Shin to be weaving more moral tales of difficult questions where he disallows the easier answers demanding that the audience arrive at their own conclusions.       (Adam Hartzell)
Jae-moon, an antisocial, cynical gangster reaching middle age, wants to kill a man. After losing his closest friend at the hands of a rival gangster named Dae-shik, his life loses much of its meaning, save for a stubborn desire to extract some revenge. Teaming up with a younger taekwondo expert who has turned to gang life to pay for his mother's hospital fees, Jae-moon heads down to Dae-shik's hometown, a rural village called Bulkyo, to wait for an opportunity to strike.
Bulkyo is a drab little town, especially in winter, but as Jae-moon settles in and establishes a stop-and-go friendship with a local hostess, he starts to be reminded of his own birthplace. Dae-shik doesn't show up for quite a while, but in the meantime Jae-moon starts to frequent a small restaurant run by Dae-shik's sharp-tongued mother. Hoping to glean some information on his target's whereabouts, he starts to spend more time with her, while she in turn starts to develop a fondness for this stranger who reminds her of her wayward son.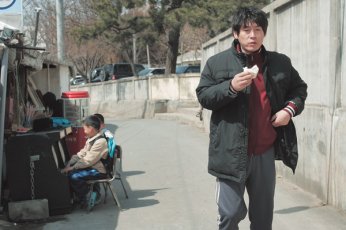 Director/screenwriter Lee Jeong-beom's debut feature, like the now-classic Korean melodrama Failan, drags us deep into the pysche of an emotionally shattered gangster in the hopes of uncovering a hint -- but perhaps only a hint -- of human warmth. In this sense, it's a work that relies more than anything on the performance of its lead actors. In this, the film has been fortunate.
Fans of Korean cinema will be well acquainted with Sul Kyoung-gu, who has gained a reputation as one of Korea's most talented actors in Lee Chang-dong's Peppermint Candy (2000) and Oasis (2002) as well as big-budget productions such as Public Enemy (2002), Silmido (2003), and Rikidozan (2004). Here his performance shows fewer of the emotional peaks and valleys of Choi Min-shik in Failan, and as viewers it takes us a long time to warm up to him, but he is always convincing and engaging to watch because of the realistic details he incorporates into the character.
But in a way the film's most important performance is that of Na Moon-hee as Dae-shik's mother. (Much of the screen time that passes before her appearance feels like wasted time, to be honest). Originally appearing mostly on TV, Na's first film role was in Kim Jee-woon's The Quiet Family (1998) and in recent years she has won praise for key supporting performances in Crying Fist (2005) and You Are My Sunshine (2005). A gifted actress, she is able to bring her characters alive without the slightest hint of artifice or exaggeration. Here, she projects a tough-as-nails exterior brought on by a life of hardship, but combines this with a subtly-expressed vulnerability that is seldom spoken in words.
The film itself is directed with an earthy appreciation for Korea's half-developed, concrete-filled countryside. The polar opposite of the bright colors and glossy cinematography that characterize most contemporary Korean films, Cruel Winter Blues adopts an aesthetic that many Koreans might associate with fermented bean paste (doenjang) -- a food that sometimes comes across as stinky and unappetizing, until one develops a taste for its salty charms.
If Cruel Winter Blues contains any optimism, it is not in a hope that the world will someday become a better place, or that people will learn from their mistakes and lead happier lives. Instead, we are led to take heart from the presence of an unexpressed humanity in places where we don't expect to find it. Some viewers may consider this scant comfort in a world where there is much that needs fixing, but there's an honesty about this film that gives even the smallest glint of hope an added force.      (Darcy Paquet)
Host & Guest begins with unwanted solicitation after unwanted solicitation. A mobile phone call turns out to be a sex line. A newspaper one has not subscribed to keeps showing up at the door. And at that same door, someone appears with "Good News" that for many isn't much good. Ho-jun (Kim Jae-rok, who until now has had small roles in films such as Christmas In August and A Hot Roof) is the owner of this door. Well, he may not be the owner, just the renter, because things aren't going well for Ho-jun. He's a divorced father with a little boy, he's out-of work as a film professor, and he's never made a film. He's also quite irascible, so it's compelling that he'd meet his opposite, the incredibly understanding Kye-sang (Kang Ji-hwan, who debuted in musical theatre, receiving recognition in Rocky Horror Picture Show in 2002 and as Danny in Grease in 2004 and more recently has appeared in TV dramas such as The Last Dance With Me), a Jehovah's Witness who comes to Ho-jun's door a second time in an improbable scenario to save Ho-jun from being trapped naked in his bathroom, ready to rest him on his bed sprawled out all Christ-complex-y. Both searching for something beyond their human existence, Ho-jun and Kye-sang become forced friends and we witness several moments of Ho-jun's anger at the world, contextualized within an elitism and entitlement that present some nearly Hong-ian discomforting moments. The film evolves into a discussion of family, faith, nationalism, war, and film, each of which I found myself appreciating, even if I'm not able to really say what, if anything, I'm supposed to "get" from this film.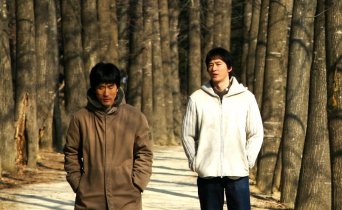 The forced nature of that second meeting is the only major criticism I can make of Host & Guest. Otherwise, the film presents some wonderful images, such as this white aura that resonates from certain characters and window panes at the beginning, and awkward dialogue throughout that carries you across scene after scene. I don't mean that the dialogue is awkward, but that it causes awkward feelings in the characters and, if debut director Shin Dong-il (whose short The Holy Family screened at Cannes a few years back) has done his job fully suturing you with what you witness on screen, the audience as well. It is interesting how these characters keep missing each other yet keep wanting to stay with each other in spite of their ethical differences. It appears Ho-jun has more to learn from Kye-sang, but they receive each other on their own terms nonetheless. Both Kim and Kang put together excellent performances, most poignantly Kye-sang's speech at the end which is wonderfully tempered and poised. Kang and Shin have put together perhaps the most sympathetic portrayal of a Jehovah's Witness without getting too preachy on either side of the congregation.
The context of the film is the recession South Korea was experiencing at the time this film was made. Ho-jun struggles with his masculinity and his entitlements along with his general asocial tendencies that his immersion in film only exacerbates. There's a compelling scene in a multiplex theater that is screening, of all things, an obscure Turkish film, where Ho-jun's attempt to recover from economic wounds only makes him more pathetic. He lambastes the manager for not supporting independent cinema when in fact it is. Hell, the theater he's kicked out of is packed and its packed capacity is partly responsible for getting him kicked out, since he tried to sneak into a better seat other than the one he was assigned. (South Korean movie theaters require you to purchase tickets where you are assigned a specific seat.) Ho-jun is a character who is clearly his own worst enemy.
But he's not the only enemy in this picture. Images of U.S. President-Select George W. Bush make a few appearances and his image is mocked and ridiculed at each moment. Bush II's arrogance and willful ignorance that has caused so much harm and chaos in our world presently is paralleled with South Korea's own brand of conservative nationalism and Christianity that allow cover for things such as a war in Iraq based on false pretenses. Ho-jun is just as willing to deface images of South Korea's nationalism as he is images of Bush II. But, as Ho-jun will learn from Kye-sang, as much as these humiliations from afar provide catharsis for his wounded self and wounded world, they are a far distance from the stands that need to be taken when we are called to the stand. With religious symbolism abounding without getting too didactic, Host & Guest is a film that I'll let in again if it comes knocking on my door a second time.      (Adam Hartzell)
With the critical praise for his shorts "Sugar Hill" and "Good Romance" and with No Regrets being the first South Korean feature directed by an out Gay Korean, one can say that there was a lot of pressure on Leesong Hee-il regarding his debut feature. Regardless of whether he felt this pressure himself, Leesong has lived up to the challenge providing an engaging story, equal parts melodrama, social commentary, comedy, and treatise on hope for us all.
I haven't had the privilege to see Leesong's short films, but according to Han Seung-hee in her interview with Leesong published in Korean Film Observatory (No. 20), No Regrets is an expanded version of "Good Romance". In fact, the actor who played the main character in that short, Lee Young-hoon, is the main actor here. He plays Su-min, an orphan who, since he is unable to pay for university, must leave the orphanage at 18.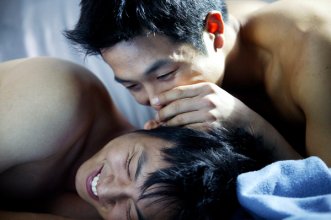 (Leesong's research for this film led him to find that this requirement leads many orphans, male and female, to end up in factories and hostess/host bars in Seoul at 18. "Some days, I feel like I might like to shoot an orphanage story," he says)  Su-min heads to Seoul to work various jobs in order to pay for computer classes and later university. An ethical stance on Su-min's part results in his losing his factory job. (Such a morally upstanding gesture along with Lee's beauty endears him early on with the audience. This also provides a nice expose on class in Queer communities, adding layers to the 'hostess bar' genre in South Korean cinema that Leesong redefines here.) Hit hard on financial times, Su-min ends up taking a job at a host bar. The boss (they call him 'Madame') of this host bar is reluctant to bring on Su-min since experience has shown him that gay-identified hosts will often leave once they become romantically involved with one of their clients. Su-min is at a point in his life where he's given up on love, so he believes this won't happen to him, until a man from his past enters the host bar and life gets messier, more beautiful, and messier again. But for those who have had enough of the self-loathing and tragedy demanded in some films with sexual minority plots and subplots, hold on. At the risk of revealing the ending, let me just say don't worry. As much as I have problems with the narrative flow near the ending, at least No Regrets is not going where we are initially led to believe it is.
One of the best aspects of this film is how we aren't provided the obligatory caricatures of Gay 'types' on prime-time sitcoms in the United States. Su-min is a well-rounded character and I love his refusal to answer questions he doesn't feel people have the right to ask. Each character has a depth that allows each to be more than simply the queen, the naive waif, the self-denier, etc. Refusing to follow the path towards Queer liberation espoused by sitcoms, No Regrets is freed to provide some refreshingly, rip-roaring hilarious moments. The banter provided by Madame and one of Su-min's co-workers would have had the audience at the 11th PIFF rolling on the floor with laughter had there been room on the floor of the packed house. Many of the jokes are specific to a Korean audience, (no one was able to explain to me what was meant by the crowd-pleasing 'You look like the dick on Shilim Avenue' slam of the country bumpkin), but there is enough context here and quality acting and directing to ascertain what commentary witty retorts such as 'Wheat-floured face' are intended to impart.
But still, the joy of my experience with No Regrets was obviously enhanced by the crowd and their positive reactions to what they were watching. I almost missed this film, but thankfully ran into Italian film critic (and Koreanfilm.org contributor) Paolo Bertolin in the maze of streets in Haeundae that confound one's sense of cardinal directions. He insisted I get a standing-room ticket for the sold-out show. So I did just that and was one of the lucky standing-room-ers who was able to snag a seat from the late ticket holders. (PIFF is notorious for its strict time schedules. Variety had a story this year about one of their reviewers being physically restrained from entering after arriving a few minutes late.) Just before the film began I looked to see that every seat was occupied, every step in the theatre appropriated as a seat, and still more people were lined up along the walls anxious to see this film.
Commenting on the particularities of Queerness in South Korea would take a dissertation that space here will not allow. Until I stumble on such a Ph.D., how 'bout a master's thesis instead? Matty Wegehaupt's master thesis "Hong Seok-cheon - Keoming Aut in South Korea" details the cultural nuances around the South Korean TV actor's public coming out in 2002 that was immediately followed by his dismissal from the station that employed him. Such actions might lend support to a view that South Korea is a "conservative" country when it comes to sexual minorities. But just as Bruce Cumings argues in Korea's Place in the Sun that the adjectives of "liberal" and "conservative" as used in the U.S. are not fully transferable to a Korean context, Wegehaupt questions whether one can really call a country 'conservative' where the labor union rushed to the defense of their openly Gay colleague? And this defense was not due to 'Western Liberalization' but to something organic in South Korean culture. In fact, as Wegehaupt would later elaborate for me in an email, "While it may be the perspective of a minority, within Korean cultural mores there exist the means to freely accept and support the new phenomenon of public homosexual identities." Perhaps nothing supports Wegehaupt's claim more than the packed crowd that came to watch No Regrets. And perhaps nothing supports Leesong's film of hope more than the smiles on the faces of many of us who watched this ground-breaking film, smiles shared on the faces of Su-min and Jae-min (Lee Han) as they survive the tragedy that surrounds them, reminding us that until we can live honestly with ourselves in all countries, such tragedy surrounds us all.      (Adam Hartzell)
Considering the millions of film projects that show promise and fail to reach fruition, it's nice to see that the National Human Rights Commission of Korea has continued on to complete its third installment of the If You Were Me series. (And even more exciting since this is actually the fourth installment of the series. There was an animated one released earlier in 2006. But this is the third live action installment, so technically it's correctly cardinalized as the third.) Again, six directors were chosen, Jeong Yun-cheol (Marathon), Kim Hyun-phil (who has yet to complete a feature film but has directed a critically well-received short entitled "Wonderful Days", not to be confused with the feature film of the same title), Lee Mi-yeon (L'Abri), Noh Dong-seok (My Generation, Boys of Tomorrow), Kim Gok and Kim Sun (Capitalist Manifesto: Working Men of All Nations, Accumulate!, Geo-Lobotomy), and Hong Ki-seon (The Road Taken).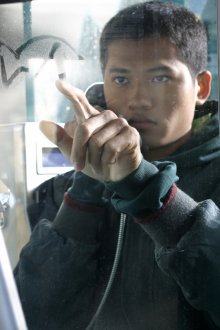 Jeong Yun-cheol's short on illegal immigrants in South Korea is one of the stars of the bunch. "Mohammad: The Diving King" (pictured right) follows a moment in the life of a Thai immigrant working in a factory. His boss tells him to take off (without pay, of course) for things to settle after a police raid, encouraging him to go to the baths. While Mohammad is at the baths, we see him transfixed by a documentary about fish in the ocean. A Korean man then changes the channel to a documentary equally pertinent to the larger narrative. There is a nice mythical aspect to this tale that is tempered enough in its presentation to allow the myth to be received not as plausible but as effective in underscoring the larger truth.
Occasionally Jeong's short slips into didactic dialogue, a tactic which limits the impact of various shorts in the If You Were Me series. The need to get facts across regarding the particular human rights issues results in some stuffing of the dialogue. This is one of the problems with Kim Hyun-phil's edition to the series about teenager-headed households. "The Girl Bitten by a Mosquito" is equally troubled by a poorly constructed plot. As a non-Korean, I left not really clear what is meant by what was translated as "teenage-headed households". A friend of mine would later explain to me that the Korean words used were sonyeon and sonjeo gajang which translate roughly as 'orphans' or 'almost-orphans' in that they have parents who, for various reasons such as a major illness, are unable to support them. But even with that knowledge, my friend found this short as unimpressive as I did.
Lee Mi-yeon's short "GaP" looks at unequal divisions of labor in the home in a couple who are at a crossroads in their marriage. Unlike Jeong, Lee successfully deals with the problem of hitting the important facts by closing the short with a playful parody of public service announcements (which, the argument can be made, is the very genre represented by the If You Were Me series). One leaves this short re-thinking Korean father/husband-hood as Lee intended.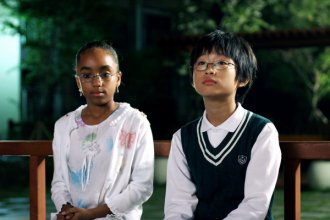 Noh Dong-seok's short "A Tough Life" tackles Korean racism towards people of the African Diaspora. A grade-school-aged boy returns late to a party held at his house where all his friends are waiting. He arrives with his schoolboy crush, a girl who is Black. Childhood innocence and parental anxieties abound, including a humorous display of internet use in an effort to attempt to resolve a moment of motherly ignorance and childhood inquisitiveness. Unfortunately, the impact of his film is reduced somewhat by the occasional moments of less than adept child actors, but Noh's film still holds itself together well.
Jumping out of order in order to end on a positive note, the last short by Hong Ki-seon on contract workers, "An Ephemeral Life", is quite disappointing. The only effective part of this short, the aspects of it that are anything but ephemeral in that their words and images stay with me, are the documentary moments that bookend the film where contract workers speak for themselves. Hong should have left it at that, but his dramatic underscoring of these words does anything but. Thankfully, this human rights issue has already been handled expertly in If You Were Me 2 by the incomparable Jang Jin, so this topic hasn't been wasted.
But with all its highs and lows, the brothers Kim, Kim Gok and Kim Sun, are not only the highlight of If You Were Me 3, they were the highlight of all that I saw at the 11th PIFF. If you've seen the work of the Kims, you know that they are like not much else going on in South Korean cinema today. You can call what they do experimental or avant-garde or DIY or punk or whatever, but maybe from now on we should call what they do "BomBomBomB!!!", the name of this superb short on homophobia and its effects on all of us. The film follows a boy who finds himself drawn to the Queer boy in class whom all the other boys torture with words of ridicule and regressive agit-prop. In the course of images and sounds that allow for what didactic dialogue can never do, we identify with the plight of both these boys as we discover that the silent Queer boy is quite the drummer and the ambiguous boy is quite the bassist. If only this ending were the ending of If You Were Me 3 rather than Hong's. Because . . . Oh, the ending of this short!!! I find myself having to use the three exclamation points the Kims use in their title, because this short is truly gigantic in its rage against the radical machine that bullies our youth into conformity against themselves. Rage on, brothers!!! Rage on!!!      (Adam Hartzell)
We begin by watching a woman (played by Han Hyo-joo) waiting for someone. That someone is neither of the two men we soon begin watching watch her. They think she is a woman from their distant past who left their town for Seoul years ago and about whom they have heard nothing but rumors since. When they approach her, her hesitation leads them to believe that she is in fact who they claim she is. But she insists that she is not. Eventually they concede to her protests, but in a bit of a bind to find the daughter of a family friend so that his last dying wish is granted, one of them (played by Kim Yeong-min) pleads, implores, and startlingly close to demands, that she come with them anyway and lie that she is the man's daughter since she resembles the daughter enough that they believe she can fool the dying man.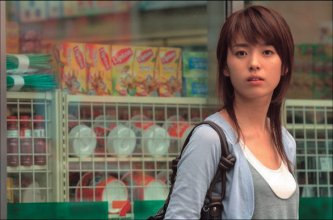 Why would this woman go along with these strangers, particularly since one of them has serious anger management issues? Is she the woman they claim she is? Is she trying to get away from the person who later texts her a disturbing message? Or is it because, as much as they need a momentary surrogate for the dying man's daughter, she needs a surrogate for her own family? Although the premise may seem unbelievable at first, if you suspend that disbelief, your efforts will be rewarded at the end.
Based on a Japanese short story by Azuko Taira entitled "A Wonderful Day", Ad Lib Night is partly an ethical exploration. If the female protagonist is indeed lying, is it ethical to ask someone to lie for a dying wish? Is it ethical to lie for such a request? Through the positioning of the main lie we see the other lies of this family. The funeral wailing becomes just as much a performance as that asked of our main female protagonist. Yet, when her performance reaches its sublime moment in the film, we discover such can be more real at times than the truth.
The Ad Lib Night family we watch directly as they wait for the funeral to be given a reason to begin, and the family we listen in on indirectly through our main character's mobile phone, are not closely-knit families. The Ad Lib Night families are troubled and in some ways dysfunctional. As part of the famous quote from Anna Karenina goes, ". . . Every unhappy family is unhappy in its own way." And director Lee Yoon-ki does a lovely job of fleshing out how this particular family is unhappy through the complaints announced as the disquieting night drags on towards the mo(u)rning.
As Darcy has noted, Ad Lib Night is one of those rare moments where the English title improves on the Korean title, "A Very Special Guest". For when one ad-libs, one is not lying in that one's interest is in presenting the opposite of truth as truth, nor is one bullshitting in that one is disinterested in the truth. Ad-libbing seeks to represent the proper feel of the moment without scripted lines. Yet it's important to underscore that while ad-libbing is 'unscripted', it is not un-studied. Quality ad-libbing, like improvisation, requires one to have familiarity with the topic at hand. And the comparison to acting in Ad-Lib Night is possibly what director Lee intends because our main character prepares for her performance by literally stepping into her character. Regardless of who our female protagonist is, she has experience in the failures of family. She has knowledge of the familiar family ache that resonates for some of us. And it is that echoing ache that floats prominently in Ad Lib Night, Lee's third film, showing us he has returned to the powerfully patient form that gripped many of us with his debut This Charming Girl.      (Adam Hartzell)
Young-goon (Im Soo-jung, ...ing, Tale of Two Sisters) is a new patient in a psychiatric ward. Suffering from what appears to be paranoid schizophrenia, she hallucinates that she is a half-machine cyborg, equipped with deadly weapons and possessing a special affinity with electric appliances, including soda vending machines and fluorescent lights. Poor Young-goon is also slowly starving herself to death, as she believes that her body can be sustained only through being recharged like a battery. Il-soon (Jung Ji-hoon, better known as the Asian pop star "Bi" or "Rain"), supposedly capable of absorbing emotions or personality traits of other patients, is attracted to her. Deducing the logic of her behavior, he decides to convince Young-goon that it is okay for her to consume food.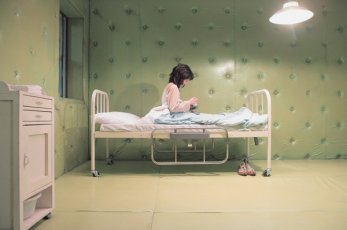 Having finished the "Never-Ending Peace and Love" segment for the omnibus human rights project If You Were Me (2003), Park Chan-wook indicated an interest in helming a more contemplative, slower-paced, less violent film than was expected of him. I'm a Cyborg But That's OK seems to be the outcome of his professed intention to make a "gentler" film than the Vengeance Trilogy. While by no means a "watered-down" version of Park Chan-wook's disturbingly resplendent cinema, the movie is likely to disappoint anyone looking for either a TV-drama style tear-jerking romance or a piece of white-hot "extreme cinema" with devastating plot revelations and dynamic action sequences, although it does contain one spectacular sequence of Peckinpah-like carnage that will blow many viewers out of their seats. Evidently the domestic Korean viewers were by and large less than impressed, as it pulled in a tepid 800,000 tickets.
In this film Park returns to one of his frequent themes, the difficulty, or even impossibility, of communication. Just as the deaf and mute Ryu in Sympathy and Oh Dae-soo in Oldboy were plunged into living hells because they could not, or would not, understand the significance of what was said to them and what they themselves uttered, Young-goon faces death since her subjective universe is incomprehensible to anyone but herself, and she has no means of communicating its logic and meaning to us. Likewise, we never learn the "origins" of Young-goon's "condition," even though she has clearly been traumatized by the violent episode of her grandmother's forced institutionalization. Rejecting the psychoanalytic unspooling of Young-goon's mind as either narrative engine or thematic subject, Park instead invents an alternative, almost science fictional method of communication in Il-soon's radical empathy. Instead of trying to make Young-goon rejoin the ranks of "normal" humanity, Il-soon finds a way to share her "craziness" and thereby co-inhabit her subjective world. In this sense, Cyborg can be seen as an anti-Spellbound, minus the kind of condescending, "crazy-people-as-holy-fools" portrayals given in popular European movies like Queen of Hearts.
In terms of tone, the film is frequently charming and moving but seldom cute. There are scenes of quirky humor but most of them also possess ever-so-slightly disquieting qualities, as when Il-soon literally shrinks into a homunculus in reflection of his panicky urge to become invisible. The production credits are, again, top-notch. Cinematographer Jung Jung-hoon and production designer Ryu Seong-hee work together to create the slightly ramshackle sanatorium, with its torpid but oddly comfy-looking apple-green walls for the isolation rooms and sleepily golden-hued corridors. From a waft of cat hair drifting in the morning sunlight to the shiny copper-chrome of a bullet shell dropping out of Young-goon's mouth, Cyborg is filled to the brim with fantastic colors and amazing visuals. It's just that you should not expect them to make a whole lot of "story sense."
Still, few films I have seen, made in Hollywood or Japan, have had such a sumptuous but exacting imagination on display in re-creating the archetypically manga-ish imagery of a young girl fused with machinery. In my humble opinion, Park outclasses any living Japanese director (Kaneko Shusuke, Miike Takashi and Kurosawa Kiyoshi included) in getting "right" such mind-boggling visual details as the jet plasma ejected from the hovering Young-goon's sneakers, scorching footprints onto the dried glass. To a long list of fantasy projects that I wish Park Chan-wook would take on in the future, I must add an adaptation of a high-quality science-fiction manga: how about Iwaaki Hitoshi's Kiseiju (Parasytes)?
Cyborg is also an excellent showcase for Im Soo-jung's talent, a Vanessa Redgrave in Kate Moss's body, if such a characterization is, I hope, not too rude. Essaying a role perhaps more intuitively fit for Bae Doo-na or Gang Hye-jung, Im initially looks excessively frail and neurotic (she does look incredibly frightening when she appears sans eyebrows and wearing grandma's false teeth) but she ultimately delivers a terrifically nuanced performance that not once relies on cutesy shtick or emotional button-pushing. Bi is certainly not bad, but, not surprisingly, he is not in the same league as Im or other veteran supporting actors, headlined by Lady Vengeance's Oh Sung-mi and the currently ubiquitous Oh Dal-soo.
Many viewers, including some of director Park's loyal fans, might merely tolerate or even actively dislike I'm Cyborg But That's OK, considering it an odd detour for the filmmaker, a stroll in the park before he sets out for another grueling, record-breaking sprint. I do not share this view. Cyborg is every inch a Park Chan-wook film: it's like a blues song recorded with an acoustic guitar from a progressive rock'n roller world-famous for incorporating cutting-edge electronic sounds into his music -- and this song, for me, is just as great, as graceful, inventive, challenging and beautiful, as his other million-seller tunes.      (Kyu Hyun  Kim)
The World of Silence stars Kim Sang-kyung (memorable in Hong Sang-soo's Turning Gate) and Park Yong-woo (Blood Rain, My Scary Girl) as Jeong-ho, a talented freelance photographer and Detective Kim, an uncouth, world-weary veteran cop. Their paths cross when the former intervene, in a most strange manner, in a number of criminal cases, including a subway snatch job. It appears that Jeong-ho is capable of hearing the "silent" conversations of those located impossibly far away from him. Initially intrigued, Detective Kim soon becomes suspicious that Jeong-ho might be the heinous child-murderer targeting young orphaned girls sent to foster homes by the state.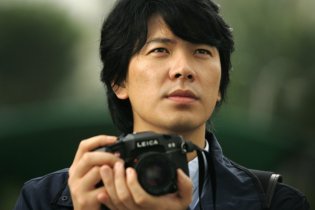 Despite more than a few serious flaws, the most glaring of which are its pointlessly overlong expositions and almost fatal lack of suspense, the film nonetheless has its moments. Director Jo Eui-suk, whose herky-jerky freshman effort Make It Big (2002) certainly did not inspire much confidence in this project, does a surprisingly subdued, workmanlike job of keeping the proceedings moderately engaging, although he stumbles in a few expected places: putting in "wacky" music for the scenes in which Detective Kim is being a tough-cop jerk, and so on. He deserves praise, however, for keeping the film's tone quietly sad and melancholy, in line with the larger theme of abuse of children repeating itself in the new generations.
Kim Sang-kyung and Park Yong-woo are both adequate for the roles but appear to be hemmed in by the screenplay and direction. Kim seems to be straining to prevent himself from appearing overly sinister, but in truth I wouldn't have minded a few Anthony Hopkins-like tics and cat-ate-the-canary smiles from him. Park, on the other hand, makes the weariness and exhaustion of his cop character all too convincing: he seems too asleep in his feet to crank up the speed in time for the formulaic Gothic horror finale. Frankly, for a project like this, I think a bit of ham and cheese would not have been such a bad thing. In any case, the most impressive acting in this film is provided by Han Bo-bae, who played the kidnapped little girl in Sympathy for Mr. Vengeance, striking just the right note of vulnerability and hope as Su-yeon, who becomes Jeong-ho's surrogate daughter.
Essentially a giallo with the requisite perversity of concept but curiously bloodless and lackadaisical, World of Silence starts off with a rather intriguing premise but simply peters out without a fight: a lost opportunity for a fan of thrillers with unusual angles, like myself.      (Kyu Hyun  Kim)
Hanna is a good-natured, hard working woman who has been blessed with a knockout voice. Thanks to this, she is hired to perform as a "ghost singer" for a sexy, hot-tempered young pop star named Ammy. As Ammy struts about the stage, lip-synching amidst her crowd of backup singers and dancers, Hanna is backstage in front of the microphone. No one takes seriously the prospect of Hanna becoming a pop star on her own, because at 169cm and 95kg, she's about as far from the thin/pretty prototype as you can get. But she seems happy enough pouring her heart into song each night, and staying as close as she can to Ammy's good-looking young music producer Sang-joong, who seems to genuinely enjoy her company.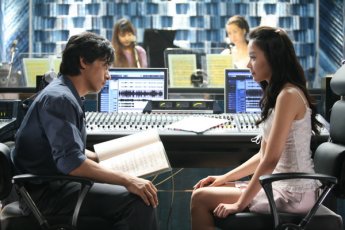 Alas, this happy equilibrium cannot last, and one day Hanna finds herself utterly humiliated and robbed of any will to go on. Rather than kill herself, she drops out of society and embarks on a course of radical plastic surgery and weight loss. Her surgeon is talented, the pounds come flying off, and a few months later Hanna is not only unrecognizable, she is a stunning beauty. And with a voice to match (but a secret to hide), she is a prospective diva with no need to lip-synch.
For me this is not the sort of synopsis that inspires great confidence, and the first 20 minutes of the film seemed only to confirm my worst fears. The fetching young actress Kim A-jung (When Romance Meets Destiny) who portrays Hanna is decked out in a latex fat suit which I suppose is more or less convincing, except for the fact that her face muscles don't move when she speaks. The narrative initally bumps along powered by fat jokes that are offensive and not particularly funny (nobody else in the theater was laughing, either).
Gradually, however, the film starts to produce some well-deserved laughs, and by the time Kim A-jung is allowed to shed her latex, we end up with a fairly entertaining comedy. The film has various little strengths I can point to, such as a surprisingly good performance by Joo Jin-mo (Happy End, Musa -- I don't think he's ever been as charismatic as he is here), a bouncy soundtrack, a few good supporting characters, and an amusing behind-the-scenes look at the Korean music industry.
But Kim A-jung is the reason to watch this film. I have to say it, Kim A-jung is the bomb. Not only does she look great, but she does all of the singing on her own and she displays a nice instinct for comedy. When Hanna transforms herself, she becomes beautiful but doesn't really "act" beautiful, having grown up as someone almost universally looked down on. Kim manages to capture this element of the role nicely, even when it gets rather heavy-handed towards the film's end. When this film was in the casting stage, quite a few established actresses turned down the role, including Ha Ji-won, Kim Ha-neul, Kim Hee-sun and Ko So-young. It's hard to imagine the movie doing nearly as well if any of these other women had been cast.
The second film by director Kim Yong-hwa (after Oh! Brothers, which I am not a particular fan of), 200 Pounds Beauty is originally based on a Japanese manga by Suzuki Yumiko, although -- like Park Chan-wook's Oldboy -- the final screenplay has ended up differing quite a bit from the source material. It's tempting to try to tease some sort of social insight out of the film, given the rage for plastic surgery among young Koreans (for men as much as women). I'm not sure the film really supports this, however -- ultimately it's just an entertaining comedy with nothing particularly new to say. Nonetheless, Korean audiences were certainly charmed, as they bought a stunning 6.5 million tickets,for a box office take of about $45 million. It may be "hard to be a beauty" (the original Korean title of this film), but it certainly doesn't hurt ticket sales.      (Darcy Paquet)