2008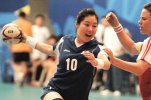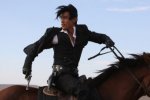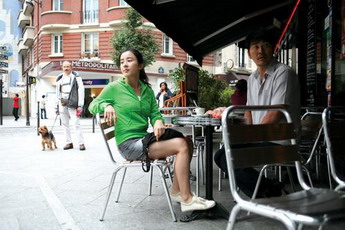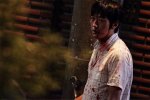 "Forever the Moment",  "The Good, the Bad, the Weird",  "Night and Day",  "The Chaser"

   The year 2008 started with the industry still reeling from a very tough 2007. Nonetheless there was some good news early on, with two unexpected hits in January and February: Lim Soon-rye's handball drama Forever the Moment, which sold over 4 million tickets, and the low-profile thriller The Chaser, which thanks to strong word of mouth was well on its way to selling even more tickets. At the same time, Night and Day, the eighth film by Hong Sangsoo, was invited to screen in competition at the Berlin International Film Festival, where it was roundly praised by some critics, and criticized as being too long by others. Bad news awaited the film on its commercial release in Korea, though, with shockingly low box office returns.
Looking ahead, the year will see new films from several established names. Kim Jee-woon returns with his ambitious spaghetti Western The Good, the Bad, the Weird, scheduled for a July release, and Park Chan-wook's long-awaited vampire movie Thirst may be ready in time for December. Lee Yoon-ki of This Charming Girl fame will shoot a new film with acclaimed actress Jeon Do-yeon, and rising director Yu Ha is shooting an ambitious period film about a gay love triangle involving royalty (sound familiar?). Meanwhile Lee Joon-ik, director of King and the Clown, has a big-budget release lined up for summer in Sunny, about a woman who travels to Vietnam in the 1970s as a singer to entertain Korean troops fighting in the war.    (written on Mar. 10)
     Reviewed below:    Open City (Jan 10)  --  Forever the Moment (Jan 10)  --  Hellcats (Jan 17)  --  Radio Dayz (Jan 31)  --  Once Upon a Time in Corea (Jan 31)  --  The Chaser (Feb 14)  --  Night and Day (Feb 28)  --  The Guard Post (Apr 3)  --  Life is Cool (Jun 12)  --  The Good, the Bad, the Weird (Jul 17)  --  Death Bell (Aug 8)  --  Rough Cut (Sep 11)  --  My Dear Enemy (Sep 25)  --  Truck (Sep 25)  --  Crush and Blush (Oct 16)  --  Go Go 70s (Oct 20)  --  A Light Sleep (Oct 23)  --  Hello Schoolgirl (Nov 27)  --  Frozen Flower (Dec 30).
The Best Selling Films of 2008

| | Korean Films | Nationwide | Release | Revenue |
| --- | --- | --- | --- | --- |
| 1 | Scandal Makers | 8,280,308* | Dec 3 | 53.80bn |
| 2 | The Good, The Bad, The Weird | 6,719,000 | Jul 14 | 43.77bn |
| 3 | The Chaser | 5,071,619 | Feb 14 | 33.99bn |
| 4 | Public Enemy Returns | 4,337,983 | Jun 19 | 28.64bn |
| 5 | Forever the Moment | 4,039,220 | Jan 10 | 26.11bn |
| 6 | Frozen Flower | 3,772,976* | Dec 30 | 25.41bn |
| 7 | The Divine Weapon | 3,751,588 | Sep 4 | 24.32bn |
| 8 | Portrait of a Beauty | 2,364,482 | Nov 13 | 15.66bn |
| 9 | Eye for an Eye | 2,074,638 | July 31 | 13.41bn |
| 10 | My Wife got Married | 1,818,497 | Oct 23 | 12.06bn |
| | All Films | Nationwide | Release | Revenue |
| --- | --- | --- | --- | --- |
| 1 | Scandal Makers (Korea) | 8,280,308* | Dec 3 | 53.80bn |
| 2 | The Good, The Bad, The Weird (Korea) | 6,719,000 | Jul 14 | 43.77bn |
| 3 | The Chaser (Korea) | 5,071,619 | Feb 14 | 33.99bn |
| 4 | Kung Fu Panda (US) | 4,675,712 | Jun 5 | 30.00bn |
| 5 | Mamma Mia (US) | 4,556,416 | Sep 4 | 29.36bn |
| 6 | Public Enemy Returns (Korea) | 4,337,983 | Jun 19 | 28.64bn |
| 7 | Iron Man (US) | 4,315,573 | Apr 30 | 27.80bn |
| 8 | Indiana Jones 4 (US) | 4,135,807 | May 22 | 26.69bn |
| 9 | The Mummy 3 (US) | 4,112,188 | Jul 31 | 26.22bn |
| 10 | Forever the Moment (Korea) | 4,039,220 | Jan 10 | 26.11bn |
* Includes tickets sold in 2009.  Source: Korean Film Council.


Seoul population: 10.42 million
Nationwide population: 49.1 million

Market share:   Korean 42.1%, Imports 57.9% (nationwide)
Films released:   Korean 108, Imported 271
Total admissions:   150.8 million
Number of screens:   2,081 (end of 2008)
Exchange rate (2008):   1103 won/US dollar
Average ticket price:   6494won
Exports to other countries:   US$20,541,212 (Japan: 43%)
Average budget:   3.1bn won including 0.9bn p&a spend

Open City is neatly divided into two components: one that could have been an entertaining yarn and another, a hopelessly annoying tear-jerking melodrama. My opinion is that the movie would have benefited from treating these two parts as discreet entities. Alas, by the end, the super-annoying melodrama gobbles up the potentially interesting story.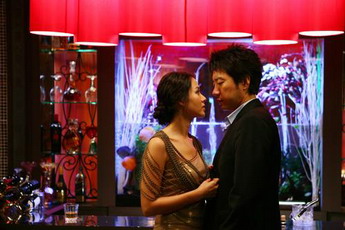 The interesting part involves Baek Jang-mi (played by Son Ye-jin), the young leader of a pickpocket gang. She had inherited this gang, called "The Sam-sung Faction," from her dead mother. But she has expanded and modernized it, employing new talents, eliminating rivals, currying favors from the big bosses with sweet deals and manipulating the law. Seen in this way, Baek's life becomes a success story of a young career woman managing to survive and flourish, beating the obstacles lain down by the sexist Korean society.
The annoying melodrama unfolds with Jo Dae-young (Kim Myeong-min) as its protagonist. Jo is a police detective whose mother is a sort of Queen of Pickpockets, jailed for seventeen times. He sees himself as the living personification of Justice, but in reality, he is nothing more than a spectacularly incompetent idiot, whose specialty seems to be hurling loud, self-righteous insults at those around him.
These two storylines intersect through a series of really far-fetched coincidences. How far-fetched? First, Jo's mother, Kang Man-ok (Kim Hae-suk) turns out to be an old colleague of Baek's mother. Jo then saves Baek from being assaulted by her competitors in the course of pursuing an unrelated case. And then Jo is assigned the pickpocket gang case, and naturally Baek becomes one of his targets. Had enough? There are still tackier coincidences revealed later that bring these two characters even closer. Director Lee Sang-gi might have intended all this as a big commentary on the impossibility of living down your Fate, but I would call them a bunch of hoary melodramatic clich?s.
Jo Dae-young is truly a public nuisance, to put it nicely. Why do Korean filmmakers love the men who cannot sever their umbilical cords even nearing middle age? It is downright suffocating to watch Jo's antics with his mother. Don't Korean women of Kang's age have any right to exist independently from their role as mothers? More importantly, Jo is just too incompetent. He does not seem to use his brain at all in trying to catch criminals. All he is good at is beating people up.
As the movie approaches the middle section, Jo's story begins to infect Baek's with its awful melodrama, like a leech transmitting a parasite into its host body while draining blood. The result is disastrous: key characters begin to abandon rational thought and act like slaves to the plot convenience, making stupid and out-of-character mistakes. All this for the single purpose of cattle-prodding the crybaby Jo somehow toward the direction of Baek.
How about performance and style of the film? To put it simply, they are excessively self-conscious. The acting in Open City is, there is no nicer way to call it, one-dimensional. No inner workings, no design: every motive is exposed for the viewers to see, like children playing dress-up. One might argue that playing a criminal requires a certain level of swagger and exaggeration. But even taking that into consideration, the pickpockets in the film are way too obvious. If real pickpockets behaved like the Samsung Faction members and flash show-offy smiles every time they scored a hit, they would have been busted long time ago. Poor Son Ye-jin is told to swish her hips in a "sexy" manner throughout the movie, and such direction ironically blows away her own natural sexiness.
But it's not the fault of the cast. Kim Hae-suk as Kang somehow manages to give a good dramatic performance, despite the sticky way her character is presented. Son and Kim Myeong-min, too, are certainly pros who know how to deliver the goods, even though their roles confine them into one-dimensionality. I must say, though, I am a bit concerned with Kim, the kind of actor who immerses himself deeply into a character. Since the character here is boring, colorless and apparently brain-dead, he comes off pretty badly, much worse than Son. I hope playing Detective Jo did not leave a very bad aftertaste for Kim, and if it had, I hope he has recovered from it safely.
Finally, giving this formulaic crime melodrama the title Open City is an insult to Roberto Rossellini. I am not a fan of the latter's neo-realist films but still! The producers could have at least chosen a more appropriate title in English.       (Djuna, translated by Kyu Hyun  Kim)

    Forever the Moment
Handball is not the most glamorous of sports, which may explain why Forever the Moment ranks as the world's first handball movie. But like any sport, it can offer up moments of drama, as when the South Korean women's handball team competed at the 2004 Athens Olympics. The efforts of the players made them briefly famous to the multitudes of South Korean viewers who were following the match on TV. The fact that four years later, a film has been made from this story, and that it has emerged as the first smash hit of 2008, is not in itself surprising. Yet this is in some ways a surprising movie.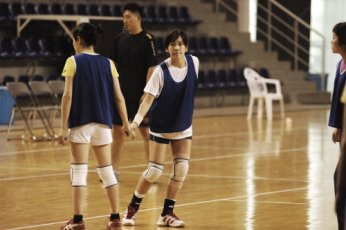 The director, for example. Yim Soon-rye made an acclaimed debut in 1996 with Three Friends, the story of three high school graduates hesitating at the threshold of adulthood. In 2001 she followed this up with another story about men, the musical drama Waikiki Brothers. Like her debut, it earned her strong praise from local critics, but both films flopped at the box office and they never really caught on with international film festivals, either. In general, her work displays a strong interest in everyday frustrations and injustices, and a clear-eyed vision that never romanticizes her subjects -- though as viewers we share in the compassion she feels. She's not blockbuster material, in other words. Which is why it's such a surprise that she made a low-budget sports film that expresses so much of her personal style, and that it became a blockbuster.
If there are thrilling sports movies, and emotional sports movies, then Forever the Moment definitely fits in the latter category. The long prelude to the Olympics involves (for us viewers) very little handball. Yim is more interested in the characters, and how they all relate to each other. Mi-sook (Moon So-ri) is a veteran player who won a gold in Barcelona but has since seen the team slide in quality. With a young son and a husband who can't pay his debts, she gets a job at a discount mart and takes her son along to handball practice. Hye-kyung (Kim Jung-eun) has retired from playing but has been successful as the coach of a pro team in Japan. When the coach of Korea's national squad suddenly quits, she is asked to fill in -- but she is faced with an undisciplined team filled with older and younger players, and hardly anyone in their prime.
Much of the dramatic action of the first three-quarters of the film involves the changing relationships between the extended cast of characters. Some of the standard developments we expect in any sports movie pass by unacknowledged, and some patience is required of us -- in a sense, we are obliged to relate to the team members as ordinary people rather than heroes in the making. When the games do start, however, our patience is rewarded with a truly gripping final reel. Director Yim is not one to exaggerate emotions, but there is no need here. Although not what you would think of as exceptional, the unfolding of the final match is dramatic and suspenseful enough as it is.
Great, climactic moments in the movies are often transformational: they vanquish tragedy and usher in Happily Ever After. But this film is too honest to suggest that that is what is at stake here. The Korean title translates as "The Best Moment in Our Lives," and while a bit sappy, it does more or less capture the point of the story. The moment is important because the players have decided to invest so much into it, even if all they will ultimately take away from it is the memory. We know that everything will return to normal soon after the game ends, and we are already familiar with the rather dull backdrop to their lives back in Korea. This juxtaposition of the thrilling sports finale and the film's stubborn realist point of view is perhaps its greatest strength. The dreams of the women are in themselves bittersweet, which is something you can't say of the average sports movie.      (Darcy Paquet)

    Hellcats
Relationship drama Hellcats centers around three women who live together in an old neighborhood of Seoul. Ami (Kim Min-hee, below) is a 29-year old screenwriter who has been holed up in a motel trying to finish a screenplay, but like most people involved in the film industry, her career is not progressing smoothly. Frustrated with life as it is, she receives a further shock when her boyfriend Won-seok double-crosses her. Furious and disoriented, she ends up channeling her energies into two things that look likely to get her into further trouble: alcohol and a hot-looking accountant named Seung-won.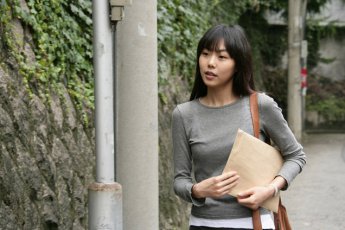 Meanwhile Ami is getting little sympathy from her older sister Young-mi (Lee Mi-sook of Untold Scandal fame), who rents out a room to her. A successful 41-year old interior designer working on a new theatrical production, Young-mi has an active love life, and has lately gotten entangled with the much younger Gyeong-su. However an unexpected surprise is awaiting her on her next visit to the doctor's office.
Young-mi also has a daughter in high school named Kang-ae (An So-hee from the phenom teen pop group Wondergirls). A bright, optimistic sort of kid, Kang-ae enjoys a strong friendship with Mi-ran who grew up in Brazil, but she worries about her boyfriend of three years Ho-jae. In short, Ho-jae seems more interested in computer games than in getting naughty with her. Kang-ae and Mi-ran draw up a plan to push the relationship along, but this leads in unexpected directions.
Director Kwon Chil-in stumbled upon a hit in 2003 with Singles, a film that relied on good casting and a somewhat more honest take on modern relationships to catch viewers' attention. Five years later, Hellcats (the Korean title is "Some Like It Hot", just like the Billy Wilder classic) sticks to much the same formula, and though it failed to draw as much interest at the box office, the film still has its charms. The story of Ami in particular is engaging, as we follow her through wild swings in her resolve and emotional state. Actress/model Kim Min-hee (Surprise Party, Asako in Ruby Shoes) was once thought of as a pretty face with no talent, but in recent years she has surprised the public with nuanced performances in several high-profile TV dramas. Here too, the emotional tone she strikes is just right -- she doesn't come across as weak or immature, but her confusion feels genuine. The fact that her character shines the brightest in a film that also stars the legendary Lee Mi-sook is quite an accomplishment.
Unfortunately the film's other two stories are less developed; Young-mi and Kang-ae are interesting enough characters, but we never really get inside their heads as we do with Ami. Perhaps there just wasn't time in two hours to simultaneously develop these three separate stories, or (more likely?) it's a screenplay problem. Still, the film projects a breezy energy that makes it stand out from the average Korean rom-com. Not prudish, if not particularly racy either, Hellcats is a tasty two-hour diversion.      (Darcy Paquet)

    Radio Dayz
When the radio players of Radio Dayz receive a letter from a listener in the United States, director Ha Kee-ho is making note of the early radio hobbyist practice of DX Listening. In his book Electric Sounds: Technological Change and the Rise of Corporate Mass Media, Steve J. Wurtzler describes DX Listening as ". . . a consumer practice and relationship to technology in which the radio receiver as an artifact took precedence over the programming being transmitted. Radio enthusiasts competed with geographic distance, with technical limitations of radio components, and with each other in assembling a radio set capable of capturing signals of distant origination" (p. 178). That letter writer from the United States was marking his territory with a U.S. postage stamp as his American flag on the moon that was the Korean airwaves, perhaps hoping he was the first, and furthest, to acquire JDOK's signal. It was these DX listeners who were partly responsible for requiring radio stations to regularly identify their station and location throughout a broadcast. Some radio stations in the U.S. even obliged DX Listeners by scheduling 'Silent Nights' when they would refrain from broadcasting so DX Listening enthusiasts could have unfettered access to faraway signals. Of course, now radio stations would never provide unfettered access to anyone but corporate advertisers. DX Listening is yet another instance of what could have been were technology kept in the hands of individuals and communities rather than corporations.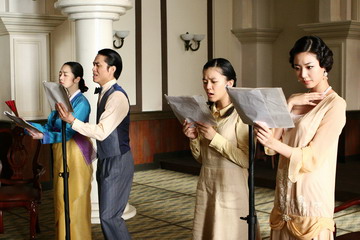 As for Radio Dayz, it is another instance of a pleasant South Korean film that doesn't amaze or astound, but still manages to entertain and engage its audience. And as exemplified by the dance number during the credits, it appears the actors had fun with the script given to them. The comedy follows the first radio broadcaster in Korea as it tries to get a hearing in the soundscape of Seoul during Japanese colonial times. Eventually they stumble upon a winning formula in a melodrama called "The Flames of Love", a formula that evolves into all the formulaic tropes we've come to expect from melodrama, amnesia, long-lost siblings, etc. Part of the pleasure of melodrama is the audience knowledge of these tropes, and Radio Dayz comically plays out these tropes as if they were being developed for the first time. We also witness the tongue-in-cheek emergence of the power of advertising and a growing celebrity culture. Like so many narratives based in historical times (or the future for that matter), Radio Dayz is not meant to actually reflect the time presented. Radio Dayz is a farce, clearly filtered through the hindsight of what we know now rather than a realistic document of how we came to what we know now about the melodramatic form and the power of the media and celebrity.
There's an interesting play-within-a-play moment when the Japanese colonial government attempts to infiltrate propaganda into the melodrama. The effects of such censorship is seen as ruining the authenticity, ironic since melodrama is a genre ridiculed for its artifice. Yet this acknowledgment of how imposed nationalism can prohibit the impact of a story is taken to heart through the screenwriter Kim Hyun-jung's handling of the Korean Independence fighters. Their role is also kept from the heavy hand of a nationalist narrative through their portrayal as fairly unsuccessful revolutionaries. It is this temperance that had me appreciating Radio Dayz. I also appreciated Ryu Seong-beom taking on an adult role that takes his rebellious star status to a new nuanced level. Yes, he smiles way too often at the beginning, but I'd say that's more a poor editing choice than something I would blame Ryu for. There are moments in this film where Ryu's versatility as an actor are clearly revealed, such as his initial direction of the sound artist K (Lee Jong-hyeok).
All in all, Radio Dayz doesn't represent the best that South Korean cinema can offer. It simply represents the decent films contemporary South Korean cinema can put together in order to buy time between the Secret Sunshines and Joint Security Areas, the masterworks that defined the last decade in South Korean film.      (Adam Hartzell)

    Once Upon a Time in Corea
In 1945, Japanese military leaders discover through a secret document that the Stone Cavern Buddha in Kyungjoo, one of the most venerated national treasures of Korea, once had a baby's-head-sized diamond decorating its brow. Known as "Eastern Light," this humongous gemstone becomes the target of a Robin Hood-like jewel thief Haedanghwa (a night-time guise for the cabaret singer Chunja, played by Lee Bo-young, heroine of the TV drama Seodongyo) as well as the dapper scoundrel Bong-gu (Park Yong-woo, Beautiful Sunday), caught in a cross-fire between the independence army and the Japanese colonial authority.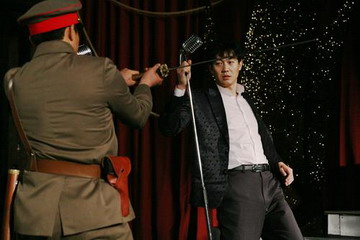 Once Upon A Time in Corea comes at the mid-point of a mini-boom of the Korean cinema set in the colonial period, that started out around late 2006 with the politically smeared Blue Swallow and perhaps culminating in the October 2008 release of Modern Boy. For my money the best exploration of the agonizing ambivalence of the Korean life in this period-glamour of high modernism mixed in with the suppression of freedom and confusion of identity under the domination of the Japanese colonial regime-remains Epitaph, but other films such as Radio Dayz and The Good, the Bad, the Weird in their own ways advanced the dialogue about the meaning of colonial modernity in Korean history. It is a huge progress from '80s or even '90s that many Korean filmmakers today freely acknowledge that the Japanese colonial period was infused with modernist glamour and far from the "dark ages" often portrayed in "official" textbook histories: indeed, films like Modern Boy and Epitaph are directly about this glamour, tinged as it is with guilt, regret and even horror.
Unlike them, though, Once Upon A Time in Corea is content to re-cycle and re-dress moth-eaten clich?s from '60s and '70s anti-Japanese programmers and perfunctorily painting them over with glossy, magazine-cover visuals and lazily anachronistic humor. Its relationship to the real history of Korea is about as close as Dick Cheney's relationship to the principles of American constitutional government. Screenplay by Cheon Seong-il has some trouble juggling the film's "clever" plot twists and head-spinning identity-switches, and the TV-variety-show-style gags and "contemporary" dialogues uttered by the principals are mostly terrible. Personally, I was particularly annoyed by the constant use of the slang "yama is spinning:" (which means "am/are ticked off") if they were so enamored of this expression, they could have at least used it as a joke, given that yama means "mountain" in Japanese. Director Jeong Yong-gi, who previously helmed Doll Master and second and third sequels to Marrying the Mafia, is not without talent, displaying some light-hearted visual wit in a few scenes, but is done in by the aggressively loutish material he is working with.
Park Yong-woo is one of my favorite Korean actors but he just goes through the motions here, only sporadically flashing the kind of dry wit that grabbed your attention in, say, My Scary Girl. Lee Bo-young is charming enough but I wouldn't call her role a character: she's more like a walking set decoration. Worse, her Chun-ja is a token "non-nationalist figure," serving as an alibi against the potential accusations of outright racial/ethnic chauvinism: they are like those "good Arab/Asian English translators/grunts/love-interests" in mindless Hollywood action movies, who can be "cited" by the filmmakers shouting, "Hey, we are not racists! See, we have good Arabs/Asians in our movie too!" To my surprise, the film's best performance is given by Kim Soo-hyun (a perennial weasel-like baddie in a Ryoo Seung-wan film) as a Korean villain working as a Japanese military officer, whose agonizing portrayal of identity crisis becomes actually sympathetic and threatens to derail his character arc.
Once Upon A Time in Corea is the kind of movie which its makers defensively claim as "just plain good fun" during a press screening. Busy, loud, convoluted but devoid of grace or thoughtfulness, it ultimately induces boredom, if not apathy.      (Kyu Hyun  Kim)

    The Chaser
Jung-ho (Kim Yun-seok, who played Agwee, one of the contemporary Korean cinema's scariest villains, in Tazza: The High Rollers) is a former cop turned pimp for a "massage parlor." He is convinced that a young, dorky customer Young-min (Ha Jung-woo, The Unforgiven, Never Forever) has kidnapped and sold his "girls," including Mi-jin (Seo Young-hee, Shadows in the Palace). Unfortunately, what the cops discover is far worse: Young-min is a serial killer who uses a chisel and a hammer to slaughter his victims in lieu of sex. While the police investigation stumbles and takes a detour, Jung-ho increasingly suspects that Young-min's latest victim, Mi-jin, is still alive somewhere.
The Chaser was the first runaway hit of 2008, selling close to 5 million tickets. Was that success deserved?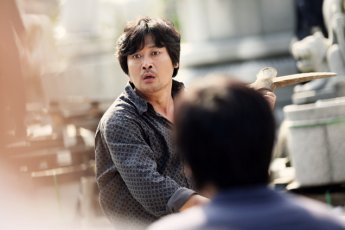 Can Yuna Kim skate?
Suffice to say that the above synopsis by itself cannot possibly convey why The Chaser is the grittiest, snazziest and gutsiest Korean thriller in years and one of the best Korean films of 2008.
The Chaser is written and directed by Na Hong-jin (who had previously made the award-winning short A Perfect Snapper Dish), and it is truly difficult to believe that this is his feature film debut. The film exudes the aura of a piece de resistance concocted by a supremely confident genre veteran. Na's direction is peerless in orchestrating suspense by slowly and methodically disclosing to the viewers clues about what is really going on. Adding to the film's power is its intricate, sharply intelligent screenplay that always remains a half-step ahead of the viewer expectations, which generates completely unexpected moments of dark humor as well as teeth-rattling frisson. Technical credits excel as well: DP Lee Sung-je (No Comment), lighting director Lee Chol-o and production designer Lee Min-bok (Epitaph) contribute greatly to the hauntingly naturalistic re-creation of the Seoul landscape. A moody, acoustic-minimalist score by Kim Joon-seok and Choi Yong-rak is uncommonly effective.
I was also pleasantly surprised by how realistically and sympathetically The Chaser's struggling police force was depicted: it's definitely the best police procedural since Memories of Murder. I disagree with the criticism that it sides with Dirty Harry-like vigilantism over the legal protections accorded even to criminal suspects. The police in The Chaser, convincingly foul-mouthed and perpetually exhausted but struggling mightily to find an acceptable compromise between upholding civil rights and using old beat-'em-up-until-they-confess methods, are just a bunch of working stiffs, neither "the evil establishment" nor heroic public servants. Frankly, I would recommend The Chaser to any foreign viewer who has developed the view that the Korean police are baseball-bat wielding thugs, based on complete fantasies like Lee Myung-se's Nowhere to Hide. This is one of the few Korean films where situations like a white-haired, flinty-eyed psychiatrist baiting a murder suspect with taunts of sexual impotence and a female cop (Park Hyo-joo) fending off the latter's sneering advances can be appreciated without any suspension of disbelief.
But if anyone owns The Chaser, it is perhaps not director Na, despite his incredibly impressive command over the material, but Kim Yun-seok. Jung-ho, as played by Kim, has a bloated, sad-sack mien with an undercurrent of hostility and desperation. Kim never once mugs for the viewer's sympathy, and yet, as the film unfolds, he (with the terrific direction by Na) constantly demolishes our (genre-bound) expectations about how Jung-ho would behave in a given situation. His choices are amazing as much in their fidelity to the conception of his character (he begins as a truly irredeemable scumbag, and doesn't exactly become a white-winged angel by the end) as in their restraint and precision. I would venture to say that Kim's performance in The Chaser begins where Choi Min-shik's ends in Failan. Yes, it's that great.
The film's weak link, in my opinion, is Young-min, the serial killer character. It's really not Ha Jung-woo's fault at all, as he delivers a terrific performance as a genuine sociopath. It's that a serial killer, in the Korean context at that, can no longer generate enough fascination and interest. Some pretty out-there new wrinkles, as displayed in, say, Mr. Brooks, or another Korean thriller, Our Town, are needed to jolt such a character out of the annoying sex-murderer-with-the-face-of-a-saint cliches. Young-min's presence also ensures that the movie occasionally veers off into the territory of extreme gore (climaxing with a scene in which a character is bludgeoned to death in slow motion -- one both disturbingly beautiful and mind-bogglingly horrid), possibly losing a section of the audience who might have otherwise appreciated it.
Not for the faint of the heart, The Chaser goes a long way in restoring confidence not only in Korean cinema's capacity to churn out terrific crime thrillers, but also in the untapped reservoirs of filmmaking talent in Korea, still left to be discovered.      (Kyu Hyun  Kim)

    Night and Day
Recent events have kept me away from the South Korean cinema immersion I had grown accustomed to for the last three years. I now am confined to watching only the South Korean films that come my way, rather than going out of my way to watch what was screening on the festival circuit. So when the Yerba Buena Center for the Arts in San Francisco provided me the opportunity to see Night and Day. the 8th installment by my favorite director Hong Sangsoo, I was obviously thankful.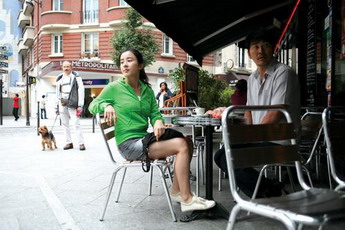 As Adrian Gombeaud and I have noted here at Koreanfilm.org (and I'm sure others have elsewhere), Hong's films easily blend into each other. In other words, Hong's oeuvre is begging for ReMixing. The similar look and feel that ebbs and flows within the frames of most of his films allow for easy splicing together of the films that come before and after each. Hong's films are a Moebius strip of like-emoted wanderers realized in cinematic form. As each character meanders through various spaces in South Korea we witness layering of themes and actions, we share in fears and false starts that we've seen before, as if the viewer is placed in the perspective of the constant state of dejavu experienced by Hong's characters. It wouldn't be awkward to see scenes from any of his later films pasted together into a greater ?berwork because we do this in our heads already. We have the technology to mix and loop his films in a club-like atmosphere at a future Pusan or Jeonju International Film Festival. We just need Hong's permission and a DJ's skills transformed to celluloid.
In Night and Day, Hong again positions main characters into the privileged class where they have great amounts of leisure time to wax philosophical about their ambivalence to commit to each other, their ideas, and their feelings. This time, like Woman Is the Future of Man, we have a painter, Sung-nam (Kim Yeong-ho). He has arrived in Paris to get the hell out of Hyundai in order to avoid the authorities who are after him for smoking marijuana. Being a painter in Paris, you'd expect we'd see him painting. But this is a Hong film, so instead we see him stumble upon the memories of a woman from his past. Night and Day being a work of a more 'mature' Hong, we actually witness Sung-nam decline an opportunity to re-bed this woman. (Causing Benten Film's Andrew Grant, aka Filmbrain, to wonder along with me if this is the first time a Hong character has refused a woman's advances. Yet since Sung-nam has slept with her in his past, we still have a Hongian man retreating from a previous feminine enclosure, just a greater, non-diegetic distance between receipt and return.) Of course, a couple more women enter his orbit. One who desires him and one who initially feigns interest. And as expected, Sung-nam chooses the path of most resistance.
The image used for the main film poster for Night and Day is powerfully deceptive. It shows Sung-nam kneeling on a set of stairs as he stares at the bare legs of a skirted woman. (This image can be found at the top of the 2008 page. It's the third image.) That shot is not held in the film itself. In fact, it's practically unnoticeable in the film. It's only noticeable, and pertinent, because the ad campaign has made it so by freezing the frame. The poster heightens the fact that for all the long Hong takes of men gazing at women's bodies, (such as the double-play of painter and film director in Woman Is the Future of Man), there are also the subtle, ever so brief glances of the objectifying male gaze that might go unnoticed when the viewer blinks. These peeping Hongs do not, however, go unnoticed by the women around these men. It's as if Hong's men are waiting to be caught, asking to be called out as they cop a visual feel. It's as if they know their acts of the eye ironically demonstrate their resistance to relationships rather than their desire for them. This may be the less immediate reason so many of Hong's men will be found weeping.
In fact, I haven't really thought much about the tears of Hong's men until Night and Day. Sung-nam even weeps in the arms of a man this time (played by the great character actor Gi Ju-bong), a man who receives him like he too is familiar with this peculiar male pain. And such are the little details that keep bringing some of us back to Hong's films. They demand re-viewing; they entice second takes, just like the actions of Hong's characters are constant retakes. And with his 9th film, Like You Know It All nudging into the national box office's top ten during its second week, and the recent announcement that the great Moon So-ri will be featured in his 10th film, here's hoping this Hongian saga continues unabated.      (Adam Hartzell)

    The Guard Post
South Korea's meandering border with the North is one of the world's most surreal places, a heavily armed space still trapped in the Cold War. Park Chan-wook's JSA depicted the tension and close proximity of Southern and Northern soldiers at Panmunjeom, a former truce village that is now divided cleanly in half. But elsewhere along the DMZ, the most prominent structures are guard posts (GP for short): large, heavily armored self-contained forts that are strung along the border like pearls on a necklace. North Korea also maintains its own guard posts, which form pairs with those on the South.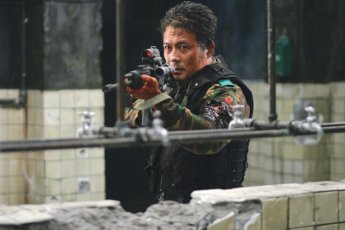 The atmosphere in the DMZ (the term "de-militarized zone" is a bit of a joke) is tense. The military sends its strongest soldiers to this area, and imposes the harshest degree of discipline on them. Shots are occasionally exchanged across the border. Suicides or mysterious deaths have been known to occur among the men stationed there, and there was a recent case of a solider in a guard post who became mentally unhinged and slaughtered many of his fellow recruits.
What better place to set a supernatural gore fest? GP506 is a guard post that has fallen strangely silent (each GP is required to send a signal to headquarters every half hour; if the signal is not received, troops are sent in). A neighboring contingent of soldiers enters the post and finds blood on the walls and grossly dismembered bodies strewn in every direction. A military inspector arrives to investigate, and at first the deaths seem to be the result of some inner conflict within the group. The one surviving soldier is severely traumatized and seems unwilling to talk. Eventually, however, more disturbing clues emerge.
Kong Su-chang received both critical praise and commercial success with his debut R-Point (2004), about a company of Korean soldiers serving in Vietnam who are sent to a remote location to investigate a vanished squadron. The Guard Post would appear at first glance to be a virtual redux, with only the setting changed, but it's surprising how different the two films feel. R-Point was a slow-moving, chilling mystery with a slightly arty feel to it. The Guard Post is a roller coaster that wears its genre credentials more prominently on its sleeve, and despite its setting, offers a less developed political subtext. Unfortunately R-Point's greatest strengths -- its pitch-perfect ensemble acting and narrative coherence -- are reproduced far less successfully in the latter film.
The making of The Guard Post turned out to be more of an adventure than the filmmakers hoped. Midway through production, a spreading sense of crisis in the Korean film industry, together with unrelated trouble at the film's production company, caused the film's main investors to back out and shooting to ground to a halt. It appeared for some time that the film would never be finished, but eventually distributor Showbox stepped in and re-started the project.
Viewers beware: The Guard Post is gory! Brains, rotting flesh, self-mutilation -- this movie goes the extra mile (the poor woman sitting next to me at the press screening seemed to only barely make it through the film). Whereas R-Point had sort of a crossover appeal for people who don't like horror films, The Guard Post seems intended more explicitly for fans of the genre.
At two hours in length, the film is not short, and unfortunately the middle section is somewhat flaccid and confusing (some viewers may be annoyed by the constant jumping back and forth between past and present). I also found it frustrating that for all the care taken to build a highly authentic guard post set, the film never takes the time to properly "introduce" it to the viewer. JSA, by contrast, was much better at finding ways to orient and inform the viewer about Panmunjeom. However as its mysteries are sorted out, The Guard Post does finally find its rhythm in the last 30 minutes, and from then on out it's an engaging enough genre splatterfest.      (Darcy Paquet)

    Life is Cool
The development of rotoscoping techniques, first seen in Richard Linklater's Waking Life, has given filmmakers an entirely new kind of imagery to work with. By shooting actual footage and then converting it into animation, a director can create a strong sense of realism while at the same time remaining free to experiment with color, texture, and various added or subtracted visual details. In Korea, Choe Equan's Life Is Cool ranks as the first feature film to adopt this technique. Although it didn't attract much publicity when it opened in theaters in summer 2008, the film is worth viewers' time for a number of reasons.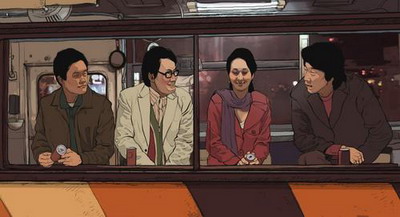 The story opens with a man named Il-kwon (veteran comic actor Kim Soo-ro) on a plane back to Korea from the US. Sliding into a business class seat, he immediately sets his sights on the attractive woman sitting next to him. However he hits on her so obviously and obnoxiously that she soon gets a stewardess to send him back to economy class where he belongs.
After the plane lands, Il-kwon is met at the airport by two friends: Tae-young (Kang Sung-jin, Attack the Gas Station), who teaches at an after-school institute and feels frustrated with the state of his career, and Sung-hoon (Kim Jin-su), who is an interpreter for an African-American basketball player participating in the Korea league. Neither of the two men suffer from Il-kwon's lack of tact, but in their own ways they are just as desperate for romance. The rather sad state of their love lives is thrown into relief when Il-kwon announces the reason for his month-long trip back to Korea before resuming his graduate studies: he has come to find a wife. At first, they do their best to help him in his mission. However among the many blind dates arranged for Il-kwon in that month, there appears a woman named Yeonu (Park Ye-jin, Memento Mori) who will set all three hearts aflame.
The setup for Life Is Cool (Korean title: "She Was Pretty") sounds like a romantic comedy, however Choe is going for an entirely different tone here. What we get is a comparatively clear-eyed, realistic depiction of the lives of three men in their 30s. This may not sound very interesting, but Choe is skilled at filling out the characters' lives with interesting details and little twists. As for the animation, there is little in the film that could not have been expressed in live action, and that director admits this. However there is a clash between the realistic story and the unrealistic images which gives the film a distinctive tone. Given that the film is essentially about three men's romantic delusions, it's appropriate that as you watch it, the tension between reality and fantasy remains always at the front of your mind.
The animation also filters our perceptions of the acting performances. In the case of Yeonu, the reduced level of visual detail helps to give her character an aura of mystery, while also perhaps suggesting that none of the men are really "seeing" her clearly. Nonetheless one downside to the rotoscoping technique in this film is that many of the director's attempts to lighten the mood with humor fall flat. These are very talented comic actors, however they are just not as effective with animated faces.
No amount of technology or visual effects can transform a bad movie into a good one, so it is encouraging that this film, which will inevitably be remembered for its rotoscoped images, relies so much on its script. Weak stories have been the biggest hurdle for Korean animated films as they have attempted to make a name for themselves at home and abroad. In that sense, Life is Cool is a good start.
Still, I couldn't shake the feeling that something was missing emotionally from this film. It's worth watching, in the sense that it is unusual and memorable in the context of recent Korean cinema. But it falls well short of greatness.      (Darcy Paquet)

    The Good, the Bad, the Weird
Chang-yi (Lee Byung-heon), a dandy hit-man with a perpetually bemused, go-ahead-call-me-a-psycho grin on his face, is hired to retrieve a certain map currently in the hands of a Japanese banker. Unbeknownst to him, meanwhile, bounty hunter Do-won (Jung Woo-sung) is sent by the Korean independence army for the same mission. To their irritation, however, the map is snatched by train robber Tae-gu (Song Kang-ho), who is convinced that it leads to the fabled treasures of the fallen Qing dynasty.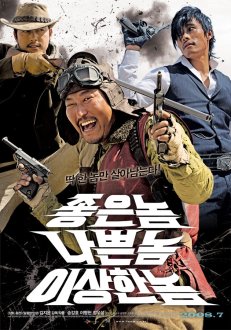 Kim Jee-woon, who has an impressive track record of having successfully tackled a wide range of genres, from sports comedy (The Foul King) to horror (A Tale of Two Sisters) and European-style film noir (A Bittersweet Life), now turns his sight on the western. As one can surmise from the title, the movie is intended as a conscious homage to Sergio Leone's Eastwood triptych. Like Bittersweet Life, which invoked the cool, nonchalant exterior and existentialist attitude of a Pierre Melville rather than the original American film noir, The Weird passes over the concerns and themes of classic westerns (individual freedom vs. commitment to community, and so on) and focuses on the stylistic vocabularies of the genre. Viewing The Weird is, in other words, a lot like watching a witty pastiche of great westerns, a la My Name is Nobody, rather than a great western itself.
Perhaps I am overly harsh with Kim, who might have never intended his film to be anything more than an affectionate send-up to the mythic grandeur and marvelous vistas writ in a Leone film. He certainly knows how to entice his viewers with visual language, staging complicated shoot-outs and tense mano-a-mano duels with the aplomb of a master stylist. From the opening credit sequence with gliding birds of prey trailing the names of the cast like I.D. Tags; to busy shootouts in a rain-drenched marketplace, in which a Robot Monster-like diving helmet finds an unconventional usage; to the final confrontation that exactly copies the Leone original's set-up but goes for a typically bloody, excessive resolution, Kim and his technical staff (cinematographer Lee Mo-gae, production designer Jo Hwa-seong, and composer Dalparan) are fully in control of the film's aesthetic and technical elements.
The Weird's main weakness is the screenplay. Granted, Leone's works don't exactly have Oscar-caliber dialogue or entirely sensible plots either (although some fine directors like Bernardo Bertolucci and Dario Argento have been involved in writing them), but Kim Jee-woon and co-scribe Kim Min-seok fumble in throwing the three main characters in sharp relief, either as archetypal, mythic beings (this is something Leone and his writing team excelled in, even though it had very little to do with the real, historical "west") or as sympathetic flesh-and-blood characters. Their efforts to introduce lively details and narrative twists more often than not fizzle out; for example, the revelation of the ultimate reason for Chang-yi's pursuit of Tae-gu elicited a "So what?" response from me (It certainly can't compare with the famous "harmonica" scene between Charles Bronson and Henry Fonda in Once Upon a Time in the West). I have had problems with Kim Jee-woon's lack of control over the narrative flow and resolution of Tale of Two Sisters and Bittersweet Life before, but at least I was willing to defend their characters as worthy of emotional investment on the part of the viewers. I am not so sure about The Weird, even though Lee Byung-heon and Song Kang-ho still provide plenty of entertainment value, relying on their patented tools of the trade. Jung Woo-sung by default leaves the weakest impression, although it is not really his fault that he sounds like a guy from an outdoor sportswear commercial.
As for the claim that the movie marks a significant departure from Korean nationalism, sure, Song Kang-ho does mumble something about how the yangban aristocrats and Japanese colonizers are hardly different from one another as rulers, but it really has nothing interesting or worthwhile to add about Manchuria as a multicultural, potentially subversive (fictive) space. In the end, The Weird reduces the Japanese opponents (along with Chinese bandits) to straw figures to be mowed down, especially in the extended My Name is Nobody-meets-Road Warrior climax in which Jeong Woo-sung gets to play the hey-look-ma-I'm-Steve-McQueen trick reloading his rifle.
The Good, the Bad, the Weird is, all things considered, quite entertaining and Kim Jee-woon's reputation will not be sullied (if not significantly enhanced) by this latest exhibit of a "Manchurian Western," (a genre that has a checkered but surprisingly long history in Asian cinema). I must confess, though, that my (perhaps unrealistically high) expectations about it were not met, except in the gorgeous production/ cinematography department.      (Kyu Hyun  Kim)

    Death Bell
A chi-chi private high school, which actively encourages cutthroat competition among the student body by, for instance, publicly displaying their exam score rankings, selects twenty elite members and organizes a boot camp of sorts, to prepare for an international student exchange event. To their chagrin, the students, including rebellious heroine Ina (the singer Nam Gyu-ri), her timid best buddette Myong-hyo (Son Yeo-eun) and her wannabe-boyfriend Hyun (the sit-com idol Kim Beom), and the teachers, uptight English teacher So-young (Yoon Jeong-hee, TV's Happy Woman) and popular Korean instructor Chang-wook (Lee Beom-soo, City of Violence) find themselves stuck inside the school. Somebody is kidnapping students one by one, in the order of their midterm score ranks, and killing them. The gruesome ways in which they die are broadcast via the school AV system: the only way to prevent the hideous murders is to find correct solutions to the culprit's "exam questions" in time.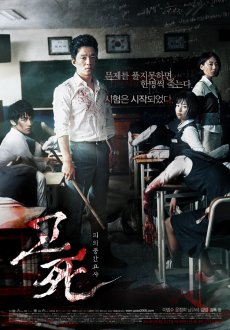 Death Bell is the only Korean horror film opening in the 2008 summer season. As an avid fan of horror genre, I would have loved to report to you that it handily overcomes bad word of mouth and production troubles and single-handedly restores the faith in K-horror. Not a chance. It instead partakes of what is surely the ugliest trend of North American cinema in recent years: Death Bell is, to put it succinctly, torture porn for the Whispering Corridors set. As such, it might actually develop some (unwelcome) reputation among the "Extreme Asian Cinema" constituency outside Korea: it pulls no punches in graphically displaying young high school boys and girls (mostly girls) burned and asphyxiated by candle-wax, drowning in a transparent fish bowl, and, in one girl's case, tumble-cleansed in a washing machine with dozens of razor blades embedded in her skin. Cheerful stuff, eh?
Death Bell is the brainchild of one Yoon Hong-seung, who prefers to be known as CHANG a la Charlie's Angel's McG, and had previously directed music videos for such luminaries as BoA, GOD and SG Wannabe (Am I spelling the names of these epitomes of musical sophistication and creativity correctly?). CHANG's direction is not particularly awful, but the screenplay he authored with Kim Eun-kyung (Meet Mr. Daddy) is a fetid mess. The "exam questions" the culprit comes up with will strike most viewers as either hopelessly arcane or ridiculously complex: the blase cartoon graphics inserted to illustrate the "questions" are no help. Quite a few viewers have already pointed out just how unconvincing the flick's central premise is: that twenty-some students could be so completely isolated from the outside world?even though their cell phones have been taken away in the beginning? so that the murderer could do them in one by one. On the other hand, the inevitable "surprise twist" does not, thankfully, opt for yet another variation on Tale of Two Sisters (The movie, though, opens with Ina graphically menstruating on screen, in a shameless reference to the former), so the filmmakers get some puny credit for that.
Aside from cute-puppy antics of the lead youngsters, the film's weight is carried on the shoulders of the excellent character actor Lee Beom-soo. His goggle-eyed, broad performance is nonetheless solidly anchored in the earth and he almost sells us the climactic crazy-dumb "revelation" about his character. Note the emphasis on "almost."
Death Bell annoyingly combines prettified, slick visual filmmaking (but with no real depth) and gag-inducing torture porn excesses: it's simultaneously tepid and lackluster on the one hand and gross and offensive on the other. Recommended only for the fans of Lee Beom-soo and very undiscerning fans of the horror film genre.      (Kyu Hyun  Kim)

    Rough Cut
Su-ta (Kang Ji-hwan) is an aggressive, arrogant star who naturally ends up playing violent gangster-like roles. His tendency to throw the occasional punch in real life too probably only bolsters his fame, but when he seriously injures another actor on the set of his new film, controversy erupts and the production is suspended. Strangely enough, none of the other available actors seem willing to fill the now-vacant role of his adversary.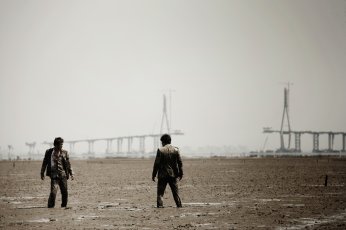 Meanwhile, Gang-pae (So Ji-sub) is the real thing. Despite his young age, he has risen to the No. 2 position in an organized crime ring. Effortlessly effective as a fighter, he is often called upon to solve the gang's trickiest problems. In his free time, however, he often sneaks off alone to watch movies (Green Fish seems to be a favorite of his), and when he runs into Su-ta by chance in a room salon, he confesses to a lifelong wish to become an actor.
The conversation between Su-ta and Gang-pae (their names are a playful pun on the words "star" and "gangster") is anything but cordial: Su-ta's machismo and Gang-pae's cool mix like oil and water. But, desperate, Su-ta will eventually come back to Gang-pae and ask him to co-star in the film. Gang-pae agrees, but with one condition: instead of simulated blows, they will fight for real in front of the camera.
The simulated and the real... acting and real life... Rough Cut (the original Korean title is "A Film is a Film") returns obsessively to question the nature of this dichotomy. Are they two sides of the same coin, or do they each inhabit a completely different universe? Although perhaps not examined in an especially deep way, it makes for a playful intellectual exercise to complement what is, on the whole, a well told and engaging story.
Debut director Jang Hoon is one of an increasing number of filmmakers to have apprenticed under Kim Ki-duk (when you make 15 films in 12 years, as Kim has, you produce a lot of alumni). Kim also frontlines four names credited with writing Rough Cut's screenplay. Yet aside from a few plot points, and an obvious Bad Guy reference, this film feels very different structurally and stylistically from anything Kim Ki-duk has ever made. Jang Hoon appears to have some real talent in his own right.
Perhaps the most notable aspect of the film is the role of Gang-pae. So Ji-sub, who teamed with Lim Soo-jung in the cult TV drama Sorry, I Love You, is a real star, and this film shows off all of his charm. He looks menacing without ever having to raise his voice, and emotionally vulnerable without ever having to resort to the usual melodramatic tics. Not only that, his slightly unpredictable behavior produces genuine suspense. Kang Ji-hwan is serviceable in the role of Su-ta, though unfortunately Hong Su-hyun contributes nothing more to the blandly written role of the actress Mi-na than a pretty face. But the screenplay, which knows not to take itself too seriously, does provide moments for other supporting players to shine. Director Bong (Goh Chang-seok), charged with the unenviable task of pulling off this film-within-a-film, is a particularly amusing character.
As often happens, the progression of the story gets a bit murky three-quarters of the way through, and the film temporarily loses its momentum. I found myself not really caring about the details of the inner gang strife that provides the obligatory complications before the climax. However Rough Cut ends with a punch to the gut, and its final image will linger in the memory.      (Darcy Paquet)

    My Dear Enemy
Hee-soo isn't the type of person to say what's on her mind, but you can tell that something is wrong. When, at a horseracing stadium, she tracks down her ex-boyfriend Byung-woon, her voice is laced with fury. "I want my money," she says, skipping even the barest of greetings. Byung-woon, for his part, looks like a man trapped. Despite his nervous smiles and warm assurances (that seem slightly dodgy, like something Bill Clinton would say), you can guess from the outset that he doesn't have the three and a half million won ($3,000) that he borrowed from her a year earlier. "Don't worry," he tells her, "for sure I can get it for you by the end of the day." Not believing him, but not willing to let him out of her site until she gets paid, she accompanies him for the day as he visits various old friends and acquaintances (all women) and tries to sweet talk his way into a loan.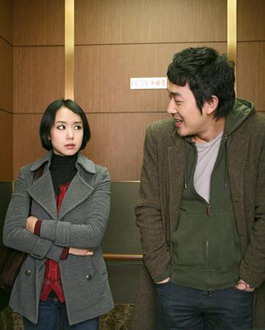 Since his debut with This Charming Girl in 2004, Lee Yoon-ki has emerged as one of Korea's leading sources of small-budgeted, intimate dramas about ordinary people. A regular invitee to Berlin's Forum Section, Lee is particulaly skilled at inhabiting the worlds of female characters, and he has worked with a range of impressive up and coming actresses including Kim Ji-soo and Han Hyo-joo. My Dear Enemy marks a step into higher profile territory, however. Based like his previous work Ad Lib Night on a story by Japanese writer Taira Azuko, the film's stellar cast includes Ha Jung-woo -(fresh off his praised turn as a serial killer in the blockbuster hit The Chaser) - and leading actress Jeon Do-yeon, who the previous year had garnered Korea's first ever acting prize at Cannes for her role in Secret Sunshine. Jeon is known for her discriminating taste in selecting projects, so expectations for this film among cinephiles were high ever since it was announced.
Apart from the long take that opens the film, Lee is generally content to avoid stylistic flourishes and to put the actor's performances at the center of the film - though the irregular rhythms of his editing help to augment a sense of tension between the two leads. This tension - fueled by angry resentment on Hee-soo's part and guilt on Byung-woon's - functions more or less as the film's story, in that it slowly transforms over the course of the day. Hee-soo's mind is being pulled in multiple directions at once, given the desperation of her current circumstances, the painful and positive memories of their old relationship, and the reluctant intimacy that develops between them throughout the day, as she learns things about Byung-woon that she never know. Needless to say, Jeon Do-yeon does not have to articulate any of this in words; you can see it all on her face.
But in some ways this film betrays a bias toward Byung-woon, giving actor Ha Jung-woo an exceptional opportunity to display all his charm. In his short but very busy career to date Ha has displayed phenomenal range, but watching him in this film is a particular pleasure. - you can't help but be seduced. Great acting, assured directing... even with its rather simple (if you were unkind, you would say "thin") plot this two-hour long film is riveting.      (Darcy Paquet)

    Truck
Cheol-min (Yu Hae-jin, excellent in Tazza: High Rollers) is a small-time truck driver who makes living transporting vegetables from the mountainous Kangwon Province region to a Seoul wholesale market. Desperate to foot medical bills for his terminal-illness-stricken daughter, he gets sucked into a poker scam, only to be nabbed by the mob. In exchange for keeping his body in one piece, the hapless trucker is saddled with the job of dumping the fresh bodies of gangland murder victims in deep mountains. While driving out on this grisly mission, he very reluctantly picks up a cop (Jin Gu, also in Tazza as well as Epitaph), who claims that he is in hot pursuit of a notorious serial murderer Kim Young-ho. As expected, things go from bloody bad to cosmically worse for poor Cheol-min.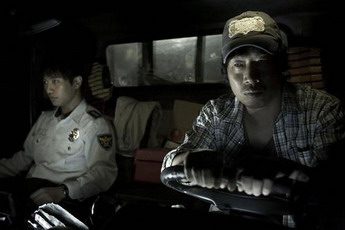 Truck is the kind of overblown, heavy-breathing thriller that nonetheless fails to stir up much adrenalin among the viewers. The set-up, while supremely unoriginal, is not bad in and of itself. We know that many classic thrillers, from Steven Spielberg's astounding TV film Duel (1971) to Mario Bava's super-vicious Rabid Dogs (1975), have deftly manipulated the claustrophobic setting of a vehicle in motion to generate tremendous suspense. Yu Hae-jin and Jin Gu are both talented actors, and had they been given sufficiently juicy materials to sink their teeth into, Truck could have turned out to be a good nail-biter. Too bad, then, director Kwon Hyung-jin, who previously helmed the Uhm Jeong-hwa vehicle For Horowitz (2006), and screenwriter Jang Hyung-mo stuff the movie to the brim with excessive '80-style slasher film clich?s, while making a critical mistake of "opening up" the film in the last half, with a lame subplot involving Young-ho's psychiatrist.
I usually don't mind certain level of illogic in a genre film, but Truck smacks of lazy filmmaking. A moment of jeopardy in which Yu and Jin find themselves being subject to a roadblock inspection, for instance, is resolved with the intervention of a borderline silly deus ex machina. Screenplay has other structural problems: to name just one, it takes close to 30 minutes in a one-and-a-half hour film for Cheol-min to finally get his truck going with the deadly cargo. What Truck needed was a tightly constructed narrative that strip away all extraneous details and focus on the cat-and-mouse psychological chase between two protagonists. In fairness, though, Truck is really no worse than any number of American-made "stuck on the road with a psycho" thrillers, beginning with the hideously overrated The Hitcher (the original and the remake). At least neither Yu nor Jin Gu strikes a Malboro Man pose with squinted eyes, a half-lit cig dangling from his mouth, like C. Thomas Howell does in The Hitcher.
Technical credentials are adequate to good, with Hwang Dong-gook's cinematography and Lee Man-gyu's lighting adroitly illustrating the dreary, rain-drenched atmosphere, although the persistent yellow-greenish color scheme begins to evoke something filthy and sordid like fungal growth rather than tastefully suggest an atmosphere of stormy dread, adding to overall sogginess of the whole enterprise.      (Kyu Hyun  Kim)

    Crush and Blush
One of the most interesting and original Korean films of 2008 is categorized as a screwball comedy, but in truth it's rather hard to describe. As the most unpopular teacher in her school, with an embarrassing, chronic tendency for her face to blush bright red, Yang Me-sook's life is bad enough. But then it suddenly gets much worse. First she is demoted from teaching Russian in high school to teaching English in middle school, which is a problem because she can speak barely a word of the language. Then she discovers that another teacher in the school, the married Mr. Seo for whom she has always harbored a crush, is having an extramarital affair, with none other than the pretty Russian teacher who occupies her old job. Feeling devastated and betrayed, she declares war. Her first move is to befriend Mr. Seo's daughter Jong-hee, the most unpopular student at the school. Claiming she wants to save her father's marriage, Me-sook recruits the girl on a no-holds-barred mission to break up the affair. Complications ensue.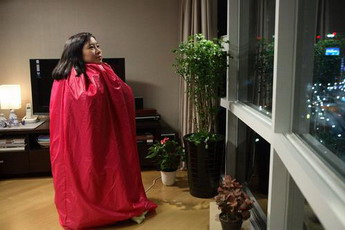 Viewers tend to either love or hate this film, partly because the experience of being inside Me-sook's mind is so intense. She rages at the world, constructs her own fantasy demons, and then, in the course of battling them, veers between obsession and despair. If Crush and Blush has a dominant emotion, it is an only barely contained hysteria. However director Lee Kyoung-mi is never out of control; the film's emotional swings are wild but executed with precision (save, perhaps, for the final confrontation at the end which is a tad indulgent). For a first time director, it's an impressive achievement.
Director Lee Kyeong-mi had some help in making her debut. Her 30-minute short Feel Good Story (2004), which won a stunning number of festival awards inside Korea (it remains one of my own very favorite Korean shorts) caught the attention of Oldboy director Park Chan-wook. After inviting her to serve on the crew for Sympathy for Lady Vengeance, Park agreed to be her producer for Crush and Blush. He even turns in a lightning-quick cameo for those who can spot him. (A cameo by The Host director Bong Joon-ho, who once had Lee in one of his classes, is easier to catch)
No one can write about this film without at least mentioning the lead performance by Kong Hyo-jin (Family Ties). An extremely talented actress who is most often cast in supporting roles, Kong wavered at first when presented with this script, given the role's excesses. Reportedly urged on by fellow actress Jeon Do-yeon, she eventually accepted and threw herself into this role in a way that few performers can. Without the energy that she brings to portraying Me-sook, this film would surely not have worked. Quite rightly, she has won numerous acting awards in Korea for this performance.
Although its box office performance was a disappointment, this film has acquired a sort of cult status among Korean cinephiles. Screenings in Korea are met with uproarious laughter, though unfortunately some of the humor here is hard to translate. Meanwhile, director Lee has been identified as a director with real talent. Let's hope that her reputation among cinephiles and critics helps her to go on and shoot a second feature.      (Darcy Paquet)

    Go Go 70s
In his excellent book The Public Domain: Enclosing the Commons of the Mind, James Boyle details how we might never have had soul music if Ray Charles would have been affected by the 1976 over-extension of copyright. Considered by many scholars to be the definitive song that created soul music out of the mashing-up of gospel with rhythm and blues, "I Got a Woman" was a re-working of a gospel "Jesus Is All the World to Me" created in 1904. The timing of its original creation meant it only had 28 years of copyright with a limited extension. To the growing Cultural Environmentalism movement, this seems to be a more reasonable limited monopoly on a non-rival good in order to encourage creativity than the present predicament of the artist's life plus 70 years that Disney forced upon us to avoid Mickey Mouse's entry into the Public Domain. (This is ridiculously ironic since Disney took liberally from the Public Domain it refuses to replenish. Cinderella, Beauty and the Beast, ad nauseam are all stories in the Public Domain from which any artists can create derivative works.) Present day U.S. copyright law has basically cordoned off the majority of works in the 21st century for the same retreatment. Disney would never get an IPO in today's world of their making and something as smooth as Soul might not have emerged.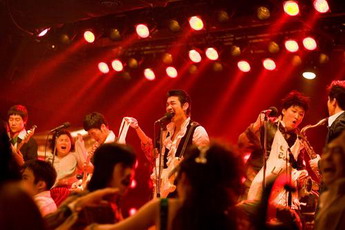 I find this important to note before discussing Choi Ho's film Go Go 70s because his film is a biopic of the 70s South Korean soul band, The Devils. Like all artists before them, The Devils honed their craft by copying the artists that came before them. And to survive financially, they often covered the classics of their genre at paid gigs. What this means is that in a different time and a different place, they would have risked having their metaphorical asses being sued off as viciously as the police do to their literal asses.
Go Go 70s follows the trajectory of this band of soul brothers from Daegu a city of many U.S. military personnel. With military bases come bars and clubs catering to their needs, which includes aesthetic needs. And since this is the 70s, this meant soul music seeped into the streets just as the boys of Daegu that would become devils would become men. Unfortunately, this also coincided with a dictatorship cracking down on all manifestations of fun.
Go Go 70s has some troubles, such as the artificial feel of American extras that South Korean films have yet to resolve. But certain musical performances, such as the re-coding of a Korean folk song into the soul idiom, (and since Korean folk songs are Public Domain, such can be performed without fear of litigation), and a spectacular performance mid-way through the film have audiences jumping into the narrative. As a San Franciscan, witnessing the reference to The Fillmore concert venue while sitting at a theatre cattycornered from The Fillmore's new location was a special meta-treat provided by the 51st San Francisco International Film Festival. So on a macro and micro level Go Go 70s entertains. It's not ground-breaking or masterful. But it moves you as this band goes to 11 to rebel against the dictatorial constraints inflicted upon Koreans in the 70s.      (Adam Hartzell)

    A Light Sleep
Yul-rin cannot sleep and it is little wonder. Two years earlier, her parents were involved in a hit-and-run accident and the now-16 year old was left to be the sole caretaker of her pre-school aged sister. Her family used to be well-off, but hospital bills prior to her parents' apparently lingering deaths have eaten into their money. She and her sister do not go hungry-Yul-rin even has enough money to buy a camera, but they clearly are not rolling in cash either, as indicated by the fact that she cannot afford to provide a proper funeral for her father or claim her mother's body from the hospital. This might seem overwhelming for any teen, but Yul-rin seems, on the outside, to be handling things just fine. Whenever asked "Are you ok?" or "How are you doing?" by anyone, be it a doctor, her uncle or school counselor, Yul-rin always answers with a pleasant smile and says, "I'm fine."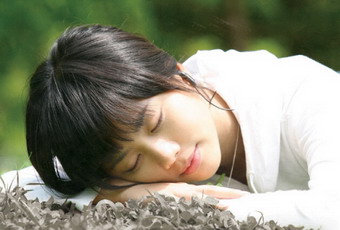 It turns out that Yul-rin is reluctant to relinquish the control of her life. Even when a boy with crush on her attempts to carry her backpack, she is reluctant to accept the offer. There are only a few times the viewer glimpses her internal struggles, for example, after visiting the school counselor, she leans up against a window and whispers to herself, "I lied" but otherwise there are few hints of how much Yul-rin is struggling with her grief and burdens. At one point, her younger sister asks to be carried because her legs are tired, and Yul-rin replies, with no hint of annoyance or resentment in her tone or expression, "Why don't you carry me too?" But her sister, Da-rin, is too young. She doesn't understand fully what has happened or the sacrifices Yul-rin is making to keep Da-rin with her. Yul-rin is unwilling to give up her sister to someone else's care. That means she must be the one to pick her up from the daycare, to prepare meals for her and to take care of her on weekends and at night. Because of her duties, she is spending less and less time with her friends, who chalk it up to snobbery.
Yul-rin's life finally becomes a little more complex when she meets a boy who likes her and in whom she is also interested. However, she keeps her hardships and her life a secret from all her peers and makes numerous rules to ensure that secret remains safe. These rules, include the dicta 'I will call you. You must never call me,' and 'Don't try to contact me or meet me.' Later, as the burdens she has shouldered begin to wear her down, she tells her boyfriend, Joo-go, 'Don't be so nice to me. Don't smile. And never try to see me again.' These are warning signs, but because her character is so emotionally controlled and difficult for her friends to understand, Joo-go does not heed them. After all, her behavior and words have often been a little odd when compared to her classmates.
Perhaps Joo-go would be worrying if he knew about her sleeping problem. At the beginning of the movie, we see Yul-rin visiting a doctor to get sleeping pills to help her with her insomnia. The doctor tells her that this is the last time he will write a prescription for her-that she must learn to sleep again without the pills. But that seems unlikely. Despite telling the doctor that she only takes them occasionally, we know that she is taking more than the prescribed dosage because just taking one or two does not work anymore. This is frustrating for Yul-rin who says at one point in the movie, "I am happiest when I sleep," setting up a feeling of dread about a possible future path for her.
The above description may make this movie seem like a tear-jerker, but in reality it is a very matter-of-fact, straightforward story. The emotions of the film are as contained and controlled as Yul-rin's own. You can feel them below the surface and there is a tension I felt while watching the film of wanting something to breakˇ¦ of having to have some form of release. Director Im Seong-chan has created a film which can be noted for its lack of palatable, definable emotions but beneath the images and between the lines, the emotions are boiling, begging to be given voice. Two decades of directing short films has given Im the experience he needed in directing this movie, his first feature length film and that experience has really paid off. I hope to see more of his work and of actors Choi Ah-jin (Yul-rin) and Yoo Chan (Joo-go) in the near future.      (Tom Giammarco)

    Hello Schoolgirl
Two awkward love stories sit at the center of Hello Schoolgirl, a sweet and unexpectedly effective romance based on a well-known Korean comic book (manhwa). The first is awkward because of an uncomfortably large age gap, while in the second it is a gap in life experiences that causes problems. Yunwoo is 30 years old, and he holds a low-level position as a civil servant, working in a district office. He lives alone, having lost his parents at a young age. It is at the recycling bin one day when he catches his first glimpse of the 18 year old high school student Soo-young who lives in the apartment directly below his. Yunwoo is not the kind of guy to take an interest in schoolgirls, but due to circumstances a sort of brother-sister friendship develops between them. Though neither one of them are dealing with any major crises in their lives, each seems to be hiding a lonely spot inside themselves, and as time passes their companionship begins to fill that space.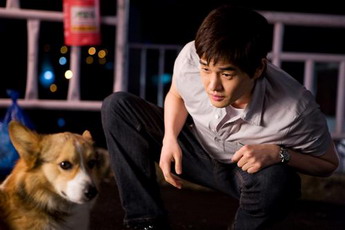 Meanwhile, a younger man named Sook has just started working at the same district office. His infatuation with Ha-kyung is more typical (and less interesting dramatically): after seeing this beautiful woman lingering at the same spot in the subway station day after day, he begins to think of practically nothing else. He is stalking her in a way, though he can't work up the nerve to speak to her. She notices, and one day they finally start a conversation.
It's become almost expected that with the development of computer generated imagery, any comic book adaptation worth its salt will feature stylish visuals and/or highly saturated colors to capture the artistic look of its source material. However sophomore director Ryu Jang-ha (Springtime) takes the completely opposite approach. One of the most notable aspects of Hello Schoolgirl is the way it brings such feeling to very ordinary-looking settings and events. Nothing in the film comes across as exaggerated or false; perhaps this is why it is so easy to fall for its charms. Fans of Korean cinema might not be surprised to learn that Ryu worked as an assistant director on Hur Jin-ho's Christmas in August (1998) and as the co-screenwriter on One Fine Spring Day (2001), two beloved melodramas that plant their feet firmly in ordinary, everyday circumstances.
Nonetheless the part of this film that will be likely to stick in people's memories is the relationship between Yunwoo, played by Yu Ji-tae (Oldboy, One Fine Spring Day), and Soo-young, played by the up and coming actress Lee Yeon-hee (M). After his more adrenaline-charged work of recent years I had sort of forgotten that Yu can be an effective romantic lead. He is able to express his character's emotions in a very subtle and unaffected way, so that unlike many established actors he is able to portray an ordinary person without his star power getting in the way. As for Lee, let me just say that I think there is something completely extraordinary about this young performer. It's not that she is a consistently good actress -- in fact, some of her performances on TV have drawn ridicule. It may turn out that she has a fairly limited range as an actress. But apart from acting ability, there is also that thing called screen presence, and this just seems to be woven into her DNA. In front of the camera she is a force of nature, and it is a particular treat to see her in a film like this that so highlights her strengths. The film's second love story is, I'm afraid to say, ultimately pretty forgettable. But in this case, one out of two is still pretty satisfying.      (Darcy Paquet)

    Frozen Flower
The Koryo Dynasty (918-1932), one of the most interesting eras in Korean history, is in its fin this al stages. The king is young and strong-willed, increasingly unwilling to adopt the Koryo ruler's traditionally subservient position towards China. Around him he has gathered a group of warriors, headed by the fanatically loyal and talented Hong Lim. But the king's failure to produce an heir has left him vulnerable, and Yuan Dynasty rulers in China have demanded that the king's cousin be installed as crown prince. The potential for an outbreak of violence, either from inside or outside the palace walls, appears to be high.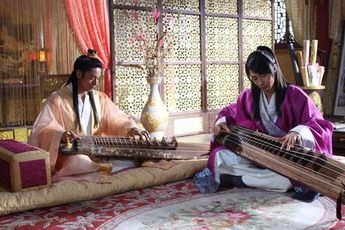 From inside the monarch's private quarters, however, things are even more complicated. The king, it turns out, is gay, and locked in a love affair with Hong Lim. When the lack of an heir becomes untenable, he makes a bold proposal: for Hong Lim to secretly impregnate the queen. This, however, will not work out as he envisionsˇ¦
Rising director Yu Ha's first foray into period dramas is a heady mix of gaudy costumes, sharp weapons, jealous obsession, betrayal, bloodshed and lots of sex. It's a film that you experience viscerally. It is not out to reinvent the genre, or to introduce arthouse sensibilities to a medieval setting. It is simply an engaging story: a big, juicy steak of a movie.
Frozen Flower's primary strengths lie in the realm of storytelling, not only in the grand sweep of the narrative, but on a micro level as well. Director Yu seems particularly skilled at maintaining dramatic tension even in the simplest of scenes. As for the characters he creates, it's not that they are especially unique or memorable, but the gradual shift in the relationships between them are handled so smoothly that they are fascinating to watch.
The film's flaws too sometimes come into view. Although fairly high budget by Korean standards, some local viewers have criticised the art design and costumes as looking somewhat cheap and inauthentic. The plot also loses some of its momentum in the later reels, which were originally even longer before the director tightened them up just prior to its theatrical release.
Nonetheless even the film's critics have had positive words for the lead actors, who turned in some of the most solid performances of their careers to date. Zo In-sung as Hong Lim is perhaps the most crucial contributor in that it is his inner turmoil that mirrors the major developments of the plot. Until his breakout role in Yu Ha's previous film A Dirty Carnival, Zo was better known for his good looks than his acting talent, but here he manages to portray his character's emotional vulnerabilities without ever coming across as weak. His suffering eyes are one of the film's indelible images. Joo Jin-mo (200 Pound Beauty) as the King is also unexpectedly effective, capably portraying both the admirable and menacing aspects of the ruler's personality. Finally, Song Ji-hyo (Some) as the young Queen brings a quiet intensity to her role. Her developing relationship with Hong Lim is charged, but there is also a slightly detached, cold quality to their passion that suggests it is more the product of desperation than genuine affection.
One senses fairly early on in the film where all of this is headed, but it is exciting nonetheless to watch the various opposing forces play out. Although he has yet to achieve much international recognition, Yu Ha demonstrates again in this film that he is one of contemporary Korean cinema's most interesting voices.      (Darcy Paquet)