1980-1989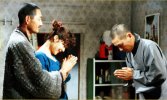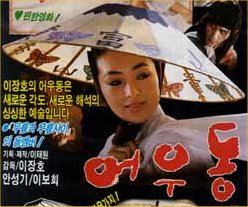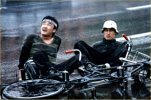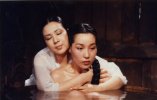 From left:   "Mandala",  "Eo-wu-dong",  "Chilsu and Mansu",  "Sabangji"


   The 1980s are often seen as a bit of a rebirth for Korean cinema. Although box-office levels remained stuck at low levels for most of the decade (and no hit would match the level of 1977's Winter Woman), a slight relaxation of censorship and a new generation of young directors helped to diversify and strengthen Korean cinema. At the same time, Korean films began to attract more and more attention from abroad, with the films of Im Kwon-taek in particular receiving multiple invitations and awards from various high-profile festivals. Kang Su-yeon's Best Actress award at the 1987 Venice Film Festival for her role in Im Kwon-taek's Surrogate Mother was considered a highlight in this regard.
Directors to debut in the 1980s include Bae Chang-ho, Park Chul-soo, Park Kwang-su, Lee Myung-Se and Jang Sun-woo. Of this group, Bae Chang-ho's dramas and comedies proved the most successful commercially, leading to his being nicknamed "the Steven Spielberg of Korea." Director Lee Jang-ho, who returned to filmmaking after serving a prison term in the 1970s for smoking marijuana, also produced many of the highlights of the decade.
A change in government at the start of the decade brought about a newly tolerant attitude towards sexuality, leading to a wave of soft pornography and erotic features such as the Madame Aema series. Political and social content was highly constrained, however, particularly following the army's massacre of protesting civilians at Kwangju in 1980. Only in the late eighties, following Seoul's hosting of the Olympics, did censorship lighten enough to let through mildly political content such as Park Kwang-su's Chilsu and Mansu. Meanwhile an illegal, independent filmmaking movement gathered strength and produced works such as Oh! Country of Dreams in 1989.


     Reviewed below:    The Last Witness (1980)  --  Suddenly at Midnight (1981)  --  Dracula in a Coffin (1982)  --  People of the Slums (1982)  --  My Name is Dokgotak (1984)  --  Mulberry (1985)  --  Crazy Boy (1985)  --  Surrogate Mother (1987)  --  Adada (1987)  --  Potato (1987)  --  The Man With Three Coffins (1988)  --  Chilsu and Mansu (1988)  --  Gagman (1989)  --  Why Has Bodhi-Dharma Left for the East? (1989).
The Best Selling Films From 1980-1989

| | Korean Films | Seoul Admissions | Director | Cast |
| --- | --- | --- | --- | --- |
| 1 | Deep Blue Night (1985) | 495,673 | Bae Chang-ho | Chang Mi-hee, Ahn Sung-ki |
| 2 | Prostitute (1988) | 432,609 | Yu Jin-seon | Na Young-hee, Ma Heung-shik |
| 3 | Whale Hunting (1984) | 426,221 | Bae Chang-ho | Ahn Sung-ki, Lee Mi-sook |
| 4 | Eo-wu-dong (1985) | 423,303 | Lee Jang-ho | Lee Bo-hee, Ahn Sung-ki |
| 5 | Hate But Once More '80 (1980) | 364,538 | Byun Jang-ho | Yoon Il-bong, Kim Young-ran |
| 6 | Madame Aema (1982) | 315,738 | Jung In-yeop | An So-young, Im Dong-jin |
| 7 | Madame Freedom '81 (1981) | 287,929 | Park Ho-tae | Yoon Jung-hee, Choi Mu-ryong |
| 8 | Lee Jang-ho's Baseball Team (1986) | 287,712 | Lee Jang-ho | Ahn Sung-ki, Lee Bo-hee |
| 9 | Between the Knees (1984) | 263,334 | Lee Jang-ho | Ahn Sung-ki, Lee Bo-hee |
| 10 | Rainbow Over Seoul (1989) | 261,220 | Kim Ho-seon | Kang Ri-na, Kim Ju-seung |
| | All Films | Seoul Admissions | Country |
| --- | --- | --- | --- |
| 1 | The Killing Fields (1985) | 925,994 | US |
| 2 | Indiana Jones & Temple of Doom (1985) | 808,492 | US |
| 3 | Die Hard (1989) | 701,893 | US |
| 4 | First Blood 2: Rambo (1985) | 639,098 | US |
| 5 | The Last Emperor (1988) | 600,004 | US |
| 6 | Platoon (1987) | 576,924 | US |
| 7 | An Officer and a Gentleman (1983) | 563,533 | US |
| 8 | E.T. (1984) | 559,054 | US |
| 9 | Never Say Never Again (1983) | 555,627 | US |
| 10 | The Mission (1986) | 525,630 | US |
| 11 | For Your Eyes Only (1982) | 500,243 | US |
| 12 | Snake in the Eagle's Shadow (1980) | 500,074 | Hong Kong |
| 13 | Deep Blue Night (1985) | 495,673 | Korea |
| 14 | Indiana Jones & Last Crusade (1989) | 491,010 | US |
| 15 | Amadeus (1986) | 475,755 | US |
Industry Trends From 1980-1989

| Year | Local Films | Imports | Market Share | Total Admissions | Ticket Price | Per Capita Adm. |
| --- | --- | --- | --- | --- | --- | --- |
| 1980 | 91 | 39 | n/a | 54,000,000 | 957 won | 1.4 |
| 1981 | 87 | 31 | n/a | 44,000,000 | 1,097 won | 1.2 |
| 1982 | 97 | 29 | n/a | 43,000,000 | 1,300 won | 1.1 |
| 1983 | 91 | 26 | 39.9% | 44,000,000 | 1,326 won | 1.1 |
| 1984 | 81 | 26 | 38.5% | 44,000,000 | 1,352 won | 1.1 |
| 1985 | 80 | 30 | 34.2% | 48,000,000 | 1,432 won | 1.2 |
| 1986 | 73 | 51 | 33.0% | 47,000,000 | 1,533 won | 1.1 |
| 1987 | 90 | 85 | 27.0% | 49,000,000 | 1,637 won | 1.2 |
| 1988 | 87 | 175 | 23.3% | 52,000,000 | 1,847 won | 1.2 |
| 1989 | 110 | 264 | 20.2% | 55,000,000 | 2,271 won | 1.3 |
Source: Korean Film Council (KOFIC).

A young detective Oh (played by Hah Myung-joong, renowned filmmaker Hah Gil-jong's real-life brother and notable director himself with such brazenly artistic films as The Blazing Sun [1984] and Life-Line [1986] to his credit) investigates the brutal murder of a rich wine-brewer Yang (the great '70s and '80s star Lee Dae-geun). Doggedly tracking down and interviewing all surviving persons of interest, the detective gradually uncovers some suspects and their possible motives. But eventually he realizes that the murder is the outcome of a thirty-year-old Korean War-rooted tragedy that inexorably bound together the lives of Yang; Ji-hye, the daughter of a North Korean guerrilla leader (Jeong Yun-hui, another major star actress of the '70s and '80s); and Ba-woo (the TV acting giant Choe Bool-am), a pure-hearted farmer who had become Ji-hye's protector.
The Last Witness, considered director Lee Doo-yong's magnum opus today, was severely cut upon its release in 1980, shorn of fifty minute's worth of footage and left to die a slow death at the box office (the Korea Movie Database lists 7,424 tickets sold during its entire theatrical run). Lee cut his teeth making low-budget programmers in the '70s (including the "One-Legged Man" series starring mustachioed taekwondo expert Han Yong-cheol) at the pace of five or six films every year, and gained a reputation as a ruthlessly efficient technician, and a specialist in fast, hard-hitting action-adventure. However, for this project, his main objective was to construct an epic-scale, faithful adaptation of Kim Seong-jong's popular, massive mystery novel published in 1974: a motion picture still rooted in the genre conventions of a mystery thriller, yet capable of addressing wider swaths of Korean experience than he had ever dealt with before.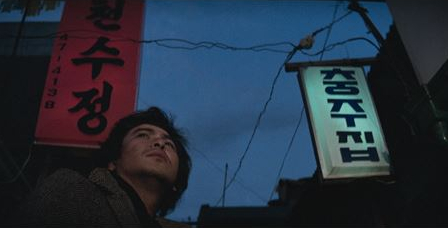 Collaborating with the lead actor Hah, Lee delved headlong into extensive location shooting throughout South Korea, shooting an inordinate amount of film footage in the span of nearly one year. Lee and the veteran screenwriter Yoon Sam-yook (The Hut [1980], Suddenly in the Dark [1982]) chose to retain the skeletal structure of Kim's mystery plot, but they seem to have been less interested in mounting an efficient anti-Communist potboiler, something that the censor board probably had anticipated. Instead they concocted a sprawling road movie that also serves up a serious meditation on the sufferings visited on the good and the decent by the cruelties of modern Korean history. This change in orientation could not possibly have endeared their film to the authoritarian censors.
Indeed, both North Korean Communists and South Korean civilians in the film are revealed to oscillate between the poles of outright evil and victimhood. In their old age, they are shown to be deeply in denial of the roles they played in designing an overarching structure of human misery, exploitation and, most pertinent of all, hypocrisy: only Ji-hye, a female survivor of gang rape, and Ba-woo, her Platonic husband-companion, remain blameless to the end. Even Detective Oh himself cannot escape being held morally responsible either, as he faces the enormity of modern Korean history's sins, which he (perhaps inadvertently) helped bring to light. He, too, by the climax of the film, must pay the price for adding yet more suffering to the lives of the innocent in the name of pursuing justice. The casting of Hah, who more often portrayed intelligentsia-type characters, in the role of Oh, supposedly a rough-hewn, loner cop, is a hint that he might be too "conscientious" to let the full weight of history slide past his back, and of course this is proven right.
Given the ambitious scope of the film, its overall mood -- despite some lightweight passages (including the era-appropriate but by today's standard disquieting depictions of sexual harassment as "guy jokes") -- is somber and dark, with its genre-related pleasures ultimately subordinate to an unflinching dissection of the underbelly of modern Korean history. Yet, Lee Doo-yong never completely abandons his stylistic flourishes that infuse the occasional scenes of sometimes startling violence with pungent immediacy. If Sergio Leone had made a fully committed and expanded (extending the story into postwar Italy) version of The Garden of the Finzi-Continis, it might perhaps approximate the incongruous grandiosity that Lee Doo-yong achieved through this film for 1980s Korean cinema.
Restored to a close approximation of the original director's cut (2 hours and 38 minutes: the restored version clocks in at 2 hours and 34 minutes) by the Korean Film Archive in 2002, The Last Witness remains one Korean film of its era that successfully captures the panoramic vistas of seasonal Korean landscapes in their wintry austerity as well as radiating warmth, through the camera eyes of Jung Il-sung, best known as Im Kwon-taek's chief cinematographic collaborator (Sopyonje [1993], Chunhyang [2000], among other works). It is often literally breathtaking in its widescreen splendor, evoking a sense of familiarity as well as an alien quality to even those Koreans who have grown up amongst the mountains and valleys featured therein.
Finally, what can we say about the political, or, if you will, ideological significance of this sometimes unwieldy yet always compelling "murder mystery?" It is true that in the film, Detective Oh ultimately fails to address the wrongs visited upon the innocent. Yet I would not call the film's attitude a mere indulgence in art-house fatalism, or the Romantic self-congratulation of an intellectual happy to strike a pose of impotent resistance against the evil system (and effecting no meaningful change to the system whatsoever). I posit that there is an unmistakable undercurrent of critical consciousness streaming beneath the film's surface, a churning lava-flow of suppressed rage against the Cold War dictatorships (in both North and South Korea) that have long reduced the lives of ordinary Korean people into cogs in the wheels of the Grand Narratives of History. In that sense, it is not difficult to consider The Last Witness, along with Lee Won-se's A Little Ball Launched by a Dwarf (1981), as one of those Korean films from which we can palpably sense the as-of-yet inarticulate political energy of the citizenry as barely audible rumbles detected between the lines of dialogue. They had just about had enough of the military dictatorship, and were about to erupt into the galvanizing popular protests of the 1980s.      (Kyu Hyun  Kim)
The Last Witness ("Choehu-ui jeungin"). A Sekyung Enterprise Production. Theatrical release on November 15, 1980. Aspect ratio: widescreen 2.35:1. Original running time 158 minutes (the restored 2002 version 154 minutes). Directed by Lee Doo-yong. Screenplay by Yoon Sam-yook, Lee Doo-yong. Based on the novel of the same name by Kim Seong-jong. Starring Hah Myung-joong, Choi Bul-am, Jeong Yun-hui.
Seon-hee, the wife of a wealthy butterfly researcher is pleased to hear that her husband has contracted a new maid. The girl is young and pretty, though she comes with a tragic past: her mother, a shaman, perished in a house fire not long earlier. The couple and their daughter welcome the orphaned young woman into their home, but Seon-hee begins to have misgivings later when she sees a strange wooden doll that the maid has brought with her. For several weeks she has been having nightmares and visions about this very same doll.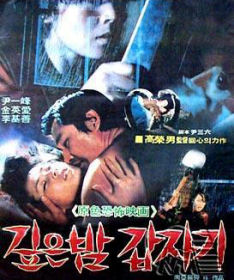 Korean horror films from the 70s and 80s can be memorable, fascinating, and at times even cute, but they are rarely frightening. Suddenly At Midnight is an exception. As in Kim Ki-young's The Housemaid (1961) and its subsequent remakings, director Ko Young-nam locates the film's horror within the space of a happy, wealthy family home that is contaminated from the outside, but he takes the film in different directions than that pursued by Kim. The result is a mysterious psychological study built on the wife's suspicions, that beguiles the viewer right up to its bizarre closing image.
Director Ko -- Korea's most prolific director ever with 111 films to his credit -- has a good feel for how to create tension from precise editing and the patient accumulation of evocative details. Actress Kim Young-ae also gives a convincing performance as the panicked wife. Her fears seem plausible, which makes the film all that much more effective. I do get the sense, though, that the final reel (which had modern-day audiences jumping in fright) could have been even scarier if less slow motion had been used.
On another level, an aspect of the film that is just as unsettling as its horror elements is its voyeuristic focus on the young maid. When the camera isn't in the bathtub with her, it mentally undresses her, peering up her skirt and lingering over her body. This isn't entirely unmotivated -- the wife's suspicions that her husband covets the maid are a central aspect of the plot. But intentionally or not, this voyeurism makes the film twice as creepy to watch.
Suddenly At Midnight is one of those films that seems to have slipped through the cracks. I was lucky enough to catch it as part of a horror film retrospective curated by the Korean Film Archive, but most people seem to have forgotten it. Nonetheless as people look back through the history of Korean cinema and try to unearth the roots of Korean horror, works like this and Lee Yong-min's A Bloodthirsty Killer (1965) will continue to turn up, refuting the notion that Korean filmmakers first learned how to scare people in the late 1990s.      (Darcy Paquet)
Suddenly At Midnight ("Gipeun bam, gapjagi"). Directed by Ko Young-nam. Screenplay by Yun Sam-yuk. Starring Kim Young-ae (Seon-hee), Yoon Il-bong (husband), Lee Ki-seon (maid), Hyun Hye-ri, Kim Geun-hie, Kim Min-gyu. Cinematography by Jeong Pil-si. Produced by Nam-a Jinheung. 95 min, 35mm, color. Rating received on July 6, 1981. Released on July 17, 1981. Total admissions: 28,178.
Vampires have been the subject of movies since the earliest days of silent films. The first known appearance of these undead monsters on celluloid was in the German film Nachte Des Grauens in 1916. Later in 1922, after several more films featuring vampires had come and gone, Murnau's famous Nosferatu was released and finally, nine years later, the first production featuring Bram Stoker's title character Count Dracula hit the big screen.
Vampires began creeping their way into Korean movies only in the late 1960's, as the era when genres diversified to a greater degree was coming to an end. In the summer of 1969, the first two films featuring the blood-sucking undead appeared in Korean cinema. In June, a movie called The Magic Ship opened in which a kind and beloved prince was turned into a vampire by an evil magician and could only be rescued through the efforts of a princess. Then, just two months later, a more traditional vampire appeared in The Magic Sword Of Skeleton Pass. In that movie, a man rescues a woman from drowning and accompanies her to her mountain home where they live together for several years. He does not realize that she is really an undead fiend, and it comes down to his abandoned wife to rescue him. Vampires then disappear for a decade, resurfacing in 1981 in the third Korean vampire film, this one entitled She-Vampire Of The Night. The title monster however was simply a variation of the more common vengeful female ghosts which were, and still are, often the subject of Asian horror movies. But then, the Lord Of The Vampires himself, Count Dracula, appeared in a Korean production called Dracula in a Coffin.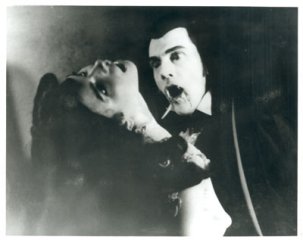 The story opens in the home of Kim Seong-hye (Park Yang-rye) who has recently, and unexpectedly, returned to Seoul from Europe and now spends her days shut in her room in a state of apathy. Her concerned mother enlists the aid of Seong-hye's fiance, Dr Jang Jung-han (Park Ji-hun) to help snap her daughter out of her depression. Jung-han, after a brief examination of the young woman, smugly states that her problem is nothing that their immediate marriage will not fix. His diagnosis does have an instant effect on Seong-hye, although probably not in the way he intended. Rather than being overjoyed like her mother at this proposal, Seong-hye flies into a hysterical rage and angrily breaks off their engagement. Taken aback, Jung-han decides to back off for a short time until Seong-hye is feeling more reasonable and hopes that her foreign friend Helen (Kimberly Hood) whom was travelling in Europe with Seong-hye, or her confidante, a Catholic priest called Father Park (Kang Yong-seok), can shed some light on the situation.
This sets up the introduction of Dracula (Ken Christopher) whom Seong-hye had met while touring through eastern Europe, and who was the reason she returned home so quickly. The Count had followed her to Seoul and taken to the nightlife there, frequenting nightclubs to make a meal of whomever dances with him. He quickly transforms Helen into one of his brides and then sets his sights fully on Seong-hye.
In this type of horror film, how the monster is portrayed is very important, but unfortunately neither the writing nor Mr Christopher's acting give Dracula much of a chance. The Count is given just two lines of dialogue in the script; one to assure us that he speaks fluent Korean and the other in response to what he would like to drink (red wine). However, from that point onwards, the only sounds that comes out of Dracula's mouth are savage hisses. Frankly, I did not mind that and would have preferred if the director had taken Dracula even further towards being more like a feral beast, rather than sending him out to Itaewon discos. Of course, this Dracula is also clad in the traditional tux and cape that has been his trademark since Bela Lugosi first donned it in the 1930's, but in this movie those clothes mysteriously appear only when Dracula has extended his fangs and is ready to feed.
Although this movie does not provide much in the way of originality in the way Dracula is portrayed, there were some elements in the special effects that were unique. The first were the levitating coffins. The carpenter who crafted the custom-made boxes was delivering them to Dracula's abode. When he arrives and finally manages to get the gate open, the coffins rise up to just over the man's head and fly past him, entering the dark structure on their own. While the effect was crudely done using a rope and pulley, it is nonetheless effective and an interesting take on the stop-motion levitation of the coffin lid in Nosferatu. The second, and more interesting effect occurs during Seong-hye's first dream of Dracula. Before the scene, we see Seong-hye resting in her garden surrounded by white roses. When she goes to bed, we see yet more white flowers on the nightstand. However, during the dream in which she submits to Dracula, a lens filter is used to change her room red. In the morning, when she awakes, the white roses have been replaced by red and furthermore, not a single white flower remains in her garden--all having changed to the color of passion.
Vampires have long been linked to sensuality and forbidden pleasures. Here too, the vampirism can be seen to represent lust as we see its power growing in Seong-hye and the changes she undergoes as a result. Also, in an article entitled "Vampires to Human: An Evolutionary Change" authors Kelley and Bailey state "Late Victorian anxiety included a suspicion of foreigners and fear of contamination; Stoker represents this with Dracula himself being a foreigner and creating a plague-like epidemic, especially among the women of the English population." Whether or not it was intended by director Lee Hyeong-pyo, this vampire story fits that description as well and comes across as a kind of morality play or fable warning against Western attitudes towards sex and sexuality. Because of Seong-hye's encounter with Dracula, and the sensuality he represents, she now refuses to marry as is her parents' expectation of her. Seong-hye's sleepless nights are filled with restless, erotic dreams and she eventually allows herself to be seduced, mentally and somewhat physically by Helen. As she sinks deeper into the spell of the vampires, she accompanies them nightly to the clubs catering to foreigners to pick up random men on which to feast.
Taking the warning against Western ideas even further, director Lee chose to have the priest, Fr. Park, helpless against Dracula and his brides. Despite being armed with the usual religious symbols, Dracula is easily able to knock the crucifix out of Park's hand and both he and Jung-han would have become a meal for the vampires were it not for the intervention of a Buddhist monk. The monk uses his prayer beads to hold Dracula at bay and then chants a prayer to drive him off.
After this film, vampires were reduced to a comic/horror element in children's movies such as in Young-gu and Daengchili (1989), Young-gu Vs Count Dracula (1992) and the more recent Galgali Family And Dracula (2003) or Vampire Cop Ricky in 2006. One exception was an erotic movie called Dracula Aema in 1994. A weekly sitcom, Hello Francesca, featuring a society of vampires living in Korea began broadcasting in August 2005 on the television station MBC. Some of the more recent interest in vampires in Korean movies may have been sparked by the rumor that has been circulating of director Park Chan-wook's interest in doing a vampire film.      (Tom Giammarco)
Dracula in a Coffin ("Gwansok-ui deurakyura"). Directed by Lee Hyeong-pyo. Screenplay by Lee Hee-woo. Starring Ken Christopher, Kang Yong-seok, Park Ji-hun, Park Yang-rye, Kimberly Hood and Park Am. Cinematography by Lee Seong-seop. Produced by Taechang Enterprises. 92 min, 35mm, color. Rating received on June 24, 1982. Released on June 25, 1982. Total admissions: 44,884 (Seoul).
South Koreans were not feeling very optimistic in the year 1982. After a brief political spring in late 1979/early 1980, the autocratic regime of Chun Doo-hwan had secured its grip on power with a violent suppression of civil unrest. Most people lived hard lives, and saw little potential for change. Around this time, a novel by Lee Dong-cheol titled People of the Slums became a bestseller. It told the story of a woman from a poor district of Seoul who was struggling to raise a son after going through some particularly difficult life experiences. In the wake of the book's success, several production companies contacted the author seeking rights to make a film adaptation. In the end, Lee decided to entrust his story to a first-time director who had impressed him with his dedication and vision.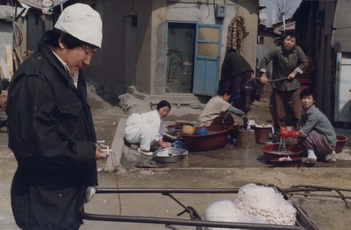 In this way, the remarkable career of director Bae Chang-ho began. Over the next five years he would shoot the smash hits Whale Hunting (1984) and Deep Blue Night (1985), and gain the nickname "the Steven Spielberg of Korea." The comparison is not inappropriate. Although Bae is naturally drawn to social outsiders in a way that Spielberg is not, there is something Spielbergian in the way that he tells a story.
This first film presented some challenges, however. Bae himself set out to adapt the novel into a screenplay, however his vision did not sit well with government censors (who tended to be stricter towards cinema as opposed to literature). Even before the start of production, the script was rejected five times and the censors listed 60 elements that they wanted changed. The requested changes included the film's title, the attitude of policemen towards the slum residents, and a husband pulling on his wife's hair during a fight. Their objections were seemingly not so much ideological, as an effort to weaken the film's potential impact. Bae went ahead and shot the film in his own way, and managed to avoid at least some of the requested modifications, although the film was slapped with an export/festival ban.
The film centers around a woman named Myung-sook who for mysterious reasons always wears black gloves. She tries her best to raise her young son, but he is rebellious and exhibits a disturbing tendency to steal things. In recent years she has married, and has started running a small store. But one day, the long-absent father of her son suddenly reappears.
People of the Slums exhibits a surprising urgency and strength, especially considering the circumstances in which it was made. In gradually revealing the past experiences of his protagonists, Bae not only explains their actions but also imbues each character with a tragic weight. No one is perfectly innocent in this film, but on the other hand we come to appreciate just how much the world is aligned against them.
In 2013 the Korean Film Archive in partnership with CJ Powercast remastered this film and underwent color correction in consultation with the director. The resulting visuals are quite striking: undeniably a product of the 1980s, but with added clarity and preciseness of color. It captures something of the beauty of a Seoul that has long since vanished, bulldozed over in subsequent waves of construction. It's only a bit over three decades since this film was made, and yet from today's perspective the setting seems unrecognizable. All the better reason to revisit it now. It contains weaknesses that you might never encounter in contemporary Korean films, but the same can be said of its strengths.      (Darcy Paquet)
People of the Slums ("Kkobang-dongne saramdeul"). Directed by Bae Chang-ho. Screenplay by Bae Chang-ho, based on a novel by Lee Dong-cheol. Starring Kim Bo-yeon (Myung-sook), Ahn Sung-ki (Joo-seok), Kim Hee-ra (husband), Song Jae-ho (pastor), Kim Hyeong-ja (Gil-ja), Hong Seong-min (Detective), Cheon Dong-seok (son). Cinematography by Jeong Gwang-seok. Produced by Hyunjin Cinema. 108 min, 35mm, color. Rating received on July 2, 1982. Released on July 17, 1982. Total admissions: 101,419.
Whenever I ask my students about Korean animation I can always be sure that Robot Taekwon V is the first character that is mentioned. Someone inevitably brings up the films of Baby Dinosaur Dooli and Hong Gil-dong is usually not far behind--although students are usually referring to the Super Hong Gil-dong films of the late 80s and early 90s rather than the original 1967 movie. Then there is a pause and someone will sing out 'Dokgotak'!
Dokgotak originated in the comic books of Lee Sang-mu. Lee was quite famous in the 1970s for his sports comic books which frequently focused on boxing and baseball. In 1973, he introduced a character that would overshadow all his other creations. In his first appearance, Dokgotak was an elementary school student with a love of baseball, however in the subsequent stories that he appeared in, Dokgotak was a high school student who looked like he was in primary school. He was extremely short, coming to just about waist high to all his peers, had close-cropped hair and an enthusiastic, optimistic attitude. Dokgotak won fans of all ages and became a household name. The creator of the character employed him in nearly a dozen titles and Lee Sang-mu became forever known as 'Tak's father'.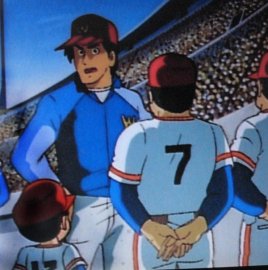 With such popularity, it was only a matter of time before someone would get the idea to make Dokgotak into a movie. Thus in 1983, the first of three films starring the pint-sized baseball player were released. The first was Dokgotak: Throw to the Sun and this was followed a year later by My Name is Dokgotak. In 1985, the final film Dokgotak the Mound: He Comes Back was released. (Unfortunately, that awkward phrase is the official English title of the film appearing both on the original posters and on the recently released DVDs. However, if I ever have to refer to it again, I think I will just call it Dokgotak: Return to the Mound)
My Name is Dokgotak by director Hong Sang-man is arguably the best of the trilogy. In the film, the character of Dokgotak is introduced into his new school, Wooju High School where his classmates are serenaded by him happily bellowing out the Dokdo Island song. He will sing that song on and off throughout the film as a sign of his indomitable spirit. Although he is quickly made into a laughing stock because of his small size, Dokgotak takes it in stride and laughs along with the other students. His desk is adjacent to a large student named Jo Bong-gu and Dokgotak decides that he wants to befriend this brooding behemoth, but try as he might, he cannot elicit a pleasant response from Jo.
The character of Jo Bong-gu is very interesting. Rather making the huge lad a stereotypical big, strong and dumb-as-an-ox bully, Jo is actually quite sensitive, intelligent, wealthy and generous. He is always looking for ways to help people less fortunate than himself and he performs acts of kindness in secret like leaving lunches for the men scrounging through the trash. When he discovers that Dokgotak works several after-school jobs and lives alone, Bong-gu tries to help him as well but Dokgotak is too proud to accept charity. After a long and protracted story, he finally allows Dokgotak to break down his shell and the two become fast friends. Dokgotak also becomes attracted to Jo's younger sister, but this plot thread doesn't really go anywhere.
Dokgotak and Jo Bong-gu both belong to the school's baseball team. At first, they don't display much ability while practicing but with the help of their coach, Jo Bong-gu improves to the point of becoming the team's homerun king. Although his throwing is quite fast, Dokgotak's pitching lacks precision and he finds himself on the bench at every game. However, Dokgotak earns his keep in another way. His loud and constant patter proves to be a distraction to opponent batters, pitchers and the umpires alike. Fans look forward to listening to the young player's never-say-die attitude and the Wooju Baseball Team is soon at the top of the standings. But strangely, on the day of the most important game of the season against the team's rival high school, Dokgotak does not appear and no one knows what has happened to him...
After watching this movie, it is easy to see why a generation had fallen in love with the character. Like the characters in the movie, I too was irritated and annoyed with Dokgotak when I first met him, but he quickly broke down my prejudices against his in-your-face cheerfulness and I found myself really caring what happened to the little guy by the end of the film. In this way he is not unlike the characters played by Lee Seung-hyeon in the High School Joker series of films in the 1970s. In fact, the characters are so similar that I couldn't help but wonder if one was patterned on the other.
The Dokgotak series were recently released on DVD under the label Daiwon Classic Animation. Unfortunately, these DVDs do not have English subtitles.      (Tom Giammarco)
My Name is Dokgotak ("Nae ireumen Dokgotak"). Directed by Hong Sang-man. Screenplay by Ahn Hyeon-shik. Based on the characters of Lee Sang-mu. Voiced by Tak Won-rae, Seong Seon-nyeo, Park Yeong-nam, Jeong Kyeong-ae. Produced by Daewon Animation. 72 min., color. Released on July 15, 1984.
Mulberry is primarily a South Korean variant of the sexploitation genre. The camera's point-of-view enables us to witness private sexual liaisons normally kept out of view. It is the movie camera as voyeur, as eavesdropping apparatus, the lens the finger that pierces through the paper walls of the hanok (colonial houses) in order to watch how people behave when not aware of being watched. This genre often demands retaliation for such titillation in the form of punishment of the female object of desire rather than the male who desires the object. The men can enjoy, but it's the women who must suffer for that enjoyment. (This 'enjoyment' for men continued, since Mulberry went on to franchise two sequels.)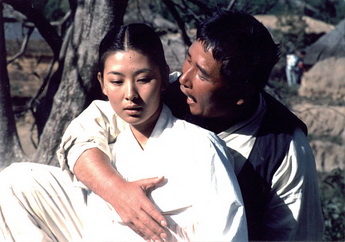 And Mulberry does have the obligatory punishment scene. But to its credit, it gives An-hyeop, our village prostitute, room to recover her reputation afterwards without denying her past. An-hyeop is provided a back story that psychoanalyzes, and as a result, somewhat sympathizes with her plight, providing an excuse for her scandalous behavior, offering her an out from responsibility. These factors and others keep Mulberry from falling completely in line with the conservative moral demands of the time depicted in the film and the conservative moral demands of the time during which it was made. The film is not one of South Korea's best, but it's these nuances on sexual mores and a pro-feminist flicker of a flowering that make this at least an interesting film to discuss.
An-hyeop (Lee Mi-sook, Whale Hunting, Untold Scandal, The Actresses) is the focus of the film, in the plot and in the male gaze. We are introduced to her as she is yelling at her husband Sambo who spends his time, and their money, away from the home at various gambling houses (or so we are led to believe initially). In his absence, An-hyeop has sex for food/money/revenge with all the male members of the village except one. That one is Samdol (Lee Dae-geun, Lovers of Woomuk-Baemi and Bet on My Disco). In spite of winning a contest of strength at the beginning of the film, the rest of the film seeks to emasculate Sam-dol. Sam-dol's emasculation is marked by giving him a developmental disability, making him a slave, and having An-hyeop refuse sexual consummation even when he offers fine silk clothes as compensation. And although he gives An-hyeop warning that others seek to banish her from the village, he fails to protect her later in the film. Sam-dol remains inept, impotent and ineffectual.
That said, the plot of Mulberry is not an incredibly engaging one. Director Lee Doo-yong perhaps expected the sex scenes to be enough to fill in the entertainment gaps. Although Actress Lee is beautiful, the sex scenes are not of the caliber expected by today's viewer. We may not want to bring this sexy back since sexy it often ain't, but it was possibly quite scandalous for its time.
Besides Sam-dol's character and the feminism, intentional or not, in occasionally supporting An-hyeop's agency, what is particularly interesting about Mulberry is that unlike a number of South Korean films from this time, the one rape scene is not lingered on by the camera but is instead kept away from our view and the other potential rape scene is stopped early on by the villagers. Equally of note is when the back story psychoanalyzing An-hyeop's prostitution is brought into the picture, the flashback occurs after the very scene where the women of the village seek their revenge upon An-hyeop. By bringing in context to An-hyeop's life at this moment, it is as if Director Lee is suggesting An-hyeop's plight might have been each woman's own. Rather than relate to An-hyeop in sisterhood, the village women propagate more violence. (But let's not expunge the men from responsibility since they refuse to intervene until after An-hyeop receives quite a beating.) Still, even with all the pummeling upon the pariah, she isn't completely ostracized from the village afterwards. There is hope of understanding, or at least community reconciliation. There is also hope that An-hyeop can strip away any scarlet letter associated with her name.
This isn't meant to say Mulberry is a fully feminist film. The 'sympathetic' back story for An-hyeop ironically provides cover for the objectification of An-hyeop and the shots of a bit of thigh, her ass, and her face revealing in orgasm are done at the service of sexual commerce rather than compassionate sexual congress. Yet rather than presenting a regressive argument that her female body must suffer to preserve conservative sexual mores, An-hyeop is able to heal from the scarlet scars of patriarchal punishment. She establishes a space for herself on her own terms, while still confined within the politics of the time. And these body politics within Mulberry make an interesting movie out of an otherwise mediocre one.      (Adam Hartzell)
Mulberry ("Bbong"). Directed by Lee Doo-yong. Screenplay by Yun Sam-yuk. Starring Lee Mi-sook (An-hyeop), Lee Dae-geun (Samdol), Lee Mu-jeong (Sambo). Cinematography by Son Hyun-chae. Produced by Taechang Enterprises. 114 min, 35mm, color. Rating received on November 30, 1985. Released on February 8, 1986. Total admissions: 137,331.
Call it the benefit of low expectations, but I found myself pleasantly entertained for the first hour of Lee Doo-young's Crazy Boy (alternate title Imbecile). The film would eventually meet my low expectations in the second hour, but in the first hour, the outlandish fashion show of the title sequence and the Bruce-Lee-wannabe initial fight scenes were surprisingly delightful.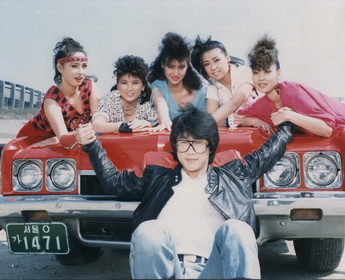 The movie begins with various vehicular entrances from each woman member of the all woman band named Thriller. The outfits scream the 1980's in all their impracticality. Shin Eun-jeong enters in an orange number with a 'hat' that is more like a cloth helmet that dysfunctionally obstructs her peripheral vision, all the better just to stay looking fashion forward. These young ladies use the pedestrian-friendly streets and alleys of Seoul as their runway. Oh, and the hair! Different styles abound, many towering, most likely requiring multiple canisters of ozone-depleting hairspray to stay upright. In a scene where three of the women jump into a pool, I felt anguish for the hairstylists on set who would have to re-poof their bouffants to get the actresses ready for the following scenes.
And then there is the eponymous Crazy Boy (Jeon Young-rok - better known as a singer, he was in other films such as Blue Classroom & A Great Ambition), strutting his sartorial swagger in a motorcycle jacket and big-framed glasses, glasses that he discards like Clark Kent when he turns into a low-grade version of the global superhero Bruce Lee. The fight scenes aren't the deft choreography we expect of present day New Korean Cinema, but considering the time in which this film was made, the scenes aren't bad. In fact, I like the frenetic, kinetic energy of Crazy Boy's battles in the first half of the film. This is not slapstick, nor is it artistry. It's a bit grittier and in between. Now I can't say the same thing about later scenes, but for the fight scenes that take place early on, they aren't laughably bad. What is bad is the motorcycle chase at the end where Crazy Boy and his pursuers race in random direction around sand mounds.
TThe loose excuse for a plot in Crazy Boy involves the 5-women band Thriller reaching for the stars of success by playing covers of popular 80's songs (The Go-Go's 'We Got The Beat', Laura Branigan's 'Gloria') for their peers and keeping their feet on the ground by rushing afterwards to play older Korean songs for a similarly older crowd. The performing of original compositions are saved for the finale that works off the non-diegetic singer star status of Jeon. Crazy Boy is the manager of this band by way of being the brother of one of the members. He is portrayed as somewhat of a loser, yet everyone knows he's a decent fighter too, acting as protector of the young women, but equally protective of his fellow Korean citizens when they are in danger.
The final hour is where my trepidation of 1980's South Korean films is justified. What exists as a plot really seems to get more scattered in the final hour. In addition, there is an obnoxious male gaze scene at butt level while the women do calisthenics in bathing suits. There is also a need for a trigger warning in the second half since there are two rape scenes. Three of the young women begin hanging out with a rich guy and his cronies. At the same time, Crazy Boy's sister begins dating another rich guy who initially seems to show some decency. But both the not so fun boy three and the single guy putting on the ritz conjure up similar circumstances to commit rape. As for how these rape scenes are portrayed, the second one has a disturbing voyeuristic element. And the first one is disturbing in its own way politically. That one involves one of the band members who has let it be known she wants to marry a rich man. Her sex with the rich man is consensual. However, he lets his bros have it at her afterwards. Thankfully, we are not shown this scene. What we are shown is the victim ripping up the bank cheques tossed at her as bribery.
A mother's mantra repeated quite often in the first hour is that 'All men are thieves'. Crazy Boy the film presents that all rich men are rapists as well. (There's a subtle critique of Capitalism!) The male exception to the mantra is Crazy Boy. He is the knight in leather-clad armor seeking justice through counter-violence outside the law. Along with being 'crazy', we are to see him as the nice guy. He is also not a wealthy guy. As a result, the gang rape scene presents a disturbing rationalization that I've called 'nice guy mysogyny'. It's as if they are saying 'See what will happen to you, ladies, if you pursue the rich guy over the nice guy?' This is a variant of the revenge cinema for which South Korea is worldly famous, evidenced further in another film rarely acknowledged as a revenge film, Hur Jin-ho's Christmas in August. Rather than consider how gender inequality makes women seeking rich men an economically rational decision, Crazy Boy makes both rich men rapists in order to teach the ladies a 'lesson'.
Lee would eventually direct a sequel to Crazy Boy. But unlike his Mulberry franchise where he helmed all three, Lee Hyeok-su ended up taking on the third installment where Crazy Boy gets to ride a jet-ski! Although the directors changed, the personification of Crazy Boy stayed the same in that Jeon reprises the role each time. Yet Jeon will always be better known as a South Korean pop singer than an actor. And just as he carried on the tradition of his famous singer father and mother Hwang Hae and Baek Sul Hee, he is better known by the younger set in South Korea, if known at all, for being the father of two present day pop stars - T-ara's Boram and D-Unit's Wooram.      (Adam Hartzell)
Crazy Boy ("Dol-ai"). Directed by Lee Doo-yong. Screenplay by Yun Sam-yuk. Starring Jeon Young-rok, Min Bok-gi, Oh Deok, Kim Mi-hyun, Son Eun-joo, Shin Eun-jeong, Kim Won-seop, Shin Woo-cheol. Cinematography by Son Hyun-chae. Produced by Taeheung Film Corporation. 110 min, 35mm, color. Released on August 3, 1985.
After seeing Sibaji (Surrogate Mother) for the first time, a friend of mine, who is a 1.5 generation Korean-American, exclaimed, "I'm so proud of Korea." Indeed, Korea had much to be proud of in this film. Besides being shown at the 44th Venice Film Festival, Kang Soo-yeon received the Best Actress Award. Set some time during the Chosun Dynasty (1392-1910), Sibaji is the tale of Ok-nyo, a young Sibaji, or Surrogate Mother. Ok-nyo has been chosen as the Sibaji to bear a male child for an aristocratic, or yangban, couple, Shin Sang-gyu and his wife Yun, who are unable to conceive themselves. Ok-nyo and Sang-gyu eventually fall in love while Yun exhibits sorority-hazing like behavior upon Ok-nyo, forcing Ok-nyo to go through all the torturous rituals she had to endure to encourage the gestation of a male child. Of course, in the modern era, we know that it is the male who determines the gender of the child so all these rituals and switching of partners are moot. Herein lies one of the themes of Sibaji, the pointless painful rituals the Sibaji, and women in general, have to go through to appease the anxieties and desires of others.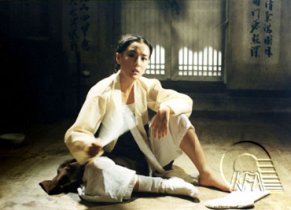 Kang Soo-yeon plays Ok-nyo and her performance is worthy of the award she received. Ok-nyo's vibrant spirit is what causes her to be picked as the couple's Sibaji and Kang's portrayal appears to be the precedent for Lee Hyo-jeong's portrayal of Chunhyang in Im Kwon-taek's film of the same name in 2000. Kang's talent is most demonstrated in the excruciating experience of witnessing the rituals Ok-nyo must endure to "ensure" a male child. She is forced to bear coals on her stomach, to stand on a burning hot pot cover, and to hold her breath while gazing at the moon until she almost passes out. Part of showing these rituals is Im's way of preserving Korean traditions by showing them meticulously carried out on screen.
Yet, upon further viewings, another reason for showing these images appears to be to appease the Orientalist gaze of some festival-goers and Western audiences. When I saw this film most recently with Bucoy Brown, the managing editor of the Queer Asian-American magazine Noodle, he had this to say, "Kinda soft-porn-y wasn't it?" The Chosun Dynasty-era versions of wet t-shirts and wet panties are displayed in abundance. The expressions on Ok-nyo's face when she loses her virginity, when she is forced to endure the rituals, and when she makes love with Sang-gyu all appear almost identical. Im appears to be pandering to Western sentiments on two levels of the "exotic" in cinema: strange rituals and sexual objectification. The trope of Korean women suffering as stand-ins for Korea's suffering runs through most of Im's films. At the least, this gets old, at the worst, it's arguably misogynistic. However, Sang-gyu, played by Lee Ku-su, is presented as sympathetic to Ok-nyo's plight. Also, there is a difference in this film compared to most of Im's films that only ruining the ending can illuminate. Suffice it to say there are troubling analyses that one runs into when viewing this film, as is the case in many of Im's films.
That said, Sibaji can leave you torn. It is a powerful tale, yet you wish Im would leave out the soft-porn. Still, in my mind, one of the most indelible Im images occurs in Sibaji. It is the Korean mask dance sequence, in which male performers hidden behind masks are able to ridicule the yangban through the anonymity of the covered face and the spectacle they create. The dance itself depicts a birthing that parallels Ok-nyo's. The masked dancers speak for Ok-nyo when she can't speak for herself.     (Adam Hartzell)
Surrogate Mother ("Ssibaji"). Directed by Im Kwon-taek. Screenplay by Song Kil-han. Starring Kang Soo-yeon, Lee Ku-soon, Yoon Yang-ha, Han Eun-jin, Bang Hee. Cinematography by Koo Joong-mo. Produced by Shinhan Film. 95 min, 35mm, color. Rating received on October 30, 1986. Released on March 21, 1987. Total admissions: 17,745. Presented at the 44th Venice International Film Festival (winner of Best Actress Prize for Kang Soo-yeon). Sold to Taiwan ('87), Japan ('88,'89,'90), Indonesia ('88) and West Germany ('89).
The opening scene of Im Kwon-taek's Adada, where a single white hand signs against a black background as a voice-over narrates, generates praise from many. The audience learns about a woman whom others failed to understand. This woman is Adada (Shin Hye-soo of Life and Death of the Hollywood Kid) a Deaf woman who was communicating all along, but those receiving her messages were unable to translate them, ignoring her words, and by extension, ignoring her personhood.
Based on a short story by Kye Yong-muk, "Idiot Adada", the original title shows Korea was no different from other countries in mislabeling the Deaf as "dumb." In Im's Adada, she is married off to a noble but poor family for her desirable dowry of rice fields. Initially, the family is warm to Adada, attempting to learn Korean Sign Language - with unrealistic speed - in order to help her transition into their family. However, as the fields and Adada's labor bring greater riches, Adada's husband (played by Han Ji-il of Aje Aje Para Aje) becomes greedier, eventually stumbling into the Manchurian drug trade. This all leads to a painful dismantling of Adada's placement in the family. Although Adada's in-laws appear sympathetic to her plight, they begin to relish their son's new found status, however illegitimate, and place the responsibility of reconciliation on Adada. Adada's family also refuses to offer support, deferring to Confucian tenets of a woman's proper place in Korean society. Even when she reunites with a childhood friend (played by Lee Kyeong-young of Out To the World), this too turns into something unsupportive.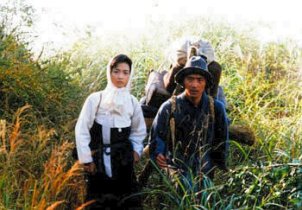 Again, we have Im using a woman's suffering as metaphor for the suffering of Korea. As Eunsun Cho states in her chapter in Im Kwon-taek: The Making of a Korean National Cinema, "The severity of patriarchy enforces her silence, locking her up in an inaudible han." And Cho goes on to further note that this han, or suffering, comes to replace, or further suppress, the realized suffering of women, leading Cho to indict ". . . the cruelty of Korean national cinema that fabricates beauty out of that cruelty."
Cho's point can be extended as not just concealing the realities of women, but also of the Disabled. In her groundbreaking Illness as Metaphor and AIDS as Metaphor, Susan Sontag notes the harm often caused by metaphors surrounding disease for those diagnosed. Such similarly affects the Disabled. Looking at their bodies as metaphors of loss or contamination rather than the complicated humans they are, they risk further disenfranchisement. (I must confess that I'm just as guilty of this, metaphoring the word "cripple" in the last paragraph of my review of When I Turned Nine.) Keeping in mind that the Disabled are only disabled because the rest of the world is not structured around their frames, the metaphoring of Disability as a loss, or in this case a "silence", fails to hold. Even the scene at the beginning, however aesthetically pleasing, begs to be complicated by the fact that the Deaf do not communicate solely with two hands, let alone just one. The head, shoulders, torso, and facial expressions are just as important to communicating properly through Sign. Without such parts of the body visible to the reader, itwouldbesomethingliketypingtherestofthissentencewithnospacestodifferentiatethewords. For example, check out the Deaf storytelling in Apitchatpong Weerasethakul's Mysterious Object at Noon. Hands are not the sole active part of Deaf languages.
But a funny thing happened on the way to Im's default metaphor. As Cho notes, by muting and deafening Adada, her body communicates like few of Im's female protagonists. (The only one comparable, as Cho argues, is Ok-nyo in Surrogate Mother the year before.) Adada is anything but "voiceless." She is presented as a competent Signer for whom quite a few individuals make efforts to learn her language rather than force her to speak. And her inability to learn spoken Japanese from her husband can be seen as her body's resistance to colonial oppression, of the Japanese and the Hearing. This is probably unintentional, but Im's results challenge stereotypes of the Deaf as unable to experience music. Borrowing a sound clip from his film The Genealogy where a woman beats her laundry dry by pounding it with wooden rods, Adada is shown doing the same, thus, quite capable of performing a complicated musical rhythm.
I'm not aware of how the Deaf Korean community received this portrayal. The immense suffering Adada bears may be received negatively as perpetuating infantilizing images of the Deaf. However, this portrayal may have had a reception similar to that of Johnny Belinda, for which Jane Wyman won an Oscar for her Deaf portrayal. As noted by John S. Schuchman in Hollywood Speakrs, although the film is seen as paternalistic by today's Deaf community, the Deaf press at the time was delighted to see an image of a Deaf person on screen. Later, as more and more portrayals of Deaf characters appeared in Hollywood films, Deaf activists began to demand that actual Deaf people play such roles, hence the boycott around the 1979 film, Voices. I'm not an ardent essentialist, but I can understand how underrepresented groups would want to fight for greater representation. And the limited access for Disabled actors/actresses to play Disabled roles is compounded by the fact that such roles are coveted by able-bodied actors/actresses since they almost guarantee an awards nomination if not the outright awards, such as those won by Wyman and Daniel Day Lewis at the Oscars, Moon So-ri at Venice, and Shin herself at Montreal. Still, I'm not aware if the Korean Deaf community was equally upset by a Hearing person playing a Deaf person in Adada. Further adding to the complex nature of Deaf portrayals is how Schuchman, a Hearing CODA (Child of Deaf Adults), received Voices differently from the Deaf activists, since it was the first time he had heard a Deaf voice authentically represented on screen, something Shin also convincingly accomplishes.
Keeping all this in mind, I see Adada as a complicated portrayal of a Deaf woman's experience considering the time in Korea's cinematic history it was produced. Although many of Im's problematic tropes are still present, (add to the list his discomforting images of women losing their virginity), there is an opening for a more liberated portrayal than in most of Im's films through underscoring the language of our bodies. Metaphors can free or freeze us and Adada fluctuates between the two poles enough to allow for hope amongst oppression.      (Adam Hartzell)
Adada ("Adada"). Directed by Im Kwon-taek. Screenplay by Yoon Sam-yuk. Starring Shin Hye-soo, Han Ji-il, Lee Kyeong-young, Park Am, Kim Ji-young, Jeon Mu-song, Kim Bok-hee. Cinematography by Jung Il-sung. Produced by Hwachun Corporation. 118 min, 35mm, color. Rating received on March 19, 1987. Released on December 5, 1987. Total admissions: 22,709. Presented at the 12th Montreal World Film Festival (winner of Best Actress Prize for Shin Hye-soo), the 39th Berlin International Film Festival, and the 42nd Cannes International Film Festival. Winner of Best Editing and Best New Actress (Shin Hye-soo) at 26th Grand Bell Awards
What is the price of a human being? According to Byeon Jang-ho's adaptation of Kim Dong-in's short novel, Potato, the answer is 80 jeon.* That is the amount of money that Bok-nyeo's struggling parents charge to the middle-aged widower who wishes to purchase the young woman. This traumatic point in Bok-nyeo's life was preceded by years of witnessing her family's financial problems. Despite a future that appears bleak in a life of servitude and submission, Bok-nyeo becomes determined never to undergo hardships based on lack, and she becomes obsessed with earning money.
The writing of Kim Dong-in was said to often show the changes in the fortune of a person through the course of his or her life and Potato is an example of that, as we watch Bok-nyeo rise from the level of servant to the most envied woman in the village, and we follow her through the misstep that eventually spells out her downfall. However the story, written in 1925 was also a product of the times. The trend in the mid-1920's was to focus on the everyday lives of farmers or laborers and the film version of Potato does an excellent job of depicting what life may have been like in an isolated village where the residents live hand-to-mouth.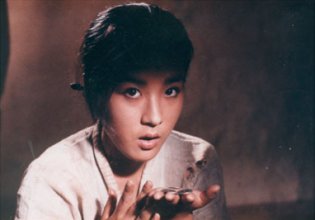 And it seems as if it was a very difficult life, especially for the women whom we see tilling fields, making salt, irrigating paddies, washing clothes, preparing food and doing just about every other physical labor imaginable. These scenes of women performing heavy labor were common in many films depicting life in the countryside in the early to mid-portion of the 1900's--Forest Fire and The Sound Of Magpies being two more examples. The men in the village fare somewhat better, as those that have jobs are usually in a shop or supervising the workers in the field. Even those men without a source of income resort to begging rather than indulge in hard work.
It is in the middle of one of these exhausting jobs Bok-nyeo learns that there is a way that she can make some extra money without overtaxing herself. The changes which that knowledge cause in the character of Bok-nyeo are fascinating to watch. When we first meet her among a group of women washing cabbages at the muddy water hole in the center of the village, she is quite naive. She doesn't join in with the boisterous laughter of the other women, partly because there is an air of refinement about her despite her dirty clothes and tired features, but primarily because she does not understand their jokes heavily laden with sexual innuendo.
This all changes when, taking a break from her work in the fields, she spies Durene (Kim Hyeong-ja), a village woman, in a sexual encounter with the man overseeing the work on the fields. Durene has always seemed to have better clothes and more money than the other woman and receives better treatment from the supervisors. Durene collects her pay and leaves while Bok-nyeo stays behind in hiding putting two-and-two together. The overseer spots Bok-nyeo watching him and rapes her. Although she struggles at first, Bok-nyeo never cries out and the result is a doubled salary and afternoons off. After carefully considering the situation, Bok-nyeo decides to take advantage of the village men by bartering for goods with her body. Later, when she and some other village women are caught stealing potatoes from the field of wealthy Chinese man Wang (Lee Dae-geun), Bok-nyeo not only seduces him to escape punishment, she receives an astounding 4 won and begins a scandalous, full-fledged affair with the foreigner that makes her rich. But this also makes her the target of vicious gossip as she gains the reputation of being the village tramp and is ostracized as such.
Bok-nyeo is played by actress Kang Su-yeon who takes the character from a wide-eyed innocent to a scheming seductress in a way few performers could. She gives meaning to the smallest motions--a tilt of her head, the raising of an eyebrow--and no action is wasted. There was an earlier version of Potato made in 1968 where the role of Bok-nyeo went to Yun Jeong-hee, but it is safe to say that the 1987 film is far more textured with better acting and layered meanings to the performances. This film also influenced later movies. The Attractive Woman (1993) plays out the scene of robbing the potato fields almost exactly as it appeared in Potato and the overall theme is very similar.
The ultimate fate of poor Bok-nyeo is as unfair as it is ironic and ultimately defines Potato as a parable warning against greed, lust and uncontrolled passions.      (Tom Giammarco)
   * A jeon is a monetary unit that was worth one-hundredth of a won. It is no longer in use today.
Potato ("Gamja"). Directed by Byeon Jang-ho. Original novel by Kim Dong-in. Screenplay by Kim Ha-rim, Na Han-bong. Starring Kang Su-yeon, Kim In-mun, Lee Dae-geun, Kim Hyeong-ja, Choi Eun-suk, Jo Ju-mi. Cinematography by Jeong Il-seong. Produced by Daejong Films. 112 min, color. Rating received on December 5, 1987. Prizes for best supporting actor/actress, best screenplay, and best music at the 26th Grand Bell Awards. Special prize at the 33rd Asian Pacific Film Festival. Presented at 42nd Cannes, 39th Berlin and 12th Moscow Film Festivals.

    The Man With Three Coffins (1988)
A man travels to the eastern coast of Korea carrying the ashes of his deceased wife. He hopes to scatter them in a place closer to her hometown, which lies near the demilitarized zone separating North from South Korea, but along his journey he becomes burdened with the deaths of two more women who cross his path. At the same time, a nurse attempts to escort the dying chairman of a business conglomerate to his hometown, which is also located just to the north or south of the DMZ. Pursued by henchmen of the chairman's son, a politician who wants to keep his father's journey out of the press, the nurse comes across the man carrying the metaphorical "three coffins."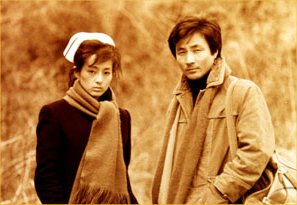 Director Lee Jang-ho based this film on an award-winning short story by Lee Je-ha titled "Travelers Do Not Rest on the Road," which is the movie's Korean title. The experience of a divided nation, presented from a strongly personal point of view, forms the most striking aspect of the film's story. Yet in place of a chronological narrative, Lee structures his story in fragmented, overlapping segments that make the film feel more like a series of recollections than a story told from beginning to end.
Underneath the film's political content run strong Shamanist themes, punctuated by glimpses of bells and a Shaman's clothing. A Shamanist notion of fate ties together our two protagonists, as a fortune teller predicted their meeting, and the issue of reincarnation in various forms also binds the film's characters.
Although by no means an easy film, Lee's feature possesses striking beauty and a brooding, dark tone that gives it a unique place in Korean cinema. Traces of the Korean War also lurk in the story's background as a haunting presence. Actor Kim Myung-gon, who plays the father in Im Kwon-taek's Sopyonje (1993), looks completely different here as a grieving man who seems to bring death to whomever he meets. Meanwhile actress Lee Bo-hee, who worked extensively with Lee Jang-ho throughout the 1980s in films like Declaration of Fools and Eo-wu-dong, plays the nurse, and in a slightly surreal gesture is also given the roles of the deceased wife and a young prostitute.
When discussing the great works of Korean cinema from the 20th century, this film often gets overlooked, perhaps in part because Lee Jang-ho (unfairly) is not accorded the same reputation as Im Kwon-taek or the directors of the Korean New Wave. This film is too good to be forgotten, however, and it will continue to speak to viewers for many decades into the future.     (Darcy Paquet)
The Man With Three Coffins ("Nageune-neun gileseodo swiji-anneunda"). Written and directed by Lee Jang-ho. Starring Kim Myung-gon, Lee Bo-hee, Chu Seok-yang, Ko Seol-bong. Cinematography by Park Seung-bae. Produced by Pan Film Company. 104 min, 35mm, color. Rating received on June 24, 1987. Released on June 11, 1988. Total admissions: 7,435. Presented at the 2nd Tokyo International Film Festival and the 28th Berlin International Film Festival.
1988 was the year of the Seoul Olympics, and a time of great political and social change for South Korea. Massive street protests against the military government and on behalf of workers' rights had recently reached their peak. However the Korean society portrayed through cinema in those days little resembled the passions on display in the street. Government censors, wielding an iron grip over the film industry, ensured that the slightest hint of social criticism was clipped in the screenplay or in the editing room before reaching audiences.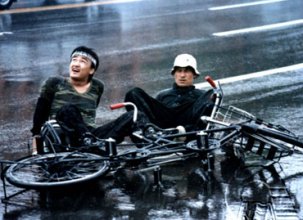 Chilsu and Mansu, released on November 16, 1988 is a frequently-cited landmark on Korea's path from restrictive censorship to a greater freedom of expression. It is based on a story by Taiwanese writer Huang Chunming, whose writings were banned in Korea at the time (hence his name does not appear in the credits). The movie focuses on Chil-su, a smooth-talking billboard painter who struggles to hold down a job; and his evolving friendship with Man-su, a capable and intelligent worker who is held back in life because his father is an "unreformed" Communist sympathizer, serving a long sentence in a South Korean prison.
After meeting at a small workshop where movie billboards are drawn and painted, the two eventually team up in a search for temporary work. Yet society gives them few opportunities, as economically and personally they struggle to make ends meet. Finally one hot summer day they find themselves atop a building in southern Seoul painting a beer ad on a huge billboard. Looking down on all the "well-off, educated, upper class bastards of Seoul," the two begin screaming out their frustrations to the city below. At this time, some policemen on the street see their shouting and misinterpret their actions, which ultimately leads to an unexpected and somewhat surreal confrontation that reflects the dominant tensions of the age.
Chilsu and Mansu marks the directorial debut of Park Kwang-su, who would go on to become not only an accomplished director in his own right, but an influential role model for a new generation of socially-conscious filmmakers. The film also marks one of the most memorable performances of two famous veteran actors, Ahn Sung-ki and Park Joong-hoon. The easy and convincing onscreen camaraderie shown by the two men would foreshadow their being cast together again in hit comedy Two Cops (1993) and action/art film Nowhere to Hide (1999). Even Bae Jong-ok, who plays Chil-su's girlfriend, continues to make her mark on contemporary cinema, taking on an acclaimed role in the award-winning Jealousy is My Middle Name (2003).
Contemporary audiences may look upon Chilsu and Mansu as a comparatively light-hitting political statement, but taken within the context of 1980s Korean cinema and society, it was a bold attempt to mix popular and political cinema. It was not a box-office hit, but in reflecting the frustrations of a generation growing up under social inequality and authoritarian rule, Chilsu and Mansu has become one of the best-remembered Korean films of its era.      (Darcy Paquet)
Chilsu and Mansu ("Chilsuwa mansu"). Directed by Park Kwang-su. Screenplay by Choi In-seok. Starring Ahn Sung-ki, Park Joong-hoon, Bae Jong-ok, Jang Hyeok, Hong Seong-min, Na Han-il, Ju Ho-seong. Cinematography by Yoo Young-kil. Produced by Donga Export Co.. 108 min, 35mm, color. Rating received on September 21, 1988. Total admissions: 73,751. Presented at the 42nd Locarno International Film Festival (winner of the 2nd runner up prize in the Young Critics' award section), the 39th Berlin International Film Festival, and the 3rd Singapore International Film Festival.
Lee Jung-sae (Ahn Sung-ki) is "Your forever lover boy who gets bigger with your love, love, love, your lark on a sunny day, . . .". He is our funnyman, a Charlie Chaplin impersonator who is trying to impose himself as a debut director on an unwitting, actual director, because along with envisioning himself as Chaplin, Lee envisions himself as one of the last remaining true connoisseurs of cinema. On his way to realizing his fictional portrayal, he picks up the talkative, portly barber Moon Do-suk (Bae Chang-do), and the confident, assertive Oh Son-yong (Hwang Shin-hye) as actors in crime. I say 'in crime' because Lee's film morphs into an action film when handed real rifles. And as Lee's impositions upon the movie industry become tiresome, he finds he must seek alternative means towards funding and completing his film. It's then that Oh suggests they engage in a little method acting, Bonnie and Clyde (and Clyde) style, robbing banks.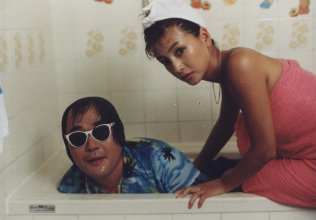 Lee Jung-sae is a dreamer. He is the connecting link in a film that weaves dreams within dreams. His nightclub acts become dark recesses into the subconscious while still retaining a realism that disorientates the viewer into identifying what's real and what's but a dream. In retrospect, director Lee Myung-Se's debut introduces us to a theme mixed throughout his future oeuvre. Dreamy images are very much a part of Director Lee's later films, sometimes seemingly replacing any hint of a connecting narrative. Recall the motion and shadow play of Nowhere To Hide and the colors and choreography of Duelist. I have yet to see M, but from interviews I've read, Director Lee envisioned, enacted, and entitled the film from dreams. Although Gagman is nowhere as visually appealing as those films since production values of South Korean cinema in the 1980's weren't up to the level they are now, you can see the seeds of Lee Myung-se's later realized vision in this debut.
But director Lee's filmography is not the only one to reflect upon here. The vast career of actor Ahn Sung-ki is also important to consider. Although Ahn has done comedic roles, this role requires more than the typical comedy. The film is not that funny. (Although the intentionally obnoxious phallic symbolism from the camera angle chosen to reveal Moon's admiration for rifles should be a definitive scene for those who still psychoanalyze the screen.) I say this as a Modern viewer and as a non-South Korean viewer. As Tony Rayns noted in his Seoul Stirring: 5 Korean Directors, quite a bit of the comedy involves in-jokes for South Koreans in general, and South Koreans in the movie industry in particular. For example, Moon, the barber-turned-actor decides to get eye surgery because he believes that would make him more popular as an actor. According to Rayns' essay, this is an in-joke for South Koreans well-versed in the tabloids of the time since a real-life director turned actor did just that. And since Moon is played by real-life director Bae Chang-ho (Whale Hunting, My Heart), this in-joke gets more meta with every actor-ly turn. And this in-group comedy helps deflect some of the overly-rigid stones of globalization arguments that might be tossed onto such a film. Yes, Gagman's imitation of Chaplin and loving monologues about Western films might hint towards a Westernization of South Korea, but many of the jokes still require a local knowledge.
But regardless of the comedy caught or missed based on ones placement in space and time, all viewers will pick up on the mood of the film as not comic, but tragic. These Chaplin impersonations are tempered by discomfort. Lee Jung-sae is a man lost in his dreamworld, allowing him to be swept away towards tactics that are foolhardy when not dangerous. The use of Chaplin here is to forward the funnyman as the impotent, clumsy 'everyman' "bumping up against unsympathetic forces, bureaucratic or domestic" (see Lorraine York's book Literary Celebrity in Canada, pg48, where I learned that Canadian author Stephen Leacock was a progenitor of this funnyman-as-everyman tradition). Director Lee has admitted to Rayns that moments of character Lee's dialogue (such as the seaside monologue) are autobiographical. It's nice to see that in all that fumbling up against an industry yet to shine, Director Lee reached a brighter future than character Lee in Gagman.      (Adam Hartzell)
Gagman ("Gaegeumaen"). Directed by Lee Myung-Se. Screenplay by Lee Myung-Se and Bae Chang-ho. Starring Ahn Sung-ki, Hwang Shin-hye, Bae Chang-ho, Jeon Mu-song, Jo Ju-mi. Cinematography by Yu Young-kil. Produced by Taehung Pictures. 127 min, 35mm, color. Rating received on October 13, 1988. Released on June 24, 1989. Total admissions: 33,944.

    Why Has Bodhi-Dharma Left for the East? (1989)
Why Has Bodhi Dharma Left For The East? I'm not sure. What I'm more curious about is Why Has Bodhi Dharma Left For The East? left Koreanfilm.org? That is, why has it not been mentioned for some time, and was rarely mentioned in the beginnings of this page? For the longest time, it was the only Korean film mentioned in world film history anthologies such as Jarek Kupsc's The History of Cinema for Beginners . Yet now, barely hearing a peep about it, it's as if the film never existed, as if it was immolated along with worldly effects near the end of the film.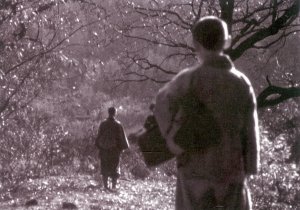 Perhaps our silence regarding Why Has Bodhi Dharma Left For the East? is due to the fact that it was like no other Korean film before it and nothing like it has emerged from Korea since. Thus, with all the JSAs, My Sassy Girls, and Oasises, we're unsure how to integrate this masterpiece with all the other Korean films that surround it, choosing instead to leave it out of the cinematic equation.
The first of only two films that director Bae Yong-gyun has made, it is not for everyone and is for everyone. (How Zen of a sentence, huh?) For those who have had no exposure to Zen Buddhism and its precepts, it might be quite confounding, or simply boring. Yet the film offers much to learn about Buddhism for the curious. For those expecting a movie to fill up their emptiness as with modern day blockbusters, this film will bring nothing but disappointment. Bae's film is more interested in having the viewer sit with that emptiness. For those who like their attachments just fine thank you, this film will seem a waste of time. Yet for those who occasionally want a movie to be something other than just escapism, the answer to the question Why Has Bodhi Dharma Left For the East? may be simply, for you.
The film follows three generations of Buddhist monks, a young monk, Hae-jin (Huang Hae-jin) around the age of 7, an adult monk, Kibong (Sin Won-sop), around the edges of his 30's, and an elderly monk, Hye-gok (Yi Pan-yong), perhaps in his 70's. Most of the story revolves around Kibong, and his decision to leave the modern world and all its attachments, yet guilt-ridden over leaving his blind mother to be taken care of by his sister. The struggle between the choice of the modern world and the journey to enlightenment appears as the most common theme amongst Buddhist Korean films, such as Im Kwon-taek's two Buddhist films, Mandala (1981) and Come, Come, Come Upward (1989). However, alongside the adult Buddhist struggles, this film also adds the experience of Buddhism from the perspective of an orphaned little boy, marking possible parallels with Joo Kyung-jung's A Little Monk (2003) since it represents three different generations of monks as well.
From my own limited Buddhist practice, the eyes of a child was what I was always told to approach Buddhist philosophy with. This is no more evident in the film than in the moment of Hae-jin's discovery of death, a death he assisted in causing, when he calls out to the Master, "I'm afraid. I'm afraid." The film expertly explores the fear of letting go of worldly attachments and mental concepts along with celebrating the pure awe and wonder at everything around us. The performances by all involved heighten that fear and wonder, as do the gorgeous visuals of the vastness of the mountains, the turbulence of water, and the fever of fire. All is wrapped within a pleasantly simple score by Chin Kyu-young that works off of the chants, bells, and wooden block tockings one might experience at a Buddhist temple.
Buddhist Koans abound throughout the film, such as that of meditating on your face before it was born. The film itself is a meditation. In fact, arguable, it was a meditation within a meditation since the film took seven patient years to produce on a single camera, edited painstakingly by hand. We can approach it like any other film and we will still find a plot: Monk struggles with his decision to separate from the modern world while at the same time a young boy struggles with the concepts of life and death. However, we can simply approach it as a meditation exercise, experiencing the Koans with the characters and pondering on our own ideas about what Korean film was before it was born.      (Adam Hartzell)
Why Has Bodhi-Dharma Left for the East? ("Dalmaga dongjjogeuro gan kkadalgeun?"). Produced, written and directed by Bae Yong-gyun. Starring Yi Pan-yong, Sin Won-sop, Huang Hae-jin, Go Su-myeong, Kim Hee-yong, Yoon Byung-hee. Cinematography by Bae Yong-gyun. Produced by Bae Yong-gyun Productions. 175 min, 35mm, color. Rating received on February 27, 1989. Released on September 23, 1989. Total admissions: 143,881. Presented at the 42nd Locarno International Film Festival (winner of Golden Leopard Award for Best Film). Sold to Switzerland ('89), France ('90), etc.

Other Films from 1980-1989

1980 --    Barefoot from Pyongyang (Nam Ki-nam);   Does the Cuckoo Sing At Night? (Jeong Jin-woo);   Fine Windy Day (Lee Jang-ho);   Peemak (Lee Du-yong);   Pursuit of Death (Im Kwon-taek);   Son of Man (Yu Hyun-mok);   -- 1981 --    Come Low Unto Us (Lee Jang-ho);   A Horse Carriage in Winter (Jung So-young);   The Invited Guests (Choi Ha-won);   A Girl Who Has Gone to the City (Kim Soo-yong);   Mandala (Im Kwon-taek);   The People in Dark Streets (Lee Jang-ho);   Shorter Three Times, Longer Three Times (Kim Ho-seon);   A Small Ball Shot by a Dwarf (Lee Won-se);   -- 1982 --    Madame Aema (Jeong In-yeop);   The Seagull of Pale Plumage (Jeong Jin-woo);   Village in the Mist (Im Kwon-taek);   Woman of Fire '82 (Kim Ki-young);   -- 1983 --    Dance of a Widow (Lee Jang-ho);   Daughter of the Flames (Im Kwon-taek);   Declaration of Fools (Lee Jang-ho);   Flowers at the Equator (Bae Chang-ho);   A Man From Pyongyang (Nam Ki-nam);   The Wheel a.k.a. Mulleya Mulleya (Lee Du-yong);   -- 1984 --    Agada (Kim Hyun-myung);   Carnivore (Kim Ki-young);   Hanging Tree (Jeong Jin-woo);   Scorching Sun (Ha Myung-joong);   That Winter Was Warm (Bae Chang-ho);   Whale Hunting (Bae Chang-ho).

-- 1985 --    Eo-wu-dong (Lee Jang-ho);   Deep Blue Night (Bae Chang-ho);   Gilsottum (Im Kwon-taek);   Mother (Park Chul-soo);   -- 1986 --    Lee Jang-ho's Baseball Team (Lee Jang-ho);   The Mad Monk (Kim Soo-yong);   Pillar of Mist (Park Chul-soo);   Ticket (Im Kwon-taek);   A Wanderer In Winter (Kwak Ji-gyun);   -- 1987 --    The Diary of King Yongsan (Im Kwon-taek);   Hello, God! (Bae Chang-ho);   Lethe's Love Song (Jang Kil-soo);   Mimi and Chulsoo's Adolescence Sketch (Lee Kyu-hyung);   Now We Are Going To Geneva (Song Young-soo);   Our Sweet Days of Youth (Bae Chang-ho);   -- 1988 --    The Age of Success (Jang Sun-woo);   America America (Jang Kil-soo);   Prostitute (Yu Jin-seon);   Sabangji (Song Kyung-shik);   You My Hollyhock (Park Chul-soo);   -- 1989 --    Come, Come, Come Upward (Im Kwon-taek);   Happiness Does Not Depend On School Records (Kang Woo-suk);   Oh! Country of Dreams (Lee Eun, Jang Dong-hong, Jang Yoon-hyun);   Rainbow Over Seoul (Kim Ho-seon);   A Sketch of a Rainy Day (Kwak Jae-yong).