2014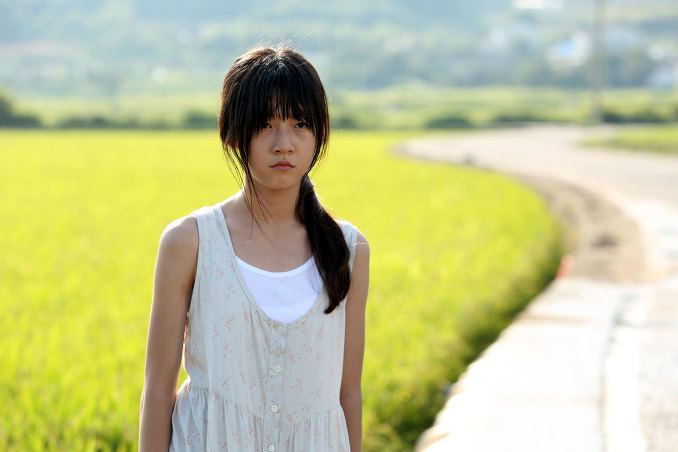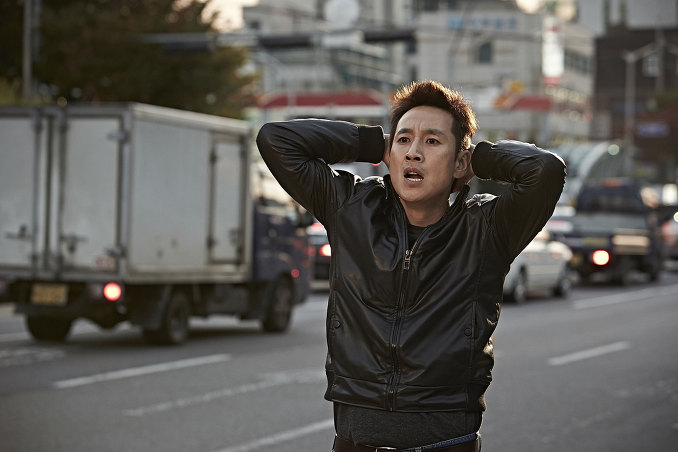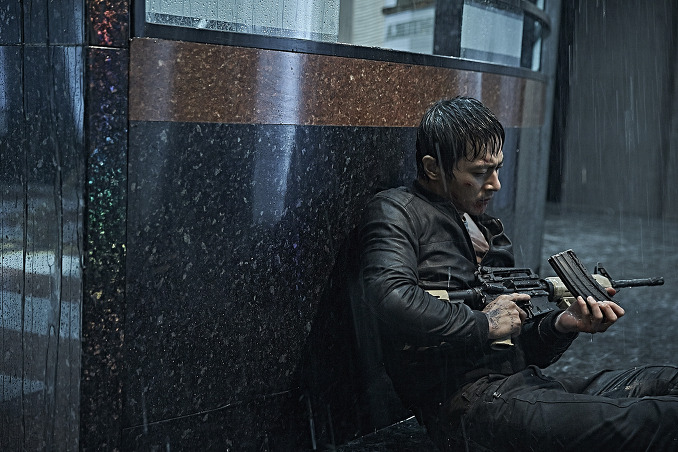 "A Girl at My Door",  "Miss Granny",  "A Hard Day",  "No Tears for the Dead"

   After two years in a row of record-breaking totals at the box office, the year 2014 got off to a somewhat slower start. Apart from the massive hit comedy Miss Granny, there were no true breakout performances among the films released in the first part of the year. This may have simply been the result of the films on offer, rather than any general waning of interest on the part of the local audience. Nonetheless, there was a sense of Korean cinema coming back to earth after the heady days of 2012 and 2013. Meanwhile, the Sewol ferry disaster in April brought about a widespread sense of pessimism and despondency in Korean society as a whole. It also caused some concern for the film industry, given that several of the summer season's most anticipated releases (Roaring Currents, Haemoo, Pirates) are maritime action/thrillers.
Among independent films, Han Gong-ju, which premiered at the Busan International Film Festival in October 2013, enjoyed a particularly successful commercial release for a film of its size, after winning a number of high-profile international festival awards. In May, the Cannes Film Festival played host to three Korean features, none in competition: debut feature A Girl at My Door, produced by Lee Chang-dong, in Un Certain Regard; thriller A Hard Day in Director's Fortnight; and The Target, a remake of the 2009 French thriller Point Blank. (Written on May 30)
     Reviewed below:     Miss Granny (Jan 22)  --  Venus Talk (Feb 13)  --  Tabloid Truths (Feb 20)  --  Broken (Apr 10)  --  Han Gong-ju (Apr 17)  --  A Girl at My Door (May 22)  --  A Hard Day (May 29)  --  The Admiral: Roaring Currents (Jul 30)  --  Haemoo (Aug 13)  --  My Ordinary Love Story (Aug 20)  --  Tunnel 3D (Aug 20)  --  Tazza: The Hidden Card (Sep 3)  --  Hill of Freedom (Sep 4)  --  The Wicked (Sep 11)  --  Cart (Nov 13)  --  My Love, Don't Cross That River (Nov 27)  --  The Royal Tailor (Dec 24)  --  How to Steal a Dog (Dec 31).
The Best Selling Films of 2014

| | Korean Films | Nationwide | Release | Revenue |
| --- | --- | --- | --- | --- |
| 1 | The Admiral: Roaring Currents | 17,614,679 | Jul 30 | 135.8bn |
| 2 | Ode to My Father | 14,256,460 | Dec 17 | 110.9bn |
| 3 | The Pirates | 8,666,046 | Aug 6 | 66.4bn |
| 4 | Miss Granny | 8,658,691 | Jan 22 | 62.7bn |
| 5 | My Love, Don't Cross That River | 4,801,543 | Nov 27 | 37.4bn |
| 6 | Kundo: Age of the Rampant | 4,774,931 | Jul 23 | 37.0bn |
| 7 | Tazza: The Hidden Card | 4,015,361 | Sep 3 | 32.4bn |
| 8 | The Fatal Encounter | 3,849,454 | Apr 30 | 29.9bn |
| 9 | The Divine Move | 3,566,844 | Jul 3 | 28.8bn |
| 10 | A Hard Day | 3,450,305 | May 29 | 27.0bn |
| | All Films | Nationwide | Release | Revenue |
| --- | --- | --- | --- | --- |
| 1 | The Admiral: Roaring Currents (Korea) | 17,614,679 | Jul 30 | 135.8bn |
| 2 | Ode to My Father (Korea) | 14,256,460 | Dec 17 | 110.9bn |
| 3 | Frozen (US) | 10,296,101 | Jan 16 | 82.5bn |
| 4 | Interstellar (US) | 10,275,484 | Nov 6 | 82.3bn |
| 5 | The Pirates (Korea) | 8,666,046 | Aug 6 | 66.4bn |
| 6 | Miss Granny (Korea) | 8,658,691 | Jan 22 | 62.7bn |
| 7 | Transformers: Age of Extinction (US) | 5,295,801 | Jun 25 | 44.0bn |
| 8 | My Love, Don't Cross That River (Korea) | 4,801,543 | Nov 27 | 37.4bn |
| 9 | Kundo: Age of the Rampant (Korea) | 4,774,931 | Jul 23 | 37.0bn |
| 10 | Edge of Tomorrow (US) | 4,699,307 | Jun 4 | 38.7bn |
* Still on release.  Source: Korean Film Council.


Seoul population: 10.4 million
Nationwide population: 50.9 million


Having lived a hard life and reached her seventies, Oh Mal-soon is a woman who doesn't take any crap from anyone. She is never far from a confrontation, whether it be a good-natured spat with her colleage Mr. Park or a jealous row with her rival Okja, or a volley of complaints fired at her daughter-in-law. But one day she receives a painful blow which catches her off guard. Her son and the rest of his family would like her to move to a nursing home. Stunned and despondent, she walks out of the house and starts aimlessly wandering the streets.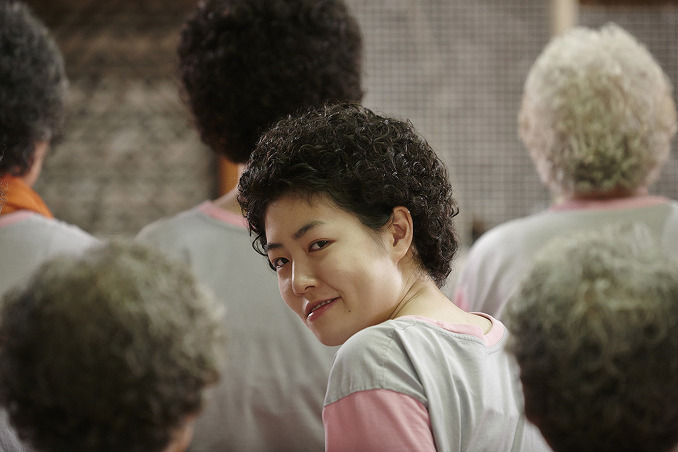 It's then that she comes across a curiously old-fashioned looking photo studio known as "Youth Photo." Charmed by the look of the place, she decides to treat herself to a portrait. The friendly proprietor, who carries a knowing glint in his eye, takes her picture. It's only later, after she's left the studio and is riding the bus, that she sees her reflection in the window and realizes that something fundamental has changed.
Mal-soon is now in the body of a 20-year-old. Of course, none of her family or acquaintances can recognize her in her new guise. She renames herself "Audrey," after Audrey Hepburn, and awkwardly begins to take on a new identity. Physically, she has returned to her youth, but her mind is the same. Most notably, she still acts and speaks like the 70-year-old woman who stirs up trouble wherever she goes.
Miss Granny was Korean cinema's first smash hit of 2014, a film that left audiences roaring with laughter. Much of the credit for the film's success can be assigned to the talented young actress Shim Eun-gyeong, who through her bodily movements and her voice perfectly expressed the feisty attitude and particular dialect of an elderly Korean woman who grew up in the countryside. In this case, the unexpected clash between Shim's pretty young face and the manner of her speech proved to be a joke that never got old. Having already proved herself once as the lead of the smash hit Sunny, Shim ranks without doubt as one of the leading lights of the new generation of Korean actresses.
Viewers might be surprised to learn that Miss Granny was directed by the same person who made the deeply upsetting and moving film Silenced (2011), based on a shocking real-life incidence of child abuse at a school for the deaf. It's quite a shift in mood for director Hwang Dong-hyuk, but perhaps it makes sense that after tackling such a heavy and disturbing topic, he might want to choose something light and insubstantial for his next work. At any rate, both films were massive hits: Silenced took 4.7 million admissions at the Korean box office, while Miss Granny ended up with 8.7 million admissions.
Although that latter number far exceeded anyone's expectations, Miss Granny can be said to have earned its success. It is effectively packaged, slickly constructed, and features a good cast of supporting characters. One should note, however, that it is a devilishly hard film to translate. Because of South Korea's rapid development, there is a large linguistic and cultural gap between people of Mal-soon's age and younger generations. It is the image of an elderly woman's dialect coming out of the mouth of Shim Eun-gyeong that provides for this film's greatest spectacle. Non-Korean audiences will still get the joke, and thoroughly enjoy this film. But some small part of its charm may remain elusive.      (Darcy Paquet)

    Venus Talk
Shin-hye (Uhm Jung-hwa, Singles) works as a producer at a cable TV station. Strong-willed and ambitious, she attracts the notice of a much younger twenty-something colleague Hyeon-seung, and after a night of drinking they end up in bed together. Slightly embarrassed (but secretly a bit thrilled) to have hooked up with such a younger man, she writes it off as a one night stand. But when he turns up the next day with a bouquet of flowers, she finds herself in the middle of an awkward situation.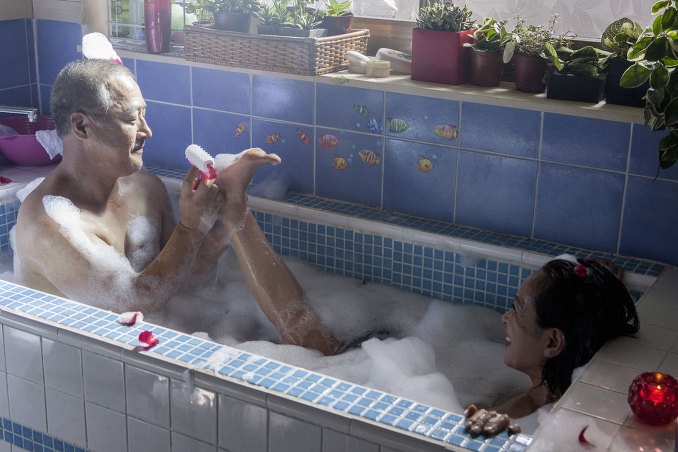 Mi-yeon (Moon So-ri, HaHaHa) believes there to be no major problem in her relationship with her husband, the owner of a gas station. They have an active sex life, driven by Mi-yeon's insistent and seemingly inexhaustible desires. But her husband is secretly taking Viagra. Overwhelmed by her demands, and sensing that his feelings are being ignored, he has gradually lost all desire for her.
Hae-young (Cho Min-soo, Pieta) lives alone with her daughter, and the two of them are close. But she has recently started dating a carpenter named Seong-jae, who brings her a great sense of contentment and happiness. As their relationship deepens, things start to become uncomfortable between Hae-young and her daughter.
The 2003 film Singles is a much beloved and well-remembered work within the Korean film community. It contained breakout performances from Uhm Jung-hwa and also Jang Jin-young, who tragically died of stomach cancer six years later. The film captured well the concerns of Korean women in their late 20s and early 30s, and now director Kwon Chil-in returns with a film that is centered around women in their 40s. As a stand-alone work, Venus Talk is in turns funny, insightful, sexy, entertaining and sad: well worth watching. For those who remember Singles, echoes of the earlier film give it an added depth.
Shin-hye, Mi-yeon and Hae-young are the closest of friends, but that doesn't mean that they don't keep secrets from each other. As a number of unexpected and sometimes startling developments occur in their lives, they often look to each other for support, but according to their various personalities they sometimes feel too uncomfortable or embarrassed to share their worries. This well-drawn friendship between the three protagonists stands at the center of the film, but it is arguably not the primary focus. Instead, director Kwon and screenwriter Lee Su-ah are using a diverse collection of individual scenes and experiences to paint a portrait of a generation.
Because of that, there are many elements in Venus Talk that are likely to resonate with viewers in a highly personal way. The film's target audience may be Korean women in their 30s and 40s (the most important segment of the moviegoing demographic in South Korea today), but its appeal stretches wider, thanks to its well-drawn characters (both leading and supporting roles) and nuanced storytelling. The film is also not afraid to get dark when it needs to be. Admittedly, its episodic nature makes it difficult to bring the events of the film to a satisfying conclusion, and its last scene is probably its weakest (even with a cameo from K-pop star Boa). But the film as a whole is well made.
As he demonstrated in Singles and Hellcats, Kwon Chil-in excels at working with his cast. There is a relaxed quality to many of the performances that suit this film well. In particular, Cho Min-soo and Lee Kyeong-young (pictured) have to rank as one of the most effortlessly charming and touching onscreen couples in recent memory. Even when they're doing nothing more than sitting together and chatting, they are a huge pleasure to watch.      (Darcy Paquet)

    Tabloid Truths
U-gon (Kim Kang-woo, Marine Boy) is an agent of a talented actress Min-ji (Ko Won-hee, TV drama War of the Flowers). Just when Min-ji is about to strike it big, she is embroiled in a sex scandal with National Assemblyman Nam (An Sung-ki, Sector 7): hounded by the press and blackballed by the industry, she commits suicide. Devastated and furious, U-gon traces the scandal sheet to a small company of sleaze-mongers headed by President Park (Jeong Jin-young, King and the Clown), and threatens them to help him get to the source of the rumor. To his increasing bewilderment and outrage, U-gon learns that he and Min-ji were victims of a much bigger conspiracy, involving not only National Assemblyman Nam but a mega-conglomerate O&C and even some high-ranking Blue House staff.
Kim Kwang-sik's follow-up to My Dear Desperado (2010) does not begin promisingly. It tries hard to sell us that thuggish U-gon has a heart of gold, and that Min-ji is like a rose blooming in a gutter, a natural talent who could cut through superficial bullshit of the entertainment industry. Neither proposition is remotely convincing. However, once the film drops its lovestruck lone-avenger conceit and concentrates on the mechanics of scandal-making, it gains the right footing. In order to figure out the real purpose behind the sex scandal, U-gon drops his thug-with-a-heart-of-gold mien and infiltrates a group of "info men," corporate agents circulating (and occasionally inventing) sensitive information secretly among themselves, flushing some of it down to the eager scandal sheets and eventually ordinary consumers. Cinematically speaking, it is always interesting to watch depictions of professionals at work, especially when the work they do are dirty and sleazy by the normal standards of the society: we get to laugh at the big gap between their pretensions as college-graduate elites working in powerful corporations and their actual behavior as rumor-mongering rats, all the while savoring a touch of uneasiness about how uncomfortably close these figures and the stuff they deal with come to the "real" reality we happen to be stuck in.
Unfortunately, Hwang Sung-goo's (I am the King) screenplay, further worked on by Kim Yoo-jin and director Kim, cannot sustain our interest to the very end. Its "plot twists" are pretty predictable, and the bad guys seem to cause more problems for themselves by trying too hard to maintain an airtight information embargo: apparently they have never heard of "cutting the losses and moving on." Finally, the YouTube-comes-to-the-rescue finale, while certainly pushing right emotional buttons, is frankly a bit silly (although after Gangnam Style, I concede, anything is possible). However, I am not going to begrudge the filmmakers of a rather artificial happy ending: the evil-triumphs '70s-European-thriller denouements preferred by some more pretentious Korean films, I would argue, simply render the viewers numb to the pain and suffering, and are even less likely to stir them into any kind of meaningful political action.
The film is greatly aided by the presence of veteran actors, including Jeong Jin-young as a formerly idealistic reporter now suffering from a crippling blow to his body as well as his sense of self-worth, Go Chang-seok (The Showdown) as an orotund, bestudded and geeky wire-tap expert and Park Won-sang (National Security) as a super-obnoxious reporter-turned-corporate-manager working for the O&C. Still, the film's premise would have been a little more believable for me if U-gon was more of a silent, strongly reliable type, played by, say, a younger Jung Woo-sung: Kim Kang-woo is far more believable when he is supposedly impersonating a calculating, smug corporate agent than he is essaying a street-smart romantic hero.
At two hours and five minutes, Tabloid Truths could have used some trimming and toning down of its (hackneyed) sentimentality, but is overall an above-average political thriller. Like, say, Michael Clayton (2007), it is more successful at giving us pleasures of observing how professionally skilled men create or overcome seemingly insurmountable problems, than at genuinely touching our hearts with its romantic yearnings of its protagonist or with its (obviously heartfelt) message calling for greater journalistic and civic responsibilities on our part.      (Kyu Hyun  Kim)

    Broken
Broken is one of those cold, quiet thrillers that instead of giving you "thrills," envelops you in its dark, menacing atmosphere. It's the kind of film that follows you around for a few days after you watch it.
Jeong Jae-young (Welcome to Dongmakgol, Castaway on the Moon) plays a single father named Sang-hyun who works in a textile factory. Between long hours at work, and occasional nights out drinking, he doesn't see his middle-school aged daughter Su-jin as much as he should. One night after working overtime, he returns home to find that Su-jin is not there. It's the nightmare that lurks at the back of every parent's mind, but in this case it turns out to be as terrible as his worst fears.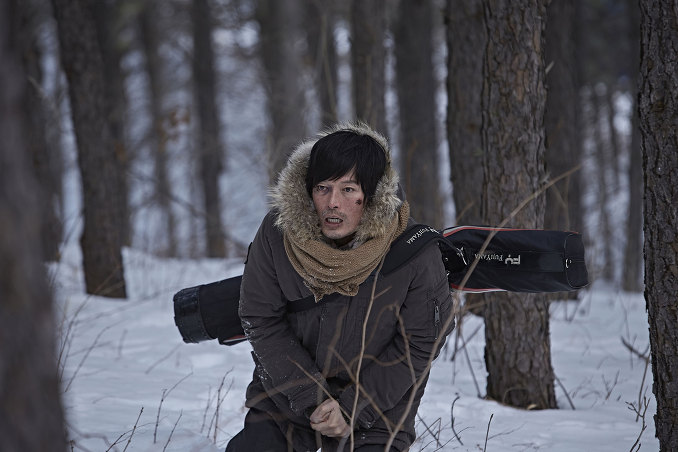 Structurally, Broken is a revenge drama. Sang-hyun has nothing left to live for, other than to find the ones who abducted his daughter. But neither he nor the audience ever believes that revenge will accomplish much of anything. We experience none of the desperate, rushing forward momentum of a Park Chan-wook movie. Instead, revenge is just an instinct that must be followed. It leads to the end of the story, nothing more.
Broken is the third Korean film in recent years to be based on a novel by the prolific Japanese mystery writer Higashino Keigo. The previous two were White Night (2009), based on the 1999 novel Byakuyko; and Perfect Number (2012), based on the 2005 novel The Devotion of Suspect X. Both were interesting, particularly Perfect Number, but the new film is clearly the strongest. Broken is based on a 2003 novel called Samayou Yaiba that was also adapted into a Japanese film Hovering Blade.
Higashino excels at creating memorable characters, and in this film we have two in particular. The much respected Jeong Jae-young portrays Sang-hyun as a man pulled to the limits of what any person can withstand. Nonetheless he avoids exaggeration or overstatement, making for a finely pitched performance. Meanwhile Lee Seong-min (who also plays the husband in Venus Talk) gives a breakout performance as Detective Jang, whose sympathies lie with Sang-hyun but who is obligated to protect Sang-hyun's target. By not giving us too much information about what lies behind his haggard, empty gaze, Lee makes his character fascinating.
This film marks a huge step forward for director Lee Jeong-ho, whose debut feature Bestseller was a functional and slightly cracked up horror-mystery that attracted a decent-sized audience, but was uneven in tone. Broken on the other hand is elegantly realized and utterly distinctive. It's quiet for a thriller, to the extent that we strain our ears for each sound. The use of music is also subtle -- particularly surprising is the way that during sudden bursts of violence, the music remains quietly in the background at the same volume.
More generally, the dominant mood and emotion expressed by the film's aesthetic is one of sadness and sympathy for the hero's plight. Broken is not a "thriller" that pumps you full of excitement, or a mystery that tantalizes you with its secrets. Instead, it's an introspective look at victimhood and violence that is worth watching for its artful sound design alone, to say nothing of the gorgeous cinematography and great acting. In more ways than one, it stands out from the crowd.      (Darcy Paquet)

    Han Gong-ju
As the film opens, we see a lanky teenage girl, Han Gong-ju (Chun Woo-hee, Mother, Sunny), softly intoning, "But I haven't done anything wrong." We then observe her being dragged off by her male schoolteacher and deposited at his mother's (Lee Young-ran, A Werewolf Boy) flat, who hostilely speculates that Gong-ju's exile is due to an out-of-wedlock pregnancy. We soon learn that the teenager's family life is a sorry mess, with a parasitic alcoholic of a father and an estranged mother. Even more disturbingly, her daily routines are interrupted by jolting flashbacks to an unspecified, traumatic incident as well as by hallucinatory visitations from her erstwhile best friend Hwa-ok (TV actress Kim So-young). Gradually, we find out the exact nature of the incident and, consequently, the reasons for her quirky habits and dour dispositions, such as her intense commitment to learning how to swim and her pathological fear/hatred of the internet and public exposure. However, when Gong-ju's singing talent attracts attentions of Eun-hee (Jung In-seon, Horror Stories 2) and the latter's a cappella group, she may have to suffer yet another round of persecution from the heartless, selfish adults.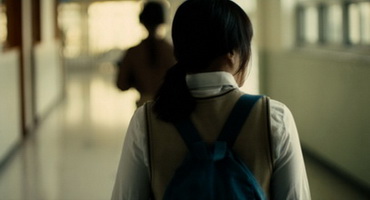 Han Gong-ju (Gong-ju means "Princess" in Korean) is a feature film debut by Lee Su-jin, whose much-praised short Enemy's Apple (2007) tended toward an intriguing but somewhat show-offy combination of lyricism and allegorical storytelling. This "art-house" predilection still infuses much of his longer work: the excellent news here is that Gong-ju's story, based on an absolutely horrifying real-life case involving protracted sexual victimization of two teenage girls, is inherently compelling, despite the elliptical way Lee chooses to tell it, and, perhaps more importantly, Gong-ju herself is a compelling character, equal parts teenage obtuseness, open-hearted bravery and raw pain. She is neither extraordinarily "courageous" nor a feisty "fighter against the system:" neither is she, however, a passive victim, a cipher for the film's (admittedly powerful) political messages.
Lee deserves praise for refusing to heap melodramatic sufferings on Gong-ju in order to make a martyr out of her. Instead, he shows us a young woman valiantly but quietly trying to move ahead with her life, only occasionally flinching from the triggered memories and obstacles piled up by thoughtless adults around her: a good example is the sequence where Gong-ju visits a gynecologist's office and specifically asks for a female doctor, a request casually ignored. As a young, bored gynecologist reminds Gong-ju to use condom when having sex, the camera focuses on her tightly held knuckle peeking behind the privacy curtain. In these and other sequences involving the protagonist, Lee manages to avoid one pitfall that many Korean directors stumble into: he knows that Gong-ju needs not justify her seemingly cold or incomprehensible reactions to those around her, nor to us as viewers. All he needs to show us is how she got to that point: there is no need for the spoon-fed emotional pap that compels us to feel "sympathetic" for her plight.
In between these naturalistic portrayals of her everyday life, Lee employs gently poetic visuals and music to express Gong-ju's own sense of confusion, (survivor's) guilt, alienation and hunger for love and understanding. The delicate balance works for most of the film until the very end, when the symbolic weight of the imagery of drowning/swimming ends up overwhelming the emotionally urgent question of whether Gong-ju was able to accept Eun-hee's friendship or not.
Like A Girl at My Door, Han Gong-ju is a film dominated by powerhouse female acting. 26-year-old (as of spring 2014) Chun Woo-hee in PK photos looks way too glamorous and chiseled to play a plain high school girl, but her performance here is riveting. She successfully conveys the utter normality of Gong-ju's teenage responses that sometimes defy the adult logic without generating frustrations among viewers. Jung In-seon, the little girl at the end of Memories of Murder (2003) all grown up, practically radiates warmth and love like X-rays, but is never less than believable in her reaction to her friend's sometimes obstructionist behavior. However, if I were to choose the most interesting character in Han Gong-ju, it is Ms. Jo, the teacher's mother. As played by Lee Young-ran, Ms. Jo is an extremely rare character in Korean cinema, an over-fifty working woman who has real sexual desires and is not afraid to show them. The film would have been much more interesting had it explored further the developing bonds between Gong-ju and Ms. Jo as much as it did with the former and her friends. The latter's defiance of the Korean society's moral conventions was, for me, the film's strongest political message.
Han Gong-ju is the kind of film that fits better in the mold of the "prestigious international art-house cinema" than, say, A Girl at My Door or Haemoo. The awards and praises heaped on the film in Deauville, Marrakesh, Busan and other film festivals prove this point. Still, compared to similarly themed European films such as Andrea Arnold's Fish Tank (2009), I find Han Gong-ju less grounded in kitchen-sink realism but more adroit in reaching the right balance between showing the harsh reality and the adolescent dream-world, making its honest, unadorned depiction of sexual aggression all the more devastating. The refinement and care that went into weaving together this exquisite garment of a motion picture must be properly acknowledged.      (Kyu Hyun  Kim)

    A Girl at My Door
A decrepit Southwestern fishing town welcomes a new female chief of its patrol station, Young-nam (Bae Doo-na, Cloud Atlas). Professional and stern, Young-nam is immediately antagonized by the town's scumbag-in-residence Yong-ha (Song Sae-byuk, Sector 7) who supplies illegal migrant workers for the village. The elite police officer, herself demoted to this remote area due to a scandal involving her private life, is drawn to Yong-ha's stepdaughter, Do-hee (Kim Sae-ron, Manshin: Ten Thousand Spirits), an achingly thin but preternaturally attractive 14-year-old. Ostracized at school and physically abused by Yong-ha, Do-hee responds positively to Young-nam's initially reluctant gesture to reach out, but when her stepfather gets hold of the young police officer's personal secret, a potential disaster looms over their lives.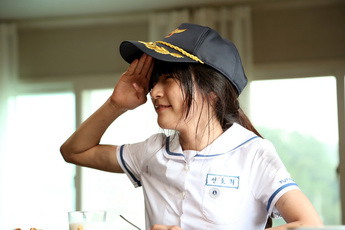 July Jung's feature debut film seems to start out as another well-meaning human drama about the physical and emotional abuse of children by Korean adults, but soon morphs into a strikingly original, morally complex quasi-thriller that, without resorting to any standard melodramatic devices, challenges the viewers to reflect on their own capacity to empathize with the film's disadvantaged characters. Despite how it might appear at the outset, A Girl at My Door is neither a straightforward left-wing indictment of the authoritarian behavior of Korean men (the kind of film, say, Bang Eun-jin might have made) nor a realistic rumination on the dissolution of a seaside community (in the manner of perhaps an early Lee Chang-dong film: Lee, not coincidentally, executive-produced this film).
I had the clue on what kind of film A Girl at My Door really was when I read director Jung's comment that the project originated from a real-life episode, in which her old cat, agitated when she adopted another kitten, one day deposited a skinned dead rat in her shoes. Initially horrified, Jung writes that it took her a while to recognize the old cat's gesture as a desperate expression of love, borne out of the fear that it would be rejected. In this film, carefully mounted with such uncommon subtlety and naturalness that it almost looks crude, Jung explores two young Korean individuals almost totally alienated from their social environments: one because of her lifestyle and another due to the abusive family and social system, and the kind of murderously difficult choices they have to face in order to survive without their souls crushed like eggshells under rubber boots. Intriguingly, she incorporates certain aspects of quasi-feminist neo-noirs into her plot machinations: one of the characters almost becomes a femme fatale, her ability to manipulate perceptions of the other human beings both chillingly and sympathetically commensurate with her disposition molded by the conditions in which she had to grow up.
Bae Doo-na, these days an actress of choice for famous non-Korean directors such as Koreeda Hirokazu and the Warshowski Bro... I mean, Siblings, is perfectly cast as Young-nam. Bae expertly conveys the grace of a tightrope walker that Young-nam must be, in order to maintain the balance between the calm exterior and the internal turmoil, as well as the spiritual fatigue that brings gray hardness to her carefully rendered neutral expression. Bae looks deliberately rigid and excessively controlled here, as the role requires, dialing down her androgynous, pixie-angel radiance, yet her performance, under Jung's deeply sympathetic direction, now has added layers of soulfulness: for instance, in Young-nam's conflicted, guilty expressions as we are shown the true nature of her addiction in an early scene, we see not Bae Doo-na's patented charisma but only a mature, talented actress's non-showy acting.
Kim Sae-ron is equally amazing. She responds with laser-like precision to the requirements of the role, in which she has to inculcate and sustain a widely conflicting set of emotions among the viewers. Do-hee is in turn heartbreakingly pathetic, angelically beautiful, dully nondescript, and finally unnervingly frightening: and Kim makes all of these permutations make sense, again under the careful direction of Jung. For her part, Jung, working with Bae and Kim, underscores their scenes together with hair-raising emotional energy, without letting the viewers distracted by the potential erotic charge, even when they are holding each other naked in a bathtub. Song Sae-byuk, not used to his best advantage in more recent roles, essays exactly the kind of obtuse, self-involved and vile male creatures that all too often serve as the "engines of economic progress" in today's South Korean society.
Technically, A Girl at My Door maintains a naturalistic, almost cheap-looking countenance of a late '90s Korean film, although Kim Hyun-seok's (Poetry) camera occasionally dazzles us with the breathtaking beauty of the Southern Sea. Jang Young-gyu's (Cold Eyes) unassuming, warm score is highly appropriate. While not one of the most visually memorable Korean films of this year, A Girl at My Door marks an extremely promising debut of yet another talented female director, most remarkable for her respect and love for the movie's flawed yet three-dimensional characters, the trait that I wish I could observe more often among Korean filmmakers.      (Kyu Hyun  Kim)

    A Hard Day
Detective Ko (Lee Seon-gyun, R-Point, Paju), driving fast to attend his mother's wake, runs over a middle-aged guy with his car. Panicking, he stashes the dead body in the car trunk, manages to bluster and wriggle his way out of anti-DUI checkpoints, reaches the isolated funeral home, and dumps the body into his mother's soon-to-be-buried coffin. Yes, you read that right.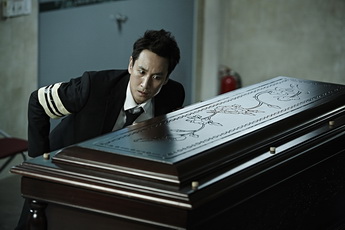 Of course, since, as it should have occurred to you by now, Detective Ko is not the most brightly lit bulb in the warehouse, he buries the dead man's still-alive cell phone with his mom's body. Furthermore, the dingbat has no idea that the dead man's ruthless partner, responsible for killing the guy before he was hit by the car, works right at the police headquarters: Lieutenant Park (Jo Jin-woong, Perfect Number, Roaring Currents), who starts a campaign of intimidation and torment against Ko, in order to recover a certain valuable artifact contained in the dead body.
A Hard Day, the sophomore film from writer-director Kim Seong-hoon, had proven itself a solid if not spectacular hit with 3.45 million tickets sold domestically through 2014's third quarter. While generally well received by critics (it won Best Screenplay Prize for the 35th Blue Dragon Award, for one), the film also split the opinion among the viewers, some of whom expressed frustration with its "bizarre" touches and "silly" characterizations. Considering director Kim's propensity evinced in his debut film How the Lack of Love Affects Two Men [2006], it makes sense that he did not want to make a standard, superficially "realist" crime thriller, such as the ones Kang Woo-suk or Lee Jeong-beom would have churned out. Instead, he takes the well-worn premise of a dirty-cop-meets-even-worse-psychotic-murderer and shapes it into an uproarious comedy of errors. The taboo-breaking (in the Korean view, what Ko does is an outrageous violation of the principles of filial piety and solemnity facing a family death, as ironically addressed in Ko's sister's dialogues) first act is brilliantly staged, with knee-slappingly funny uses of props such as a battery-powered toy soldier: this segment, isolated by itself, might have made a great short film, superior in many ways to the feature film that contains it.
As A Hard Day advances the thriller plot in the remaining two thirds of the running time (the movie is definitely overlong), it becomes dominated by Lieutenant Park, a truly original characterization that teeters at the brink of sliding into grotesquerie. Has Kim Seong-hoon seen Sergeant Kabukiman N. Y. P. D.? Jo as the evil police officer is given a weird, pasty-white makeup (and are those eyeliners?!) and intones his dialogue in a William-Shatner-does-Lieutenant-Columbo style of velvety hamminess (it is unlikely that English subs could reproduce for the Anglophone audience the effect these horridly pretentious but extremely funny inflections of Jo's delivery have on many Korean male viewers). If my formula that fistfights often stand in for sexual intercourse in macho Korean "action thrillers" is applied to A Hard Day, the movie could be properly interpreted as a closeted gay version of Fatal Attraction, with the "wild" Lieutenant Park pursuing Detective Ko, a divorced and curiously asexual (no girlfriend, only a loving sister but nonetheless claiming custody over a young daughter) co-worker, intensifying demands for intimacy. Not surprisingly, the film's climactic fight between the two involves strangling by hand-shower metal cords inside a bathtub as well as a jaw-dropping game of Russian Roulette played while tightly embracing each other, pinned down by an overturned wooden furniture a la A Tale of Two Sisters. Does all this produce a sweats-in-your-palm suspense for the average viewer? Maybe not. Is this absolutely hilarious? Hell yeah.
The references to other films also pile on quick and fast, but they are, again, surprisingly witty without belaboring the obvious. For example, the risky gambit Detective Ko pulls off against his arch-nemesis with a headquarter-issued plastic bomb is obviously a take on John Frankenheimer's 52 Pick-Up (1986), tweaking the latter's improbable character motivation, inserting a wickedly effective bit of deadpan humor, and ending with an out-of-nowhere, poetically creepy shot recalling, of all movies, Fellini Satyricon (1969).
Thus, taken as a twisted comedy, A Hard Day is quite an achievement. What prevents it from being a fully-rounded great film, in my view, is Detective Ko's character. Despite writer-director Kim's wry skewering of the hypocrisy of the police profession, he still cuts a lot of slack for Ko, who not only is a petty criminal (guilty of siphoning money off confiscated property of the criminals), but also has zero sense of civic duty or public consciousness. The scowling cop is too annoying and hypocritical to serve as the identification figure for most of the viewers. We would rather see a smart guy buckling the odds stacked against him and survive, or big catfish brought down by a small fry, even if we are aware that we are watching a fantasy: we don't really get emotional satisfaction from seeing a dumb-bell petty crook like Ko "make it" at the end, with lots of (undeserved) help from God the Screenwriter.      (Kyu Hyun  Kim)

    The Admiral: Roaring Currents
Tourists and visitors to Seoul may have noticed an imposing statue on Gwanghwamun Square of a 16th century military figure. Anyone who takes up an interest in Korean history is likely to encounter his name sooner rather than later: Yi Sun-shin, the admiral famed for his victories against the Japanese Navy during Hideyoshi's invasions of Korea in 1592-1598. Korea under the Joseon Dynasty was ill prepared to defend itself, and Japanese forces made quick and easy advances on land. But the sea was a different story, thanks to Yi's development of cutting-edge warships, his strategic creativity, and his intimate knowledge of the Korean coast. He ranks as one of the great heroes of Korean history, admired for his military prowess and intellect as well as his strength of character.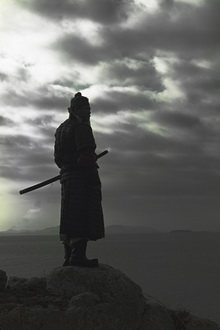 Much of his life reads like a movie screenplay, so it's not surprising to find that several films have been made about him over the decades. No less a director than Yu Hyun-mok took on the challenge in 1962 (the film has unfortunately been lost), followed by Lee Gyu-woong in 1971 and Jang Il-ho in 1977. In the 1980s and 1990s there were two animated features, which makes sense considering how difficult it is to film massive naval battles with hundreds of ships.
Of course, the advance of CGI technology in the present day makes it possible to stage such battles in a far more realistic and visually exciting way than ever before. This was one among several points that motivated director Kim Han-min (War of the Arrows) to make a film about one of Yi's most famous victories. Other directors are surely kicking themselves for not having thought of this sooner, because The Admiral: Roaring Currents ended up becoming more than simply a hit film. In just two and a half weeks it surged past The Host and Avatar to become Korea's all-time box office champion.
The Admiral opens at a particularly bleak point in Yi Sun-shin's career. Thanks in part to misinformation spread by a Japanese double agent, Yi had been stripped of his position and tortured in early 1597, as the Japanese military was engaged in a second major invasion. His replacement Won Gyun had led the Joseon navy into its most disastrous defeat. Yi was quickly reinstated, but in place of his former force of 150 warships and 30,000 trained soldiers, he was left with only 13 ships and 200 highly demoralized men. The Japanese, by contrast, had well over 300 ships at their disposal.
The 128-minute film divides into two parts, with the first section portraying Yi's quiet determination to fight on against impossible odds, and the final hour devoted to the naval battle in the narrow and treacherous Myeongryang Strait. Yi kept a detailed diary, so there wasn't any shortage of source material for the screenwriters to draw on. Nonetheless the film does take significant liberties in embellishing the story for the multiplex crowd, introducing a murder plot and the intentional burning of an armored "turtle ship" (for details, read this Joongang Daily article).
In a great bit of casting, Yi Sun-shin is played by Choi Min-sik (Oldboy, Lucy). In terms of the screenplay, there is actually less depth to Yi's characterization than you might expect. Some viewers have also complained that we don't get enough of a look into Yi's strategic thinking to really understand how he was able to snatch victory from what looked like certain defeat. But somehow, Choi is able to hold everything together and impart a sense of weight to his character. To put it bluntly, he is able to take fairly plain scenes and create in them a sense of depth.
Less successful in terms of casting was the decision to let Korean actors take the roles of the Japanese antagonists. In director Kim's highly impressive previous work War of the Arrows (2011), which is set during the Qing invasion of 1636, Korean actors including Ryu Seung-ryong portrayed the Manchu warriors as admirably complex adversaries. The decision to put more than half of the dialogue in that film in the Manchu language, which is rarely spoken in the present day, worked brilliantly. But there is a cartoonish quality to the portrayal of the Japanese military leaders in The Admiral, with their outlandish costumes and petty infighting. I don't speak Japanese, so I can't claim to have been bothered by the accented speech of Ryu Seung-ryong, Cho Jin-woong, Kim Myong-gon and other Korean actors. But the decision not to use Japanese actors gives the film a provincial feel that could have been avoided.
Some have accused the film of being overly nationalistic, and on this point I'd disagree. Certainly if the film had gone in a darker and more menacing direction, it would have been possible to push the nationalistic elements much further. But director Kim seems more interested in exploring the qualities of a good leader (there is an interesting digression on the possibility of turning fear into courage), and in the technical challenge of presenting this highly dramatic sea battle. And while it's true that audiences have flocked to the film, the reasons for this go beyond a simplistic desire to watch a story about Korea defeating Japan. Many have argued that because 2014 has been such a difficult year for South Korea, with the Sewol Ferry disaster and other tragedies, the populace feels the need for strong, competent, admirable leader, and this movie fulfils that, if only for a couple hours.
The final battle sequence, in which Yi uses the "roaring currents" of Myeongryang Strait to throw the Japanese Navy off balance, is shot with energy and skill. Although the details of the battle are not historically accurate, Kim Han-min has a real talent for action setpieces, and he generates a lot of excitement in this David vs Goliath confrontation. The thrill of seeing this famous battle depicted onscreen in such visual detail surely is a big part of the film's appeal and ultimate success at the box office. It now appears that Kim will shoot two more films depicting other battles in Yi's illustrious career.
It must be said, however, that The Admiral is not really an outstanding film, it is just expertly packaged. Dramatically, War of the Arrows is superior in almost every way. And despite the fact that almost everybody in Korea has lined up to watch this movie, it has not enjoyed particularly strong viewer ratings on the internet. It's the kind of film engages you while it is onscreen, but leaves you with little desire to revisit it afterwards. Personally I also wish it had tried to be both entertaining and historically accurate at the same time. Perhaps the upcoming prequel or sequel will take on this challenge?      (Darcy Paquet)

    Haemoo
Yeosu Port, Western Sea, circa 1997. Cheol-ju (Kim Yun-seok, The Thieves), captain of an aging fishing vessel Advance, realizes that the harsh, post-IMF crisis economic condition will soon result in the loss of his ship and unemployment for his skeleton crew-- the bull-like boatswain Ho-young (Kim Sang-ho, Running Man), the sneering, thuggish, poodle-haired fishing-line "roller" Kyung-gu (Yoo Seung-mok, A Werewolf Boy), the perpetually horny, slightly cretinous deck-hand Chang-wook (Lee Hee-joon, Helpless), the soft-spoken and fragile chief engineer Wan-ho (Moon Sung-geun, A Girl at My Door) hiding from debt collectors and the young rookie Dong-sik (Park Yoo-chun, a.k.a. Micky Yoochun of JYJ).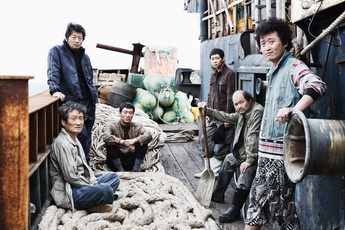 Against his better judgment, the captain decides to take on the job of smuggling a human cargo of ethnically Korean illegal laborers from China. The "shipment" turns out to include a pretty young girl Hong-mae (Han Ye-ri, The Commitment) to whom Dong-sik feels an immediate attraction. In order to escape the attentions of a corrupt coast guard officer (Yoon Je-moon, Dangerously Excited), Cheol-ju places his grumbling, unhappy "passengers" inside the storage tanks for the catch. However, a terrible, unforeseen accident takes place, forcing Cheol-ju and other crew members to reassess their plan. As the Advance sits enveloped in a curtain of sea fog, Dong-sik desperately attempts to reason with the increasingly agitated captain.
Haemoo (meaning "sea fog" in Korean) is written and directed by Shim Seong-bo, Bong Joon-ho's screenwriting partner for Memories of Murder (2003), adapted, like the latter thriller, from a stage play originally produced by the Yeonwoo Theater Troupe, also responsible for providing the source material for King and the Clown (2006). As you could readily guess by its stage-bound origins, the engine that drives this compact, taut thriller is primarily the ensemble acting by its superb cast, but this is not to say this particular adaptation is not cinematic. While the film eschews the kind of expansive, panoramic visuals we are used to seeing in a Hollywood blockbuster-- it largely avoids spectacle-oriented CGI effects, the kind that The Admiral: Roaring Currents, for one, indulges in, except for a rather symbolic depiction of a sinking ship in the apocalyptic climax-- one immediately notices the extraordinary beauty of Alex Hong's (Snowpiercer) cinematography, followed by Jeong Jae-il's (Flower Island) non-intrusive music and Lee Ha-joon (The Face Reader) and his team's intimate yet dense production design that keeps the ship's inner space dark, drippy-wet and oppressive (punctuated by jolting, sometimes tension-defusing, bursts of steam) yet believably looking lived-in.
The movie's tone harbors somewhere between the morally sensitive paranoia (with a deep appreciation of the ironic absurdity of human conditions) of an Alan J. Pakula thriller such as Klute (1971) or Parallax View (1973) and Roman Polanski's just-this-side-of-full-blown-psychosis simmering of Knife in the Water (1962), although it is not difficult to glean producer and co-screenwriter Bong Joon-ho's pet thematic concerns, with the poignantly-monikered Advance serving as a microcosm of the postwar Korean society propelled by the developmentalist ideology and Kim Yun-seok as its not-quite innately evil but fatally misguided "leader," ready to sacrifice "disloyal" and "foreign" elements to "save the ship." Many will recognize a satirical portrait of the arch-patriarchal political leadership of late 20th century Korea in his characterization (Yim Pil-sung's Antarctic Journal also pushes the character of the expedition leader played by Song Kang-ho toward this direction, with more mixed results).
Kim actually abandons his patented slow-burn villainy for this film: his Cheol-ju is instead full of poorly articulated resentment and rage, exploding in bursts of hatefully whiny-sounding accusations, paranoid pronouncements ("We are all gonna die here!") and self-justifications ("Who am I trying to protect with all this crap? You!"). Han Ye-ri, not a conventional plastic-surgery-altered beauty, is the perfect embodiment of a doe-like creature gracefully wielding marble-white long limbs, yet with a hardened, survival-minded core: it is to director Shim's credit that her desperate friendship/romance with Park Yoo-chun feels completely natural, despite the dire circumstances facing the characters. She was almost the best thing in T.O. P.-starring The Commitment and she likewise almost outshines the more aggressive theatrics of her male co-stars here.
Haemoo is not really designed to appeal to the same audience who flocked to Roaring Currents this summer, soon (as of mid-August 2014) to be crowned the biggest moneymaker in Korean film history (not coincidentally, the current champ is Bong's The Host): there are no great seafaring spectacles, and the scale of the story remains resolutely intimate, set within a single fishing vessel for most of the movie. Yet it is a terrific thriller and psychological drama, with the kind of richness of character and the appreciation of complexity of human motives that one looks in vain in screen-dominating blockbusters of today. Haemoo is yet one more evidence for my theory that the genre that Korean cinema truly excels at this juncture, globally speaking, is the mid-level-production psychological thriller in the '70s American cinema mold, rather than horror, comedy or even tear-jerking melodrama.      (Kyu Hyun  Kim)

    My Ordinary Love Story
Park Eun-jin (Kang Ye-won, Quick, Ghost Sweepers) is a loudmouthed thirty-year-old with an abysmal track record in romantic relationship. Freewheeling and adventurous, she is also irresponsible and reckless, pushing away the timid and the cautious, yet always falling for the romantic dreams of the love-conquers-minor-details-like-my-lover's-married-status variety espoused by the rakes and the smooth-talkers. After a spectacular break-up with her company superior, rendered in a crazy, eyebrow-raising expressionist style by director Kwon Lee (Attack on the Pin-Up Boys, 2007), Eun-jin shares a cab ride with Kim Hyeon-seok (Song Sae-byeok, Mother, A Girl at My Door), a nerdish, awkward young man. Against all odds, they begin a courtship and eventually decide to get married. One night, however, Eun-jin finds a suspicious text message sent to her paramour's smart phone. Angered, she enlists the help of her female cop friend So-young (Park Gree na) and her doofus ex-marine brother Eun-gyul (Kim Hyun-jun) to get to the bottom of what she suspects is Hyeon-seok's two-timing affair. What she finds out is, however, something else altogether.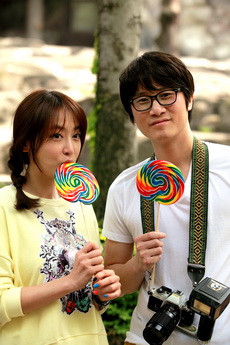 My Ordinary Love Story is one seriously whacked-out piece of celluloid. Yet it is also very Korean, in the sense that filmmakers from few other countries would risk the kind of abrupt switching of their film's genre identities as screenwriter Han Sang-un and adopter-helmer Kwon Lee attempt right in the middle of their movie. Their radical genre-bending strategy works only about 60 percent, and the end result is more jaw-dropping than satisfactory, but they deserve kudos for at least shooting for something twisted.
The earlier half of the film follows the template established by My Sassy Girl (2001). Kang Ye-won acts crazy, drunk, crazy-drunk and occasionally bats her eyes cutely, to remind the male viewers that, don't worry, I am all romantic mush inside the abusive tough girl exterior. Song Sae-byeok is a bit more nuanced (not surprising, given the truly "What the f*uck?" nature of his character's secrets revealed in the second half) yet also plays cute, mugging the viewers with his patented vocal theatrics. The dialogue occasionally sounds like an avalanche of romantic comedy clichés, clearly an intended effect.
Unfortunately, Kang and Song are not convincing as a couple in love. Perhaps that was the whole idea and, as a comedy of mismatched tempers, the first half works okay, but there is little of the kind of palpable growth of romantic feelings you see between, say, Lee Min-jeong and Daniel Choi's characters, equally seemingly mismatched individuals, in Kim Hyeon-seok's Cyrano Agency (2010). I was more amused by reactions of Park Greena and Kim Hyun-jun to Kang's antics, both characters conceived as comic goofs but looking much more comfortable in their skins than the main protagonists.
As I have hinted above, the second half turns all heavy and dire, with Song Sae-byeok actually delivering a believable performance while shackled to an uber-melodramatic backstory seemingly inserted from an entirely different motion picture, nonetheless told stylishly through a montage consisting of deliberately coarse, doodle-like animation. It is a testament to Song's acting ability and the filmmaker's hutzpah that the motion picture does not simply break apart at this point. I think Kwon Lee's (ironic) point may be that something like a life-threatening situation depicted in the second half would be needed to push Kang and Song's characters right out of romantic TV drama clichés and compel them to "honestly" communicate with one another. But then again, maybe not: perhaps it's romantic cliché of "fated love" that he is celebrating.
Either way, My Ordinary Love Story is more likely to appeal to a moviegoer with perverse expectations and/or taste for the unusual and disappoint those in the lookout for a more generic, not to say "ordinary," romantic comedy. For me, I wish director Lee had soft-pedaled and planted some seeds for the second-half revelations during the aggressively artificial first half. It would still not have made the transition any more logical, but it would at least have brought a greater sense of coherence to the project.      (Kyu Hyun  Kim)

    Tunnel 3D
Eun-joo (Jeong Yoo-mi, Hwang Jin-Yi, not to be confused with another Jeong Yoo-mi, the cult actress in Cafe Noir, Oki's Movie and the inimitable Chaw) is picked up in a van by her friends Se-hee (Jeong Si-yeon, No Mercy), Ki-cheol (Song Jae-rim, The Suspect) and Yoo-gyeong (Lee Si-won,10 Minutes) to have fun at a mountain resort, converted by Ki-cheol's big-shot businessman dad from an abandoned coal mine. It turns out that the old mine was supposedly cursed, due to an accident in which several miners were buried alive, shown in the prologue. A scary-looking local hobo (Son Byung-ho, Perfect Game) shows up crashing the party, while the young security guard Dong-joon (Yeon Woo-jin, formerly known as Seo Ji-hoo) behaves suspiciously toward Eun-joo. And of course, the young protagonists end up killing (so they think) the hobo, and of course, they decide (against all reason) to discard the body in the abandoned mine. And of course, they get trapped inside the dusty tunnels, and trailed by a scary figure wearing a gas mask. And so on and so forth.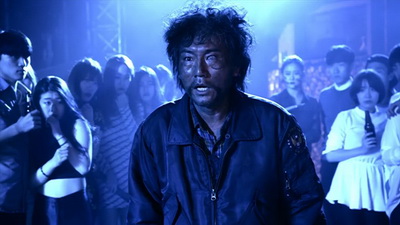 The bean-counters in Korean film industry seem to be finally realizing that, even considering how relatively little money they cost, summer-season horror flicks are becoming a commercially losing proposition. An Byung-ki, the one self-professed Korean horror auteur, is now making movies in Chinese, and werewolves, vampires and zombies, never particularly appealing for Koreans, are being turned into processed cheese in the young adult mold. Undaunted, Filma Pictures, responsible for Bedeviled (2010) and Killer Toon (2013), forged ahead with Tunnel 3D, possibly hoping that its gimmick of the three-dee scares in a dark, coal mine setting might attract gullible young viewers. Well, it didn't. Box office-wise the movie sold a bit more than 80,000 tickets, thoroughly defeated by even fellow low-profile horror films such as Mourning Grave.
Tunnel 3D, directed by newcomer Park Gyoo-taek, is technically competent with the expected digitally spotless lensing and reasonably smooth CGI effects. It does contain a few decent jolts, including a sequence involving Yoo-gyeong's hollowed-out eye sockets, but otherwise has little narrative tension: every twist and turn in the plot and character behavior is either completely predictable or illogical to the point of randomness. Fresh-faced Jeong is burdened with carrying forward the movie's plot, but is thoroughly defeated by ridiculous characterization of Eun-joo. By the time the film begins to roll off bogus flashback footage that "explains" Eun-joo's crazy behavior, you begin to actively thirst for a-pick-axe-skewering-Tom-Atkins'-jawbone slasher shenanigans of My Bloody Valentine (2009). As for other cast members, I can only wish that Son Byung-ho was paid well for his chores: he is not even given a modicum of expository dialogue to mouth off.
Some horror films are so scuzzily put together that watching them makes me feel like I am forcing a chunk of spoiled steak into my mouth with liberal doses of Tabasco. Tunnel 3D is not that rotten, but its screenplay, credited to Yoo Se-mun (Try to Remember), is so bland, predictable, and at the same time so fatuously illogical, that the effort of adapting it to screen was hardly worth it. Perhaps Yoo might feel that the producer or director has excised all the creative parts from his work, but one can only judge from the final product. Despite its attractive young cast members,Tunnel 3D is fated to languish in the rest of its shelf life as one of those countless, undistinguished horror shows that clog the listings of Netflix and other streaming services.      (Kyu Hyun  Kim)

    Tazza: The Hidden Card
A sequel to the popular Tazza: The High Rollers (2006), based on Hur Young-Man's graphic novel, has been one of those alleged sure-fire projects that somehow never seem to get made. Several directors including Jang Joon-hwan (Save the Green Planet) were rumored to have been attached to it, but in the end the veteran production company Sidus Pictures played it safe, hiring the hit-maker Kang Hyung-cheol (the mastermind behind megahits Scandal Maker [2008] and Sunny [2011]) to direct Lee Byeong-heon's (Cheer Up Mr. Lee [2012])'s adaptation. The ensuing film, Tazza: The Hidden Card, received mixed reviews from the critics but did well at the box office, if not as spectacularly as its predecessor, holding its position as the seventh largest domestic hits of 2014, with 4.02 million tickets sold nationwide.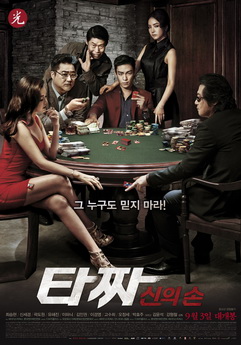 Director Kang does not waste time. The movie has barely begun and he has already introduced the "good guys," Gwang-ryul (Yoo Hae-jin, The Unjust), the original protagonist Goni's partner, Goni's nephew Daegil (T.O.P. aka Choi Seung-hyun, The Commitment), and his love interest Mina (Shin Se-kyung, Hindsight), to the viewers, and established Dae-gil as a card-shark with a golden arm. A bloody encounter with one of the gambling den's bouncers, Ghost (Kim Jun-ho), forces the cocky youth to seek a hideout in South of the Han River, under the tutelage of "Mr. Stiff" (Lee Kyung-young, The Berlin File). Soon, however, he has to not only face conflicting feelings toward one of his "clientele" President Woo (Lee Honey, Deranged), but also must fight back against machinations of the evil usurer Dongshik (Gwak Do-won, Nameless Gangster: Rules of the Time).
There is a lot to like in The Hidden Card. Kang Hyung-cheol certainly knows how to work the viewers like a pro masseuse: he displays great skills at maintaining a speedy pace through employment of colorful editorial gimmicks, as in, for instance, the hilariously time-compressed montage showing Daegil and President Woo getting into a romantic entanglement, yet also juggles the shifting of tone toward darker materials such as human trafficking and mutilation as punishment for failed tricks (Kang's narrative texture is much slicker but rawer than Choi Dong-hoon's in the original). He keeps the dialogues flying fast and funny, yet carefully reigns in the actors, keeping the integrity of the ensemble.
Technical specs are superb, in many ways superior to the original, DP Kim Tae-gyung (Broken) and Lighting Director Hong Seung-cheol's beautiful and evocative cinematography, Production Designers Kim Si-yong (The Terror Live) and Park Jae-wan's (The Neighbors) colorful settings and Kim Jun-seok's (Howling) eclectic music score all contributing to the overall high quality of the production.
The large cast contributes greatly to the entertainment value, although The Hidden Card lacks the superb villainy of Agwee and "Commissioner" Pyung (Baek Yun-shik) in the original (Kim Yun-seok returns as the former in the climax, but is nothing more than a glorified cameo). Honey Lee is sexy and dangerous like a bejeweled coral snake, but is no match for the original's Kim Hye-soo. On the other hand, T.O.P. of Big Bang, the ultra-handsome hip hop artist, is charismatically emotive and carries the film effortlessly. Shin Se-kyung works hard, even flashing her derriere in a shameless moment of audience-baiting, but somtimes comes off as pouty and irritated instead of strong-willed. I think T.O.P. fares better paired to someone much less glamorous and school-girl-ish, like The Commitment's Han Ye-ri.
The main problem with the sequel is that, even given its open acknowledgement of commitment to genre clichés, it is so full of hairpin curves, backstabbing twists and Mexican stand-offs that it eventually becomes exhausting. The film is overlong, clocking at two hours twenty-seven minutes, when in fact just under two hours would have been more than sufficient. The extended chapters devoted to the mutual betrayals of the villains, for instance, could have been entirely dropped and would not have made much difference. At the final half-hour point, Kang mounts a lavish, bloody climactic confrontation between good guys and villains, seemingly trying to outdo the original's final gambling duel, but it just ends the film on a dour and pretentious note: definitely a case of too much of a good thing.
Tazza: The Hidden Card is well-made and entertaining, and those who participated in it have nothing to be ashamed of. But I wish it were more memorable than it ultimately is. It wokrs hard to give us pleasures, but ends up forgetting to touch our hearts.      (Kyu Hyun  Kim)

    Hill of Freedom
Ryo Kase (Letters from Iwo Jima & Hana) has a jutting Adam's apple. I know this because Foreigner has a jutting red beard. (The character in the credits is referred to as 'Foreigner', actor's name as Do Soo-chun.) When the two sit next to each other in Hong Sangsoo's Hill of Freedom, I was drawn from Foreigner's beard to Kase's neck. Like the subdued color combo of Kwon's (Seo Young-hwa, Like You Know It All & Oki's Movie) bag and flannel shirt, these are visual moments I'll remember about Hill of Freedom. I need such moments. They are more reliable landmarks to anchor my memory against to differentiate what happened in this particular Hong film since Hong repeats themes and actors and actresses and dialogue, leaving us confused on what was said and done where and by whom. An additional repetition on display here is that Hill of Freedom is also 'Bukchon bound', the Korean title for The Day He Arrives. At least Mori walks these hilly streets freely in color.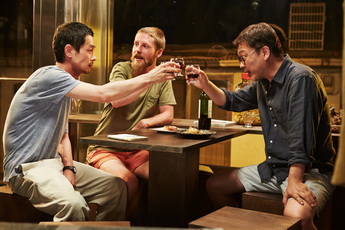 The story is mostly told through Kwon reading a series of letters left to her by Mori. The letters are read in Mori's voice. Since these letters are not dated, when Kwon accidentally scatters them along a stairway, what follows is a story told out of order. For example, we learn that Mori rescued Youngsun's (Moon So-ri, HaHaHa & In Another Country) dog Gumi before we see Mori rescue Gumi. We see Mori and Sangwon (Kim Eui-sung, The Day a Pig Fell Into the Well & Nobody's Daughter Haewon) hang out as familiar acquaintances before they acquaint themselves with each other. The plot jumps around. It's as if this film could be put into a randomizer macro, bringing up each scene in an order derived from chance rather than a straight-line narrative. As Mori reads to Youngsun from his book entitled Time, "Our brain makes up the time frame of time continuity." An example of a brain making things up happened when I stepped out of the theatre after my second screening of Hill of Freedom at the 58th San Francisco International Film Festival. It was then where I heard a fellow patron mention a 'flashback' scene from the film. Yet 'flashback' doesn't describe what Hong has done here. We need a new language. These are 'shuffle backs', scenes re-ordered like a deck of cards.
But like a card shark stuffing cards up his sleeve, some of the cards are missing. Recall the letter left on the steps that Kwon fails to retrieve. We are not seeing the whole story since at least one letter is missing. As a result, aspects of the story are revealed in certain scenes that hint at lost letters. Where is this 'boyfriend' of Youngsun's? Is it the other guy (Lee Min-woo, Our Sunhi) in the café who asks for Gumi like a fellow caf? patron might ask you to pass the sugar? What about the fight with the 'insolent' boyfriend evidenced by Mori's bruised eye? Hong hasn't just thrown the pieces of this puzzle on the table for the viewer to randomly pick them up. He's removed some pieces for us to fill in the final picture frame made up in our minds. I feel as if Hill of Freedom should be shown differently for each screening. I'm sure the technology exists where we could re-shuffle the scenes while excising and adding different scenes for the audiences attending different screenings. As Purdue University professor Marshall Deutelbaum argues, Hong is an experimental filmmaker, "non-analogous" to other filmmakers. Hong is helping us get ready for a new cinematic experience if we are willing to accept the challenge.
Barely over 60 minutes, I am one who appreciates Hong's brevity, if just for the fact that my back is having issues sitting for long periods of time these days. Yet this short length of the film is also shown in the scenes. Marc Raymond of Kwangwoon University has emphasized that Hong's repetitions show deviations with each film. He'd pointed out that Hong's drunken table shots had been getting longer. Now with Hill of Freedom, they've gotten shorter. The DVD isn't out yet so I can't clock the scenes here, but my guess is they have the shortest average shot length of any Hong film. Another difference we find is the prevalence of wine over soju and beer for the obligatory drunken stupor scenes. The longest sustained Korean conversation is between Foreigner and Sangwon talking about the delay on the delivery of beer. They are forced to opt for wine. But wine is becoming more and more a desired choice in South Korea with a growing increase in market share.
English dialogue dominates in this film, something Hong has pursued before in In Another Country. The unreliability of language is a persistent theme in Hong's work. Here this meditation on language's inherent failures is even more prominent since most characters are not speaking their native language. Characters often repeat the same types of statements because their vocabulary is limited. Mori's writes, "I found a guesthouse near your place. It's very, very close to your place." Yet sometimes repetition demonstrates nuanced understanding, like when Mori says "But being polite and clean is being polite and clean." Characters disrupt the phatic phrases, the language lubricants that keep conversation going, with 'Why?' challenges making characters validate their claims. Hong has his characters constantly question the sincerity of their words. When Juok (Yoon Yeo-jeong, In Another Country & HaHaHa) says "You know I'm just saying that", Mori responds with "I know." Even some of the writing at the caf? where Youngsun works demonstrates the refusal of language to maintain reliability. There are advertisements for "Chicago Chocolate Cake", something Chicago isn't known for. But the sign represents a signifier of Korean cosmopolitanism. It is also an example of the phonetic frustration that is written English. The phrase 'Chicago Chocolate Cake' is a textbook example of how a letter, in this case 'C', is not anchored to one single sound - Sh, Ch, K. Another sign outside the cafe reads "Hand Made Cake". Although it's fine to use this adjective, I love how it's a bit dissonant for me. I expect to see the descriptor 'homemade'. Yet this choice of 'hand made' adds value because 'homemade' implies 'hand made', or at least hands that activate the machines that baked the cake. Homemade means hand made meaning not automated into inauthenticity. These signs all underscore how Hong's films are hand made treatises on language limits, sincere philosophical discussions of the impossibility of complete honesty and absolute authenticity. He continually pushes us to question what we know, which is why I love to revisit Hong's films, returning to the familiarity of the unfamiliar, the reliability of the unreliable, to see what continuity my brain imposes this time around.      (Adam Hartzell)

    The Wicked
Se-young (Park Ju-hee, If You Were Me 6) is a young office worker. Inappropriately smirking and blurting out awkward truths and honest remarks at odd occasions, she becomes picked on by her office mates, including Yi-seon (Na Soo-yoon, Dr. Jump), her stuffed-up chief. One day, their tense relationship comes to a head: Yi-seon, in a wicked mood, proposes that if Se-young could not finish her assignment by 8 pm the same day, she should cut off one of her fingers. Se-young, however, not only accepts the bet, but insists that Yi-seon should reciprocate, if she wins the bet: a finger for a finger. Horrified by Se-young's subsequent behavior, the latter begins researching the girl's background, to put together her profile. Is Se-young a witch with supernatural powers, or a mentally unstable young woman craving for love and attention?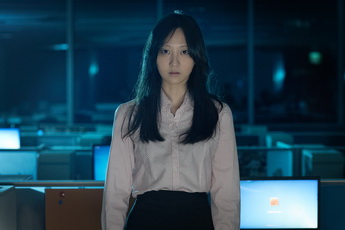 A very low-budget production written and directed by Yoo Young-seon, who had made an interesting short horror/psychological thriller Hibernating Girl (2012), again with Park Ju-hee, The Wicked is a case of an indie film with a reasonably intriguing premise and the potential to open up new grounds for the horror genre unfortunately brought down by lack of resources and weak filmmaking skills.
How you might respond to this motion picture may depend on your expectations regarding the basic requirements of a horror film. To me, to say The Wicked is not scary does not begin to scratch what is wrong with it. It has little sense of rhythm or pace, many of the performances are downright amateurish, the dialogue ranges from risible to soporific ("Evil... is very scary. It can penetrate your body like a virus." Sigh...), sound effects are hilariously overdone (a scene in which Se-young stabs her thigh with a knitting needle is accompanied by the sounds like a giant squid sucking on a watermelon). Lee Jin-keun's (Choked) cinematography is, if not evocative, at least beautiful, but director Yoo undermines much of his non-suspenseful scenes by splashing over them Kim Woo-keun's TV drama-style score (the kind that goes "bom pum bom pum pum" to indicate that something awkward or funny is taking place among the characters. Sigh again...). In the end, I found the first half of the film well-nigh intolerable: honestly it was easier to watch it with the sound completely turned off.
Once Se-young's sordid past is gradually revealed, the film improves a great deal, with Yi-seon now put through the wringer as a misunderstood victim of the younger woman's campaign of disinformation and vengeance. By then the motion picture has slid into the familiar psychotic-killer-tortures-the-hapless-protagonist territory, and lost the unique milieu of the workspace environment. I think it would have been better had the movie stayed rigorously within the confines of the office, with Yi-seon's character also expanded so that her mean personality would be given some history and contexts. Alas, the movie has no such ambition and it all ends in a not particularly imaginative sub-Audition bloodbath.
For me, the parts that work in The Wicked are those dominated by Park Ju-hee. Reminding one of a tightly wound, malnourished cat ready to poke your eyes out if you mistreat her, Park manages to convey, despite Yoon's all-thumbs direction, a grinning psychopath's aplomb as well as child-like vulnerability of a damaged soul, with surprising even-handedness. From the overall underwhelming experience that was The Wicked, I should say Park Ju-hee herself was probably the biggest nugget of precious metal I have salvaged.      (Kyu Hyun  Kim)

    Cart
Director Boo Ji-young had yet to make her feature film debut in 2007 when an unusual event took place in her neighborhood. The big-box discount retail chain Homever, owned by the E-Land Group, suddenly fired 900 female cashiers, many of whom had been working for years on temporary contracts. A new law guaranteeing regular contracts to temp workers after two years of service was about to take effect, but by replacing the cashiers with employees from an outsourcing company, Homever was able to evade the new regulations. The fired women responded by occupying the store and going on strike. Though they had no real experience in labor activism, they kept the strike going for 512 days, and drew national attention to their plight before reaching a settlement.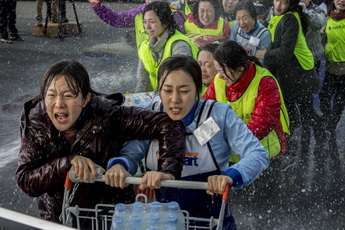 As fate would have it, five years later Boo was sent a script based on this incident, and asked to direct it. She readily accepted. Cart is one of a string of contemporary Korean films that tackle social issues in a direct and confrontational way. Some of these films, such as Chung Ji-young's Unbowed (2011) and Hwang Dong-hyuk's Silenced (2011), both about controversial court cases, have been surprisingly successful at the box office. More recent examples in this trend are Another Family (2014), about a wave of suspicious illnesses among workers at a Samsung Electronics semiconductor plant, and The Whistleblower (2014), about a journalist's efforts to expose the fraud behind celebrated geneticist Hwang Woo-suk's research.
Cart is an idealistic film filled with indignation, but it's also a commercial film. The subject matter may recall the work of Ken Loach, but in terms of its storytelling it more closely resembles classical Hollywood. Each character in this ensemble drama has his or her own trajectory and moment of self-discovery, and all these narrative threads weave together to create a highly effective and moving drama. The film may not have become a major hit (it grossed 800,000 admissions, or about $5 million in total), but many of those who did see it left the theater in tears.
The director and production company Myung Films have assembled quite an impressive cast, whose camaraderie and commitment to this project can be felt on the screen. Yeom Jeong-ah (A Tale of Two Sisters) and Moon Jeong-hee (Hide and Seek) play working mothers Sunhee and Hyemi who approach the strike from opposite directions, but who end up becoming the twin pillars of the movement. Other participants in the strike are played by veteran actress Kim Young-ae (The Attorney), rising actress Chun Woo-hee (Han Gong-ju) and the talented character actor Hwang Jeong-min (Save the Green Planet!), among others. Kim Kang-woo (The Taste of Money) plays a key role as an employee caught between labor and management, while the K-pop singer Do Kyung-soo of the idol group EXO, better known by his stage name D.O., plays Sunhee's teenage son who feels abandoned by his mother as the strike drags on.
Cart may not have the gritty realism of a film like Ken Loach's Bread and Roses, about striking janitors in LA, but what it offers is a way to look at issues related to employment and collective action from a more personal point of view. Thanks to a well-crafted script and strong acting, we quickly begin to identify with the characters on the screen. This gives the film's implicit criticism of South Korea's employment laws a strong emotional resonance. After all, this is the key strength of political cinema: that it eases you into seeing abstract issues in a concrete way, as if it were our friends and neighbors, not a group of strangers, who decide to risk it all and go on strike.      (Darcy Paquet)
    My Love, Don't Cross That River
If you want to make a successful documentary in South Korea, you can do no better than focusing on elderly protagonists. Lee Chong-ryeol's Old Partner surged to over 1 million viewers in just over a month. Featuring the relationship between an octogenarian and the end of days for his quadragenarian ox, it was the 8th most successful South Korean film at the 2009 local box office. Before that we had 2004's Repatriation, where director Kim Dong-won explored post-release lives of South Korea's longest prisoners of conscience, some of whom spent around 45 years in prison. Kim's film held the mantle as the top-selling local documentary in South Korea after winning a Freedom of Expression award at Sundance. And who knows, that mantle might have been secured earlier by Park Jin-pyo's Too Young To Die after its critical success at Cannes and Toronto if only South Korea's censors hadn't gotten their prude on by restricting the release of the septuagenarian sexy time openly displayed in the film.
The couple featured in Jin Mo-young's My Love, Don't Cross That River are as in love with each other as Park's couple, but this love is G-rated, enabling a wider audience, so wide it spent time at number one at the South Korean box office in 2014. It ended the year at number 9 for top local films. This couple at palindromic ages, 89 year-old Kang Gye-yeol and her husband 98 year-old Jo Byeong-man, are truly adorable in their playfulness and matching hanbok. They cavort like schoolchildren on holiday in fall leaves and fallen snow. Most of their hanboks feature vibrant colors, as if signifying an exuberance for life they refuse to relinquish in old age. In fact, clothes are such an important signpost in this journey. From the children's pajamas to the hanbok burning, the seriousness with which this couple brings to the sartorial solidifies their dedication to each other and their family.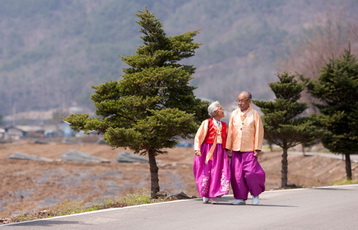 I am not ruining anything here by telling you that Byeong-man dies at the end of the film. This is foreshadowed in the first frames as we see Gye-yeol weeping at a grave mound. I find Jin's decision to open this way an ethical approach, as if he is refusing to exploit the connection we will establish with this couple for under-90 minutes. Jin is letting us know what we are in for immediately. As Gye-yeol cherished each moment she had with Byeong-man, so should we. Jin's coupling of the couple with the seasons works extremely well here. I also love how the natural world around Gye-yeol and Byeong-man's rural home is a participant in the film. When Jin settles the camera on a frog in a local stream, and then we witness Gye-yeol get splashed, the previous frog shot encourages confusion like Gye-yeol's. When it is revealed as another instance of Byeong-man's boyish charm, we share the realization with Gye-yeol. Jin also shows us the dignity of everyday chores still part of this couple's rural routine, but this is also how we witness Byeong-man's physical deterioration, since we see how quickly winded he is as he walks to market or gathers wood.
Jin's film is not perfect. There is a wonderful use of a mirror in the middle of the film that I really wish Jin would have lingered on longer. I wanted to sit with Byeong-man and reflect on his reflections. In addition, the musical score felt over-exerted, almost oppressive at times. I could have just sat with the scenery, listened to the river, the wind, without the emotional demands of the score. I also wanted Jin to show more of Byeong-man's funeral. But shortening the funeral shots could be ethical choices as well, wanting to provide this public family greater privacy in their grief. The sliver of mirror moments and snapshots of the funeral kept this documentary below 90 minutes, making the film more broadly accessible. My preference for greater reflection on the mirror and funeral would require extension of the running time and extensions of silence, pushing the film into less popular arthouse aesthetics and lengths.
My greater funereal desires might also be influenced by wanting an opportunity to contextualize this documentary with the battling rituals of 1996, when both Park Chul-soo and Im Kwon-taek represented funeral traditions in their respective films Farewell, My Darling and Festival, Im's displayed in a very ethnographic way. Even without extended funeral scenes, we are privy to some serious bickering between a daughter and a son of the couple at a family get together, reminiscent of the disruptive family dynamics in the two predecessor films by Park and Im. The siblings in this documentary dispute over who makes more of an effort to help their parents, a tension amongst many adult children as their parents get older. The fight highlights how eldercare often falls on women, so much of our industry of care relying on the subsidized unpaid labor of women. Later, when Byeong-min is clearly dying, the son tearfully apologizes for not being a better son. It is this moment that might be part of what made My Love, Don't Cross That River so popular. The documentary offers a moment of catharsis for those of us who can relate to this guilt over not fully providing for our parents as they grew older, whether these obstructions to care for our elders is due to our economic or geographical circumstances or due to our selfishness or own fears of death.
What Jin does well in this documentary is not let the cuteness of this couple over-saccharine the reality of aging, especially of aging in rural isolation. It is this refusal to look away that keeps the playful snow and leaf tussles of this couple from being examples of mawkish sentimentalism at best, or infantilization at worst. In fleshing out the imperative of love in romance novels in Happily Ever After: The Romance Story in Popular Culture (Indiana University Press, 2016), Catherine M. Roach highlights how "romance facilitates healing", in that "It can be easier to take on life's challenges with a good partner at your side" (p 24). Gye-yeol and Byeong-man's love of their life together enabled them to survive in spite of all the hardships they experienced and this includes the bodily deterioration that is old age. My Love, Don't Cross That River gives you hope, which along with the romanticizing of rural life, is likely another explanation of why this film did so well.
In the genre of documentary in South Korea, we can officially say that old people sell well. We just need to consider whether or not they sell wellness. That is, will they lead our societies to make sure the infrastructure is there for us all to assist in taking care of our elders, and when we ourselves become elders, as their/our, bodies and minds exhaust, even those of us without surviving family members to bicker over who takes care of us most?      (Adam Hartzell)

    The Royal Tailor
The South Korean film industry has no shortage of costume dramas, and it's not hard to understand why. Korea has a well-documented history of colorful monarchs and vicious court intrigue, so it seems there is endless material to develop into new stories. Recent hits like Masquerade and The Face Reader have hit box office gold with their Shakespeare-esque settings, lavish visuals, conspiracies and power games.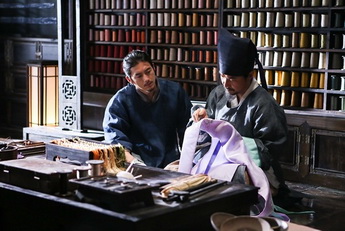 Usually the costumes in costume dramas are just a bit of icing on the cake - a dash of color and style to complement the scenery. But The Royal Tailor puts the clothing at the very center. It's a movie about fashion, and the costumes themselves are dazzling. Traditional Korean clothes of this kind are called hanbok, and they feature bold colors, shimmering fabric and sweeping curves of the sort that are hard to find in modern-day fashion.
Directed by Lee Won-suk, whose (admittedly superior) debut film How to Use Guys With Secret Tips was one of the most enjoyable comedies of recent years, The Royal Tailor tells the story of two hanbok designers living in the Joseon Dynasty. Veteran actor Han Seok-kyu (The Berlin File, Christmas in August) plays Cho Dol-suk, a man who has served as head tailor under three monarchs, fashioning the elaborate, traditional garments worn by the King and Queen. By contrast, Lee Kong-jin (popular star Ko Soo) is a genius upstart whose unconventional designs start turning heads throughout the city. Eventually, he gets noticed within the palace itself.
Dol-suk is a man of tradition, trusted by the King and respected by his peers, despite his lowly birth. But even he can't help but admire the bold and daring hanbok designed by his young rival. The two strike up an uneasy friendship, and the audience too is seduced: one of the film's strengths is the way it captures the thrill of creativity and of breaking from convention to craft something beautiful and unexpected. Ko Soo's performance expresses this dynamic well, and it's exciting to see his works transform the fashion circles of his time. But jealousies are stirred when he starts designing for the Queen (played with regal grace by Park Shin-hye). Before long, both he and Dol-suk become caught up in trouble at the court.
The Royal Tailor is not based on any real-life king, and it's not overly concerned with historical accuracy. Instead, it's a vibrant fable with strong echoes of Amadeus that celebrates the origins and archetypes of Korean fashion. With ink sketches, colorful fabric and the hanbok themselves filling every corner of the screen, it's a visual cornucopia.
But the story is also engaging, thanks in part to the way the relationships develop over the course of the film. The two designers are worlds apart in temperament and their approach to tradition, but their mutual love of fashion creates an unexpected bond between them, even when conflict arises. The relationship between Dol-suk and the King (played by up-and-coming star Yoo Yeon-seok) is strongly affected by the King's own insecurities. Finally, the developing friendship between Kong-jin and the Queen is charted in many elegantly-shot scenes that highlight the natural charisma of both actors. Although at first we might think that we know where this relationship is headed, director Lee Won-suk avoids obvious gestures and keeps us guessing to the end about how things will turn out.      (Darcy Paquet)

    How to Steal a Dog
Ji-so, a precocious, smart, moon-faced ten-year-old (super-adorable Lee Re, Hope), becomes a good friend with an equally precocious, smart, pigtailed Chae-rang (equally super-adorable Lee Ji-won, Thuy) and confesses her embarrassing, in fact sad, secret: she is homeless, commuting to school from a pizza delivery truck (It's a long story¡¦), sleeping there every night with her employment-challenged mother (Kang Hye-jung, Welcome to Dongmakgol) and spacy-savant brother (Hong Eun-taek). Misunderstanding that a real estate advertisement listing a dream suburban house for "five million won per pyong [a unit of Korean land measurement: 1 pyong is 35.58 square feet]" is actually saying "five million won apartment in Pyongdang," Ji-so, with the aid of Chae-rang, cooks up a plan to kidnap a wealthy owner's dog and return it for the reward money of five million won. After much consideration, she sets her eyes on Wally, the canine companion of the owner of a fancy gallery-restaurant Marcel (Kim Hye-ja, Mother). Complications ensue, however, when the owner's greedy nephew finds out that his aunt had willed most of her property to Wally, and develops his own scheme to get rid of the pooch.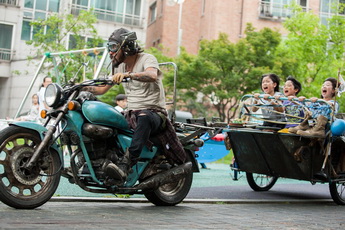 How to Steal a Dog, adapted from Barbara O'Connor's 2007 novel by director Kim Sung-ho (Horror Stories 2, One Shining Day) and Shin Yeon-shick (the helmer of Rough Play and The Russian Novel), is that extremely rare species of contemporary Korean cinema: a genuine family film that can be enjoyed by viewers of all age from ten to eighty, without insulting anybody's intelligence or indulging in generation-specific humor or fashionable internet-derived slangs. Having not read the original novel, I am not sure how its fans would respond to the changes made to it for cinematic adaptation (including the transposition of the novel's cultural background from the U.S. to South Korea). Still, anyone expecting a sappy, sub-Disney tear-jerker or one of those awful "comedies" that stick adult protagonists in a parental role-playing game can rest easy. Make no mistake, the film is a wonderfully sweet concoction, full of unspeakably cute antics by three very talented child actors and one very talented canine performer, but director Kim makes sure that the film remain true to the source material's bittersweet, wistful flavor.
In Kim's adroit directorial hands, the Kim Hye-ja character's old-age loneliness and haughty self-importance receive full respect, without making her a Korean Cruella De Ville: the children act amusingly precocious yet never to the point that strains credibility or turns them into action heroines (no flying bicycles, although they do get to ride a rickety motorcar in a mini-car chase): Kang Hye-jung's Mom is indeed conceived as a lovable ditz, perpetually outwitted (and verbally outmatched) by her daughter, yet she is also given moments of parental dignity and personal growth. Even Wally is more than a mere prop, endowed with surprisingly believable habits that play into the plot, yet never a super pooch who magically find neat solutions to the problems the humans around him struggle with. Unlike in the usual artificial comedies, Hollywood or South Korean, the characters here are not defined by their functions but believably inhabit a real universe in which they are allowed to be frustrated, learn from mistakes and get to appreciate little things in life (which does not mean that Kim neglects to include some pointed jabs at the growing economic disparity between the haves and have-nots and collapse of the middle class, a situation bedeviling both sides of the Pacific).
More than any other recent Korean film, How to Steal a Dog proves the adage that good casting is half the job. Lee Re is absolutely great, giving a sensitively modulated performance, but I was really bowled over by Lee Ji-won: her public-phone inquiry concerning a lost dog and the reward is for me the funniest sequence in the whole movie, alas, destined to be compromised, if not ruined, by the English subtitles. It is heart-warming to see Kang, since having settled down as Tablo's wife and Haru's mother, so comfortably essaying a young working mom, struggling with vanity, hope and guilt in the equal measure. The surprise casting of the film, however, is Choi Min-soo, the '90s superstar and by now an almost kitschy caricature of the wounded Korean masculinity. I have always thought that he has never been treated in the ways commensurate with his talents by either Chungmuro or the general public since 2005, even without the so-called scandal (from which he was mostly exonerated) to derail his movie career. In this film he is given a role-- a scary-looking but kind-hearted "hobo"--that could have fairly ruined the movie, but, under Kim's sure-handed direction, Choi never once mugs the camera and throws his tough-but-dorky portrayal at just the right pitch. I hope this role open up more chances for him to act in the big screen: even Val Kilmer is making movies again, for God's sake-- Choi certainly deserves better.
Production values, while pleasantly neighborhood-scaled, are, as expected from most medium-budgeted Korean films of 2010s, very high-quality. DP Kim Hyoung-ju (Horror Stories 2, director of Basement Satellite) and Lighting Director Hong Myung-soo (Manshin: Ten Thousand Spirits) wrangle warmly beautiful water-color hues out of blue skies and ordinary neighborhood buildings, while Production Designer Kim Min-o creates natural-looking yet fanciful environments for the characters to revel in.
How to Steal a Dog, despite extremely positive words of mouth and popular support reminiscent of the early-2000s "movement to save Wa-Na-Ra-Go (the indie classics Waikiki Brothers, Nabi: The Butterfly, Ray-ban and Take Care of My Cat)," fell short of being a box office hit, selling approximately 262,000 tickets. Ironically, the Korean news media is perpetually moping about how domestic films are overrun by violent gangsters and icky melodramas, leaving no space for a "healthy family fun." Well, guess what, here is a one hundred percent, unadulterated family film, which happens to be entertaining, thoughtful yet respectful of children's intelligence: it is so typical of the finger-wagger in the Korean media to whine about someone else's gorgeous lawn while neglecting to water a beautiful flower blooming in his own garden.      (Kyu Hyun  Kim)