2018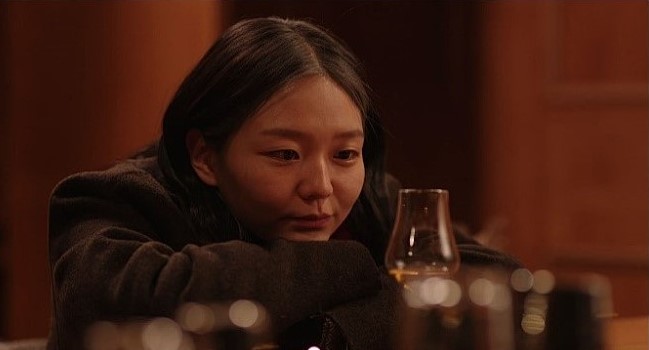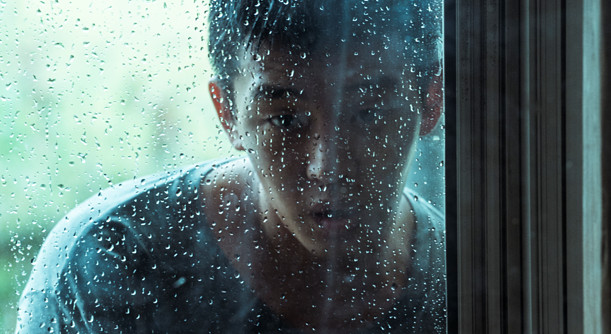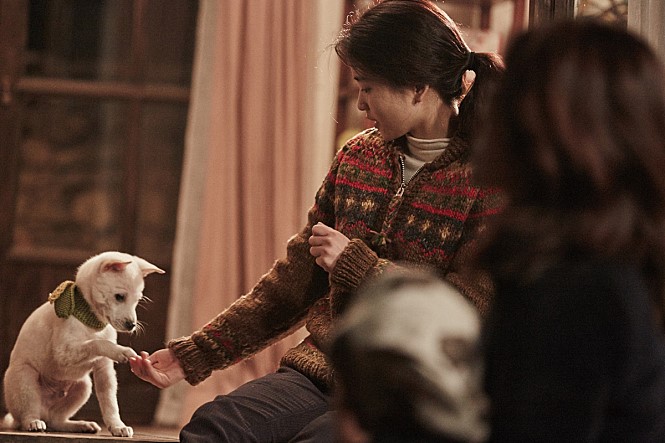 "Microhabitat",  "Burning",  "Drug King",  "Little Forest"

   The first few months of 2018 were marked by a number of big-budget disappointments, and pleasant surprises for some medium-budget films. Psychokinesis, Golden Slumber and Seven Years of Night were expensive films that struggled to find an audience, while the likes of Little Forest, melodrama Be With You and low-budget horror Gonjiam: Haunted Asylum all significantly outperformed expectations. This may be a sign that audiences are in the mood for something new.
Nonetheless, a higher-than-usual number of mega-budget productions are lined up for 2018, ranging from North-Korea themed thrillers like The Spy Gone North and PMC to two big-budget films about drug dealing: Believer (a remake of Johnnie To's Drug War) and The Drug King, starring Song Kang-ho. The second half of the ultra-hit, two-part film Along With the Gods also looks like a guaranteed hit in the summer.
Two of Korea's best-known arthouse auteurs will have new work for us this year. Lee Chang-dong makes his long-awaited return with Burning, while Hong Sangsoo continues at his recent pace of two features per year. Meanwhile, independent films are still in recovery mode from 10 years of government blacklists and cutbacks in public support. With new leadership in the Korean Film Council, independent films are forecast to get a major boost, but the results may not be seen until 2019.   (Written on April 11)
     Reviewed below:     Little Forest (Feb 28)  --  Gonjiam: Haunted Asylum (Mar 28).
The Best Selling Films of 2018 (as of April 11)

| | Korean Films | Nationwide | Release | Revenue |
| --- | --- | --- | --- | --- |
| 1 | Keys to the Heart | 3,416,958 | Jan 17 | 27.4bn |
| 2 | Be With You | 2,548,979* | Mar 14 | 20.4bn |
| 3 | Detective K: Secret of the Living Dead | 2,444,180 | Feb 8 | 19.8bn |
| 4 | Gonjiam: Haunted Asylum | 2,336,024* | Mar 28 | 18.6bn |
| 5 | Little Forest | 1,502,877 | Feb 28 | 11.9bn |
| 6 | Golden Slumber | 1,387,562 | Feb 14 | 11.4bn |
| 7 | The Princess and the Matchmaker | 1,339,725 | Feb 28 | 10.5bn |
| 8 | The Vanished | 1,315,254 | Mar 7 | 10.7bn |
| 9 | Psychokinesis | 990,111 | Jan 31 | 7.5bn |
| 10 | What a Man Wants | 728,732* | Apr 5 | 5.9bn |
| | All Films | Nationwide | Release | Revenue |
| --- | --- | --- | --- | --- |
| 1 | Black Panther (US) | 5,389,876 | Feb 14 | 45.8bn |
| 2 | Coco (US) | 3,509,958 | Jan 11 | 27.7bn |
| 3 | Keys to the Heart (Korea) | 3,416,958 | Jan 17 | 27.4bn |
| 4 | Be With You (Korea) | 2,548,979* | Mar 14 | 20.4bn |
| 5 | Detective K: Secret of the Living Dead (Korea) | 2,444,180 | Feb 8 | 19.8bn |
| 6 | Gonjiam: Haunted Asylum (Korea) | 2,336,024* | Mar 28 | 18.6bn |
| 7 | Maze Runner: The Death Cure (US) | 2,299,555 | Jan 17 | 18.9bn |
| 8 | Ready Player One (US) | 1,851,030* | Mar 28 | 16.2bn |
| 9 | Jumanji: Welcome to the Jungle (US) | 1,708,692 | Jan 3 | 13.8bn |
| 10 | Little Forest (Korea) | 1,502,877 | Feb 28 | 11.9bn |
* Still on release.  Source: Korean Film Council (www.kobis.or.kr).


Seoul population: 10.4 million
Nationwide population: 50.9 million


When Hye-won decides to abandon the city, it may seem at first like she's running away. She's certainly going to a remote place - her childhood home is in a tiny farming village, completely cut off from the fast-paced, urban lifestyle that epitomizes South Korea. The house itself is empty. And for a woman in her twenties, there doesn't seem to be much to do there, except grow food on the land surrounding the house, and cook with whatever ingredients can be harvested. It's subsistence living, dictated by nothing more than the changing of the seasons.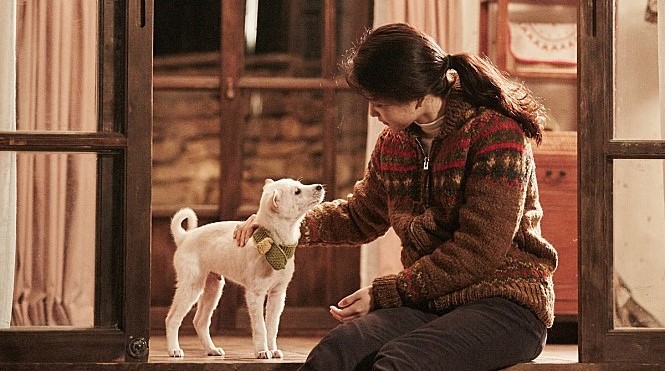 She's not completely alone there. There's her elderly aunt, who lives in another part of the village. There's a dog named Ogu, adopted by Hae-won (or vice versa). And there are two childhood friends - Jae-ha who grows fruits and vegetables, and Eun-sook who commutes to a nearby town to work as a bank teller. The three rekindle their old camaraderie, filled with intimacy and tension, made stronger by the fact that in this remote place, they only have each other.
Hye-won often invites them to her home to share in the meals she prepares. She is an imaginative and proficient cook, having learned from her mother. Indeed, cooking became more of a necessity for her when, during her last year in high school, her mother abruptly left home. Years later, Hae-won is still recovering from this abandonment, even after growing up and becoming independent. And the cooking she does, suffused with old memories, is in part a way to work through her complicated feelings about her mother.
Little Forest is not a typical film. Honestly, it's just a wisp of a story, with much of its running time devoted to cooking and conversation. Nonetheless, it leaves its audience feeling full. Partly this is due to it being so well made: director Yim Soon-rye (Waikiki Brothers, Forever the Moment) has over two decades of filmmaking experience, and she's more than capable of transforming ordinary moments into something alive and meaningful. As for the acting, Kim Tae-ri (who became an instant star in Park Chan-wook's The Handmaiden) perfectly embodies the blend of independence and unpredictability that defines Hye-won's character. She's joined by Ryu Jun-yeol (A Taxi Driver), one of Korea's most exciting up-and-coming male actors; the acclaimed Moon So-ri (The Running Actress), who brings an enigmatic quality to the flashback scenes with Hye-won's mother; and talented newcomer Jin Ki-joo as the temperamental, flirtatious Eun-sook.
Little Forest is based on a Japanese manga by Igarashi Daisuke, and some viewers may know a four-hour Japanese adaptation of this book, which begins in the summer, and has an hour devoted to each season. That 2014 work is in some ways even more minimal, with its story structure determined not by plot twists, but by the seasonal ripening of fruits and vegetables. I personally am a committed, rabid fan of that movie, so as much as I was looking forward to this Korean adaptation, I was also bracing myself for disappointment. But ultimately it was a pleasure to discover that Yim Soon-rye's version has its own particular strengths and concerns, so there's no real need to compare the two films.
Released in February 2018, Little Forest had a surprisingly strong run at the box office, and captured the imagination of younger viewers in particular. Nonetheless, if it had been released a decade earlier, it might have struggled to find an audience. One senses a shift of attitude among young Koreans these days. Faced with an ever more competitive and stress-filled lifestyle, in crowded cities with polluted air, and with career goals that often lead to frustrating dead ends, the emergence of a film with values so fundamentally different from the norm brought a breath of fresh air. In a word, this is the kind of film to make you quit your job, and leave the city behind.      (Darcy Paquet)

    Gonjiam: Haunted Asylum
A crude smartphone video shows two giggling high school students trespassing into what appears to be a rundown hospital corridor. They try to open the door numbered 402, and then the video abruptly terminates. The scene shifts, and Ha-joon (Wi Ha-joon, Coin Locker Girl), a YouTuber running a popular program entitled Horror Times who has just played smartphone video, vows to get to the bottom of the mystery surrounding Korea's most famous haunted mental asylum, Namyang Mental Hospital at Gonjiam. A team of eager volunteers is assembled: the Brave Girl Ji-hyun (Park Ji-hyun, The Chase), the camera expert Seong-hoon (Park Seong-hoon, A Frozen Flower), Seung-wook (Lee Seung-wook) the outwardly calm commentator for Horror Times, the Nice Girl Ah-yeon (Oh Ah-yeon), the scaredy-cat Je-yoon (Yoo Je-yoon), and the Glamour Girl Charlotte (Moon Ye-won). Equipped with state-of-the-art video gadgets that allow them to simultaneously film their own faces and the objects in front of them, they set up the camp near the decrepit, long-deserted Namyang Hospital building and wait until the clock hits midnight. Everything goes fine, as the members divvy themselves up to explore different floors, each with creepy facilities such as a shower room and a storage room inexplicably lined with coffin-like wooden boxes. The team, following the script written by Ha-joon with an ulterior motive to boost YouTube clicks and therefore his ad-based income, performs a séance calling for the ghosts, and it seems to work. However, some members begin to sense that something genuinely weird is going on, that has little to do with Ha-joon's script.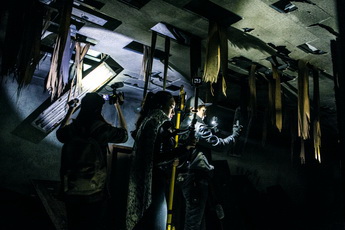 Gonjiam (I know, the title sounds as dorky in Korean as it does in English) is a modestly-budgeted found footage horror film. The primary PR hook for it has been that its setting, Namyang Mental Hospital, is a real place in Gonjiam County, Gwangju City, Gyeonggi Province, previously profiled by CNN as one of the seven creepiest deserted places in the world, along with Japan's Hashima the Battleship Island, Russia's Chernobyl and Mexico's Isla de las Muñecas. The ensuing publicity has clearly helped the film's box office performance (and reportedly stoked irritation of the owners of the estate, long suffering from thrill-seeking hooligans: the hospital site in real life is apparently ensconced right in the middle of a peaceful residential area and disappointingly mundane), as it sold robust 1.73 million tickets since its theatrical release in the second week of March, 2018, one of the best domestic performances for an out-and-out horror film in recent years.
For a jaundiced fan of horror cinema like myself, it is difficult not to suppress a yawn as soon as "found footage" is mentioned, especially considering that Gonjiam's premise seems to be directly working off on The Blair Witch Project, the movie that started all the FF craze way back when. Yes, it is a low-budget horror film neither with anything profound to say about the universal human condition, nor particularly interested in developing nuanced characterizations or an involving narrative, but once you take this built-in limitation into account, the film declares itself a surprisingly decent nail-biter. It helps enormously that the writer and director behind the project is Jeong Beom-sik, who has proven his mojo with the now-classic Epitaph and the "The Escape" segment of Horror Stories 2, still one of the wackiest and weirdest pieces of Korean genre cinema I have seen in a long time. Jeong certainly knows how to juggle and keep afloat disparate and potentially confusing visual elements of the film, to keep the flow of sequences logical and legible and his young cast believable and sympathetic. Admittedly some ideas, such as an old graffiti spontaneously switching meaning from "Let's live" (salja) to "Suicide" (Jasal), likely a reference to the "Redrum" scene in The Shining, are borderline silly, but many of the scare effects, especially those focused on the spatial displacement suffered by the cast members, a la Mario Bava's Kill... Baby, Kill!, are genuinely effective. The sound design and almost imperceptible ambient music are also first-rate.
Intriguingly, Gonjiam, despite its streamlined structure and youth-oriented premise, shares a few thematic concerns with the more historically-minded Epitaph. There is a nod, in the form of an actual government newsreel footage, to the anti-Communist paranoia under the Park Chung Hee regime as one of the underlying causes of the hospital's "curse," and one of the movie's jolting set pieces duplicates the deservedly notorious, hideously scary "lullaby" scene from the 2007 film. The overarching theme of ghosts as the individuals temporally and spatially trapped in modern Korea's traumatic and unsavory past, trying to ensnare the innocent younger generation into their (zombie-fied) world-view, might be shared by the two films, and perhaps supplies an additional, subtle undercurrent of unease for the Korean viewers.
In the end not an earth-shaking work of art, Gonjiam nonetheless more than fulfills the modest expectations generated by its minimalist outlook, successfully showcasing Jeong's considerable prowess as a horror specialist. Based on the evidence displayed here, Netflix or Amazon should endow him with a five million-dollar-plus budget, so that his devious imagination could be fully indulged, without having to be constrained by the commercial calculations of the Korean theater-chain owners.      (Kyu Hyun  Kim)