2019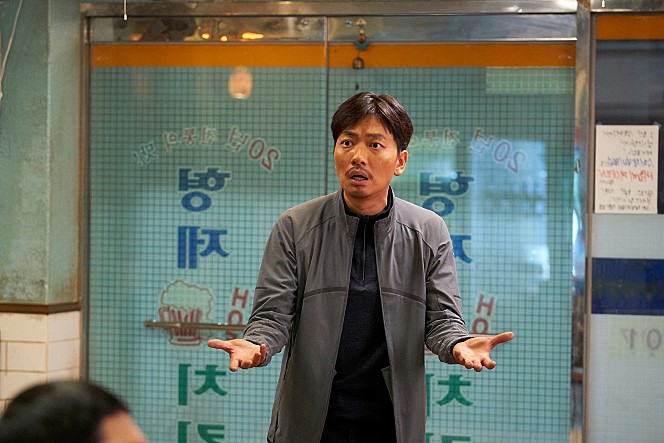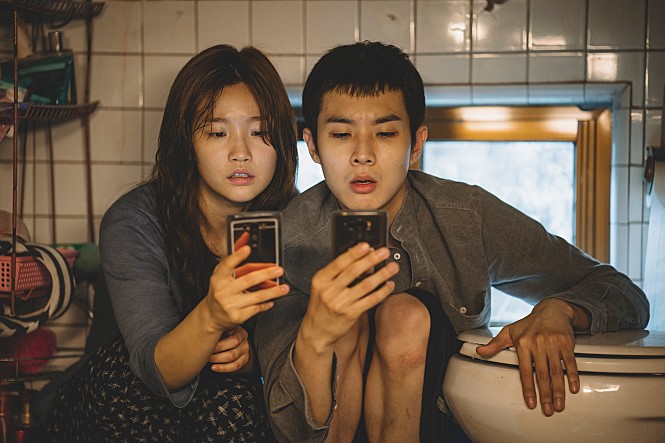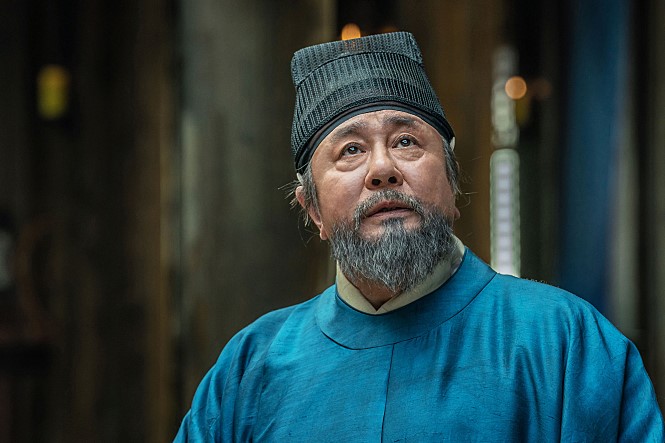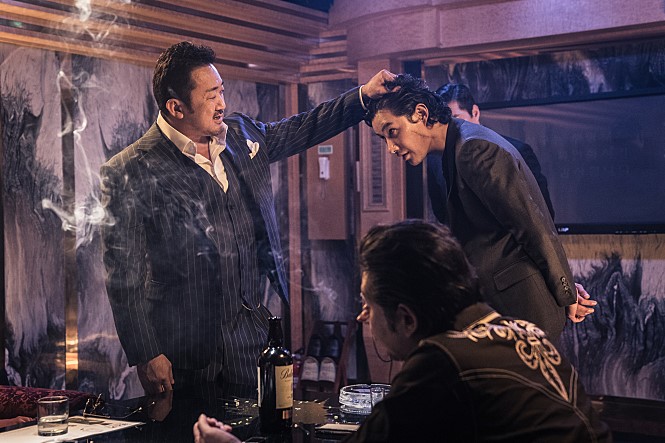 "Extreme Job",  "Parasite",  "Forbidden Dream",  "The Gangster, the Cop and the Devil"

   Despite opening the year with the massive hit comedy Extreme Job, which racked up the second highest number of admissions in Korean cinema history, things were not looking good for the film industry as a whole at the start of 2019. An unprecedented string of big-budget box office failures in 2018 had rattled the nerves of investors, and suggested that the big studios were beginning to lose touch with audience tastes. Although viewers had not turned their backs on Korean film entirely (the success of Extreme Job was proof of that), an overall sense of frustration was palpable among audience members in online forums and review sites.
As for the big-name auteurs, only one was scheduled to release a new film in 2019: Bong Joon-ho with his dark social drama Parasite. Selected for the competition section at Cannes, the film features an ensemble cast headed by Song Kang-ho and looked poised to leave a big impression both domestically and internationally. Also stirring up anticipation was the period drama Forbidden Dream by director Hur Jin-ho, featuring the veteran stars Choi Min-sik and Han Suk-kyu. A release is expected in the second half of the year.
Korean independent film, meanwhile, continues to struggle, with a promised boost in government support yet to materialize. Although large numbers of independent films continue to be made, often at great personal sacrifice, the challenge of finding an audience for these works grows more and more difficult by the year.   (Written on May 8)
     Reviewed below:     Innocent Witness (Feb 13)  --  Birthday (Apr 3).
The Best Selling Films of 2019  (updated May 8)

| | Korean Films | Nationwide | Release | Revenue |
| --- | --- | --- | --- | --- |
| 1 | Extreme Job | 16,261,994 | Jan 23 | 139.6bn |
| 2 | Money | 3,389,038 | Mar 20 | 28.9bn |
| 5 | Svaha: The Sixth Finger | 2,398,519 | Feb 20 | 20.0bn |
| 6 | The Dude in Me | 1,901,684 | Jan 9 | 16.3bn |
| 7 | Hit-and-Run Squad | 1,826,714 | Jan 30 | 15.2bn |
| 8 | Birthday | 1,193,229 | Apr 3 | 9.9bn |
| 9 | A Resistance | 1,155,389 | Feb 27 | 9.3bn |
| 10 | Inseparable Bros | 918,040* | May 1 | 7.5bn |
| | All Films | Nationwide | Release | Revenue |
| --- | --- | --- | --- | --- |
| 1 | Extreme Job (Korea) | 16,261,994 | Jan 23 | 139.6bn |
| 2 | Avengers: Endgame (US) | 11,756,225* | Apr 24 | 102.2bn |
| 3 | Captain Marvel (US) | 5,798,012 | Mar 6 | 51.5bn |
| 4 | Money (Korea) | 3,389,038 | Mar 20 | 28.9bn |
| 5 | Mal-Mo-E: The Secret Mission (Korea) | 2,811,180 | Jan 9 | 23.7bn |
| 6 | Innocent Witness (Korea) | 2,533,557 | Feb 13 | 20.5bn |
| 7 | Svaha: The Sixth Finger (Korea) | 2,398,519 | Feb 20 | 20.0bn |
| 8 | Alita: Battle Angel (US) | 1,951,889 | Feb 5 | 18.6bn |
| 9 | The Dude in Me (Korea) | 1,901,684 | Jan 9 | 16.3bn |
* Still on release.  Source: Korean Film Council (www.kobis.or.kr).


Seoul population: 10.4 million
Nationwide population: 50.9 million


Soon-ho (Jung Woo-sung, Steel Rain) is a lawyer who, in the early part of his career, established his reputation working for a progressive legal association. After years of defending ordinary citizens against large corporations, he has decided to accept a well-paid job at a leading firm. His new boss admires his talent and skill, but is concerned that Soon-ho's squeaky-clean image will make his rich corporate clients uncomfortable. "You need to get some dirt on you," the boss suggests. Meanwhile outside of work, Soon-ho leads a quiet life with his elderly father, who has Parkinson's disease. The one close friend he has is a former colleague at the legal association who is raising a school-aged daughter. But now that Soon-ho has, in effect, gone over to "the other side," she no longer feels as comfortable with him, either.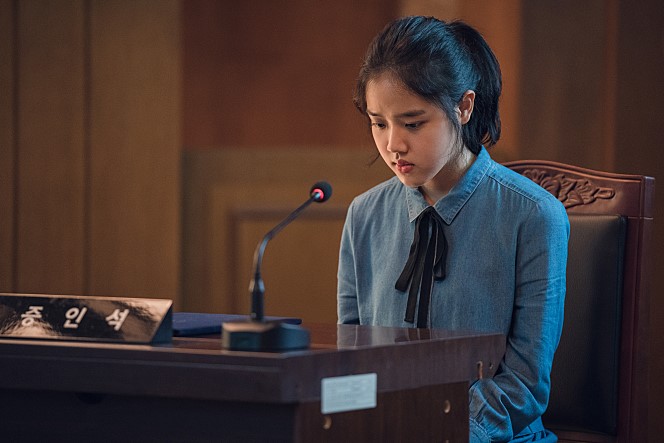 Soon-ho's first major case at his new job is one that the firm takes on for the sake of its image, rather than a big payoff. A housekeeper has been accused of murdering her employer, but she insists that she was simply unsuccessful in preventing a suicide. It seems like a straightforward case, but with one complication: the incident was witnessed by a school-aged autistic girl (Kim Hyang-gi, Along With the Gods) who lives in the same neighborhood. The girl, obviously traumatized by what she has seen, has given a statement to the police that supports the murder charge. But she refuses to meet with Soon-ho. Hoping to find some way to discredit her testimony, he starts coming to her school each day at the time she gets off, and walking home with her.
Innocent Witness could easily have been a forgettable, or even a very bad film. In recent years a number of Korean movies have depicted autistic characters, but not all of them have handled these depictions with sensitivity. In addition, the setup and overall plot structure of this film looks suspiciously predictable. In the hands of another director, it might have been a chore to sit through.
But one thing that director Lee Han has clearly demonstrated over the course of his career is that he is a gifted storyteller. Beginning with his breakout hit Punch (2011), he has specialized in works that are centered around well-drawn, three-dimensional characters while also gently introducing a contemporary social issue, like multiculturalism or (in the case of his well-reviewed low-budget drama Thread of Lies) teen suicide. His most recent work before Innocent Witness was the ambitious A Melody to Remember (winner of the Audience Award at the 18th Udine Far East Film Festival), which is based on a true story about a children's choir formed during the Korean War.
More than anything, Innocent Witness succeeds because of its memorable, well-drawn characters. Jung Woo-sung's Soon-ho comes across as much more than simply a lawyer torn between idealism and material success. He has a natural generosity of spirit that, in a very human way, can sometimes cross into overconfidence, leading him to overreach or say the wrong thing. His rival attorney in the case, played by Lee Kyu-hyung, is marked by a charismatic blend of determination, awkwardness and inexperience. And Kim Hyang-gi is convincing as the autistic Jiwoo, whose idiosyncratic means of expressing emotion masks a determined intelligence within. The end result is a film that is effortlessly comfortable to watch, respectful of the autistic character at its center, and steadily more emotional as it reaches its final act. The film's warmth, in this case, feels earned.      (Darcy Paquet)

    Birthday
The Sewol Ferry sinking on April 16, 2014 stands as the biggest collective trauma leveled on South Korean society in the past decade. Of the 304 people killed in the accident, 250 were students and teachers from Danwon High School in Ansan City, who were traveling on a school trip. Not only did the tragedy devastate a community (and the rest of the nation, who watched helplessly on TV as the ship went down in real time), it produced a flood of unanswered questions: Why did the ship sink? Why wasn't a fast and effective rescue operation carried out? Why did the government try to cover up key details about the accident? What should be done to ensure that such an incident will never happen again?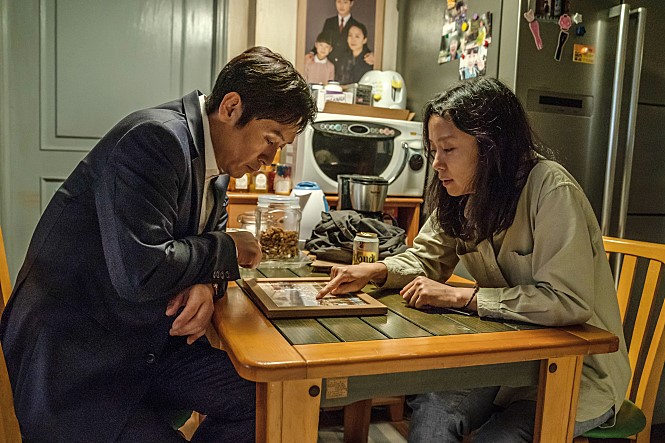 In the years since, quite a few films and documentaries have been made to grapple with these and other lingering questions. The politics surrounding the incident have grown only more bitter and divided with time. Now, exactly five years after the sinking, the film Birthday has emerged with a very focused objective. Avoiding overt references to politics or to the cause of the sinking, Birthday simply aims to give voice to the grief of the bereaved families.
The plot centers around Jung-il (Sul Kyung-gu), the father of one of the victims, who returns to Korea after years spent running a factory in Vietnam. His return causes a bit of a stir. He needs to be introduced to his young daughter Ye-sul, who doesn't recognize him. It also soon becomes clear that his wife Soon-nam (Jeon Do-yeon) does not want anything to do with him. One only needs to look at Jung-il's face to understand that he is suffering, and haunted by the death of his son. But the process of reconnecting with his family is complicated, and takes time.
Soon-nam, meanwhile, is only barely hanging on. Her son's room remains exactly as it was when he left to go on that school trip. In her community, she sometimes runs into other parents or classmates of the children who died, but for the most part, she tries to avoid them. At this point, a member of a volunteer group arrives and makes a suggestion. Her son's birthday is approaching, and the volunteer offers to organize an event in his memory. It will be a birthday celebration, of a kind, where people who knew him gather to share their stories.
The Korean film industry is known for turning out a lot of tear-jerkers, but that term feels wrong as a description of this film. Debut director Lee Jong-un, who worked on the production team of Secret Sunshine and Poetry by Lee Chang-dong (who serves as a producer on this film), takes a nuanced approach to extremely emotional material. The hugely accomplished leads Sul Kyung-gu and Jeon Do-yeon take care not to exaggerate or embellish the parents' grief. But it's because of this measured approach that the film becomes so devastatingly sad by the end. Watching it is an intense, exhaustive and cathartic experience. Stories abound of strangers bonding in movie theaters over shared packs of Kleenex.
It may be that some viewers, particularly outside of Korea, feel alienated by the raw, communal expressions of grief in the film's final half hour, which depicts the birthday event of the film's title. But they do seem true to life. Director Lee based the script on her own observations while volunteering with bereaved families in the aftermath of the tragedy. In the coming years she became close to many of the families, and also attended events such as the one depicted in Birthday. Such gatherings, it seems, have been effective in helping families cope with their grief, and perhaps this film might serve a similar role, too.      (Darcy Paquet)