Korean Film News in 2005
Jan 5:  Sidus Pictures buys remake rights to Fukasaku's Fall Guy   According to a Japanese newspaper report, Sidus Pictures CEO Tcha Seung-jai has purchased remake rights to the late Japanese director Fukasaku Kinji's Fall Guy ("Kamata koshin-kyoku"). The comic romance about a film star who abuses the generosity of an adoring fan was a critical and popular smash upon its release in 1982. Having signed a contract for the rights with writer Tsuka Kouhei, Sidus -- the company responsible for Memories of Murder (2003), Korean-Japanese co-production Rikidozan (2004), and many other films -- is currently developing the script.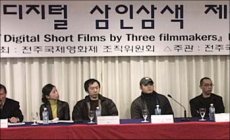 Jan 10:  Jeonju festival unveils digital omnibus project   At a press conference on January 10, the Jeonju International Film Festival presented the directors who will take part in the 2005 "Digital Short Films by Three Filmmakers" project. Every year, three well-known international directors are each asked to shoot a 30-minute short film, and then the films are screened together during the festival in Jeonju. This year's participating filmmakers will be Korean director Song Il-gon (Flower Island, Spider Forest), Japanese director Tsukamoto Shinya (A Snake of June, Tetsuo), and Thai director Apichatpong Weerasethakul (Tropical Malady, Blissfully Yours).

Jan 11:  Kim Soo-yong resigns as head of ratings board   Kim Soo-yong, the veteran director who has led a controversial reign as chairman of the Korea Media Ratings Board, submitted his resignation to the government as promised on January 11. Kim was taking responsibility for a bribery scandal involving a member of the games rating committee, and although he was not believed to be personally involved in the scandal, he resigned as the senior figure in charge. Until the board's current three-year term expires on June 6, his position will be filled by former vice chairman Lee Gyeong-soon.

Jan 25:  PiFan fires staff, will not hire festival director   Amid continuing controversy, the organizing committee of the Puchon International Fantastic Film Festival (PiFan) decided on January 25 to fire its programmers and related staff, and to hold its 9th edition in July without a festival director. The decision comes against a public backlash against the festival for its decision to fire popular festival director Kim Hong-joon on December 29. Citing an inability to work amidst the controversy, Kim's replacement Jung Hong-taek also submitted his resignation on January 21. The organizing committee, headed by Bucheon mayor Hong Geon-pyo, said it would hire new programmers and staff in the coming weeks who would fulfill the duties of the former festival director.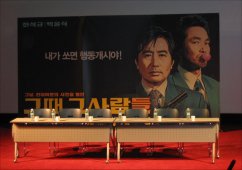 Jan 31:  Seoul court orders President's Last Bang to be cut   On January 31, the Seoul Central Court ordered that four minutes of documentary footage be removed from Im Sang-soo's controversial The President's Last Bang, a loose retelling of the assassination of authoritarian president Park Chung-hee in 1979. The court was ruling on a lawsuit to block the film's release filed by Park's son, Park Ji-man, who argued that the film would damage the reputation of the former president. While rejecting the lawsuit, the judge ruled that four minutes of documentary footage inserted in the film could cause viewers to become "confused" about fiction and reality. The ruling provoked a furious response from the industry, and widespread debate about freedom of expression in contemporary Korean society. Production company MK Pictures, meanwhile, decided to replace the censored footage with four minutes of black screen, considering that the ruling came only three days before its scheduled Feb 3 release. MK also filed a lawsuit to have the decision reversed. The film's release had already been thrown into disarray when distributor CJ Entertainment announced on January 26 that it was dropping the film from its lineup and recalling its $1m investment, due to "political sensitivities."
Feb 9:  Japanese film collector rumored to hold Arirang (1926) dies   Legendary Japanese film collector Abe Yoshishige, who together with his father amassed a collection of 50,000 classic films, passed away in Osaka on February 9 at the age of 81. With no heir, the collection has gone into the care of the Japan Foundation, who charged the National Film Center with examining and cataloguing the estimated 450,000 reels of film. Rumours had previously surfaced that Abe was holding a copy of Arirang (1926), Korea's most famous silent-era film that was hailed as a masterpiece, and which was believed to have been irrevocably lost. A visiting Korean scholar is said to have confirmed that an entry existed in Abe's records reading "Arirang / 9 reels / contemporary drama", together with entries for 60 other classic Korean films, but the existence of such prints was never confirmed. Representatives from the Japan Foundation have expressed hope that the print of Arirang will be found in the coming months, and stated that they may request the help of film specialists from Korea in locating and identifying the print.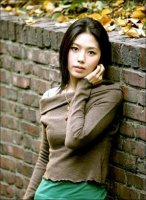 Feb 22:  Actress Lee Eun-ju commits suicide   Lee Eun-ju, who starred in nine films since her debut in 1999 including Virgin Stripped Bare by Her Bachelors (2000), Bungee Jumping of Their Own (2001), Lovers Concerto (2002), Taegukgi (2004) and The Scarlet Letter (2004), was found dead in her apartment on February 22 after hanging herself. The 24-year old had been undergoing treatment for depression in the year before her death. Lee's body was cremated, amidst a massive outpouring of grief from fans and members of the film industry.

Feb 22:  Four colonial-era films discovered   Following a search carried out at the request of Korean Film Archive chairman Yi Hyo-in, four Korean films made between 1938 and 1941 were discovered in archives in China. Three of the four can be characterized as pro-Japanese propaganda films: Gunyong-yeolcha (1938, 66 min.) by Seo Gwang-jae, Jip-omneun cheonsa (1941, 73 min.) by Choi In-gyu, and Jiwonbyeong (1941, 56 min.) by An Seok-young. The fourth film is a melodrama titled Eohwa (1939, 52 min.) by An Cheol-young, about the daughter of a poor fisherman who drowns at sea. The films now rank as the oldest complete Korean features to survive to the present day. Also discovered in Japanese archives were five newsreels: four made in 1945 documenting Korea's newfound independence and totaling 30 minutes, and one made in 1938 totaling 12 minutes.
Mar 15:  CJ announces partnership with Japan's Kadokawa   CJ Entertainment, which in the past year has emerged as Korea's most powerful film company, announced a wide-ranging partnership with Japanese company Kadokawa Holdings on March 15. The two companies agreed to produce films together -- including projects based on Kadokawa books, manga or movies -- and to cooperate in the fields of investment, international sales, book publishing, and multiplex construction. In particular, Kadokawa will share its expertise with CJ in the field of publishing, while CJ will help Kadokawa in expanding its exhibition chain. Incidentally, both companies also own investment stakes in Hollywood's DreamWorks, raising the possibility that future co-productions will also involve the US company in some way.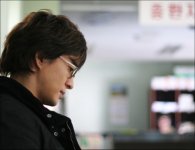 Mar 17:  April Snow press visit attracts 350 journalists   In one of the most visible displays yet of Korean pop culture's newfound influence in the Asian region, a visit to the set of Hur Jin-ho's upcoming film April Snow attracted over 350 local and international press members, including 100 reporters who flew in at their own expense from Japan. Also present at the event were journalists from Taiwan, Hong Kong, China, and Singapore. The primary draw for the news outlets who sent these journalists was actor Bae Yong-joon (Untold Scandal), who has developed an unprecedented fan following in Japan after the broadcast of his TV drama Winter Sonata. According to distributor Show East, from 50-100 Japanese tourists per day have been staying in Samcheok, the small city in Kangwon Provice that hosts the film's shooting, in the hopes of catching a glimpse of the actor.
Apr 13:  Former PiFan programmers announce rival fest   The former director and programmers of the Puchon International Fantastic Film Festival, who were fired under the initiative of Bucheon mayor Hong Geon-pyo (see Jan 25), have announced that they will hold a rival event in Seoul during the same week as PiFan. The "Real Fantastic Film Festival" will run in July on one-twentieth the budget of its larger rival, and will feature approximately 50 films, including "Marx Attacks! -- Sci-fi Movies from Eastern Europe" organized with the Neuchatel festival of Switzerland. "We don't intend this to be an 'anti-PiFan' event that denies their right to hold a festival, however we felt that holding RealFanta during the same period as PiFan would be the best way to call attention to the problems occuring in Puchon," said Kim Hong-joon, the former festival director at Puchon. Festival organisers are also exploring the possibility of finding a new, permanent home for their event from next year. With dozens of letters of support received from abroad and the Korean Producers' Association promising that not a single Korean film will be submitted to Puchon, RealFanta will enjoy a significant moral edge over its rival.
Apr 28 - May 6:  2005 Jeonju International Film Festival   The Jeonju International Film Festival, held in the southwestern city of Jeonju, wrapped up its sixth edition on May 6 with a star-filled screening of Yim Phil-sung's Antarctic Diary. Featuring a total of 176 films, the festival issued a total of 69,000 tickets for this year's event, which exceeded the organizers' goal of 55,000. The Woosuk award for best film in the Indie Vision section went to Russian director Marina Razbezhkina for her film Harvest Time (2004), while the top prize in the Digital Spectrum section, the JJ Star award, was shared between Czech documentary Czech Dream (2004) by Vit Klusak and Filip Remunda and Chinese film Oxhide (2004) by Liu Jia Yi. Retrospectives were devoted to Japanese director Somai Shinji and a focus on Maghreb Cinema from Morocco and Tunisia. Buzz films at the event included the opening film, Digital Short Films by Three Filmmakers (see Jan. 10) and Kim Jin-sung's Geochilmaru: The Showdown, a $200,000 digital feature starring eight real-life martial arts masters in a competition staged in the mountains. (Read more at the Koreanfilm.org festival report)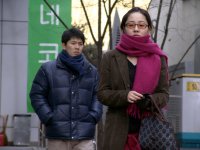 May 11-22:  Record number of Korean films at Cannes   A record seven Korean feature films were selected to screen in various sections of the 2005 Cannes Film Festival. Featured in the main competition section was the sixth film by Hong Sang-soo Tale of Cinema, which received a somewhat muted reception and did not receive any awards. Meanwhile Kim Jee-woon's A Bittersweet Life was presented as a special out-of-competition screening and drew widespread press coverage and largely positive reviews. The Bow, the 12th film by noted director Kim Ki-duk, was selected as the opening film of the Un Certain Regard sidebar section. Two Korean features also screened in the Director's Fortnight sidebar: Ryoo Seung-wan's Crying Fist, which ended up taking home a FIPRESCI Award, and Im Sang-soo's The President's Last Bang, which was also very well received. Finally, ethnic Korean director Zhang Lu presented his Chinese-Korean co-production Grain in Ear in the Critics Week section, where it was presented with a small prize. Finally, the 15-minute short walk On a Little More by Shim Min-young screened in the Cinefondation section for film students. Apart from Hong Sang-soo, this marked the first trip to Cannes for all of these filmmakers.

May 28:  An Cheongsook named new KOFIC chair   As the Korean Film Council (KOFIC) embarked upon its third three-year term since its re-organization in 1999, An Cheongsook, a former editor of weekly film magazine Cine21 and a longtime journalist for the Hankyoreh Newspaper, was named the organization's new chairperson. She replaces Lee Choong-jik, who was credited with bringing some much-needed stability during his term from 2002-2005, following the strife-ridden years of 1999-2002. Eight other film industry people join An on KOFIC's board of commissioners, including vice chair Lee Hyun-seung (director of Il Mare), documentary filmmaker Kim Dong-won (Repatriation), actress/film professor Chang Mi-hee (who also served as vice chair in the previous term), and leading producer Shim Jae-myung (JSA, The President's Last Bang) of MK Pictures.
Jun 1:  Cinema Service and CJ merge sales divisions   CJ Entertainment and Cinema Service, two of Korea's biggest film companies, agreed to carry out a merger of their international sales divisions on June 1. Although the two companies had formerly been rivals, they have moved closer in recent times with CJ providing financing for many of Cinema Service's films and buying out a non-controlling 40% of the company. As a result of the merger, the combined sales division (which will go under the name of CJ Entertainment) will represent far more films than any other company which sells Korean films to foreign territories.

Jun 24:  KOFIC to be relocated to Busan    The Korean Film Council (KOFIC), which has operated in Seoul since its establishment in 1973, is scheduled to move to the city of Busan sometime between the years 2008 and 2012. The decision was included in a far-reaching government plan announced on June 24 to relocate government-run organizations out of the capital, thus giving a boost to regional economies. Joining KOFIC in Busan, which is famous for the Pusan Film Festival, will be the Korea Media Ratings Board. The Korean Film Archive, which has already opened construction on a new Seoul-based facility to open in 2007, is scheduled to remain in Seoul. The decision to move KOFIC opens up some difficult questions, such as whether to also relocate the Korean Academy of Film Arts and the Namyangju Studio Complex, both of which are operated by KOFIC.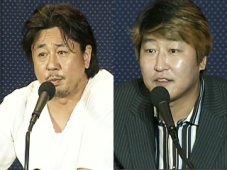 Jun 24:  Korean producers lash out at talent management companies   On June 24, the Korean Motion Picture Producers Association called a press conference to launch a stinging attack on the activities of talent management companies. Producers charged that management companies were taking advantage of the increasing power of major stars, particularly in the Asian market, by charging high fees and also demanding co-production status for films which starred a company's actors. Claiming that such activities were illegal in many other markets, including Hollywood, the producers association called for an end to the practice. Shortly after the press conference, a group of talent management companies agreed to discuss the producers' concerns, and both sides announced a temporary resolution to the issue a month later. However, shortly after the producers' press conference, an article was published in which director/producer Kang Woo-suk of Cinema Service lambasted Korean actors for being "greedy" and "money-obsessed," indicating actors Choi Min-shik and Song Kang-ho by name. This spat ultimately drew far more press coverage than the original press conference, with Choi and Song demanding and eventually receiving an public apology from Kang.
Jul 8:  Marathon wins Grand Bell Awards   Jeong Yun-cheol's debut feature Marathon, about an autistic boy encouraged by his mother to do long-distance running, came away the big winner at the 42nd Grand Bell Awards held on July 8. The film won 7 of the 24 awards presented at the event, including Best Picture, Best Actor (Cho Seung-woo), Best New Director, Best Planning, Best Screenplay, Best Music, and a Popularity Award for Cho Seung-woo. Other awards included a Best Jury Prize to Ryoo Seung-wan's Crying Fist, Best Actress for Kim Hye-soo (Hypnotized), Best Director to Song Hye-sung (Rikidozan), Best Supporting Actor to Hwang Jeong-min (A Bittersweet Life), and Best Supporting Actress to Na Mun-hee (Crying Fist).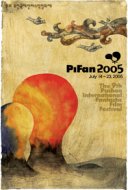 Jul 14-23:  PiFan and rival festival Real Fanta compete for audiences   After growing in its first eight years into Korea's second-most prominent film festival, the Puchon International Fantastic Film Festival was wracked by controversy in 2005. Following the dismissal of popular festival head Kim Hong-joon in late December 2004, and the subsequent firing of the programming team and much of the festival's staff in January, the festival opened under a widely-observed boycott by audiences and press members. At the same time, Kim and his former programming team opened a smaller rival festival in Seoul called the Real Fantastic Film Festival (see Apr 13). The Real FFF ultimately won over strong support from the local film industry and sold roughly 50% of its tickets. PiFan saw a major drop in attendance and received just the bare minimum of local press coverage, though many international guests described themselves as being "won over" by the efforts of programmer Zeong Cho-sin and other staff members to hold the event amidst the many difficulties facing them. On July 23, PiFan's top award was presented to Canadian director Paul Fox's The Dark Hours.
Aug 4:  Welcome to Dongmakgol enjoys breakout success at box office   Welcome to Dongmakgol, based on a stage play by Jang Jin and directed by Park Kwang-hyun, began its massive run at the box office that would eventually result in 8 million tickets sold. The film would ultimately become the highest grossing Korean film within the calendar year 2005 (although hit film King and the Clown, released on December 29, would go on to sell more tickets in 2006). Unusually, the success of the film took place as another film adapted from a Jang Jin stage play, Murder, Take One (released on August 12, and directed by Jang himself) went on to sell another 2.5 million tickets.
Aug 31 - Sep 10:  Lady Vengeance selected for Venice   The 2005 edition of the Venice Film Festival featured one Korean film in its Main Competition section: the international premiere of Park Chan-wook's sixth film Sympathy for Lady Vengeance. Although the film did not win any awards from the official jury, it was presented with three minor awards from alternate juries (see festival awards section below). In addition, Hong Joon-won's short film Happy Birthday screened in the festival's short film competition section.

Sep 15:  Welcome to Dongmakgol selected as Oscar entry   On September 15, a five-member jury appointed by the Korean Film Council chose Welcome to Dongmakgol as Korea's official submission to the Best Foreign Language Film category of the 2006 Academy Awards. Each country has the right to choose and submit one film per year to be included in this category. The film was selected from among 8 applications submitted by film production companies, with the other films being Kim Ki-duk's 3-Iron, Lee Myung-se's Duelist, Hur Jin-ho's April Snow, Park Chan-wook's Sympathy For Lady Vengeance, Jeong Yun-cheol's Marathon, Ryoo Seung-wan's Crying Fist and Kim Jee-woon's A Bittersweet Life. Ultimately Dongmakgol was not selected as one of the five finalists when nominations were announced in January.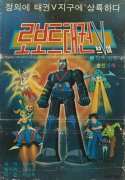 Sep 20:  Restored Robot Taekwon V unveiled   Following a two-year restoration effort, classic animated feature Robot Taekwon V (1976) by Kim Cheong-ki was screened for journalists in Seoul. The first Korean film to be digitally restored in its entirety, the $1 million Korean Film Council-financed restoration was carried out by 72 people who restored each of the film's 108,852 frames one by one. The restoration involved color correction, reduction of grain, erasing of dirt and scratches, and the creation of a new 5.1ch Dolby soundtrack. The film, which holds nostalgic value for many Koreans who grew up in the 1970s, tells the story of two inventors and their children who join forces against a mad scientist. Previous partial restorations of Korean films include Yu Hyun-mok's An Empty Dream (1966) and Im Kwon-taek's Mandala (1980).
Oct 6-14:  PIFF celebrates 10th edition   The Pusan International Film Festival held its biggest event ever in celebration of its tenth edition. Both the program itself (a record 307 films) and the side events that took place at the festival were expanded, including the launch of the Asian Film Academy (AFA) for young Asian filmmakers. Organizers also announced midway through the event that a major film market -- dubbed the Asian Film Market -- would be unveiled in the 2006 edition. A record crowd attended the festival, with 192,970 tickets issued, and a total of 7,647 local and international guests were registered. The New Currents jury, chaired by Iranian director Abbas Kiarostami, presented the top award to Zhang Lu's Chinese-Korean co-production Grain In Ear, while Korean independent film The Unforgiven also picked up three awards. However the biggest buzz at the festival seemed to center around a retrospective of films by late Korean director Lee Man-hee, including the recently re-discovered Holiday. (Read more at the Koreanfilm.org festival report)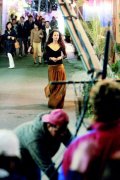 Oct 29:  Korea hosts first Bollywood production   The city of Seoul provides the backdrop for the first-ever Bollywood film to shoot in Korea. Gangster: A Love Story in Korea by veteran director Mahesh Bhatt opened 25 days of shooting on October 29 with a scene taking place during a fireworks display in Han River Citizen's Park. About 70-80% of the film will take place in Seoul, with the Seoul Film Commission providing logistical assistance. "We are delighted to be the first to be shooting in Seoul, particularly because the South Korean film industry has become a formidable force in the entertainment arena," says the director. "We have a lot to learn from our Asian brothers rather than from the West. It is this that has prompted us to be the first in India to usher a new dawn in Indo-Korean relations."
Nov 29:  The 26th Blue Dragon Awards   Park Chan-wook's Sympathy for Lady Vengeance and Park Jin-pyo's You Are My Sunshine shared the top prizes at the 26th Blue Dragon Awards, held on November 29 at the KBS Hall in Yeouido, Seoul. Lady Vengeance took Best Film as well as a Best Actress prize for Lee Young-ae, but failed to win any more of the 16 awarded categories. You Are My Sunshine took home Best Director and Best Actor for Hwang Jeong-min, whose moving acceptance speech dedicated to people who work behind the spotlight on films proved to be the night's most memorable moment. Other films that won multiple awards were Welcome to Dongmakgol (Best Supporting Actor to Im Ha-ryong, Best Supporting Actress to Gang Hye-jung, and Most Popular Film award), Marathon (Best New Director to Jeong Yun-cheol, Best Music to Kim Joon-seong), and Duelist (Best Art Direction, Best Lighting).
Dec 1:  CGV opens IMAX screens   After forging an exclusive agreement with the Canadian company IMAX, Korea's largest theater chain CGV opened IMAX screens in its Yongsan and Incheon venues on December 1. Although an IMAX screen devoted exclusively to documentaries has operated in Building 63 in Seoul since the 1980s, the new screens will be the first in Korea to show feature films in enhanced 2D and 3D formats. By 2007, CGV plans to open further screens in Ilsan, Wangshimni, Daegu, and Gwangju. CGV also announced that the new screens would abide by Korea's Screen Quota system by screening enhanced versions of local films.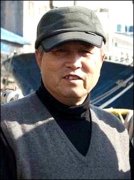 Dec 7:  Im Kwon-taek's 100th film suspended   The opening of shooting for Cheon-nyeon-hak, the 100th film by veteran director Im Kwon-taek (right), was called off on December 7 after losing its main investor. Lotte Entertainment, which previously agreed to fully finance the feature with the understanding that a major star would be cast in a lead role, pulled out when the star casting fell through. The situation drew widespread press coverage, calling attention to the fact that even an established director such as Im couldn't attract finance without a star actor.

Dec 15:  Korea's first film labor union created   The Korean film industry's first ever labor union was officially launched on December 15. The Federation of Korean Movie Workers' Union opened with an initial 320 members, including assistant directors and crew members in lighting and cinematography. With a consensus arising among the film industry that the difficult working conditions of crew members needs to be addressed, the union will push to provide such benefits as a minimum wage, overtime pay, and social security to crewmembers. The union also hopes to introduce legislation protecting workers' rights. The union was officially recognized by the Ministry of Labor on January 2. (Korean language website: http://www.fkmwu.org)
Awards at International Film Festivals

Jan 21:  Old Boy at Bangkok   Park Chan-wook's Old Boy was named co-winner of the Best Director award at the 2005 Bangkok International Film Festival. Park shared the honor with Christophe Barratier, director of French/Swiss film Les Choristes. The International Competition section included a large number of world films that won acclaim in the previous year, including Spanish film The Sea Inside (winner of the Golden Kinnaree for Best Film), The Motorcycle Diaries, Vera Drake, etc..

Feb 4:  Spying Cam at Rotterdam   Hwang Cheol-min's independent feature Spying Cam (aka "Frakchi") took home the FIPRESCI Award, one of the many smaller prizes presented at the International Film Festival Rotterdam. The DV-shot film is set during the oppressive political days of the 1980s, and tells the story of two men who spend a suspiciously long amount of time in a cheap motel room. The jury praised it for "its original exploration of a political theme by giving it a deep human dimension."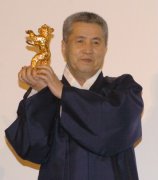 Feb 12:  Im Kwon-taek Honorary Golden Bear at Berlin   In recognition of his long and accomplished career, which encompasses 99 feature films, veteran Korean director Im Kwon-taek received an Honorary Golden Bear from the Berlin International Film Festival on February 12. Im ranks as only the 19th recipient of the award since it was instituted in 1982, and the first person from Asia to be so honored. Seven of Im's films were also included in the festival program as a special tribute.

Feb 15:  Short film Sara Jeanne at Berlin   Among the awards for short films given out at the Berlin International Film Festival, actress Rhee Young-ran was named the winner of a special mention for her role in Kim Seong-sook's Sara Jeanne. Rhee plays an aging prostitute living on the outskirts of a US military base in rural Korea. The actress/Kyunghee University professor previously took on the role of the mother in the blockbuster hit Taegukgi.

Feb 19:  This Charming Girl at Berlin   At Berlin, Lee Yoon-ki's This Charming Girl was selected to receive the NETPAC (Network for the Promotion of Asian Cinema) Prize by a three-member jury. The award is given to the best Asian film in the Forum section. The jury selected it "for its subtle and precise cinematic portrayal of a young woman caught up in the midst of personal traumas and the present realities of her existence."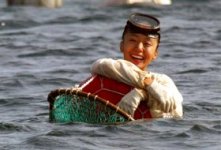 Feb 27:  My Mother, the Mermaid at Yubari   Park Heung-shik's understated drama My Mother, the Mermaid picked up the Grand Prix for Best Film in the Yubari International Fantastic Film Festival's Young Fantastic competition section. Yubari is held every winter in Hokkaido, Japan. Past Korean Grand Prix winners include Mokpo, Gangster's Paradise and My Sassy Girl.

Mar 7:  Old Boy / My Mother, the Mermaid / Natural City at Fantasporto   Korean films won the top prizes in two sidebar sections of the 2005 Oporto International Film Festival (aka Fantasporto), held in Portugal. Park Chan-wook's Old Boy was named Best Film in the Director's Week section, and also picked up Best Screenplay award. Meanwhile My Mother the Mermaid was named winner of the Orient Express award. In the main competition, which was won by Canadian director Vicenzo Natali's Nothing, sci-fi feature Natural City received an award for Best Special Effects.

Mar 13:  Home Sweet Home at Tempere   Um Hye-jung's 18-minute short film Home Sweet Home was awarded the Fiction Prize at the 2005 Tempere International Short Film Festival in Finland. The film, starring actor/producer Myung Kay-nam, portrays a family who learns about their daughter's death in a fire through the TV. Norwegian clay animation Through My Think Glasses won the festival's top award.

Mar 13:  Repatriation at Fribourg   Repatriation, Kim Dong-won's documentary about long-term political prisoners and their experiences after leaving prison, was named co-winner of the Documentary Award at the 19th Fribourg International Film Festival in Switzerland. It shared the award with Hubert Sauper's Darwin's Nightmare (France/Austria/Belgium).

Mar 13:  This Charming Girl / Arahan at Deauville   Two Korean films won prizes at the Deauville Festival of Asian Film in France (not to be confused with the bigger Deauville Film Festival). Lee Yoon-ki's This Charming Girl added to its award total with a Special Jury prize, while Ryu Seung-wan's Arahan took the top prize in the action cinema sidebar. Chinese film Holiday Dreaming took the top prize.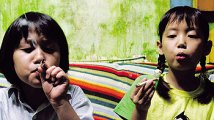 Apr 10:  Smoke-Flavored Life at Aspen Shortsfest   Ryou Eunjung's 21-minute short film Smoke-Flavored Life, about a "bad" little girl who smokes cigarettes and corrupts her boyfriend, took home the $2500 prize for Best Drama at the 2005 Aspen Shortsfest. The festival, which featured 66 shorts in its international competition, was held in Colorado from April 6-10.

Apr 17:  Smoke-Flavored Life at Granada Young Filmmakers Fest   A week after its award at Aspen, Smoke-Flavored Life was presented with the Audience Award (3000 euros) at the 12th International Young Filmmakers Festival of Granada.

Apr 20:  Road at Philadelphia   Bae Chang-ho's 17th film Road was presented with the top prize (the Jury Award for Best Feature) at the 14th Philadelphia International Film Festival. The film, which is sold internationally by Mirovision, tells the story of a blacksmith in 1970s Korea who meets a young woman with a connection to his tragic past. This was the film's first screening outside of Korea, after being selected as the closing film of the 2004 Gwangju International Film Festival.

Apr 24:  Home Sweet Home at Belgrade Documentary and Short Film Fest   In the wake of its award at Tempere in March, Um Hye-jung's short Home Sweet Home also won the Grand Prix at the 52nd Belgrade Documentary and Short Film Festival in Serbia-Montenegro. The film was chosen from among 16 other short fiction works in the international competition. Home Sweet Home is represented internationally by Indiestory.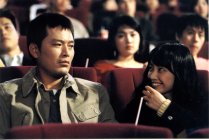 Apr 29:  Someone Special at Udine   Jang Jin's acclaimed comedy Someone Special was voted by the audience as the third most popular film among 40 contemporary titles screened at the 7th Far East Film Festival in Udine, Italy. Four other Korean films were voted into the top ten: Bae Chang-ho's Road (#6), Shin Jung-won's To Catch a Virgin Ghost (#7), Ryoo Seung-wan's Arahan (#9), and Lee Jung-chul's A Family (#10). The top vote-getter was Chinese feature Peacock by Gu Changwei.

Apr 29:  This Charming Girl at Singapore   Lee Yoon-ki's This Charming Girl continued to pick up festival awards, winning the Best Director prize and also a Best Actress prize for Kim Ji-soo at the 18th Singapore International Film Festival. Kim's prize was shared with Vietnamese actress Ho Phuong Dung from the film A Time Far Past.

May 8:  Oseam at Sprockets Children's Fest   Sung Baek-yeop's animated feature Oseam was voted by audiences as the winner of the Audience Choice Award - Animated Film at the 2005 Sprockets International Film Festival for Children. The festival took place in Toronto, Canada from April 29-May 8.

May 20:  Crying Fist and Grain in Ear at Cannes   Ryoo Seung-wan's boxing drama Crying Fist was presented with the FIPRESCI Award for best film in the Director's Fortnight and Critics Week sections. The award was chosen by a jury of film critics. Meanwhile Chinese-Korean co-production Grain in Ear by director Zhang Lu screened in the Critics Week section and received a small award from the France Independent Film Distributors' Association (ACID).

Jul 2:  Grain in Ear at Pesaro   Korean-Chinese director Zhang Lu's Grain in Ear, a co-production between China and Korea, won the top prize in the New Cinema Section of the 41st Pesaro Film Festival. The film tells the story of a single Korean-Chinese woman raising her son in a depressed city in China.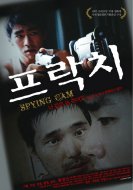 Aug 6:  Spying Cam at Brisbane   Hwang Cheol-min's Spying Cam picked up its second international prize with the NETPAC (Network for the Promotion of Asian Cinema) Award for best Asian film at the 2005 Brisbane International Film Festival in Australia. A 3-person jury wrote, "this film proves yet again that imagination and intelligence count for more than material resources in making powerful cinema."

Aug 24:  3-Iron wins FIPRESCI Grand Prix   Kim Ki-duk's 3-Iron was voted by 300 members of the International Federation of Film Critics (FIPRESCI) as the best film released worldwide between August 2004 and July 2005. This is the first time in the seven years that FIPRESCI has been presenting this award that a Korean film has won. Previous winners include Jean-Luc Godard's Notre Musique, Nuri Bilge Ceylan's Uzak, Aki Kaurismaki's The Man Without a Past, Jafar Panahi's The Circle, Paul Thomas Anderson's Magnolia, and Pedro Almodovar's All About My Mother. Kim was presented with his award at the opening of the San Sebastian International Film Festival on September 15.

Sep 10:  Sympathy for Lady Vengeance at Venice   Although it did not win any awards from the official jury, Park Chan-wook's competition entry Sympathy for Lady Vengeance picked up three minor awards at the 62nd Venice International Film Festival, all of which were chosen by young juries. The Prize for New Trends, awarded by 18-26 year old filmmakers from Italy, was presented to the film "for having treated successfully the delicate subject of vengeance with class in a sophisticated and epic way. This is the form that the modern Korean cinema imposes as the new cinematographic trend for the future." The film also won the Young Lion award, chosen by 18-22 year old Italian film studies students, and an award for Best Innovation, chosen by 100 young European critics.

Sep 17:  Sa-kwa at Toronto   Kang Yi-kwan's debut film Sa-kwa picked up the FIPRESCI Award for an emerging filmmaker at the 30th Toronto International Film Festival, held from September 8-17. The film, starring Moon So-ri, tells the story of a woman dealing with an unexpected break-up who becomes involved with someone new.

Sep 24:  Sa-kwa at San Sebastian   Just a week after winning an award at Toronto, Kang Yi-kwan's Sa-kwa won the Montblanc Award for new screenplays at the San Sebastian International Film Festival in Spain. The award comes with a 14,000 euros prize for the writer/director.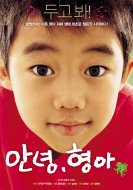 Sep 25:  Park Ji-bin at New Montreal FilmFest   Park Ji-bin (pictured left), the 10-year old actor who first won over notice for his role in A Family, was unexpectedly named Best Actor at the inaugural Festival International de Film de Montreal for his leading role in the film Little Brother. Park now ranks as the youngest Korean actor ever to be awarded the top male acting prize at an international film festival.

Oct 1:  Taegukgi and A Family at Asia-Pacific Film Fest   Kang Je-gyu's record-breaking Korean War film Taegukgi (2004) picked up Best Picture and Best Director awards at the 50th annual Asia Pacific Film Festival. In addition, veteran actor Joo Hyun also picked up a Best Actor award for his performance in melodrama A Family (2004). More of an awards ceremony than a film festival (it is closed to the public), the event is held each year in a different Asian country, with Malaysia serving as host this year.

Oct 13:  San-chaek at Torino Women's   Chae Ji-young's short film San-chaek (2005) received the second-highest award (Silver Plate) in the short films category of the Torinto International Women's Film Festival, held from October 7-13 in Italy. The jury noted "The film's skilful use of cinema language gives the director the possibility of representing with wonderful delicacy a difficult relationship such as that between a daughter and her alzheimer mother[...] In everyday life, love and care defeat the anguish of disease."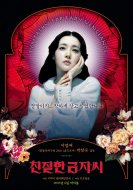 Oct 17:  Lee Young-ae, A Bittersweet Life and Antarctic Journal at Sitges   Superstar actress Lee Young-ae picked up her first major international award with a Best Actress prize from the International Film Festival of Catalunya (better known as "Sitges") for her performance in Sympathy For Lady Vengeance. In addition, composers Dalpalan and Jang Yeong-gyu won the Best Soundtrack award from the main jury for their score of A Bittersweet Life, and Yim Pil-sung's Antarctic Journal was selected by a separate jury for the Oriental Express Award (picked from among selected Asian films screening at the festival). Sitges, which ran from October 9-18, is the oldest and one of the highest-profile fantastic film festivals in the world.

Oct 25:  The President's Last Bang at Cinemanila   The President's Last Bang by Im Sang-soo picked up the top prize, the Lino Brocka Award, at the Cinemanila Film Festival. In addition, Pusan festival director Kim Dong-ho was honored with a special Lifetime Achievement Award by the festival. Cinemanila, seven editions old, is the largest film festival in the Philippines.

Oct 28:  Kim Ki-duk awarded Vittorio de Sica award   Director Kim Ki-duk, a three-time invitee to the Venice Film Festival who won the Best Director Award in 2004 for 3-Iron, was presented with the Vittorio de Sica Film Award from the Italian government on October 28. The award is presented to international filmmakers for career achievement.

Nov 6:  Smoke-Flavored Life at Cinema Tout Ecran   Ryou Eunjung's short film Smoke-Flavored Life continued its award-winning run at the Cinema Tout Ecran festival in Geneva, Switzerland. The film won the Reflet D'Or, which is the top prize awarded in the festival's short film competition section.

Nov 6:  O-Nu-Ri at Chicago Children's Festival   O-Nu-Ri, a 13-minute short animated film by director Lee Sung-gang (My Beautiful Girl, Mari), was presented with two minor awards at the 22nd Chicago International Children's Festival. The Children's Jury presented the film with a Certificate of Excellence in the short animated section, while the Adult Jury gave the film 2nd prize in the same category.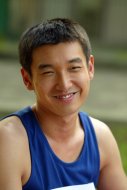 Nov 12:  Cho Seung-woo at Hundred Flowers in China   Actor Cho Seung-woo picked up a Best Actor award for his performance in the film Marathon in the foreign film category of the Hundred Flowers Awards. Held simultaneously with the Golden Rooster Awards, the Hundred Flowers Awards are voted on by ordinary viewers. This is the first year that the awards ceremony included a section for foreign films.

Nov 13:  Marathon, Wake, etc. at Lyon Asian Film Fest   Korean films won multiple awards from the public, press and jury at the 11th Lyon Asian Film Festival in France. The Public Award for Best Film was presented to Jeong Yun-cheol's Marathon (left), which also won the Junior Jury Award. Gay omnibus feature Camellia Project placed third in the Press Award for Best Film, while Park Keun-pyo's short film Wake was given the Jury Award for Best Short Film and placed second for the Public Award for Best Short Film. Park Heung-shik's My Mother the Mermaid, meanwhile, placed second for the Junior Jury Award.

Nov 20:  The Chamber at Tehran   Yu Seok-hyun's 5-minute short animated film The Chamber was named Best Animated Film at the 10th Tehran International Short Film Festival in Iran. The director will also receive a $3000 cash award.

Dec 11:  Smoke-Flavored Life at Rio de Janeiro   For the second time in a month, Ryou Eunjung's Smoke-Flavored Life was awarded at an international film festival, this time at the Rio de Janeiro International Short Film Festival in Brazil. It was presented with the Best Fiction Short Film out of 44 films screening in competition.
Korean Films Abroad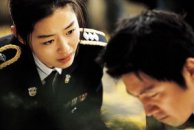 Windstruck in Japan:  Kwak Jae-yong's Windstruck (2004) featuring popular star Jeon Ji-hyun set a new record as the most successful Korean film ever released in Japan. According to distribution company Warner Bros Japan, the film reached the 1.82 billion yen mark (1.37 million admissions) on January 16, vaulting over the 1.8 billion yen earned by Shiri in 2000. Released on December 11, 2004 on 302 screens (a new record for a Korean film), the film has enjoyed sustained popularity among Japanese viewers, seeing little dropoff at the box-office from week to week. This reverses a trend of largely disappointing results for Korean films at the Japanese box-office in the past couple years.   (updated on Jan. 22)

50-film retrospective in Paris:  The Cinematheque Francaise in Paris is holding a 50-film retrospective of Korean cinema from January 5 - February 26. This ranks as the biggest showcase of Korean film in Europe since an historic 80-film retrospective at the Centre Pompidou in 1994. Co-sponsored by KOFIC, the Korean Film Archive and the Korean Cultural Service in France, the event opened on January 5 with a screening of Lee Chang-dong's Green Fish (1997). More information (in French) can be found in this PDF file.

Bae Yong-jun's screen debut Bilgu in Japan  Director Yu Jin-seon's 1994 movie Bilgu played in Tokyo's Cine Switch Theaters from February 11-25. Bilgu starred actor Lee Min-woo as a lovesick high school student, but also featured the screen debut of popular actor Bae Yong-jun in a minor role as a member of Bilgu's group of friends.

Marathon in Japan  Jeong Yun-cheol's box office hit Marathon received a 120-print release in Japan on July 2, roughly five months after its Korean release. Distributed by major studio Shochiku in association with Cine Qua Non, the film opened at #5 and after four weeks in the top ten had earned $2.3 million.