2005 Jeonju International Film Festival Report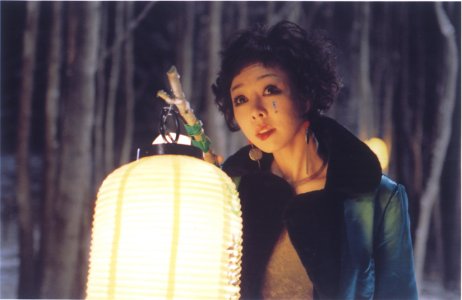 Magician(s), dir. Song Il-gon
  Kim Won-joo, the Chairman of the Jeonju International Film Festival (JIFF) recently praised Jeonju, the capital of North Cholla Province, by referring to it as 'The City Of Cinema'. This description has been well-earned in that nealy 40% of all Korean films are shot in city or in the surrounding regions because, outside of the downtown area, it lends itself well to films that require settings from the 60's, 70's or 80's. The percentage of films shot here is set to increase with the current plans to construct in indoor studio. Jeonju has also gained a reputation as a center of digital film-making and the establishment of a digital film school and a production design school has the city poised on the brink of becoming Asia's leader in digital cinema production.
With all this going on, one might expect that JIFF would expand even further to encompass the ever-growing interest in film production. However, that was not the case. While the 5th edition of JIFF screened more than 280 films, this year's festival, running from April 28 to May 6, screened 176 from 31 countries. The reason for this was because the festival committee decided to streamline the festival and concentrate on the theme of each section being offered. The results were magnificent.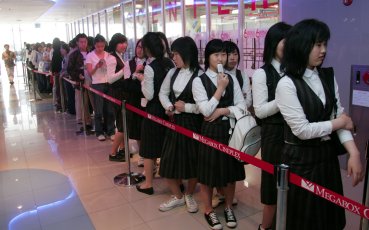 I have attended every installment of JIFF since it first began and I have to say that this was the most organized and focused I have ever experienced it. At the same time, it had a much livelier atmosphere than previous years. Much of this liveliness can be attributed to the cooperation and support JIFF receives from the city officials of Jeonju. Perhaps that is not much of a surprise since JIFF is single-handedly responsible for the revitalization of the downtown area. The opening of the festival was pushed back a week from previous years to coincide with the opening weekend of the traditional Pungnam Festival, a celebration of spring which always draws in large crowds . The Hansol Craft Festival, targeting children and families opened at the same time and a large flea market was added which guaranteed that Jeonu had something to offer everyone that week.
JIFF kicked off opening night with a star-studded extravaganza. Moon Sung-geun, Lee Mun-shik, Jeong Tae-woo and Lee Yeong-ha were among the many celebrities to attend the sold out event. Joining the viewing of the opening screening, a trio of films entitled Digital Short Films By Three Filmmakers, were the directors Shinya Tsukamoto, Song Il-gon, and Thai director Apichatpong Weerasethakul. Tsukamoto directed a claustrophobic nightmare called Haze, an allegorical tale of an injured, bleeding man with no clear memories wakes up in a room that seems to be growing steadily smaller as his own awareness clears. This movie was very well received and is perhaps the most successful of the three. Song Il-gon's film Magician(s), was also quite good but the experimental technique he used, while interesting, seemed to lose part of the audience. The movie is a 'one cut, one scene' film whose story moves between the past and present but, because there are no cuts, it takes a little getting used to before it can be fully appreciated and a second viewing is definitely in order. The last film, Weerasethakul's Worldly Desires, was the weakest of the three, telling a familiar story of forbidden love.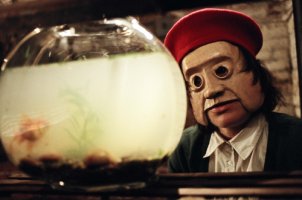 The Main Program was divided into two sections, Indie Vision and Digital Spectrum. The ten films of Indie Vision were limited to debuting directors or directors making their second feature film. Some of these movies showed exceptional cinematography or innovative techniques. Among them I found, I. Claudia (pictured right) to be very interesting. Directed by Canadian filmmaker Chris Abraham it is the story of a young girl, trying to cope with her parents' divorce and her father remarriage. All the characters are played by a single actress wearing masks and using different voices. The actress, Kristen Thomson, was also the writer of the screenplay. The movie, Innocence, by director Lucile Hadzihalilovic also offered some unique visuals in the way it depicted coming of age. However, the best film, and winner of the Woosuk Award, a cash prize of $10,000 US, was Marina Razbezhkina's beautiful Harvest Time in which a woman must continually win the red ribbon for best combine operator of her village because, when it first came into her possession, it was gnawed on by rats in her house.
The Digital Spectrum section awards the JJ Star Award for the best digital movie. This year, the prize was split between Czech Dream and Oxhide, the first feature film of Liu Jia Yin. Czech Dream is what the director called a 'provokumentary'. Using various forms or advertising (flyers, radio spots, tv...) the directors, Vit Klusak and Filip Remunda lured unsuspecting Czech citizens to a huge warehouse promising them the best goods at the best prices. What they find instead reveals the empty nature of advertising but the results show the power of ads. Oxide was made with 23 cuts on a static camera which simply showed the director and her family going about their daily lives. However, what we see on the surface gives us food for thought and supposition about their thoughts, hopes and dreams. Although it didn't win any prizes, Ed Lachman's Cell Stories was interesting in that it was the first documentary ever to be shot using a cellphone. The quality of the images is low as one might expect, but the result, combined with the stories, was good.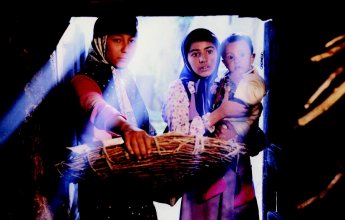 For the first time this year, JIFF offered a chance for the members of the audience to select their favorite films choosing among the selections in the Cinemascape and Cinema Palace sections. The top three choices were Phillip Muyl's Butterfly, Brad Bird's The Iron Giant and (my personal favorite of the Cinema Palace section) Hayat (pictured left) by Iranian director Ghoamreza Ramezani. Cinema Palace offered one film that I was looking forward to but ultimately I found to be very disappointing. The film was the first ever animation co-produced by North and South Korea, Empress Chung. It is the story of Shim Chung, a legend that has been made into films numerous times throughout Korean film history. Unfortunately, the results have generally been lackluster affairs and this is no exception. I was, however, hoping to see some elements that I could pinpoint as uniquely North Korean. What I got however, was a very Disney-esque film with flat characters with 'cute' animal sidekicks.
However, my struggling through Prof. Jeong Jae-hyeong's compilation of research on North Korean Films (Bukhanyeonghwa-e daehae algo sipeun daseot gaji) did not go to waste because JIFF screened three feature-length North Korean films, Yun Chan's comedy Welcome To Pyeongyang Animal Park (2001), and two movies by director Pyo Kwang, The Blood-Stained Route Map (2004) and Spirit Of Korean Celadon (2002). These were part of the Special Screening section which also featured the recently discovered colonial era films that where shown earlier this year by the Korean Film Archives. These were Military Train (1938), Fisherman's Fire (1939), Volunteer (1941) and the surprisingly sophisticated Homeless Angel (1941) directed by Choi In-gyu.
Perhaps it is needless to say that If You Were Me 2 was a hit at the festival, particularly because director Ryu Seung-wan and Jang Jin joined the screening to field questions at the end. The films in the sequel of the National Human Rights Commission Of Korea's 2003 film were superior to the first focussing on such social issues as male chauvinism, how society treats people with Down's Syndrome, foreign workers and North Korean refugees. What I found surprising was the popularity of the companion film, If You Were Me: Anima Vision. This 73-minute feature was comprised of 6 animated films pointing out various forms of discrimination or social problems like the faults in the education system in Be A Human Being, gender roles in At Her House, or the heart-rending Day Dream, the story of a handicapped child and how other children treat her.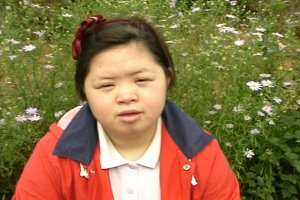 There were two sections that were equally popular, showing to sold out theaters at each screening. These were Korean Cinema On The Move and Korean Shorts; Critics' Week. The amazing Geochilmaru by director Kim Jin-seong was especially popular. The story took eight martial arts champions and set them to fighting. No wires, no gimmicks. Brainwave was another interesting piece, although its goal may of been outside of the reach of its budget. It is a sci-fi film directed by Shin Tae-ra and tells the story of what happens when a man discovers he has abilities that make him special. While the plot may seem familiar, the camera work and special effects are really well done. Another film of note from this section was by director Jeong Kang-woo, Reading Or Feeding. Edgy, nervous characters, bizarre camera angles and unusual editing build an incredible feeling of suspense and anxiety. However, my favorite from these sections was undoubtedly the story of Buddle's Unrequited Love (pictured right), a documentary by Hwang Seon-hee. Ms Hwang is not a professional film-maker. She is the mother of 'Buddle', a girl who has Down's Syndrome. The mother narrates what her daughter, who has just fallen in love for the first time, is going through. She also talks about her hopes and dreams of her daughter, whether realistic or not. The agony and helplessness the mother feels in transmitted to the viewer who is left feeling like their emotions have been through a wringer after watching this 20-minute short.
There were other sections of JIFF as well, including a retrospective of the films of Japanese director Shinji Somai, Maghreb Cinema--the movies of Tunisia and Morocco, Midnight Obsession--which included among other things screenings of three films by director Ken Russel (the director of Tommy), and the outdoor screenings which showed mainstream Korean films such as Spin Kick and Mapado. As always, JIFF offers the Masterclass and several workshops on the making of digital films. This year's masterclass featured music directors Cho Seong-woo with screenings of Memento Mori and Springtime for which he did the music and Kenji Kawai was on hand the following day to teach about two of the films he directed the scores of, Avalon and Ghost in the Shell 2.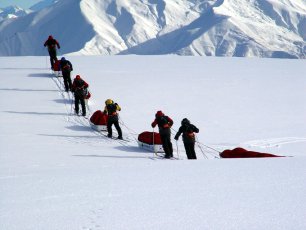 JIFF wrapped up with a showing of Antarctic Journal (pictured left) directed by Im Pil-seong--a screening that was sold out as well. The 6th JIFF was a success no matter how one looks at it. About midway into the festival, the JIFF committee released a report stating that the audience of each show averaged about 60% of capacity. Later, a press release stated that by the end of the festival, the average had risen to 70% of the total seats being filled. The previous year saw only about 40% capacity. This is quite an impressive difference. Also, the festival sold 69,000 tickets, easily surpassing the organizers goal of 55,000.
There were some minor complaints generally from people trying to get tickets at last minute only to find everything sold out. However this and most film festivals require some planning and the festival organizers cannot be held accountable for that. Instead, the organizers of the festival should be congratulated on this year's success and for keeping the spirit of independent filmmaking alive.
Volunteers: A Film Festival's Hidden Strength

  If you have ever attended a film festival in Korea, one of the things that may surprise you are the numbers of volunteer workers you will see. Of course, volunteers work at festivals around the world, but film festivals in Korea inspire thousands to apply for unpaid positions. At a recent film event in Europe, I asked a staff member if they could spare a volunteer to help me with something and he answered with a laugh, "Sorry, but we don't have armies of volunteers like you have in Pusan." So what is it that drives these people, usually students, to work at festivals for long hours and no pay? This year, one of my students, Kwak Won-hyeok, was working as a volunteer at the Jeonju International Film Festival so I took the opportunity to ask him about his experience.

Congratulations on being selected as a volunteer. I hear that the competition is pretty fierce.
Thanks, but actually, I wasn't selected at first. I was in China when the first round of selections were made so I was put on a waiting list. I just was lucky because some people who were originally selected weren't able to make it. The application process begins very early. The deadline for applying as a volunteer is in December. On the application we can select what part we are interested in doing like ticketing or information... Then in early spring, we were interviewed. The interview lasted about 30 minutes. I had written on my application that I wanted to meet guests so part of my interview was in English and Chinese. I couldn't answer the questions in Chinese well -- I have only studied the language since last winter.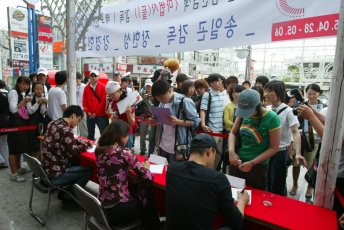 What questions did they ask at the interview?
First they asked me about my experiences. I had mentioned that I was part of a leadership training program and I am vice-president of my club at university. They also asked me why I had chosen to study English in England rather than another country. Finally, they asked me about what I thought of JIFF. I was worried about that question because, even though I am from Jeonju, I had never attended the films screened at JIFF. I would always enjoy the downtown atmosphere while JIFF was going on, but I had never thought that I would be interested in the kind of films they show. This experience has changed that. I have been very surprised at how excited people get about these independent and short films and I hope to have the chance to start watching more of them.
What do you do as a volunteer?
Well, I was part of the foreign support team so my job was to pick up guests from the bus terminal and bring them to the hotel. Or to meet them at the hotels and take them to the guest center downtown. I also had to answer questions about Jeonju such as what to see or where and what to eat, manage the guests' interview schedules and take them to their appointments. JIFF had hired three taxis so we would call them whenever we needed.
It sounds like you got to meet many filmmakers.
Well -- not so many. Each of the volunteers in my team were in charge of seven or eight guests. I was in charge of some of the English speaking guests, but we had volunteers who could also speak Japanese, Chinese and French. Sosuke Ikematsu was probably the most popular out of all the guests among the volunteers. He was the little boy who appeared in The Last Samuri. He came with his mother and he was very bright and interested in everything. All the female volunteers wanted to show him around.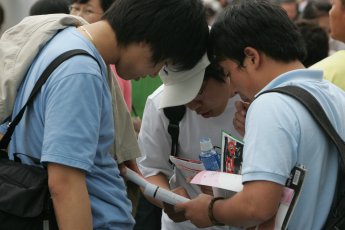 How many volunteers were there?
My team had 26 volunteers and five or six regular staff members. The whole festival had, I think, 260 volunteers divided into different teams like Subtitles, Ticket Sales, Information, and Traffic Control. I think I was lucky because some people on my team have to stay in the hotels or in the guest room just checking id's. I am able to come and go if I'm not needed, but we are on call constantly.
What hours do you work?
We begin in the morning, usually about 10 and we are supposed to finish at 10 p.m., but usually we have been needed until about 12 midnight.
Those are long hours. What kind of benefits JIFF provide for volunteers?
Well... They give us W10,000 a day for lunch and dinner. (That's about $10 USD). And we were able to go to the guest and press parties, I think there are 5 in all, but I am too tired by the end of the day to attend.
Well, you must have seen a lot of films.
No! Volunteers can't watch the movies. Also, we aren't allowed to eat or drink with guests or press. They did have a special screening for volunteers of the short film M and a British animation called The Magic Roundabout. Those were the only movies I saw.
Wait. You don't get to see any movies, you work all day, and you can't spend much time with guest. What DO you get out of this experience?
I get to feel and experience the atmosphere of JIFF from a different perspective. It is a lot of fun but it's also a lot of work. I never realized what went into organizing and running a festival smoothly. Also, my team has grown very close in the preparations before the festival and during our working days and I have made many valuable friendships. Also, the closer it got to the festival, the less important my reasons for joining became. I got caught up in the excitement of making this festival a success and I really don't mind that I can't watch the films. I feel a sense of satisfaction with the way things are going and I really value this experience.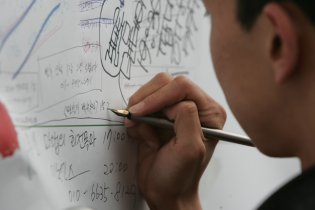 Is there is anything that you would like to see improve or changed next year?
The only thing I would suggest is about organization. They need to give the volunteers in charge of guests a list of who is where. I was sometimes told to go to meet guests coming by shuttle bus from the airport, but I would have no idea who or how many people I was supposed to meet. I could only stand there with JIFF sign and hope that they would find me.
Will you do this again next year?
I hope to, but it will be more difficult since I will have graduated school and hopefully will have a job. Actually, I wish that I had done it earlier. When JIFF first began, we (people in Jeonju) had no idea how much it was going to grow or how important it was going to become. People began recognizing its importance over the past three years or so. I would have liked to have been involved with the festival from its early years until now so I could experience how much it has changed over that time. What a feeling of accomplishment that must be.
(Photos and stills courtesy of JIFF's press service)