2004 Melbourne International Film Festival Report:
Korean Films at the MIFF
  Melbourne International Film Festival has played a major role in popularising Korean film in Australia. Four years ago when eleven Korean films were first introduced as part of the Regional Focus programme, they attracted Korean ex-pats and students, and local film buffs interested in new tendencies in Asian cinema. Soon after, with the arrival of Kim Ki-duk's movies (he was a special guest of the Festival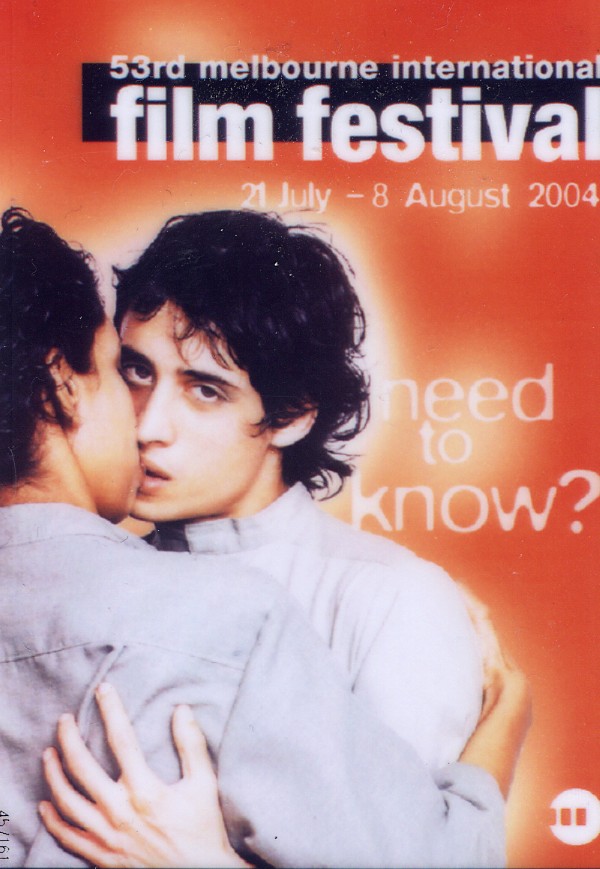 in 2003 along with the Iranian director, Abbas Kiarostami), Korean films started steadily gaining popularity and became one of the most significantly represented cinematographies at the MIFF. Australian film buffs were, in the past three years able to familiarise themselves with a range of Korean films, from low budget digital features like Camels and Tears, to arthouse films, Turning Gate and Old Boy, to the commercial blockbusters, Joint Security Area, Silmido or Sword in the Moon. It might be interesting to point out that 8849, a short film of Go Young-min was screened at the Opening night of MIFF 2002. This was followed by discussions about the Korean film industry that enabled a better understanding of Korean popular and art house cinema, similarities, differences and links with other cinematographies in the region.

Korean features were screened in the Regional Focus programme of the MIFF, alongside Chinese, Japanese, Hong Kong, Thai and Taiwanese films. This year, films screened in this programme included: Old Boy (2003), Woman is the Future of Man (2004), Samaritan Girl (2004), Spring, Summer, Fall, Winter... and Spring (2003), Sword in the Moon (2003), A Tale of Two Sisters (2003), Natural City (2003), If You Were Me (2003), Silmido (2003) (soon to be released in Australia) and A Good Lawyer's Wife (2003).

Introduced by the director, Park Chan-wook (Joint Security Area MIFF 2001, Sympathy for Mr Vengeance 2003), Old Boy closed the festival on the 8th of August. The intricate narrative about a seemingly innocent man imprisoned for fifteen years and released without explanation, focuses on the themes of guilt and revenge and emerged as one of the most exciting and provocative films in 2003. Park Chan-wook's protagonists are obsessed by the irretrievable events that scarred them for life, stranded in a seemingly impenetrable labyrinth of love, deceit and revenge. The gloom, dilapidation and uncompromising directorial style suggest parallels with the films of David Lynch. However, it would be difficult to ignore the social, cultural and political subtexts in this film that are profoundly and specifically Korean. The Executive Director of the Festival, James Hewison drew the audience's attention to the scenes of senseless, myopic violence, prior to the screening. Nevertheless, even these, starkly naturalistic moments, have a particular place in Park Chan-wook's narrative. In this surreal love story, each emotion is boiled down to its most shocking, exaggerated core.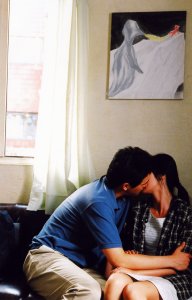 Melbourne viewers would have certainly missed out on one important aspect of this film; the star status of the male protagonists. However, the technical and stylistic details, the positioning of the camera and the rapid cutting in key scenes gave the audience a hint of it.

Hong Sang-soo's Woman is the Future of Man (pictured left) evokes correspondences with his previous films seen in Australia, Virgin Stripped Bare by her Bachelors (2001) and Turning Gate (2003). Hong Sang-soo regards his protagonists' relationships with scepticism, and presents the audience with a complex, multilayered narrative about friendship, love and divided loyalties. The director has immense understanding for his characters, but no perceptible empathy for the social forces that make them act in the way they do. This is particularly characteristic of his male characters' treatment of women. The frugal, poetic dialogues between his urban loners and the long pauses in their conversations evoke a sense of loneliness, confusion, uncertainty and temps perdu. Since their first screenings at the MIFF, Hong Sang soo's films have developed a devoted band of admirers. One would think it is time for a retrospective.

Im Sang-soo's second film Tears was shown at MIFF 2001 and focused on the life of Seoul teenagers growing up in the urban slums. A Good Lawyer's Wife offers an interesting insight into the frustrations, dilemmas and disappointments of Korean middle class. The director's portrayal of the two confused, insecure and ultimately narcissistic individuals, suggests that urban alienation and loneliness still remain in the focus of his attention.

This film departed from the usual framework of drama, centered on a couple trapped by middle class morality. The director expanded his narrative initially focusing on the teenager's quest for freedom, using the elements of comedy. The narrative gradually absorbs a strangely compelling subplot focusing on the devastating relationship between the elderly parents. Father's delirium unveils a horrifying trauma of his childhood and youth, matched by his wife's bitter reminiscences and sense of emotional unease of the young couple. A murder in the final stages of the film emerges as a stark reflection of the middle class couple's life. They are seen acting in ways which are morally false and entering a series of compromises, with disastrous consequences.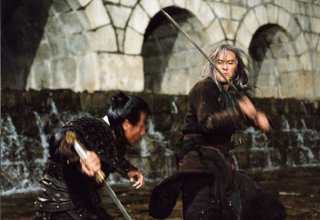 Sword in the Moon (pictured right) was shown alongside other exhilarating swordplay films, Warriors of Heaven and Earth (He Ping, China/Hong Kong), Hero (Zhang Yimou, China) and Zatoichi (Takeshi Kitano, Japan) and a programme of Chang Cheh's movies from Hong Kong. Kim Eui-suk's film, straight from Un Certain Regard in Cannes, provides exceptional entertainment, breathtaking scenes, exquisite photography and solid performances. Seeing these films in the festival atmosphere, one tends to lose out on their generic specificities; the wu xia pian elements in Hero, the theatrical subtext of Kitano's films (Bunraky in Dolls, the dancing finale in Zaitochi) and ultimately the stylistic references (Milius, Fleischer) in Sword in the Moon.

One would argue that Korean film in Australia will, in the foreseeable future, remain centered on festivals like MIFF. The emergence of Madman Cinema programme Eastern Eye, that includes Japanese, Korean (Silmido), Thai, Chinese and Hong Kong films is a step in the opposite direction. A series of programmes, retrospectives and individual screenings organised by cultural centres, distributors and departments of Asian/Cinema Studies would certainly enable Korean film fans to remain in touch with this vibrant filmography.

Other highlights

From the films in the official selection, one should mention the screenings of Gatlif's Exiles, Rohmer's Triple Agent, Rivette's The Story of Marie and Julien, Kusturica's Life is a Miracle and Colagrande's Open My Heart as well as the retrospective of Thai Breakers: New Cinema from Thailand. Pen-ek Ratanaruang (6ixtynin9, Mon-Rak Transistor, Last Life in the Universe) was a guest of the Festival along with the Australian born director of photography Christopher Doyle. Doyle opened his photographic exhibition, "Why I am not a Painter," with stills from Wong Kar Wai's, Ratanaruang's, Noyce's and Zhang's films.

The documentaries screened at this year's MIFF include Michael Moore's blockbuster Fahrenheit 9/11, and a series of complex, revealing and inspiring films from Iran, Israel, Palestine, UK and Australia, that enjoyed less media attention but were well received with the audiences. These included the Elia Suleimani programme, a selection of short Iranian documentaries, The Man Who Stole My Mother's Face (Australia, winner of Tribeca), Noon Gun, Bedroom Radio and The Boy Who Plays on the Buddhas of Bamiyan (UK) and the Israeli/French documentary Wall.



Boris Trbic is a Melbourne writer and film critic. He has written about film in Sensesofcinema.com, Metro, Australian Screen Education and other Australian and overseas publications. He has worked as a member of the Documentary Panel at the Melbourne International Film Festival (2000-2004).