2008 Puchon International Fantastic Film Festival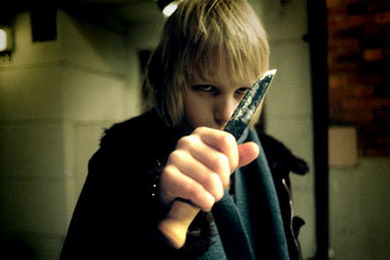 Let the Right One In, dir. Tomas Alfredson
  This year's Puchon Fantastic Film Festival continued on last year's orientation of "playing it safe" plus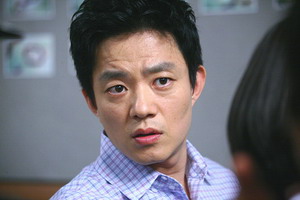 "regaining its foothold as Korea's major conduit for genre cinema." In 2008, the overall selections inched forward a bit toward the past glories of the exclusive presentation of genre cinema, with slightly less emphasis on family-friendly entries (in the meantime picking up a few acclaimed modern fairy tales like Sweden's Let the Right One In). With the practical decimation of summer horror seasons in Korea, Korean horror/fantasy films remained under-represented, with the decidedly realistic (although terrific) Chaser leading the fray, followed by Hansel and Gretel, Radio Dayz and A Tale of Legendary Libido. The only new Korean horror, Death Bell, turned out to be a piece of vituperative torture porn set in the Whispering Corridors environment, leery in its depiction of high school girls and boys variously razor-sliced, drowned, hung upside down, bound and gagged. Even a goggle-eyed (but effective) performance by Lee Beom-soo could not save it. The newcomer director whose English name is simply rendered as CHANG profusely apologized for the hideous state in which the film was shown (a grainy, choppy digibeta version with hilariously bad English subs): how about an apology for a bad screenplay?
Retrospective sections were colorful if not surprising, headlined by a solid showing of old Nikkatsu classics from Japan, including Ichikawa Kon's Alone Across the Pacific (1963), Kumai Kei's Chain of Islands (1965) and Saito Buichi's "Hokkaido Western," A Rider with a Guitar (1960). More in tune with the old PiFan sensibility was Gregg Araki's queer cinema, ballsy, pissed off and surprisingly romantic, for instance, in the newly remastered Living End (1992), with its infamous end-credit "tribute" to the "Republican f*ckheads." The Korean cinema retrospect series this year focused on international espionage thrillers of the '60s and '70s, often starring the inimitable Heo Jang-gang as a North Korean villain and the burly Jang Dong-hwi and Park No-sik as (sometimes sentimental) South Korean "action heroes." Unfortunately, I had to miss out on Women Detective Mari (1975), supposedly Ryoo Seung-wan's favorite among this year's selections.
As it so happens, I ended up catching only the films starring Park No-sik, a staple in Korean action films in the '70s, whose warm Cholla Province accents and surprisingly good acting beneath an aggressively macho demeanor suggest a combination of a pre-Rambo Sylvester Stallone and Kirk Douglas. Ridiculously prolific (the Korean Film Archive Database lists 39 films starring him for the year 1971 alone), Park lent his talent to countless bottom-scraping potboilers mandated by anti-Communist campaigns of the Park Chung Hee regime, while building a reputation as an action star in a series of very popular gangster noirs, such as Count of Myeongdong (1970) and Doraon paldo sanai (The Eight-Province Guy Returns, 1969).
Operation Tokyo Expo '70 (1970) is a typical example of the former, serving as a travelogue-cum-nationalist propaganda piece showing off the Korean pavilion in the Tokyo World Expo Fair, one of the biggest tourism successes of postwar Japan. O Ji-myeong and Park No-sik are stalwart South Korean agents (volunteers?) smashing the evil plots masterminded by Heo Jang-gang (who else?). The production values are truly pathetic: at one point, the dastardly Commies execute one of their own for failing the mission by strapping him to an electric chair. The switchboard for the chair has a handwritten sign that reads "High Pressure," no doubt meant to suggest "High Voltage," as in "Go-ap jeon-ryu." An In-suk, one of the most beautiful and talented Korean actresses but perennially cast in pouting teenager roles, sticks out like a bowl of ice cream amidst blocks of aggressively fermenting cheese. Otherwise, the movie is only worthwhile as a time capsule.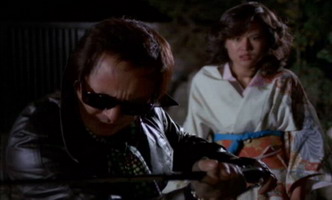 The entertainingly titled Devil, Ride the Express Train to Hell (1977) is considerably more interesting. Devil is a good example of how Korean genre films of this era would copy the cliches and conventions of Japanese cinema and use a nationalist, anti-Japanese plot to cover it up. Park plays a blind jazz musician who is also a master swordsman a la Zatoichi: he teams up with a childhood sweetheart with "special powers" straight out of The Ninja Scroll (She can manipulate snakes to attack bad guys and spits out deadly needles from her mouth!) to avenge their father's deaths. Park this time takes helm and his direction is surprisingly stylish, its arch-expressionist approach compensating for the brutal lack of resources. At times, of course, the production's sheer incompetence generates unintentional laughter: when the spectacularly wooden lead actress - An Bo-young - takes a shower she carefully avoids getting her backside wet, to prevent her my-three-year-old-niece-drew-this-with-crayola snake tattoo from being erased! It also contains one of the dumbest and most threadbare "martial arts training sequences" I have ever seen. Still, risible or not, there is no denying Devil's entertainment value: even its "Japanese villains," played by Jang Dong-hwi (cast as a drug lord masquerading as a stag film director!) and Jang Hyuk, are too grotesquely leery to be taken seriously. Besides, the movie ends with a shamelessly, brazenly tear-jerking Elvira Madigan-moment, with Park No-sik displaying his melodramatic acting skills, that is unexpectedly emotional and even a little moving.

Awards


FEATURES
Best of Puchon: The Chaser (Korea) by Na Hong-jin.
Best Director: Let the Right One In (Sweden) by Tomas Alfredson.
Best Actor: Ekin Cheng and Shawn Yue, Rule Number One (Hong Kong/Singapore).
Best Actress: Seo Yeong-hee, The Chaser (Korea).
Jury's Choice: Fear(s) of the Dark (France) by various directors.
Prugio Citizen's Choice: Let the Right One In (Sweden) by Tomas Alfredson.
 * Jury Members: Lee Doo-yong (chair) (film director, Korea); Miroljub Vuckovic(producer/director, Russia); Phillip Cheah (festival director, Singapre International Film Festival, Singapore); Roy Lee (producer, USA); Ron Holloway (critic/film director, USA).

SHORTS
Best Short Film: ($5,000) The Facts in the Case of Mister Hollow (Canada) by Rodrigo Gudi?o.
Jury's Choice, Shorts: ($3,000) Schausteins Final Film (Germany) by Christian Klandt.
Audience Award, Shorts: A Coffee Vending Machine and Its Sword (Korea) by Chang Hyung-yun.
Best Korean Short: ($5,000) A Coffee Vending Machine and Its Sword by Chang Hyung-yun.
 * Jury Members: Joo You-shin (chair) (professor, Korea); Goran Topalovic (co-director, New York Asian Film Festival, USA); Jeon Kye-soo (director, Korea).

European Fantastic Film Festival Federation Asian Award: The Chaser (Korea) by Na Hong-jin.
 * Special Mention: Hansel and Gretel (Korea) by Yim Phil-sung and Tokyo Gore Police (Japan) by Nishimura Yoshihiro.