Korean Film News in 2004
Jan 1:  Fourth stage opening to Japanese cultural products takes effect   As of January 1, Japanese pop culture will have increased access to the Korean market, as part of a gradual opening that has taken place since 1998. Live action films will have unrestricted access to theaters, although only Japanese films that have received a theatrical release will be eligible to come out on video/DVD or to screen on terrestrial TV (a problem for some older classics). Meanwhile, restrictions on the screening of Japanese animated features are expected to remain in effect until 2006. Click here for more information about Japanese films in Korea.

Jan 1:  Korea abolishes Culture Promotion Fund tax   As of January 1, a long-standing hidden tax on tickets to movie theaters and other cultural events has been repealed. First instituted in 1973, the tax has gradually risen to reach 427 won, or 6.5% of the cost of an average ticket. For 2003, the total amount collected from movie tickets alone amounted to 51 billion won ($43.7m). This money has previously been put into a fund to support the arts, but henceforth the government will provide more direct support. Meanwhile, the major theater chains are coming under fire for not lowering ticket prices after the tax's repeal.

Jan 29:  Tokyo Decadence refused import permit   The Korea Media Ratings Board has voted to refuse an import permit to Japanese director Murakami Ryu's 1992 feature Tokyo Decadence, after issuing a similar verdict for Tinto Brass's Caligula (1979) on January 8. The import permit system is considered a relic of Korea's authoritarian past, and until this month application was considered merely a formality. Without an import license neither film will be able to be screened; the film community has responded by calling loudly for the abolition of the permit system.
Feb 5:  Taegukgi enjoys record opening   Kang Je-gyu's Korean War film Taegukgi has broken the record for Korea's biggest ever opening weekend. Opening on a record 440 screens (later expanding to 480), the film sold an estimated 1.7 million tickets from Thursday to Sunday. This passes the 1.59 million tickets sold by Silmido from Wednesday to Sunday following its December 24 release, and scrapes past the 1.68 million earned by Lord of the Rings: Return of the King from Wednesday to Sunday on its first week.

Feb 15:  Kim Ki-duk wins Best Director award at Berlin   Director Kim Ki-duk, who is known for being more warmly received abroad than in Korea, was presented with his first ever award from one of the top three international festivals. Kim's latest work Samaritan Girl was presented with a Silver Bear for Best Direction from the 2004 Berlin International Film Festival. The festival presented its top prize the Golden Bear to Fatih Akin's German-Turkish co-production Head On.

Feb 17:  Korea installs first 2K digital projectors   Two of Korea's biggest theater chains have installed the latest generation of digital projectors in its theaters. Although a few other theaters have made sporadic attempts at digital projection, this is the first example of a 2K projector being used, and the first interest shown by the biggest exhibition companies. The Megabox Cineplex at the COEX mall in Seoul opened screenings of Kang Je-gyu's Taegukgi on February 17, while CGV is also planning digital screenings of the comedy Who's Got the Tape from March 12. Lotte Cinema, the remaining member of Korea's "big three" multiplex chains, has a digital projector of its own on order.

Feb 19:  Silmido passes 10 million admissions   Kang Woo-suk's Silmido has become the first film ever to sell ten million tickets in Korea. It reached the milestone on Feburary 19, which is 58 days after its release. Meanwhile, fellow blockbuster Tae Guk Gi is racking up admissions at an even faster pace.

Feb 20:  Arthouse film Desire finds commercial success online   Korea's first ever simultaneous on- and offline film release took place on February 20, when the arthouse film Desire opened in both conventional cinemas and as an online video-on-demand (VOD) item. Surprisingly, while the film barely sold 500 tickets in conventional theaters, within less than a week over 5,000 viewers paid 3,000 won (~$2.50) to watch the film online. This unexpected success has caused the film community to reconsider online VOD as a viable distribution channel for arthouse films.

Feb 28:  First high school textbook on film released   For the first time, Korean high school students will have the option of studying cinema as a school elective. With support from the Korean Film Council (KOFIC), an 8-member compilation committee and 9 writers have published the nation's first film textbook. Divided in two parts, the textbook covers film history, aesthetics, vocabulary, societal issues, and industrial elements in the first part, while the second part adopts cinema as a means of analyzing sexuality, violence, society, politics, and history.
Mar 4:  Cinema Service to set up shop in Japan   Major studio Cinema Service has announced plans to establish a corporate arm in Tokyo which will directly distribute its films into Japan. Cinema Service Japan is scheduled to be established by June, and will initially co-distribute with other local film companies. Within five years the office intends to release its films independently. The branch office marks the first effort by a Korean company to directly release its films into Japan, which accounts for 70% of the international market for Korean films in dollar terms.

Mar 21:  Repatriation sets documentary record   Kim Dong-won's award-winning documentary Repatriation has topped a small field to become the best-selling Korean documentary to date. After amassing 3,200 viewers on its opening weekend, the film passed 10,000 viewers on March 21 and would ultimately go on to earn 19,202 admissions. The film was the first to be distributed by the Art Plus Cinema Network -- a special chain of theaters that commit to showing arthouse features for 60% of the year, in return for a small subsidy from the government-supported Korean Film Council (KOFIC).
Apr 3:  Taegukgi passes Silmido to become new box-office champ   On April 3, Kang Je-gyu's Korean War film Taegukgi passed Kang Woo-suk's smash hit Silmido -- which was still on general release -- to become the top-grossing Korean film of all time. Taegukgi's final gross would end up at 11,721,878 viewers, as compared to Silmido's estimated 11,074,000.

Apr 23 - May 2:  5th Jeonju International Film Festival   The JIFF celebrated its fifth year by holding a well-received edition that opened with local film Possible Changes, and featured special sections devoted to Cuban cinema and independent Japanese films as well as a cinematography master class. Asian filmmakers Bong Joon-ho (Korea), Ishii Sogo (Japan) and Yu Lik-wai (Hong Kong) took part in the annual Digital Short Films by Three Filmmakers omnibus project commissioned by the festival. Meanwhile Iranian director Babak Payami won the festival's Woosuk Award for his film Silence Between Two Thoughts (2003). For more detailed information about this year's festival, read the JIFF festival report by Tom Giammarco and Davide Cazzaro.
May 14:  First adult theaters debut in Korea   Duke Cinema, a chain of theaters specializing in adult movies that receive a "restricted" rating that prevents them from screening in conventional theaters, made its debut on May 14. Comprising theaters in Seoul, Daegu, Gumi, Jinju, and Ansan, the chain opened with screenings of Catherine Breillat's Romance and Anatomy of Hell, among other titles. However, strict government regulations that prevent advertising, video releases, or screenings of regular films in the adult theaters would make it almost impossible for them to turn a profit. Within months, virtually all had closed their doors.

May 23:  Old Boy wins Grand Prix at Cannes   Two Korean films competed at Cannes in 2004, which marked a first for the country. While Hong Sang-soo's Woman is the Future of Man was received coolly by most, Park Chan-wook's Old Boy was presented with the festival's second-highest prize, the Grand Prix. The jury, led by American director Quentin Tarantino, presented the festival's top prize the Palme d'Or to Michael Moore's Fahrenheit 9/11. For more information about the 2004 edition, see this festival report.
*  *  More coming soon!  *  *
Awards at International Film Festivals


Jan 25:  Repatriation at Sundance   Kim Dong-won's acclaimed documentary Repatriation was presented with the Freedom of Expression Award at the 2004 Sundance Film Festival in Utah. This is the first time that a Korean film has ever won a prize at the Sundance festival. The film documents the experience of long-term prisoners of conscience after their release from prison in the 1990s.

Feb 1:  A Tale of Two Sisters / Wonderful Days at Gerardmer   Kim Jee-woon's A Tale of Two Sisters was presented the Grand Prix at the Gerardmer International Fantasy Film Festival in France. The festival jury was chaired by director Paul Verhoeven. The film also won the Prix 13eme Rue and the Young Jury prize. Meanwhile, Kim Moon-saeng's Wonderful Days took the Anim'arts Award for best animated feature.

Feb 1:  Save the Green Planet! at Rotterdam   Save the Green Planet! by Jang Jun-hwan was given a Special Mention for the KNF Award at the 2004 International Film Festival Rotterdam (Jan. 21 - Feb. 1). The sidebar jury made up of Dutch critics called it "A film that really justifies the exclamation mark in its title. Through this energetic, inventive mix of genres shines a big heart."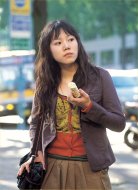 Feb 15:  Samaritan Girl at Berlin   Director Kim Ki-duk won his biggest honor to date when he was named Best Director at the 2004 Berlin International Film Festival for his film Samaritan Girl. Previous films of his to compete in top-ranked festivals include The Isle (Venice 2000), Address Unknown (Venice 2001), and Bad Guy (Berlin 2002), none of which were singled out for an award.

Feb 23:  Mokpo, Gangster's Paradise at Yubari   Gangster comedy Mokpo, Gangsters' Paradise was named winner of the Grand Prix at the 2004 Yubari International Fantastic Film Festival in Hokkaido, Japan. It is the second time a Korean film has won the festival's top prize, following My Sassy Girl in 2002.

Feb 28:  A Tale of Two Sisters / Acacia at Fantasporto   The Oporto International Film Festival in Portugal, better known as "Fantasporto," gave three awards including the Grand Prix for Best Film to Kim Jee-woon's horror film A Tale of Two Sisters. The film also picked up a Best Director award and a Best Actress Award for Im Soo-jung. Meanwhile, the festival's Orient Express jury gave its award for best Asian film to Park Ki-hyung's Acacia, with A Tale of Two Sisters winning a Special Mention.

Mar 26:  Africa a.F.r.I.c.A at Tokyo Anime Fair   Short animated film Africa a.F.r.I.c.A by director Han Tae-ho took home the Grand Prix at the 3rd Tokyo International Anime Fair. A film about a dying village hit with drought and its people's loss of hope, Han's film was given the top prize among the 182 shorts screened at the festival.

Mar 27:  Save the Green Planet! / A Tale of Two Sisters at Brussels   The 22nd Brussels International Festival of Fantasy Films presented its top prize, the Golden Raven, to Jang Jun-hwan's Save the Green Planet. A Silver Raven was also presented to actress Yeom Jeong-ah for her role in the horror film A Tale of Two Sisters.

Mar 28:  We Are Workers, Or Not? at Fribourg   We Are Workers, Or Not? ("Nodongjada anida"), a 60-minute documentary by Kim Mi-rye, took home the top documentary prize from the 2004 Fribourg International Film Festival. The film depicts the struggles of a group of truck drivers against their employers, who try to register the drivers as private entrepreneurs so that they will not be protected by labor laws.
Korean Films Abroad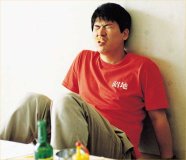 Turning Gate in France and Tokyo   Hong Sang-soo's Turning Gate (2002) enjoyed a successful release in Paris. Opening on January 28 on 13 screens nationwide (5 in Paris), the film sold 8,200 tickets in its first weekend, which exceeded expectations. The film, distributed by MK2, has received a warm critical response, after Hong's three previous works received a theatrical release in February 2003. The film also received an arthouse release in Tokyo on January 31.

Spring, Summer... in Germany   Kim Ki-duk's Buddhist-themed Spring, Summer, Fall, Winter... and Spring (2003) was released in Germany on March 18 by Pandora Films, which is the company that co-produced this film. The film took $210,000 in its first weekend on 50 screens, and after a theatrical run that lasted all the way to November, it accumulated a $1.3m gross.

Phone in Italy   Ahn Byung-ki's horror film Phone starring Ha Ji-won opened at #2 at the Italian box-office. Released by Eagle Pictures on May 14 on 235 screens, the film earned $662,000 in its first weekend, and went on to gross more than $1.7m over five weeks. This ranks as the best-performing Korean film ever released in Italy.

Woman is the Future of Man / Spring, Summer... in France   Hong Sang-soo's fifth feature Woman is the Future of Man opened in France on May 18, to coincide with its screening at the Cannes Film Festival. Distributed by MK2 Diffusion, the film opened on 30 screens and landed at #15 in the chart with a weekly take of $124,000. After two full weeks, the film had earned just short of $240,000. Meanwhile, Kim Ki-duk's Spring, Summer, Fall, Winter... and Spring was released in France by Pretty Pictures. Opening on April 14 on 47 screens, the film earned $270,000 in its first seven days. It spent 7 weeks in the top 20, earning $1.15m in that time.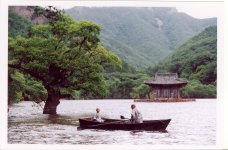 Spring, Summer... / Tube / A Good Lawyer's Wife in Italy   Kim Ki-duk's Spring, Summer, Fall, Winter... and Spring was released by Mikado Film in Italy on June 11. Opening on 21 screens, the film earned $46,448 in its first weekend and had a long, steady run over 16 weeks to end up with a $680,000 gross. Less successful summer releases were A Good Lawyer's Wife, earning $40,000 over two weeks on a 9-screen release, and subway action film Tube which opened on 47 screens but earned less than $30,000 in a one week run.

A Tale of Two Sisters / Wonderful Days / Memories of Murder in France   Kim Jee-woon's horror film A Tale of Two Sisters and Kim Moon-saeng's animated feature Wonderful Days both opened on June 16 in France. Two Sisters had the bigger opening, with Bac Films opening it on 79 screens, earning $187,000 on its first week at #15 in the chart. Pathe opened Wonderful Days on just 23 screens but earned $111,000 in its first week. The following week, Bong Joon-ho's Memories of Murder opened at #20 for CTV International, earning $197,000 over its first week on 35 screens for a strong screen average. All three films dropped out of the top 20 after their first week, but reportedly Wonderful Days had earned roughly $340,000 by mid-July, delighting its distributor.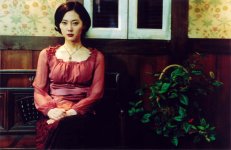 A Tale of Two Sisters in Italy   Kim Jee-woon's horror film A Tale of Two Sisters saw a medium-sized release by Medusa Film on August 27. After opening with $164,000 on 134 screens, the film went on to take $550,000 over four weeks.

Old Boy in France   Park Chan-wook's Old Boy was released in France by Bac Films on September 29, with marketing boosted by the film's winning the Grand Prix at Cannes. Though it performed better than most Korean films with $395,000 earned in its first week on 84 screens, it was expected to do much better than it actually did. Marketing of the film was criticized for centering on its status as an arthouse film, rather than an action/thriller for younger viewers. After three weeks in the top 20 it had earned $765,000.

3-Iron in Italy   Under its Korean title "Bin-jip," Kim Ki-duk's 3-Iron was released by Mikado Film on December 3, following up their strong success with Kim's Spring, Summer... in June. The film took $80,000 on 11 screens during its first weekend, and then gradually moved up to 39 screens, earning over $900,000 by its 7th week. The film's performance was no doubt boosted by the Silver Lion it won at Venice in September.