An Interview with Kim Ji-seok

  Kim Ji-seok has served as the Asian programmer of the Pusan International Film Festival ever since its first edition. As one of the original founders of the festival, he has seen it grow from an abstract idea into one of the most famous film-related events in Asia. At the same time he has closely followed developments in various Asian cinemas, and helped to launch the careers of many now-famous directors such as Jia Zhangke, Pen-ek Ratanaruang, Zhang Ming and others. Kim agreed to meet with us during the 10th edition of PIFF to discuss the history of the festival and his views on Asian cinema.

Could you tell us how Pusan International Film Festival was born?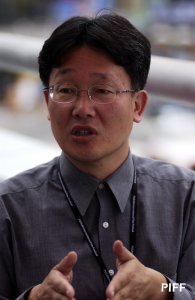 From the mid-80's, Jay Jeon [world cinema programmer for PIFF] and I participated in other international film festivals, and I have to say that it was a kind of a cultural shock for me. At that time I wrote some articles about these events, and I argued that Korea must have an international film festival, for two reasons in particular: the Korean general audience couldn't see any films besides Korean, Hollywood, Hong Kong and a few European productions; and the Korean film industry didn't know how to promote and sell Korean films, or to cooperate with foreign film industries and filmmakers.
In 1992 we were invited to the Pesaro International Film Festival in Italy, because they were organizing a retrospective of Korean cinema. Among others, Lee Yong-kwan, the current PIFF deputy director; Park Kwang-su, the former PIFF deputy director; Jay Jeon and I all participated in the event at Pesaro. During our stay there, we talked about the idea of holding an international film festival in Korea. I was born in Busan, I live here and I'm a member of the Busan Film Critics Association. In 1994 we held seminars about international film festivals, but we couldn't raise any money to organize a film festival.
Suddenly in 1995, a friend of mine who was the head of an event company called me, because a number of executives from the Paradise Hotel in Busan had asked her to start an international film festival. So we talked about this, and I discussed it with Lee Yong-kwan and Jay Jeon. We also started considering who should be festival director, and we thought about Kim Dong-ho. So we called him asking for a meeting -- to be precise we met in August of 1995, at the Plaza Hotel in Seoul. We explained to him our plan to start a festival. He knows very well about international film festivals and he agreed to our idea, and we formed the organization.
However after that we had serious problems, because the executives of Paradise Hotel had a different conception from us of what an international film festival was. They had in mind a kind of awards ceremony like the US Academy Awards, so they suddenly canceled their support for the festival. Luckily Kim Dong-ho was a very close friend of the vice mayor of Busan City Government; they met and he explained about our plan, so at the very end we managed to receive some support. But the first edition wasn't easy, because we had no experience with the organization of a film festival -- things like hospitality, subtitling, the catalogue, etc. Anyway, in September 1996 we held the first edition. Before the festival we were hoping for an audience of 50,000 but as you know from the first year more than 150,000 people attended, so we were very surprised.

Did you have any particular model, for example other film festivals, when you first made plans for Pusan?
The best models for us were the Rotterdam, Vancouver and Hong Kong festivals. From the beginning we needed our own strategy to make the festival stand out, so our first two decisions were to make it a non-competitive event, and to focus on Asian films. Then we studied good non-competitive festivals like the ones I mentioned, and not, for instance, the Tokyo Film Festival, which is a huge competitive festival run by the staff of some major companies. At that time, Hong Kong was the top film festival in Asia. It was very well run, the programming was excellent, and the festival environment was fantastic: very good food and beautiful sights, so Hong Kong was a really good model for us.
In regards to Rotterdam, Simon Field was not the director at that time, but the festival was growing quickly and, as you know, it has the project market CineMart. We thought at the beginning we wouldn't be able to manage a film market, so we preferred to focus on starting a project market. Actually, even though in 2006 PIFF will also launch a film market, we're worried about whether we can be successful with it. As for the project market, the idea of the PPP was pushed strongly by former deputy director Park Kwang-su because he had been invited to Rotterdam's CineMart, and he was impressed.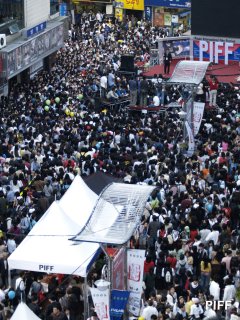 Can you give us an overview of the first edition of the festival and any problems you encountered? Was censorship an issue?
Yes, the first year we had censorship problems. The censorship board asked us about which films we were going to show... However when distribution or production companies request ratings from the censorship board, they must pay some money, it's quite expensive. In 1996 we screened around 160 films, so if we'd had to pay for each one of our films... it was impossible. Therefore Kim Dong-ho explained them about our situation with the film festival and our budget [and we were able to bypass censorship].
We had other problems as well. We needed a system for subtitling, but a Japanese friend of mine helped us with that. We also had serious money problems. From the city government we received only 200 million won [around $190,000] and the total budget for the first edition was almost ten times that, but Kim Dong-ho managed to raise some finance. Securing screens was also a problem because we had to rent commercial theaters, and to be honest it's very expensive. Even now we have some problems in this regard.

Is there any particularly impressive episode that you remember from the first ten years of PIFF?
The first year was the most impressive for me, but I'll also always remember an episode that occured during the fifth edition, in 2000. As you know we have the outdoor theater with around 5,000 seats. That year, among others, we showed Lars Von Trier's Dancer in the Dark. The tickets were sold out but from the morning it was raining very heavily, and we were worried about the screening. We announced that we were ready to reimburse the price of the tickets.
Before the screening the rain was extremely heavy and we were expecting to have maybe 100 or 200 people. I remember very well during that evening I went to the outdoor theater, and I was so shocked... more than 3000 people were there watching the film, wearing the white temporary raincoats that we provided... At that moment, I realized how much Korean audiences love to see good films.

These days, Asian cinema is receiving more and more attention abroad. Why in your opinion has Asian cinema grown so quickly?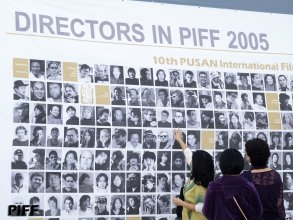 I'm very happy about the attention that Asian cinema is receiving. Compared with Western cinema, the unique point of Asian cinema is its diversity. Actually, because of this it's very difficult for Asian countries to cooperate: there are so many religions, cultural backgrounds, languages... For instance, between Iran and Korea there is hardly anything in common.
But because of this diversity, you can find many sorts of cultural identities that are included in the different national cinemas. In the last ten years, many Asian countries have had the chance to explore their own cultural identity, that's why Asian cinema has grown so quickly.

Over the past decade, which Asian film industries have really caught your attention?
Of course Korean and Thai films, but also Taiwan and mainland China. As for the Thai films, PIFF introduced almost all the first works of the directors in the Thai New Wave, such as Nonzee Nimibutr and Pen-ek Ratanaruang. With Taiwan cinema, the situation of the film industry is very, very bad, but sometimes I am amazed because in that terrible situation filmmakers can still make some great films. So I really respect Taiwanese directors, and I love Taiwan cinema.
As for mainland China, do you know that it is the most difficult country in terms of inviting films? I've had some crises with the Chinese government, mainly because of Chinese underground films. The government sometimes checks the list of the Chinese works invited by PIFF.
Last year we had a big problem just before the opening. A very high-level Chinese bureaucrat visited PIFF -- he was invited not by the festival, but by CJ Entertainment. So before he came they checked the Chinese titles in the line-up and found six underground films... So just ten days before the opening, the Chinese government sent a fax to CJ -- not to us -- saying that PIFF must cancel the screening of the underground films. The problem was also that Wong Kar-Wai's 2046 was our opening film -- he's an Hong Kong filmmaker, but the Chinese government is very important for him too, and when he found out about this situation he was very worried... In the end, we didn't cancel any films -- but anyway I respect the underground Chinese filmmakers.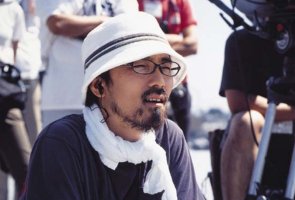 Could you name a filmmaker who is not very well known now, but who you think will be a star in the future?
For the future, I have many favorite young directors but if I have to choose some names... Wisit Sasanatieng [Citizen Dog] from Thailand, he has great talent, and Xie Dong [One Summer With You] from China. I'm also impressed by Yoon Jong-bin [The Uninvited] from Korea, and Yamashita Nobuhiro [Linda Linda Linda] (pictured left) from Japan whose humour is really unique... he has a nickname, the "Jim Jarmusch of Japan". There are also many Iranian directors; every year I can find new talents from Iran.

Do you have any comment about Korean cinema, as it compares to other Asian cinemas?
Korean cinema has both strengths and weaknesses. The strengths are, first, the diversity within its industry. When you talk about Hong Kong or Japanese cinema you can imagine some models of their productions, for instance martial arts or action films in Hong Kong and samurai films in Japan, but when you talk about Korean cinema... what is it? In Korea we don't have have set genres -- martial arts, samurai films, comedies -- it depends on the talent of each director. Second, the mindset of Korean producers is also important to their success, I think they're very smart and young, especially compared to the Japanese.
But the weaknesses are that, first, the interest in arthouse cinema has disappeared and I'm very worried about this. Last month, September 2005, the market share of Korean films reached almost 70%, and this means that Korean audiences are only watching Korean and Hollywood films. Second, the producers are smart but there's too much emphasis on commercialism. I think that in the last ten years producers have had a good eye in scouting young talent, but nowadays they're just looking for directors who can make commercial films.

Do you have any predictions about Asian cinema in the coming decade?
I have a very positive view of Asian cinema in the future because there are so many other Asian countries that, until now, haven't been recognized for their own cultural identity. When this happens, I think and hope we'll have many good new films.
BUSAN October 12, 2005