1990-1995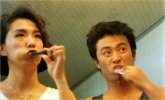 From left:   "301,302",  "A Single Spark",  "Sopyonje",  "Marriage Story"


   The first part of the 1990s marked the end of the old Korean film industry. Firstly, the military dictatorship which had worked so hard to stifle and censor the film industry since the 1960s finally yielded power, with Korea's first democratically elected president Kim Young-sam taking office in 1993. Profound changes were ushered in to all areas of society, with the film industry being no exception.
Meanwhile, the lifting of restrictions on the direct distribution of foreign films in 1988 was leading to a surge in the number of Hollywood films released in Korea. Local films suffered initially, with Korean cinema accounting for only 15.9% of the market in 1993, the lowest level since the revival of the film industry in the mid-1950s. The number of films being made collapsed to an average of 60-65 per year, and many film companies went out of business.
At the same time, the industry was transformed by the arrival of the chaebol -- Korea's large business conglomerates -- who were anxious to produce content for the VCRs being made in their electronics divisions. Samsung was the first to create its own film division, with the release of the smash hit Marriage Story in summer of 1992. Since then, the system of financing, producing, and distributing films would be completely overhauled using the chaebol's new business methods.
The Korean directors who rose to full prominence during this period have been dubbed (rather unimaginatively) as the "Korean New Wave". Auteurs like Jang Sun-woo, Park Kwang-soo, and Lee Myung-Se produced some of their most distinctive works during this period, winning gradual recognition worldwide for their talents. In 1993, veteran director Im Kwon-taek's Sopyonje was released to huge fanfare, setting a new box-office record for local films and sparking a new interest nationwide in the vocal art of pansori. At the same time, the opening of new film schools and an increasing level of cinephilia among young Koreans (which some consider to be a replacement for the political activities of the 1980s) set the stage for a new generation of filmmakers who would emerge by the end of the decade.


     Reviewed below:   Beyond the Mountain (1991)  --  Hyeongrae and the Hulk (1992)  --  Sopyonje (1993)  --  Hwa-Om-Kyung (1993)  --  I Will Survive (1993)  --  To the Starry Island (1993)  --  Out to the World (1994)  --  301, 302 (1995)  --  A Single Spark (1995).
The Best Selling Films From 1990-1995

| | Korean Films | Seoul Admissions | Director | Cast |
| --- | --- | --- | --- | --- |
| 1 | Sopyonje (1993) | 1,035,741 | Im Kwon-taek | Oh Jung-hae, Kim Myung-gon |
| 2 | Two Cops (1993) | 860,433 | Kang Woo-suk | Ahn Sung-ki, Park Joong-hoon |
| 3 | Son of a General (1990) | 678,946 | Im Kwon-taek | Park Sang-min, Shin Hyun-joon |
| 4 | Marriage Story (1992) | 526,052 | Kim Ui-seok | Choi Min-soo, Shim Hye-jin |
| 5 | To You From Me (1994) | 381,578 | Jang Sun-woo | Moon Sung-keun, Jung Sun-kyung |
| 6 | Dr. Bong (1995) | 376,443 | Lee Kwang-hoon | Han Suk-kyu, Kim Hye-soo |
| 7 | Son of a General 2 (1991) | 357,697 | Im Kwon-taek | Park Sang-min, Lee Il-jae |
| 8 | How To Top My Wife (1994) | 344,900 | Kang Woo-suk | Choi Jin-shil, Park Joong-hoon |
| 9 | Partisans of South Korea (1990) | 324,169 | Jung Ji-young | Ahn Sung-ki, Choi Jin-shil |
| 10 | Terrorist (1994) | 320,919 | Kim Young-bin | Choi Min-soo, Lee Kyung-young |
| | All Films | Seoul Admissions | Country |
| --- | --- | --- | --- |
| 1 | Ghost (1990) | 1,683,263 | US |
| 2 | Cliff Hanger (1993) | 1,118,583 | US |
| 3 | Jurassic Park (1993) | 1,063,352 | US |
| 4 | Sopyonje (1993) | 1,035,741 | Korea |
| 5 | Dances With Wolves (1991) | 984,978 | US |
| 6 | Die Hard 3 (1995) | 979,666 | US |
| 7 | Basic Instinct (1992) | 970,180 | US |
| 8 | The Lion King (1994) | 920,948 | US |
| 9 | Terminator 2 (1991) | 919,444 | US |
| 10 | True Lies (1994) | 874,664 | US |
Industry Trends From 1990-1995

| Year | Local Films | Imports | Market Share | Total Admissions | Ticket Price | Per Capita Adm. |
| --- | --- | --- | --- | --- | --- | --- |
| 1990 | 111 | 276 | 20.2% | 55,000,000 | 2602 won | 1.2 |
| 1991 | 121 | 256 | 21.2% | 54,000,000 | 3034 won | 1.2 |
| 1992 | 96 | 319 | 18.5% | 52,000,000 | 3471 won | 1.1 |
| 1993 | 63 | 347 | 15.9% | 47,000,000 | 3711 won | 1.1 |
| 1994 | 65 | 382 | 20.5% | 48,000,000 | 3895 won | 1.1 |
| 1995 | 64 | 359 | 20.9% | 45,000,000 | 4268 won | 1.0 |
Source: Korean Film Council (KOFIC).

Short Reviews
These are some reviews of the features released from 1990-1995 that have generated the most discussion and interest among film critics and/or the general public. They are listed in the order of their release.
In the opening sequence of Chung Ji-young's Beyond The Mountain, we are shown an image and reverse-image of large, wooden prayer beads that the High Priest uses to keep track of his prayers. As the first film I saw at the 2nd International Buddhist Film Festival in San Francisco, the resemblance of the clockwise/counter-clockwise rotation of the prayer beads to that of the reels of a film projector could not be missed. So when the beads break up from the hands of The High Priest and he uses this as an opportunity to teach his young student - and audience of all ages - about the need to let go of attachments to all things, the scene also cautions us that cinematic attempts to portray Buddhism may inevitably fail, since Buddhism is primarily meant to be practiced and experienced rather than imagined and thought.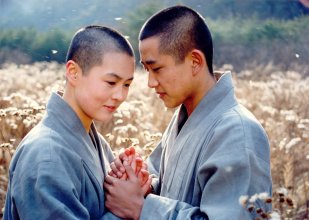 Still, the Buddhist tenet advising one to let go of all desires because it is these attachments to desires that cause us suffering is an interesting way to structure a love story. And along with the Buddhist koans, Beyond The Mountain is very much a love story. Chim-hae (Choi Jin-young, the younger brother of actress Choi Jin-shil) is an about-to-be-ordained, young monk who, since he was orphaned, has been under the tutelage of the temple's High Priest (Jeon Mu-song, who has appeared in quite a few Buddhist-themed films, such as Mandala, Come, Come, Come Upward, and A Little Monk, as well as non-Buddhist films such as Gagman, My Love, My Bride, Silver Stallion and Harmonium in My Memory). Being a handsome monk, Chim-hae causes schoolgirl commotions whenever he arrives at the nunnery across the way. Similarly, there is a nun-in-training, Myo-heun (Kim Keum-yong) who causes schoolboy palpitations amongst the other young monks. Myo-heun and Chim-hae are reciprocal objects of each others desire, and the primary tension within the film revolves around their handful of secret rendezvous that are further constrained by their calling's hands-off requirements of abstinence. One of the more interesting moments of letting go is during a meeting where Chim-hae lets go of his desire for food in favor of feeding his desire for love, hinting at the pedestrian complications that arise when competing desires of necessity - at least within accordance of my own personal moral values - are within conflict.
And as is often the case with love stories involving young people, this is also a coming-of-age story. Both characters are deciding whether their particular path is one they wish to follow into adulthood, regardless of whether or not their elders may attempt to disallow certain decisions. We will learn later that both Chim-hae and Myo-heun began from different life starting points, particularly affected by their individual gendered positions, which come into play with their final decisions.
As a whole, the film works for me, entertaining enough while encouraging contemplation of Buddhist precepts and basic struggles that make all of us humble humans. Choi Jin-young's performance is exemplary, and Kim Keum-yong plays her reserved character with an underlying strength that belies any stereotype of the complacent female. Both won prizes for New Actor and New Actress respectively at the 12th Blue Dragon (Cheongryong) Awards. Their secret meetings are full of expressive facial gestures that convey even more than their precise words. There is a wonderful scene involving a Korean traditional dance that provided me with my first moment of appreciation for that artform. (Plus, the Kitaro/Yanni-esque score by Shin Byeong-ha didn't ruin scenes for me as that musical genre tends to do, but added nice emotive tones as all good scores should.) The character of The High Priest does step over the line of too much mysticism for me, but for the most part, the character is contained within a realistic portrayal of meditative awareness.
As in Mandala, a monk 'of the world' is present. Beob-yeon (Jang In-hwan - Road To Sampo) is drunk throughout the entire film and is developed as someone who has partaken in more monk-forbidden fruits than just the fermented kind. His way of experiencing Buddhism is placed up against The High Priest's. Moreover, both are extremes, although not necessarily opposite extremes, against which Chim-hae and Myo-heun must balance their own desires, their own spiritual directions. The quite shocking conclusion resolves each character's storyline quite well, while the ending closes with an excellent use of non-diegetic, yet diegetic, sound. We do not end at peace, but with awareness that life is a constant struggle. We may stray from our paths at times, and such excursions may end in tragedy, but we may also find our way back, or discover it is the excursion that saved us, that put us on the track we were supposed to be on, not to begin with, but to begin again with.      (Adam Hartzell)
     Beyond the Mountain ("Sansani buseojin ireumiyeo").  Directed by Chung Ji-young. Screenplay by Chung Ji-young and Jo Young-cheol, based on an original text by Go Eun. Starring Choi Jin-young (Chim-hae), Kim Geum-yong (Myo-heun), Jang In-hwan (Beob-yeon), Jeon Mu-song (High Priest), Shin Sung-il (Jin-gong), Jeon Sook (Yi-tan), Jo Ju-mi (Myo-ryeon). Cinematography by Yu Young-gil. Produced by Sung-il Cinemat. 108 min, 35mm, color. Rating received on May 20, 1991. Released on May 25, 1991. Total admissions (Seoul): 10,440. Winner of Best New Actor and Best New Actress at the 12th Blue Dragon Awards.

    Hyeong-Rae and the Hulk (1992)
When people talk about Korean cinema, they occasionally mention the need for genre diversification. The lack of science fiction films or musicals is often noted, but there is another genre that needs some attention--children's movies. In particular, live-action children's movies. These have been all but missing from the silver screen in the past decade. Of course there were movies like Galgali Family And Dracula (2003), The Magic Police (2004), Yonggary (2000) and a few obscure releases, but with the film industry producing approximately 70 films a year, one would think they would spend a little more attention to the potentially lucrative market of the pre-teen audience.
This has not always been the case. The 80's and early 90's were filled with titles and series designed to capture the imagination of children. Movies such as the Ulemae titles (a six-part series 1986-1992) were released along with films with titles like Superman Iljimae (1990), Sparkman (1988), Terminator And The Foolish Cop (1993), The Telepathic Journey (1991), and The Star Trio (1991) to name but a few. One name that appears frequently when looking at the credits of children's movies is that of actor/director/comedian Shim Hyeong-rae.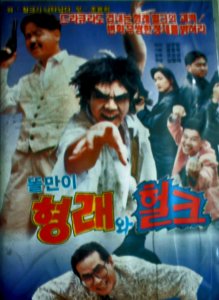 Shim Hyeong-rae's most popular creation to date was the character of Young-gu. How can one describe Young-gu? In movies, his character is depicted as a child in a man's body. He appears to be in his late-30's but still attends elementary school. He is often cowardly, begging to be spared the wrath of angry parents, teachers or villagers but when there is injustice of evil threatening his friends, he finds the courage to face it. His fighting skills are inconsistent, ranging from non-existent to exceptional, but more often than not, he wins battles by shear luck.
Hyeong-Rae And The Hulk by Oh Yo-seop falls in between Young-gu And Count Dracula (1992) and Twin Young-gu's (1992) and the story is, in true cliffhanger style, concluded in the latter film. The plot of the movie is split between two different time periods. The first takes place in modern Seoul and the second occurs in the Joseon era 400 years in the past. The story set in the present focuses on Hyeong-Rae, a very small time-gangster who suddenly finds himself in charge of his 4-member gang. They are involved in a turf war against an equally small, moderately more competent, but much more ruthless gang, led by comedienne Lee Ok-ju. Hyeong-Rae's gang would be hopelessly outclassed except that, in a murder attempt by the other gang, he was exposed to some unknown chemicals that left him with the ability to transform into an incredible Hulk. This is NOT The Incredible Hulk. He is neither green nor muscular but he does have a degree of superhuman strength.
The second story revolves around Young-gu and his friend who are once again defending their village from the supernatural. This has been a tradition in most of the Young-gu films. In one of his first films, Young-gu And Daengchili (1989), the reluctant adventurer battles the Frankenstein Monster, Dracula, a were-wolf, a were-fox, a ghost and some gangshi. Gangshi? Those are ghosts, dressed in traditional Chinese attire, who move by hopping with their arms outstretched. They were a staple of Hong Kong films and kid-oriented Korean movies of the late 80's. (Actor Jeong Tae-woo of Fighter in the Wind owes his start in films to his debut as the title character in The Smart Little Gangshi in 1988. He was 6 years old).
These two stories would be completely unrelated except, interestingly, Young-gu and Hyeong-Rae experience each other's lives in their dreams. The story changes between time periods by having one character wake up and commenting that what we just watched was 'just a dream.' This leads the viewer to try to imagine which story he is watching is the 'real' story--at least until another explanation is given. The explanation, not fully revealed in this installment, comes in the form of a time-traveller dressed as a Joseon peasant and three immortal, extra-dimensional beings. The time-traveller reveals himself to Young-gu's young friend before heading off to present day Seoul where he is promptly forgotten about by the writers until the sequel. The immortals appear on a hillside outside of Young-gu's village and plan to kill him, but their leader cautions them to move slowly as they always do. They apparently move so slowly that when the attack comes, it is not on Young-gu, but on the Hyeong-Rae/Hulk. An extended fight ensues and then, quite suddenly and inconclusively, simply ends. A voice-over and trailer informs us that we should wait for the conclusion in Twin Young-gu's.
While the sound and special effects for this movie are far below par, the movie makes up for it with some fun fight scenes--especially those involving the rival gang. Two of the members of that gang were played by professional stuntmen-turned-actors who seem to take great pleasure in throwing themselves over, onto and through things at every available chance. This partially makes up for the uninspired Hulk battles. This Hulk spends most of his time posing, especially striking the posture from The Karate Kid, that one-legged-crane-on-a-post stance, and he does it so often that it becomes very distracting.
However, the movies main saving grace is its heart. Its intent was to be entertaining for children and it goes about trying to achieve that goal with a carefree abandon. This creates a rather Three Stoogish mess of a storyline but the antics of the cast is a hundred times better than the egotistical, self-absorbed mugging of the recent Galgali Family and Dracula.      (Tom Giammarco)
     Hyeong-Rae and the Hulk ("Ddolmani Hyeongraewa Hulk").  Directed by Oh Yo-seop. Screenplay by Choi Yeong-seon. Starring Shim Hyeong-rae, Jo Geum-san, Lee Ok-ju, Jeong Gwi-yeong, Park Seung-dae, Lee Mun-su, Kim Jae-hun, Hwang In-jo. Cinematography by Jeong Jae-seung Produced by Seoul Movie Productions. 70 min.
Nothing is more frustrating in the world of Korean DVDdom than the fact that Im Kwon-taek's Sopyonje still has yet to be made available on DVD with English subtitles. Yes, Shiri rewrote the playbook, but, as Kyung Hyun Kim notes, consider that Sopyonje broke the previous box office record for a Korean film, a record held by Im himself w/ The General's Son, through an initial release on ONE screen. None of this initial-release-on-450-screens crap like Taegukgi which practically guarantees if not outright imposes success. Sopyonje wasn't expected to be a hit, but ended up having a six month run, becoming the first Korean film to garner a million tickets in Seoul and then roughly the same amount outside of it. Sopyonje was supposed to be a guaranteed money-loser, the serious film that Im's financiers permitted him after The General's Son's success. Yet following the "Searching for our culture" movement that, according to Cho Hae Joang, "arose in the 1970s on college campuses as students began to reconstruct and reinterpret traditional Korean cultural forms," Sopyonje was the right film at the right time for just such a South Korean audience searching for something to reclaim about its culture. Call it Sopyonje Serendipity, the result for Im was carte blanche to do whatever freakin' film he felt like in the future.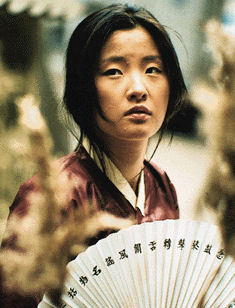 The film utilizes the musical form of p'ansori for metaphoric purposes, and it eventually caused a resurgence in the genre, even amongst the pop-rap/dancehall-obsessed youth fans of Roora and other KPop icons. Cho Hae Joang states that p'ansori developed in the Cholla Province of southwestern Korea, where Im himself grew up, and the title, Sopyonje represents the western style of p'ansori, a form said to be more "feminine". (The other form, labeled the more "masculine", is tongp'yonje.) Some commentators compare p'ansori to opera, due to its lengthy story-like narrative and the way it is performed; whereas, others compare it to American Blues due to the pain p'ansori exudes, along with the genre originating from the lower classes.
The plot is deceptively simple. Based on a short story by Lee Chung-joon, Yu-bong (Kim Myung-gon) is a p'ansori master who travels with two adopted children, daughter Song-hwa (O Chang-hae), Yu-bong's p'ansori apprentice, and son Dong-ho (Kim Kyu-chul), a drummer, the only instrument that accompanies p'ansori -- unless you consider the singer's occasional fluttering of a folding fan for emotional emphasis an instrument. The three troubadours travel throughout the countryside in efforts to perform and develop their artistry while trying to remain true to Yu-bong's interpretation of what qualifies as real p'ansori. (Such traveling about brings Kyung Hyun Kim to label this film a "road movie." However, rather than escaping from home as in American road movies, theses characters are in search of a home to relocate their families, their past, and their masculinity.) Spanning from the 1940's through the 1970's, we slowly see how the intrusion/appropriation of Japanese and American cultural traditions limit the opportunities for p'ansori to be performed, and thus, further developed. Hence, p'ansori basically represents the struggle to maintain an essential "Koreanness" within the rushing modernity. Many Koreans commented on how the film represented the purest portrayal of Han they had yet to see on screen. Han, as I repeat myself from my Mudang review that also addresses it, is a concept ever elusive to non-Korean viewers. To quote Chungmoo Choi, Han basically entails "the sentiment that one develops when one cannot or is not allowed to express feelings of oppression, alienation, or exploitation because one is trapped in an unequal power relationship."
Aesthetically, the film represents Im and his personal Christopher Doyle, cinematographer Jung Il-sung, at the top of their game. Most striking is the five minute static take of the three joyously performing "Arirang" as they meander through the gorgeous countryside. (So powerful is this rendition, that I recall attempts at chanting this with two friends who saw the film with me when moving out of my place in Oakland, chanting in an effort to numb our own pain from the inconvenience of moving obnoxiously large pieces of furniture into the poorly-designed-for-moving, winding, staircase of a San Francisco Victorian.) Along with presenting the loss to Korean culture through the struggle to maintain a space for p'ansori, Im continues his trope of utilizing a woman character as metaphor for the torturous history of South Korea. One of the most discussed Korean films in English -- demonstrated by my awkward peppering of citations throughout this review -- Im's metaphoric use of Song-hwa's character is perhaps one of the most debated aspects of the film. To discuss these plot elements further would result in major spoilers. But let me say that after reading Choi's interpretation of this plot element found in the book Im Kwon-Taek: The Making of a Korean National Cinema, I have a hard time not seeing what she sees in regards to these scenes. Although, Julian Stringer and Cho, in the same volume, Kyung Hyun Kim, in his book The Remasculinization of Korean Cinema, and Im himself both argue alternative interpretations. Personally, I interpret this moment in the film as an example of the horrific results when pursuing art solely on one's own terms to the point of stripping others of their agency.
Sopyonje was clearly a cultural phenomenon. Han Ju Kwak states it generated the first soundtrack of a South Korean film -- I myself was introduced to this film first through the soundtrack owned by a Korean-American friend in college -- and the first film book full of various minutiae about the film that extended the discussion into everyday public life. The Korean daily Dong-a Ilbo eventually nominated Im as "Man of the Year." Although Sopyonje was able to cross over generational, class, and gender barriers to be enjoyed by millions, the film still had its detractors. Most interesting are those who challenged the "Koreanness" exhibited in the film. As one of Cho's overseas Korean students exclaimed regarding the film's aesthetics, "When did Korea become so French?"
As evidenced by the lively, mostly positive, debate it caused, it is a testament to perseverance that Im, a man disadvantaged by his family's Leftist leanings from the stigmatized Cholla Province, a man who never even finished middle school and took up film solely as a job that would allow him to eat, and a man who was not known for directing films of artistic quality before 1980, ended up creating what is perhaps the definitive work of Korean cinema. Add to this the fact that film was a medium Koreans, especially Korean youth, had all but given up on, and that the film carried no big name actors. Korean audiences found exactly what they were searching for in Sopyonje, an opportunity to reclaim and rejuvenate Korean culture.
I have the soundtrack, now someone allow me to have the DVD too. Criterion, are you listening?      (Adam Hartzell)
     [Note that the DVD for Sopyonje was finally released in October 2005. -ed.]
     Sopyonje ("Seopyeonje").  Directed by Im Kwon-taek. Screenplay by Kim Myong-gon. Starring Oh Jeong-hae, Kim Myong-gon, Kim Gyu-cheol, Shin Sae-gil, An Byung-gyeong, Choi Dong-jun, Choi Jong-won. Cinematography by Jung Il-sung. Produced by Taehung Pictures. 112 min, 35mm, color. Rating received on April 6, 1993. Released on April 10, 1993. Total admissions (Seoul): 1,035,741. Winner of Best Director and Best Actress at the 1st Shanghai International Film Festival. Also screened out of competition at the 46th Cannes and 50th Venice International Film Festivals.
Poor Jang Sun-woo. He was once considered Korean cinema's Bad Boy until Kim Ki-duk came along and sliced the title away from him. And with the box office failing of Resurrection of the Little Match Girl, Jang now needs to resurrect his own career in order to return to his previous influence and to be duly noted for his risk-tasking and creativity. But looking on the bright side -- an ironic phrase when used with Jang -- of financial disaster, Jang did his better work with lesser funds, and such a fiasco as Resurrection might just put Jang back on the level where he works best. No need to pity Jang really. His earlier catalog of films demonstrates a virtuosity that his laurels could rest on alone. And Passage To Buddha only supports past praise.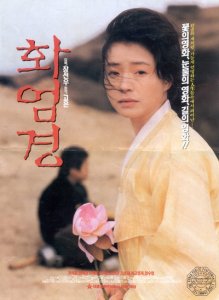 The Korean title, Hwa-Om-Kyung, is the name of the Buddhist sutra (the Avatamska Sutra) upon which the film is loosely based. Following credits sitting upon a raging fire, the film opens at a crematorium where a child believes he is witnessing the immolation of his father. This child is our main character, Son-je (Oh Tae-kyung -- Happy Ero Christmas, R-Point), who heads out into the world to locate his mother, which he attempts to do through the silent display in public areas of a blanket his mother gave him. Along the way he meets such characters as a local village girl named Iryon, a drunken, meat-eating monk named Boburoon (Lee Ho-jae -- Segimal, Libera Me) who prophesizes that Son-je will live and die on the road, a truck driver who wants to teach him how to meet girls, a blind homeless woman who still professes to love her abusive ex-lover, a prisoner who broke the law by asking for equality, and a doctor of the stars who sees the world's 'quarkiness' as further evidence for Buddhist truths. Many of these people will reemerge at different moments throughout Son-je's journey. This journey, however, takes less than direct directions, as is initiated by a scene of subtle humor where two men point Son-je in completely different directions, resulting in Son-je appearing to be headed astray from his path of prophecy. But just as a Buddhist koan intends to be without an immediate answer, Son-je eventually ends up where he is supposed to be because he eventually realizes he was there all along.
Although completed prior to the immaculate productions we would come to expect from South Korean cinema, Jang does a magnificent job creating a mythical world that still feels anchored to reality. Otherworldly mist fills many scenes, and there is a particularly lovely, yellowish dream sequence with Son-je overjoyed that he's stolen a cow, another example of Jang's humor that keeps me smiling, if not outright laughing. The stealing of this cow leads to Son-je's necessary imprisonment, where he meets one of the teachers along his path, as well as provides him an opportunity to learn the flute for later effect. Oh's portrayal of Son-je is much better than any of the kids in When I Turned Nine and equal to the children in My Teacher, Mr. Kim. Lee's performance as the prototypical un-monk-y monk had me wishing for greater screen time for his character, but we the viewer needed to move on from Baburoon just like Son-je.
Jang intends Son-je to be seen as a man-child, that is, Son-je's body does not grow along with his years, ala the German film The Tin Drum (Volker Schlondorf, 1979). Son-je still appears to be about 9 years old even as Iryon, the local village girl, grows into adulthood. This choice on Jang's part -- we can call Son-je Korean cinema's 'Original Old Boy' -- may result in slightly disturbing scenes for some viewers since women his theoretical age seduce him. (As evidence for how some Americans might react, consider that Oklahoma County Courts declared The Tin Drum child pornography in 1997 and the local district attorney in Oklahoma City sought to arrest anyone who had ever rented the film. Eventually, cooler, Bill-of-Rights-cognizant heads capable of holding ambiguity prevailed and The Tin Drum has been rent-able again in Oklahoma County since May 2001.) Ethically, I am concerned how such scenes are processed for the children performing in them, or ones even more harrowing such as Lee Jung-hyun's role in Jang's A Petal. But Jang appeared to address my concern in the cinema verite of Lies where Jang himself jumps into the frame to comfort one of his actresses who finds herself in an uncontrollable fit of tears. As for the scenes of adult seduction in Passage To Buddha, I am ashamed to admit America's Puritanical roots can even cause me to react disapprovingly initially, but upon further reflection, holding the scenes rather than reacting to them, I realized the scenes were harmless, nothing beyond brief, closed-mouth kissing and a single butt grope shot. The scenes are definitely not meant to titillate, but to present the Buddhist philosophy that the enlightened must retain childlike perceptions of the world.
A Passage To Buddha continues the exploration of men's relationships to their mothers explored in other Buddhist-themed films, all the way from the 1949 classic Hometown of the Heart to 2003's A Little Monk. A friend pointed out how often man/mother dynamics are explored in Korean Buddhist cinema while woman/mother dynamics are nearly absent. Sadly, such disproportionate topic exposition is the result of Korean male domination behind the camera. Still, Jang's presentation of Korean women's lives has always involved a critical view of their placement by the overarching patriarchy rather than a supportive view. Although both often display women suffering throughout their oeuvres, when comparing Im Kwon-taek's portrayals with Jang's, an interesting difference arises -- whereas Im's women stay and take the suffering, Jang's women most often leave. And Iryon's later response to a comment by Son-je is demonstrative of this when she replies "Oh, no, I don't like that." I don't like patriarchal impositions either, which is why Jang's Bad Boy has always served me better than Kim Ki-duk's. But to each his own. And let's hope for an eventual equally declarative 'to each her own.'      (Adam Hartzell)
     Hwa-Om-Kyung aka Passage to Buddha ("Hwaomkyung").  Written and directed by Jang Sun-woo. Starring Oh Tae-kyung, Won Mi-kyung, Lee Ho-jae, Lee Hye-young, Kim Hye-seon, Lee Dae-ro, Dokko Young-jae, Shin Hyun-joon. Cinematography by Yoo Young-gil. Produced by Taehung Pictures. 126 min, 35mm, color. Rating received on May 18, 1993. Released on June 26, 1993. Total admissions (Seoul): 65,403. Winner of Alfred Bauer Award at 44th Berlin International Film Festival. Winner of Best Director, Special Jury Prize, Adapted Screenplay Award, and Music Award at 32nd Grand Bell Awards (Korea).
Written and directed by the veteran screenwriter Yun Sam-yuk (P'imak [1980], Mulberry Tree [1985], Adada The Imbecile [1987], Son of the General [1990]) and starring Lee Duk-hwa, one of the biggest stars of Korean cinema and TV in 1980s, I Will Survive earned Lee the best acting honors at Grand Bell Awards and the Moscow International Film Festival.
Lee (most recently seen in the TV series All-In) plays Man-seok, a professional executioner (mangnani) from the most discriminated butcher caste. One day he receives a secret commission from a yangban family that one of the condemned be killed without his head being cut off (The Korean Confucian emphasis on filial piety mandated that it was a shame to have damaged the body inherited from one's parents). Man-seok fulfills his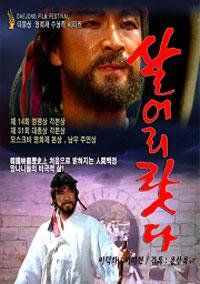 end of the bargain, but when the emissary delivering the money turns out to be the daughter of the executed (Sug-young, played by Lee Mi-yeon, No. 3 [1997], Addicted [2002]), he brutally rapes her, motivated by his lifelong hatred of the upper class nobles. Later, she is arrested by the government and sold to slavery, as the punishment for the female members of a treasonous criminal's family. Manseok, feeling pangs of guilt, rescues her from slavery with the money he has accumulated from commissions and fees. They fall in love with each other and settle down for a peaceful married life. However, their happiness is sundered apart when the couple gets embroiled in a conspiracy to destroy the enemies of Sug-young's family.
The movie will appear clumsy and dated to the majority of the audience seeing it for the first time in early 2000s. It is literally draped with the hoary cliches of the '80s Korean cinema. Flashbacks are handled maladroitly, usually preceded by choppy close-ups of Lee Duk-hwa's scowling face. "Special effects" (in this movie, the geysers of blood whenever someone is killed by sword) are highlighted as if by a fluorescent marker. Sex scenes are either there to prove that you are watching an adult-oriented movie (in other words, pretty pointless), or seemingly inspired by Japanese soft-core porn (there is one scene where a yangban lecher keeps slapping a naked lower-class woman with a tree branch while giggling like an idiot: "Slap! Hee hee hee hee... Slap! Hee hee hee hee... Slap! Hee hee hee hee..."). The Korean villages and castle-towns have that "Colonial Williamsburg" look: you keep expecting a tourist wearing khaki jumpers to poke his neck into the frame. Finally, the film is scored entirely with heavy-handed, is-that-all-done-on-one-Yamaha-keyboard synthesizer music, cheapening it in the way all too familiar to those who have survived, say, a Menahem Golan film in 1980s.
However, as a historical drama I Will Survive is not without merit: it presents the dehumanizing social discrimination and poverty suffered by the lower classes in Yi dynasty Korea to the extent that was probably impossible in early 90s TV. Gruesome, realistic details abound during the opening public beheading of the condemned. When the butcher community slaughters a cow, a vat of fresh blood is brought in, considered a treat by the villagers. The yangban literati are portrayed as merciless, hypocritical oppressors (Sug-young and the shaman portrayed by Jo Ju-mi are also seen as victims of this oppression due to their lowly status as women, despite their class differences): for once, the film's tragic climax feels like a natural outgrowth of its premise.
Largely a journeyman effort, probably intended as a star vehicle for Lee Duk-hwa, I Will Survive nonetheless remains an interesting exploration into the underbelly of the traditional Korean society.      (Kyu Hyun  Kim)
     I Will Survive ("Sareori-ratta").  Written and directed by Yoon Sam-yuk. Starring Lee Deok-hwa, Lee Mi-yeon, Jang Han-seon, Lee Il-woong, Nam Bo-won, Yang Taek-jo, Sunwoo Yong-nyeo. Cinematography by Son Hyeon-chae. Produced by Samyuk Films. 108 min, 35mm, color. Rating received on February 25, 1993. Released on August 21, 1993. Total admissions: 40,229.
To the Starry Island (literal title: "I want to go to that island") opens on a boat filled with mourners, carrying the coffin of a recently deceased man to the island on which he was born. Before reaching its destination, however, the boat is stopped by a group of islanders who refuse to let the coffin land on shore. Perplexed and frustrated, the son of the deceased argues in vain to let the burial take place, but the inhabitants of the island reject his demands in anger. Events that happened on the island during the Korean War, in which the deceased man played a major role, have left wounds that can not so easily be forgotten.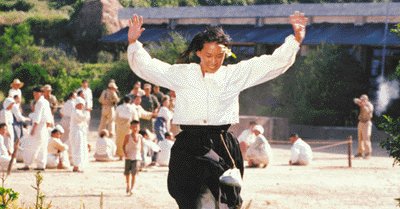 This fourth film by director Park Kwang-su, which glides subtly back and forth from the present into the past, provides an honest and thought-provoking study of the wounds left by the Korean War. Utilizing a large ensemble cast to create a microcosm of Korean society before and after the war, Park has produced a sober-minded film that succeeds in portraying how the traumas of the past lie close under the surface of life in modern Korea.
Though usually thought of as Park's own vision, the film was nonetheless put together by a remarkable collection of future stars of filmmaking. The screenplay, based on two short stories by Im Chul-woo, was written by Lee Chang-dong (Oasis) together with Im and the director. The film was executive produced by Park Ki-yong, who would later go on to direct the award-winning Camel(s). Assistant directors, meanwhile, include Hur Jin-ho (Christmas in August), Park Heung-shik (I Wish I Had a Wife), Oh Seung-wook (Kilimanjaro), and Jang Moon-il (The Happy Funeral Director).
The cast is no less diverse and accomplished. Moon Sung-keun plays dual roles as the deceased man in the flashback sequences, and his son in the present. Ahn Sung-ki plays a poet who grew up on the island, who tries to mediate between the two sides in the conflict over the burial. The flashbacks are presented as his own memories as he wanders the island and slowly pieces together what happened. Other familiar faces include Shim Hye-jin (Marriage Story), An So-young (Madame Aema) and Heo Jun-ho (Volcano High).
This film provides a gripping story, in which we only learn the truth of what happened at the very end, but it is also filled with select lines of dialogue and images that are in some ways more memorable than the story itself. It is a happy confluence of historical relevence and aesthetic power that makes this film still so important and interesting today.      (Darcy Paquet)
     To The Starry Island ("Geu seome gago sipta").  Directed by Park Kwang-su. Screenplay by Lee Chang-dong, Im Chul-woo, Park Kwang-su. Starring Ahn Sung-ki, Moon Sung-keun, Shim Hye-jin, An So-young, Lee Yong-yi, Kim Yong-man, Heo Jun-ho, Kim Il-woo, Lee Kyung-young, Myung Kay-nam. Cinematography by Yoo Young-kil. Produced by Park Kwang-su Films in association with Samsung Nices and Channel 4 [UK]. 101 min, 35mm, color. Rating received on December 2, 1993. Released on December 24, 1993. Total admissions: 133,282.
Some may say one should not see 301-302 on an empty stomach. Sure, with Park Chul-soo's luscious displays of Korean and non-Korean dishes served up by Song-hee (played by Pang Eun-jin), one will find oneself hankering for a heaping serving of chigae or fried chicken. However, later on, after the third or fourth retch by Yoon-hee (played by Hwang Shin-hye), seeing the film on a full stomach may result in a need to rush to the bathroom as Yoon-hee does so many times in the film. Actually, I would recommend seeing this film a little hungry. This way, one is forced to hold the ebb and flow of delicious and disgusting the film serves up.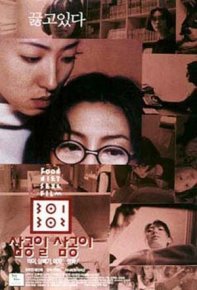 One of the first Korean films to receive a theatre release in the United States, 301, 302 tells the story of two apartment neighbors who represent opposite approaches to their struggles as modern Korean woman. Song-hee gluttons on food, sex, and consumer goods, whereas Yoon-hee refuses all the world has to offer. Park portrays these characters with touches of the surreal. Yoon-hee could not survive as long as she does in the film taking in nothing but water, nor could she have the healthy body exposed to us with such an eating disorder. The surreal in Song-hee appears in the steps she will take in her consumption. Still, contained within this surreal, dark tale is a meditation on the plight of Korean women in modern Korean society. Song-hee starts off as the dutiful wife who soon finds that her duties leave her self-fulfillment wanting. Yoon-hee is denied her authentic voice through denial letters from publishers. Instead, she must pimp her words in sex advice columns.
Seeing this film for the first time after a handful of Shiris, JSAs, and Chunhyangs, one might find the production value lacking, but as a predecessor to grosser budgets, Park does a wonderful job adding to the feel of the film with his vibrant blues, yellows, and reds, as well as the sounds of slicing and dicing. Song-hee's apartment would still receive nods of approval from the editors of Wallpaper*. As an art film, the dialogue isn't necessarily meant to be natural at times, however, some may find the film heavy-handed in its feminist criticism.
Personally, I found it refreshing when I saw it back during its United States release and still find the film valuable. Pang and Hwang are wonderful in their portrayals, each character struggling to escape the standards society imposes upon them through what little control they have. As Yoon-hee and Song-hee both look through the fisheye lens that is the peephole of their respective apartments, each tries to return the male gaze to reflect a more liberating future for themselves. Whether or not that's accomplished I can not state here, since that would involve interpreting, thus ruining, the ending. What I can tell you is that Pang and Hwang return within the next Park vehicle, Push! Push! (1997), where Park continued to provide a voice for the modern Korean woman before Korea's gradual inclusion of women directors, such as Yim Soon-rye and Jeong Jae-eun, permitted an opportunity for women to do it for themselves.      (Adam Hartzell)
     301, 302 ("Samgongil, samgongi").  Directed by Park Chul-soo. Screenplay by Lee Suh-goon. Starring Pang Eun-jin, Hwang Shin-hye, Kim Chu-ryun, Park Chul-ho, Choi Jae-young, Jang Young-ju, Park Young-rok. Cinematography by Lee Eun-gil. Produced by Park Chul-soo Films. 101 min, 35mm, color. Rating received on April 14, 1995. Released on April 21, 1995. Total admissions: 30,423. Released in U.S. on March 1, 1996 (total gross: $12,459).
Ever since reading Kyung Hyun Kim describe Yeo Kyun-dong's Out To The World as a filmic ". . . Space for the crude representation of anti-heroes that defy and criticize social norms"(The Remasculinization of Korean Cinema, p66), my interest was piqued to jump on the first chance I had to see this film. Little did I know after solidifying my plans (in the form of non-refundable tickets) to travel to the 8th edition of the Women's Film Festival in Seoul that the programmers had decided to feature Yeo's directorial debut as one of the four films screened to investigate the 'Korean New Wave', to reexamine the images, narratives, and stardom of women ". . . that had been imposed by men in their search for Korea's position on the map of the world" (festival program, 92). Unable to look before I leapt over the Pacific, I was happy to land on this gem of an opportunity to see what would become my favorite South Korean road movie.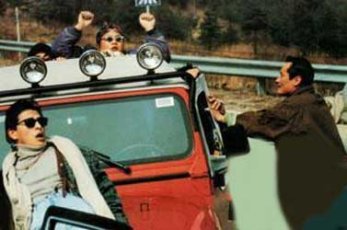 Out To The World puts two protagonists out on the film road often traveled by having them stumble into an escape planned by other prisoners while being transferred by bus from one prison to another. An ambivalent fugitive, convicted murderer Song-gun (Moon Sung-keun) reluctantly lets convicted (small-time) robber Kyoung-young (Lee Kyoung-young - Adada, Corset) tag-along as both head towards the north, but not the "North" in Korean political terms, more so an ambiguous space that represents the existential cells within which they are still confined. Although escaping the bus, they are still merely traveling from one prison to another. As Kim notes, the Korean title is more properly 'Out of the world', imbuing "the film with a sense of confinement and ineffectualness" (69). Eventually their twosome becomes a threesome after they pick up Hye-jin (Shim Hye-jin), a prostitute who has the good sense to eventually dump the abusive john she is with when they meet her. It is Hye-jin who connects this narrative with the classic Butch Cassidy and the Sundance Kid as we see these three misunderstoods of society find understanding amongst their own kind hearts and souls.
There are two images that best summarize this film. Images that I brought in with me from the perfectly chosen stills to represent this Out To The World world that Kim chose for his book. These same images continue to stay with me long after my single viewing. The first is of this triptych of travelers squatting against a dingy, grey wall. Each is huddled up into a solitary ball to survive the literal as well as metaphorical cold that surrounds them. Rhyming this scene later is a lovely image of Hye-jin bookended by both our fugitives in a platonic cuddle of sincere respect and concern for each others welfare.
Out To The World stands out as the non-representative film of the Korean New Wave concerning its portrayal of women. Rather than a voiceless transference object for the re-workings of masculinity, Hye-jin is a confident woman who demands, and receives, respect from her fellow protagonists. She has a proud moment when we hear her roar at a group of men who catcalled her earlier in the film. She is a valued source of knowledge to our two fugitives who have been separated out from the modern world for so long they have no idea what a cell phone is, let alone how to use one. And it is Hye-jin who drives all the varied forms of transport they steal and abandon along their travels, even leading a car chase that isn't played up as 'look how cute she is driving so fast' spectacle, but as a necessary moment in the narrative.
It is because of this that I want to free up the character of Hye-jin from being seen as merely transitioning from a 'Whore' to a 'Mother' as a psychoanalytic view would convincingly frame. Instead, I wish to simply see her as a friend of these outcasts. Prostitutes, along with being an archetype of the 'Whore' placed antagonistically up against the 'Mother', are also people trying to make a dollar when the few Help Wanted signs around town are turned around when they come walking up to the door. Thus, prostitutes are as much outsiders as any other outcasted group. This is not to be seen as a disagreement with Kim's take on Hye-jin in his definitive study of portrayals of Korean masculinity in the Korean New Wave. He was taking a clearly psychoanalytic view that I do not take here. And I know enough to know I don't know enough to speak full-on Lacan. I am just opening up another way of viewing her character in relation to Song-gun and Kyoung-young. These three characters are as much friends, if not more so, as they are psychoanalytic archetypes. And since Hye-jin is truly the exception to the rule of women characters of the Korean New Wave, I want to allow her to be an exception to the rules of Freud and his disciples as well.
It is difficult to do justice to all the historical, sociological, psychological, and political issues Out To The World presents in so small a space. Vital aspects I wish I could explore more fully are the political subtext when the three steal a U.S. Army truck and the fact that Kyoung-young is the rare leading appearance of a Gay character in South Korean cinema of this time. So I refer you to Kim's chapter on road movies for further discussion. On a financial note, the film was the third top-grossing South Korean film in 1994, which would have hopefully led to better things for activist-turned-actor-turned-director Yeo Kyun-dong. Sadly, his next film, Porno Man, tanked and he became a forgotten director in discussions of South Korean cinema. Something I hope will change since his most recent film, Silk Shoes, is such an exemplary work regarding the North Korea imagined by South Koreans. Until then, let's hope Out To The World turns up on DVD some day soon, so we can all join this journey that South Korean cinema has set upon.      (Adam Hartzell)
     Out to the World ("Sesang-bakkeuro").  Written and directed by Yeo Kyun-dong. Starring Moon Sung-keun, Lee Kyoung-young, Shim Hye-jin, Lee Dong-jin, Yang Hui-kyung, Myung Kay-nam, Kwon Hae-hyo, Park Gwang-jeong. Cinematography by Yoo Young-gil. Produced by Ikyoung Film. 100 min, 35mm, color. Rating received on May 20, 1994. Released on May 28, 1994. Total admissions: 252,609 (Seoul). Winner of Best New Director at the 33rd Grand Bell Awards.
Films about historical figures are mostly spoiler-free since the story being told is public knowledge. It was expected that any review of Titanic would talk about the ship sinking. So the majority of people going to see Park Kwang-su's biopic A Single Spark know what they'll witness at the end. The film chronicles the life of labor activist, Chun Tae-il. Anyone who is even only slightly aware of his legacy knows that he set himself on fire in protest of labor law violations. And for those who don't, the DVD cover design and the images before the DVD menu comes up show Chun in fire-y flight. Plus, Park himself alludes to the climactic scene immediately in the opening sequence. I'm glad this is the case, because the scenes of Chun's self-immolation in Park's film are perhaps the most indelible images in all of South Korean Cinema and it would be hard to restrain myself from not talking about these images here.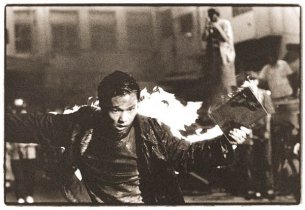 A Single Spark is Park's most commercially successful film so far, and the topic played a huge part in this success. Chun Tae-il was a labor activist in the late 1960's who exposed the horrendous conditions at the sweatshops run at Seoul Peace Market. In organizing against such conditions, one was by association organizing against the oppressive government of Park Chung-hee. Michael Breen has noted when describing the shamanistic traditions underlying Korean culture that "The worst thing the living can do to someone they hate is commit suicide because of him." And in 1970, the 23 year-old Chun Tae-il followed this philosophy and set himself on fire from the flames of a burning book of Korean labor law, chanting slogans such as "Comply with labor law!" and "We are not machines!". This act solidified Chun as a rallying cry of protest against the South Korean regimes and policies of the 70's and 80's to the point where fire extinguishers became regular gear for Korean police at such protests.
Park has structured the film within two slightly different times periods, representing Chun's life (here portrayed by Hong Kyeong-in of Our Twisted Hero and Hi, Dharma!) in black and white while, five years later, the life of an underground intellectual writing a biography of Chun's life, named Kim Sang-jin (Moon Sung-keun of The Black Republic, To You From Me, Green Fish), is portrayed in color. (The author character in this film is a fictional character. According to Korean film scholar Kyung Hyun Kim, the real-life writer of the influential biography of Chun is believed to have been ghost written by a human rights lawyer and underground intellectual named Cho Yang-nae.) Kim and his wife (Kim Sun-jae) are being followed by the police for their own involvement in the labor movement. Juxtaposing Chun's and Kim's life, Park underscores how "nothing has changed in five years" since Chun's death. And by releasing the film in 1996, Park appears to request that we reflect on what has and hasn't changed in our present moment.
I am not completely clear how the film's dialogue falls on Korean ears - and being that the screenplay is written by none other than Lee Chang Dong (director of Green Fish, Peppermint Candy, and Oasis) and the fact that Kyung Hyun Kim translates one of the slogans Chun screams while burning as "Do not waste my life!" when the English subtitles never provide such a translation, I am hesitant to lay any blame on Lee for the dialogue problems - but the English translation errs where many political biopics fail. That is, dialogue that comes off as didactic in efforts to emphasize certain political points and important moments in the life of the political figure. Park and Lee want to chronicle a great deal here, such as the tuberculosis that ran rampant in the poor ventilation of the sweatshops, the enforced injections of amphetamines to keep sleep-deprived workers awake, and all the poignant discussions at secret labor meetings. But their efforts to cover so much ground result in the dialogue telling us what to think rather than letting the audience come to their own interpretations while watching each scene. For the scenes with the most power are the ones where we are left to figure things out for ourselves, such as the scene where Chun lies in a self-made grave or when Kim, still hiding from authorities, sneaks a view of his pregnant wife in order to send each other dialogue-less 'I love you's and 'don't give up's merely by the expressions on their faces. The black and white scenes are the most beautiful in this film, but the scenes of all hues are greatly enhanced by Song Hong-seob's score, presenting pre-Boards of Canada warbles for the contemplative scenes and percussive pieces - reminiscent of Peter Gabriel's ode to South African activist Stephen Biko - sounding like heartbeats resonating from the character on screen.
The most beautiful shot, and the one exploited in the film's marketing, is that of Chun's self-immolation. Yet portraying such a horrible culmination of a young life, however politically motivated, with such beauty is ironic since setting one's self on fire isn't pretty. And for all Chun's deification here, it is truly saddening that he had to take this step to speak out against the injustices to have the impact he did. However, character Kim Sang-jin's worries that Chun's work would be forgotten have been made much less likely with the memorable images of his life that director Park Kwang-su has provided in A Single Spark.      (Adam Hartzell)
     A Single Spark ("Areumdaun cheongnyeon Jeon Tae-il").  Directed by Park Kwang-su. Screenplay by Lee Chang-dong, Kim Jeong-hwan, Yi Hyo-in, Hur Jin-ho, Park Kwang-su. Starring Hong Kyung-in, Moon Sung-keun, Kim Seon-jae, Lee Ju-sil, Myung Kay-nam, Dokko Young-jae, An So-young, Kim Seung-soo. Cinematography by Yoo Young-gil. Produced by Keyweck Shidae. 96 min, 35mm, color/b&w. Rating received on November 13, 1995. Released on November 18, 1995. Total admissions: 235,935. Presented at the 46th Berlin International Film Festival.

Other Films from 1990-1995

1990 --    Angel, Become an Evil Woman (Kim Ki-young);   Black Republic (Park Kwang-su);   The Dream (Bae Chang-ho);   Let's Look at the Sky Sometimes (Kim Sung-hong);   The Lovers of Woomook-baemi (Jang Sun-woo);   Mayumi (Shin Sang-ok);   My Love, My Bride (Lee Myung-Se);   Only Because You Are a Woman (Kim Yoo-jin);   Partisans of South Korea (Jung Ji-young);   The Rooster (Shin Seung-soo);   Son of a General (Im Kwon-taek);   Song of Resurrection (Lee Jeong-guk);   The Woman Who Walks on Water (Park Chul-soo).

1991 --    Berlin Report (Park Kwang-su);   Death Song (Kim Ho-seon);   Fly High Run Far ("Kaebyok") (Im Kwon-taek);   Road to the Racetrack (Jang Sun-woo);   Seoul Evita (Park Chul-soo);   Silver Stallion (Jang Kil-soo);   Son of a General 2 (Im Kwon-taek);   Theresa's Lover (Park Chul-soo);   Who Saw the Dragon's Toenails? (Kang Woo-suk).

1992 --    The Blue in You (Lee Hyun-seung);   Kim's War (Kim Young-bin);   The Man Upstairs, the Woman Downstairs (Shin Seung-soo);   Marriage Story (Kim Ui-seok);   Mister Mama (Kang Woo-suk);   The Moon Is... the Sun's Dream (Park Chan-wook);   Myung-ja, Akiko, Sonya (Lee Jang-ho);   Our Twisted Hero (Park Jong-won);   Son of a General 3 (Im Kwon-taek);   Walking All The Way To Heaven (Jang Hyun-soo);   White Badge (Jung Ji-young).

1993 --    First Love (Lee Myung-Se);   That Man, That Woman (Kim Ui-seok);   Two Cops (Kang Woo-suk);   We Must Go To Apkujeong-dong On Rainy Days (Yu Ha).

1994 --    Coffee, Copy and a Bloody Nose (Kim Yu-min);   Deep Scratch (Kim Sung-hong);   The Fox With Nine Tails (Park Heon-soo);   How To Top My Wife (Kang Woo-suk);   I Am a Man (Bae Chang-ho);   I Wish For What Is Forbidden (Jang Kil-soo);   La Vie En Rose (Kim Hong-joon);   Life and Death of the Hollywood Kid (Jung Ji-young);   Love Pro, Marriage Amateur (Lee Du-yong);   Manmubang (Eom Jong-seon);   Sado Sade Impotence (Park Chul-soo);   The Story of Two Women (Lee Jeong-guk);   The Rules of the Game (Jang Hyun-soo);   The Taebaek Mountains (Im Kwon-taek);   To You, From Me (Jang Sun-woo).

1995 --    Dr. Bong (Lee Kwang-hoon);   Eternal Empire (Park Jong-won);   A Hot Roof (Lee Min-yong);   A Man With a Gun (Kim Ui-seok);   Millions In My Account (Kim Sang-jin);   Mom's Got a Lover (Kim Dong-bin);   Mommy, Star, and Sea Anemone (Yu Hyun-mok);   My Old Sweetheart (Shin Seung-soo);   The People In White (Bae Yong-kyun);   Runaway (Kim Sung-soo);   Sunset Into the Neon Lights (Lee Hyun-seung);   Terrorist (Kim Young-bin);   Who Drives Me Crazy (Koo Im-seo).