An Interview with Bong Joon-ho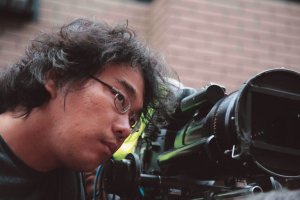 Born in 1969 in Daegu, Bong studied sociology at Yonsei University in Seoul. In 1994-1995 he attended the Korean Academy of Fine Arts, where he produced his first short films. His first feature-length movie, Barking Dogs Never Bite ("Flanders-ui gae") won the Fipresci Prize at the Hong Kong Film Festival in 2001. Two years later he directed the serial killer movie Memories of Murder ("Salinui Chueok"), considered by many critics to be his best feature. In 2004 he produced a digital short for the Jeonju International Film Festival along with Asian directors Ishii Sogo and Yu Lik Wai for the collective feature Digital Short Films by Three Directors. His third film, The Host ("Gwoemul"), won Best Picture at the inaugural Asian Film Awards in Hong Kong, and established a national box office record in Korea with over 13 million tickets sold. Currently, he is working on a segment of an omnibus film focusing on the city of Tokyo involving also the French cineastes Leo Carax and Michel Gondry. This interview is extracted from a conversation with Bong Joon-ho during the Dongfang Film Festival in Naples (Italy).

How did you start approaching cinema?

I used to watch plenty of movies as a child. Television had a vital importance to my formation, because VHS tapes were not circulating yet in South Korea at that time. In the late 1980s, together with other sociology students, I created "Cineclick" -- a local organization devoted to discussion of Mass Communication and Media Arts.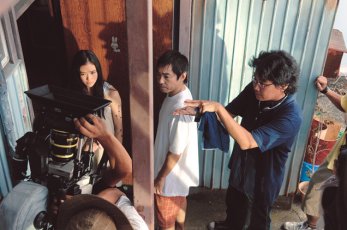 Could you tell me more about Cineclick's activities?

We promoted screenings of Japanese and European films still unfamiliar to South Korean students. Cineclick attempted to encourage debate on audiovisual culture, and this experience helped to expand my vision of cinema. My gaze on moving images eventually became more reflexive and conscious. In 1993 we also shot a 16mm collective documentary, before I completed a short film vaguely based on the surrealistic atmosphere contained in David Lynch's Blue Velvet (1986).


What about your relationship with South Korean producers?

To date, I have been able to take advantage of a certain protege status. I have been both lucky and sharp to create durable relations with local producers. Tcha Seung-jae who produced my first two feature films has always trusted me. He defended the artistic choices I made, even when my debut film failed miserably at the box office.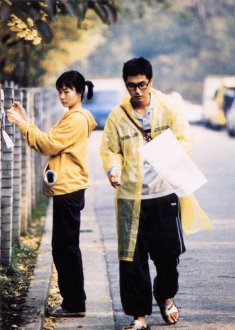 Do you think that the theatrical flop of Flandersui gae (2000, pictured left) drove you towards film genres that were on the outside more conventional?

The screenplay of Flandersui gae is mainly based on my personal experiences, compared to the following features which were taken from news stories occurring in my country. The interiors for that film were shot at my former flat in Seoul. It can be considered as an autobiographical comedy, which follows the developmental pattern of a thriller. Who kidnapped the dog? Some settings like the hot-water heating room in the building may seem to evoke a dark ambiance that is far from comedic.


Your second film Salinui Cheok (2003) deals with a mass murder. Japanese cineaste Kiyoshi Kurosawa revealed that Se7en (1996), directed by David Fincher, had an influence on the direction of Cure ("Kyua", 1997). Did you take any inspiration from Hollywood serial killer movies such as The Silence of Lambs?

Both American movies you mentioned have become milestones in nineties cinema. They continue to exert a transversal influence worldwide on the new generation of film-makers. Besides I've always been an enthusiast of Japanese directors such as Kiyoshi Kurosawa and Shohei Imamura. Nevertheless, I don't consider them to have had a great influence on Salinui Cheok, which is based on a true story that really occurred in Gyeonggi Province between 1986 and 1991.


"Memories of Murder is made up of an unrelenting series of failures, frustrating the proper political vision of a country", argued Antoine Thirion in Cahiers du Cinèma. The story seems to implode, being adverse to any turning point. How did you come up to this narrative structure?

I attempted to focus on the characters' visceral feeling of ineffectiveness. The police detectives are doomed to fail in their investigations. This mysterious serial killer who truly haunted South Korean people twenty years ago still stays unpunished in our country.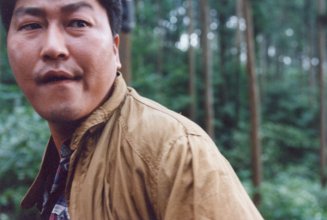 This moving picture displays once more Song Kang-ho's actorial talent. How did you come to collaborate with him?

Despite the convincing performance of Lee Sung-jae, Flandersui gae was definitely a "floppola" in Seoul theaters. Therefore I decided to work with Song Kang-ho. His popularity was constantly growing, even among Western audiences since Park Chan-wok picked him for Sympathy for Mr. Vengeance (2002). Yet we should not forget that Song Kang-ho was already showing his talent on the stage until he left his theatrical career behind in 1997.


Could you tell us more about your contribution to the project Digital Short Films by Three Directors 2004?

The three of us each worked on our own. I have to admit that I didn't even view the episodes directed by Ishii Sogo and Yu Lik Wai. Apart from the aesthetic results, this cinematic experience personally gave me the opportunity to check the possibilities offered by digital production.


Loss of control over reality is a topic that remains under the skin throughout your filmography. Panic attacks usually erode the relationships of the characters you invented. Even Gwoemul, despite the happy ending, gives evidence to this feature…

The concept of chaos has always fascinated me from a philosophical perspective. Moreover I would mention also a peculiar form of chaos reflecting the social and cultural context in South Korea. Anyhow, the positive epilogue in Gwoemul is deliberately pretentious. Just consider that the Park family is slaughtered before the final victory against the monster.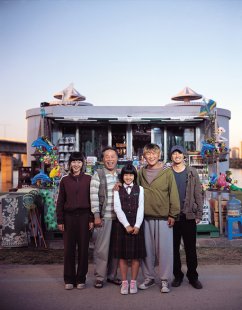 The Gwoemul monster iconography is very different from the classical appearance of bipedal monsters such as Godzilla and King Kong. How did you come up with its final look?

The monster's appearance is not based on a pre-existing model. The starting idea was taken again from a true story. I read in the newspapers about a deformed fish with an S-shaped spine caught in the Han River. The monster design came mainly from this strange discovery.


Do you consider that monstrous creatures on screen, such as the North Korean Pulgasari, could convey ideological and moral values?

The role of the monster in Gwoemul is progressively reduced throughout the film. The initial scene set in the military laboratory reveals an attraction-repulsion dynamic towards Americans that is also responsible for the fake virus invention that will disband Park family. However familiar relationships are most assuredly a dominant topic in the movie.


Gwoemul won funding from the Pusan International Film Festival's Pusan Promotion Plan, and attracted more than 13 million people in South Korean theaters. How does it change your approach to direction when you work on high-budgeted features?

The remake rights to this film have already been sold to a major movie company. I should confess that I am growing weary of writing screenplays. Sometimes I question myself about the future with the same concern that thrills horror film movie-goers. However that may be, my next movie is a low-medium budget feature which is currently in development.



Giuseppe Sedia, NAPLES October 2007


Translation by Kim Oen Joung
Additional translation by the author