An Interview with Yun Jae-yeon
by Kyu Hyun  Kim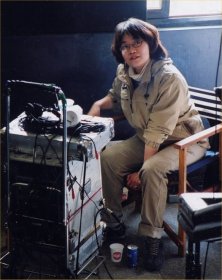 It is becoming a consensus among scholars and observers of Korean cinema that Korean films are, to a degree rarely found in the world, driven by directors. Especially notable are the infusion of many young directors, often from film academies, into the big-budget commercial filmmaking scene. It is not unusual to find the "guv'nors" in their early 30s or even younger given multi-million dollar projects with huge commercial stakes. Added to this development is the increasing number of female directors who are making inroads into what had unquestionably been a male turf.
As a guest committee member of the Third Annual San Francisco Korean American Media Arts (KIMA) Festival, I was able to get hold of director Yun Jae-yeon, whose feature film debut Wishing Stairs, the third installment in the renowned Yeogo gwedam series, was one of the biggest box office successes of the 2003 summer season, and ask her a range of questions regarding the film itself and other issues she has faced as a young female filmmaker making headway in Korea.
Director Yun, like many young directors from Korea I have met, is articulate, passionate and, perhaps most importantly, utterly committed to cinematic art. She majored in European Fine Arts during college years and moved on to the School of Visual Arts, Korean National University of Arts (KNUA), where she specialized on cinema. Upon graduation, she has worked as an art director for Paradise Villa (2001) and directed two short films, Encounter (1998) and Psycho Drama (2000). For the latter she received an award at the 2001 Seoul Women's Film Festival. Wishing Stairs is her first commercial feature film.


How did you get involved in making Wishing Stairs?

It was really my short film Psycho Drama, which won an award at the Seoul Women's Film Festival. Cine 2000 (production company for Whispering Corridors, Memento Mori and Wishing Stairs) had a producer there. That person saw the film, and recruited me for the project.


Can you tell us a little bit about Psycho Drama? Does it have some common elements with Wishing Stairs?

There are some, depending on one's point of view. The short film is set in a psychiatric ward, so the setting is a closed space, not unlike the girl's high school in Stairs. It is a story of interaction between a nurse and one particular patient. There are probably some similarities in the mise en scene as well: narrow corridors, and so on. The characters are sort of unusual, with special desires and ambitions, so that is another similarity. But, it is not a horror film. It's quite humorous.


I understand it is included in the DVD supplement?

Yes.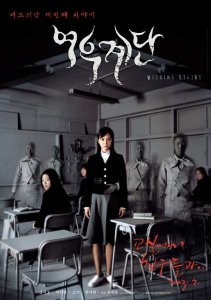 That's fabulous (Laughter). I have to confess I am a major horror fan, so I have seen Corridors and Memento Mori many times. What were your strategies or thoughts on how to distinguish your film from the earlier installments in the series?

When my friends and family heard that I was assigned this project, they were concerned that the successes of the previous two films in the series would be a burden. Actually, it would have been a burden as long as the movie was a big-budget production, regardless of it being an installment in a popular series.

The big problem was how to find a story that did not overlap with the ones already told in Corridors and Memento Mori. That was pretty difficult. Eventually, we settled on the theme of jealousy and competition. It was decided early on that Stairs would follow the model of Corridors in the sense that a certain level of familiarity with genre conventions would be maintained. At the same time, Memento Mori was praised for its uniqueness, its strong character, if you will, as a movie. For Stairs, we tried to create a unique look through production design.


The high school sets are indeed distinctive. Was it difficult to find such a strange-looking school for your film?

Actually, many of the scenes were filmed in the sets built from the scratch. Both Corridors and Memento Mori rented the real-life school campuses in their entirety during the vacation, but we didn't do that. We designed and built the dormitory rooms and the corridors. The locker room, ballet practice hall, sculpture practice room were all studio sets as well. The exterior was filmed at a high school campus closed down for many years. The "fox stairs" themselves were located in an entirely different campus. We dug up a few more steps, did a lot of coloring, even for the foliage that fall around the steps, and redecoration of the buildings that surround the steps.


I found the film darker than both Corridors and Memento Mori, and perhaps went further into the inner states of the characters. We never get to see the private spaces of the girls in the first two films in the series. We never see, for examples, their bedrooms, but we do in Wishing Stairs. Also there are a lot of reflections in the mirror.

Yes, it is my taste, I suppose, to put characters in a narrow, confined space and see how they interact. As for the mirror images, I really didn't have the "double" effect in mind, you know, of one person seeing another "me" in her reflection, and so on. I love the economy of visual composition and concentrated emotional effects I could have when, for instance, a character's backside and face are put in one shot. Mirrors were very helpful in this regard. It was more about the form than the content, in other words.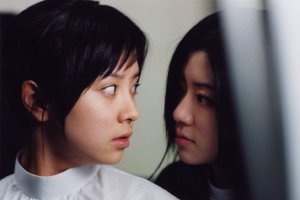 I was impressed with the acting of the young actresses, Song Ji-hyo, Pak Han-byeol and Jo An. What was it like working with the cast members?

They worked very, very hard. I myself was a rookie director, but even if inexperienced, I was the director so I had to direct them toward certain performances, and the actors were perhaps more self-critical because they could not immediately give me what I wanted from them. But it was also a great fun to work with them: there was the joy of discovering afresh what you could do.


Was there any problem with actors identifying too closely with the characters they played?

Well, Song Ji-hyo (pictured left), who played Jin-sung, had initially told me that she could not relate to Jin-sung at all. But by the time we were ready to wrap the production, she identified so closely with the character that she wanted to make the film all over again. Pak Han-byeol's real-life personality is pretty close to So-hee's, so I directed her toward playing it naturally. As for Jo An, we did a lot of pre-production talk about how to portray Hye-ju. During the video testing stage, her performance came off as overdone.


The makeup was overdone?

No, her rehearsal performance, without makeup. But once she got into the bulky bodysuit, it was so heavy and it and the facial makeup took so much time to put on...


How long?

Six hours in the beginning.


My God (Laughter).

So the makeup was such a burden it sort of weighed down her performance to the level I wanted.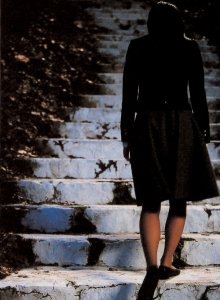 Let's change the subject. Many female directors are already working, or have debuted in recent years. They have made inroads into what had traditionally been considered a man's job. Have you recognized any visible changes in recent years in this regard?

Well, I am not sure about the visible changes in terms of reflecting "women's perspective." However, it is a good thing that people's standard image of a "film director" is breaking down due to the greater participation of women.

I am a pretty recent graduate from KNUA and when I was studying cinema in the school, I was still one of the numerical minority. Now, I think about the half of the class in KNUA are women. So there has been a change. But I think the increase in the number of women filmmakers should be understood in the larger context of the greater diversification of voices in Korean cinema.


Film director is in many ways a position with a lot of authority. In that sense, wouldn't more women directors, or producers for that matter, working in Korean cinema bring about changes in the way Korean films are made?

Well, there are certainly more women directors and producers now, but...


Wouldn't that lead to, for instance, making films that would have been shot down by male directors or producers some years ago?

I am sure there are cases like that. From my own perspective, I like being a woman. But it can be somewhat burdensome when all others see in me is that I am a woman filmmaker. Now, it is true that women filmmakers are inevitably involved in the big social changes in South Korea that are clearly bringing about the upswing of women's status.

I still think, though, the most important issue is diversity. I think true empowerment comes when we recognize that we have multiple voices, and try not to pigeonhole one another into easily identifiable categories.


I heard that the audience reaction toward A Tale of Two Sisters has been split along the gender lines, and that it was overwhelmingly supported by young women. Have you noticed any gender difference in terms of the audience response to Wishing Stairs?

In terms of box office receipts, the movie was seen by a wide range of people. But yes, I think there was a gender differential. I heard that women in teens and 20s liked the film most. Men in their teens and early 20s also liked them a lot.


But not men in mid-20s or older?

You know, Korean men have to go to military service...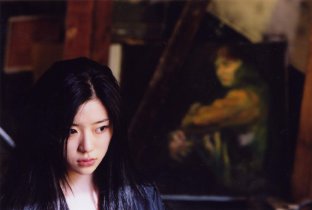 Aha (Laughter).

Men older than 30s appear to have been bored by the movie.


What is your next project? If you don't have anything specific, what is your dream project?

Wishing Stairs was conceived as a genre film, so it was in that sense easier for me, but also it was a little like a jigsaw puzzle. You know, the picture was already there and I was looking for the pieces that fit together.

For my next project, I would like to make a film a little more personal. Not autobiographical, but a story about a specific person. So first come up with the content, and find a good box, shall I say, that can accommodate that content, and then find beautiful wrapping papers that go with the box. Making Wishing Stairs was sort of the other way around.



   Acknowledgement: The interview contains some materials excerpted from the question and answer session specially arranged for the Korean guests at the KIMA Festival on November 7, 2003. I would like to thank Program Director Professor Cheol Ho (San Francisco State University), Guest Service Coordinator Hyojung Kim and other KIMA staff for making this interview possible. Photograph on 'interviews' page courtesy of Korean American Media Arts Association, 2003.




SAN FRANCISCO November 2003