The Top Ten Films of the 1990s
by Darcy Paquet


  In the spirit of fin-de-siecle reminiscence, I am offering up my choices for the most interesting and enduring Korean films of the last decade. Of course, these are highly personal choices, shaped by my own tastes and preferences. These are the films that have moved and inspired me to write about Korean cinema.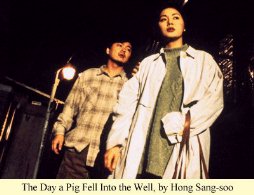 I have tried to provide as much diversity as possible by including only one film per director and choosing a variety of genres and styles. The list includes feature-length films only, because I do not have a strong enough background in short film to really assess the work of the past decade.
I plead guilty to leaving out some of the classics of contemporary Korean film; works that would have been automatic choices for most Korean critics. Sopyonje (1993) by Im Kwon-taek, for example, is without question an interesting film, but personally I feel some of his works from the 1980's to be better. Green Fish (Lee Chang-dong, 1997) is also worth watching, but I prefer Peppermint Candy (2000), and I anticipate even better offerings from Lee in the future.
The most difficult omission for me was Spring In My Hometown (Lee Kwangmo, 1998). This film tends to divide audiences with its slow pacing and overtly artistic approach. Personally I enjoy it - it reminds me of growing up in the country - but I couldn't quite find a place for it below. Other close calls were A Hot Roof (1995), for its energy, and the recent Happy End (1999).
These are my picks for the top ten feature films of the last decade. They are listed in alphabetical order.



Black Republic (1990, Park Kwang-soo).
This second film by Park Kwang-soo focuses on a student activist who comes to a small mining town to find work and avoid the police. As time passes, he becomes intimate with his fellow workers and the problems they face. Although he remains largely passive in his time at the mine, his wanted status weighs on his mind and ultimately catches up with him. Actor Moon Sung-keun excels here as the soft-spoken activist who finds himself changed by working in a mine. Without preaching or lecturing, Park has created a thoughtful film that draws us into the life of a town left behind by Korea's rapid development.

Christmas in August (1998, Hur Jin-ho).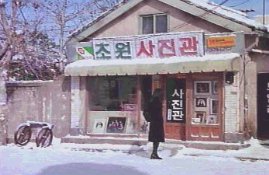 The debut effort by Hur Jin-ho, an artfully constructed piece about a photographer who discovers the beauty of living in the months before his early death. Han Seok-gyu and Shim Eun-ha give perhaps the best performances of their career in portraying a brief but poignant friendship that leaves each character altered. Particularly interesting are the scenes in the movie that focus on photographs and the legacy they leave behind. Hur's work in many ways seems to redefine the melodrama by taking such a subtle and introspective approach. Although this is not the kind of film most Western critics look for from Asia, it has won the devotion of a large number of viewers, and its reputation continues to grow with time.

The Day a Pig Fell Into the Well (1996, Hong Sang-soo).
The most accomplished art film of the decade. Hong reportedly wrote four screenplays before deciding to merge them all into his debut feature. This tale of cruelty explores the lives of two men and two women whose lives are linked by an illicit affair. For me, the most remarkable aspect of this film is the adept manner in which the director handles characterization. As we watch them struggle with obstacles that they create for themselves, we develop an understanding and fascination for each character that stays with us long after the film is over. Not to be missed!

Eternal Empire (1995, Park Chong-wan).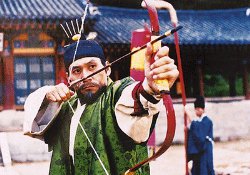 A breathtaking costume drama that exploits the geometry of palace architecture like no other film I've seen. Based on a famous Korean novel, this tale of intrigue from the Chosun Era opens with a death in the library and leads us through a complex maze of power and deception. The camerawork in this film steals the show, employing fixed angles but constantly changing perspective, darting from corner to corner in restless haste. Adding to the viewer's disorientation is the labyrinthine set, so sprawling that there are only a handful of rooms of which we catch a second glimpse. Both a feast for the eyes and a cinematic tour de force.

The Lovers of Woomook-baemi (1990, Jang Sun-woo).
To be honest, most any of Jang Sun-woo's films released in this decade could be included in this list; he is probably the most consistently interesting director working in Korea today. Nonetheless this is my favorite: a remarkably simple tale of an extramarital affair between two factory workers. Without any gimmicks, Jang paints a riveting portrait of the desperation of a small town. Several scenes stand out from this piece: the couple's first night in a hotel, where the woman refuses to sleep with her lover but washes his socks; the night when they first make love; and the scene where the wife, having discovered the affair, finds her husband in Seoul and drags him violently back to his parents' house. Although this film has not received much international exposure, within Korea it is Jang's most highly regarded work, and several up-and-coming Korean directors have named it as one of their favorites.

Memento Mori (1999, Kim Tae-yong and Min Kyu-dong).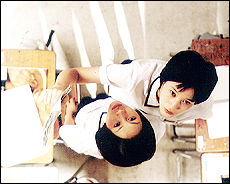 Released only a week before the start of the new millenium, this creative and passionate work begs a place among the decade's elite. Although a horror film in name, it is not particularly scary. Instead the film places a suicide at its center, and then strives to both explain the act and to mourn the young girl who is lost. Directors Kim and Min are quite ambitious with this work, and although their freedom has been curtailed by both the production company and the Ratings Board, who wished to limit the film's homosexual content, they still succeed in creating a serious and moving portrait of a young girl who is betrayed by her society.

The Murmuring (1995, Byun Young-ju).
The first of three documentaries on "comfort women," the numerous women from Korea and elsewhere who were taken by the Japanese Army during World War II and forced into sexual slavery. This film has had impact far beyond the theaters in which it has screened, both in bringing a spotlight to an issue that most people would like to forget, and in transforming the lives of the women who are the film's subject. In addition to the conviction and passion that director Byun brings to this work, she also possesses a keen artistic sense that makes this work a captivating watch.

No. 3 (1997, Song Neung-han).
Strangely enough, director Song Neung-han insists that his debut feature No. 3, which I consider to be the funniest film of the 1990's, is not a comedy. Questions of genre aside, however, this glorious sendup of gangsters and poets has achieved classic status amongst Korea's youth. Most impressive are the film's colorful ensemble of egos: Han Seok-gyu as the No. 3 gangster who insists that he's No. 2; Song Kang-ho as the over-exuberant trainer of a group of young gangsters; Park Sang-myun as a thug who calls himself "Ashtray"; Park Kwang-jung as a man named Rimbaud who preaches poetry and tries in vain to escape a sexual liaison with a ruthless gangster's wife, played by Bang Eun-hee; and Choi Min-shik as the tough-talking police detective who vows to put them all in jail. An unruly tour through Korea's underworld.

Nowhere to Hide (1999, Lee Myung-se).
When making my choices for this essay, I was tempted to pick Lee's 1993 feature First Love in place of Nowhere to Hide, since I have already written about the latter, and the former is such a lovely work. Objectively, however, Nowhere to Hide is the better film, for its greater ambition and its form. The film's excitement springs not so much from its action or humor; but rather from the cinematic invention which we feel in every scene. I love the ending, in spite of (or perhaps because of) its artificiality: hunter and hunted face each other, night literally transforms into day (with the viewer hardly noticing), rain pours down through the sunshine, and in the melee that follows we are given a simple closing to the elaborate searches and deceptions that have run throughout the film.

Push! Push! (1997, Park Chul-soo).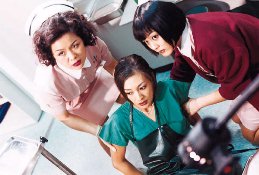 Freewheeling, irreverent, and thoroughly unpredictable, Push! Push! unfolds within the doors of an obstetrics and gynecology ward at a city hospital. The film's unconventional narrative leads us on the rounds of two doctors as they deal with a melee of society's passions and problems. These two women, played by Bang Eun-jin and Hwang Shin-hye (who also starred together in 301/302), provide an emotional anchor for the viewer amidst the chaos at the hospital and director Park Chul-soo's spinning camera. A scathing critique as well as a heartfelt message to society.