2003 Pusan International Film Festival Report
by Darcy Paquet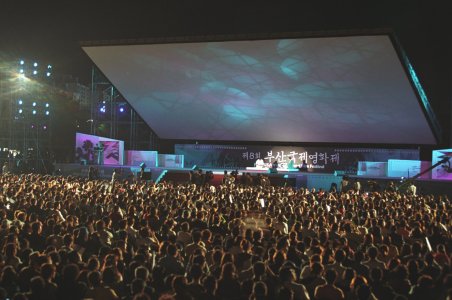 Opening ceremony, Oct. 2, 2003.
  The 8th edition of the Pusan International Film Festival (PIFF) opened on October 2, 2003 -- in contrast to the past couple years, when it has been held in November. The festival clearly prefers an October opening (with warmer weather allowing for screenings on PIFF's massive outdoor screen), however in 2001 and 2002 there have been conflicts with events such as the Busan Asian Games that have pushed the event back to November. Festival organizers now say they have secured an early October opening for the next several years, and intend to keep this time slot.

Early October is one of the nicest times of the year in Korea. The leaves have not yet begun to change color, but temperatures are warm and the sky is as clear as it ever gets. The festival's new hub is alongside the beach in the Haeundae (pronounced "HAY-oon-day") tourist district, and though it's a bit too cold to swim, the beach is a perfect place to take a respite from the frenzy of the festival.

This year the festival reserved 17 screens for the 242 films in its program: the outdoor venue, 10 smaller screens in the Megabox Cineplex in Haeundae, and 6 screens in the central district of Nampo-dong, where the festival was originally launched. The long distance between the two areas (about 50 minutes by subway) always produces a lot of complaints and places pressure on the festival to choose one district or the other. This is difficult, however, because Nampo-dong doesn't have enough hotels, and Haeundae doesn't have enough screens. The issue is likely to brew on until PIFF finishes building its own theater complex, due to be finished in 2007. Both Nampo-dong and Haeundae are lobbying hard to have the new theater built in their district, and a decision will be made by early 2004. Haeundae is almost certain to win out.

In recent years PIFF has started attracting more and more guests from abroad, as it has gained the reputation of being the most important film festival in Asia. Its main competitors, the Hong Kong International Film Festival and the Tokyo International Film Festival, are both seen to be in decline, and PIFF has capitalized on this by focusing strongly on Asian cinema. The recent surge in Korean cinema's international reputation has also given the festival a big boost (and vice versa).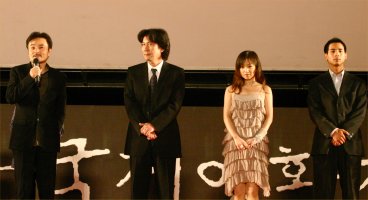 PIFF's burgeoning status can also be seen in the increasing number of premieres that it screens, such as the opening film, Japanese director Kurosawa Kiyoshi's Doppelganger (director and stars pictured right). Whereas in past years the opening and closing films had often screened before in other festivals, this year they secured the international premiere of this rising director's latest work.

(A note about terminology, since sometimes people ask me about this, and this seems as good a space as any to explain it... A "world premiere" is the first time a film is screened in front of a public audience. An "international premiere" is the first public screening of a film outside its home country. Doppelganger opened in Japan a week before the festival, so PIFF had the international premiere. PIFF also screens a lot of Asian premieres -- the first time a film has screened in Asia. Premieres are considered prestigious for festivals, and they result in a lot of publicity. If the international press wants to review the film, they have to come to Pusan, and they often mention the festival in their review. For local audiences it probably makes little difference, however. People seemed just as excited about Kitano Takeshi's Zatoichi -- which premiered at Venice -- as they were about Doppelganger)

With PIFF's rising popularity, however, came one problem. With a record number of guests, and smaller theaters this year in the Haeundae Megabox, a severe ticket shortage for festival guests occurred. EVERYBODY I talked to was having trouble getting tickets. The seats reserved for guests for the film The Road Taken were all taken 30 seconds after the ticket booths opened one morning. I spoke to many programmers and journalists who had flown halfway across the globe to see films, only to discover that they couldn't get in to the shows they most wanted to see. The festival staff did their best to accommodate people, and some extra screenings of Korean films were added, but nonetheless this was the major overwhelming complaint that everybody had about this year's event.


Opening ceremony / Doppelganger (Japan, 2003), dir. Kurosawa Kiyoshi

I arrived in Pusan (or "Busan", if you want to use the official spelling) early on Thursday, October 2nd. There was a press screening of Doppelganger in the early afternoon, but I waited to watch it during the opening ceremony. The event is held at a spacious yachting center near the water, and they have 5000 chairs set up outside in front of a huge screen.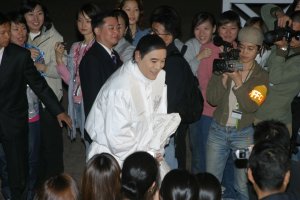 (Despite the large number of seats available, the screening sold out only 30 minutes after going on sale in early September) A red carpet stretches from the yachting center's entrance through the sea of seats up to a stage in front of the screen. Foreign and local celebrities walk down the carpet to a group of reserved seats in front. International press are also given reserved seats, so I also got a chance to "walk the carpet," so to speak. The mood that night was electric -- flashes were popping everywhere, and each celebrity that arrived resulted in screams from the audience. Directors Kwak Kyung-taek, Im Kwon-taek, Hong Sang-soo, Lee Chang-dong (now Korea's Minister of Culture and Tourism), Kim Ki-duk, Lee Jang-ho, Yu Hyun-mok and others were there, in addition to stars like Jang Jin-young, Park Hae-il, Moon So-ri, Ahn Sung-ki, and Kang Su-youn (pictured left is fashion guru Andre Kim). When actor Lee Byung-heon showed up, there was mass hysteria.

Actor Park Joong-hoon and actress/soon-to-be director Pang Eun-hee presided over the ceremonies. After several speeches, a nice performance on the gayageum (a traditional Korean instrument) and an impressive fireworks display, the screening of Doppelganger began. Starring actor Yakusho Koji (Shall We Dance), the film is an eccentric horror/black comedy about a robotics engineer whose life is disturbed by an evil twin of sorts, who tries to help him out by getting him fired and seducing his assistant. Changing tone from time to time throughout the course of the plot, director Kurosawa Kiyoshi (who made one of my personal favorites, Cure, in 1997) likes to keep his audience guessing. Often we don't whether the person on the screen is the engineer or the evil twin, and the movie is given further tweaks with split screens, strange plot detours and unexpected bursts of violence. Personally I found the ending to be a bit baffling and disappointing, but it's an interesting enough film that it would be worth going back for a second watch. Most of the people I talked to said they enjoyed it better than Bright Future, the director's previous film which screened at Cannes and which is supposedly quite hard to figure out.

The night ended with the opening party, held in the upscale Paradise Hotel near the beach. Many of the celebrities who showed up for the opening screening were there, together with festival guests and packs of TV reporters with cameras.


Chung Chang-hwa retrospective

PIFF's Korean cinema retrospective section focuses on older films, usually from the 1950s and 1960s. On most years the festival has chosen to highlight a particular director, such as Kim Ki-young (1997), Yu Hyun-mok (1999), Shin Sang-ok (2001), or Kim Soo-yong (2002). Other retrospectives have focused on the Korean New Wave (1996), cinematographer Yoo Young-kil (1998), and film adaptations of the folktale Chunhyang (2000).

This year's retrospective was on a director that most people had never heard of. Chung Chang-hwa made his debut in the film industry in 1953 and became known for his commercial, rather than his artistic success. In particular, PIFF introduced him as "the man of action", who pioneered the genre of action movies in Korean cinema. He is also known for having served as a mentor for filmmakers such as Im Kwon-taek and Kang Dae-jin who first worked as assistant directors under Chung.

After finding success in Korea and making several Hong Kong-Korean co-productions, Chung (who had studied Chinese in school) was invited to a meeting with producer Run Run Shaw in Hong Kong and given a three-year contract to make films for Shaw Brothers. While in Hong Kong from 1969 to 1977, Chung made eleven highly successful films at Shaw Brothers and Golden Harvest, including the classic Five Fingers of Death which became the first Hong Kong movie to become a commercial success in the U.S.

A Bonanza  (1961, Korea)
Sunset on the Harbin River  (1965, Korea)
Dangerous Youth  (1966, Korea)
Swordsman in the Twilight  (1967, Korea)
Wandering Swordsman and 108 Bars of Gold  (1968, Korea)
Temptress of a Thousand Faces  (1969, Hong Kong)
Valley of the Fangs  (1970, Hong Kong)
Five Fingers of Death  (1972, Hong Kong version)
Five Fingers of Death  (1972, censored Korean version)
The Devil's Treasure  (1973, Hong Kong)
Watching films from this retrospective was one of my highest priorities for this festival; unfortunately time conflicts and sold-out shows meant that I only caught four of them: Dangerous Youth (1966), Swordsman in the Twilight (1967, pictured above), Wandering Swordsman and 108 Bars of Gold (1968), and Valley of the Fangs (1970). My personal favorite -- and most of the people I talked to held the same opinion -- was the youth romance/revenge film Dangerous Youth. Starring Shin Sung-il (the biggest star of the 1960s, and a current representative at Korea's National Assembly) and actress Moon Hee, the film is about a man who sets out to take revenge on the rogue who made his sister pregnant by doing the same thing to that man's own sister. Quite an evil deed, to be sure, and the film makes it hard to identify with this angry and hotheaded young protagonist. Nonetheless, the film's brisk pace and dialogue (not to mention Moon Hee, my favorite actress of that generation) make it highly entertaining to watch.

Swordsman in the Twilight and Wandering Swordsman and 108 Bars of Gold are both period swordplay films made in Korea. Many foreign guests who had seen a large number of similar films from Hong Kong seemed to feel that these two titles offered little new. Nonetheless they are well made, and they certainly stand out within the context of 1960s Korean cinema. Swordsman in the Twilight focuses on peripheral characters during the historical period when Jang Hee-bin was named queen of the Chosun Dynasty. Though the backdrop is a well-known story in Korea (Chung himself shot the film Jang Hee-bin in 1961, and it is available on DVD), it effectively expresses outrage at the corruption of people in power. Wandering Swordsman is more eccentric, with a loner hero who kills people for money and who gets wrapped up in a quest for hidden gold.

All in all, people seemed to enjoy his films, and the retrospective successfully highlighted a distinctive filmmaker who had been almost completely overlooked in the standard histories of Korean cinema.


Panel on big-budget Korean films

Each year as part of the Pusan Promotion Plan (PPP), there are special panels devoted to timely issues in Korean or Asian cinema. One of the more interesting discussions this year was a "Case Study on Korean Big-Budget Films" (defined as productions costing over $5 million, which although tiny for Hollywood is huge by Korean standards). With all the expensive flops of the past couple years, such as Resurrection of the Little Match Girl, Yesterday, and Natural City, the question on everyone's mind was, "Does the Korean blockbuster have a future?"

The panel featured four producers with experience making big-budget films in Asia, pictured below from left to right: Kim Seung-beom (Korea, Natural City), Iseki Satoru (Japan, The Emperor and the Assassin), Tcha Seung-jai (Korea, Musa) and Philip Lee (Hong Kong, Hero). Kim Seung-beom of Tube Entertainment was in some ways the "star" of the event, having distributed or invested in a remarkable number of expensive films that flopped at the box-office, including Resurrection of the Little Match Girl, Tube, and Natural City in addition to the better-performing 2009 Lost Memories.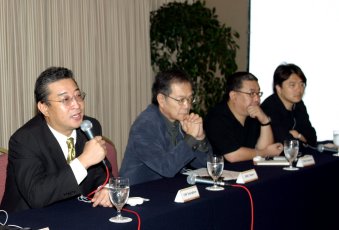 Discussion was centered around two types of films. One was the type of Korean big-budget genre film that has performed so badly over the past couple years. Kim Seung-beom noted that virtually all of these projects started out with a budget of around $3 million, but that production costs eventually grew out of control due to delays in production, technological problems, and general inexperience in making films of this scale. Korea, for example, does not have technicians who know precisely what kind of special effects are needed for a certain situation, because the Korean film industry never made this kind of film until recently. Tcha Seung-jai of Sidus Corporation agreed with this, noting that productions costs for Musa and Volcano High rose higher than expected due to overseas locations or special effects. "We've learned a lot, and I think now we probably have enough experience to produce a large-scale film on budget," he noted. From his perspective, Philip Lee from Hong Kong suggested that Korean films might be able to achieve slightly higher production values with the same amount of money, if producers gain more experience and expertise.

Tcha Seung-jai then estimated that budgets for Korean films should have a ceiling of about $4 million, above which a production becomes dangerously unlikely to earn a profit. Unless, that is, the film is able to make strong sales in the international market. Almost all Korean films are sold to other Asian countries these days, but only films with special appeal can expect to earn a significant amount of money outside of Korea. Japan is by far the most important market, Tcha said, as it accounts for up to 70% of all the money that Korean companies earn from overseas sales. If a film is able to be pre-sold to Japan for a large amount of money, then this could justify budgets of over $4 million.

Which brings us to the second kind of film discussed at the panel: films with international financing that are targeted at the international market, such as the Chinese titles Hero and Crouching Tiger, Hidden Dragon. Korea has yet to produce a film of this kind, with the possible exception of Kang Je-gyu's $13m Korean War drama Taegukgi. Japanese producer Iseki Satoru, who produced the Chinese film The Emperor and the Assassin, said that if you want to make this kind of movie, you have to pre-sell it to other countries before entering production. "We were able to pre-sell The Emperor and the Assassin because director Chen Kaige's name is well-known, and most importantly the script was well-written and well-translated. A good script is essential," he noted.

Apart from pre-sales, it is important to get international financing, argued Philip Lee. Rather than put down the $35 million needed to make Hero out of their own pockets, the producers of the film received loans from international banks (mostly in the United States). They then signed a contract known as a "completion bond" which means that they take responsibility for finishing the film. If they can't complete the film, then they must pay back the amount they borrowed, or else the bank can assign someone else to take over the production.

Korean companies are largely blocked off from this kind of financing; people who want to invest in Korean films must supply the money up front. This is obviously quite risky, but "Korean banks have no interest in financing films," says Kim Seung-beom. The same is true in most other Asian countries as well. What to do about this? Philip Lee said it's a process that takes time. "Over the past couple years we have been trying to convince bankers in Hong Kong to lend money to film projects. Two Hong Kong banks have now begun to lend. For big budget films, we work with banks in the U.S."

As with making blockbusters, it also takes time to acquire the experience necessary to put together an international financing package. One way to bring this about, however, is through international co-productions. Philip Lee himself is co-producing I've Got You Babe (working title), the latest film by My Sassy Girl director Kwak Jae-yong. It has become the first Korean film ever to use completion bonds in order to raise money internationally, in this case through a U.S. bank. Although at first the people in Korea working on the project found it hard to work with the many contracts and guarantees that the bank required, they will learn a lot from the process and it will help Korea to do these kind of projects on their own in the future, said Lee.


North Korean films

PIFF had a surprise for its audience mid-way through the festival (although word had leaked out before)... After intense and complicated negotiations with the North Korean Film Import and Export Agency, as well as South Korea's Unification Ministry, the festival had received permission to screen six North Korean films. PIFF has tried to hold similar screenings in the past, but they have always been blocked due to bureaucratic reasons. With justifiable pride, the festival organizers announced a lineup that would be screened over three of the last four days of the festival (although there would not be time to provide English subtitles). They also hope to turn this into an annual event, with North Korean films screened in Pusan each year.
My Hometown  (1949), dir. Kang Hong-sik
Newlyweds  (1955), dir. Yun Ryong-gu
Our Rail Ticket Clerk  (pictured left) (1973), dir. Goh Hak-rim
Beyond Joy and Sadness  (1985), dir. Yun Ki-chan
Snow Melts in the Spring  (1985), dir. Rim Chang-bum
They Met on the Daedong River (Parts 1 and 2)  (1993), dir. Kim Kil-in

I was particularly excited when I saw the list of films. It included what was described as North Korea's first-ever "artistic" film from 1949 (I'm assuming this means that there were a few works that preceded it, but I'm not 100% sure about this). A wide range of decades were included, during which North Korea had a much stronger and more vibrant film industry than their current one. Nonetheless, South Korea's Unification Ministry had some problems with the ideology presented in My Hometown (1949) and Snow Melts in the Spring (1985). As a compromise, these films were classified as "restricted," and were open only to guests with festival passes.

Bad news followed, however. Due to troubles in finding enough screens, there would be two films screened per day in Nampo-dong at exactly the same time. I went a little crazy when I heard this, since it meant that it was only humanly possible to watch three of the six films. Since I was leaving the day before the festival ended, for me the upper limit was two. I ended up seeing only one -- My Hometown -- which also forced me to miss the Chung Chang-hwa film I was most looking forward to, A Bonanza.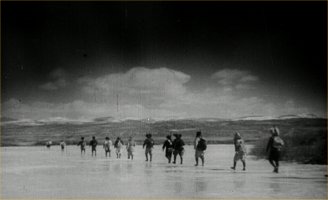 My Hometown did not disappoint, however. In fact, for me it was the highlight of the festival. Shot before the start of the Korean War, the film takes place during Japan's colonization of Korea, and depicts the lives of people who were repressed, and people who joined resistance movements against their oppressors. In place of a strong plot and a few central heroes, the film focused on a large number of characters in an attempt to make "history" the true hero of the film, similar to many early Soviet works. I had a hard time understanding all of the dialogue without subtitles, but the film's emotions and narrative elements seemed presented in very natural, convincing fashion, at least until the end when adoring crowds celebrate their liberation and sing the praises of Kim Il-sung.

On a technical level the film was quite impressive. The cinematography was striking, in particular the manner in which the actors were blocked in front of the camera. The quality of the sound compared quite well to the cavernous echoes of films produced in the South two decades later. There were even some damned impressive special effects, of moving trains being destroyed by saboteur's bombs (shot in miniature).

I'm not saying this film is a masterpiece, but considering its accomplishments for the time period and its historical importance to the North, it's a shame it isn't available to the viewing public. It would be wonderful to see this released on DVD some day, although it's hard to see how that might be possible at present.

Sadly, not many people showed up to watch this or the other North Korean films. There were about 20 people in the theater to watch My Hometown, which I guess is understandable given that this was a restricted screening without subtitles (and far away from the festival center in Haeundae). It seemed there were more reporters than audience members, actually. But even for the other films, which were free and open to the public, I heard that they only had about 50-60 people per screening. This more or less replicates the legendary box-office failure of Pulgasari in 1999, the only North Korean film ever released in South Korean theaters. It seems that people in the South are quite keen for political reconciliation, but have little interest in watching films from their Northern brethren.


New Directors in Focus (NDIF) presentation

The Pusan Promotion Plan (PPP) is a project market, which selects 20-25 film projects from around Asia each year. The directors and producers who are selected are then given the opportunity to meet with investors and explain their ideas and plans for the film they want to make. Quite a few projects selected in past years have found international investors at the PPP, helping these directors to complete their films.

Beginning in 2001, the PPP added a separate section called New Directors in Focus, which is devoted to Korean filmmakers. In contrast to the well-known Korean and Asian filmmakers chosen for the PPP, the NDIF is open to Korean directors who are hoping to make their first movie. The recent horror film Into the Mirror was originally presented at the first NDIF, and after impressing investors at Cinema Service, director Kim Sung-ho was given the opportunity to make the film. Several other projects from the first and second NDIF are also said to be nearing production.

This year, 60 young filmmakers applied to the NDIF with their ideas and plot synopses, and among them 5 projects were selected for showcasing at the NDIF.
Love House,  dir. Kim Pansu
Crime and Punishment: The Singular Path,  dir. Park Jinoh
The Bull's Balls and God,  dir. Kim Joong
The Quiet Village Without Crime,  dir. Kwon Yong-kook
Embryo,  dir. Zung Soyun

(pictured from left to right)

For me, one name stood out among this group: Zung Soyun, who was presenting a project titled Embryo. Anyone who has ever seen Zung's short film The Anatomy Class is unlikely to have forgotten it. Winner of the Best Short Film Prize at the 2001 L'Etrange Festival in France, it tells the story of a group of schoolgirls who are given the assignment of dissecting human soldiers in their anatomy class. When the teacher leaves the room and the girls accidentally cut off a private part of one of the soldiers, the girls start to worry about their grades, and decide they need to supply another undamaged body...

Shot with flair and a good appreciation of shock tactics, The Anatomy Class has given Zung Soyun a certain name for herself in the Korean industry. Trained as an engineer, she studied film at the Korean Academy of Film Arts and then later worked on the production team of No Blood No Tears. She describes her proposed film debut Embryo as "a medical thriller based on the latest advancements in medicine that make human cloning possible, while at the same time questioning the desire for self-preservation through propagation, men's selfishness and trust in marriage." After reading the synopsis (which I won't reveal here in detail), I can say that her ideas for this film seem a quite worthy followup to her acclaimed short film. In short, it is about medical experimentation and the drive for bearing children gone very bad. She notes, "Is there any other people whose obsession for blood relations and desire for their 'own' children is stronger than Koreans? Embryo is set in the present day, dealing in technologies that are feasible even now." Her idea seemed to impress other festival attendees as well, and she was given the NDIF prize from I Pictures, worth 10 million won ($8,500).

As for the other projects, director Park Jinoh provided little details about his film Crime and Punishment: The Singular Path other than abstract ideas, but his past record speaks in his favor. His short film Lunch (2001) was invited to Sundance, while his followup Request screened at both Sundance and Cannes. He also worked on the scenario for this project at an internship program at the Cannes Film Festival's Cinefondation. He says of his film, "Another day begins. The man wants to immerse his body and soul into 'his work', but an unforeseen, tragic chain of events are put into motion as if they have been waiting for an unstable spirit..."

Kwon Yong-kook's short film Glass Ceiling won the top prize at the 16th Busan Asian Short Film Festival, and he also worked on the scenario for Byun Hyuk's film Interview. His proposed film The Quiet Village Without Crime is set in a rural village populated only by old people, after all the young residents have left for the city. News then arrives that the town has been awarded 20 million won for being "a village without crime". Everyone assembles to decide what to with the money, but subsequent arguments escalate into a screaming match, and then the next day a discovery is made which threatens the village's reputation...

Love House by Kim Pansu is described as a "Korean-style Boogie Nights", about a young film student who gets a part-time job as a "porn jockey" (PJ) on a live internet porn channel. The tagline for the film is "young, decadent, funky pornography". Kim studied at London Film School, and reportedly made over 50 short films, TV commercials, soap opera episodes and documentaries.

The director with the most entertaining presentation was Kim Joong. If he fails in his bid to make his debut film The Bull's Balls and God, he can surely find work as a comedian. After studying film at the University of Southern California, he made the award-winning short Frogman and won a prize with his advertising piece for Hyundai Motors. The Bull's Balls and God is set ten years after the Korean War, and focuses on a 10-year old boy named Chulsoo. Chulsoo is building a ladder to reach heaven, so that he can ask God to turn their bull into a cow so that it will bear a calf that they can sell. God, however, is somewhat absent-minded and infantile, and seems more interested in the candies in Chulsoo's pocket than He is in helping out. Kim describes the God in his film as "kind of like the old man that you see in front of KFC." It sounds like a creative film with biting humor, though it may require a brave investor to put up money for the project...

Check back at this space in a few years. Some of these projects may have been made into films by then.


Gossip, parties, and such

There wasn't a lot of gossip at the festival, actually, though there were plenty of parties. With virtually all of the guests now staying in the Haeundae area, local film companies competed among themselves to throw the ritziest parties. Kang JeGyu Films and Showbox together hosted a buffet at the Chosun Beach Hotel where they unveiled footage for their upcoming Korean War film Taegukgi. Stars Jang Dong-gun, Lee Eun-ju and Won Bin were all present (pictured below), and the room was quite crowded with people curious to see the latest footage. (The film appears to be big-scale and quite gory at parts, rivaling the start of Shiri. Still hard to tell what the story will be like, although a major plot twist was revealed, which left a few guests grumbling).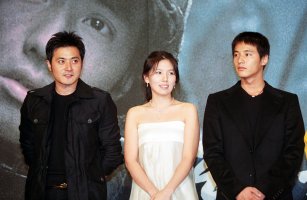 Major film company Cinema Service countered with a similarly upscale dinner party on the lawn behind the Marriott Hotel in which they screened footage and interviews for their own blockbuster in waiting, Silmido. Stars Sol Kyung-gu, Ahn Sung-ki, and others were all in attendance. At least I think they were -- I arrived just before it started, and being rather short, I couldn't see over the heads of the many people gathered.

Other parties were thrown by European Film Promotion (EFP), the Canadian Embassy, Mirovision, RG Prince Films, the team behind the film Ogu, TTU (a new consortium among East Film, Korea Film Art Centre Baekdu-daegan and Jowoo Films), and I'm sure I'm forgetting some others, in addition to opening and closing parties for the PPP and the festival itself. As usual, Korea's independent filmmakers threw the wildest bash with their Wide Angle Party, at which festival director Kim Dong-ho got up on stage for some impromptu dancing. As a whole, however, some guests seemed to miss the more informal merrymaking of past festivals, where groups of people would gather under a soju tent and eat pressed fish. All in all there was a more corporate feel to this year's festival. I think most of the film critics, programmers, and even the film industry people visiting the festival may have preferred the informal, "old-style" PIFF atmosphere of past years.

As for "festival buzz", a lot of talk surrounded the Korean film Untold Scandal, which had just opened to record numbers. The film received rave reviews from trade papers like Screen International and Variety, who predicted it would break into markets in Europe and North America that are usually closed to Asian films. Festival programmers seemed less impressed, perhaps because the story is already so well known that in a narrative sense, it offered little new. It seems the film is destined for more success in commercial releases than at festivals.

Other Korean films that drew interest included political drama The Road Taken by Hong Gi-sun (about Korea's longest serving political prisoner) and If You Were Me, the omnibus film consisting of six short works on human rights by Park Chan-wook, Jeong Jae-eun, Yim Soon-rye, Park Kwang-su, Park Jin-pyo and Yeo Kyun-dong.


Awards and final statistics

Though PIFF is primarily an uncompetitive festival and does not revolve around its competition section like Cannes or Venice, there is a section called New Currents which is devoted to first and second-time Asian filmmakers. Two films ended up sharing the $10,000 New Currents award: Taiwanese actor/director Lee Kang-sheng's The Missing and Iranian director Alireza Amini's Tiny Snow Flakes (pictured below). The former tells the story of a grandmother who loses her grandson and a teenager who loses his grandfather in the bustle of Taipei. Tiny Snow Flakes follows the lives of two mine keepers in a remote mining town. Meanwhile, Sedigh Barmak's Osama from Afghanistan (a former PPP project which screened to great acclaim at Cannes this year) won a Special Mention from the jury, which was headed by Swedish director Jan Troell.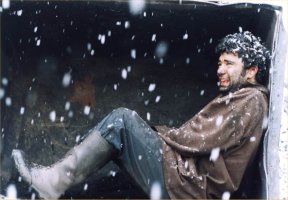 The FIPRESCI Award, presented to a film in any section by a new Asian director, was given to another Iranian film Deep Breath by Parviz Shahbazi. It tells the story of a nihilistic university student who goes on a spree throughout Tehran, vandalizing, stealing, and picking up women. The NETPAC Award, presented to the best Korean film, was given to Untold Scandal, with If You Were Me receiving a Special Mention.

The PSB Audience Award is given to the most popular film in the New Currents Section, which this year was divided between the above-mentioned Osama and The Road Taken. The Sunje Fund award for best Korean short film went to The Spring and the Delight by Park Jung-seon and The Third Tongue by Son Kwang-ju. The award for best Korean documentary, named the Woonpa Fund award, went to And Thereafter by Lee Ho-sup, about an elderly Korean woman married to a U.S. veteran and living in the U.S. (see the upcoming festival report from the Yamagata International Documentary Film Festival). And finally, a Youngsan Fund award, newly created this year, provided money to a documentary filmmaker with a project to be made in the upcoming year. The first recipient was Taxi Blues by Choiha Dong-ha.

Total attendance this year was 165,103, which was less than the 167,000+ tickets issued last year, due in part to fewer seats available. 83% of all available seats were filled. The number of guests set a new record, with 5,329 people in total from Korea and 49 other countries. About 300 companies attended the Pusan Promotion Plan. Festival organizers were also happy to report that there were no projection accidents this year.

Next year's fest is scheduled to open on October 7, 2004. Although people did have minor complaints here and there (and major ones concerning ticket availability) for this year's edition, most everyone agrees on PIFF's rising importance. Pretty much all the people I talked to said they enjoyed themselves as well. You can feel that the festival is maturing and that its newness is wearing off in some ways, but I think this was inevitable. I for one am looking forward to next year...


(Photos taken from PIFF's press service)