2002 Pusan International Film Festival Report
by Tristan de Bourbon, Ryan Estrada, Richard Kong, Darcy Paquet, Nathalie Tourret
Outdoor presentation for Jealousy is My Middle Name
  The Pusan International Film Festival was inaugurated in 1996 under festival director Kim Dong-ho, and in the seven years since its inception it has grown to become the leading international showcase of Asian cinema. Known for its extensive programming and the enthusiasm of its young crowds, the festival has expanded in recent years to encompass the Pusan Promotion Plan (PPP), an industry event that helps attract financing for Asian films in production, and the Busan International Film Commission Showcase (BIFCOM), a location expo organized by the Busan Film Commission to provide assistance to filmmakers who shoot films in Asian countries.
* A note on spelling: the city of Pusan changed its spelling to Busan in 2001 to comply with the adoption of a new government-devised romanization system. The festival has elected to keep the old spelling, while the Busan Film Commission and the city itself use the new spelling.
Pre-festival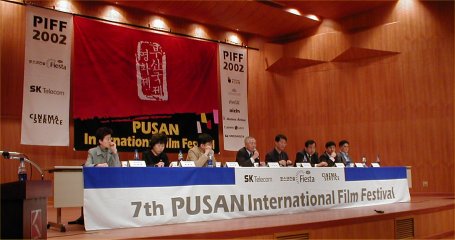 Festival organizers announce the 2002 program at an October 16 press conference in Seoul.
Darcy Paquet

PIFF's annual press conference where they unveil their program was held at the Kumho Art Hall this year (across the street from Lee Kwangmo's Cinecube theater). It's always held in Seoul rather than Busan, I assume because most of the nation's press in based in Seoul. They had announced the opening and closing films a week before -- Kim Ki-duk's The Coast Guard and Kitano Takeshi's Dolls. This is the third time a Korean film has opened or closed the festival after Peppermint Candy in 1999 and Last Witness in 2001.
The press conference lasted about an hour and a half, and they screened some clips from the movies to be shown, as well as the "PIFF trailer" (which seemed to be the same as last year?). After introductions to all the programs and the PPP, Kim Ki-duk and the head of LJ Film spoke a little bit about the opening film. Jang Dong-gun was out of the country, apparently, so we missed the chance to see the star in person. I had a lot of work that day so I wasn't able to stay for the dinner afterwards. Last year my wife and I ended up at a small table with Bae Chang-ho, Ahn Sung-ki, Lee Jung-jae, and the head of Taewon Entertainment. That was fun!
My first impressions after seeing the films they had chosen was that the Korean selection looked pretty similar to the National Cinema Programme that screened in Toronto in September... Oasis, Chihwaseon, Sympathy for Mr. Vengeance, Turning Gate, The Way Home, Desire, and Too Young to Die... all of them quite worthy films, but this group has received a lot of exposure already in other festivals. Other selections included Resurrection of the Little Match Girl (which was also originally chosen by Toronto but which wasn't finished in time), My Beautiful Girl Mari (which won the Grand Prix at Annecy), No Blood No Tears (a good film released in March that's been mostly overlooked), Roadmovie (which first screened at the San Francisco Gay & Lesbian Film Festival), Public Enemy (which screened as the closing film at the Far East Film Festival in Udine, Italy and also at the Fukuoka Asian Film Festival), and the Korean-HK-Thai horror co-production Three.
The only brand new films apart from The Coast Guard will be the debut by female director Park Chan-ok (not to be confused with Park Chan-wook), Jealousy is My Middle Name and Kim Sang-jin's followup to Attack the Gas Station and Kick the Moon, called Jail Breakers. The former is supposed to be slow-paced, but I'm really looking forward to it, and the latter will likely be a huge hit when it's released in late November. Other newish films include Byun Young-ju's Ardor, which was invited to the Tokyo International Film Festival, and YMCA Baseball Team, which opens the Hawaii festival.
I guess I'm a little disappointed that there aren't more new films in the selection, but on the other hand they didn't have a whole lot to choose from. The next few months look to be a little weak as far as festival films are concerned. Still, the festival did overlook films like Arirang, The Man Who Watched Too Much and Unborn But Forgotten. Other newer and more commercial films will be featured in the industry screenings, but these are only open to festival guests, not the public.
As always, the list of films from other countries is mouth-watering, and it will be hard to narrow them down to a few choices. Films I'm most interested in seeing are Springtime in a Small Town (China), A Snake of June (Japan), I Love You (China), Ararat (Canada), The Cuckoo (Russia), Japon (Mexico/Spain), Lilya 4-Ever (Sweden), The Man Without a Past (Finland), Morvern Callar (UK), Russian Ark (Russia), and anything from the Taiwan and Nagisa Oshima retrospectives.
The choice of Kim Soo-yong for the Korean retrospective is interesting, outside of the controversy he's caused this year by banning Too Young To Die. I've seen two of his films, both of which will be screening at the festival. Flame in the Valley (1967) features some really gorgeous cinematography in a bamboo forest, and it does a nice job of recapturing the strained mood of a small community amidst the hunt for Communist soldier in hiding. A Seaside Village (1965) is available on DVD, and it's also an interesting film about a young widow and her stuggles to get by.
Most of the Korean retrospectives at PIFF have focused on the 1960s, which makes sense, since it was such a productive period. I'm hoping that sometime they devote a section to Lee Jang-ho, however. His filmography from the 1970s and 1980s contains some real gems that have yet to be discovered abroad.
(Nov. 13, 2002) As the week of the film festival got closer, I knew I wanted to go, but the only thing I was a bit concerned about was the purchasing of tickets. I'm still not totally "plugged into" the city yet, so I wasn't sure how to get my hands on tickets. So a few days ago I emailed Darcy asking him if he had any suggestions on how to get tickets, and he emailed me back saying that the best thing would be to buy them at the Megabox Cinema at the COEX, near Samsung Station. I live right near the COEX, so I just went over there a few days later with my wife (she speaks Korean), and sure enough, PIFF had a few tables set up at the theater. There were two PIFF volunteers working the table, and they gave my wife and me a program for the festival. So we flipped through the program, which was written in English and Korean, for about 15 minutes and decided on a good day to attend. We picked a few films we wanted to see on that day and bought the tickets right then and there. Pretty simple. The tickets were 5,000 won each (they only accepted cash). We paid and they printed our tickets for us instantly. So, buying tickets ended up being a very easy process. This is just at the Coex, though...it might be different at the other locations selling tickets or online. Can't wait for next week!
Thursday, November 14th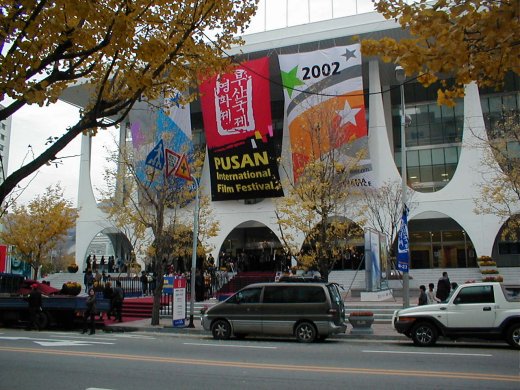 Preparing the red carpet for the opening ceremony.
* Major events: Opening ceremony (7pm, Busan Citizens' Hall); Opening party (10:30pm, Paradise Hotel).

Darcy Paquet

I woke up early this morning in Seoul to catch the 8:00am train to Busan. I always take the train whenever I can because the landscape is really interesting, and it drops you off in the city center. The trip down went fine (I slept most of the way, and also ran into a journalist I know on the train), with the only thing out of the ordinary being the Busan Train Station. It's halfway through being rebuilt -- that is, the left half is completely new and the right half hasn't been touched yet.
I'm staying in Nampo-dong in the city center, in a small motel (which was formerly a yogwan, but they also underwent some renovation and now they're a bit more upscale). It's perfect in many ways because it's right across the street from the press center and many of the screenings. About the best you can expect for 35,000 won a night. I discovered it a few years ago in the middle of the fish market, and since there's a stand that sells pig's heads right next to the entrance, my friends and I always refer to it as "The Pig's Head."
After getting settled in and receiving my press pass I went over to Busan Citizen's Hall for the opening ceremony. There were lots of stars and directors there, making it pretty fun. Ahn Sung-ki and Pang Eun-jin were the MCs for the night, and after a short intro there was a re-enactment of a scene from an upcoming film called Ogu. It was originally written as a musical by one of the Korean theatre world's most respected directors, and this will be his debut in film. It's a story about some messengers sent from the underworld to carry off the dead, and how they get mixed up in the lives of the living. It looks to have a lot of Shamanist imagery. It will star actress Lee Jae-eun (Jakarta, Fin de Siecle), who gave a really impressive vocal performance during the opening ceremony.
At last we had the opening film, Kim Ki-duk's The Coast Guard. The story is about the military, and how an accidental shooting leads to cycles of violence and insanity. Probably the most sad of any of Kim's films -- whereas movies like Address Unknown are tragic/heartbreaking, this one was really sad. Applause at the end seemed pretty weak, and speaking to people afterwards, there were few people who really liked it. Fans of Kim Ki-duk are likely to be disappointed, I think, but it may prove much more accessible to people who have been turned off by his other work (...like me? I kind of enjoyed it).
Last was the opening party, held in the Paradise Hotel near the beach at Haeundae. I noticed a lot of actors and directors there, including Lee Jae-eun, Kang So-yeon, Park Sang-myun, Ahn Sung-ki, Lee Hye-young, Lee Chang-dong, Hong Sang-soo, Im Kwon-taek, Kim Ki-duk, Bae Chang-ho... I took the bus over to the party with Bae Chang-ho... we were talking about 1960s movies that he watched as a kid. He said his favorite director from that era was Lee Man-hee. I also got a chance to talk briefly with Lee Chang-dong, who says he's back to teaching these days to "earn some money to live on". He also said he was originally a teacher by profession, which I never knew. By 12:30 the party had wound down so I took the festival bus back to Nampo-dong for some sleep.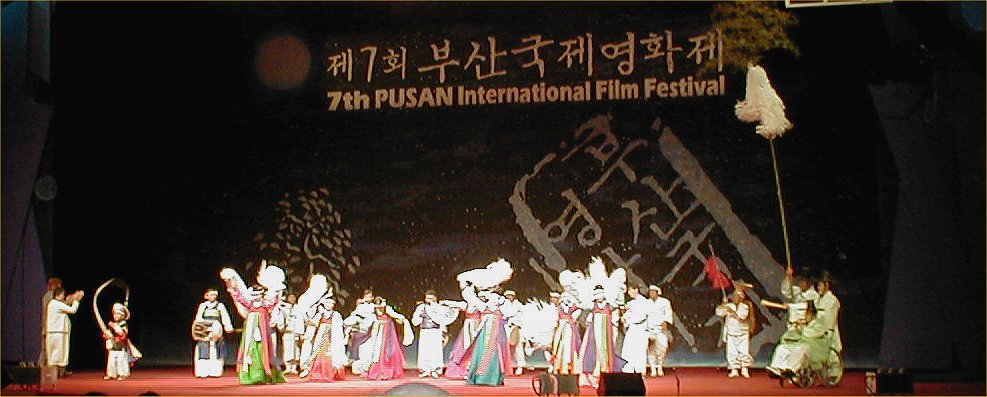 A re-enactment of a scene from Ogu at the opening ceremony.
>
Friday, November 15th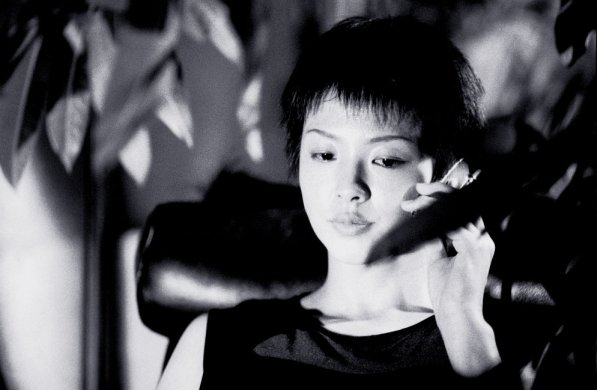 A Snake of June.

* Major events: Kim Soo-yong Hand Printing Ceremony (1:30pm, PIFF Square).

Darcy Paquet

My primary objective on Friday was to watch a lot of movies, though I also had a lot of people to meet so I saw three films instead of the maximum four. The first challenge was to get tickets, and though I arrived 20 minutes before the guest ticket office opened there was already a long line. Guests and press get four free tickets a day, but there are a limited number of seats available per film, so if you want to avoid sellouts then you have to get up early and wait in line.
The three films I chose were Ararat (Canada), A Snake of June (Japan), and The Man on the Train (France/England). The first is by Atom Egoyan, whose Sweet Hereafter is one of my absolute favorites. Ararat's plot moves back and forth between a large number of characters, historical scenes in Turkey, and the set of a film-within-a-film about the Armenian Massacre in Turkey in 1915. The movie has proved politically sensitive due to Turkey's contentions about what actually happened, but over a million Armenians were killed in a mass genocide. So needless to say it was a serious-minded and challenging watch. I did enjoy it, but it didn't reach the heights of The Sweet Hereafter for me. The latter film I've seen over ten times, and it's so complex and well-made that it continues to fascinate me with every viewing. I don't think that can be said of this new film.
A Snake of June by Shinya Tsukamoto was a treat, however. Most films are either black-and-white or color; A Snake of June is labeled as "blue". Basically a strongly tinted b&w, the film's cinematography was gorgeous and very intimate, focusing on a limited number of characters and a fairly simple, though somewhat perverse, story. With almost constant rain, high contrast visuals, and strained emotions, the film is quite unique and complex enough to tempt you back for a second viewing.
My wife arrived from Seoul at 6:00pm, and after dinner we went to see a French film, The Man on the Train by Patrice Leconte. It's the story of a bank robber who gets off the train in a small town, and ends up staying at the home of a retired schoolteacher. As time passes the two very different characters start feeling closer to each other, and we see that each holds some envy for the other's lifestyle. The most pleasurable aspect of the film is the dialogue, as both characters are so finely drawn and the film's humor gives us insight into their personalities.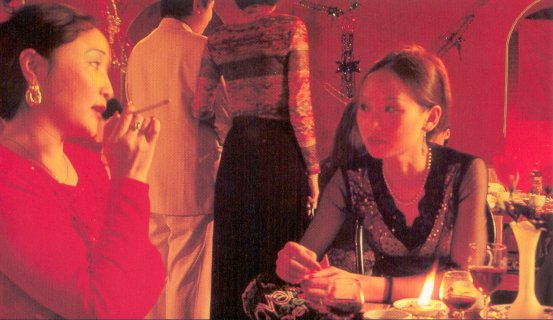 Cry Woman.

Tristan De Bourbon

Cry Woman, Liu Bingjian -- In a single day, a woman sees her husband sent to jail and is given a son to take care of which is not hers. She decides to go to her hometown, where she meets her ex-boyfriend, now married and working as a funeral designer. To pay the huge debts of her husband, she decides to work as a "cry woman" for funerals. The beginning of the movie is quite scary: shot with the camera on the shoulder, the movie begins as a trendy feature. The departure to the hometown change everything: the camera moves less and the story turns very interesting and original. Similar to Jia Zhangke (Xiao Wu, Platform, Unknown Pleasures), Liu Bingjian paints the common people of China. The movie is quite subtle and objective regarding its characters. They are not beautiful, perfect and honest, but not ugly and bad. And they can be very ingenious. In the room of the main character, the poster of Mao is replaced with an advertisment, showing all the changes of China, from communism to the search for money. Nevertheless, the director tells his story very slowly, as some scenes seem to come from Russian or Iranian movies, in contrast to his main character's instability.
Saturday, November 16th

* Major events: Korea-France Day (signing of agreement between the Korean Film Commission and France's CNC).

Ryan Estrada

After a morning of mountain climbing, I hopped on the 309 bus and headed into Nampodong to take in the sights, sounds and flavors of the festival. I was immediately accosted by a series of KBS cameras. Any time an event has the word "International" in the title, camera crews are on the prowl for foreigners to prove how 'international' it is.
"I've been to many festivals in Korea,"
I was then asked to wait because he had forgotten to turn on my microphone.
"I've been to festivals all over Korea, but"
This time he had forgotten to turn on the mic on his end.
"I've been to"
He wasn't rolling.
I've bee"
He focused.
"I've been to many Korean festivals, but everything I've heard tells me Pusan is the biggest, and the best. I've been looking forward to it since I moved here, and from what I've seen in the last 15 seconds, it has the energy, the organization and the atmosphere to be just that."
I took a brief pause to make sure he had gotten all that. He kept rolling, and that was all I had gathered in 15 seconds, so I threw in an in joke.
"I'm jazzed. I'm in it to win it. I came to play. Pusan International Film Festival."
Although it was gathered from 15 seconds between the bus and the camera, my review was genuine. It was already light years ahead of other festivals. At the Gwangju festival, it was a good three hours off the bus before finding anyone that even knew a festival was going on. Plus, I really was jazzed and in it to win it.
With that, I grabbed my program, and settled down in the PIFF zone to plan out the day. I never schedule film festivals ahead of time. I go with the groove, and something good always comes of it. I scheduled an action packed weekend of shorts and animation.
I walked up to the ticket desk, threw down my picks. Before even picking up the paper, the attendent said "Those are all sold out."
"All sold out?" I asked.
"All sold out."
I was beginning to doubt my theory. Showing up to Animation Celebration with no plans may get you the chance to earn the title of head beach ball blower upper and all the free passes and industry connections that go with that title, but at PIFF it appeared to spell trouble.I headed over to O2, the cafe around the corner, to sit on a swing and reconfigure my battle plan over a strawberry smothee. I scheduled a whole new weekend, out of my shorts and animation comfort zone. This time, most of the movies were available.
I was out of luck for Saturday night though, so I headed into PIFFzone for a free dvd screening. It was a japanese film with Korean subtitles. I don't know what it was called or what was happening, and it wasn't really the most visual storytelling in the world. I stared at the same for drawings of two old men talking for a good 10 minutes until luckily, Kimberly Thompson, one of the folks heading up the KoreaDocs project (a collection of documentaries produced by foriegners in Korea set to premiere at festivals next year) saved me.
I got a call from Kimberly and met her at Seattle's Best to talk about the film, my segment, and what little I'd gathered about the festival. I got a few leads on what to do, got a press pass for the following day, and headed home to start planning.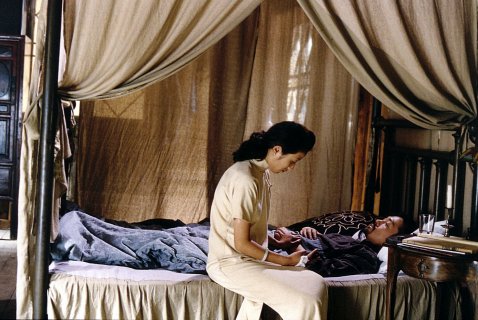 Springtime in a Small Town.

Darcy Paquet

Saturday I was the victim of bad planning and an unexpected flu, so aside from a morning screening of the fantastic Springtime in a Small Town, I didn't manage to accomplish much. The film, a Chinese production by Tian Zhuangzhuang (The Blue Kite), is a remake of a b&w classic which I haven't seen, but which is greatly admired as one of Chinese cinema's masterpieces. Set in a remote town in 1946, it opens when a guest from Shanghai appears at the home of a young married couple. The guest and the husband were friends years earlier, but, to everyone's surprise, they discover that he and the wife were also acquaintances from their teenage years. Rather more than acquaintances, in fact... The guest seems to bring a freshness into their dull lives, but the feelings stirred by his presence become more and more difficult to control.
Perhaps if I had seen the original I wouldn't be quite so taken with this film, but I found myself captivated by it. Technically it's beautifully put together, and the natural setting and crumbling elegance of the house are quite memorable. It's a moving love story as well, and one scene in particular after a night of heavy drinking really stands out for me. I must go seek out the original now.
Apart from this, I took my first trip down to Haeundae, the other center of the festival. It took an hour via the newly-completed subway, which was a bit longer than I had hoped for, but at least the subway gives you a chance to read while en route. I also saw the new Megabox theater, which houses many of the festival screenings. The theater and the shopping complex in which it is located is still under construction, giving the whole place a weird aura.
I then attended a discussion panel held as part of Korea-France Day, in which the head of promotion organizations from Korea and France discussed ways to promote cultural diversity and beat back pressure from the U.S. to open cultural markets to competition. The arguments were not new -- I had heard many of them before -- nonetheless it was interesting to sit and listen. Also, the Paradise Hotel has a simply gorgeous venue for this sort of thing.
My wife and I hung out in Starbucks afterwards. I had ambitious plans to watch the Russian-German film Bear's Kiss and to stay for the Korea-France Party, but it became obvious around 6pm that I had caught some sort of a cold or flu, so we took the bus back to Nampo-dong and I was asleep by 9pm.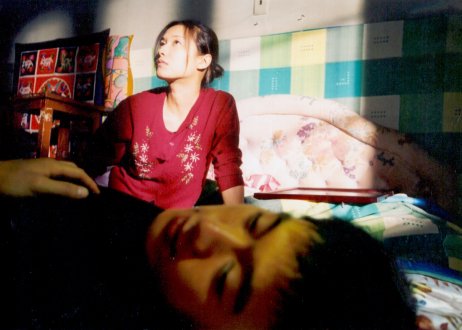 I Love You.

Tristan De Bourbon

I Love You, Zhang Yuan -- A man and a girl meet, go out together and immediately marry. But their "love" is endangered by daily life, their opposite characters, the girl's need for love, and the man's need for space.
As in many of his movies, Zhang Yuan is using a theatrical space (one place and a few characters) in this film. The movie is a succession of discussions, of verbal and occasionally physical fights, between the couple. But the movie never gets boring: the positions change often (he, then she, then he, wants to divorce), the things they say are quite different. And there is not one wrong person: both are guilty.
Then the director asks some questions: is fighting the opposite of love? Can a calm marriage still mean love? And are all couples the same?
Sunday, November 17th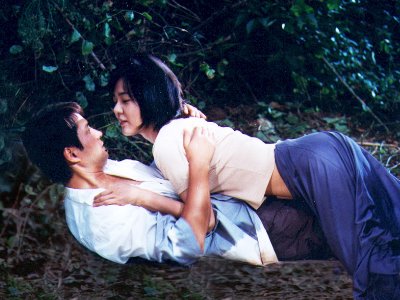 Ardor, dir. Byun Young-joo.

* Major events: European Film Promotion brunch, Wide Angle party.

Nathalie Tourret

Ardor, Korea, director Byun Young-joo, 110 minutes -- Ardor is about hope. Hope that passion exists, even in Korea. In her movie, Byun Young-joo shows some of the most sensual and real sex scenes I have ever seen in a Korean movie. Sex that is so great it leads to real love. Two lovers who do not care about the society's narrow-minded judgments. But passion dies with marriage, says director Byun, and those two lovers who have both experienced the fact that habit kills desire have no other choice than to part for the good of their relations. This is the only disappointment that this movie brings. Husbands and wives can never stay happy, unless they experience adultery. What a sad lesson for the Korean public who finally will go back home feeling that, as they already thought before, there is no happy ending for their relationship...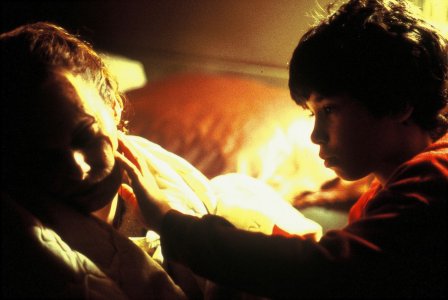 Khaled, dir. Asghar Massombagi.

Ryan Estrada

I showed up early to see what fun I could milk out of my press pass. I already had my tickets, so the free admission wasn't going to help me. I wanted to get in on some networking events. I headed straight for the press hospitality desk. I glanced over at a sign for the Directors of PIFF party, and leaned on the desk.
"I'm supposed to meet a client at the Director's party tonight," I asked. "Where can I pick up my invitation?"
"It's invitation only. I don't think you can get one."
"Ah." I replied. "I'll have to meet him at Seattle. Say, would you happen to know what events are open to the press?"
"I don't know."
"Well are there any events today?"
"I don't know."
I resisted my Office Space quote 'What, would you say, do... you do here' and just uttered "Fantastic. Thank you," and pretended to make a business call across the hall. While there, I found a listing of press events. I had already missed a press brunch, and everything else was invite only.
I wandered about with my press pass trying to look important until my movie started at 2. It was Khaled, a film from Canada about a ten year old boy who was abused after entering the welfare system, so when his mother dies, he keeps it a secret and tries to carry out life as usual.
Everything in the film was presented very matter of factly. Asghar Massombagi, the director, said he didn't want to cheapen the impact on the audience by using music or sentimentality to tell them what to feel. After all, one critic had already referred to the film as Home Alone in Toronto. After the long, long trek to Haeundae (my press pass did get me on the PIFF shuttle, even if I got off at the wrong venue) I caught The Pickpocket.
This Sri Lankan story of a man who finds his wife's picture in one of the wallets he nabs and looks for answers sounded intruiging. However, the entire plot synopsis happens within the first minute of film. The rest consists of the title character standing around a lot and looking really, really, pissed off. Not pissed off enough to say anything to his wife, just to stand in the corner silently and give her dirty looks. Somehow though, I still made it out of the theater entertained.
I mingled with some fellow animators, picked up a dvd of Korean shorts to make up for the animation I missed, and called it a night.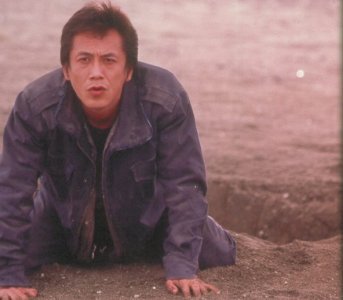 The Blessing Bell.

The Blessing Bell, Sabu -- Fired from work, a man begins a journey which will bring him from prison to the hospital, from poverty to riches, from honour to despair. And always one main point: the main character, Susumu Terashima, never says a word. He seems like he is linked to his destiny.
This Sabu movie really looks like one by Kitano: absurd humour, a lot of "hors champ", and a calm and stoic main character. No need to say that the main actor is one of Kitano's favorite actors (he played in almost half of his movies). At the same time, Sabu tells us a road-movie story of a walking man, walking just straight ahead, or where others tell him to go. Mainly a witness, sometimes an actor of the life of others, he just listens and learns about his life. A very good, funny and naive Sabu movie.
Monday, November 18th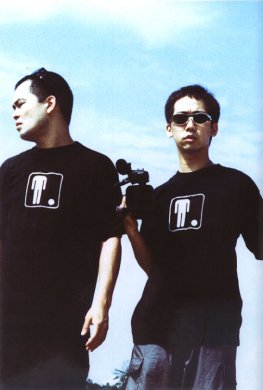 You Shoot, I Shoot.

* Major events: PPP Opening Ceremony (Paradise Hotel); PPP Party (7:30, Paradise Hotel); Cinema Service Party (10pm, Mariott Hotel).

Ryan Estrada

If you can't make it as a film maker in Korea, become a festival person. This is what I gathered from the Q and A session at Korean Short Works 1. This didn't come from the directors on the panel. They were doing quite well. Lim Sung-Woon, director of New Asian Superman, was proud to have made his film in order to comment on the nature of what we believe. Han Woo-Jung, director of The Blanket Area (which absolutely terrified me by making me identify with and pity a character that ended up being the villain) had continued his film career to make a film about isolation, loneliness and fear. Kim Do Young, director of The Fly SWAT says he directed his film because it was his graduate thesis, so he had to.
No, the real wealth of information came from the translator who sat up front with all of the English speakers in the audience. I had sat through a Q and A earlier in the day that was conducted entirely in Korean and Chinese, so I was glad to have him helping me out. He, however, was worried that he was not doing a good enough job. Each answer was followed by apologies for not truly capturing the essence of the filmmaker's answer.
When he translated the thanks to the audience, I held out my hand and offered thanks to him, but he looked at my hand and couldn't accept it. He continued to apologize, and I told him he had done a great job. I introduced myself as a filmmaker.
"I used to be a filmmaker," he said, "but now I'm a festival person."
I assured him that it was possible to be a filmmaker and a festival person, but he told me that after four failed attempts, that didn't seem to be true.
It's hard to be a filmmaker in Korea, he told me, and if you don't make it, you work at festivals.
I guess that's why there's a waiting list of 10,000 people every year willing to pay for their own transportation and lodging just for the honor of being a PIFF volunteer.
Prior to that I saw a hilarious Hong Kong film called You Shoot, I Shoot. Bart, a hitman on hard times, resorts to gimmicks to get business back up. Cold calling customers leads to a revenge murder that needs to be caught on tape. Bart shops around for a camera, practicing loading and unloading it as though he's shopping for a gun. But after the murder, finds that filming and engaging in a shootout don't make for the best footage. For the next hit he brings in an aspiring filmmaker to hold the camera. A quick edit to remove his face from the film turns into a complete editing of the film with titles, music, and special effects. A new business is born, and the rules of cinema and the rules of killing collide continuously. The film cracked up and won over the audience.
Tuesday, November 19th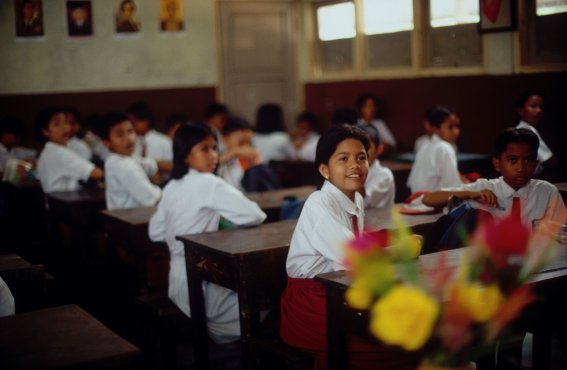 The Flag.

* Major events: BIFCOM opening ceremony; Taiwan party.

Ryan Estrada

Another day in the trenches. Piff plaza has been so busy during this event, with film goers, volunteers, camera crews, photographers, movie promoters in North Korean soldier and/or prison uniforms and the like that no one can even run an outdoor concert without everyone having to run out of the way like they're playing street hockey and someone just yelled "car". People spend hours in line hoping for a Save the Green Planet sticker or some Harry Potter postcards.
That's where the energy comes from.
It was another two films for me today, starting off with The Flag. This was an Indonesian tale of two kids who mistakenly bring home their school's sacred flag, and try desperately to keep any harm from coming to it. Some of the plot points seemed to be gratuitous, such as why the kids take a train across the country and have to find a way back after they've already retrieved the flag. But ultimately the film became a portrait of life in their town instead of a comedy of errors.
After that was Shadow Killer, and Indian film chronicling the life of an executioner. He doesn't have a choice in his work, and his family is richly rewarded, but the guilt gets to be too much for him in his old age. We never see the man doing his job in the film, but the filmmaker lets the audience feel the burden on his shoulders, the small things that get him by, and the tough decisions that do him in.
After that I had an inkling for some more cinema, so I busted out my laptop and had a private viewing of Mari Iyagi in the Western Restaurant, followed by a screening of A Bug's Life on the bus.
Wednesday, November 20th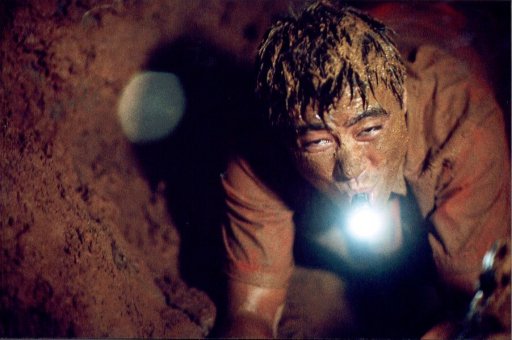 Jail Breakers.

* Major events: PPP Closing Ceremony and Awards Presentation (7:30pm, Paradise Hotel); KOFIC Party (10:00pm - 3:00am, J Pop Live).

Ryan Estrada

The Pusan Film Festival is one great way to spend a birthday. My original intent for the day was to introduce who hopefully will be the star of next year's PIFF to the festival. Or to film in general, as he's never seen a movie. Seomyeon John, an area homeless man, is the star of my segment of the KoreaDocs film that will be premiering in festivals next year. Since we both share a birthday during the festival, I was going to show him around. But alas, it's hard to get a hold of someone with no phone or address. So I had to hit Jail Breakers alone.
Anyone who knows me knows that I am obsessed with The Shawshank Redemption. So when this film started making direct references, I was busting a gut laughing. The film begs the question, what if someone like Andy Dufresne, after spending years digging their way out of prison, makes a clean escape only to find that they were on a special pardon list and set to be released the next day?
In this case, they make a mad dash to break back into prison, where the head of security promeises to let them off scott free if they come back quietly before anyone notices. In the meantime, guards have to fill in as prisoners until they get back, and then everyone gets their just desserts when a prison riot breaks out.
The Shawshank jokes were hilarious, but then maybe just for geeks like me. After breaking out, one prisoner breaks into the dramatic pose from Andy's escape, and holds on it much longer than he needs to. "Putting on a show?" the other asks. When he finally does snap him out of it he asks "what's the plan now?" "I don't know" the other replies "I just planned to get out." Outside of those gags however, the film becomes confused, adds seemingly disconnected plot points, and makes its characters much less admirable by adding violence against women in an attempt at humor.
The press desk may have been a no go, but Darcy hooked me up and got me an invite to the prestigious Korean Film Night party at the J Pop Live. And what a shindig it was.
The highlight was the banner that everyone got a chance to sign. I took over my own corner and created the Mural O' Korean Characters. A cast shot of caricatures of the cast of all the festival's big Korean films. The banner was a stroke of genius on behalf of the planners, as it created a great conversation piece. I met a number of people that wanted to guess who was who, and started getting requests. My mural's work lasted throughout the night, in between breaks to mingle, snag business cards, and bust a groove on the dance floor.
It was a great night, and as one drunken man said in song 10 minutes after the party ended and people were trying to drag him off the stage, "Where is Paradise? Paradise is here. Paradise is now. The shuttle for the Paradise Hotel is waiting outside. Paradiiiiiiiise!!"
He was quickly outdone by another drunken man who tried to hijack the bus to drive to the Pacific Ocean.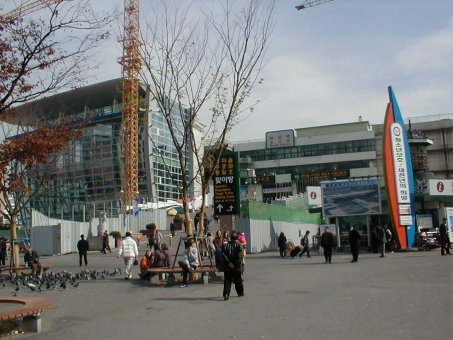 Busan Station (under renovation).

Richard Kong

I decided to take the train from Seoul to Busan because I heard it's the best (read: cheap and fast) way to go. So after I finished my morning class, I hopped on the subway and made my way out to Seoul Station. From what I can tell, Seoul Station is the central hub for public transportation in Seoul. A great number of the buses in Seoul eventually make their way to Seoul Station, as do a couple of the subway lines. The Seoul location for KNR [link to website here] (Korean National Railroad) is also situated at Seoul Station. Is this getting confusing? Once I got to Seoul Station I bought my ticket to travel to Busan on the Saemaul train, which is the fastest of three types of train, I believe. The process of buying the ticket wasn't difficult at all, despite the hectic atmosphere at the KNR building. I didn't bother reserving a ticket ahead of time because I heard that on the weekdays there are always seats available on most of the trains, which I found to be true. The train ride to Busan took about 4 1/2 hours (including a few stops along the way) and it was quite comfortable. The view of the countryside was nice as well, although I must admit that I fell asleep halfway into the trip. I arrived safely at Busan Station sometime in the evening and I decided to head straight for the PIFF Square.
From Busan Station, I took the subway to Jagalchi Station, which is located directly in front of the PIFF Square. There's a lot of activity and huge crowds near and in the PIFF Square, so it's very easy to find. I walked around a little and just took in the sights (which basically means I saw more street artists in one night than I'd seen in my entire life up until then), and I thought about trying to catch one of the 8pm screenings, but after a little while I felt tired from the train ride so I decided to check in to my hotel and rest up for a full day of films. Plus I wanted to watch the Korean vs. Brazil match on television. Can you blame me?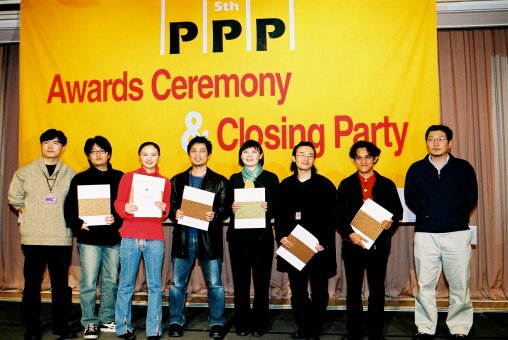 5th PPP Closing Ceremony.

5th Pusan Promotion Plan Wrap-up

The 5th PPP proved to be a continued success for the festival, with a record number of guests and a high level of interest in the projects on display. The following is a summary of the event and the awards given, provided courtesy of a PIFF press release.
Dates: November 18-20, 2002
Location: Paradise Hotel, Haeundae
Attending Guests: 1000 guests from around 35 countries and around 300 companies (290 Foreign Guests, 710 Korean Guests)
Meetings: Approx. 500 in 3 days
PPP 2002 Official Projects: A total of 26 projects: 21 PPP Projects, 5 NDIF Projects
To see a list of the projects, visit http://ppp.piff.org.

Special Events: An Average of approx. 150 attendees
1. NDIF Presentation
2. Panel Discussions
#1 -- "Financing in Asian Co-Productions"
#2 -- "Subsidy Programs for the Film Industry and Impact of WTO in Asia"
#3 -- "The Experiences of Foreign Location in Asian Film Productions"
3. Conference
"The Future of Asian Film Industry Network" *AFIN program co-organized with KOFIC

PPP 2002 Awards
1. Pusan Award (US $20,000) (tie)
- The Best of Our Times by HOU Hsiao-Hsien, CHUNG Mong-hong, HWARNG Wern-ying, Wayne PENG
- Fifth Project by HONG Sangsoo
2. Hubert Bals Fund Award (Euro 10,000): GIE by Riri RIZA
3. Kodak Award (US $20,000 worth of negative film): Solongos by MIN Kyu Dong
4. BFC Award (US $10,000): Leap of Love by CheeK
5. Goteborg Film Festival Fund Award (Swedish krona 100,000): Dam Street by LI Yu
NDIF
6. iPictures Award (10,000,000 Korean won): Good Bye to Arms by WooLee(Min-ho WOO, Seock-kuen LEE)
Thursday, November 21st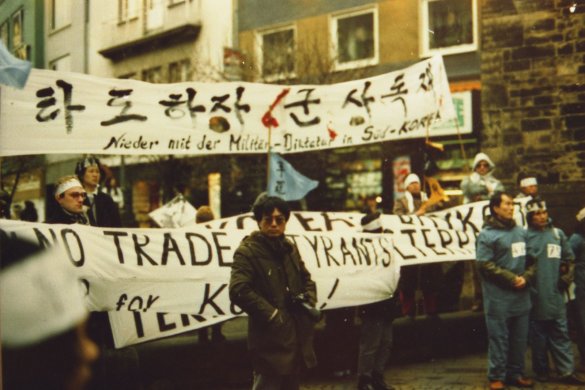 Border City.

* Major events: NETPAC (Network for the Promotion of Asian Cinema) Convention, BIFCOM closing ceremony.

Richard Kong

After having breakfast with Darcy at Starbucks and taking care of some business (Darcy showed me how to sell off unwanted, extra tickets), I attended my first screening. Mr. and Mrs. Iyer, directed by Aparna Sen, is an Indian film that tells the story of two strangers, one Hindu and the other Muslim, who are traveling to Calcutta by bus. When the bus trip is brought to a halt as a result of fighting between Hindu and Muslim extremists in the area, the two strangers find themselves in dangerous circumstances in which they must forget their differences in order to help each other survive. The two characters are Raja Chowdhury, a photographer who happens to be a Muslim, and Meenakshi Iyer, a Hindu woman who is traveling with her infant son to Calcutta, where she will meet up with her husband and his family.
The film opens with a collage of media reports of terrorism all over the world and subsequently sends a message of the madness of terrorism and religious violence. Besides this though, there a number of other related themes running throughout the film, including the consequences of there being as many as 18 different languages in India, just as many religions, the need for religious tolerance, the dangers of religious and ethnic stereotyping, and the changing face of Indian culture and society. The film's most intense scene comes when a group of Hindu extremists board the bus in search of Muslims whom they believe have burned down a Hindu village nearby. The extremists are definitely terrifying and it's easy to see from this scene how the director feels about religious fanaticism. The rest of the film is presented with a cloud of terror hanging over the story as the characters try to set aside their prejudices and instead trust each other. Raja and Mrs. Iyer end up saving one another's lives. Yet, while it's clear that Mrs. Iyer undergoes a personal transformation in the film, Raja doesn't really because he's the voice of reason, from beginning to end. The film is well made, the story is compelling, and most of all, the themes are relevant, especially post 9-11.
The second film I watched was Im Kwon-Taek's Chihwaseon, a film about a famous Korean painter from the 19th century named Jang Seung-up. My favorite Korean film is Im's Sopyonje, and I also loved Chunhyang, so I expected a lot from his most recent film. I wasn't disappointed. The film's story spans most of Jang's life and to some the film the might seem choppy, or lacking continuity. I, on the other hand, thought that it was interesting how the film felt like it was broken into fractured pieces, since it adds to the sense of mystery and legend surrounding Jang's life. Also, real life is remembered in discontinuous pieces, so I felt that the film was honest about not trying to present the definitive Jang Seung-up biographical film. Rather than presenting a detailed account of the painter's life, it conveys the artist's spirit and the turmoil (personal and political) surrounding his life that fueled his passion for painting. Watching the film, I couldn't help but think, the director does with this film what he did with the other two films I mentioned; he goes back and explores Korea's past in order to rediscover what it means to be Korean in the present. In Sopyonje and Chunhyang he did it by means of traditional Korean folk singing, and in Chihwaseon he does it via traditional painting. At one point, one of Jang's teacher's comments on one of Jang's paintings, saying how he felt like it captured the "heartbeat of Korea." That's exactly how I would describe the Im Kwon-Taek films I've seen, they capture the "heartbeat of Korea."
Border City was my third film for the day. Directed by Hong Hyung-sook, Border City is a documentary about a Korean-German professor named Song Du-yul who is accused by some as a North Korean spy. Although he unequivocally denies the allegations, he continues, to this day, to be banned from entering South Korea and lives in Berlin, working as a professor at the University of Munster. He has been in exile for more than three decades now. The documentary highlights Song's and his wife's thoughts on the politics of North and South Korea, their disappointment and pain from not being able to enter South Korea, their response to those who insist that he is a high-ranking North Korean party official, and the efforts that are being made to pave the way for Song's re-entry. The film is fascinating because it gives the viewer a glimpse of the complexities and confusion that surround North and South Korean relations. It also gives a glimpse into the different attitudes people have about the issue of reunification in Korea. I say "glimpse" because, although the film gives a great amount of information about the subjects at hand, one really needs to know have an understanding of the issues and concerns before watching the film in order to fully understand it. I felt that, as someone who isn't very informed about North-South relations and attitudes toward each other, I had difficulty grasping the entire film. Still, the documentary is well-made (though the subtitles need a little re-working) and Song's story is gripping.
Finally, my last film of the day, or evening, was 24 Hour Party People, a film by British director Michael Winterbottom. It's about Manchester, the musical revolution that started there, a guy named Tony Wilson who was right in the middle of it, a label named Factory Records, and a club called the Hacienda. But most of all, it's about bands like Joy Division, New Order, and the Happy Mondays. Well, at least that's what it's supposed to be about. Don't get me wrong, I liked the film and it was a lot of fun to watch (especially after three serious, intense films); my only complaint is that it claims to be "about the music" but it really isn't. It was more about Tony Wilson, or Manchester, than it was about the actual music. Walking out of the theater, I didn't really feel that I was any more enlightened about the music or the bands than I was before I saw the film, which is a shame. Still, the film did make me laugh quite a bit and I especially enjoyed the moments when Tony Wilson addresses the audience directly. The way the film re-told history, or legend, is fresh and it fits the subject, which, once again, is supposed to be "the music" but really isn't. Great soundtrack though!
So that's it, a full day's worth of films at the 7th PIFF. I enjoyed it thoroughly. Four films, and not one was a dud in my opinion. I only wish I could've stayed for a few more days. Oh well, maybe next year.
Friday, November 22nd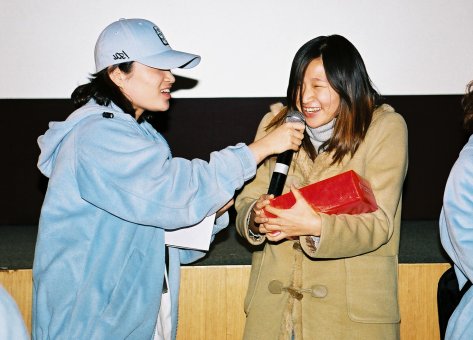 A special prize is given to the viewer with the 150,000th ticket.

* Major events: NETPAC Convention ends.

Darcy Paquet

I actually left the festival on Thursday night, with my train pulling back into Seoul in the early hours of Friday morning, but I'll use this space to give my final impressions of the festival. For me personally the festival was a lot of fun, but also quite draining given that I tried to spend time at the industry events as well as meeting people and watching films. Last year I spent more time watching movies, but I later regretted missing out on the seminars and events surrounding the PPP.
The biggest topic of conversation seemed to be the festival's new split location, with most of the screenings in Nampo-dong and the industry events in Haeundae (anywhere from 40 minutes to an hour and a half away, depending on traffic). The festival seems to be in a bit of a bind, since the industry events are more clearly suited for Haeundae, but Nampo-dong has more theaters and more atmosphere. I've heard that there may be pressure from the city to move the event to Haeundae, since it's an area with a big tourist industry in the summer but with almost no visitors in the other seasons of the year.
As for films, I saw 12 in total, and I guess my highlights among the contemporary selections were The Man on the Train, A Snake of June, Springtime in a Small Town, and The Cuckoo. In the Kim Soo-yong retrospective, Mist, A Returned Man and Splendid Outing were all fantastic, and I enjoyed re-watching Flame in the Valley as well.
Most of the people I talked to seemed to be enjoying the festival, and the programming in general received a lot of praise all around. Among the new Korean films, Jealousy Is My Middle Name seemed to get the most praise from people, though some put in good words for Ardor or Jail Breakers. Happily, one of my personal favorites Saving My Hubby was a hit at the industry screenings.
All in all, it seemed a pretty successful festival, with predictable minor glitches but a strong program and great atmosphere. Thanks to everyone at PIFF for organizing such a fun event, and securing Korea its rightful place in the international film world...
Saturday, November 23rd - Wrapup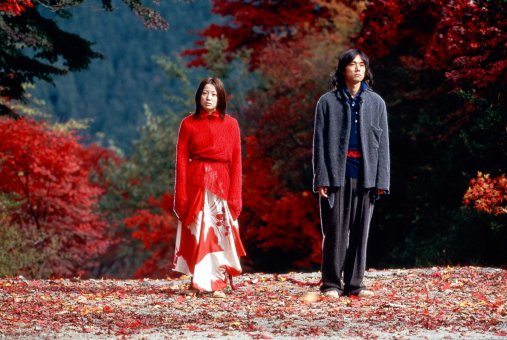 The closing film: Dolls by Kitano Takeshi.

* Major events: Announcement of Awards, Closing ceremony.

*** PIFF 2002 FINAL STATISTICS ***
Programming: 226 films from 57 countries, for a total of 371 screenings (not incl. 11 industry screenings)
Total Audience: 167,349 with paid tickets numbering about 130,000 (last year's total audience: 143,103)
Guests: 5338 from 35 countries -- PPP: 1000 (710 domestic/ 290 foreign), Press: 931 (806 domestic/ 125 foreign), Opening Ceremony: 980, Closing Ceremony: 500
Hand Printing: Kim Soo-yong
Participating Theaters - Capacity: Total number of seats: 204,452 (approximately 21,000 more compared to last year)

Citizens' Hall (1812), Daeyoung Cinema 1 (946), Daeyoung Cinema 2 (385), Daeyoung Cinema 3 (719), Daeyoung Cinema 5 (276), Daeyoung Cinema 6 (275), Busan Theater 1 (1187), Busan Theater 2 (494), Busan Theater 3 (312), Haeundae Megabox 5 (315), Haeundae Megabox 6 (240), Haeundae Megabox 7 (159), Haeundae Megabox 8 (159), Haeundae Megabox 9 (236), Haeundae Megabox 10 (108)
Seminars
- Kim Soo-yong: An Aesthete Bridging Tradition and Modernism
- Korea, Seen from the Perspective of Nagisa Oshima
- Past and Present of Taiwan's New Wave
- Today's Independent Films of Taiwan and Korea


*** AWARDS ***
NEW CURRENTS AWARD
The only feature competition at PIFF is awarded in the New Currents section, serving to promote emerging film talent in Asia by selecting the best new film by an Asian director. Selected by an international jury of eminent film professionals, the New Currents Award guarantees a $10,000 cash award to winning director.
Award (tie): Jealousy is My Middle Name by Park Chan-ok / The Rite...A Passion by K.N.T Sastry
Special Mention: Too Young To Die by Park Jin-pyo
New Currents Jury
Donald Richie, USA (Chairperson)
Aparna Sen, India
Claire Denis, France
Eduardo Antin Quintin, Argentina
Hong Sang-soo, Korea

KOREAN CINEMA AWARD
In recognition of the importance of finding an international audience for Korean cinema, the Korean Cinema Award is granted by PIFF's Organizing Committee to those who have made significant contribution in introducing Korean films to the international film community. This year's recipient is Alain Jacques Louis Patel, the president of Festival du Film Asiatique de Deauville. With its short history of 4 years, being the representative European Film Festival screening exclusively Asian Films, Festival de Film Asiatique de Deauville has been an excellent window in presenting Asian, especially Korean films to Europe. Alain Patel selected 4 Korean films including A Flower in Hell by Shin Sang-ok for the first edition of the festival and films such as Nowhere to Hide, Joint Security Area and Failan successively won the major awards each year at Deauville.

FIPRESCI AWARD (Federation Internationale de la Presse Cinematographique)
The FIPRESCI Award (Prize of the International Film Critics) is awarded annually at PIFF to a new Asian film for its experimental and progressive spirit by the Association of International Film Press.
Awardee: Too Young To Die by Park Jin-pyo for its authentic and endearing vision of physical and romantic love at an advanced age.
FIPRESCI Award Jury
Hans Beerekamp, The Netherlands
Li Cheuk-to, Hong Kong China
Ashley Ratnavibhushana, Sri Lanka
Chuck Stephens, USA
Yu Gina, Korea

NETPAC AWARD (Network for the Promotion of Asian Cinema)
The NETPAC Award is presented to the year's best Korean feature.
Awardee: Roadmovie by Kim In-sik for its success in portraying the social demands of being a man who has to face up to issues of homosexuality, career and family, all the more remarkable for being executed within a very restricted budget.
NETPAC Award Jury
Shanty Harmayn, Indonesia
Nam In-young, Korea
Wong Tuck-cheong, Malaysia

THE SUNJE FUND (Domestic)
A cash award of 10,000,000 won is given to the best Korean short film from Wide Angle section, for the purpose of assisting the next production by its director.
Awardee: Chapter Two: How to Breathe by Lee Hyung-suk
"In PIFF 2002, fourteen Korean short films entered for Sonje Fund. It was extremely hard for the jurors to choose one because all fourteen of them showed the directors' talents and potentials especially Chapter Two: How to Breathe, Pipio, The Eyelashes, Don't Even Think You Know, Namuamitabul Christmas, and To the Spring Mountain. After a long discussion and deliberation, the jurors picked Chapter Two: How to Breathe unanimously. The director's skillful storytelling and its unexpected ending caught the jurors' attention. Chapter Two: How to Breathe has the entertaining value as well as serious messages to the audience. There was a minor flaw that the pace of the film wasn't perfectly controlled, but the properly used classical number and the characters' natural acting convinced the jurors to pick the film at the last minute. We are certain all the directors of the short films in this category have a big promising future ahead of them, and that they are the ones who will be a big part of Korean Film Industry. We sincerely thank them for their participation and wish them a good luck."

THE WOONPA FUND (Domestic)
A cash award of 10,000,000 won is given to the best Korean documentary film or video from Wide Angle section, for the purpose of assisting the next production by its director.
Awardees (tie): On The Right Track by Lee Ji-young / Mudang-Reconcilliation of the Living and the Dead by Park Kibok
"In PIFF 2002, six Korean documentaries are the candidates for Woonpa Fund. Four of them deal with sensitive social issues meticulously and audaciously to uncover the truth that has been neglected, and the other two also confirmed the merits of documentaries. Each of them equally has plus and minus for the selection, and it made really hard for the jurors to select one. The selection was narrowed down to On the Right Track, Mudang-Reconciliation of the Living and the Dead, and Hetnim Kid and after the painstaking deliberation, the jurors came to an unprecedented conclusion to select two films, On the Right Track and Mudang-Reconciliation of the Living and the Dead for the Woonpa Fund. The jurors found On the Right Track this film a bit of mannerism because of unrefined editing. But the director's clear intention and the film's vivid description of the people gave the jurors strong impression, Although too many repeated scenes and its vague composition were pointed out, Mudang-Reconciliation of the Living and the Dead certainly shows that it's the work of a director with a long experience in documentary. It has a rare theme that deals with the existence of Mudang (Shaman), and the director did a great job to describe them without prejudice. We would like to express our gratitude to all six directors in Wide Angle section for their persistence despite the harsh condition for documentary filmmaking. We deeply respect them for their pioneering passions and braveries."

THE PSB AWARD
The PSB Award is given to most popular film in the 'New Currents' section of PIFF, with an audience award of 10,000,00 won presented by the Busan Broadcasting Cultural Foundation
Awardee: Too Young To Die by Park Jin-pyo

(from PIFF Press Release)
Contributors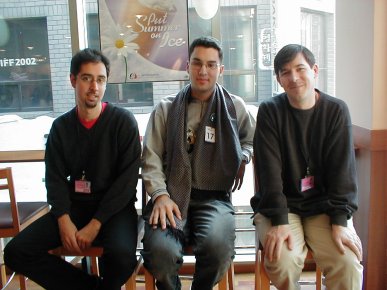 From left: Tristan, Ryan, Darcy.
TRISTAN DE BOURBON

  Short bio: Journalist in Seoul for French language media from March 2001. Before, a journalist in Paris (France) (1997-1999) and in Sydney (Australia) (1999-2000). Born the 30 of June 1974.
  Previous experience at PIFF: Fantastic atmosphere, with everybody gathering in Nampodong, old, young, Koreans, foreigners. And a very good programme.
  Expectations for this year: Some very good directors (Zhang Yuan, Ann Hui, Fruit Chan not to name them all) and a very large programme. Unfortunately, not a lot of Chinese movies.

RYAN ESTRADA

  Short bio: I'm an independent animator preparing for my own tour of the film festival circuit as I finish several films during my year long stay in South Korea. You may have seen my work on Cartoon Network's Harvey Birdman Attorney at Law, Gannon Productions' "Karate Cat and the Math Marauders", the award winning PSA "Save your Right Brain", or the Emmy winning "Dreams, Visionary States and the Artist". But I seriously doubt it.
  Previous experience at PIFF: This will be my first time attending this festival, though I have a great deal of experience at other festivals, including a number of festivals across Korea, a first place award at the 2002 Kalamazoo Animation Festival, and a job as head beach ball blower upper at the 2000 World Animation Celebration.
  Expectations for this year: What better way to spend my birthday abroad than with a week at what looks to be one darn fine festival. I not only have a lot of great films and animation to catch, but an agenda full of mingling with filmmakers, animators, and homeless people.

RICHARD KONG

  Short bio: I just moved to Korea from sunny California about three months ago and I absolutely love it! Despite the fact that the average 2-year old Korean kid can speak Korean better than I can, I'm seriously having a great time in Seoul. Besides learning Korean and working two part-time jobs, I'm planning to write my masters thesis in film studies this spring.
  Previous experience at PIFF: This will be my first time at the PIFF. Actually, it will be my first time even visiting Pusan, or Busan, or whatever you want to call it.
  Expectations for this year: I'm expecting to watch some cool movies, have a lot of fun in Pusan, watch some cool movies, be inspired in general, watch some cool movies, meet new people in the industry, be offered a job as a film producer :) and watch some cool movies...did I mention that already?

DARCY PAQUET

  Short bio: I'm originally from Massachusetts, and I came to Seoul in 1997 to teach English at Korea University. As time has passed I've gravitated towards the film industry, and in summer 2001 I began writing about the Korean film industry for Screen International, a London-based film trade magazine. I first opened this website in April 1999.
  Previous experience at PIFF: I first attended the festival in 1997, which was the second year they held the event. I remember being almost crushed in a mob of teenage girls chasing after Tony Leung (in town for Happy Together) that year. For the first few years I just came down on my own and watched movies, and from 1999 on I was able to attend as a guest, which is a somewhat different experience. These days I get a press pass through my job with Screen International. The festival has become like a big reunion for me, since a lot of friends from abroad who work in the film industry fly to Korea to attend.
  Expectations for this year: I'm going to be to torn this year as always between the desire to watch lots of films and being involved with other events like the PPP or press conferences. The coverage on this website is also a first for me, and hopefully we'll be able to provide some interesting commentary on the event.

NATHALIE TOURRET

  Short bio: I'm from the north of Paris, 25 years old, single, and I've been living in Seoul for two years. Before that I lived in Australia and Austria. I currently work as a correspondent for French radio.
  Previous experience at PIFF: This is my second time at Pusan. When I came last year it was my first film festival, and I had never seen so many Asian movies. I really enjoyed myself and liked the atmosphere of the event.
  Expectations for this year: I'm planning to watch different kinds of movies this year, after focusing on Asian movies last year. I'd like to watch more of world cinema, although I still plan to watch some Asian films. You get a different perspective watching these films while being in Asia. I plan to stay all week and watch about 15 movies.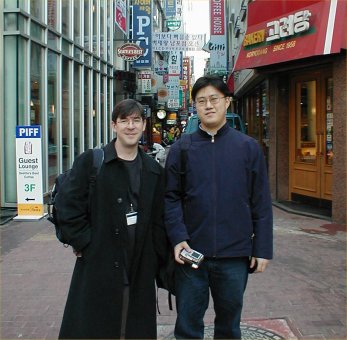 From left: Darcy, Richard.