2004 Gwangju International Film Festival Report
by Lee Eunhye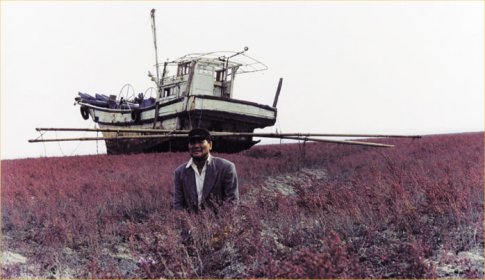 Closing Film Road, dir. Bae Chang-ho
Lee Eunhye

In Gwangju City, well known for the May 18 civil movement [1980, during which government troops fired on large crowds of protestors], the 4th Gwangju International Film Festival opened under the slogan of 'Discovery, Rediscovery' on September 2, 2004. Despite its short history compared to other film festivals in Korea, GIFF has successfully developed its own ground for people who would like to enjoy a great diversity of films from all over the world.

Targeted at so-called cinephiles who "try to look at the world through films," in the words of programmer Im Jae-chul, GIFF presented 120 films from nineteen countries, categorized in five sections: Young Cinema, World Cinema Best, Non-fiction Cinema, Citizen's Cinema Scape, and Korean Cinema Now. There were also eight retrospectives and special screenings, including "The Golden Age of Widescreen", "A Korean Actor in Shanghai: Jin Yan" (Korean name: Kim Duk-Lin), Jean-Marie Straub and Daniele Huillet Retrospective, Tribute to Michelangelo Antonioni, Short Film Selection, Chinese Cinema: Now and Then, and Rock Music & Film. Beyond the film screenings, GIFF also offered a variety of symposiums and forums: "Jin Yan and Shanghai Cinema in the 1930s," "Aesthetics of Widescreen", and "Cinema Lessons by Straub-Huillet."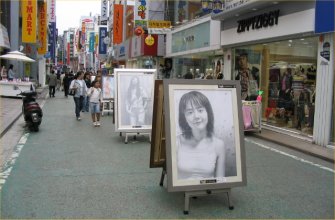 Traveling three hours from Seoul by the KTX high speed train, I finally found myself in Gwangju, the city of human rights, with the full expectation of indulging in unknown films and the lively atmosphere of the festival. Contrary to my anticipation that the city would be full of bustle with ongoing festival events and parties, however, the city was kind of calm. This was explained later by the programmer, who said they tried to focus on film itself rather than festival events and to present as many high standard artistic films as they could for audiences tired of watching only commercial films in the theater.

After getting settled, I had an interview with Cho Pock-rey, a professor at Beijing Xuanyu College of Art, who was in charge of the Jin Yan retrospective and Chinese Cinema: Now and Then.

Jin Yan was a major star of the 1930s Shanghai cinema, as famous as the actress Ruan Ling Yu. He was born in Seoul in 1910 as the third son of Kim Pil-soon, a medical doctor who was involved in the Korean independence movement against Japanese aggression. As the Japanese threat to his family became stronger, the family moved to China when Jin Yan was two years old. After his father died, he went to Shanghai, where many film companies were located at that time. Inspired by watching Hollywood films, he launched a career as an actor when he was 17 years old. Like most other actors, the first period of his career was not very notable until he met director Sun Yu who studied at Columbia University in the States. While working with Sun Yu, Jin Yan eventually became one of the top stars of the 1930s Shanghai movie industry and was honored as the "emperor of cinema" in an audience poll by a Shanghai newspaper.

Prof. Cho told me that she started planning a Jin Yan retrospective after she saw Love and Duty at the Sejong Center for the Performing Arts in 2002. After the screening of this film, foreign film critics and professors praised Jin Yan for his natural and mature performance, and they thought Jin Yan was Chinese, as the Chinese audience of the 1930s did. Being aware that Jin Yan was an ethnological and spiritual Korean who starred in anti-Japanese films and established a Korean school, Cho Pock-rey put together a Jin Yan retrospective in an effort to restore his place in the history of Korean cinema.

GIFF arranged a cine-forum to share memories of him with his wife Qin Yi, and presented seven of his films including A Love of Plum Tree (1931), The Peach Girl (1932), and A Wild Rose (1932), all of which were brought from the Chinese Film Archive.

In the fresh morning of my second day at GIFF, grabbing a croissant, I walked to the Mudeong Cinema to see Shanghai Story (pictured right) by Peng Xiaolian. Since I heard that tickets were sold out during the first screening of this film, I was in a hurry to get there early. Though there weren't many people, probably because it was the second screening, the proportion of middle aged women (so-called "azumma") was surprisingly high. Considering the fact that women over 40 don't usually go to movies, I was curious enough to ask a women what brought her there. She said that she had the feeling that people in their 40s and 50s had fallen out of favor with current Korean cinema, and she was glad to find some enjoyable films at the festival.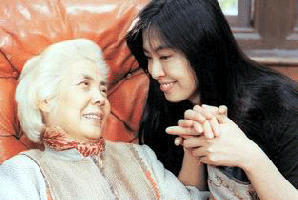 Before the movie began, Cho Pock-rey gave us a short speech, saying she hoped the audience would had a wonderful chance to take a closer look at the geographically close but still distant Chinese society through this well-made film about a family in China. She told us that they tried hard to invite Joey Wang, Koreans' favorite Chinese actress, but unfortunately she decided not to come because of a recent weight gain.

Shanghai Story was about a once "bourgeois" family, who scattered in three places: Shanghai, Inner Mongolia, and San Francisco after their father was beaten to death during the Cultural Revolution. The movie started with the mother suddenly being hospitalized, and all the children came back to her. The twenty years during which the four children lived with their own way of thinking and lifestyle had changed them so much that the family reunion became anything but a happy event. By showing the four siblings who could not even have one peaceful dinner together, this film portrayed how the shadow of a destructive decade which ended more than twenty years ago still hung over the life of people with wounded feelings and haunting memories. The mother's words that, "We cannot change history, but we can forgive each other and move on," was left in the solemn theater in the center of Gwangju City, which also has a painful history.

My Bittersweet Taiwan, my second selection, was a movie directed by Zeng Dong-tian who was known as a teacher of Zhang Yimou, and dealt with a young man and his family under the Japanese colonial period in Taiwan in the 1930s.

I wondered if it was the programmer's intention or just a coincidence that the two films dealt with the story of families who went through difficult historical events, similar to those which the Korean people also went through.

As the work of a renowned director who was a veteran professor at Beijing Film Academy, the film had beautiful scenery like a watercolor painting and sophisticated mise-en-scene which illustrated the Taiwan country life of simplicity and refinement. The director presented the pains of one family in a serene tone from the first scene to the end, without overflowing emotion.

A story about a disabled man who lived near the pub street of Ssallidun, The Flourishing Worlds was an independent debut feature film by Han Kaichen. While he was shooting the film, the director lived with real people in the pub street and shared their pleasure and pain with them. Chun Seing, who was not a professional actor, starred in this film as the main character. Although the film had much space for improvement, I could feel the director's desire to show that handicapped people also have a right to a happy life and true love like ordinary people have.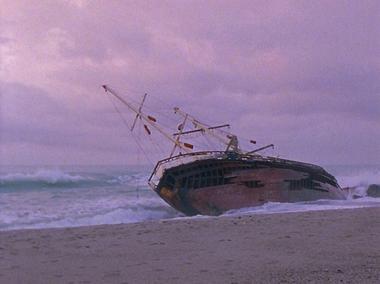 The Gift (pictured right) was my one selection from the Young Cinema section. A debut film by Italian director Michelangelo Frammartino, The Gift slowly and silently showed the days of people in the Italian countryside. While I was watching an old man who slowly walked to a barber shop and a girl who had sex with a man who gave her a ride to her house across a mountain, I kept thinking about what the gift was. I came up with the idea that the motorcycle that the old man gave to the girl was the gift, because she wouldn't need a ride anymore and wouldn't have to have sex with ugly men. Yoo Yun-sung, a film critic had a different idea. He said that the title of this film The Gift means that our life is just given, like the life of the old man or the everyday of the girl without any accident in the ravaged scene. I don't really agree with this pessimistic view, though. As a fully devoted follower of the song, Always Look on the Bright Side of Life, I could see hope in the film.

My last choice from GIFF was the French film, Not For Or Against directed by Cedric Klapisch and I should say this was very interesting and funny. The outward appearance of this film was like a robbery movie such as Ocean's Eleven. However, beyond the striking and sensational scenes of robbery, there lay a psychodrama showing how an innocent girl got involved in an unintended plan, leading her to become a femme fatale.

After watching five splendid films, I appreciated and admired the programmers' hard work to find all these great movies from all over the world. GIFF wonderfully achieved its purpose to present high quality, well-made artistic films to audiences who have been feeling thirsty. Hopefully, GIFF will continue its progress and gratify more audiences who would like to enjoy the diverse world of films.



Festival Wrapup & Awards

Now in its fourth edition, the 2004 Gwangju International Film Festival screened a total of 120 films from 19 countries, and drew an estimated total audience of 35,000 viewers. The event opened on September 2 with a screening of Japanese director Watanabe Kensaku's Loved Gun, and closed on September 11 with veteran director Bae Chang-ho's Road. The awards presented by the festival during the closing ceremony are listed below, together with the jury's comments. This is the first year that the festival has hosted a competition section.

Audience Award: After Midnight (Italy), dir. Davide Ferrario. Determined from audience voting on the festival's website.

Jury Prize (tie): Passages (China), dir. Yang Chao. "A film about a couple students in China looking for fast money. Their search takes them repeatedly away from home on various means of transportation. You feel sorry for them, not knowing where they are going. At the same time you feel tested by the film. The director's use of landscapes and perspective to tell the story is unconventional and effective."

Jury Prize (tie): Andre Valente (Portugal), dir. Catarina Ruivo. "A very moving study of a kind of turbulent mother-son relationship rarely depicted in films. The narrative form is unusual and exciting. A succession of mostly short scenes, tightly edited and quickly cut off, alternating the viewpoints of the main characters. The film teaches an instinctive lesson by showing that the child has a greater adaptability to loss and abandonment than the mother. A triumph of directing, writing, and acting."

Grand Prize ($10,000): L'Esquive (France), dir. Abdellatif Kechiche. "The director's examination of a group of young people of Arab descent in France portrays their search for love and dramatic truth with great passion. The use of "direct cinema" style fits the subject perfectly. The film treats the situation of a minority ethnic group in an unexpected and subtle manner, and integrates the themes of theater, performance, and the French literary heritage in an original and thoughtful way. Altogether, L'Esquive is moving, exciting, and gripping."

Jury members: Chris Fujiwara (film critic, USA), Stanislav F. Rostorskii (film critic, Russia), Han Chang-ho (film critic, South Korea).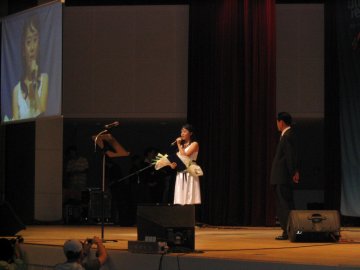 Moon Geun-young at Closing Ceremony