E J-yong Info Sheet
Compiled by Lee Eunhye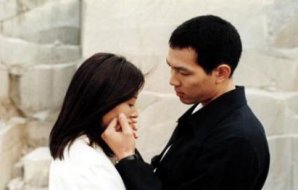 AN AFFAIR (1998)   ("Jeongsa")  Directed by E J-yong.  Screenplay by Kim Dae-woo.  A married woman gets a phone call from her sister in the US, asking her to meet her fiance who is in Seoul. After meeting him, the woman feels a strong unconscious attraction to him, which appears to be reciprocated.  Starring Lee Mi-sook (Seo-hyun), Lee Jung-jae (U-in), Kim Min (Ji-hyun), Song Young-chang (Jun-il), Lee Woo-hyun (Jin-soo).  Cinematography by Kim Young-cheol.  Produced by Nine Films.  Distributed by Hanmac Films/Cinema Service.  Rating: 18+.  108 min, 35mm, color.  Released on October 3, 1998.  Total admissions: 304,666 (Seoul).  Movist.com viewer ratings: 7.42/10 (24 votes).


Interview by Nam Dong-cheol published in Cine21 on Nov. 17, 1998  (excerpt)

  * After the project The Story of a City was stopped, you kept silent for three years. Was there any particular reason that you chose An Affair as your debut film?

When I was young, I used to think that I should make challenging films. Then, I got an offer from producer Oh Jeong-wan and thought that this kind of film could be more challenging for me. I saw it from a different direction. Maybe I could learn more from making a movie with a strong narrative, which feels difficult to me. I was very lucky to be able to work with experts in each field such as cinematography, lighting, art design, etc., who I would never have the chance to work with on an independent film. I am also grateful for choosing the right format, having sufficient finance and meeting a good producer.

  * You have chosen Ali: Fear Eats the Soul as the 'movie of my life' at Cine21 magazine. Unlike Rainer Werner Fassbinder who used melodrama to criticize German society of the time, you don't deal with socio-political contexts in An Affair. What did you think that you could do with melodrama?

What I kept in mind was that I was going to make it differently from the past melodramas of Korea. Formerly, Korean melodramas have typically taken issue with a bad husband, the surplus masculinity at home, oppressed desires and so on. I wanted to free myself from those typical boundaries. Lee Mi-sook was falling in love without any special reason. In some sense she had a very happy family, but it just happened. This was my attempt to escape from conventional films which explain the reasons for the affair and punish the woman. Also, I tried to deal with my perspective on woman's issues. I don't say that An Affair is a feminist film. But the important thing was that she left her comfortable life, and that no one else but her made the choice.

  * Isn't this film in some sense a story of their love as destiny?

That is the premise of this film. If you don't believe in love as destiny, you would think that this is not realistic. As for me, I am kind of a cynical person. Lee Mi-sook's husband says, "Don't be hopeful for your married life. You need more than just passion." That is my own voice as well. I think that people who fall in love want to believe that their love is destiny. You can also see Lee Jung-jae and Lee Mi-sook as Adam and Eve. They ate the forbidden fruit. From God's perspective they disobeyed a command. But from a human's perspective they finally became real humans who know joy, anger, sorrow, and fun. In that sense, I see Lee Mi-sook going to Brazil as her banishment from the Garden of Eden.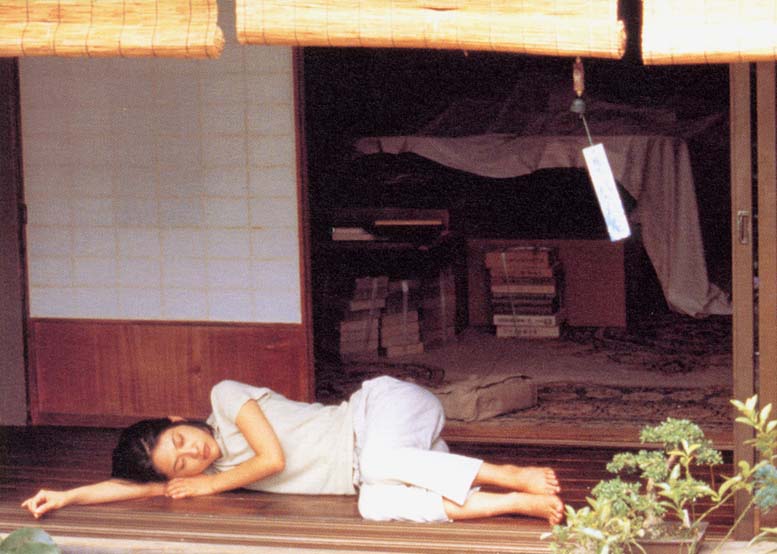 ASAKO IN RUBY SHOES (2000)   ("Sun-ae-bo")  Written and directed by E J-yong.  A lonely civil servant in Korea seeks romance on the internet, while a young woman in Japan agrees to appear on a live-cam porn website to finance her impending suicide attempt.  Starring Lee Jung-jae (U-in), Tachibana Misato (Aya), Kim Min-hee (Mia), Ohsugi Ren (Aya's father), Yo Kimiko (Aya's mother).  Cinematography by Hong Gyeong-pyo and Chikamori Masishi.  Produced by Koo & Film.  Distributed by Cinema Service.  Rating: 15+.  117 min, 35mm, color.  Released on December 9, 2000.  Total admissions: 46,148 (Seoul).  Movist.com viewer ratings: 7.14/10 (306 votes).


Review published in Film 2.0 on Dec. 7th, 2000  (excerpt)

"No sunebo in Sunebo?"
My conclusion is that there is no sunebo in Sunebo. [Sunebo, the Korean title of Asako in Ruby Shoes means a story of pure and genuine love -- ed.] Which means that this is not a melodrama packed with an ardent love story. Living in Seoul and Tokyo respectively, a man and a woman meet only twice in the film, but nobody can tell whether love has started between them or not. If you expected the air of a melodrama, I guess it's fine for you to believe that a pure and genuine love has been born. Regardless, it seems that the director E J-yong, who created An Affair, a deep and sensitive love story, didn't want to make a similar love story this time around.
In this movie, it is emphasized that U-in and Aya's strong destiny begins when they bump into each other by chance. Devices are laid out everywhere throughout the movie to show their destiny. It's not only U-in and Aya, but all the people in the movie who weave the strings of destiny in everyday life, through a porn site, or a television show, or by simply passing through. It is understandable that the director could not afford to talk about love itself; however, the problem is that those devices don't really reveal themselves, and that the film casually relies on the preferences of audiences who are expecting melodrama. Director E J-yong adds an air of melodrama by allowing them to meet each other, but ultimately fails to deliver a message of deep love, and also fails to thoroughly capture the everyday life that inhabits the space between coincidence and destiny.
--Choi Gwang-hui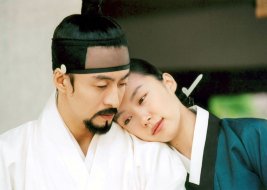 UNTOLD SCANDAL (2003)   ("Seukaendeul: Joseon-namnyeo-sangyeoljisa")  Directed by E J-yong.  Screenplay by Kim Dae-woo, E J-yong, Kim Hyun-jeong.  A young nobleman takes up a bet to seduce a widow who is renowned for her chastity. An adaptation of the 18th-century French novel Dangerous Liaisons, transposed to the Chosun Dynasty.  Starring Bae Yong-joon (Cho Won), Lee Mi-sook (Lady Cho), Jeon Do-yeon (Lady Sook), Lee So-yeon (Lee So-ok), Jo Hyun-jae (Kwon In-ho), Lee Mi-ji (So-ok's mother).  Cinematography by Kim Byung-il.  Produced by b.o.m. productions.  Distributed by CJ Entertainment.  Rating: 18+.  120 min, 35mm, color.  Released in Korea on October 2, 2003. Total admissions: 3,345,268 (nationwide), 1,293,642 (Seoul). Released in Japan on May 21, 2004, earning ~$5.5m.  Released in North America on October 13, 2004, earning $42,344.  Screened as opening film at the 2004 Edinburgh International Film Festival.  Movist.com viewer ratings: 6.86/10 (842 votes). Maxmovie.com viewer ratings: 7.60/10 (2157 votes).


Review published in Film 2.0 on Sept. 29, 2003  (excerpt)

"A happy encounter between classic and modern times."

A clever commercial film which examines modern society from the point of view of the Chosun period. The two favorites of contemporary viewers, romance and desire, are joined together. Untold Scandal shows what is needed to make a successful commercial film. It may sound preposterous, but the failed Korean "blockbusters" of the present day imitated Hollywood films and failed to pretend to be different from them. In contrast, although it is based on the French novel Les Liaisons Dangereuses which has already been used to make several different films, and adopts styles from the artistic films of Europe and Hollywood, Untold Scandal does create something truly Korean by presenting its story through an erotic book of the Chosun period, and by re-creating the classic atmosphere of the time.

It might not have been so attractive if the background of the movie were contemporary Korea. For viewers who want cool endings like that of Singles and A Good Lawyer's Wife, the storyline of Untold Scandal is certainly outdated. However, when we watch these yearnings for romantic escape set against the backdrop of the Chosun period, it turns into the escape of our own desires. The desperate emotions of Lady Sook, who was hoping to flee to China to live together with Cho Won, and a glimpse of the growth and suppression of Catholicism can be seen as social currents that uncover the individuals behind society. It arouses the sympathies of our present day.
--Lee Sang-yong       


Interview by Im Beom published in Cine21 on September 26, 2003  (excerpt)

  * What do you think is the common factor that pervades your films?

I think that it is the beauty and the emptiness of love. Love, while seemingly beautiful, is in vain. When you are unaware of this, love is good, but once you realize it, you feel empty for a while. Lady Cho in Untold Scandal knows that. So she chooses to play a game instead of falling in love.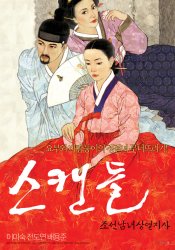 * How do you see the love portrayed in Untold Scandal?

When people fall in love with each other, the person who loves more is the weaker. If we see love as power, the one falling in love first loses. These are the rules of the game of love. As for Lady Cho and Cho Won, they seduce others without falling in love, so they often hurt others, but actually they are afraid of falling in love. The film shows sympathy for those who ruin their lives by playing this endless game and, at the same time, questions where the boundary lies between their love and the game. I am not sure yet if there exists a real pure and beautiful love. I tried to figure out if love is destiny or will in my prior movie An Affair. I didn't find out the answer, either. So I just let it open. In my opinion, asking if true love exists or not is same as asking if God exists. There are people who believe in God but it's impossible to explain it.

  *Was it difficult to shoot this period drama?

In my head, Untold Scandal started not from the original novel but from the Chosun period. I wanted to reconstruct people's lives in that period. So I took this somewhat postmodern story to the Chosun era. Once we started shooting, we faced tons of difficulties. When we went outside, we couldn't find a place to set up the camera because of telephone poles and sounds of traffic hindering recording. I was considering shooting the film only from inside. Indoor scenes also had their own problems. Unlike Western period dramas in which people sit in chairs and move about freely, here people sit on the floor. They have to crawl in order to speak into each other's ears. Those cultural differences created barriers during shooting.