An Interview with E J-yong
by Darcy Paquet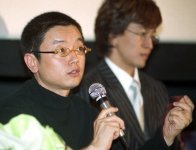 Born in 1965, director E J-yong (spelt phonetically -- a more conventional spelling would be "Yi Jae-yong") studied at the Korean Academy of Film Arts in Seoul. In 1990, together with fellow student Byun Hyuk (Interview), he shot a 20-minute film named Homo Videocus which won Best Short Narrative award at the 1992 San Francisco Film Festival, as well as two prizes at the Clermont-Ferrand International Short Film Festival. E went on to make other short films such as My Mother's Summer and Time in the Mirror.
In 1998 he made his directorial debut with An Affair, about a woman who starts an affair with her sister's fiance. The film was a critical and box-office hit, and also resurrected the career of actress Lee Mi-sook. Two years later in 2000, E made his second film Asako in Ruby Shoes, shot half in Seoul and half in Japan. Although not a commercial hit, the film played at several festivals and drew notice among academics for its portrayal of the interplay between Japanese, Chinese and Korean cultures.
This interview was conducted at the Pusan International Film Festival in 2003, a few days after E's third film Untold Scandal became the biggest-opening Korean film in history. An adaptation of the French novel Les Liaisons Dangereuses set in Chosun Dynasty-era Korea, the film was a critical and box-office smash noted for its mise-en-scene, its smooth direction, the performance of its actors and its sexy appeal to modern-day audiences.



When did you first see or read Dangerous Liaisons?

I first saw the movie in 1988, when I was traveling in Australia. At the time I didn't speak much English, so I couldn't understand all of it, but it was impressive... the scenes and the acting. After that I forgot about it. Later, after I got back to Korea I also saw Valmont by Milos Forman, but I didn't like it very much.

Then in 1998, after finishing my first film An Affair, I started thinking about a new project. For a long time I had wanted to make a costume drama. I was even thinking about shooting Chunhyang, before Im Kwon-taek made his film. I wanted to make a very erotic version, with an 18-year old boy and a 16-year old girl making love, falling in love, not like the typical adaptation. Usually when we make Chunhyang it is very conventional, full of cliches -- although I did like Im Kwon-taek's version.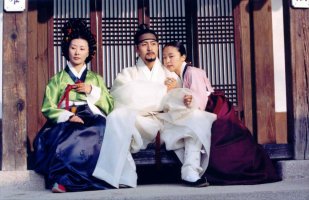 However a costume drama costs a lot of money, and for a second-time director it's hard to get financing. I also didn't know very much about traditional culture at the time, so I needed time to study it. I decided it would be better to make it as my third film.

I often listen to Bach's music, and at one point an image came into my mind -- the image of people wearing hanbok [traditional Korean clothing] combined with Bach's music. I was curious about how it would look on the screen. Old costume dramas always use the same traditional Korean music... It was fresh at one time, but now it's become a cliche, and so I didn't want that. Im Kwon-taek's Chunhyang also used traditional music, but he did it in a creative way, like a musical or music video. As for me, I was curious to combine Western classical music with a Korean traditional drama.

At the same time I was trying to think of a story, and I suddenly remembered the costumes and acting in the film Dangerous Liaisons. I bought the book then and read it, and it is really a great novel. It contains every human emotion: love, revenge, hate, betrayal, separation, death... it has everything in it. Even though it's a French novel, it's a timeless story, like the Greek tragedies. I also enjoy adapting things into different cultural contexts, so I decided to use this story for my film.


Did you have a hard time finding a producer or a company to work with?

No. My first film An Affair was produced by Oh Jung-wan, who is a good friend of mine. We were happy with the results of the finished film, so we wanted to work together again. I suggested this project to her and she liked it, though she was a bit worried because at that time the Korean film industry wasn't very big or developed. This was before Shiri, at that time.

In Korea there's also said to be a jinx, that costume dramas, sports dramas, and stories about animals never succeed. She too wanted to break that jinx and make a successful costume drama, so she agreed to the project. She's a very capable producer, so I trusted her and knew she could find the money.

But I also needed a lot of time to study and prepare for this film. It would require a big budget and a lot of preparation, so for a second film it was too big for me. I decided at that point -- this was in 1998 -- to make the film Asako in Ruby Shoes instead.

So Untold Scandal has taken five years in all. It's been very complicated to put together, and the film's investors were quite worried about it. There was talk about this jinx, and because of its budget it was a very risky project, so even while we were shooting, the investors were quite concerned.


How do you think it was able to become so successful at the box office as a costume drama?

I never expected it to be this successful. I really wanted to make this film, and my only goal was to complete it -- that was the most I was hoping for. We didn't really have a tradition of costume dramas in Korean cinema. Of course there are Im Kwon-taek films, and martial arts films, but there wasn't a tradition of ordinary drama. So maybe the audience wanted to see such a costume drama on the big screen, rather than on TV.

Of course, the story is an all-time favorite, of love and revenge. The audience may have also been attracted by the clash of Western and Korean imagery. The title is "Scandal", but the story is of traditional Korea, so that may have caught people's attention. Finally, the actors are very popular. So there was an interesting story, good actors, and good promotion.


How did you do the casting? Did you have these actors in mind from the beginning?


Five years ago when I first came up with the project, I had Lee Mi-sook in mind for the role of Lady Cho. I had also worked with Lee Jung-jae, but in 1998 I thought he might be too young for the role. But then by last year when we were ready to start shooting, he had grown older, so I thought of casting him. He wanted to take the role, but his management company wouldn't allow him to do it, because it was a risky project. Also, actors make a lot of their income from TV commercials, but the image from this film doesn't fit the image needed for the commercials, and they refused. So I had to find another main actor.

Then Bae Yong-joon became interested in the script. At first we both doubted whether he would be a good match for this character. But we met many times, talked about the story, and even put makeup on him to see how he would look in this role. It seemed to suit him, so finally we decided to work together. As for Jeon Do-yeon... It was very hard to find an actress for this role -- everyone wanted to play Lee Mi-sook's part instead, because it's a strong and interesting character. Then when I heard that Jeon Do-yeon was interested I was quite happy, because she often changes her persona in every film she stars in. I trusted that she would be able to play this role well.


In terms of the costumes and the props, did you strive for historical accuracy, or not?

Actually my original idea was to make a historically accurate film. But I found that the colors in traditional clothing and objects were too limited. There is a concept in traditional Confucian culture centered around five basic colors: blue, black, red, white, and yellow. This had a great influence on traditional clothing, and we found it very limiting for the production... I wanted to use vibrant colors, and so although the shape and form of the costumes and props are historically accurate, the colors are not.


When you were making Untold Scandal, how did you try to add your own personal style?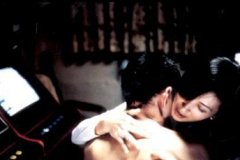 When I made my first film An Affair (pictured), I told my art director and set designer, "Let's make a film that won't look old-fashioned when we watch it ten years in the future." Korea changes so quickly, so when I see films that were made five years ago, they seem very out of date. I wanted to make a film that would still feel fresh if you watched it years later. We took the same approach with Untold Scandal.

On a personal level, I don't like to follow trends. I like simplicity... this is one aspect of my style. I also like creating a clash between conflicting elements... the concept of 'scandal' and traditional Korean dramas, Western music and Korean aesthetics, and so on. My second film Asako in Ruby Shoes has the Korean title "Pure Love Story", but it's a very modern film about love and pornography on the internet... I enjoy this sort of clash. In Scandal when the women drink tea in a traditional setting, they use a telescope to spy on each other. These sort of things...


Was there anything that you wanted to do in the film, but weren't able to do?

Originally I had a faster, more rhythmic tempo in mind for the character's actions and dialogue. But I found that because of the culture of the Chosun Dynasty, it was difficult to implement this. People often converse while seated on the floor or reclining, and it made it difficult to create the tempo I was looking for.

Of course the film's budget was also limited [$4.5m]. If I'd had more money available I could have done more with the film. In general, I feel that the Korean film industry has developed a lot, but in some sense it doesn't seem to be reaching its potential. If people were to invest more time and more money into filmmaking, I think Korean cinema could accomplish more than it is now..


The Korean film industry has become very commercialized in recent years. Do you feel any restraints or limitations working in such a system?

Well, in some ways I'm a very flexible director. I stay true to my basic ideals and goals, but when I decided to make this film, I had already conceived of it as a commercial project. My goal is always to shoot a well-made commercial film, because I think in Korea there aren't too many truly well-made films of this type. But even films made outside of the commercial sector face a lot of difficulties... Independent filmmakers still have to think a lot about money. I don't think there's a big difference between the two.


There are a lot of directors like you who made their first film in the late 1990s...

Yes, we almost all debuted the same year, in 1998. Kim Jee-woon, Park Ki-hyung, Jang Jin, Hur Jin-ho, Im Sang-soo... Im Sang-soo and I debuted on the same day!


Do you think there are major differences between your generation and that of older directors?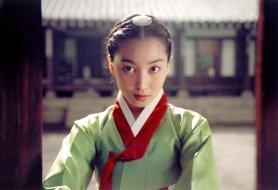 Yes, definitely. Filmmakers from the 80s and 90s, like Park Kwang-su, Jang Sun-woo and Jung Ji-young, carry a great burden on their shoulders, in terms of history and politics. So they make very heavy films, and they can't free themselves from the weight of their generation's social issues. In Park Kwang-su's case he makes political films. Jang Sun-woo's films seem to be more a reaction against politics.

But directors in my generation feel free of such pressures. They pursue individual interests, rather than make films that speak for Korean society. For that reason, recent films are more diverse, and I think directors are able to make better movies in this environment. Park Ki-hyung makes horror films, I make melodramas, Im Sang-soo makes films about sexuality, Hur Jin-ho makes love stories. They make films suited to their interests and abilities.


When did you first decide to become a director?

When I was studying in college. I had always liked film ever since I was young, but I didn't think about making it my career. In school I became involved in theater groups, traveled a lot, and got to know some independent filmmakers, and then finally I decided to apply to the Korean Academy of Film Arts in 1990.

There were great changes going on at that time. I was a bit worried whether I would actually be able to become a director, but this was the time when the production company Shincine started. Producers like Shin Chul took a very new and novel approach to filmmaking, and they made a lot of changes to the production system. Fortunately I started my film career in the 1990s, and I think this was how I was able to become a director, because of new companies like Shincine and Myung Films. In the past, people had preconceived notions of what kind of a person should become a director -- sort of a macho, strong image. But all of that changed in the 1990s.


What are your personal goals as a director?

In some ways I'm not really ambitious about my directorial career. I'm somewhat introverted, and for me films are a way of sharing my ideas or telling stories to people, and this is what I am most concerned about. I don't care as much about becoming famous, or winning prizes. I'd like to just continue making films, step by step, and communicate with the audience in this way.


Do you have any ideas for your next film?

Several, but I'm not sure which one will fit. I'm thinking about a documentary, a musical, a comedy, a fake documentary... I have many ideas, but I don't know yet.




BUSAN October 8, 2003