Books About Korean Cinema

The following is a list of the books on Korean cinema which are available over the internet. I have also included below a list of related titles that might be of interest to Korean film enthusiasts, as well as a short list of Korean-language titles. For price information, click on the links under 'Sources'. If you know of additional books in any language that you feel should be included on this page, please contact me.
Books in English

VIRTUAL HALLYU: KOREAN CINEMA OF THE GLOBAL ERA (2011) by Kyung Hyun Kim. Duke University Press Books: paperback (ISBN: 978-0822351016), hardcover (ISBN: 978-0822350880), Kindle edition, 280 pp.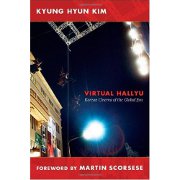 From the back cover: "In the late 1990s, South Korean film and other cultural products, broadly known as hallyu (Korean wave), gained unprecedented international popularity. Korean films earned an all-time high of $60.3 million in Japan in 2005, and they outperformed their Hollywood competitors at Korean box offices. In Virtual Hallyu, Kyung Hyun Kim reflects on the precariousness of Korean cinema's success over the past decade. Arguing that state film policies and socioeconomic factors cannot fully explain cinema's true potentiality, Kim draws on Deleuze's concept of the virtual-according to which past and present and truth and falsehood coexist-to analyze the temporal anxieties and cinematic ironies embedded in screen figures such as a made-in-the-USA aquatic monster (The Host), a postmodern Chosun-era wizard (Jeon Woo-chi), a schizo man-child (Oasis), a weepy North Korean terrorist (Typhoon), a salary man turned vengeful fighting machine (Oldboy), and a sick nationalist (the repatriated colonial-era film Spring of Korean Peninsula). Kim maintains that the full significance of hallyu can only be understood by exposing the implicit and explicit ideologies of protonationalism and capitalism that, along with Korea's ambiguous post-democratization and neoliberalism, are etched against the celluloid surfaces."
Contents:
Introduction: Hallyu's Virtuality
1. Virtual Landscapes: Sopyonje, The Power of Kangwon Province, and The Host
2. Viral Colony: Spring of Korean Peninsula and Epitaph
3. Virtual Dictatorship: The President's Barber and The President's Last Bang
4. Mea Culpa: Reading the North Korean As an Ethnic Other
5. Hong Sang-soo's Death, Eroticism, and Virtual Nationalism
6. Virtual Trauma: Lee Chang-dong's Oasis and Secret Sunshine
7. Park Chan-wook's "Unknowable" Oldboy
8. The End of History, the Historical Films' Beginning: Korea's New Saguk

SOURCES:     Amazon (paperback), Amazon.co.uk (paperback).



NEW KOREAN CINEMA: BREAKING THE WAVES (2009) by Darcy Paquet. Wallflower Press: paperback (ISBN: 978-1-906660-25-3), 135 pp.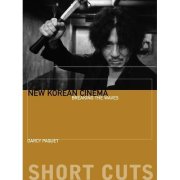 From the back cover: "New Korean Cinema charts the dramatic transformation of South Korea's film industry from the democratisation movement of the late 1980s to the ascent of a new generation of directors in the 2000s. The volume considers such issues as government censorship. The market's opening to Hollywood films and the social changes which led to the diversification and surprising commercial strenght of contemporary Korean films. Directors such as Hong Sang-soo, Kim Ki-duk, Park Chan-wook and Bong Joon-ho are studied within their historical context together with a range of films including Sopyonje (1993), Peppermint Candy (1999), Oldboy (2003) and The Host (2006)."
Contents:
1. A new society (Changes in Korean society and filmmaking from 1980 to 1996)
2. A new film industry (Changes in the structure of the Korean film industry from 1984 to 1996)
3. The boom (New directors and a commercial boom, 1997 to 2002)
4. New ambitions (Korean cinema since 2002)

SOURCES:     Amazon
(paperback), Amazon (Kindle), Amazon.co.uk (paperback).



THE SOUTH KOREAN FILM RENAISSANCE (2010) by Jinhee Choi. Wesleyan: paperback (ISBN: 978-0819569400), hardcover (ISBN:978-0819569394), 264 pp.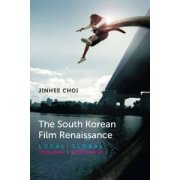 From the back cover: "For the past decade, the Korean film industry has enjoyed a renaissance. With innovative storytelling and visceral effects, Korean films not only have been commercially viable in the domestic and regional markets but also have appealed to cinephiles everywhere on the international festival circuit. This book provides both an industrial and an aesthetic account of how the Korean film industry managed to turn an economic crisis--triggered in part by globalizing processes in the world film industry--into a fiscal and cultural boom. Jinhee Choi examines the ways in which Korean film production companies, backed by affluent corporations and venture capitalists, concocted a variety of winning production trends. Through close analyses of key films, Choi demonstrates how contemporary Korean cinema portrays issues immediate to its own Korean audiences while incorporating the transnational aesthetics of Hollywood and other national cinemas such as Hong Kong and Japan. Appendices include data on box office rankings, numbers of films produced and released, market shares, and film festival showings."
Contents:
1. Faces of Globalization 15
2. Blockbusters, Korean Style 31
3. No Blood? No Tears! Gangster Cinema 60
4. I'm Not a Girl, Yet Not a Woman: Romance Films 85
5. Once Upon a Time in High School: Teen Pics 116
6. Not Just Metteurs-en-Sce`ne? "High-Quality" Films 144
7. Riding the New Wave 164

SOURCES:     Amazon (paperback)



POP GOES KOREA: BEHIND THE REVOLUTION IN MOVIES,MUSIC,AND INTERNET CULTURE (2009) by Mark James Russell. Stone Bridge Press: paperback (ISBN: 978-1933330686), 260 pp.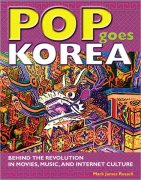 From the back cover: "From kim chee to kim chic! South Korea came from nowhere in the 1990s to become one of the biggest producers of pop content (movies, music, comic books, TV dramas, online gaming) in Asia---and the West. Why? Who's behind it? Mark James Russell tells an exciting tale of rapid growth and wild success marked by an uncanny knack for moving just one step ahead of changing technologies (such as music downloads and Internet comics) that have created new consumer markets around the world. Among the media pioneers profiled in this book is film director Kang Je-gyu, maker of Korea's first blockbuster film Shiri; Lee Su-man, who went from folk singer to computer programmer to creator of Korea's biggest music label; and Nelson Shin, who rose from North Korea to the top of the animation business. Full of fresh analysis, engaging reportage, and insightful insider anecdotes, Pop Goes Korea explores the hallyu (the Korean Wave) hitting the world's shores in the new century."
Contents:
1. The Deal
2. The Blockbuster
3. The Film Festival
4. The Actor and the TV Drama
5. The Music Mogul
6. The Music Thieves
7. The Thin Black Line
8. Conclusion

SOURCES:     Amazon (paperback).



KOREAN FILM DIRECTORS SERIES (2007 - 2009) by Various authors. Published by Seoul Selection, in partnership with Korean Film Council.


A series of books providing in-depth information about some of Korea's most famous directors. Written and edited by a diverse group of local and international critics, the books adopt different formats and contain essays, interviews, reprinted articles and other information to provide various perspectives in each volume. Most, but not all of the material has been translated from the Korean.

Published Volumes:

Park Chan-wook (2007) by Kim Young-jin (Amazon, Seoul Selection)

Hong Sang-soo (2007) by Huh Moonyung (Amazon, Seoul Selection)

Kim Dong-won (2007) by Jung Han-seok (Amazon, Seoul Selection)

Lee Chang-dong (2007) by Kim Young-jin (Amazon, Seoul Selection)

Im Kwon-taek (2007) by Chung Sung-ill (Amazon, Seoul Selection)

Kim Ki-young (2007) by Kim Hong-joon (Amazon, Seoul Selection)

Shin Sang-ok (2008) by Yi Hyo-in (Amazon, Seoul Selection)

Kang Woo-suk (2008) by Oh Dong-jin (Amazon, Seoul Selection)

Lee Myung-se (2008) by Jang Byeong-won (Amazon, Seoul Selection)

Im Sang-soo (2008) by Huh Moonyung, Jung Ji-youn (Amazon, Seoul Selection)

Four Rookie Directors: Jang Jun-hwan, Jung Ji-woo, Kim Tae-yong,
and Zhang Lu (2008) by Kim Young-jin, Jung Ji-youn, Choi Eun-young (Amazon, Seoul Selection)

Lim Soon-rye (2008) by Lee Yoo-ran (Amazon, Seoul Selection)

Yu Hyun-mok (2008) by Kim Kyoung-wook (Amazon, Seoul Selection)

Jang Sun-woo (2008) by Tony Rayns (Amazon, Seoul Selection)

Kim Jee-woon (2008) by Kim Hyung-seok (Amazon, Seoul Selection)

Ryoo Seung-wan (2008) by Kim Young-jin (Amazon, Seoul Selection)

Rookie Directors 1: Noh Dong-seok, Kim Dong-hyun, Min Boung-hun,
Kim Tai-sik, and Cho Chang-ho (2008) by Jang Byung-won, Choi Eun-young (Amazon, Seoul Selection)

Rookie Directors 2: Chung Yoon-chul, Min Kyu-dong, Han Jae-rim,
Kim Hyun-seok, Park Heung-sik (2009) by Lee Sang-yong, Kwon Eunsun (Amazon, Seoul Selection)

Bong Joon-ho (2009) by Jung Ji-youn (Amazon, Seoul Selection)

Lee Man-hee (2009) by Mun Gwan-gyu (Amazon, Seoul Selection)

Lee Doo-yong (2009) by Yu Yang-geun (Amazon, Seoul Selection)

Lee Jang-ho (2009) by Kim See-moo (Amazon, Seoul Selection)




SEOUL SEARCHING: CULTURE AND IDENTITY IN CONTEMPORARY KOREAN CINEMA (2007) Edited by Frances Gateward. SUNY Press: paperback (ISBN: 978-0-7914-7226-2), 314 pp / hardcover (ISBN: 978-0-7914-7225-5), 336 pp.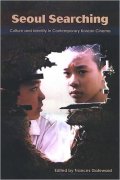 From the back cover: "Seoul Searching is a collection of fourteen provocative essays about contemporary South Korean cinema, the most productive and dynamic cinema in Asia. Examining the three dominant genres that have led Korean film to international acclaim - melodramas, big-budget action blockbusters, and youth films - the contributors look at Korean cinema as industry, art form, and cultural product, and engage cinema's role in the formation of Korean indentities.
Committed to approaching Korean cinema within its cultural contexts, the contributors analyze feature-length films and documentaries as well as industry structures and governmental policies in relation to transnational reception, marketing, modes of production, aesthetics, and other forms of popular culture. An interdisciplinary text, Seoul Searching provides an original contribution to film studies and expands the developing area of Korean studies"
Contents:
1. Korean Cinema after Liberation: Production, Industry, and Regulatory Trends (Seung Hyun Park)
2. Christmas in August and Korean Melodrama (Darcy Paquet)
3. Storming the Big Screen: The Shiri Syndrome (Chi-Yun Shin and Julian Stringer)
4. Timeless, Bottomless, Bad Movies: Or, Consuming Youth in the New Korean Cinema (David Desser)
5. Scream and Scream Again: Korean Modernity as a House of Horrors in the Films of Kim Ki-young (Chris Berry)
6. Forgetting to Remember, Remembering to Forget: The Politics of Memory and Modernity in the Fractured Films of Lee Chang-dong and Hong Sang-soo (Hye Seung Chung and David Scott Diffrient)
7. Reflexivity and Identity Crisis in Park Chul-soo's Farewell, My Darling (Hyangsoon Yi)
8. Nowhere to Hide: The Tumultuous Materialism of Lee Myung-se (Anne Rutherford)
9. Closing the Circle: Why Has Bodhidharma Left for the East? (Linda C. Ehrlich)
10. Waiting to Exhale: The Colonial Experience and the Trouble with My Own Breathing (Frances Gateward)
11. Crossing the Border to the "Other" Side: Dynamics of Interaction between North and South Koreans in Spy Li Cheol-jin and Joint Security Area (Suk-Young Kim)
12. Race, Gender, and Postcolonial Identity in Kim Ki-duk's Address Unknown (Myung Ja Kim)
13. Transgressing Boundaries: From Sexual Abuse to Eating Disorders in 301/302 (Diane Carson)
14. Taking the Plunge: Representing Queer Desire in Contemporary South Korean Cinema (Robert L. Cagle)

SOURCES:     Amazon (paperback), Amazon (hardcover), Amazon.co.uk (paperback).



KIM KI-DUK (2006) by Adrien Gombeaud, Anaïd Demir, Cédric Ladandré, Catherine Capdeville-Zeng, Daniele Rivière. Dis Voir: paperback (ISBN: 2-914563-21-3), 128 pp. Published in English and French editions.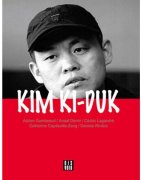 From the back cover: "Born in 1960, the South Korean film director Kim Ki-duk is today counted among the most prominent directors of the new contemporary cinema while at the same time resolutely remaining outside the cinema industry. From his very first films, he has been noticed at international film festivals such as Berlin (Golden Bear for best director, for Samaritan Girl), Locarno (Coast Guard), or Venice (Silver Lion for 3-Iron. In spite of a growing success, Kim Ki-duk favors independence in his way of working: small budget, fast shooting and strong personal implications which lead him to create his own backgrounds and accessories.
"Self-taught, Kim Ki-duk seems to have accumulated in the first part of his life all the experiences necessary to inscribe his future cinema. Moving on the edge for thirty years, he physically explored the forthcoming themes of his work as a director: wandering, escape and, especially, survival.
"In Kim Ki-duk's films people don't talk, they hit. Relationships are always frontal, direct, decoded, never mediated through language which would neutralize its violence. Flayed, traumatized and continually turning red... Kim Ki-duk's heroes are presented in idyllic and luxurious landscapes, worthy of romantic postcards sent from Korea. Yet the best dramas are played between the flourishing mountain crests and the blue surfaces of the lakes and oceans.
"Through a filmography as injected with blood on the edge, Kim Ki-duk shows the still-oozing wounds of a Korean society maltreated by its history with an art of precision and a staging of suffering which is all Far-Eastern refinement."
Contents:
1. Break On Through   (Adrien Gombeaud, p. 9-32)
2. Kim Ki-duk, Serial Painter   (Anaïd Demir, p. 37-54)
3. Spoken Words in Suspense   (Cédric Lagandré, p. 59-93)
4. In the Mirror of Silence   (Catherine Capdeville-Zeng, p. 97-108)
5. Black and White are the Same Color (Interview)   (Daniele Rivière, p. 113-117)
6. Biography, p. 120
7. Filmography, p. 123-4

SOURCES:     Amazon (English-language edition), Amazon.fr (French-language edition).



NEW KOREAN CINEMA (2005) edited by Chi-Yun Shin & Julian Stringer. Edinburgh University Press: hardcover (ISBN 0748618511), paperback (ISBN 074861852X) 234 pp. Published in the US by New York University press: hardback (ISBN 0814740294), paperback (ISBN 0814740308).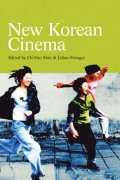 A collection of essays that highlight the development of Korean cinema since 1992 from a cultural, industrial and societal standpoint. From the publisher: "A wide-ranging analysis of one of the world's most important contemporary film industries, New Korean Cinema adopts a cross-cultural and multi-dimensional perspective and provides a comprehensive overview of the production, circulation and reception of modern South Korean cinema. Together with discussions of Korean society and culture, it considers the political economy of the film industry, strategies of domestic and international distribution and marketing, the consumption of films in diverse reception environments, and the relation of film texts to their cultural, historical and social contexts. Gathering critics from Asia, Europe and North America, New Korean Cinema contributes to the discussion of the complex role played by national and regional cinemas in a global age. It is of interest to students and critics of Popular Culture and Film Studies as well as East Asian Studies and Korean Studies.
From inside cover: "Among the most popular cinemas in Asia and increasingly visible and influential in Europe and the US, recent films from South Korea did not arise out of nowhere. This volume, drawing on scholars from three continents, including many native Korean speakers and scholars, provides a wealth of material for understanding the socio-cultural context out of which these popular films arose and in which they are consumed. Yet its greatest contribution may well be in analysing not just the "why" of Korean cinema, but the "how" -- how the Korean film industry remade itself in the early 1990s to become a veritable juggernaut at home and abroad, a major player in global film culture, arguably more important on the world stage today than either the Japanese or Hong Kong cinemas. To this end, the volume provides insightful glimpses into under-appreciated areas within global film studies, such as the significance of film financing and film festivals; the mobilisation of film genre (horror, comedy, melodrama); and issues of gender and sexuality. Not just a must-read for scholars of Korean film and culture, or Asian cinema, but a major intervention into the study of global media production and consumption."    - David Desser
Chapters:
1. Contemporary Cultural Production in South Korea: Vanishing Meta-Narratives of Nation  (Michael Robinson)
2. The Korean Film Industry: 1992 to the Present  (Darcy Paquet)
3. Globalisation and New Korean Cinema  (Jeeyoung Shin)
4. Chunhyang: Marketing an Old Tradition in New Korean Cinema  (Hyangjin Lee)
5. 'Cine-Mania' or Cinephilia: Film Festivals and the Identity Question  (Soyoung Kim)
6. Putting Korean Cinema in its Place: Genre Classifications and the Contexts of Reception  (Julian Stringer)
7. Horror as Critique in Tell Me Something and Sympathy for Mr. Vengeance  (Kyu Hyun Kim)
8. Two of a Kind: Gender and Friendship in Friend and Take Care of My Cat  (Chi-Yun Shin)
9. 'Just Because': Comedy, Melodrama and Youth Violence in Attack the Gas Station  (Nancy Abelmann and Jung-ah Choi)
10. All at Sea? National History and Historiology in Soul's Protest and Phantom, the Submarine  (Chris Berry)
11. Peppermint Candy: The Will Not to Forget  (Aaron Han Joon Magnan-Park)
12. The Awkward Traveller in Turning Gate  (Kyung Hyun Kim)
13. Memento Mori and Other Ghostly Sexualities  (Andrew Grossman and Jooran Lee)
14. Interethnic Romance and Political Reconciliation in Asako in Ruby Shoes  (Hye Seung Chung and David Scott Diffrient)
* Read reviews of this book by Mike Walsh and Daniel Martin.
SOURCES:     Amazon (paperback), Amazon (hardcover), Amazon.co.uk.



SOUTH KOREAN GOLDEN AGE MELODRAMA: GENDER, GENRE, AND NATIONAL CINEMA (2005) edited by Kathleen McHugh and Nancy Abelmann. Wayne State University Press: paperback (ISBN 0814332536) 248 pp.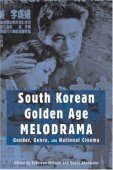 From the publisher:    "Immediately following the Korean War, South Korea's film industry flourished with vibrant local production of high-quality films. Characterized by its stunning melodramas, this "Golden Age" of South Korean cinema produced a body of work as historically, aesthetically, and politically significant as that of other well-known national film movements such as Italian Neorealism, French New Wave, and New German Cinema. Conditions that fostered South Korea's cinematic Golden Age were short lived; a brief period of intense poverty and struggle -- but also creative freedom -- was ended by the dictatorship of Park Chung Hee in the late 1960s. Strong international interest in South Korea's current film renaissance make an analysis of this enormously underappreciated cinematic tradition long overdue.
"South Korean Golden Age Melodrama is the first English-language book to examine this era of remarkable activity, covering the specifics of the Golden Age as well as the influences it has had on contemporary South Korean film and television. Given the compressed, ambiguous, and fundamentally transnational social and political dramas of South Korea's history, South Korean Golden Age Melodrama addresses the widespread appeal of particular film modes and aesthetics, especially that of the melodrama. These essays also examine genre in relation to articulations of nation and constructions of gender in Golden Age films and how the nation manifests itself in persistent gender and genre trouble.
"Combining textual analysis, reception, and historical/cultural detail, South Korean Golden Age Melodrama skillfully renders the complexity of the Golden Age. Contributors cite both domestic and foreign films to demonstrate the generic and transnational impact of Golden Age cinema, sometimes calling into question the very integrity of "national cinema" in light of the workings of a transcultural cinema sphere during that era. With nine chapters, sustained treatments of nine canonical Golden Age films, together with extended consideration of contemporary film and television, this volume offers a rich contribution to the theorization of film genre and national cinema and their relationship to gender."

Contents:
1. South Korean Film Melodrama: State, Nation, Woman, and the Transnational Familiar  (Kathleen McHugh)
2. Melodramatic Texts and Contexts: Women's Lives, Movies, and Men  (Nancy Abelmann)
3. Screening the Redemption: Christianity in Korean Melodrama  (Jinsoo An)
4. The Stray Bullet and the Crisis of Korean Masculinity  (Eunsun Cho)
5. Toward a Strategic Korean Cinephilia: A Transnational Detournement of Hollywood Melodrama  (Hye Seung Chung)
6. Han'guk Heroism: Cinematic Spectacle and the Postwar Cultural Politics of Red Muffler  (David Scott Diffrient)
7. Questions of Woman's Film: The Maid, Madame Freedom, and Women  (Soyoung Kim)
8. Lethal Work: Domestic Space and Gender Troubles in Happy End and The Housemaid  (Kyung Hyun Kim)
9. Morae sigye: "Social Melodrama" and the Politics of Memory in Contemporary South Korea  (Keehyeung Lee)

SOURCES:     Amazon.



THE CINEMA OF JAPAN AND KOREA (2004) edited by Justin Bowyer. Wallflower Press: paperback (ISBN 1-904764-11-8) 258 pp., hardcover (ISBN 1-904764-12-6), 288 pp.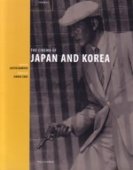 A new entry into the 24 Frames series of books that looks at cinema from a particular country or region. The Cinema of Japan and Korea features essays on 24 films that, rather than making up a "best-of" list, serve as a springboard for discussing broader trends in the development of each national cinema. Also featuring a preface by Jinhee Choi and an introduction by Justin Bowyer.

From the back cover:

"The Cinema of Japan and Korea provides a timely introduction to the history and continuing vibrancy of Japanese and Korean film. The 24 concise and informative essays each approach an individual film or documentary, together offering a unique insight into the cinematic output of these two countries. With a range that spans from silent cinema to the present day, and from films that have achieved classic status to the underground masterpieces, this collection provides an overview of the breadth of the Japanese and Korean cinematic landscapes. Among the directors covered are Akira Kurosawa, Takeshi Kitano, Kim Ki-duk, Kenji Mizoguchi, Kinji Fukusaku, Kim Ki-young, Nagisa Oshima and Takashi Miike, and the volume considers in-depth studies of films such as Battle Royale, Killer Butterfly, Audition, Violent Cop, In the Realm of the Senses, Tetsuo 2: Body Hammer, Teenage Hooker Becomes a Killing Machine, Stray Dog, A Page of Madness and Godzilla."

Essays on the following Korean films (plus 13 Japanese films):
Hurrah! For Freedom (1946)  by Peter Harry Rist
The Guest and My Mother (1961)  by Peter Harry Rist
Aimless Bullet (1961)  by Darcy Paquet
Killer Butterfly (1978)  by Chris Berry
Sopyonje (1993)  by Han Ju Kwak
The Power of Kangwon Province (1998)  by Adam Hartzell
Nowhere to Hide (1999)  by Anthony Leong
My Own Breathing (1999)  by Kim Soyoung
The Isle (2000)  by Donato Totaro
Teenage Hooker Became Killing Machine... (2000)  by Steve Yates
Joint Security Area (2000)  by Adrien Gombeaud

Published by Wallflower Press in the United Kingdom, and Columbia University Press in the United States.

SOURCES:     Amazon (paperback), Amazon (hardcover), Columbia University Press.




THE REMASCULINIZATION OF KOREAN CINEMA (2004) by Kyung Hyun Kim. Duke University Press: paperback (ISBN 0822332671) 331 pp., hardcover (ISBN 0822332787), 368pp.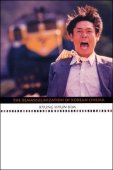 From the publisher:

In one of the first English-language studies of Korean cinema to date, Kyung Hyun Kim shows how the New Korean Cinema of the past quarter century has used the trope of masculinity to mirror the profound sociopolitical changes in the country. Since 1980, South Korea has transformed from an insular, authoritarian culture into a democratic and cosmopolitan society. The transition has fueled anxiety about male identity, and amid this tension, empowerment has been imagined as remasculinization. Kim argues that the brutality and violence ubiquitous in many Korean films is symptomatic of Korea's on-going quest for modernity and a post-authoritarian identity.

Kim offers in-depth examinations of more than a dozen of the most representative films produced in Korea since 1980. In the process, he draws on the theories of Jacques Lacan, Slavoj Zizek, Gilles Deleuze, Rey Chow, and Kaja Silverman to follow the historical trajectory of screen representations of Korean men from self-loathing beings who desire to be controlled to subjects who are not only self-sufficient but also capable of destroying others. He discusses a range of movies from art-house films including To the Starry Island (1993) and The Day a Pig Fell into the Well (1996) to higher-grossing, popular films like Whale Hunting (1984) and Shiri (1999). He considers the work of several Korean auteurs -- Park Kwang-su, Jang Sun-woo, and Hong Sang-su. Kim argues that Korean cinema must begin to imagine gender relations that defy the contradictions of sexual repression in order to move beyond such binary struggles as those between the traditional and the modern, or the traumatic and the post-traumatic.


"Kyung Hyun Kim's book is a roller coaster ride through modern South Korean masculinity in the cinema. At once unflinching and sympathetic, Kim's groundbreaking study traces Korean permutations on the gendered imagery of castration and rape and the impossible condition of postcolonial masculinity, caught between incommensurable values and demands." -- Chris Berry, coeditor of Mobile Cultures: New Media in Queer Asia


"This is an important book. There is a long tradition of scholarship investigating the representation of women in Asian cinema. This has included some consideration of Korean film, which more often than not finds the representations of Korean women wanting in one way or another. It took Kyung Hyun Kim's writing to turn my attention to the rich complexity of the men. His focus on masculinity -- coinciding with the turn to the issue by major feminist film theorists -- simply makes perfect sense. His is a particularly compelling contribution to the study of Asian cinema, but is simultaneously in dialogue with all manner of gender studies." --Abe Mark Nornes, University of Michigan


Read some comments on this book by clicking here.

SOURCES:   Amazon (paperback), Amazon (hardcover), Amazon.co.uk (paperback).




IM KWON-TAEK: THE MAKING OF A KOREAN NATIONAL CINEMA (2002) ed. David E. James and Kyung Hyun Kim. Wayne State University Press: paperback (ISBN 0814328695) 288 pp., hardcover (ISBN 0814328687), 288pp.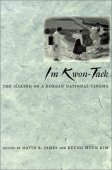 This collection of essays about the work of Im Kwon-taek serves to inform about one of Korea's most important filmmakers, as well as to highlight the development of Korean cinema through the 40 years in which he has been making films. The book features ten essays in all (listed below), as well as a complete filmography and a list of political and cultural events in Korea from 1870-2000.

Contents:
1. Korean Cinema and Im Kwon-Taek: An Overview
2. Im Kwon-Taek: Korean National Cinema and Buddhism
3. The Female Body and Enunciation in Adada and Surrogate Mother
4. The Politics of Gender, Aestheticism and Cultural Nationalism in Sopyonje
5. Sopyonje: Its Cultural and Historical Meaning
6. Sopyonje and the Inner Domain of National Culture
7. Fly High, Run Far: Kaebyok and Tonghak Ideology
8. Is This How War is Remembered?: Deceptive Sex and the Re-masculinized Nation in The Taebaek Mountains
9. In Defense of Continuity: Discourses on Tradition and the Mother in Festival
10. An Interview with Im Kwon-Taek

* Read reviews of this book by Adam Hartzell and Roald H. Maliangkay.

SOURCES:   Amazon (paperback), Amazon (hardcover), Amazon.co.uk (paperback).




TRACES OF KOREAN CINEMA FROM 1945-1959 (2003) by the Korean Film Archive (KOFA). Munhak Sasangsa, Inc: paperback (ISBN 89-7012-622-8) 326 pp. Bilingual Korean-English edition.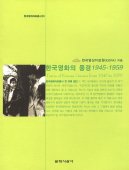 The first in a planned series of books about Korean film history, published in bilingual editions by the Korean Film Archive (KOFA). This particular edition contains essays on Korean film history focused on the period between Korea's liberation from Japan and the end of the 1950s. Articles within are written by KOFA President Yi Hyo-in and researcher Chung Chong Hwa. A large number of reproductions of period film stills and posters are also included. The original Korean articles as well as translated versions by Shim Ae Gyung are included together in this volume.

Contents:
The Korean Film Community After the Liberation
Korean Films After the Liberation
The Political and Social Situation and the Trend in the Cultural Field in the Post-liberation Korea
The Korean Film Union and the USAMGIK
Why the Wartime Period is Important
Korean Films Produced in the Wartime Period
The Korean Film Production Situation and the Activities of Korean Film Engineers
Film Production Facilities and Film Equipment in Korea
Overflow of the Foreign Films
Ground for the Growth of Korean Cinema
Tendency of the 1950s Film Production
The Melodrama Era
Madame Freedom, the Application of the Modern Thinking into a Film and the Repulsion Against It
The Formation of Male and Female Characters
Double Standards for Modernity
Narrative Structure of the Films in the 1950s
Legacy of the 1950s Films

SOURCES:   YeonDVD.com.




FILM CRITIQUES: FIPRESCI KOREA VOL. 4 (2005) by FIPRESCI Korea. Happy House: paperback (ISBN 89-86171-38-4) 211 pp.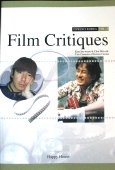 Continuing from Volume 3, Film Critiques Vol. 4 is a collection of short reviews and essays from the film critics who make up the Korean branch of FIPRESCI. This is the second of FIPRESCI Korea's publications to be translated into English.

Contains 18 short essays and reviews: "A Recollection of Korean Films in 2004" (Cho Hye-jung), "A Conversation with Director Kim Jee-woon" (Jeon Chan-il), "A Face Which Registers His Career: A Comment on Actor Choi Min-shik" (Moon Hak-san), "A Thought over the Relationship of Film and History Focusing on Lim Sang-soo's The President's Last Bang" (Kim See-moo), "Rereading Korean Male-Centered Films" (Hwang Hye-jin), "A Korean Film from a Foreigner's Eye: My Generation" (Thomas Giammarco), plus three festival reports (Pusan 2004 by Kang Han-sup, Berlin 2005 by Nam Wan-seok, Hong Kong 2005 by Kim Sun-yub) and reviews of Silmido, Taegukgi, Repatriation, The Big Swindle, Woman is the Future of Man, Hypnotized, Spider Forest, 3 Iron, and This Charming Girl.

"FIPRESCI (Federation Internationale de la Presse Cinematographique / The International Federation of Film Critics), an institution founded on the 6th of June 1930, is composed of the organizations of professional film critics and film journalists, established in different countries for the promotion and development of film culture and for the safeguarding of professional interests. FIPRESCI KOREA was formed in 1994, headed by the late film critic Lee Young-il as its first chairman."

SOURCES:   (coming soon).




FILM CRITIQUES: FIPRESCI KOREA VOL. 3 (2004) by FIPRESCI Korea. Happy House: paperback (ISBN 89-86171-35-X) 238 pp.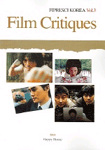 A collection of short reviews and essays from the film critics who make up the Korean branch of FIPRESCI. Film Critiques Vol. 3 is the first of FIPRESCI Korea's publications to be translated into English.

Contains 25 short essays and reviews, grouped under the following headings: "Two Oppositional Perspectives on the Korean Film Industry" (2 essays), "Two Thoughts on Some Remarkable Aspects of the Korean Film Genres" (2 essays), "On Actress, Lee Mi-sook: Two Lips, Bisexual Charisma" (1 essay), "Two Special Reports on Pusan International Film Festival of 2002 & 2003" (2 essays), "Review & Review" (18 essays). This is the first in a planned series that will bring the writings of Korean film critics to an international audience.

"FIPRESCI (Federation Internationale de la Presse Cinematographique / The International Federation of Film Critics), an institution founded on the 6th of June 1930, is composed of the organizations of professional film critics and film journalists, established in different countries for the promotion and development of film culture and for the safeguarding of professional interests. FIPRESCI KOREA was formed in 1994, headed by the late film critic Lee Young-il as its first chairman."

SOURCES:   YeonDVD.com.




KOREAN CINEMA: THE NEW HONG KONG (2002) by Anthony C. Y. Leong. Trafford Publishing: paperback (ISBN 1-55395-461-0) 266 pp.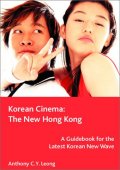 Subtitled, "A Guidebook for the Latest Korean New Wave," this book serves as an introduction to Korean films since 1997. Features over 75 reviews divided by genre, plus introductory essays on various aspects of the film industry, profiles of selected actors and directors, practical information about how to get access to Korean cinema, and more. Particularly useful for people building DVD collections of recent Korean cinema.

Essays:
A Brief History of South Korea and Its Film Industry
Korean Moviemaking Today
Korea's Latest New Wave
Ten Korean Films Everyone Should See
The Rising Stars of Korean Cinema
Where To Get Your Fix for Korean Flicks
Hong Kong or Bust - Where Next?

SOURCES:   Trafford Publishing, Amazon.



KOREAN FILM: HISTORY, RESISTANCE, AND DEMOCRATIC IMAGINATION (2003) by Eungjun Min, Jinsook Joo, and Han Ju Kwak. Praeger Publishers: hardback (ISBN 0-275-95811-6) 197 pp.

"Despite its rise in the global market, recent political progress, and a surging interest worldwide, Korean films are relatively unknown and rarely studied. This new work begins by investigating the history, industry structure, and trends of filmmaking in Korea, going on to examine how Hollywood films have affected both Korean mainstream and nonmainstream film industries in terms of both means of production and narrative. Moreover, the authors analyze the ways in which Korean films of recent years have represented the modernization process in Korea itself, as well as the ideological implications that arise from the cinematic constructions of Korean imagination."

Contents:
1. Korean cinema: Philosophical Foundations and Theoretical Frameworks
2. Oppression, liberation, censorship, and depression: History and major trends of Korean cinema from the 1910s to the 1970s
3. Korean national cinema in the 1980s: Enlightenment, political struggle, social realism, and defeatism
4. Auteur criticism: The case of Sunwoo Jang's Taste of Heaven
5. Discourses of modernity and postmodernity in contemporary Korean cinema
6. Hollywood imagination, foreign films, and Korean identity: Resistance, assimilation, and articulation
7. Contemporary Korean cinema: A boom or a renaissance

SOURCES:   Amazon.



CONTEMPORARY KOREAN CINEMA: Identity, Culture, Politics (2001) by Hyangjin Lee. Manchester University Press: paperback (ISBN 0719060087) 251 pp., hardcover (ISBN 0719060079) 256 pp.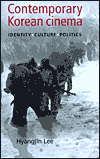 Excerpted from the back cover: "This examination of the role of Korean film as a cultural text of Koreans in both the North and South focuses on the conflicting self-identities of a people still strongly committed to their common cultural traditions despite political division. This study defines the significance of filmmaking and film viewing in Korean society. It covers the introduction of motion pictures in 1903, Korean cinema during the Japanese colonial period (1910-45) and the development of North and South Korean cinema up to the 1990s. It introduces the works of Korea's major directors, and analyzes the Korean film industry in terms of film production, distribution and reception. Based on this historical analysis, the study investigates ideological constructs in 17 films, eight from North Korea and nine from South Korea."

* Read reviews of this book by Adam Hartzell, Isolde Standish, and Hye Seung Chung.

SOURCES:   Amazon (paperback), Amazon (hardcover), Amazon.co.uk (paperback).



SEOUL STIRRING: FIVE KOREAN DIRECTORS (1996) by Tony Rayns. Edited by Simon Field. Institute of Contemporary Arts, paperback (ISBN: 0905263790), 54 pp.



This book was published as a companion to the Korean film retrospective of the same name which screened in London from Oct. 21 - Nov. 10, 1994. British film critic Tony Rayns, who curated the event, takes an auteurist approach in singling out five Korean directors for discussion: Im Kwon-taek, Jang Sun-woo, Kim Ui-seok, Lee Myung-se, and Park Kwang-su. The book consists of an opening essay, biographies and interview excerpts for each director, and a discussion of 2-4 films from each filmmaker. It is interesting to note that four of the above directors (Im, Jang, Lee, and Park) have gone on to direct some of their most famous works after publication of this book. Films discussed: Mandala, Daughter of the Flames, Son of a General, Sopyonje (Im Kwon-taek), Lovers of Woomook-baemi, Road to the Racetrack, Hwa-om-kyung (Jang Sun-woo); Marriage Story, That Woman That Man (Kim Ui-seok); Gagman, My Love My Bride, First Love (Lee Myung-se); Chilsu and Mansu, Black Republic, To the Starry Island (Park Kwang-su). This book is a useful reference especially if one has access to the above films.

SOURCES:   Amazon, WH Smith (Europe).



THE HISTORY OF KOREAN CINEMA (1988) by Lee Young-il and Choe Young-chol. Hard cover, Jimoondang Publishing Company, 367pp.

A classic work of Korean cinema which has been translated into English. The book covers the development of Korean cinema from its inception up until the late 1980s. While at times reading more like a list of various film titles, the work does include some details about such issues as government censorship, domestic film promotion, and participation in overseas festivals. Unfortunately the translation of this book is terrible; it requires considerable concentration at times to even figure out what the author is saying. For this and other reasons it can't be recommended for armchair reading, but for anyone doing research on the history of Korean film it can be a useful tool.

SOURCES:   The Korean Branch of the Royal Asiatic Society has this book in stock, and will ship it overseas to interested readers for US$25.00 plus $8 airmail or $4 for shipping by sea. Email Sue Bae at raskb@kornet.net for further information.
Academic Journals

JOURNAL OF JAPANESE & KOREAN CINEMA (2009~) Edited by David Desser & Frances Gateward. Published by Intellect. Available in print & full electronic access (ISSN: 1756-4905). Vol 1, 2009: 2 issues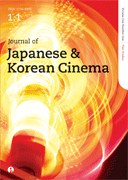 From the publisher: "The Journal of Japanese & Korean Cinema is a fully refereed forum for scholarly work devoted to the cinemas of Japan & Korea and to their inter-relations. These neighbouring countries, so often in discord politically, nevertheless share many cultural attributes, providing scholars with a rich vein of research.
The increased availability of Japanese and Korean films(especially through numerous internet outlets)has substantially broadened the scope of scholarly interest in Japanese and Korean cinemas. Along with the contested history of Japanese-Korean film relations, the increasingly transnational status of Japanese and Korean cinema, underlines the need to deepen our understanding of the past and present of this ever-more globalized film making region."

SOURCE:     Intellect.




Books With Chapters on Korean Film

CONTEMPORARY ASIAN CINEMA: POPULAR CULTURE IN A GLOBAL FRAME (2006) by Anne Ciecko. Berg Publishers. Available in paperback (ISBN: 1845202376) and hardcover (ISBN: 1845202368). 256 pp.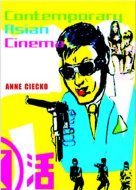 From the publisher: "This book presents the most authoritative assessment of contemporary Asian cinema available. Each chapter describes the cultural aspects of popular film production, analyzing key films in the context of the national, the regional and the global. Topics covered include: film theory and Asian cinema, popular film genres, major industry figures, the "art film", connections between the state and commercial interests, cultural policies, representations of national identity, trends in international co-production, and more."
Contents:
Introduction to Popular Asian Cinema, with Acknowledgements (p. 1, Anne T. Ciecko)
1. Theorizing Asian Cinema(s) (p. 13, Anne T. Ciecko)
2. Philippines: Cinema and its Hybridity (p. 32, Jose B. Capino)
3. Vietnam: Chronicles of Old and New (p. 45, Panivong Norindr)
4. Thailand: Revival in an Age of Globalization (p. 58, Anchalee Chaiworaporn and Adam Knee)
5. Singapore: Developments, Challenges, and Projections (p. 71, Jan Uhde and Yvonne Ng Uhde)
6. Malaysia: Melodramatic Drive, Rural Discord, Urban Heartaches (p. 83, William van der Heide)
7. Indonesia: Screening a Nation in the Post-New Order (p. 96, Krishna Sen)
8. Sri Lanka: Art, Commerce, and Cultural Modernity (p. 108, Wimal Dissanayake)
9. Bangladesh: Native Resistance and Nationalist Discourse (p. 120, Zakir Hussain Raju)
10. India: Bollywood's Global Coming of Age (p. 133, Jyotika Virdi and Corey K. Creekmur)
11. Mainland China: Public Square to Shopping Mall and the New Entertainment Film (p. 144, Augusta Lee Palmer)
12. Taiwan: Popular Cinema's Disappearing Act (p. 156, Emilie Yueh-yu Yeh)
13. Hong Kong: Cinematic Cycles of Grief and Glory (p. 169, Anne T. Ciecko)
14. South Korea: Film on the Global Stage (p. 182, Hyangjin Lee)
15. Japan: Cause for (Cautious) Optimism (p. 193, Darrell William Davis)
Notes 207
Bibliography 231
Index 245

SOURCES:     Amazon (paperback), Amazon (hardcover).



THE MELODRAMA OF MOBILITY: WOMEN, TALK, AND CLASS IN CONTEMPORARY SOUTH KOREA (2003) by Nancy Abelmann. University of Hawai'i Press: paperback (ISBN 082482749X) 326 pp., hardcover (ISBN 0824825969), 326pp.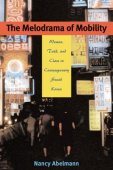 Publisher's description: "How do people make sense of their world in the face of the breakneck speed of contemporary social change? Through the lives and narratives of eight women, The Melodrama of Mobility chronicles South Korea's experience of just such dizzyingly rapid development. Abelmann captures the mood, feeling, and language of a generation and an era while providing a rare window on the personal and social struggles of South Korean modernity. Drawing also from television soap operas and films, she argues that a melodramatic sensibility speaks to South Korea's transformation because it preserves the tension and ambivalence of daily life in unsettled times. The melodramatic mode helps people to wonder: Can individuals be blamed for their social fates? How should we live? Who can say who is good or bad? By combining the ethnographic tools of anthropology, an engagement with prevailing sociological questions, and a literary approach to personal narratives, The Melodrama of Mobility offers a rich portrait of the experience of compressed modernity in the non-West."

Among the many topics this book touches on are various references to 1960s Korean cinema, Korean TV dramas, and the genre and sensibilities of melodrama and its relevence to Korean society. Chapter 7 in particular -- "Gendering Displacement: Men, Masculinity, and the Nation" -- features in-depth discussion of films such as Shin Sang-ok's Romance Papa (1960), Kang Dae-jin's Park Sobang (1960), and Shin Sang-ok's Deaf Samryongi (1964).

SOURCES:   Amazon (paperback), Amazon (hardcover).




KOREA BUG: THE BEST OF A ZINE THAT INFECTED A NATION (2005) by J. Scott Burgeson. Eunhaeng Namu Press: paperback (ISBN 89-5660-109-7) 374 pp.

From the inside cover: "Once upon a time, before there were blogs, there were zines. Like vinyl records, they were perhaps too cumbersome to really thrive in the digital age of instaconvenience, and yet for some, they remain a preferred choice, just as scientific research has proven conclusively that vinyl offers truer, superior sound to CDs or MP3 files. [...] J. Scott Burgeson has been described as Korea's most successful zinester to date, and Korea Bug is a collection of the very best Korea-related material he has produced over the years for his zine Bug. This is neither uninformed, navel-gazing blogosphere chatter nor shallow, rah-rah propoganda for Korea, Inc., but rather rigorous cultural criticism with a bracing, adrenaline-charged punk spirit. Whether interviewing the last real colonial-era gisaeng or courtesan in Seoul shortly before her death, or slipping stealthily onto Yongsan Garrison Army Base to debrief an American intelligence analyst for U.S. Forces Korea, Burgeson is a cultural spy par excellence..."
Contains extended interviews with directors Yim Soon-rye, Byun Young-joo, and Hong Sang-soo.
SOURCES:   Amazon. For more information about ordering back issues of the Bug zine, see the BUG website.



COLONIALISM AND NATIONALISM IN ASIAN CINEMA (1994) ed. by Wimal Dissanayake. Indiana University Press, paperback (ISBN: 0253208955), 256 pp.

Contains two essays which concern Korean film: "Korean Cinema and the New Realism: Text and Context" and "Melodramas of Korean National Identity: From MANDALA to BLACK REPUBLIC."

SOURCES:   Amazon.



THE ASIAN FILM INDUSTRY (1990) by John A. Lent. Texas Film Studies Series, University of Texas Press, hardcover (ISBN: 0292704224), 320 pp.

Contains a 20+ page chapter on Korean film.

SOURCES:   Amazon.



KOREAN DANCE THEATER AND CINEMA (1983) by Han Man-yong. The Korean National Commission for UNESCO. Si Sa Yong O Sa Pub., hardcover (ISBN: 0892090170), 204 pp.

(I don't know anything about this book apart from its title)

SOURCES:   Amazon.
Related Titles

HOLLYWOOD ASIAN (2006) by Hye Seung Chung. Temple University Press. Available in cloth (ISBN: 1-59213-515-3) and paperback (ISBN: 1-59213-516-1), 248 pp.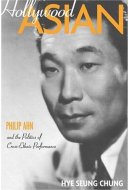 From the publisher: "From silent films to television programs, Hollywood has employed actors of various ethnicities to represent "Oriental"characters, from Caucasian stars like Loretta Young made up in yellow-face to Korean American pioneer Philip Ahn, whose more than 200 screen performances included roles as sadistic Japanese military officers in World War II movies and a wronged Chinese merchant in the TV show Bonanza.
"The first book-length study of Korean identities in American cinema and television, Hollywood Asian investigates the career of Ahn (1905-1978), a pioneering Asian American screen icon and son of celebrated Korean nationalist An Ch'ang-ho. In this groundbreaking scholarly study, Hye Seung Chung examines Ahn's career to suggest new theoretical paradigms for addressing cross-ethnic performance and Asian American spectatorship. Incorporating original material from a wide range of sources, including U.S. government and Hollywood screen archives, Chung's work offers a provocative and original contribution to cinema studies, cultural studies, and Asian American as well as Korean history."
Contents:
List of Illustrations
Acknowledgments
Introduction
Part I: Hollywood Asians: From Actor to Spectator
1. Portrait of a Patriot's Son: Philip Ahn and Korean Diasporic Identities in Hollywood
2. The Audience Who Knew Too Much: Oriental Masquerade and Ethnic Recognition among Asian Americans
Part II: Oriental Genres, 1930s to 1950s
3. Between Yellowphilia and Yellowphobia: Asian American Romance in Oriental Detective Films
4. State Intervention in the Imagining of Orientals in China Films of the 1930s and 1940s
5. Hollywood Goes to Korea: War, Melodrama, and the Biopic Politics of Battle Hymn
Conclusion
6. Becoming "Father," Becoming Asian American
Filmography
Bibliography

SOURCES:     Amazon (paperback),  Amazon (hardcover),  Temple University Press.



KOREA'S PLACE IN THE SUN: A MODERN HISTORY (1998) by Bruce Cumings. W. W. Norton & Co., paperback (ISBN: 0393316815), 527pp.


Bruce Cumings of the University of Chicago is perhaps the most prominent and respected scholar in contemporary Korean Studies, and here he offers a provocative introduction to modern Korean history and culture. Thoroughly researched and distinctly personal, the book challenges conventional beliefs about North and South Korea while offering considerable evidence to back up his claims. A must for anyone wishing to understand the context in which Korean culture has developed.

Book description: "In his "immensely illuminating and accessible history" (Kirkus Reviews), Bruce Cumings delivers a memorable narrative of Korea's fractured modern history. Beginning with an overview of the cultural and political traditions of this accomplished civilization, Cumings dwells on Korea's long twentieth century, a period of colonial exploitation by Japan, war, and national division. His chapters on the Korean War show clearly just how close the world came to a nuclear holocaust. He then explores the economic resurgence and political turmoil that keep Korea in the headlines. Finally, he traces the significance of the Korean migration to the United States."

SOURCES:   Amazon, Internet Bookshop (Europe).



THE TWO KOREAS: A CONTEMPORARY HISTORY (2002) (Revised Edition) by Dan Oberdorfer. Perseus Publishing, paperback (ISBN: 0465051626), 544pp.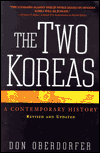 A political history of Korea written by a former Washington Post correspondent that focuses on the years 1972-2001, utilizing material collected from interviews and declassified documents. Concerned especially with political developments in North and South Korea and how the actions of outside powers have affected the situation on the peninsula. (Darcy recommends it as an accessible, engaging overview of Korean politics with a lot of interesting details. Reads almost like a novel.)

From the publisher: "In this gripping narrative history of Korea's travails and triumphs over the past thirty years, Don Oberdorfer places the tensions between North and South in historical context, with special emphasis on the role of outside powers."

SOURCES:   Amazon.



KOREAN WAR FILMOGRAPHY (2003) by Robert J. Lentz. McFarland & Company, Inc. Publishers, hardcover (ISBN: 0-7864-1046-9), 486pp.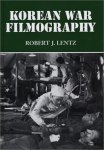 From the publisher: "The Korean Conflict (as it is sometimes known) dramatically changed the way that Americans viewed war. The lack of a clear-cut victory inspired filmmakers to try to make sense of fighting another country's civil war and risking American lives for a largely unpopular cause. More than 50 movies about the Korean War appeared in the 15 years after it ended, and dozens more have appeared since then.

This filmography details more than 90 English-language films that chronicle or depict the Korean War and its consequences. Each film entry includes complete cast and credit listings, a plot synopsis, evaluation, review snippets, and notice of video availability. This book places each Korean War film in its historical context, assesses the essential truthfulness and relevance of each film, evaluates each film's entertainment value, and discusses how - and why - Korean War films differ from other Hollywood war genres. The book also provides information on themes and subjects that appear in the films and an outline of the war and those films which portray historical events. The first four appendices list the films by chronology, production company and studio, level of historical accuracy and subject and theme. The following appendices provide a listing of films with superficial or incidental references to the Korean War, a film listing of documentaries on the Korean War and a film listing of South Korean films about the Korean War. Also included are photographs from each film and its marketing campaign, a bibliography, and an index."

This book contains an authorized reprint of this essay in the appendix.

SOURCES:   Amazon.



AMERICAN IMAGES OF KOREA: KOREA AND KOREANS AS PORTRAYED IN BOOKS, MAGAZINES, TELEVISION, NEWS MEDIA, AND FILM (1998) by Craig S. Coleman. Hollym Books, paperback (ISBN: 1565910893), 304pp.



Described as being essentially "a book about books and other materials published in English about Korea and Koreans." Covers the various documents and materials which have shaped U.S. and Western images of Korea over the last 200 years. Focuses especially on how these images have changed over time due to developments both inside and outside of Korea.

From the publisher: "The United States' closest traditional political and economic ally in East Asia in Korea, yet American understanding of the history and culture of the Korean people is surprisingly weak in comparison to our knowledge and understanding of Japanese and Korean history and society. This is a historical survey of how Americans have come to learn of Korea and the Korean people since the earliest publications in English dating back to the early 1800s. An extensive review of images of Korea drawn from thousands of books, newspapers, magazines, film and television have been analyzed and presented. The results of a survey conducted between 1988 and 1996 of over 2,000 Americans on their images and knowledge of Korea is included in this publication. The author discusses and analyzes the status of Korean studies programs in the U.S. and makes recommendations on why and how Americans should and can become more globally knowledgeable, especially about Korea."

SOURCES:   Amazon .



A GUIDE TO FILMS ON THE KOREAN WAR (1997) by Paul M. Edwards. Greenwood Publishing Group, library binding (ISBN: 0313303169), 168pp.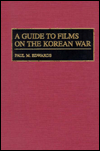 From the publisher: "Written by a knowledgeable film critic and Korean War scholar, this is the only guide exclusively devoted to the study of Hollywood and television films on the Korean War. It opens with eight short essays on the war film genre and the Korean War film. Eighty-four films are then discussed in an alphabetical listing. Entries include the production unit, color status, producer, director, screenwriter, actors and actresses, movie length, and the author's numerical rating of the film. The commentary places each film within the context of other war films, the Korean War, the trends in Hollywood, and the social and political realities of the United States."

This is an earlier book about Korean War films (Robert J. Lentz's book came out subsequent to this one) which, from what I hear, does not have a strong reputation. Not having read it yet, however, I can't provide any personal recommendation.

SOURCES:   Amazon, Internet Bookshop (Europe).



FILMS FOR KOREAN STUDIES: A GUIDE TO ENGLISH-LANGUAGE FILMS ABOUT KOREA (1997) by Lucius A. Butler and Chaesoon T. Youngs. University of Hawaii Press, paperback (ISBN: 0917536126), 167pp.

I have not been able to find any information about this book, other than what can be gleaned from the title. It appears to have been published originally in 1978, and then subsequently reprinted. It may have gone out of print; if so, check the link to dealers specializing in rare books from Borders or Amazon.

SOURCES:   Amazon
Korean-Language Titles

Clicking on this link will take you to the Korean online bookseller Aladdin.co.kr, which offers a variety of recent books on Korean film. Some examples include the "Yeonghwa-wa Siseon" series of essay collections on given films (titles to date include Friend (2001), Chihwaseon (2003), Address Unknown (2001), JSA (2000), The Power of Kangwon Province (1998) and Peppermint Candy (2000)); Jung Sung-il's extensive two-volume set Im Kwon-taek on Im Kwon-taek; a short book on Korean Action Movies; a book on maverick director Kim Ki-duk; the book 100 Years of Korean Cinema by Ho Hyun-chan; Phantoms of Modernity: Fantastic Korean Film by Kim So-young; What is Melodrama? by Yoo Ji-na; the much-praised Today I Went to See a Short Film; and others.
Books in French

LE CINEMA ASIATIQUE (ASIAN CINEMA) (2004) by Antoine Coppola. Editions L'Harmattan: paperback (ISBN 2747560546) 488 pp.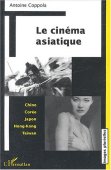 This French-language book by Antoine Coppola contains the following chapters related to South or North Korean cinema:
- Crisis of representation in realism in South Korean cinema
- New Korean realism: The cinema of Hong Sang-soo
- Social realism and North Korean cinema
- Fallen heroes of Aimless Bullet by Yu Hyun-mok
- New heroes of Korean and Japanese cinemas
- Developments of "imaginaire" in Korean and Japanese films
- Images of young people in Korean cinema

"Qui ne conna? dor?avant Takeshi Kitano, Wong Kar-wai, Hou Hsiao-sien, Tsai Ming-Liang, John Woo, Tsui Hark, Chen Kaige, Zhang Zhimou, Seijun Suzuki, Jeong Sun-woo, Nagisa Oshima etc. ? Aux anciens que sont Mizoguchi, Kurosawa, Ozu, King Hu, Chang Che viennent s'ajouter sans cesse de nouveaux comme Tsukamoto, Hong Sang-So, Johnny To, Kurosawa Kyoshi, Jia Zhang-Ke, Takeshi Miike ou Lee Chang-dong... Les visages des acteurs et actrices d'Asie hantent les ?rans : Gong Li, Chow Yun-Fat, Michelle Lee, Leslie Cheung, Bruce Lee, Maggie Cheung, Yang Kuei-mei, Jacky Chan, Lee Kang-Sheng, Brigitte Lin Hsin-hsia, Michelle Yeoh...

On retrouve l'influence du cin?a asiatique dans les films occidentaux, de Matrix ?Kilt Bill, du Pacte des Loups ?Demon Lover... On le qualifie d'?otique, de sensuel, d'ultra-violent, de provocateur, d'immoral, de philosophique, de m?aphysique, de r?olutionnaire... On l'a compris, le cin?a r?lis?en Asie est une r?olution des repr?entations au cin?a : celles du temps, des h?os, de l'imaginaire, de la jeunesse, de l'id?logique comme du philosophique. Au-del?des strat?ies marketing, quelles sont les dynamiques mises en oeuvre par cette nouvelle fronti?e du cin?a ? Pourquoi l'histoire du cin?a passe-t-elle dor?avant par l'Asie ? Pourquoi les figures esth?iques actuelles trouvent-elles leurs pr?igurations dans le cin?a asiatique ? Pourquoi le cin?a asiatique impr?ne-t-il la perception de notre ?oque ? Ce livre montre ?quel point il remet en question nos propres conceptions et leur devenir."

SOURCES:     Amazon.fr.





LE CINEMA COREEN (1990) ed. by An Pyongsup, Adriano Apra. Centre Georges Pompidou (Paris), paperback.

A collection of critical articles about Korean cinema which focus especially on aspects of realism in Korean films. The book also contains a reference section with synopses and production information. Many pictures as well.

Pr?entation de l'?iteur:
Partir ?la d?ouverte du cin?a cor?n ?travers des textes de sp?ialistes, un dictionnaire des r?lisateurs et une filmographie de quatre-vingt films cor?ns.

SDM:
Un dossier tr? complet sur le cin?a cor?n. Comprend un dictionnaire des r?lisateurs et une filmographie analytique de 90 films. Tableau synoptique: cin?a, culture et soci??de 190 av. J.-C. ?1992. -- Services Documentaires Multim?ia

SOURCES:   Chapitre.com, fnac.com, Amazon.fr.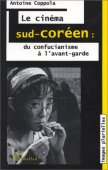 LE CINEMA SUD-COREEN DU CONFUCIANISME A L'AVANT GARDE (1996) by Antoine Coppola. Editions L'Harmattan (Paris), paperback (ISBN 2738448763), 223 pp.

A book-length essay by Antoine Coppola of l'Universite d'Aix en Provence: "South Korean cinema from confucianism to the avant-garde."

SOURCES:   fnac.com, Amazon.fr.




Books in Italian

OLTRE LA VENDETTA: IL CINEMA DI PARK CHAN-WOOK (2010) by Michelangelo Pasini. Edizioni Il Foglio Cinema: paperback (ISBN 8876062890), 225 pp.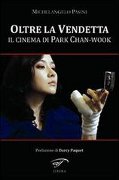 "Park Chan-wook è, insieme a Kim Ki-duk e Bong Joon-ho, il regista che più di tutti ha contribuito a sdoganare il cinema coreano in Occidente. Con Oldboy e Sympathy for Lady Vengeance non solo ha ottenuto prestigiosi riconoscimenti internazionali (Oldboy ha vinto il Grand Prix Speciale della giuria al Festival di Cannes) ma è approdato con successo anche nelle sale italiane. È grazie ai suoi film che anche il pubblico europeo è rimasto incantato di fronte alle interpretazioni di attori come Choi Min-sik, Song Kang-ho e Lee Yeong-ae. "Oltre la vendetta. Il cinema di Park Chan-wook" attraverso un'analisi non solo cinematografica, ma anche sociale e politica si pone come obiettivo principale quello di dar voce a Park Chan-wook senza il bisogno di tirar fuori paragoni poco calzanti con il solito Quentin Tarantino."
SOURCES:     Libreriauniversitaria.it,  Hoepli.it.



KIM KI-DUK (2006) by Andrea Bellavita. Il Castoro Cinema: paperback (ISBN 8880333844), 185 pp.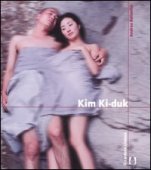 "Nato nel 1960 in un villaggio della campagna coreana, presto Kim Ki-duk si trasferisce a Seul con la famiglia. Dopo gli anni inquieti della giovinezza (lavora in fabbrica, si arruola per cinque anni nei corpi speciali dell'esercito, per due anni vive in una chiesa con l'intenzione di diventare predicatore), la passione per la pittura lo porta a Parigi dove studia belle arti. Completamente digiuno di cinema, esordisce nel 1996 con "Crocodile". La consacrazione avviene nel 1999 con "L'isola" che, presentato a Venezia, provoca forti reazioni a causa dell'estrema crudezza delle sue immagini. Sempre in bilico fra la riflessione sulla sofferenza, sulla violenza, sulla crudelt?e momenti di sospensione ed estrema poesia dell'immagine, le sue opere sono contese dai maggiori festival internazionali."
Contains an interview, an introduction to the director, and detailed analyses of 13 of Kim's films from Crocodile (1996) to Time (2006).
SOURCES:     Libreriauniversitaria.it,  Hoepli.it.