2016 BIFF Report: Korean Debut Directors
by Darcy Paquet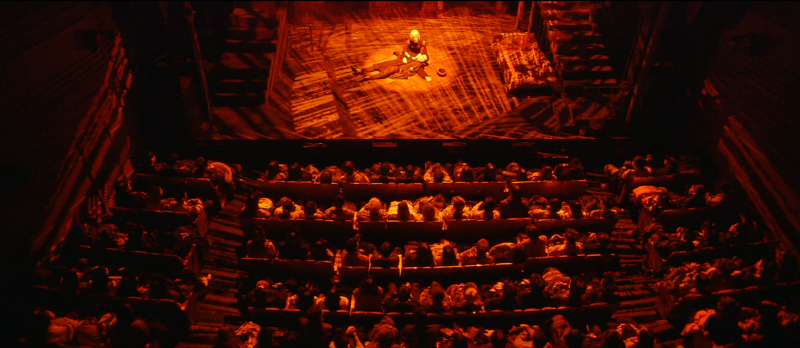 * Presented in partership with the Wildflower Film Awards Korea *

  For the second year in a row, we are happy to present a special page devoted to the Korean directors who are screening their debut feature films at BIFF. For these filmmakers, it is a dramatic moment that many of them probably dreamed of in the years when they were learning how to make films. Those works that are well received will surely go on to receive more invitations in the coming months to film festivals around the world.

This year there are 11 debut feature films that are premiering in various sections of the festival. (Note that this page does not include works like The World of Us that previously screened at other film festivals.) Since these directors will be virtually unknown to the festival audience, this page can be considered as a kind of welcoming gesture, and we will do our best to upload comments about each film as the festival unfolds. Enjoy!    (Updated with award results from the end of the festival)


NEW CURRENTS COMPETITION SECTION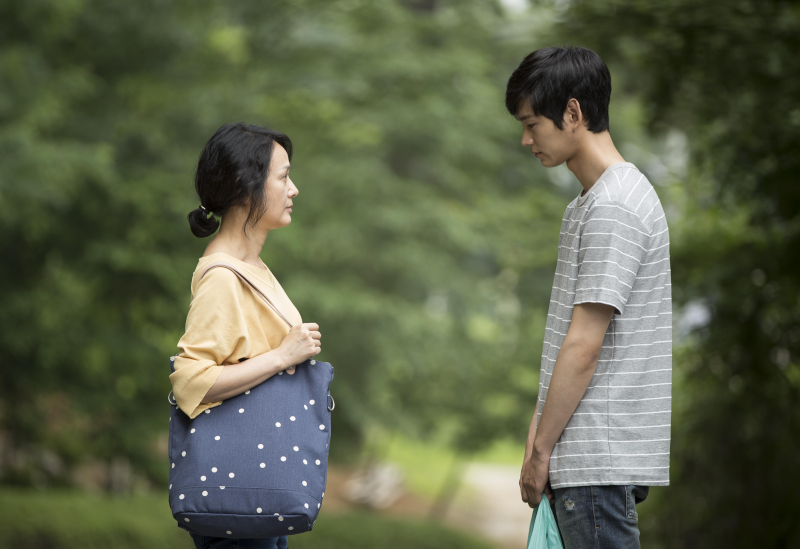 IN BETWEEN SEASONS  (dir. Lee Dong-eun, 115 min)
Overview: In Between Seasons is the second feature film to emerge from the recently launched Myung Films Institute, a two-year film school in Paju run by the well-known production house Myung Films. (The first graduation work, A Stray Goat, premiered at the 2016 Jeonju International Film Festival in May.) The film stars veteran actress Bae Jong-ok (Chilsu and Mansu, Jealousy is My Middle Name) as a woman who is happy to see her reserved and somewhat uncommunicative son become close to another boy in his school. The intriguing new actor Lee Won-keun plays the role of the friend.   * Winner of the KNN Audience Award.
Lee Dong-eun got a degree in Economics from Sungkyunkwan University before embarking on a career in film. His screenplay My Other Mother was awarded at the 2013 Donga Ilbo Spring Literary Contest, and he subsequently enrolled in the Myung Films Institute. He has written several graphic novels and also directed the short film Plan 17 from Outer Space (2002).
   Comment by Darcy: "One of the greatest pleasures of In Between Seasons is that it doesn't automatically move towards the most dramatic plot twists and resolutions (which is what most films do, and which ultimately makes them fairly predictable). Instead, the plot develops in a more natural and introspective manner. The lack of high drama places the film somewhere in between what we typically think of as arthouse and commercial cinema, so it will be interesting to see what kind of an audience it will attract. I loved the central performance by Bae Jong-ok (it's so nice to see her get a substantial role again), and though the film has very few artistic flourishes, the relationships in the film are well-developed and memorable."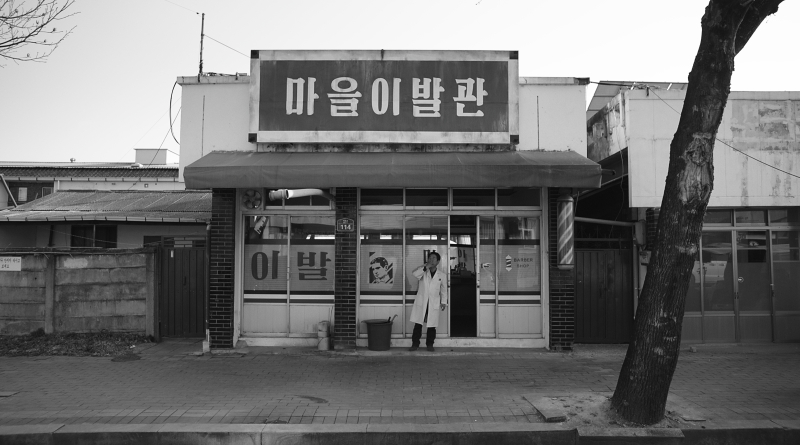 MERRY CHRISTMAS MR. MO  (dir. Lim Dae-hyung, 101 min)
Overview: Merry Christmas Mr. Mo stars veteran character actor Ki Joo-bong as a barber living in the countryside who is diagnosed with a terminal illness. Faced with his impending death, he decides that his last wish is to make a film. With the help of his son, who is an aspiring director, and his son's girlfriend, he goes to Seoul and begins shooting a short film. In the course of making the work, the relationship between father and son undergoes a change. This film was a recipient of post-production support from BIFF's Asian Cinema Fund.   * Winner of the NETPAC (Network for Promotion of Asian Cinema) Award at BIFF
Lim Dae-hyung studied film at Hanyang University and attracted a significant amount of attention for his short films, which include Lemon Time (2013) and The World of If (2014). The latter film, a lightly experimental work with clever dialogue, won awards at both the Mise-en-scene Genre Film Festival and the Seoul Independent Film Festival.
   Comment by Darcy: "I've been hearing a lot of good things about this film, and after seeing it I understand why. It's funny, with a great sense of comic timing, but as the film goes on it also acquires some real dramatic weight. The acting is inspired, not just Ki Joo-bong but also David Oh (Oh Jung-hwan) as the son, Go Won-hee as the girlfriend, and many supporting characters as well. When I finished the movie I felt like going back and watching it all over again. I feel pretty certain this film is going to travel far, and win over a lot of fans when it's released in Korea."
KOREAN CINEMA TODAY: VISION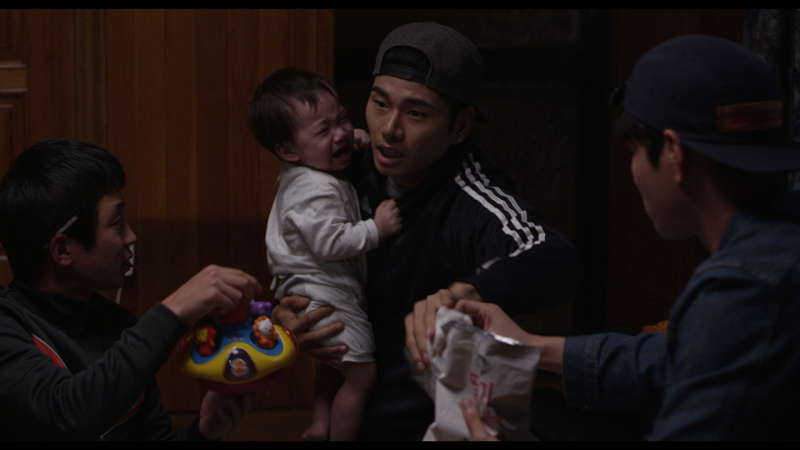 BABY BESIDE ME  (dir. Son Tae-gyum, 112 min)
Overview: The protagonist of Baby Beside Me is Do-il, who as he nears the end of his military service is looking forward to settling down and getting married. His fiancee Soonyoung has recently given birth to a boy, but while visiting home on furlough, he discovers that he is not the baby's father. Soonyoung, meanwhile, disappears, and suddenly Do-il finds himself with his life falling to pieces, and an infant boy to look after. A feature film produced by the Korean Academy of Film Arts (KAFA).
Son Tae-gyum received a third-place award at the Cannes Film Festival's Cinefondation section in 2011 for his short film Fly By Night, about a boy who sells his body to older men. After enrolling in the Korean Academy of Film Arts, he directed another short film In the Summer which won BIFF's Sonje Award for best Korean short film in 2013.
   Comment by Darcy: "This is a very competently directed film. The storytelling is smooth, the acting is all very professional, and the technical qualities of the film are high. I never once felt my attention fade when I was watching it, and on the whole I enjoyed it. That said, it's not a film that has generated a lot of buzz in Busan. It's a bit like watching a figure skater who executes all of his moves perfectly, but doesn't really create a sense of excitement among the audience. Perhaps that's too harsh a criticism -- I think that a lot of people will like it when it is released in theaters, but it didn't feel like a story that came from the deepest part of the director's emotions."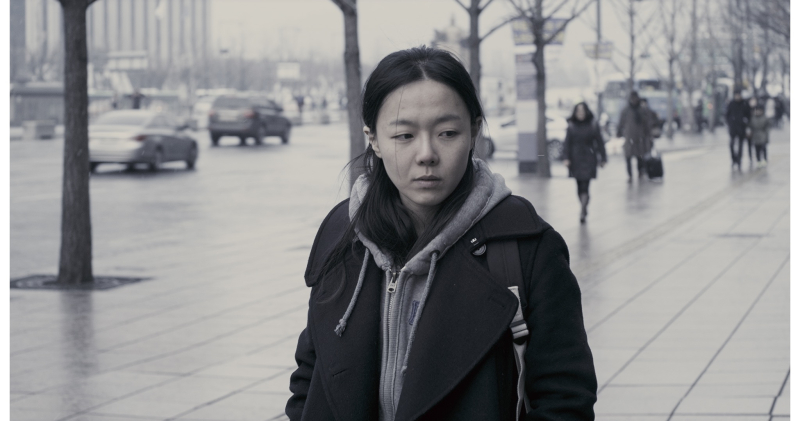 JAMSIL  (dir. Lee Wan-min, 138 min)
Overview: Jamsil presents a story about characters whose actions cannot be easily understood. Two women, Meehee and Sungsook, meet for the first time at random, but Meehee insists that they were once close friends. Sungsook for her part accepts Meehee's claims. Then the man who lives with Sungsook hears about Meehee and goes to see her. The two of them end up acting like lovers. Although the relationship between the characters' motivations and their past lives remain unclear, the film moves back and forth between past and present, and can be read in many different ways.   * Winner of the BIFF Citizen Critics Award.
Lee Wan-min has directed a series of acclaimed short films over the past decade, beginning with Chima (2006), The Sun that Sets in Bamako (2006), and Mensrea (2008). Her film Sang from 2009 competed at the Busan Asian Short Film Festival, while Mock or Die was invited to IndieForum and the Jeonju International Film Festival.
   Comment by Darcy: "This is a very difficult, but for me a very exciting film. Opinions about Jamsil are going to be sharply divided, not only because it's hard to understand, but also because it's so highly introspective -- sometimes to the point that it alienates its viewers. Still, it's a work that has striking, complex characters and deep feeling. Fans of Park Chan-ok's Jealousy is My Middle Name or Paju are perhaps most likely to connect with this film."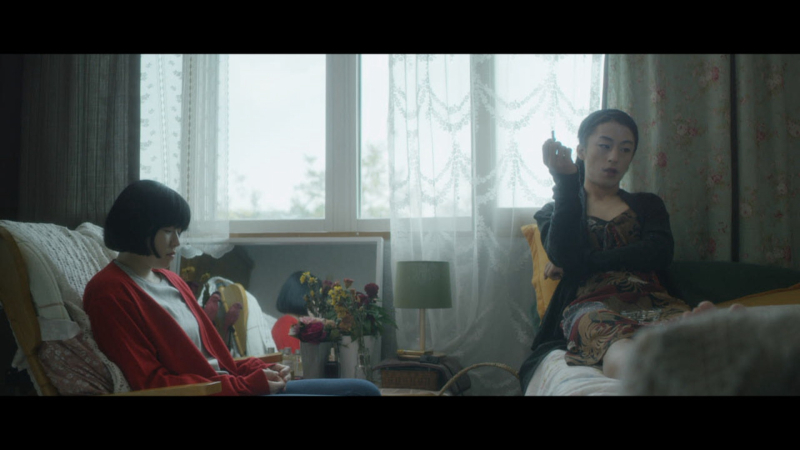 JANE  (dir. Cho Hyun-hoon, 100 min)
Overview: Jane is the story of a runaway who feels abandoned after her friend Jungho disappears. But her life changes when she meets a transgender woman named Jane, who acts as the head of an informal but very close community of runaways. For a time, life becomes peaceful, but there are clouds gathering on the horizon. The Korean title translates literally as "Jane of the Dream". A film that was financed in part by the Korean Film Council's Independent Film Fund.   * Winner of the BIFF Actor and Actress of the Year awards for Gu Gyo-hwan and Lee Minji, as well as the CGV Arthouse Award.
Cho Hyun-hoon graduated from the Film and Theater Department at Hanyang University. His debut short film Metamorphasis screened at the Busan Asian Short Film Festival, and then in 2013 his short The Mother's Family screened at IndieForum, the Mise-en-scene Genre Film Festival, and the Busan International Short Film Festival, where it received an acting award.
   Comment by Darcy: "This year there have been several films at BIFF that I liked very much, but Jane feels like the biggest discovery. The best directors not only come up with creative ideas and work well with actors, but they display an ability to fully control the mood of a film, and to do interesting things with tone. Cho Hyun-hoon is surprisingly good at this -- Jane shifts through tones in a very complex way, but at each moment you can feel he is in absolute control. And the subject matter he chose is also refreshing, not just the scenes with Jane (who is an impressive and fascinating character) but also the main character, who with her extreme withdrawn nature is far from a typical protagonist. Some people may not enjoy the disjointed way Jane tells its story, but I did, and I'm very excited to follow Cho Hyun-hoon's future career."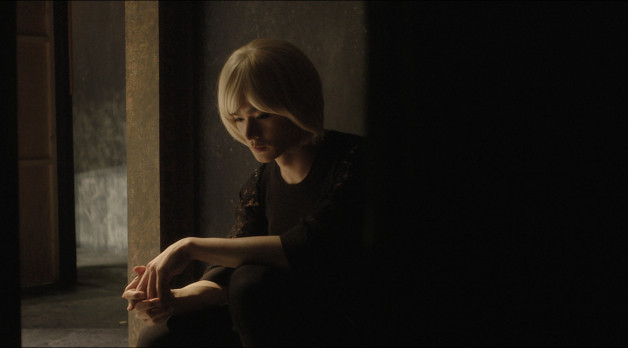 LOST TO SHAME  (dir. Nam Yeon-woo, 104 min)
Overview: Lost to Shame centers around a little known actor who, barely able to make ends meet, finally gets his break with the lead role in a play about a transgender character. The part gives him considerable exposure, and he believes that it has also helped him to become more open minded about the LGBT community. But later events will test just how open minded he really is. Lost to Shame was a recipient of post-production support from BIFF's Asian Cinema Fund.
Nam Yeon-woo is an actor who was praised for his leading performance in the film Fatal, which premiered in BIFF's New Currents competition section in 2012. That performance won him a Best Actor award at the 1st Wildflower Film Awards Korea (which co-sponsors this page). In that sense, we are quite excited to see Nam make his feature directorial debut. He also directed the short film Intoxicated Heart (2014), which screened at the Seoul Independent Film Festival and the Mise-en-scene Short Film Festival.
   Comment by Darcy: "The 2016 BIFF was a particularly good year for debut Korean films, and this is yet another one. Although it may not have won an award at the festival, it was much talked about, and I would guess that it will get significant international exposure too. Nam Yeon-woo's directing (and acting) style is not flashy in any way, but he pulls you into the story with ease. The story itself is of a structure that you more often find in the theater -- an in-depth portrait of a character who initially finds success, but is ultimately brought down by his own flaws. Nam acknowledges that this film is told from a straight, rather than a gay or transgender perspective. But ultimately that is one of the qualities that makes it feel rather unique."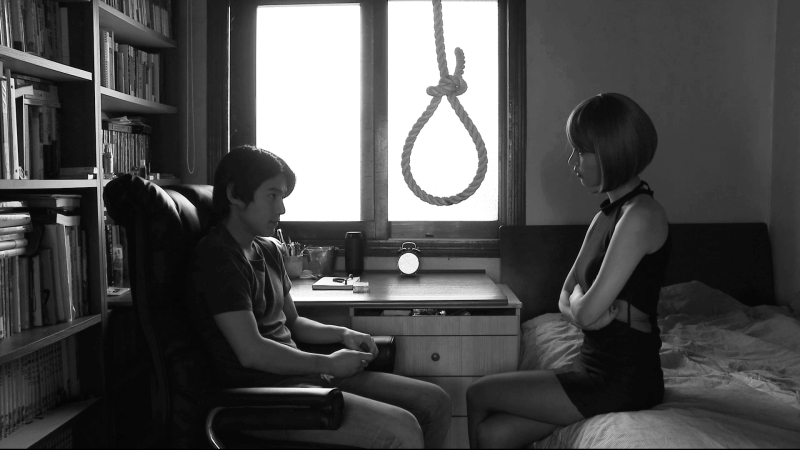 THE NOISES  (dir. Min Je-hong, 76 min)
Overview: Joonho is alone at home while his family is vacationing in California, and he decides to commit suicide. As he pulls the noose around his neck, the doorbell rings. A woman named Scarlet comes into his home, saying that he requested a girl by phone on the previous night. Joonho has no recollection of this, and no real interest in sex, but he decides to pay Scarlet to spend three days with him, and stave off his loneliness. A black-and-white film filled with unexpected twists and wry humor.
Min Je-hong began his directing career in 2013 with a music video of "Pink Tape_Art Film" from the second album by the well-known K-pop band f(x). He also directed a music video "Always Be With You" (2015) by underground musician Laon Tchah (who provides the soundtrack to The Noises); a short film Witches from 2015, and an experimental video titled Inspiration (2015).
   Comment by Darcy: "I'll try not to use the word 'quirky' to describe this film. It's a plot that doesn't have too much development; instead, there is a playful exploration of these two characters' psyches, and the odd and slightly competitive relationship that forms between them. For me it was only partly successful, though to be honest it's not really my type of film either. For the most part, it unfolds scene by scene with a fixed camera, peculiar dialogue and various subtle, onscreen jokes to keep the audience's attention. "

SECOND WINTER  (dir. Kim Eui-gon, 69 min)
Overview: Second Winter is a film about dreams, ambitions, and the unforgiving nature of reality. Hyunho and Junghee are a young married couple still in their 20s. Hyunho hopes to find success as an actor, foregoing regular work to go to auditions. Junghee looks for work as a graphic designer, but companies are reluctant to hire a woman her age who they view as likely to get pregnant. In the meantime, it becomes more and more difficult to take care of the rent payments for their small flat with a furnace that keeps going out.
Kim Ui-gon originally majored in architecture, but after deciding to become a film director, he quit school and devoted himself to learning the art of cinema.
   Comment by Darcy: "A slow-paced film that focuses on the everyday and is in some ways concerned with the issue of 'middle class poverty'. But it is also about personal issues, namely how a couple negotiates the abandonment of their dreams. Probably the film that it most resembles is Jang Kun-jae's Sleepless Night -- but personally I think that Jang is one of the strongest, most talented voices of his generation, and this film has a hard time living up to that comparison. Still, Second Winter is well-acted and unique enough to stick in the memory."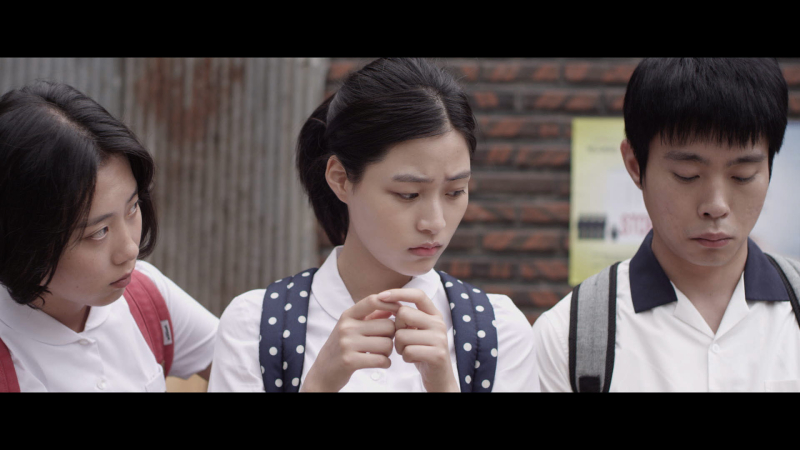 YONGSOON  (dir. Shin Joon, 104 min)
Overview: An eighteen-year old high school student named Yongsoon has embarked on a secret love affair with her running coach at school. When she finds out that he is seeing someone else, she is devastated. That same day, she comes home and her father introduces her to her new stepmother, a woman from Mongolia. Still feeling resentment towards her father for not supporting her mother in the months before she died, Yongsoon is swept up in a storm of rage.   * Winner of the BIFF Daemyung Culture Wave Award.
Shin Joon was originally enrolled in engineering school, but after deciding to become a filmmaker, he quit. In 2010, he enrolled in the film program at the Korea National University of Arts, and went on to make the short films Seul's Strawberry, Goodbye Sunday, and a film called Yongsoon's Sunday which was the inspiration for this debut feature.
   Comment by Darcy: "Lee Soo-kyung's performance as Yongsoon was what stood out the most for me about this film. She brings a hard intensity to the role that holds the story together. That said, the film is a mixture of strengths and weaknesses. The story keeps your attention, but never really pulls you in 100%. The characters were interesting, but I never developed a very strong emotional connection with them. And for me personally, it felt strange that the film didn't address the sexual relationship between a teacher and a high school student with more weight."
KOREAN CINEMA TODAY: PANORAMA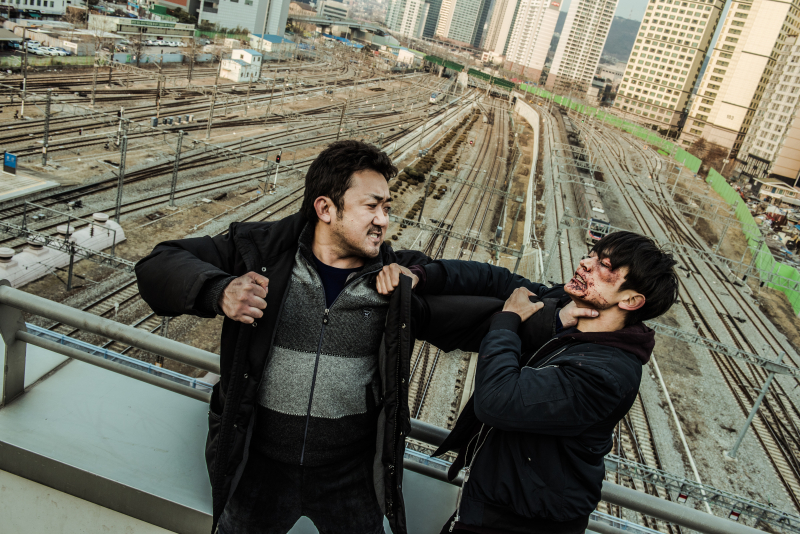 DERAILED  (dir. Lee Seong-tae, 100 min)
Overview: The heroes of Derailed are the teenage runaways Jinil and Gayoung, who struggle every day to get by on the margins of society. They have formed a family of sorts with two other teenagers living on the streets. When they run out of money, they resort to a desperate scheme to swindle a middle-aged man (Ma Dong-seok), but it turns out that he too is the tough owner of a karaoke bar who exploits teenagers for his own benefit.
Lee Seong-tae has directed a wide variety of short films over the past 15 years, beginning with Black Crow in 2001. He received particular attention for his short The Ten-Minute Break, about two soldiers searching for a deserter, which screened at the Jeonju International Film Festival, the Mise-en-scene Genre Film Festival, and the Vancouver International Film Festival. He also served as an assistant director on films like The Red Shoes (2005) and Modern Boy (2008).
   Comment by Darcy: "In some ways this film feels very familiar. There are plenty of other small and medium-scale Korean films about the ruthlessness of life on the streets, where the strong prey on the weak in an unending cycle. Derailed does not break from that pattern, but it's more memorable than most, partly because of the character played by Ma Dong-seok. At first he just seems like an uncaring predator, but as time goes on and we get to know the details of his life, we start to feel a kind of empathy for him, too. In the wake of Ma Dong-seok's memorable performance in Train to Busan, this film should attract a bit of attention. "
WIDE ANGLE: DOCUMENTARY COMPETITION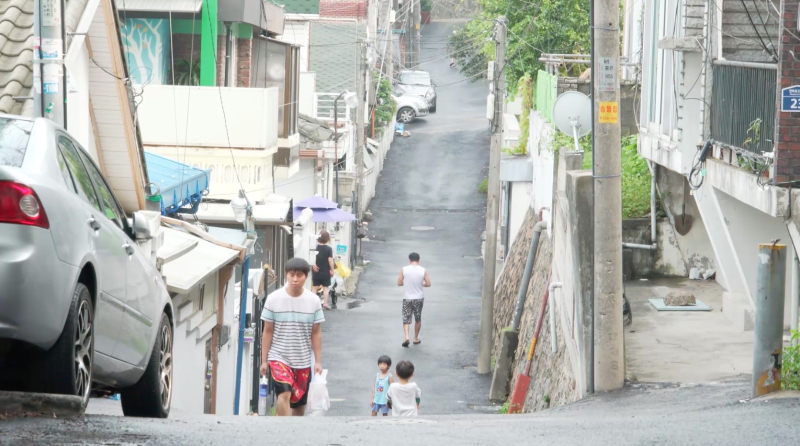 NEIGHBORHOOD  (dir. Sung Seung-taek, 82 min)
Overview: After Sung Seung-taek moved to a new neighborhood, he discovered that the building next door was a home for patients with mental disorders. At first, he and his wife worried that their two preschool aged sons might be at risk, and they even considered moving away. But after the director of the home visited their house and introduced Sung to the patients, his attitude began to change, and he decided to shoot a documentary about them. Neighborhood profiles the men who live in the House of One Heart, many of whom spent years in mental institutions. Having now got their symptoms under control with the help of medication, they attempt to re-adjust to society, and dream of one day living normal lives on their own.   * Winner of the BIFF Mecenat Award for best Korean documentary.
Sung Seung-taek is an established cinematographer, having started his career in the lighting department on Park Chan-wook's JSA and then making his debut as a DoP on Byun Young-joo's Flying Boys. To date he has been the cinematographer on 10 films, including You Are My Sunshine (2005), Ghost Sweepers (2012) and 10 Minutes (2013). Neighborhood is his first foray into documentary filmmaking.
   Comment by Darcy: "This documentary left a big impression on me. It's presented quite simply, without flourishes (though the director has a background in cinematography, so you can feel he knows where to put the camera). Even a short glance into some of these men's lives is often heartbreaking. But it is also extremely well structured and edited -- the film touches on the most important issues, and then moves on without wasting any time. The director's own narration appears only occasionally, but it adds a whole other layer to the film, and then wraps it up beautifully."