That's it, another year now passing beyond our grasp and becoming a fodder for the famished Langoliers… 2013 was in many ways an unusually active year for me, leading to some notable and hugely enjoyable achievements, albeit with minor irritations and setbacks, too. It would have been really nice if I had the foresight to schedule my second book manuscript project so that I would have a rough draft around this time of the year, but I can live with the delay… and who knows, some good might come out of it as well. The Big Medical Crisis of the 2011-2012 winter season is still casting a shadow over my life but overall things are moving forward. Youngmi's parents are settling down in Oakland, Yunie is enthusiastically playing piano for us whenever we talk on Skype, my friends, colleagues and former students are generous and responsive as ever. Really, I can't complain too loudly. Maybe about the idiot politicians in the U.S. (The Tea Party and…), Japan (Abe Shinzo and…) and Korea (The ruling party and…), but hey, I bet ancient Egyptians complained about their idiot politicians too at the end of their calendar year.
Korean cinema outwardly regained its box office muscles in 2013 although the industry's major structural problems– most importantly the overwhelming dominance of a few blockbusters of theater screens that leave a vast majority of motion pictures barely able to recoup their production costs– have not been fixed. Meanwhile, cinema-watching on the home front is continuing the slow and incremental process of conversion toward streaming/downloading, although as should be obvious from the present best-of-2013 list, Blu Rays have clearly become the dominant mode in which I watch and collect motion pictures.
Even though Blu Ray as an optic disc format is still subject to occasional hiccups, labels such as Shout! Factory (and its horror-SF subsidiary, Scream Factory), Olive Films, Twilight Times, Arrow Video, British Film Institute's Flipside (both in England) and, of course, Criterion have firmly entrenched themselves in the practice of supplying great, under-appreciated, rarely seen and indescribably weird motion pictures of the past to consumers like myself with a reliable regularity. Old collector's habits die hard, and I still find myself mostly using Netflix and Hulu Plus for "fast food" consumption of the low-budget horror cinema, and waiting for Criterion to release their amazing inventory of Janus Cinema titles stocked in Hulu Plus as Blu Rays, and if not, as Eclipse DVDs. As streaming/downloading services always "reserving the right" to withdraw their products at any time, this collector cannot quite shake the feeling of distrust.
The upshot is that it was about three times more difficult for me to generate the top ten, even when I cheated and extended the number to top twelve (and cheated further and mixed in a few different items for Korean and English-language lists), for Blu Rays than for DVDs and streamed/downloaded films combined. In fact, even though the number of DVDs purchased in 2013 were only slightly smaller than those of Blu Rays (not counting individual films in monster collections like the 25-disc Zatoichi), the pool of candidates for top ten has shrunken even further compared to the last year. The reason is very simple: the desirable movies are now directly coming out to Blu Ray. Now I am picking up the Blu Rays of the films that I have only read about or was completely unaware of, in addition to crowd-pleasers or old masterpieces that I had missed out or avoided (due to bad transfer, for instance) as DVD editions. Conversely, the improved resolution of the Blu Ray format has added unmistakable layers of value to select classics, whether they are silent films nearly one century old, or British or Italian '70s horror cinema with wacked-out lighting schemes. We are now preparing to overhaul the home theater system in the living room, complete with the addition of a subwoofer and rear speakers (I have been using an old 5-speaker system in my study for reviewing DVDs and Blu Rays all these years), and it is bloody obvious that this setup will stack the deck even further in favor of Blu Rays. Such is the price of progress we must pay.
As before, the list reflects the discs that grabbed my attention and gave me viewing pleasures like no other in 2013, not a collection of the "best" films (however you may define the "best") or highest-quality packages. Some are total, sight-unseen discoveries, a few are re-visits that have obliterated the memories of previous viewings, and yet others are oh-my-god-I-can't-believe-I-can-watch-this-again, nostalgic jolts from the past. This of course means that some absolutely brilliant masterpieces of world cinema in unbelievably beautiful, majestic hi-def presentations did not make the list (not surprisingly, many releases from Criterion: Nashville, Badlands, City Lights and Medium Cool, to name only a tiny fraction). I am not ashamed to admit that this list essentially exists to gratify my collector's ego: I can only bow in a humble gratitude if anyone finds this list helpful in his or her own search for the interesting, weird and wonderful works of cinema.
Shall we, then, move onto the list? First there are ten DVDs, or more accurately nine DVDs and one streamed film, and then we move onto twelve Blu Rays. I usually upload a parallel Korean-language list on Djunaboard with a slightly different content but since it is regrettably under repair from malware/virus attack, I will do that at M's Desk, my alternate blog site. [Update: Djunaboard is back! It is off and running as of January 23 and I have already had a couple of inquiries about the 2013 best-of list… so the Korean-language list will be up at Djunaboard as planned, sometime in early February]
10. Marine Boy: The Complete First Season (Warner Archive Collection, Region 1)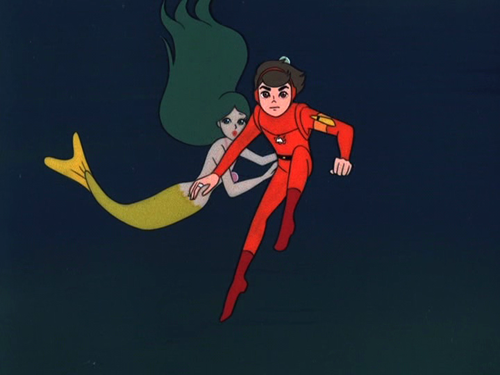 Well, some of you may roll your eyes at the mention of Marine Boy, or yet others (especially young 'uns) might tilt their heads in befuddlement, but no matter. The series, produced by Japan Tele-Cartoons (Terebi Dōga) in 1965-1966, 1969-1971 and picked up by Seven Arts-Warner Brothers for North American broadcasting, is one of the key missing links between Saturday morning cartoon animation of the Hanna-Barbera variety and the Japanese anime. Because its character and plots were designed with export to the English-speaking market in mind, they have flavors distinct from the classic Japanese anime made in the similar time frame but obviously geared for the domestic viewers, including Astro Boy. You would think Warner Archive's VOD of Marine Boy season one will reveal limitations of relatively stiff, old-style animation but mostly it shows off its relentlessly fast-faced action, charmingly juvenile yet cool design and sometimes intimidatingly surrealistic or hallucinogenic explosions of (supposedly) underwater color, as various sea monsters— an anthropophagous gigantic jellyfish, a large clamshell with hypnotic power of suggestion and a swarm of noxious red starfish, among others— attack the Ocean Patrol and its top agent, Marine Boy!
9. Body Melt: Katarina's Nightmare Theater Edition (Scorpion Releasing, Region 1)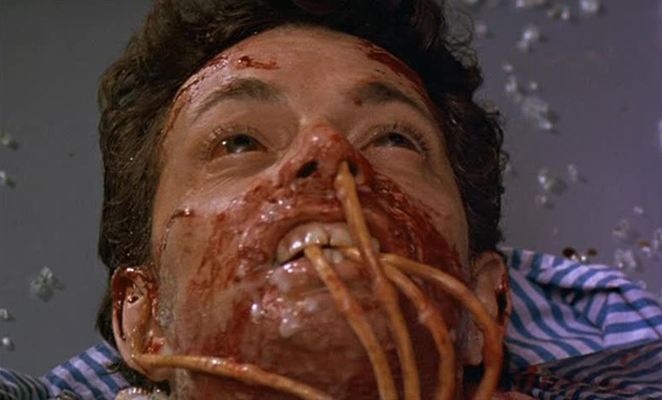 This iconic '80s splatter-horror from New Zealand directed by Philip Brophy, an experimental musician, Melbourne-based scholar of Japanese animation, film music scores and sound design (and an author of an excellent early article on Korean horror cinema, to boot) and cinema studies professor at Royal Melbourne Institute of Technology, had previously been available from Vanguard in a disappointing 4:3 transfer, but Scorpion's new edition is considerably superior with popping colors, properly matted to 1.78:1. Often compared to Peter Jackson's early splatterfests Bad Taste and Dead-Alive, Brophy's mordantly witty (and genuinely gross) satire is a unique (unborn, melted) baby of its own. It no doubt left indelible impressions on the young minds who first stumbled onto it as a VHS copy carried in the neighborhood rental shop.
8. Kim Kee-duk Collection (Blue Kino- Korean Film Archive, Region Free)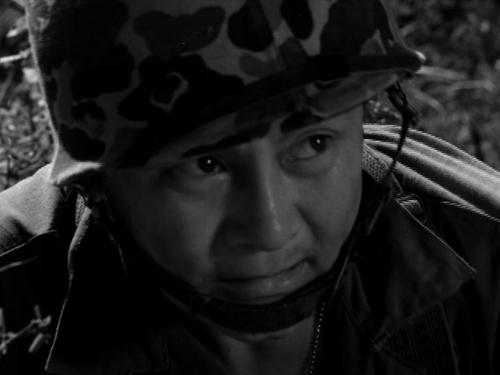 No, not that troubled auteur Kim Ki-duk of the Bad Guy and Pieta fame, but Kim Kee-duk, a 1934-born classic-era director perhaps best known to American film fans as the director of Yongary: The Monster from the Deep (1967), available in a spanking, clean transfer in Region 1, with the Herman Cohen-produced Konga (1961) as an MGM Midnight Movie double bill. Another must-have for the fans of Korean cinema, this Korean Archive DVD collection puts together four films from different genres— a youth melodrama, a war film, a Cold War human drama and a proto-feminist romantic comedy— all robust commercial successes in their time and perhaps more representative of what the '60s Korean theatergoers truly enjoyed than the works of his internationally better-known contemporaries such as Lee Man-hee or Im Kwon-taek. And like so many other classic Korean cinema, these films are very much capable of sneaking up on and slapping us silly for underestimating their emotional and intellectual prowess: just go through the stunningly taut scenes of dismantling anti-personnel mines in Five Marines (1961), or the climactic torrent of existential despair overwhelming three main characters in North and South (1965), that clearly anticipates the similar sentiment that dominates the ending of The Front Line (2012), and you will see what I mean.
7. The Facts of Murder/Il Maledetto imbroglio (Mya Communications, Region 1)
This was a big surprise, a disc that I purchased without knowing anything about it, simply trusting in the names of Pietro Germi and Claudia Cardinale (one of those European stars who seem to have dominated the Korean TV screens of '60s and '70s yet probably virtually unknown to North American viewers of today). It handsomely paid off: turned out that I had seen The Facts of Murder a million years ago on Korean TV with the (probably Japanese-imposed) title The Detective. It even features that ultra-familiar tune Sinno me moro composed by, who else, Carlo Rustichelli. A fabulous murder-mystery with a biting dash of social commentary, all filmed in super-attractive black-and-white: c'e nulla di non amare, no? We can always use more releases of classic Italian cinema.
6. The Machine That Kills Bad People/La Macchina Amazzacattivi (Criterion Collection, Hulu Plus Streaming)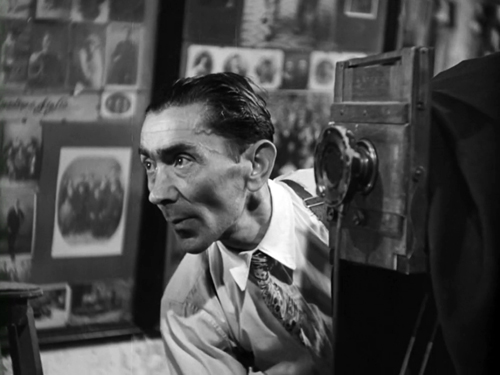 The one entry here from the pool of films not released on DVDs or Blu Rays as far as I know (at least in North America) but I was able to catch on a streaming service is, what d'ya know, another early '60s Italian classic. This one is just as unexpected: a comic fable directed in a strikingly Neo-Realist manner by the great Roberto Rossellini. Set in an immediate-postwar Southern Italian island, this altogether delightful fairy tale is about a local photographer who receives a blessing (or is it?) from St. Andrew, that one of his cameras be endowed with the power to kill off anyone… all he has to do is to take a picture of the mark's photo again, and he or she simply freezes forever in whatever pose assumed in the original photo. Initially horrified by his newfound ability, it doesn't take long for the photographer to learn to use it to "cleanse" the city of such social ills as usury, hooliganism and corruption of public officials. Digitally restored in 2011 by Cineteca Bologna and The Immagine Ritrovata Laboratory, this Criterion presentation is simply amazing, even as a streaming file (it helps that our new fortified internet mechanisms protect the connection from breaking down as much as they can). If you think a "social-realist surrealist fable" makes no sense either as an English phrase or a description of any work of art, you gotta watch this baby, signore.
5. Columbia Pictures Film Noir Classic Collection IX (TCM Vault Collection/The Film Foundation, Region 1)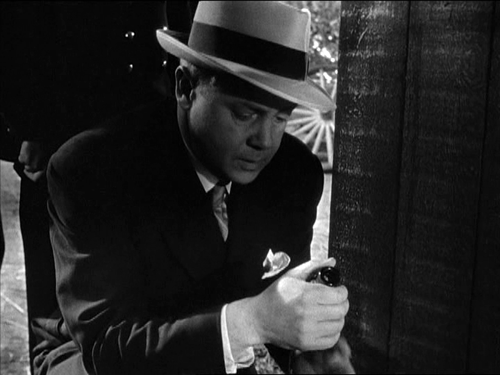 The steady flow of classic film noir in affordable DVD collections has not been severed thanks to the Turner Classic Movies, Sony Pictures (owners of the Columbia Films) and now the Film Foundation (and that means the films come with introductions by Martin Scorsese). This fourth Columbia Pictures film noir collection descends further down into the territory of acute paranoia and (anti-Communist) hysteria, Joseph H. Lewis's So Dark the Night (1946) and Gordon Douglas's Walk a Crooked Mile (1948) being standouts. But as has been the case with the previous film noir collections, even when a movie is frankly less than memorable— as is the case with Walk East on Beacon! (1952)— there is always something instructive or interesting to discover in these classics of bygone Hollywood. My only complaint with the package is about the bizarre disc-holding method used by the foldout plastic case: if in doubt, can we just use sleeves?
4. Glenn Ford Undercover Crimes Collection (TCM Vault Collection/Sony Pictures Home Entertainment, Region 1)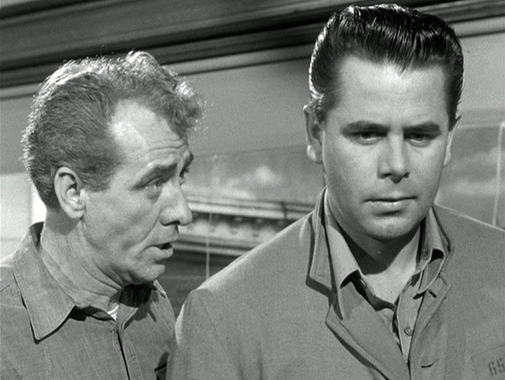 And speaking of TCM vault collection, this bundle of a wide genre of films starring the inimitable Glenn Ford beat the film noir collection to punch. Glenn Ford is one classic Hollywood actor whose filmography has now become as familiar as that of Michael Caine or Christian Bale thanks to the DVD revolution, especially the WAC and other MOD releases of classic oaters and programmers, and not just prestigious Vincent Minnelli projects like The Four Horsemen of the Apocalypse (1962). Ford is alternately charming, mysterious and engrossing in a remarkable array of characterizations showcased here, sweaty and wracked with self-doubt in Convicted (1950), beautifully playing against the mountainous Broderick Crawford, irascible yet irritatingly attractive in Framed (1947), and so on. A true star-actor, conveying so much through mere flicks of his eyes.
3. Masaki Kobayashi against the System (Eclipse Series No. 38, Criterion Collection, Region 1)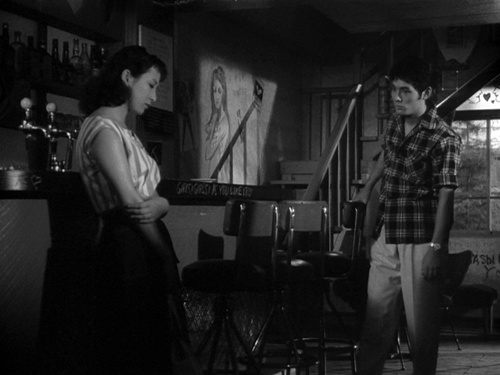 This is a no-brainer choice of the year for the best DVD list, and would have taken the top spot had it not been two other discs below. It is rather problematic that in English-language classic Japanese films are still mostly known through the genre of jidai-geki (period piece), otherwise (often erroneously) known as "samurai films." Okamoto Kihachi, to give but one example, is primarily known to North American viewers via his bakumatsu (end of the Tokugawa rule) swordplay films like Samurai Assassin (1965) and The Sword of Doom (1966), excellent as they are, and his far more controversial and personal works such as the Desperado Outpost (1960) series, The Elegant Life of Mr. Eburi Man (1963) and Human Bullet (1968) are nowhere to be seen in Region 1. Kobayashi Masaki, the director of two world-class masterpieces Harakiri (1962) and The Human Condition (1959-1961), suffers from the same problem, but Criterion's Eclipse series has gone a long way in rectifying that situation. Herewith are Kobayashi's more political and socially conscious takes on contemporary Japan, Black River (1956) and The Inheritance (1962) rivaling any Euro-American film that deal with the same themes of alienation and material greed. Yet, the true revelation here may be I Will Buy You (1956), a calmly condemnatory exploration of the baseball recruitment game that manages to expose the inherent corruption of the system without demonizing its players… given the incredible popularity of the sports in Japan, I am rightly flabbergasted that Kobayashi was able to take such a merciless stab at it. Perhaps it was made before the baseball really took off as a national sport. Otherwise, I wouldn't be surprised to learn that he received death threats from irate fans over this motion picture.
2. Ikariye XB-1 (Second Run, PAL- Region Free)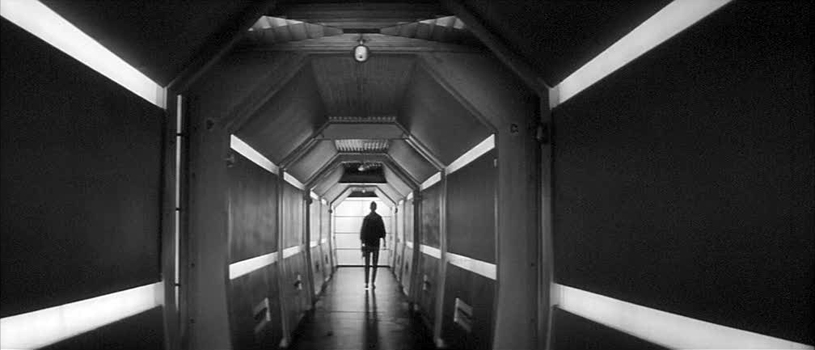 Holy Crab Nebula! This film was for long years one of the holy grails of the ardent classic SF cinema fans this side of (now-no-longer-extant) Czechoslovakia. It even played at Pucheon Fantastic Film Festival but it just so happened I missed it. And now, it is available through an English-friendly Region 2 DVD from Second Run, the specialist in Eastern European cinema. Ikarie XB-1, loosely based on Stanislaw Lem's Magellan Cloud, is a brilliantly designed and executed science fiction masterpiece, way ahead of American movies in the same time period (1963!) both conceptually and aesthetically. It is quite obvious that the film directly influenced Stanley Kubrick's 2001: A Space Odyssey but it is even more obvious that TV shows Star Trek and Space 1999 blatantly ripped off this relatively short (82 minutes) film's every single plot point—a birth of a "space child," twentieth-century spaceship drifting and encountering a future expedition, the "black sun," et cetera— for their individual episodes. A truly pioneering work of science fiction cinema that harkens back to the foundational spirit of space exploration and scientific investigation without a shred of concession to space-opera dick-waving or militaristic hardware fetishism, Ikarie XB-1 belongs to any serious SF fan's film library.
1. The Beast with Five Fingers (Warner Archive Collection, Region 1)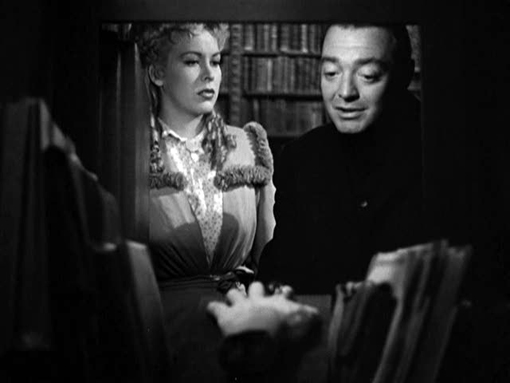 And my favorite DVD number one spot goes to one of the last remarkable horror films from the classical Hollywood period, starring who else, Peter Lorre. While not nearly as deliriously uncanny as the latter's early starring vehicle with a similar theme, Mad Love (1931), The Beast with Five Fingers is a genuinely scary confection that, in a harmonious conflation of superb special effects and Lorre's extremely convincing bug-eyed performance, scales the very heights of Gothic menace. Ach, wir vermissen dich, Peter!
OK, now I am moving toward Blu Rays… and for beginners I must confess that more than twenty well-qualified discs, which might have made the list in previous years, had to be dropped for frankly nonsensical, or otherwise deeply personal reasons, and it pains to enumerate them, not to mention this list is already getting alarmingly long. Heaven knows I would love to get to review them all, one by one! It will probably require another, no, make it two more, entire lifetime to do justice to all these great works of cinematic art. Ahh…
12. Bakumatsu Taiyōden [The Sun-Tribe Myth from the Bakumatsu Era] (Eureka!/Masters of Cinema, Region B)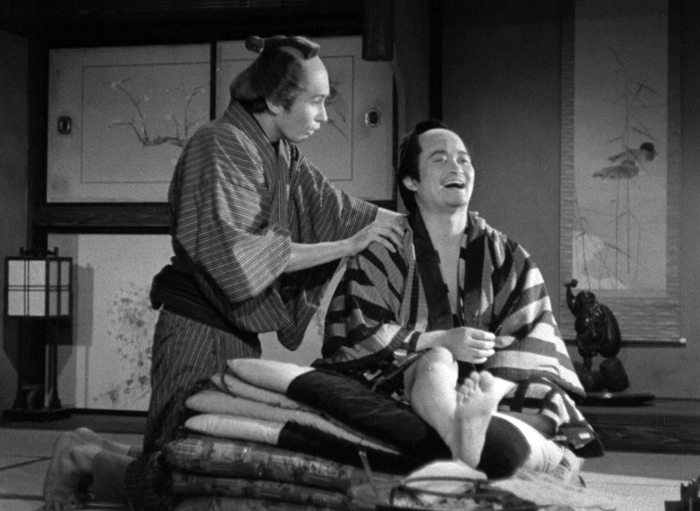 One of the more popular classic Japanese films that lack obvious elements of appeal to the "Western" viewers, Bakumatsu taiyōden is supposedly a jidai-geki parody of the "Sun Tribe" films (many of them starring the megastar Ishihara Yūjirō and penned by Yūjirō's brother, Ishihara Shintarō, the President Wannabe of Japan– eh? Yeah, I am being sarcastic) but is in fact much more than that: taking a burlesque comedy that unabashedly reproduces all manners of melodramatic and comic cliches dating back from the Edo period, director Kawashima Yūzō infuses the busy proceedings with the subtle political and social commentary as well as a surprising degree of pathos, perfectly captured in Frankie Sakai's lively but tough performance. A scoundrel and grifter who sees an opportunity for profit in every squabble or instance of hypocrisy, Sakai's Saheiji is a commoner protagonist who holds his own against thuggish young samurai activists led by Takasugi Shinsaku (Ishihara), plotting to burn down a foreigner's residence: yet he is also afflicted with consumption and is anticipating an early death. This HD transfer from Masters of Cinema is a product of Shochiku's 100-year anniversary digital restoration in collaboration with Asahi Newspaper, perhaps not as sparkling as some Region 1 restoration jobs but many degrees ahead of the previous video incarnations.
11. Runaway Train (Arrow Video, Region B)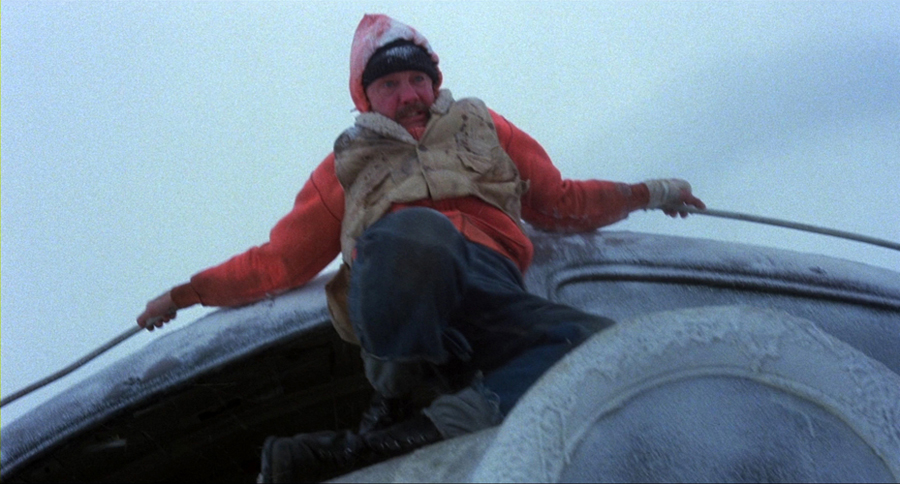 Arrow Video has been steadily releasing top-ranked, highly desirable genre and cult films– Mario Bavas, Dario Argentos, George Romeros, Brian De Palmas– in jam-packed, special edition Blu Rays coming in distinctive, white cardboard boxes adorned with freshly commissioned cover arts: their Region B titles have sometimes proven to be distinctively superior to (comparatively more expensive) Region A releases, as was the case with, say, De Palma's The Fury. Andrei Konchalovsky's Runaway Train was the notorious Golan-Globus Cannon Film's best shot at the Oscar prestige, adopted from a Kurosawa Akira screenplay and featuring two of the career-best performances from John Voight and Eric Roberts. Not a usual Arrow Video title, for sure, but despite its sometimes annoying '80s aesthetics (including a dated electronic score from the usually talented Trevor Jones), the movie is a great, existentialist action film ripe for re-appreciation. The label puts together a superlative package with customary gusto, packing in brand-new, substantive interviews with Konchalovsky, Voight, Roberts and other participants.
10. The Ballad of Narayama [1958] (Criterion Collection, Region A)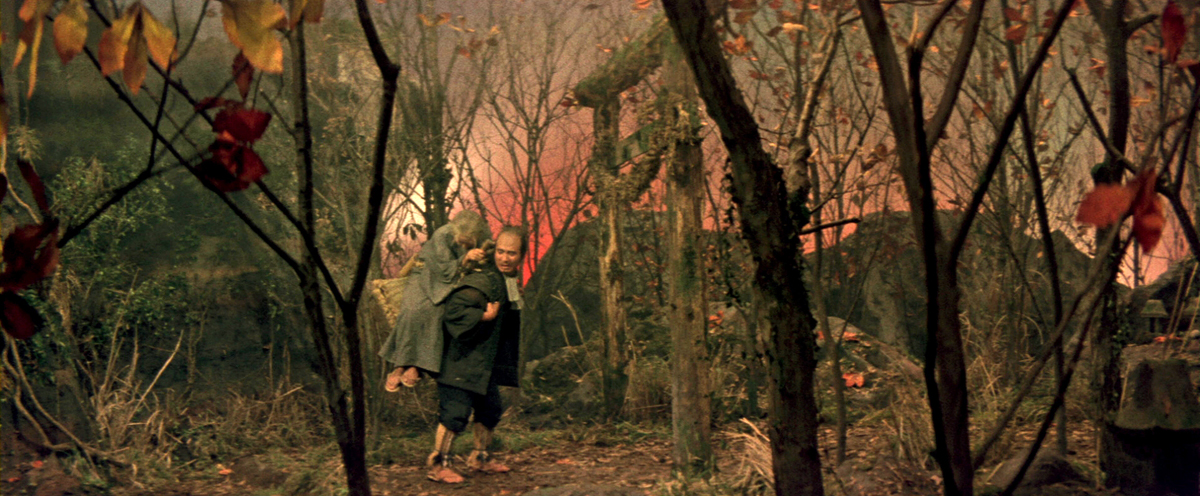 Kinoshita Keisuke's 1958 adaptation of Fukazawa Shichiro's short story is perhaps not as well known outside Japan as Imamura Shohei's 1983 Canne Prize winner, but it is equally emotional, mysterious, beautiful and, in the end, unbelievably moving. Kinoshita uses boldy theatrical techniques that highlight artifice of the background but instead of making the film "artistic" in the conventional sense, they render it mythical and timeless. As a historian I cannot but find problems with Kinoshita's "feminism" that insists on glorifying the self-sacrifice of the Japanese women (especially more so in the depiction of their suffering due to wartime or postwar poverty), but Ballad of Narayama, like a judo master who bests a much younger and muscular opponent, renders such ideological objections completely irrelevant. Criterion's Blu Ray is a revelation in its visual splendor of the landscape and sets as well as in its heartbreaking depictions of hopping black crows and scattered white bones.
9. Schalcken The Painter (British Film Institute, Flipside Series, Region Free)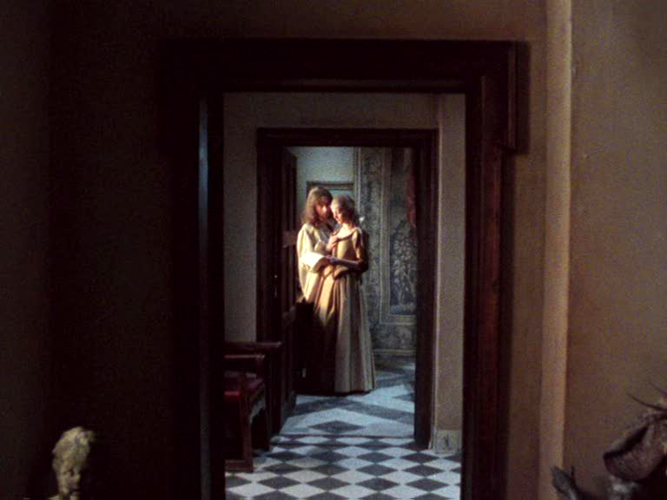 For the sheer number of eyeball-popping-out-of-skull discoveries of the "B" or "obscure" cinema in English language, the BFI's Flipside series has no parallel. In this year, too, they released so many indescribable rare items in Blu Ray-DVD double format, no less, and John Krish's Capture or Sax Logan's forgotten TV horror Sleepwalker might have easily qualified for the list… except for Schalcken The Painter, a BBC TV episode made for an anthology series Omnibus. Originally filmed in 16mm, the short but feature-length (one hour and ten minutes) film is reconstructed in ridiculously gorgeous hi-def presentation that brings to life the carefully mounted visuals that marvelously replicates the painting style of Dutch masters. Based on the genuinely disturbing short story written by Sheridan Le Fanu, who invents a quasi-supernatural, cruel tragedy regarding the real-life Dutch painter Godfried Shalcken, that purports to explain some of the just-noticeably disturbing elements in the latter's paintings. Beautiful, sinister and harrowing, it is like a super-artistic episode of Night Gallery pulled from broadcasting for being too disturbing.
8. The Thief of Baghdad [1924] (Cohen Media Group, Region Free)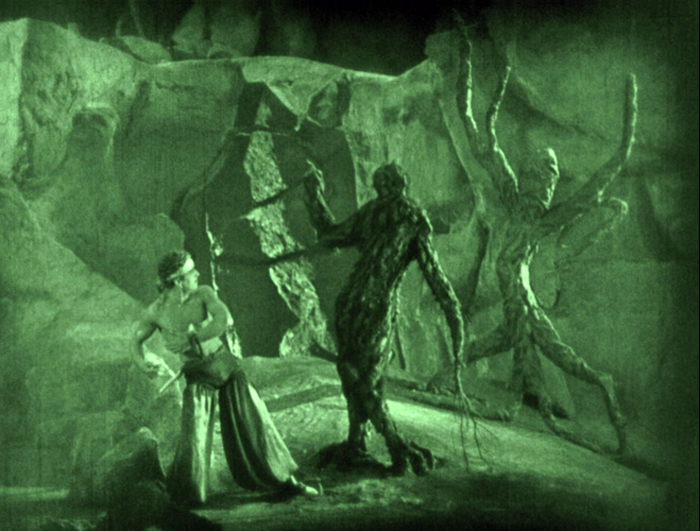 There is so much unbridled magic in this silent version of The Thief of Baghdad, from unbelievably athletic Douglas Fairbanks who seems to defy laws of gravity right in front of our eyes, to William Cameron Menzies's fabulous Art Deco production design, to outlandish yet matter-of-fact unfolding of special effects– flying carpets, flame-breathing dragons, a charmingly "water-free" undersea duel with what the heck is that, a sea spider?, culminating in an instant materialization of thousands of soldiers, armed and ready to bound for an assault! Even the stereotypically "Oriental" villains, played by the Japanese émigre Kamiyama Sōjin (1884-1954) and the Chinese-American star Anna May Wong, are given moments of dignity and far more complex (and attractive) characters than Asian villains in today's Hollywood blockbusters. Watching The Thief of Baghdad with fresh eyes makes one seriously wonder: what is it that we have lost from cinema since we stopped making silent films?
7. The Man Who Knew Too Much [1934] (Criterion Collection, Region A)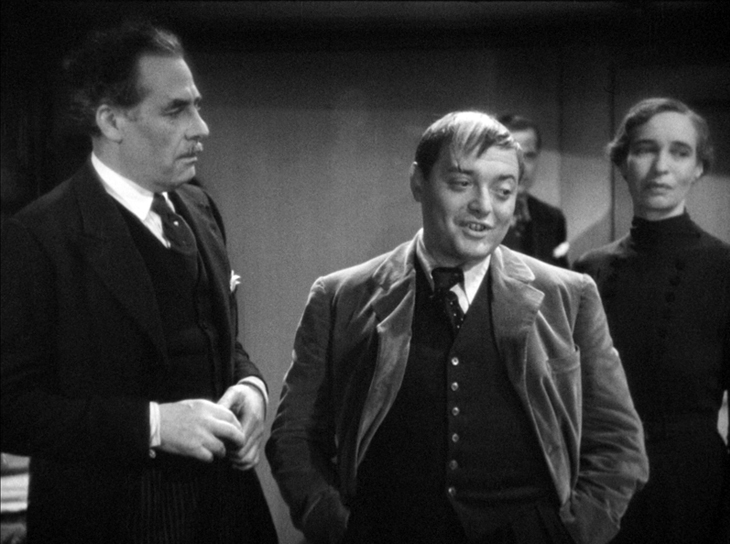 A thoroughly delightful early Alfred Hitchcock from 1934: watching this film back to back with Fritz Lang's Cloak and Dagger (1946), another espionage thriller that could have easily made the list, I could not help draw comparison between Hitch and Lang. But one thing is clear: Fritz Lang, or any other film director, for that matter, could never have made The Man Who Knew Too Much the way Hitchcock have done here, mixing in the dastardly yet charming humor with the genuinely unnerving set-pieces marinated with suspense and a real sense of peril. Topping all that is Peter Lorre's larger-than-life villain with a shock of (radioactive?) white hair, looking straight into the camera in a mixture of serpentine insinuation and knife-point rage.
6. Things to Come (Criterion Collection, Region A)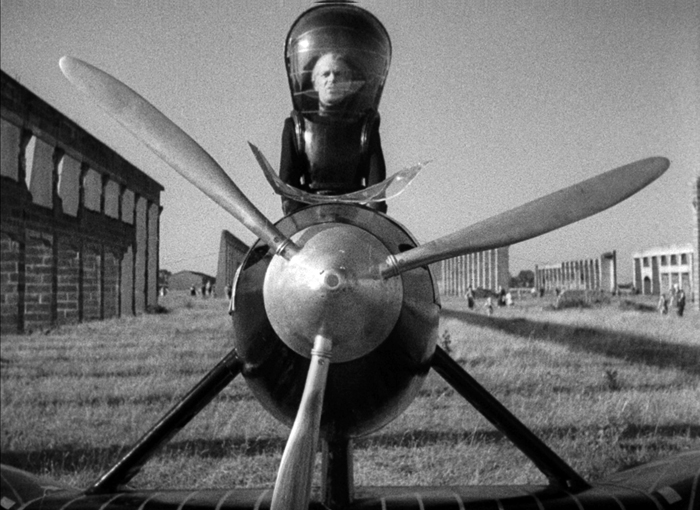 Near the top of the list of classic SF movies that I have missed out in younger days, H. G. Well's Things to Come (1936) is indeed a great film– a work so much bound to its time, yet looking so resolutely ahead into the future, one cannot help but be inspired by its vision, even when one notice– as we do in Griffith's Intolerance (See below)– the more rational, technocratic and tolerant future may not be entirely free from its own self-contradictions (Yes, I am well aware of its dangerously totalitarian overtones, a hallmark of nearly all idealistic science fiction… and no, I don't find the movie preachy at all). Along with Alexander Korda's adaptation of Wells's The Man Who Could Work Miracles (1936, available through Hulu Plus), Things to Come showcases genre film-making at its pinnacle of intellectual prowess, equally convincing in realistic depiction of human communities reduced to medieval social norms as well as of high-tech machinery operating on a transcendental scale.
5. The Mummy: 3Disc Blu Ray-DVD Combo Set (Hammer/ICON Home Entertainment, Region B)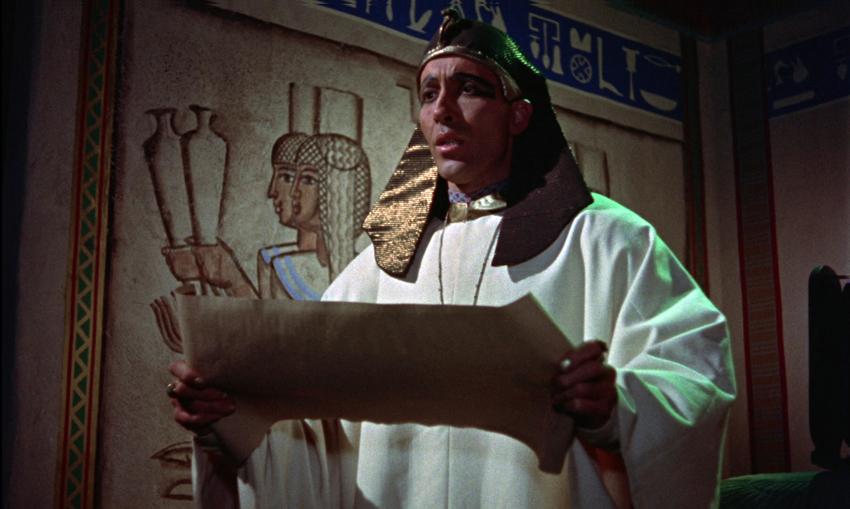 Another British masterpiece, this one an acknowledged classic, The Mummy, with its dreamy, romantic fever-dream atmosphere, is my all-time favorite Hammer film and certainly the most beautiful motion picture the studio has ever made. Hammer through Lionsgate released The Horror of Dracula (1958) on Blu Ray this year, and it received a lion's share of publicity among horror film collectors due to the reinstatement of a few extra minutes of gore and Lee's final performance culled from the so-called "Japanese print," literally a stuff of too-good-to-be-true rumors until recently, but I found its color timing very bluish and cold– much like Kino Lorber's The Whip and the Body Blu Ray, which otherwise would easily have made into the top ten list. Thankfully, their Mummy Blu Ray retains the rich (and slightly soft) color palette of DP Jack Asher. The enhanced HD transfer in display here is clearly superior to other HD presentations of this film I have seen so far, including Warner Film Archive's streaming version: this is the first time I have noticed the eyelashes of Yvonne Furneaux, embalmed as Princess Ananka, delicately trembling as Lee as Kharis almost finishes reciting the content of the Scroll of Life.
4. Marketa Lazarová (Criterion Collection, Region A)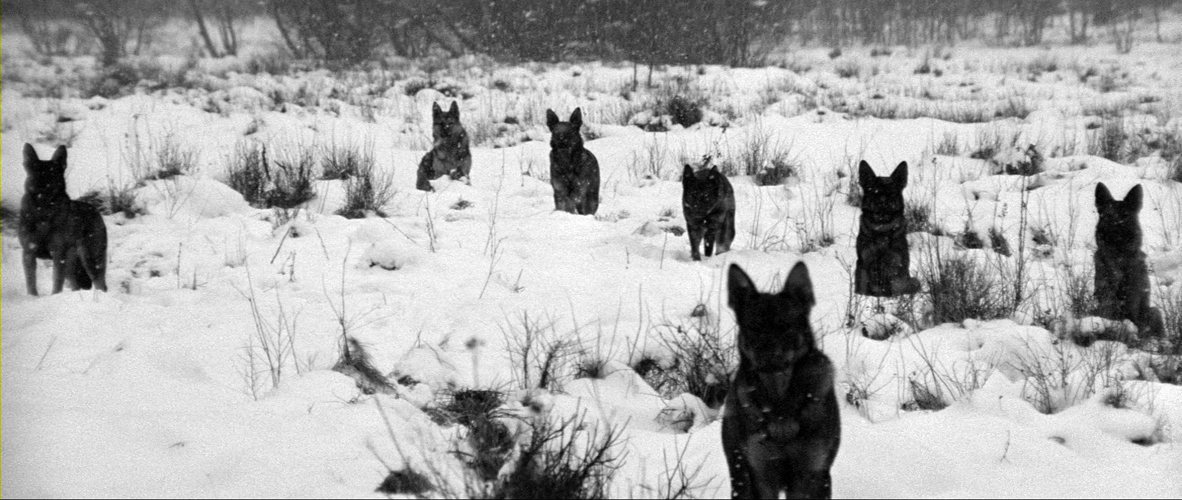 Ever since I have caught Frantisek Vlácil's The Valley of the Bees (1968) at UC Berkeley's Pacific Film Archive, I was in fact dreading the days in which I would have to come to see Marketa Lazarová. To say that this movie presents the medieval European life in the way the denizens of the times perceived it is such a terribly inadequate way to describe it, and I am not even sure whether such a claim can be proven. What we can conservatively accept is that Marketa Lazarová shakes one's perception of linear narrative, of reality, of diegesis like so many snowflakes in a glass sphere, and yet it somehow retains the core strength of a mythical, eternally retold story about human desire, misery, violation and forgiveness. I suppose on one very basic level, it, like many great works of art, asks what makes human beings different from animals, and what makes them aspire to but unable to reach Godhood. Well, in Marketa there is an omniscient narrator-God, who dismissively mocks the blood-drenched travails of his Creatures, "yes, and their stories are such. You know them very well." Pardon us for disagreeing, God, but there is not a single movie like Marketa Lazarová anywhere, and its beauty and power is frighteningly mysterious. Criterion's Blu Ray presentation makes it as if this hypnotic, magical wonder of a motion picture was filmed and sound-mixed last week.
3. Intolerance (Cohen Media Group, Region Free)
Another silent film Blu Ray from Cohen Media Group, this time even older than The Thief of Baghdad, Intolerance (1916) is D. W. Griffith's magnificent follow-up to his racist epic Birth of the Nation, and it was already a crazy enterprise in its day: four stories set in four different time periods, with roughly but not exactly corresponding characters, progressing in a parallel, until the climactic raid of Persians to Babylon and the efforts of the Dear One to prevent her husband from being executed wrongfully clash together in a dazzling cross-cutting editing. I only attempted to watch Intolerance once before in a blue moon but under such a crummy conditions I retain hardly any memory of it: so it comes as zero surprise that watching Cohen Media Group's restored Blu Ray, with the majestic score composed for the revival by Carl Davis, and played in correct speed and tinting schemes, was like seeing a 60-karat diamond made out of a jagged stone unfit for hammering a nail down. Yet, days after seeing this pioneering motion picture with jaws dropped on my knees, my brain is still haunted, not so much by its incredible spectacles, but by its wonderful characters, especially Mountain Girl and Friendless One…
2. Zatoichi: The Blind Swordsman Collection (Criterion Collection, Region A)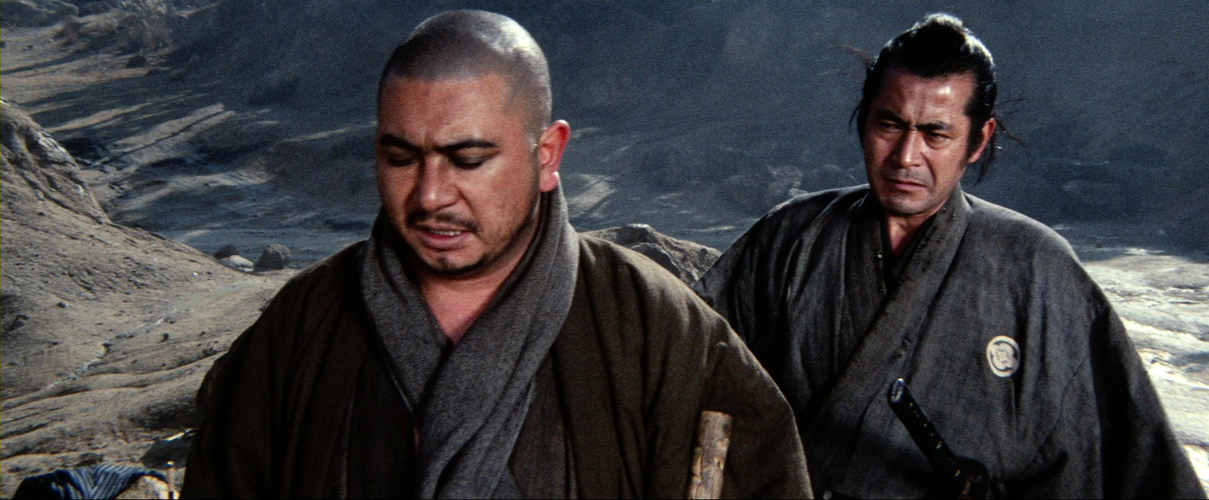 By all ye Gods, the position of No. 1 Blu Ray release should have been claimed by this truly, absolutely AMAZING package from Criterion. Katsu Shintaro's all Zatoichi films, from his very first Tale of Zatoichi (1962), not only to his Daiei but Toho-produced later works, all the way up to Zatoichi's Conspiracy (1973), all 26 of 'em, all in sparkling hi-def transfer: what can I say? I cannot quite think of any other Blu Ray release of a film series like this one.
Here I just want to add one sentence: now that you have this magnificent, resplendent package in your hands, do me a big favor, please, and don't call them SAMURAI FILMS. You see, Zatoichi is not a samurai. He is, if anything, a SAMURAI-KILLER. So if you want to call 'em SAMURAI-KILLER MOVIES, go right ahead. Just don't call them Samurai Films. Wakatta?
1. Bullfighter and the Lady (Olive Films, Region A)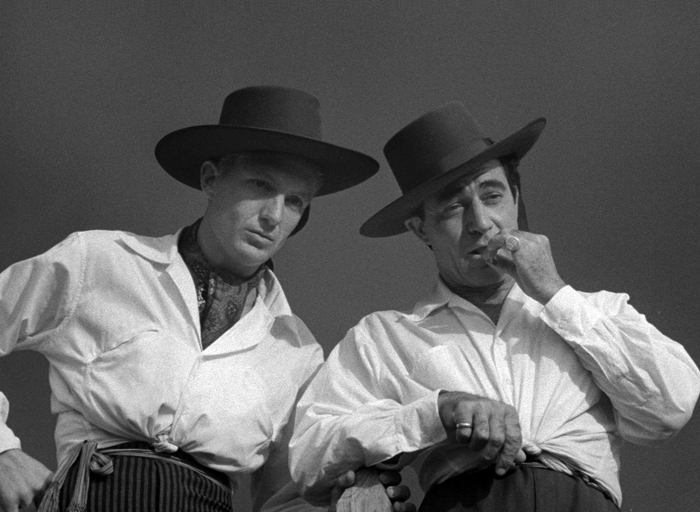 This happens again, but when it come time to explain my reasons for choosing the year's top Blu Ray choice, words always fail me. I really cannot articulate why Budd Boetticher's intimate take on Mexican toreo, a "sports" that certainly will be frowned upon by animal rights activists today, should be given this position. All I can say is… that Bullfighter and the Lady seems to hail from an alternative reality, in which human beings somehow act ("act" as in "move," and also "act" as in "pretend") differently from ours, where everything is purer, more direct and more emotional. This alternative reality is neither utopia nor Heaven. Just a place where cinematic lens is always perhaps a notch or two clearer, where a human smile is just a shade brighter and realer.
Of all movies I have seen at home-front in 2013, Bullfighter and the Lady, an autobiographical movie directed by the master of B-Westerns, was the one that most profoundly touched my movie-fan's heart (And let's not forget that Olive Film's Blu Ray is a restored version that runs 124 minutes).
Oh. My. Lord. I am exhausted, but I am so pleased that I was able to mount this list, a small, small record of all the great motion pictures I was able to catch in 2013. Too bad I am too tired to list other worthy candidates that did not make the list. As usual, for anyone who has wondered around to this blog, I hope this list provides whatever modicum of aid to enrichment of your own movie-watching experience, and happy movie-watching in the new year as well!